27 outdoor kitchen ideas – interior designers show us the most stylish ways to cook al fresco this summer
We've collected some of our favorite outdoor kitchen ideas from top designers to inspire your project, from materials and layouts to appliances and more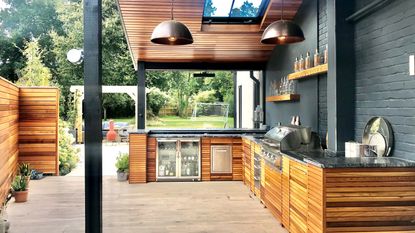 (Image credit: Outdoor Kitchen Expert)
Outdoor kitchens have become the new must-have for al fresco entertaining. No more trundling out a rusty grill every time you want to host a cookout, and no more perilously perching your BBQ food on tiny tables.
And the best thing about outdoor kitchens? They come in all shapes and sizes. While some have pizza ovens, wet bars, fireplaces, side burners, smokers, warming drawers, and roasting pits, others just simply have some outdoor prep surface and a grill.
As outdoor kitchens become more and more of a standard request, we're seeing innovations in design, materials and appliances that can really make your al fresco cooking space the heart of your garden. Here are 27 ideas to try for your own space.
Hugh is an experienced homes writer and editor. He has written hundreds of articles for various international titles helping readers make the best home design choices, and spends her days interviewing interiors industry experts to bring the latest ideas to her readers. For this piece he spoke to the world's best designers and studios who have created some of the most show stopping outdoor kitchens, so as to get the most up to the minute advice.
27 smart and practical outdoor kitchen ideas
All you really need to form the base of an outdoor kitchen is some countertop and the best grill you can get your hands on. We've pulled together outdoor kitchens of all types, offering inspiration for every kind of space.
1. Try a micro-cement finish on an outdoor kitchen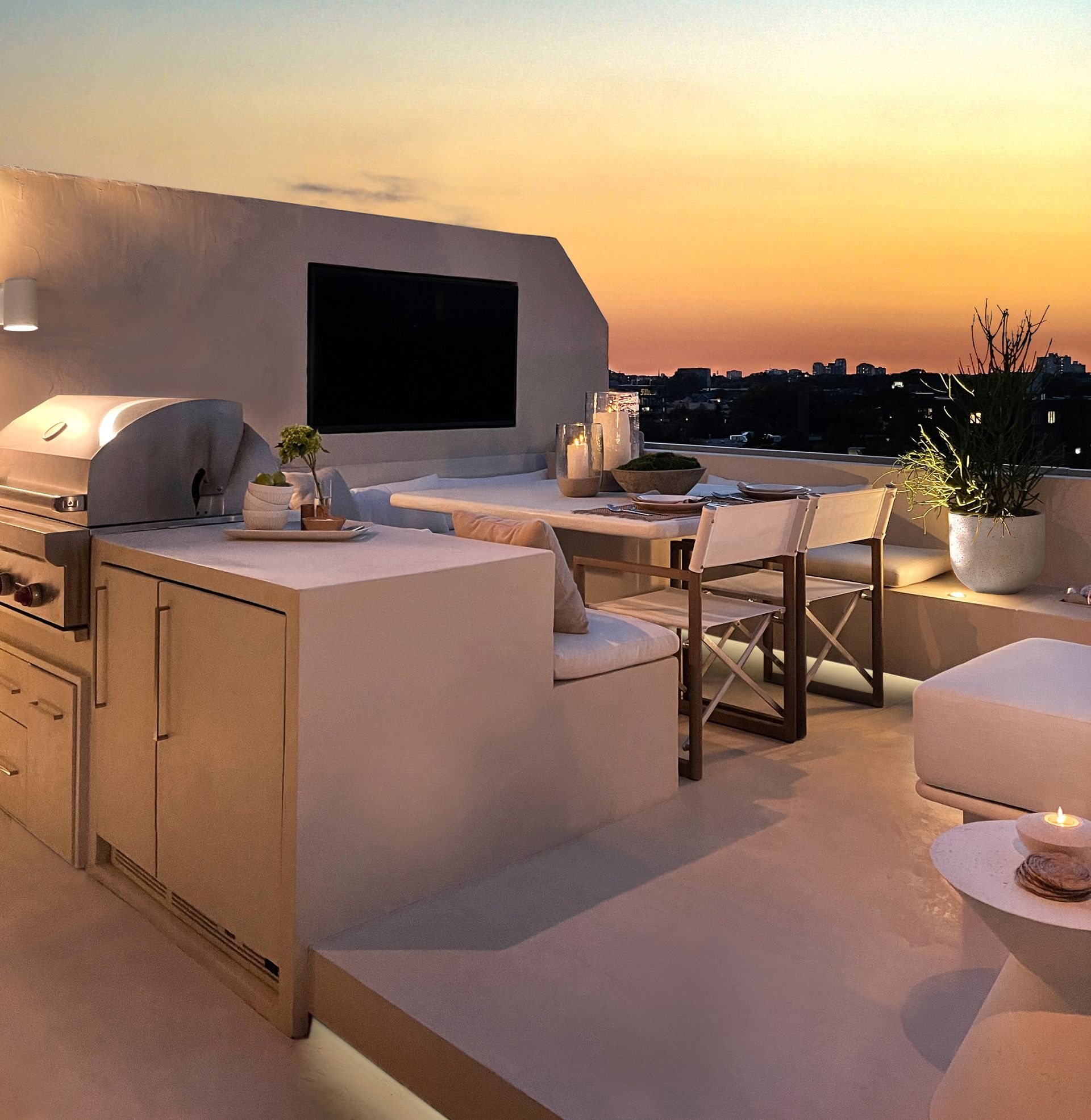 Choosing a finish for your outdoor kitchen units and countertop is part of what adds to its character. However, if you're interested in a sleek style, why not consider a material such as microcement? Not only is it a huge interior design trend, it can be used across cabinet fronts and countertops for a unified look.
In this example, by Toronto-based Ancerl Studio (opens in new tab), microcement has been used to create a Mediterranean style space. 'We were initially inspired by our client's mood board, which emphasized a clean and minimal European aesthetic, with material continuity and a relaxed island vibe,' the team at Ancerl Studio explain. 'Almost everything on this terrace was custom designed; from the microcement floor slabs and built-ins, to the custom to the custom sofa, cushions and throw pillows.'
2. Or a stylish tiled design
Another option for a stylish finish to your outdoor kitchen is tile. From colorful encaustic styles to rustic, handmade tiles like the ones used by Leigh Lincoln, co-founder of Pure Salt Interiors (opens in new tab) for her own outdoor kitchen, there's plenty of choices out there which can define the style of your backyard set-up.
'The outdoor kitchen was designed to feel warm and inviting, and encourage my family and friends to sit and stay awhile,' says Leigh. 'I especially love the Saltillo tile! This was a 'risky' design decision as my home is not a Spanish style build, but I love bringing in this unique element to create a feeling of my favorite retreat and allow my home to feel like a getaway everyday.'
3. Add flexibility with a sleek portable kitchen
Whether you're planning a new backyard, or are looking to fit an outdoor kitchen into an existing one, the idea of a freestanding, portable design isn't one to be overlooked. 'The versatility of portable, freestanding outdoor kitchens means they are an incredibly popular choice for those looking to maximize their garden space,' says Ced Wells, creative director of Vlaze (opens in new tab). 'Our ADAPT range, for example, can be kitted with wheels so when it's not in use, the unit can be wheeled inside or to a storage area - particularly useful if you have a more compact or small backyard.'
There's another major benefit, too. 'In addition, as the units are all freestanding, they can be taken with you if you move house or easily moved into a new position if you re-landscape your garden.'
4. Consider an outdoor kitchen island
If you entertain a lot of people, odds are the party will spill outdoors. In times like these, when you need to attend to a large group of people, having just the occasional barbecue won't be enough.
Reconsider your layout and think about how you can extend your kitchen to the outside. Along with outdoor furniture, perhaps add a dining table, and an outdoor BBQ, create a lounge area and have a fairly well-stocked dry kitchen.
'For this project, our clients wanted an indoor/outdoor dining experience and we planned the location of the outdoor kitchen, so it was easily accessible from the indoor kitchen,' say Kate Anne and Ryan Gross of Kate Anne Designs (opens in new tab).
'We created this barbecue island as an accent piece and made sure to not block the flow and sight lines to the rest of the yard. When designing an island in an outdoor kitchen, it's important to have proper circulation and clearance. We also made sure to include plenty of counter space on either side of the grill and sink to allow for food prep and easy clean-up.'
5. Set up a vibrant seating area with the kitchen
If you have a sizeable backyard, porch, or front yard and want to use it to the maximum, then set up a functional kitchen along with comfortable seating options. Lay a dining table, put up a sofa and even add a canopy/umbrella to ensure comfort. Keep a grill handy and for other appliances, make sure your appliances can plug into GFCI (ground fault circuit interrupter) outlets, and are Underwriters Laboratories approved.
If you want to add more interest to the area, create a coordinated color scheme and give this space its own personality. Add floor cushions and throws and make it cozy.
'Outdoor cooking and entertaining spaces require the same considerations of interior,' says Jennifer Morris, principal designer at JMorris Design (opens in new tab). 'I start with the flow of functions. Walking through what tasks are performed, how to best support those with adjacencies, the layer in the furniture and finishes. Wide pavers are easier to walk on and create stable footing for dining table, while the brick pavers add texture and interest at the seating area.'
6. Go for a U-shaped design where space isn't an issue
The below backyard idea boasts an enviable outdoor kitchen designed by Blakes London (opens in new tab). The U-shaped design is super functional, as it packs in an integrated barbecue, a Green Egg, handy storage for plates and glasses, plus it houses a drinks fridge too.
'We like to make our outdoor kitchen units from sustainably sourced Iroko timber,' says Annie Ebenston, lead designer at Blakes London. 'This African hardwood is a fantastic alternative to teak, particularly for outdoor furniture, as its naturally high oil content makes it incredibly stable and unlikely to crack as temperatures change. And unlike teak and oak, which tend to bleach and turn silver over time, Iroko starts as the soft yellows you see in these images and darkens to a deep, rich, coppery tone.'
'For countertops, large-format Xtone porcelain tiles work well,' she adds. 'Xtone is a fabulous low maintenance and highly functional alternative to concrete or renders. This large-format porcelain tile will maintain its color over time and is both frost and heat resistant. An added benefit is that it is incredibly hygienic so can be used as a food prep surface.'
7. Use one wall if you're short on space
This urban garden may be compact, but it still manages to incorporate an outdoor kitchen by making the most of an awkward corner. The kitchen is fitted along just one wall, with a small peninsula protruding just enough to create a breakfast bar area. A design like this is the perfect small garden idea.
Gaze Burvill (opens in new tab) designed this outdoor kitchen with industrial-style Dekton Trilium for the weather-proof worktops.
8. Or opt for a simple food prep shelf
In reality, an outdoor kitchen doesn't need to be a huge production to be useful. In this compact garden, a simple shelving set-up creates space for food prep and for a countertop grill and pizza oven.
'If your space or budget is limited, you can opt for a simple shelf food prep area, which can be built out of a few basic materials,' explains this backyard's designer, Catherine Clancy of Catherine Clancy Garden Design. 'This outside kitchen was built in a tiny garden, with a mini charcoal barbecue and herb planter.'
9. Add a living wall as a backdrop
As for the wall itself, floor your guests with a lively backdrop like this living wall in San Francisco. Created by local firm Heather Hilliard Design (opens in new tab), the vertical garden pops color and life into an otherwise blank space with plenty of room for growth and fully integrates the kitchen with its surroundings.
The all-natural feature balances out more contemporary splashes, like the kitchen's royal blue cabinetry, and blurs the line between inside and outside.
10. Design in privacy around your kitchen
If you're planning an outdoor kitchen, make sure you incorporate beautiful planting to help frame the new zone and help it blend in better with the garden. 'This outdoor kitchen is enclosed by pleached Hornbeam trees,' explains designer Charlotte Rowe (opens in new tab), 'as well as Taxus Baccata hedging and lots of perennial planting to give interest throughout the year and a sense of privacy.'
11. Design an outdoor kitchen like an indoor one in warmer climes
If you're wondering how to build an outdoor kitchen, for homes in warmer climates where you're guaranteed to spend a lot of time outdoors, approach your outdoor kitchen design as you would your main kitchen.
Let interior finishes set the tone. Tucked away from Texas' scorching heat, Marie Flanigan Interiors (opens in new tab)brought indoor vibes to the exterior kitchen by using the same limestone walls as the home's interior kitchen—it creates an uninterrupted experience. 'When possible, I love using the same materials inside and outside the home,' says Flanigan.
She added a statement, tiled backsplash and a plaster range hood (both with a weatherproof finish), to complement the luxurious appearance of the home's indoor aesthetic.
12. Incorporate plenty of outdoor kitchen storage
There are several things to consider when designing an outdoor kitchen as ppart of your modern garden ideas. Storage is a pretty important one as it makes life that bit easier and helps keeps everything nice and neat.
'As with any indoor kitchen space, it's important to ensure you have enough storage. Make sure  you're  able to close and lock things away so that they are safe from  the  outdoor elements,' says Hege Lundh, Marketing Director, Lundhs (opens in new tab). 'Also, find a nice spot in your outdoor space where you have enough space. The outdoor kitchen  should not be fully exposed to sunlight, and if possible find the least windy area.  And make sure you plan  accordingly  for any water or  electricity  access, as this will play a big part in planning. '
If built-in storage isn't in the budget, don't shelve the idea entirely. 'I find that clients most often use [outdoor kitchens] when they are entertaining, and the last thing you want to d