These 10 string light ideas will help you bring a cozy glow to any size and shape of backyard
These string light ideas for backyards are going to change the way you decorate and illuminate your exteriors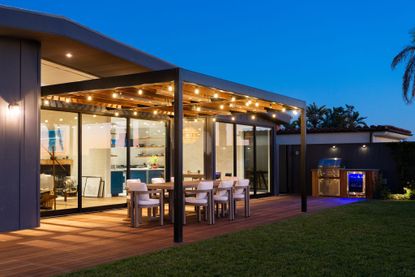 (Image credit: Kate Anne Designs)
The Livingetc Newsletter
For style leaders and design lovers.
Thank you for signing up to LivingEtc. You will receive a verification email shortly.
There was a problem. Please refresh the page and try again.
String light ideas for backyards is perhaps the most searched term now that spring is just around the corner. These simple, cost-effective, and, non-permanent outdoor lights can easily transform the look, mood, and aesthetic of backyards and back porches, making any ordinary space look magical.
If you're interested in adding a decorative touch to your backyard ideas, then take a look at these expert-recommended tips on the types, ways, and configurations to choose for effective illumination.
Aditi is an experienced homes writer and editor. She has written hundreds of articles for various international titles helping readers make the best home design choices, and spends her days interviewing interiors industry experts to bring the latest ideas to her readers. For this piece she spoke to the world's best designers to find out how to hang string lights in the backyard.
10 string light ideas for backyards
A great way to turn your backyard into a haven is with string lights, as these are lightweight, visually beautiful and cost-effective.
'In terms of outdoor string lights, there are two purposes – decorative and functional,' says Nathan Fell, founder of Nathan Fell Architecture. 'If you are mindful, both can be realized. When placing them you should look for a highly stable element such as a pole, the top of a tall fence, underside of the roof where a hook can be securely fastened. They should be reasonably taut, without too much sag. If they are too taut, they may snap or dislocate and if they are too saggy they will sway with a breeze that will cause the lights to create a strobing effect that isn't pleasant.'
1. Put up posts to hang your string lights
Perk up the backyard or outdoor shade areas with the magic of string lights. Take advantage of posts on your property to attach the light strings.
'String lights are an easy way to set a laid-back, festive tone and set a boundary for an outdoor space,' says Ellie Mroz, founder of Ellie Mroz Design. 'They keep spaces open while simultaneously making areas more intimate.'
'There are many different ways to hang your string lights, based on where and how you plan to use them,' says Sheva Knopfler, co-founder of Lights.com and creative director & decor expert. 'You could line the perimeter of your backyard with string lights, hanging them from trees or fences to light the entire space without hard wiring.'
'There are many different ways to hang string lights over a deck, but we've found the best way is to use poles,' says Sheva. 'Frame the area you'd like to light, and the string lights will be out of the way and draped effortlessly.'
2. Introduce a touch to whimsy to outdoor dining
Nothing feels more intimate, fun, and festive than outdoor dining. If you have a long picnic table with benches or several seats, instead of adding lots of lamps and crowding the space, think of string lights. Hung directly above an outdoor dining table, these can illuminate an evening meal.
'You could define your event space by hanging string lights along the perimeter of your outdoor dining space to give off ambient light,' says Sheva.
Remember, to create this look, you will need a long spool of string light so it can be stretched across the length of the table. Hang them low so the lights work together to create an eye-catching feature. Choose the battery-operated varieties or invest in a long extension cord if an outlet isn't within reach.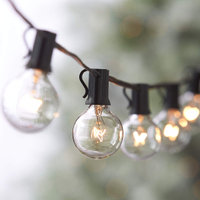 3. Hang string lights from the facade, and across the pool
For great pool lighting, use string lights stretched across the corners of the house to wash the space with a subtle glow and when reflected in the water, can give the pool a distinctive, twinkling effect.
Add simple string lights over arbor beams or on posts to create a lovely patio string light pattern. 'String lights look great strung above swimming pools, and are an easy way to light the space for summer night swims,' says Sheva from Lights.com.
4. Want a grander look? Add large lanterns to your string lights
Have a small modern patio or backyard, and want to give it a grand feel? Scale up your string lights with large bulbs or with cane lanterns. These will look like a wonderful series of pendant lights, creating a spectacular setting after dark.
If you're using paper shades, consider hanging them in screened porches because you don't have to worry about them getting wet.
'I love the look of vintage bulbs on a dark wire, giving the illusion of floating bulbs at night,' says Sheva. 'You could also hang paper lantern lights for parties and diffused lighting. Though Christmas lights are typically put away after December, I believe they could be repurposed for bright backyard lighting, especially for outdoor parties!'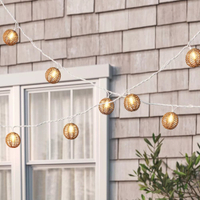 Use these plug-in string lights that feature 10 incandescent bulbs and a cane globe, adding warmth and a welcoming vibe to the outdoors.
5. Illuminate your backyard's hangout space with string lights
If you have the advantage of an outdoor fireplace, consider using string lights instead of large lamps or LEDS to illuminate the area. Install a canopy of large bulb lights strung above so that you aren't left in the dark when the sun goes down. Most strings are simply plugged in, so installation is not a major project.
'In terms of function you simply want them high and equally distributed enough to cast the most uniform light in spaces that will be the most occupied or require the most foot candles,' says Nathan. 'Having lights arranged for wayfinding is not a bad idea, but typically less lighting is required through passageways than gathering spaces. In terms of the lighting looking more decorative, it isn't necessary for them to 'highlight' architectural or certain elements; sometimes this can have the reverse effect. Unless the lighting is intended to be permanent or is in a commercial setting, I would suggest being less formal about it. This way the lights are seen as more of a folly while also meeting all the functional needs.'
'If it's too warm for a fire and you have a fire pit, wrapping string lights around logs can give off a similar glow to tell campfire stories around without any unnecessary heat,' says Sheva.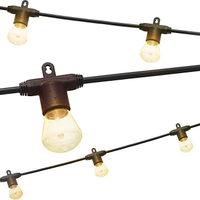 LED bistro string lights, Amazon
Bring home these 12 durable string lights that are weather-proof, sturdy, and won't get blown around in the wind. Perfect for backyard, porch, balcony, deck, patio, pergola, gazebo, and garden.
6. Create a welcoming backyard entrance with string lights
Lights strung by sheds, trees, or poles can smooth the transition from outdoors to inside, making for effective elements of backyard layout. These provide a subtle directive, pointing to where the fun is taking place. These also create a nice, welcoming aura, and spread even illumination so the entire space is open for socializing, strolling or even sitting in.
Interestingly, if you have a large backyard and aren't sure of the intensity of illumination your string lights provide, consider pairing them with pendant lighting. The mixture of lights will make a statement when seen at a distance.
'String lights make the yard more inviting, useful, and whimsical,' says Los Angeles-based designer Kate Anne, founder of Kate Anne Designs. 'We like to hang them zig-zag, back and forth over an area. We try and prevent too many posts, or we like to hide the posts behind landscaping as best as possible.'
7. Use freestanding structures to hang string lights
Structural additions to your backyard like pergolas, outdoor kitchens or outdoor bars can each provide a point to hang up your string lights, as in this contemporary small garden.
'The addition of the string lights was to give the bar or dining area some additional ambiance for the often gloomy and foggy evenings in this part of San Francisco,' says Steve Ritchey, founder of SEED STUDIO LANDSCAPE DESIGN.
Ideally, in an outdoor living room, dining or bar, it's best to hang multiple sets of string lights closely together to throw maximum light in the outdoor space. Do note that if you entertain outdoors quite a bit, consider having additional lighting, such as outdoor sconces, so the space doesn't look too dim when the sun sets.
8. Add string lights to seasonal foliage display
For a nice, seasonal foliage display and look, consider wrapping string lights around branches, trees, and plants to draw attention to their wonderful natural shape, and fresh blooms. If you've been landscaping with flowers, or have fresh spring or summer plants and shrubs, you can make these the focal points instead of having them fade into obscurity after dusk.
Consider good solar garden lighting too, to make the outdoors shine. They can charge up during the day and shine for hours after dark.
9. Create a canopy effect with string lights
Complement your patio furniture with sparkly, string lights and turn your backyard into a cozy oasis. If you have a covered outdoor space, consider arranging the string lights on the roof, secured with screws and cord tapes.
Make sure the cords do not reach the ground so that no one trips over them. If this feels like too much work, these days brands also make outdoor umbrellas with LED lights built in.
Do note that if you plan on living in your rented apartment for a long time, you'll want an outlet in the outdoor area. It's worth the investment, and it'll make your life convenient.
10. Light up trees with string lights
If you're lucky enough to have mature trees in your backyard, use their thick and strong structure to hang string lights. Simply wind the lights around the trunks to draw attention to their lovely forms.
The same can be done with low bushes or tall plants. String lights look equally lovely in garden borders as well.
'We recommend using Q-hanger hooks to hang string lights on trees,' says Sheva. 'They screw into the tree as a strong base and can be reused. Of course, you could always wrap the lights around a sturdy branch, but this may be affected by the elements. You could use nails or hooks to hang string lights on a fence. This is a great way to define your space and brighten the perimeter of your yard.'
For style leaders and design lovers.
Aditi Sharma Maheshwari is an architecture and design journalist with over 10 years of experience. She's worked at some of the leading media houses in India such as Elle Decor, Houzz and Architectural Digest (Condé Nast). Till recently, she was a freelance writer for publications such as Architectural Digest US, House Beautiful, Stir World, Beautiful Homes India among others. In her spare time, she volunteers at animal shelters and other rescue organizations.