Backyard ideas - your ultimate guide to a chic outdoor living space
Backyard ideas for making your outdoor space into a wonderful place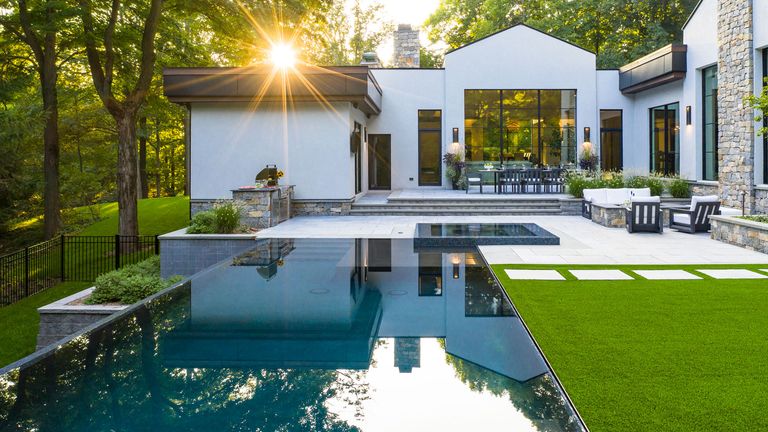 (Image credit: Thomas Flint)
Confined to our homes by Covid 19 for weeks on end, any backyard ideas for outdoor spaces; a terrace, backyard - even a tiny balcony - has become a godsend. And it looks like working from home, at least for part of the week, is set to be part of the "new normal" for many of us, with not only more time to wander outside but to cast a critical eye on what's out there.
Creating a little Eden for ourselves and our loved ones has never seemed so important: it is not so much what you have in your garden, it is how it makes you feel. Gardens are playing a huge part in helping our resilience. As the British gardening guru Monty Don put it recently: "Find solace. Be happy." So read on for the latest backyard ideas.
The most on-trend backyard ideas
It's official: greenery is good for you. The bestselling book The Well-Gardened Mind by the psychologist and psychotherapist Sue-Stuart Smith (Collins, £20), published in April 2020, could not have been more timely - it is all about the restorative powers of nature. Even those without outside space have cottoned on to this over recent years, with the huge rise in the popularity of houseplants adorning every surface of our homes.
And, while all this lush foliage has been bringing the outside in, the converse is now true too - our gardens have more than ever become our living space, a safe place to entertain, work and just feel part of the natural world we are sharing with it.
Key trends are making a place for nurture and a sanctuary to share with the local wildlife. Also the sustainable use of plants and materials by making sure they come from a non-exploitative source, have been recycled or have the potential to be used again. And, as we work from home and are more likely to be staring out of the kitchen window over a cup of coffee, rather than scuttling off before dawn for the commuter train, making sure there is something of interest out there at all times of year.
So fill up your space with as many plants as you can: they don't have to be high maintenance - trees and evergreen shrubs will soon gain height and volume. If they provide food and flavour, then so much the better.
Harry Rich, who with his brother David makes up the Rich Brothers, a Chelsea Flower Show Gold medal-winning team, designed this London back garden, in which the planting has precedence over the paving and provides a wonderful green picture to look out on from the glass-walled extension of this town house. "One specimen tree in a garden dramatically changes it," says Harry. He's keen on trees and shrubs that provide a modest green backdrop in summer but come into their own in winter, such as hamamelis and Cornus mas to draw you outside on a cold day to admire them.
As we are spending so much time at home, small outdoor spaces have to work extra hard. "People want to connect with nature and be enclosed in their own multi-purpose green oasis," says Isabelle Palmer of London-based design company The Balcony Gardener. "They want it to be somewhere to work, relax and entertain - perhaps with compartmentalised zones for kids and adults." That's a lot to ask, but it can be done: strangely, the more you divide it up, the bigger it will seem.
The best backyard patio ideas
Think about the materials you use and where it comes from - this patio by Marian Boswall is laid with shot-sawn yorkstone paving, and the slatted fence is locally sourced western red cedar, which is left unstained to shade to a beautiful silvery grey. "Everything is natural and can be used again, which is important," says Marian. Climate change is bringing more extreme weather to us all - so make sure there is not only shade - these umbrella-pruned limes will soon fill out - and also places for torrential downpours to soak away.
Cobbling or spaces between pavers or bricks will also provide this. "Plant in layers to make a little eco system," says Marian. That way, you are surrounded by greenery, rather than keeping everything at ground level and the plants work together to look after each other.
Like many other designers, Harry and David Rich are turning towards more natural surfaces in their gardens. "Surface can really make an impact in the space," says Harry. "We tend to use a sawn stone, which creates a more matt finish, with less visible texture and impact on the eye." For shady areas, "cobbles can be a lovely way of adding more texture and therefore more grip underfoot."
They are also a good way of allowing space for plants to grow between the cobbles (if wanted), and somewhere for water to drain off into the soil, which helps prevent flooding. "There are also finishes such as bush hammered and corduroy, which provides a little more texture to the sawn stone. Self-binding gravel is another great surface which links beautifully with paving. Sometimes there is no need to pave a whole area but rather interweave areas of gravel to again create individual spaces."
See more patio, terrace and backyard ideas
The best backyard pool ideas
Ah the cool of a pool on a hot day and, as climate change brings warmer temperatures, they are becoming increasingly popular as part of the outdoor living environment, rather than tucked away in a corner. "Clean lines and simple designs are definitely trending right now," says Thomas Flint, who runs an eponymous New Jersey landscape design company, which creates award-winning pools. "The sound of the water; the mirror-like images that are reflected off the water, and lighting are all things that should be considered when adding a swimming pool to an outdoor living space."
There are a lot of different elements that you can play with in the design, if you want to make a real feature of your pool. "We even install fibre-optic stars at the bottom of some pools for a beautiful night-time effect," says Thomas. Wide baja - or tanning - steps are also popular; somewhere for children to play, or you place your lounger on a hot day to be surrounded by the cool water.
For those with a view they want to draw attention to, infinity-edge pools will connect you to the landscape. But, says Thomas Brownlee, who has been designing pools for 17 years in Tennessee, a slot or lautner-edge detail is even more dramatic. This is where the water level is elevated to match the pool deck for a seamless connection. He also uses fire bowls around the edge: "there is a visceral elemental draw to fire features that brings visitors out to experience the space at night.
See: How to plan and design a home swimming pool
Creating an edible garden for the backyard
There's nothing better than picking crops that you have grown yourself, but frankly veg can be a bit of an effort, as you have to grow most from seed every year and can often come in a glut. It is a great idea, and one most of us with gardens gave a go at over lockdown, but you really do need quite a big garden to provide enough for a family meal, so it is much better to concentrate on things that can add embellishment: salads and oriental leaves, for example, are easy to grow (you can add tasty leaves to bulk out a cheap shop-bought lettuce) and a packet of seeds costs almost nothing, especially when you compare it to a bag of ready washed greenery from the supermarket. You can cut and come again, and make several sowings over the summer into the autumn. A few chilli plants is also a good idea if you like things hot, and tomatoes also grow well in large pots.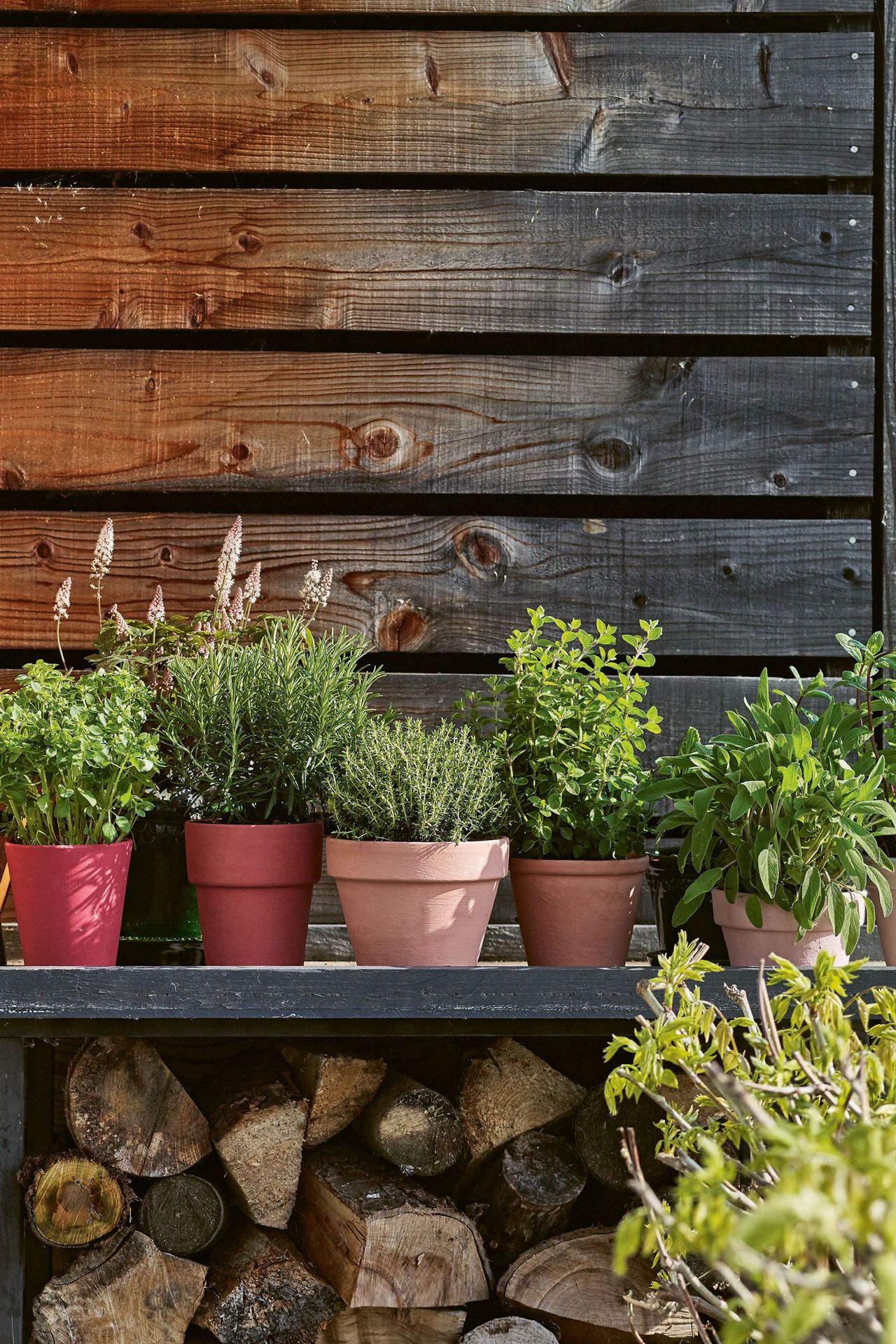 Then there are things like pumpkins, which are fun and look great spreading their tendrils along the ground or up a wigwam - the latter a great way to grow things without taking up too much space: you can do this with climbing beans too; all the prettier if you chose yellow and purple varieties too.
Every garden should have herbs: they save you going to the shops when you only need a small amount for a recipe, are generally low maintenance, easy to grow in pots and many look great as garden plants or in pots: sage, rosemary, bay, thyme and oregano, for example. If your backyard is shady, chives, sorrel, chervil, parsley, mint and coriander will all thrive there.
Fruit often gets rather overlooked in the passion for grow your own but can be low maintenance and rewarding. Trees such as apples, pears, figs and peaches are hard workers, providing beautiful blossom in spring, shade in summer and crops in autumn. Just make sure that they won't overpower the rest of the garden by making sure the right rootstock, which will determine the tree's ultimate size. Check too that the trees either have pollinating partners - ie similar trees - nearby or are self-pollinating, or you may not get any fruit.
How to style a small backyard
Remember that your space is four dimensional, so think upwards, as Daniel Shea, a designer based in Hertfordshire, England has done. The white limestone paving is offset with the grey rendered raised beds and terracotta painted walls, which provide a dramatic background for the jungly planting.
The striking black structures are to provide a wash of downward light. In a small space, the boundaries are all important, so make sure they are smart - horizontally, rather than vertically, slatted fences are very much of the moment. You can either leave it a natural colour or, like Shea has done here, paint them a grey/black to bring out the zing in your plants.
Having the plants growing above the ground level in raised beds or terracing will give you twice as much surface area, and you can always grow species that fall down the walls to soften them, such as prostrate rosemary.
Strangely, the more leafy planting you have, the bigger the space seems to be, and it will create a lovely sense of being in your own secret world that promises more beyond. Likewise with pots: the bigger the better, as you will also achieve that sense of height and abundance. This is not about clutter - which usually comes about when you have two many little pots all grouped together, but about fullness and generosity.
Seating, of course, is all important, so make sure there is enough room for everyone in your family to sit down together. You may want to have somewhere shady for midday eating, and in the evening a spot to catch the last of the rays for drinks and dinner, so watch the way the sun travels over the garden and plan your seating areas accordingly. If space is really tight, you might consider a bench built into the wall of the raised bed. If you can make it so that there is a storage area under the bench, so much the better.
If you have plenty of light and somewhere to keep a mower, then lawns are great: if you grow the lawn a bit longer than a scalped couple of centimetres, the clover and daisies that appear there (let them come!) will provide food for insects and the whole place will be cooler.
You could even get robo-mower to do the work for you - they are easy to programme on straightforward spaces and can even manage slopes nowadays. However, there's little point in hanging on to a postage-stamp sized scrappy, bald or mossy patch just for the sake of it: hard landscaping such as paving or gravel can be laid out so that there is plenty of room for plants to cool things down and provide food for wildlife, and for rainwater to soak away. Ok, you'll need to sacrifice the picnic rug for a sun lounger if you want somewhere comfortable to lie.
See: modern outdoor furniture for gardens and backyards
What decking to choose for a backyard
Gone are the days when decking would look like an empty dance floor; it's the plants that you want to take the spotlight, as here, raised in Corten steel planters to provide green screen.
In keeping with the more thoughtful trend, make sure your decking comes from a sustainable source, with at least a Forestry Stewardship Council (FSC) label. Rather than import hardwoods from far-off countries, try to stay as local as possible.
Treated softwoods such as pine often don't last for very long, especially in wet climates, so have a think about alternatives made from recycled plastic materials or polyurethane. They are increasingly realistic and durable, though be careful as they can get warmer underfoot than wood, especially in the darker colours, so you may need to wear shoes when tottering in from the lounger to get the suncream.