10 stylish deck ideas with fire pits to extend those long summer evenings
Let these gorgeous deck ideas with fire pits inspire you to add this easy update to your garden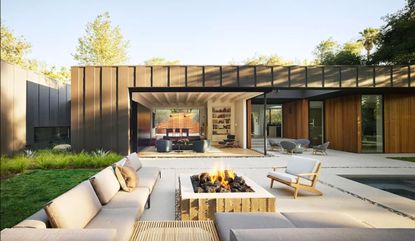 (Image credit: Matthew Millman)
There's just something so romantic about a fire pit. Gathering around it with friends and family, drinking wine, toasting marshmallows, and cozying up with blankets. They add so much to a garden and yet are such an easy addition that can create an instant focal point to your decking or patio area. Plus, there are designs to suit all styles and sizes of outdoor space too, from tiny portable freestanding options, to gorgeous bespoke designs that can fit seamlessly into your current space. So be inspired to add this summer must have, with all these stylish deck ideas with fire pits.
Hebe is an experienced homes writer and editor. She has written hundreds of articles helping readers make the best home design choices, and spends her days interviewing interiors industry experts to bring the latest ideas to her readers. For this piece she spoke to the world's best designers who have created the most inspiring outdoor spaces, ideal for compiling this article.
Can you put a fire pit on decking?
Before we get into lots of lovely deck ideas with fire pits, let's talk safety. Can you have a fire pit on top of wooden decking? Obviously, fire and wood are not a good combination, unless you are putting said wood on the fire, so if you want to add a fire pit to a wooden deck there are steps you need to take first.
Before putting a fire pit on top of a wooden deck, you need to add a heat-proof barrier between the two. You should also only place a fire pit on treated, flame retardant wood.
You can use something like a patio slab and make sure to always use a stand, the bowl should never be placed directly on the deck. You can also get things called fire pit pads or heat-proof floor mats that can go underneath your fire pit.
1. Create a zone for your decking with a fire pit
Creating a separate area to position your fire pit and surrounding decking or patio, firstly keeps it away from the house so you avoid blowing smoke inside, but also distinguishes it as its own chill-out spot.
Pinch some ideas from this fabulous LA home and opt for a very minimal fire bowl, and go for a gas fire pit filled with stones rather than wood to avoid all the aforementioned smoke. Surround it with cool long slung sofas and cozy it up with neutral throw pillows.
2. Pick a shape that works with your layout
If you are bringing a fire pit into an already existing decking area, think about how your current setup will work with different shapes and designs of fire pit. In this modern open-plan home, it makes sense to create an L-shape with the furniture, leaving one side open for easy access and views over the pool, therefore a neat square design to fit to sit snuggly in the middle makes sense. But maybe for your decking a circular design with seating around or a narrow fire to run along a single sofa would be the best option.
3. Pick a fire pit that doubles up as furniture
Take your decking ideas with a fire pit to the next level and pick a design that also doubles up as a table. This modern outdoor furniture idea provides a cozy heat source for when the nights draw in, a hand place to perch drinks and an instant centerpiece on your decking.
You can pick from so many different styles too, depending on the look you are going for and the size of your space. Pick a large rectangular design to sit in the center of a snug corner sofa or go for something smaller and slimline in you have a small garden with just a couple of lounge chairs surrounding it.
4. Make the most of a view
If you've got the views, make the most of them by positioning your fire pit and the seating that surrounds it, so it looks out over the landscape. If you have additional seating space in the garden, go romantic for the fire pit area and pick just a couple of chairs to give it a really cozy, intimate feel as well as the ideal outdoor heating idea for when the nights get cooler.
5. Choose a portable option you can move around the space
How dreamy is the decking of this Scandi-style summer house? Loads of inspiring fire pit ideas going on here too! Having a corner sofa to section off the area makes it feel instantly more cozy and relaxed and those Adirondack chairs add a classic feel. The fire pit is a portable one too, which we would recommend going for if you like to switch up your outdoor space, or want to be able to move the firepit to different parts of the garden.
6. Add a pergola with string light to your decking area
Give your decking a more outdoor living room idea by adding a pergola over the whole area. You will have to be a bit wary as you where you add your firepit and make sure the pergola is tall enough to not get scorched. Complete the cozy, rustic look with rattan garden furniture, textured plant pots, throws, and cushions. String up some festoon lights to complete the look.
7. Keep in minimalist in a small garden
Only got a small decking area? You can still squeeze in a fire pit, just go for a low-key,mstylish design that won't take up loads of space but will provide all the warm and fuzzy feeling you get when everyone's crammed in around the fire.
Embrace the small proportions of your decking by going for a cozy rustic look, lots of natural textures, and Mediterranean-style planting to give an exotic feel. Opt for more slimline garden furniture though so you don't add too much visual bulk and light can still flow through the space.
8. Add a fire pit to a courtyard garden
Cozy up a courtyard garden with a small freestanding fire pit. Opt for a really simple, cast iron design that will take up minimal space but still look lovely when it's roaring away.
And take inspiration from this lovely space and throw down a large rug (these are ideal for making small gardens look bigger) and some fuss-free garden furniture and a couple of large potted plants for greenery and texture. Just make sure you put a heat protector between the rug and the legs of the fire pit.
9. Match a fire pit to your furniture
Create a cohesive feel by matching your fire pit to your garden furniture. Loving the simplicity of the all-white vibe in this small patio garden, very contemporary and minimalist. Soften up and add texture to a monochrome scheme with throw pillows and cozy blankets.
10. Build a fire pit into a wall
If floor space is at a premium, be inspired by this decking idea with a fire pit and elevate it by building a space for a fire in the walls. In this stunningly renovated round tower not only is a nook added into the boundary walls to house the fire, but seating also extends from the wall too, again freeing up more floor space on this small patio.
Hebe is the Digital Editor of Livingetc; she has a background in lifestyle and interior journalism and a passion for renovating small spaces. You'll usually find her attempting DIY, whether it's spray painting her whole kitchen, don't try that at home, or ever changing the wallpaper in her hallway. Livingetc has been such a huge inspiration and has influenced Hebe's style since she moved into her first rental and finally had a small amount of control over the decor and now loves being able to help others make decisions when decorating their own homes. Last year she moved from renting to owning her first teeny tiny Edwardian flat in London with her whippet Willow (who yes she chose to match her interiors...) and is already on the lookout for her next project.