14 small garden ideas – planting ideas, layout inspiration and expert advice on maximizing a tiny outdoor space
Small garden ideas that are big on style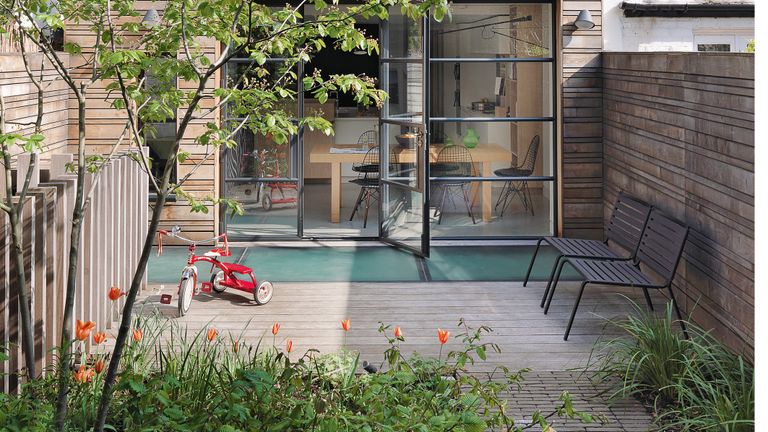 (Image credit: Future)
By Lotte Brouwer , Hebe Hatton published
While we all may dream of owning acres of land with luscious lawn spanning out into shaded orchards, complete with large blooming borders and a kitchen garden, if you live in a city the reality is your square footage is going to be on the smaller side.
But small garden ideas can be just as inspiring and your lack of space didn't limit your big ideas. Smaller gardens, patios and roof terraces can still be stylish, serene spaces to escape to, and while you might not be able to squeeze in that orchard, there are plenty of small garden designs that will bring you equal joy it's just about being clever with the space you do have.
Dividing up a patio or terrace into different heights, for example with decking, will actually make the space feel larger and zone different areas. Creating built-in planters or tiered levels will also double up as seating, eliminating the need for bulky furniture. Just add some pretty banquette style cushions et voila.
Or, for something more flexible than borders, go for potted plants which can easily be moved around and interchanged. Not much space for plants? Think vertically. If budget is no issue, invest in creating a striking living wall, or for rental spaces or something more budget-friendly, arrange potted herbs and plants on high shelves instead, freeing up floor space. See, already plenty of small garden ideas to get you started...
1. Ditch decking and opt for tiles in a small garden
Tiles used in place of decking or paving is a huge garden trend right now and it's a look that works perfectly in smaller gardens. Pattern, when used on the floor, can distract the eye from the dimensions of the space so pick a design that's going to play with perspective in your space.
If you are dealing with a narrow garden, draw the eye outwards with a horizontal design and vice versa for a more shallow garden, use your tiles to add length. And if something as bold as this doesn't match your vibe, pick a neutral tile or paving and use the layout for a similar space expanding effect. A long herringbone design is a go-to for smaller gardens.
2. Add plenty of texture with mixed materials
As with smaller indoor rooms, when it comes to small garden ideas texture is key. It's texture that will add interest to your space can be used to blur the edges of your garden. Plants are the obvious way to bring in lots of different textures, so when choosing plants for a modern garden be sure to pick an array of sizes and shapes. But if you aren't particularly green fingers you can bring in texture with materials too – your choice of decking or patio paving, fences, trellises even furniture can all add to creating a small garden packed full of interest.
This compact outdoor space feels calm and soothing, with clean stone flooring, bedded plants, exposed brickwork and sleek, slatted wood fencing.
3. Try out container gardening
As established, we all want fields full of flowers but container gardening can be just as beautiful and colorful, just on a smaller scale. Pick pots that suit your style – try square concrete for a more modern feel, terracotta for all the Meditterean vibes or hunt on eBay for old pots if you like a more traditional English feel. Whatever look you go for, pick pots and plants in a variety of sizes and grow at different heights to create a display that rivals any flower meadow.
4. Create zones within a small garden
With a small garden it might seem odd to want to break it up into smaller sections, but by zoning your space into 'rooms' you and intrigue and this unknown of where the boundaries of the garden end can allude to more space.
You can divide your garden using large plants, hedges, trellis or fences – it just depends on the look you are going for. And make sure to always leave plenty of room to walk around the different spaces, you want to create the feel of different zones, rather than section them off entirely.
5. Use mirrors to 'expand' a small garden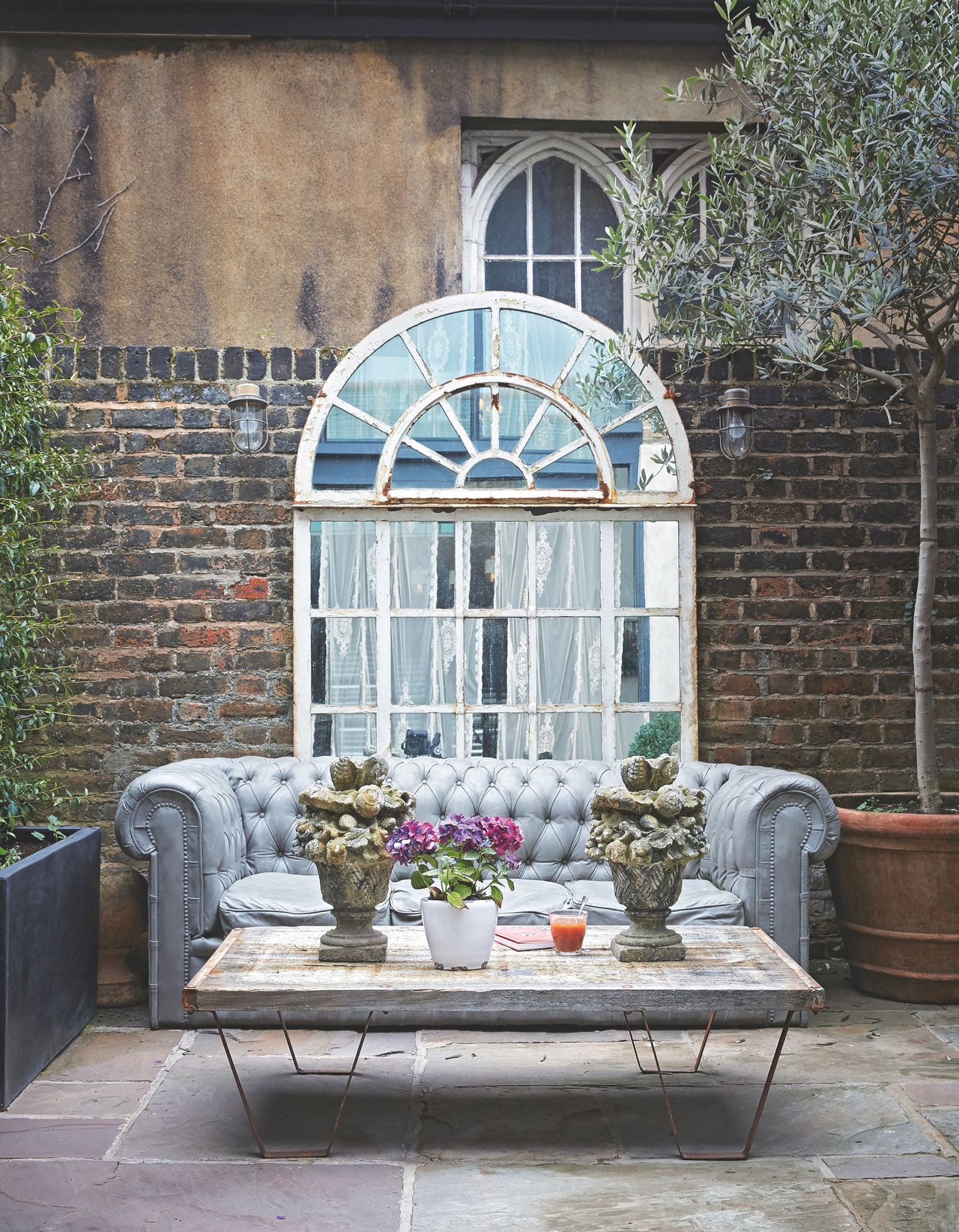 A really simple small garden idea that's guaranteed to make a small garden look bigger is mirrors. It's design 101 that they make rooms feel lighter and loftier and the same goes for gardens. Depending on the look you are after, you could add a large simple mirror to the back wall of your garden to 'double' the space or opt for something more subtle and traditional with an antique mirror covered in climbers.
6. Don't be afraid to go bold
Small gardens can handle color too – case in point this tiny patio that has a lovely, relaxed exotic feel it. It's a narrow space but the turquoise wall draws the eye out making it feel larger. And there's the humble mirror doing its space-expanding tricks and the colorful tiles plus the cohesive scheme make it feel almost like an extra room leading on from the kitchen.
7. Make a small garden feel cozier with a fire
A lovely small garden idea that only going to enhance the coziness of the space (in a good way) is to add a fire. The obvious and easiest choice is to add a firepit and arrange comfy seating around it, but if floor space is really tight, copy this gorgeous garden and have a fire install into a boundary wall for a real outdoor living room feel.
8. Create levels in a small garden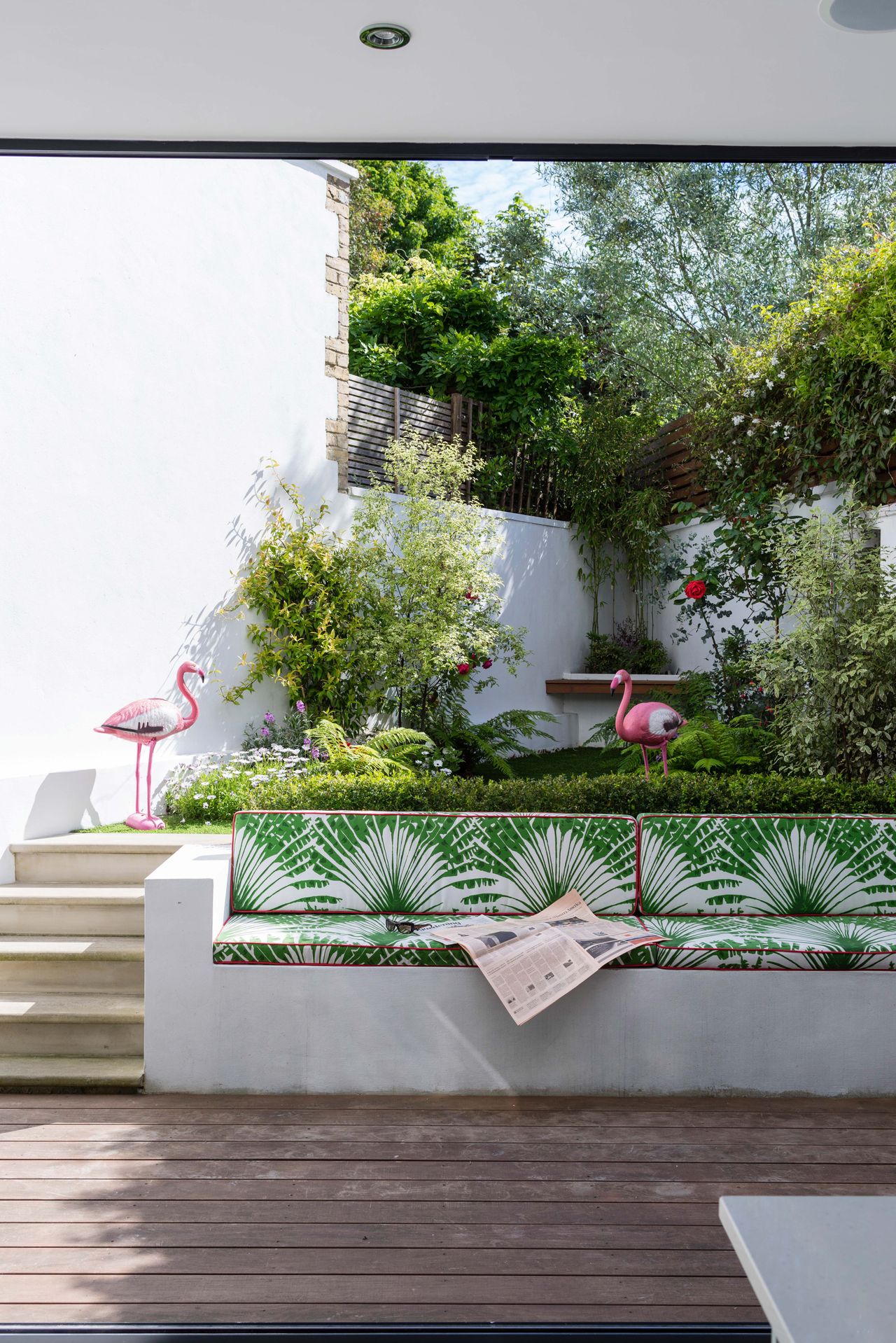 Adding levels is a great small garden idea as it not only makes the space more interesting but makes it feel bigger too as you create different zones within your garden. You could add a sunken garden or seating area or add a raised lawn or garden as you can see in this garden with steps leading up from a patio area.
9. Think big even in a small garden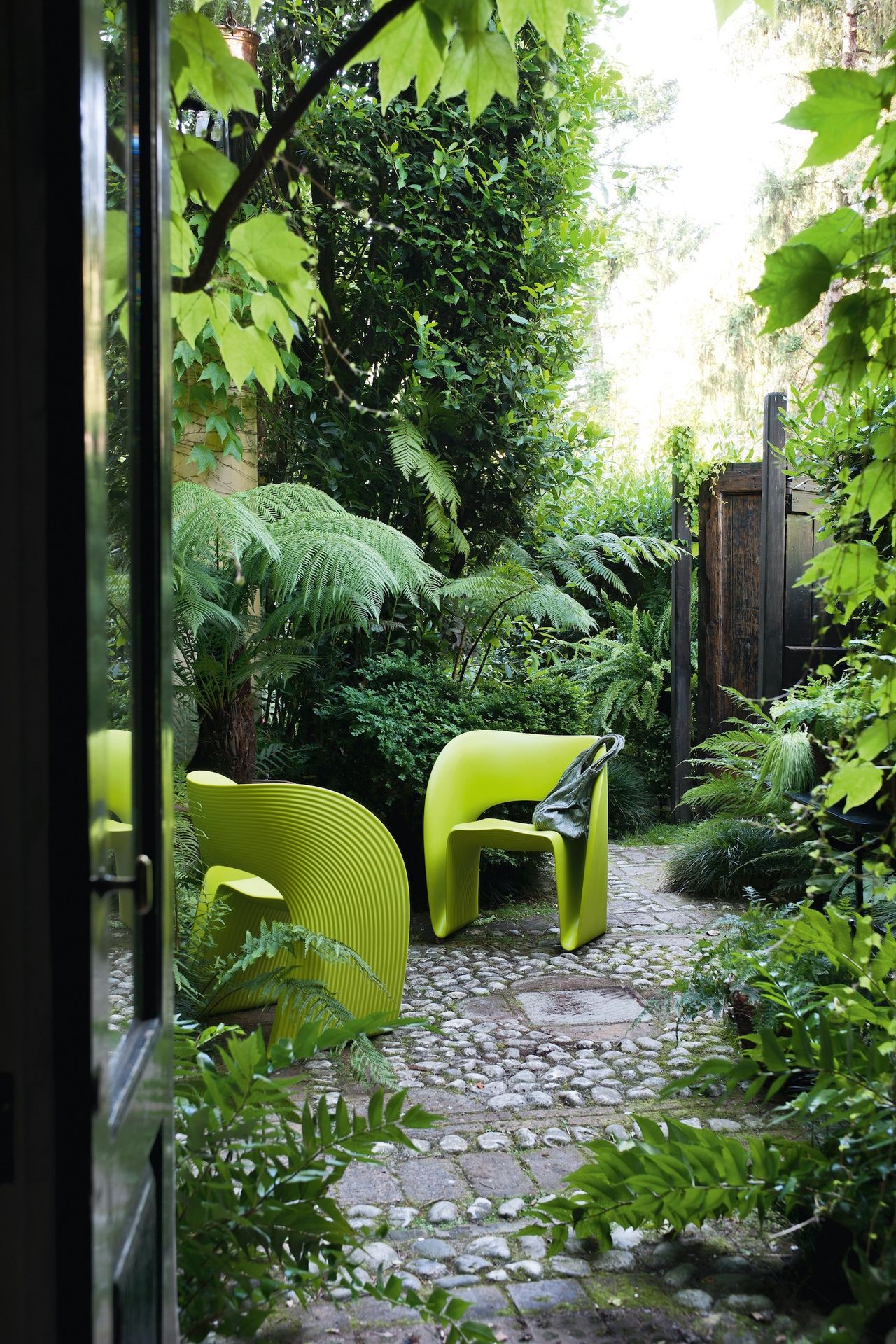 It's tempting in a small garden to keep everything small – small plants, small pots, small furniture but in fact keeping everything in scale with your small space will in fact only make it feel cluttered and smaller. Instead, opt for some large, stand-out plants that are going to add some drama and distract from the small dimensions.
10. Switch out traditional garden furniture
Whilst it's easy to swoon over the best garden furniture, if you're seriously short on space then a hammock can be a great solution. They take up zero floor space and can be quickly stored away should you need the garden for entertaining. And if a hammock just sounds too hippyish, a stylish hanging chair would work just as well.
11. Make use of vertical space
When floor space is lacking, look upwards for areas to add greenery. Plant trees that will grow upwards rather than outwards or fill the edges of your garden with climbers. You could even plant up a living wall and forgo borders to have more space at ground level to add a lawn or a patio.
12. Get creative with wall tiles
This is such a fun small garden idea and by covering a dark brick wall in lighter tiles, the space instantly feels bigger, lighter and more of a garden than just a tiny courtyard. The floor tiles have a similar space-enhancing effect, plus the festoon lights and olive tree give it a holiday feel – lots to be inspired by here.
13. Lengthen a small narrow garden with paths
Adding a garden path can trick the eye and make a garden appear longer. To further emphasize this, design a path that gets narrower as it leads to the end of the garden, and don't just stop it abruptly, fade it into a border so you can't clearly see where it ends.
Soften up the look of a paved path by allowing plants, such as mind-your-own-business to creep into the crevices. This looser approach to paving softens the look of a path, creates better drainage, and provides habitats for wildlife, too.
14. Blend outside and in
Indoor/outdoor living has been a massive garden trend for the past few years, with more and more homeowners wanting that seamless flow between inside and out. And the bodes well for small gardens! See it as borrowing space from in your home to creating the feeling of a bigger garden.
Having sliding or bi-folding doors between house and garden is an obvious way to link the two, however, your choice of flooring can have an equally blurring effect. Run the same or similar flooring from the room adjoining to your garden and your garden will instantly look larger and feel more like an extension of your home.
14. Build a seating area into a small garden
We've established that levels are good in a small garden, so take it to the next level and turn your small space into a sunken seating area with plants sitting above your patio. This is a great modern outdoor furniture idea if you are not so big on gardening but often use your outside space for lounging or entertaining. Treat it like an outdoor living room with just a few lush (but low maintenance) evergreens and grasses to add texture and greenery.
How do you plan a small garden?
When planning a small garden the first thing to do is create a list of must-haves. Consider which elements are vital for you and your lifestyle and what you can forgo. For example, if you like you dine in your garden or often entertain then a patio area with seating would be essential, and you could skip having a lawn for that. And likewise, if you are more green-fingered and want to maximize on space for plants you might not have a patio at the top of your list.
What you don't want to do when planning a small garden is go overboard on your wishlist and end up with a large garden in miniature that has everything you want but feels cramped and functional. You might have to make some compromises, but less is definitely more when planning a small garden.
How do you layout a small garden?
The best layouts for small gardens are ones that zone the space or have different layers to it. Rather than just using the whole space as one dividing it up will add depth and interest and it can blur the boundaries of the garden too, making it appear larger.
How do you make a small garden look nice?
Making a small garden look nice is exactly the same as making a large garden look nice – fill it with texture and interest and decor that reflects the style of your home. Use mirrors to bounce light around and allude to more space. Layered planting will add depth and create the impression that the garden is more densely planted. Use garden lighting ideas too to create ambience in your garden, hang fairy lights, add spot lights in the ground and dot candles around too for a magical effect.
Lotte is the Digital Editor for Livingetc, and has been with the website since its launch. She has a background in online journalism and writing for SEO, with previous editor roles at Good Living, Good Housekeeping, Country & Townhouse, and BBC Good Food among others, as well as her own successful interiors blog. When she's not busy writing or tracking analytics, she's doing up houses, two of which have features in interior design magazines. She's just finished doing up her house in Wimbledon, and is eyeing up Bath for her next project.