24 Small garden ideas - how to be stylish no matter how little your outdoor space
Small garden ideas that are big on style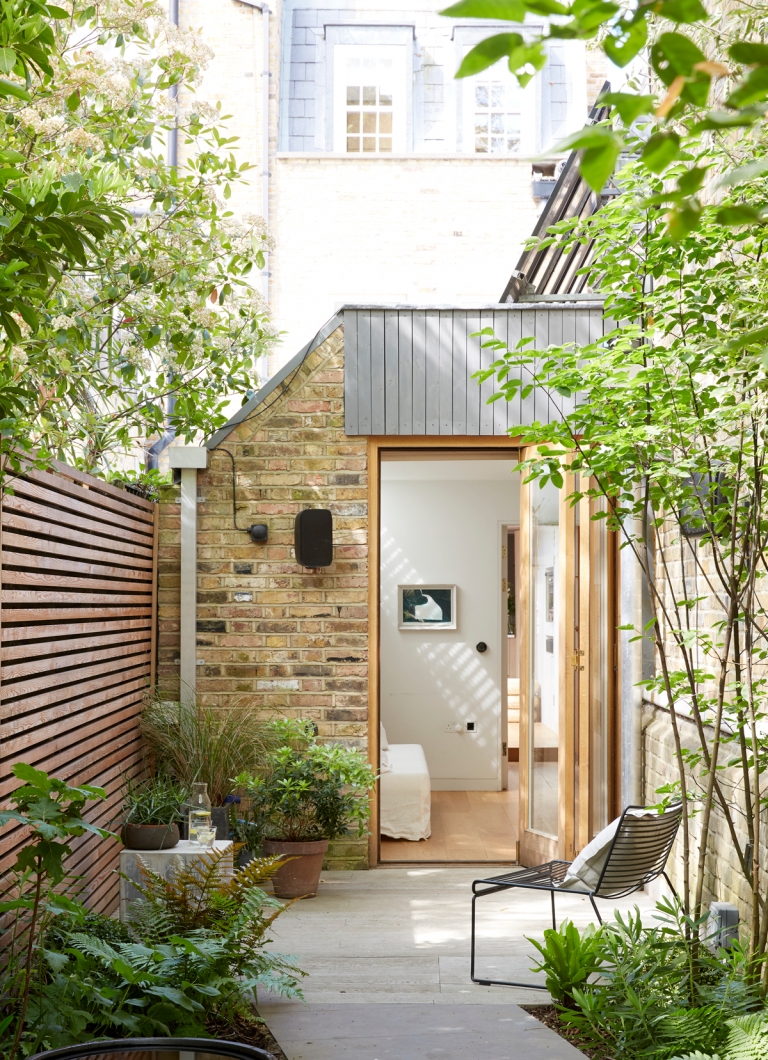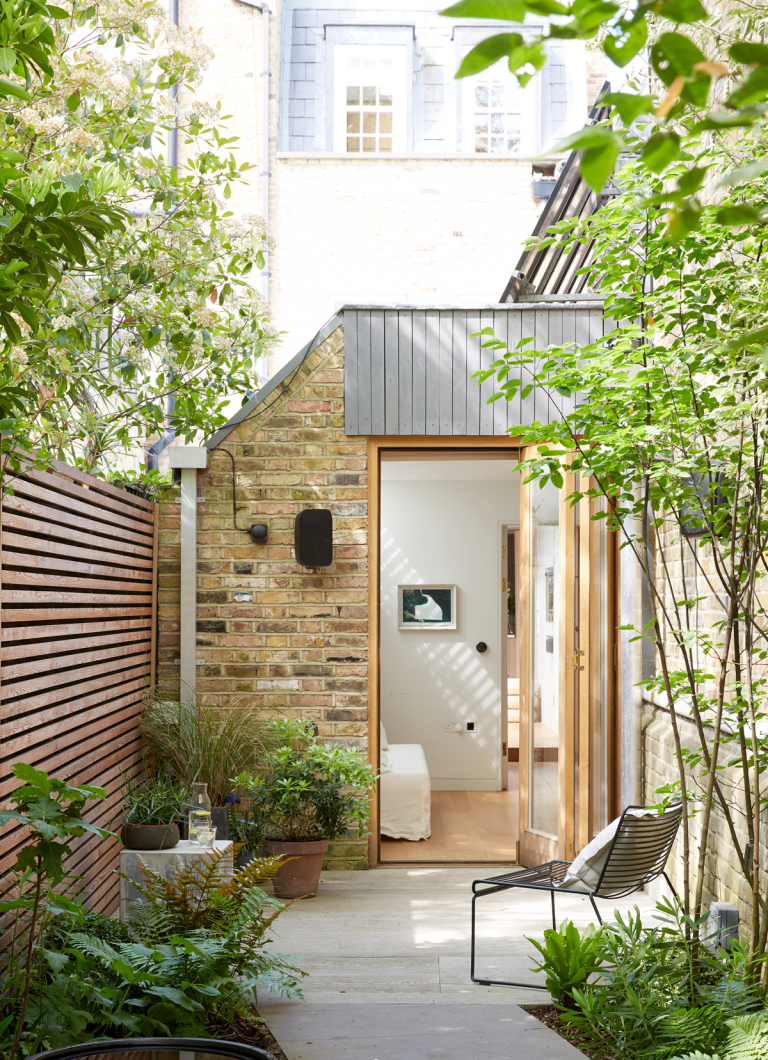 (Image credit: Paul Massey)
Lack of space needn't cramp your design flair; and small garden ideas can really focus your mind.
Smaller gardens, patios and roof terraces can be wonderfully low-maintenance, with no lawns to mow or trees, shrubs and hedges to prune. Small gardens are also great spaces to get more creative, as even the smallest additions, from pretty floor tiles to stylish accessories, will have a dramatic effect.
No space for a pond? The latest garden trends are seeing an oversized pot or urn with water and water lillies instead. There are also plenty of compact water features around, try Cox & Cox for a selection.
Dividing up a patio or terrace into different heights, for example with decking, will actually make the space feel larger and zone different areas. Creating built-in planters or tiered levels will also double up as seating, eliminating the need for bulky furniture. Just add some pretty banquette style cushions et voila.
Or, for something more flexible than borders, go for potted plants and greenery which can easily be moved around and interchanged if plants die. Not much space for plants? Think vertically. If budget is no issue, invest in creating a striking living wall, or for rental spaces or something more budget-friendly, arrange potted herbs and plants on high shelves instead, freeing up floor space.
As well as colour, try to introduce lots of texture to make the space feel inviting: outdoor furniture like cushions, throws, sheepskins and a statement rug will all up the feel factor. Mirrors can help to make a space appear larger. You can then add a little ambience with festoon lights, lanterns and hurricane lamps.
Even the tiniest plot can be transformed into an elegant outdoor retreat.
Here are Livingetc's small garden ideas to make the most of a tiny outdoor space...
1. Tile Tricks
In this courtyard garden, designed by Barbara Samitier, the bespoke Bauhaus-inspired tiles create a party vibe and distract the eye from the boundaries, making the space appear bigger. A chic black unit creates a practical workstation, while a bistro-style table and chairs would complete the look. They can be easily set to one side when more space is needed.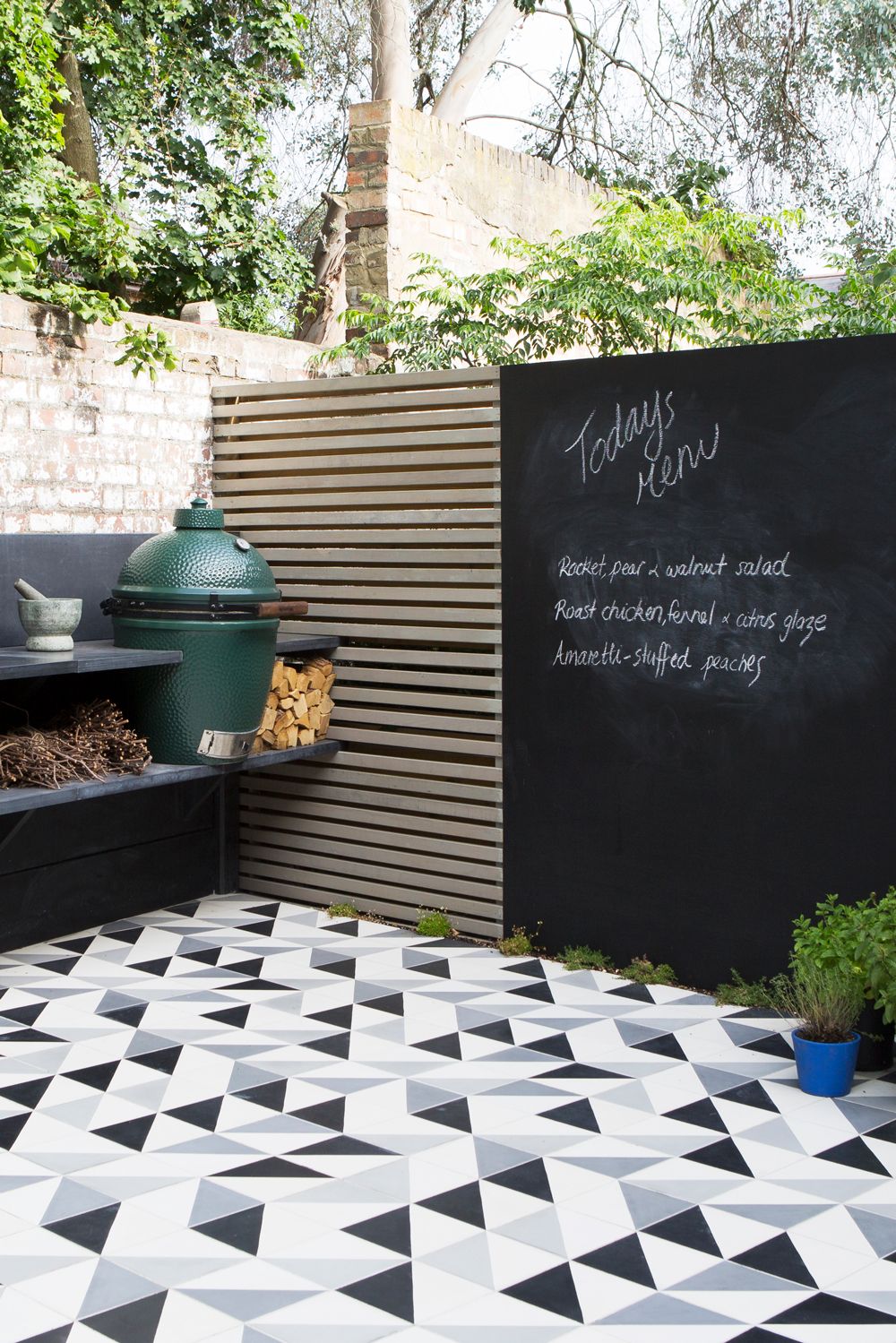 2. Mixed Materials
This compact outdoor space feels calm and soothing, with clean stone flooring, bedded plants, exposed brickwork and sleek, slatted wood fencing.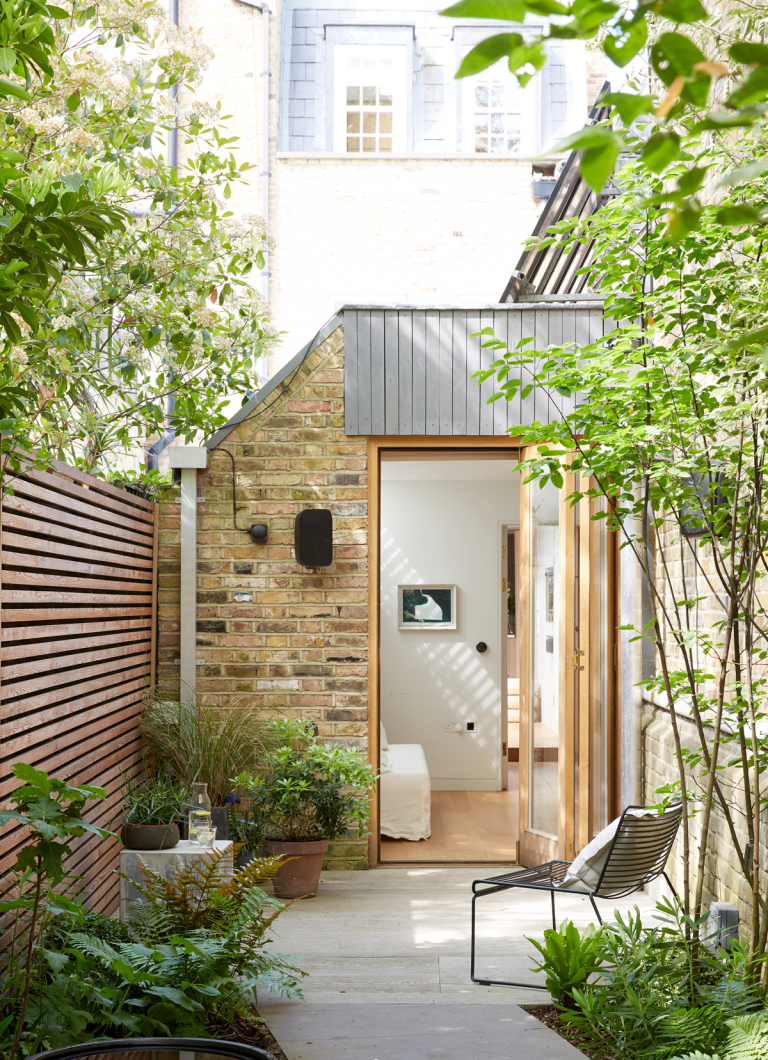 3. Mobile Meadow
We all dream of fields full of flowers but Isabelle Palmer, the master of small garden ideas with her brand The Balcony Gardener and author of Modern Container Gardening (£16, Hardie Grant), has a way to get the look in miniature. She cuts circles of wild flower turf (from pictorialmeadows.co.uk) to fit compost-filled pots. 'The turf is easy to establish and these containers will attract bees and butterflies,' says Isabelle.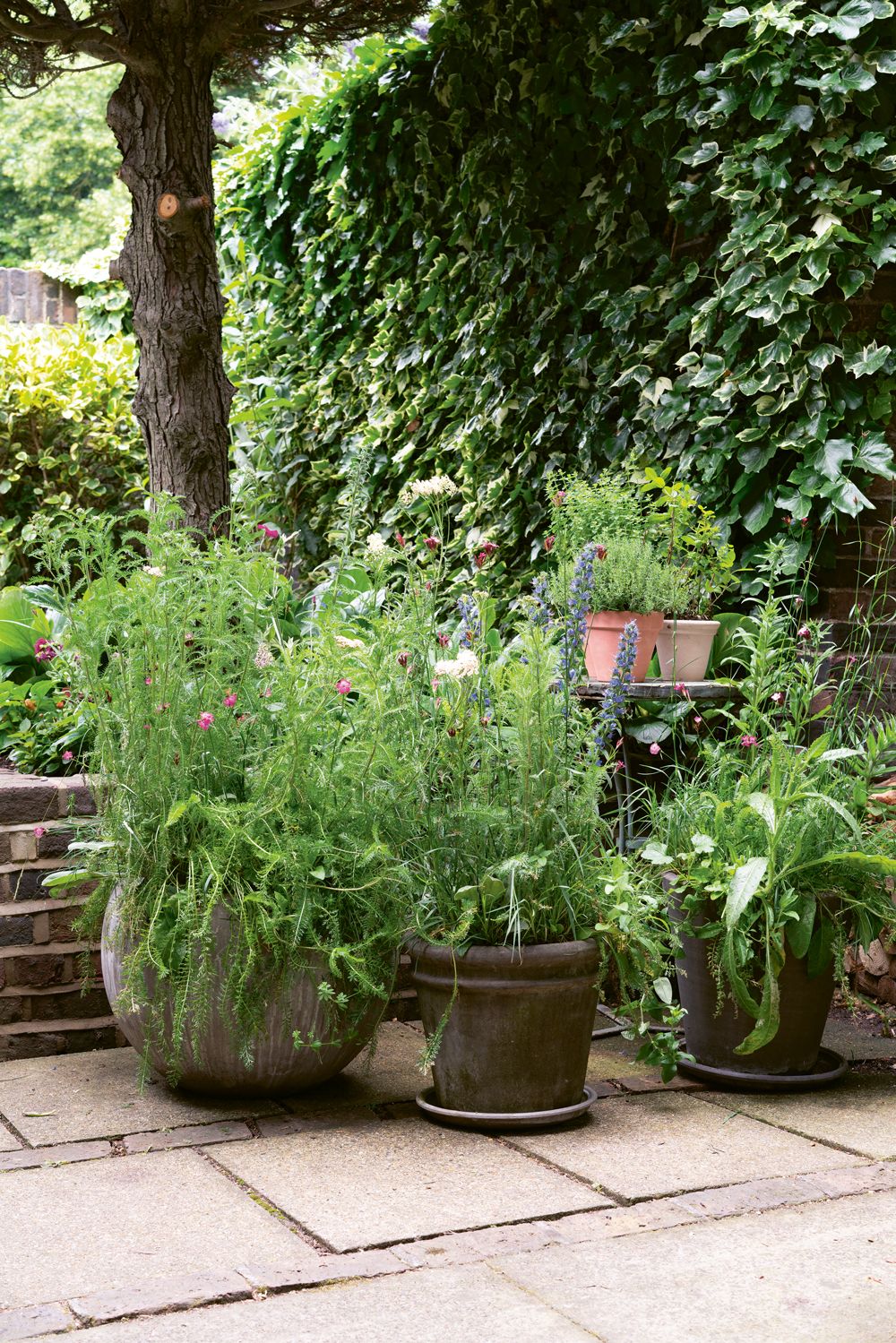 4. Wall Fountain
In this small, quiet garden designed by Katharine Pooley, a wall fountain makes a gorgeous feature without taking up too much space.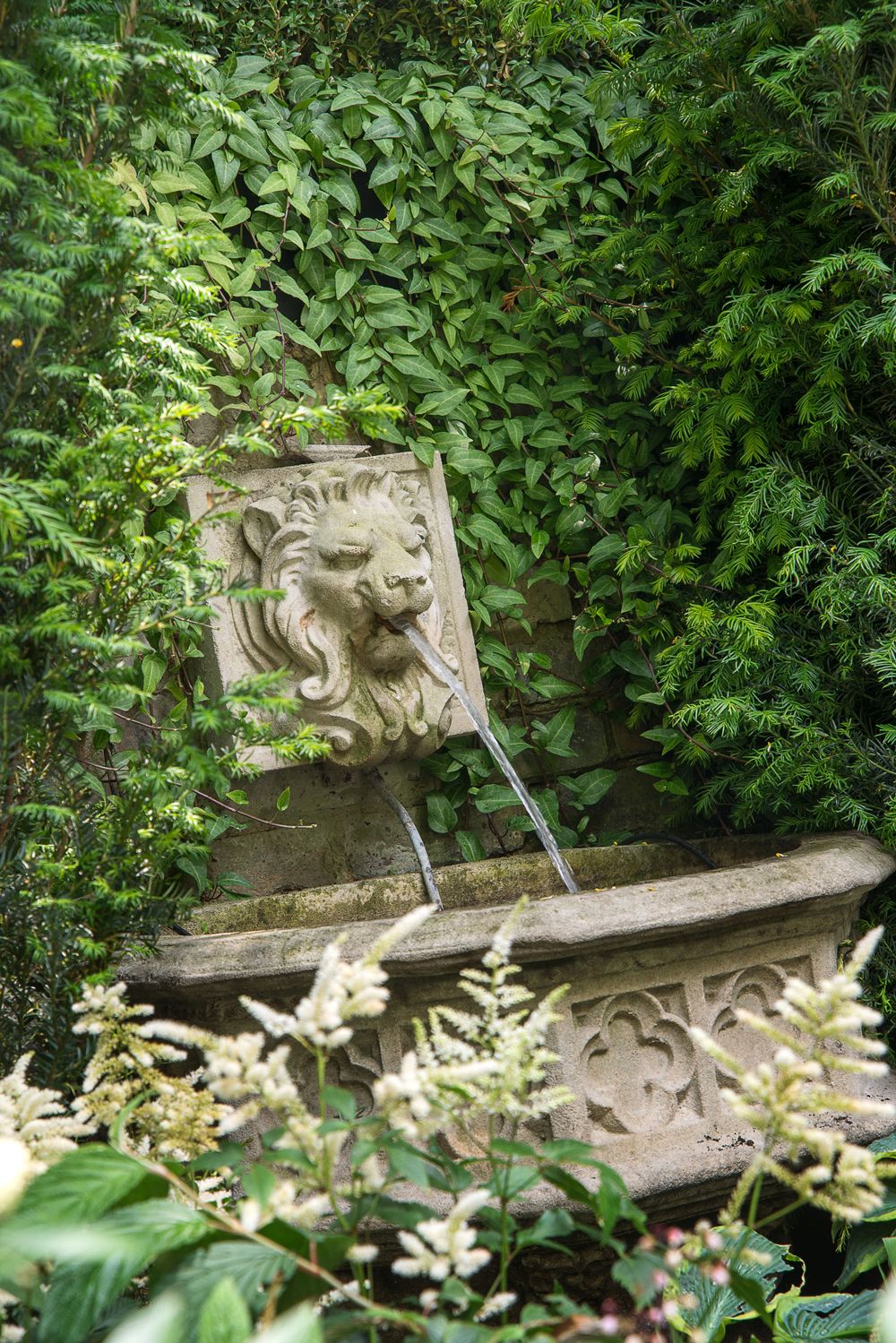 5. Bright colour
A patio with a turquoise wall draws the eye out to the back and making the space appear larger. A pop of vibrant colour adds interest even in the middle of winter.
6. Warm Welcome
This integrated fireplace is guaranteed to take off the evening chill, while its minimalist Corten steel surround makes a stylish focal point – day or night. Install the fireplace in a boundary wall or, in a larger garden, enclose your seating and dining area with a freestanding screen, such as this one from WWOO's modular system. And burn only low-emission dry wood or manufactured solid fuels.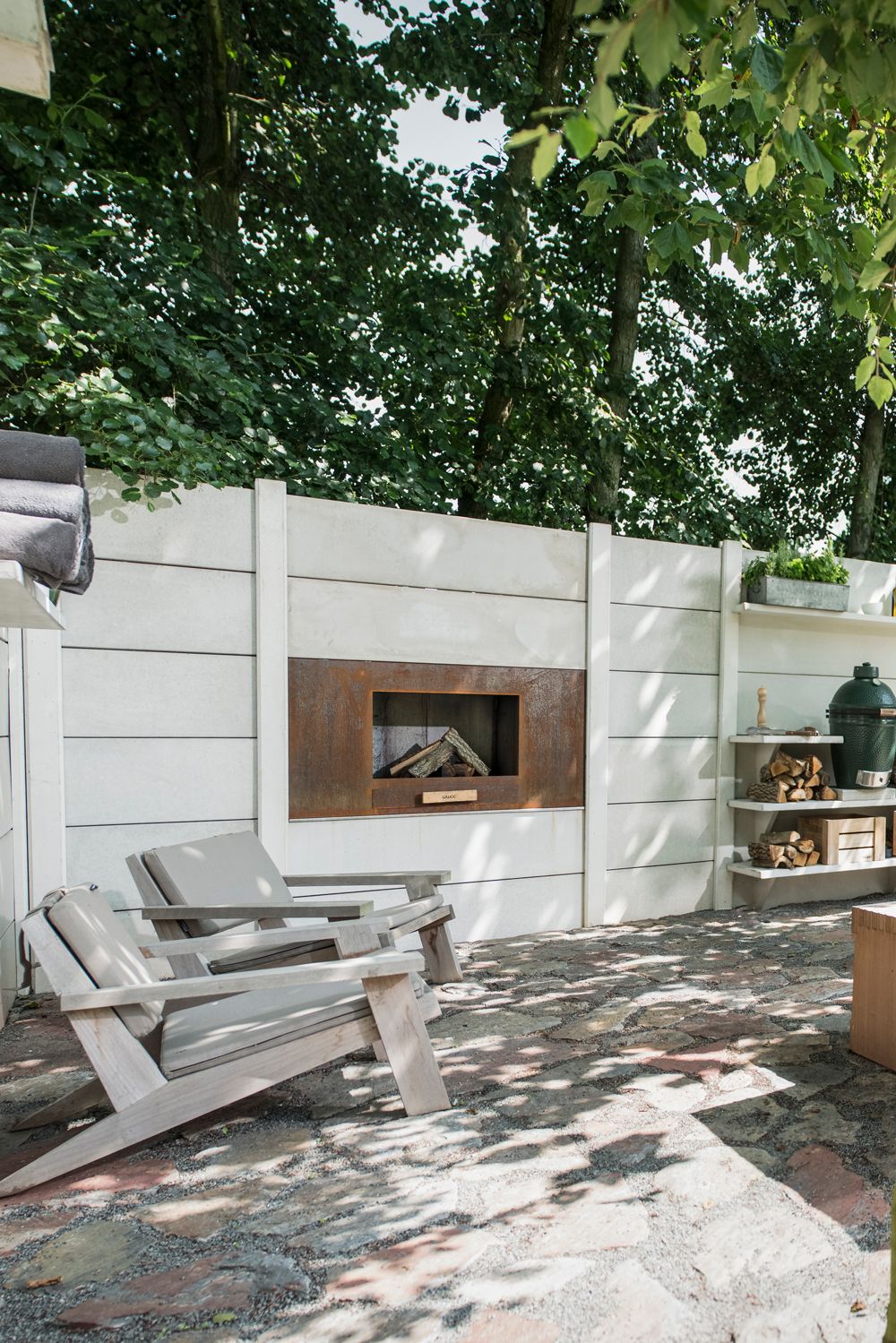 7. Shadow Play
The modernist-inspired granite and glass-tiled waterfall in this small urban garden creates a bold streamlined statement. Designer Amir Schlezinger has used spotlights to create dramatic shadows as evening falls, while a bench with a lit cavity echoes the fireplace in the adjacent living room. Raised beds double as impromptu seating and the hardwood flooring creates a seamless flow between indoors and out.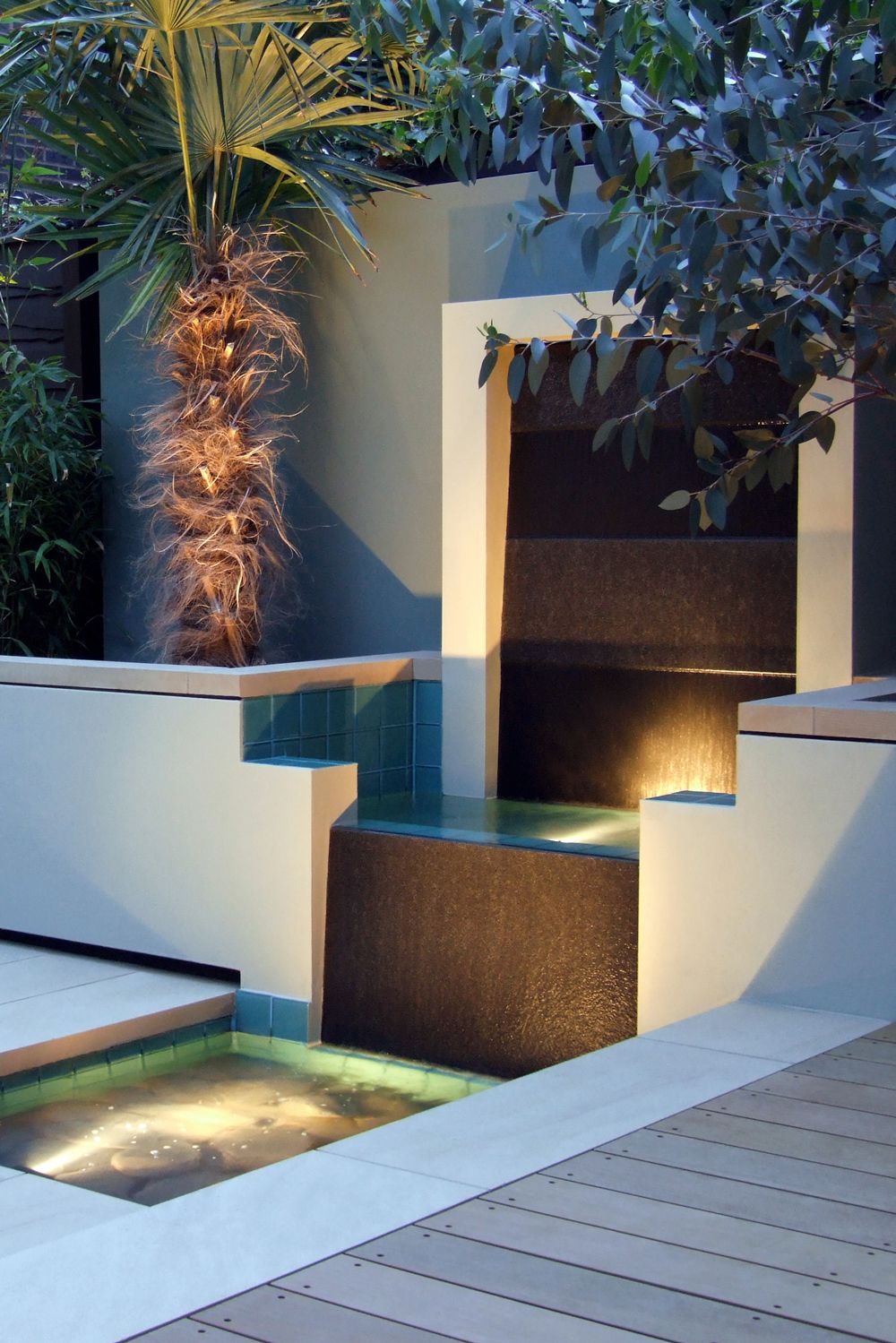 8. Tropical terrace
Tropical is topical in urban settings where a slice of escapism extends the holiday vibe beyond the summer months. Invest in large pots for your plants, and think along the lines of yuccas, agaves and olive trees. In this snug courtyard, a pergola provides extra growing space as well as shade for the tropical-inspired sofa.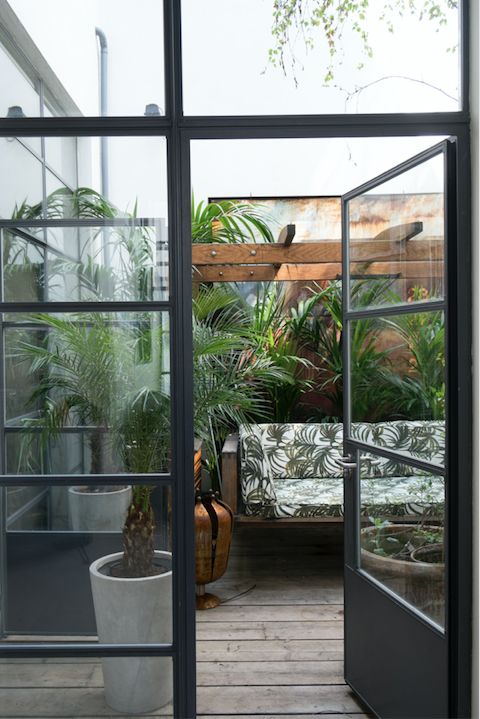 9. Swing chair
Potted plants, a compact seating area and a swing hanging from a beam make the most of the urban outdoor space.
10. Living wall
The patio may be small, but a sea of green against the wall makes it feel more like a garden.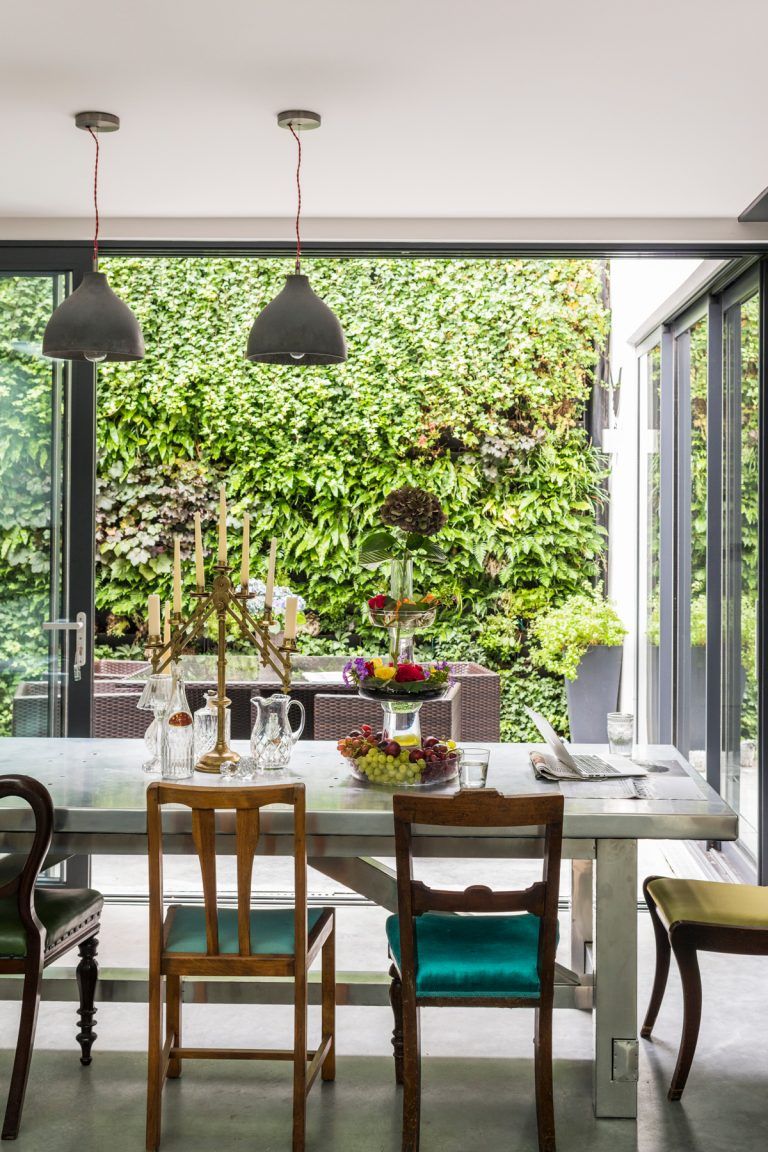 11. Wall tiles
This courtyard is only a small space, but the tiled wall adds a fun atmosphere, plus the blackboard is fun for the kids and in the summer, the owners hang a hammock here.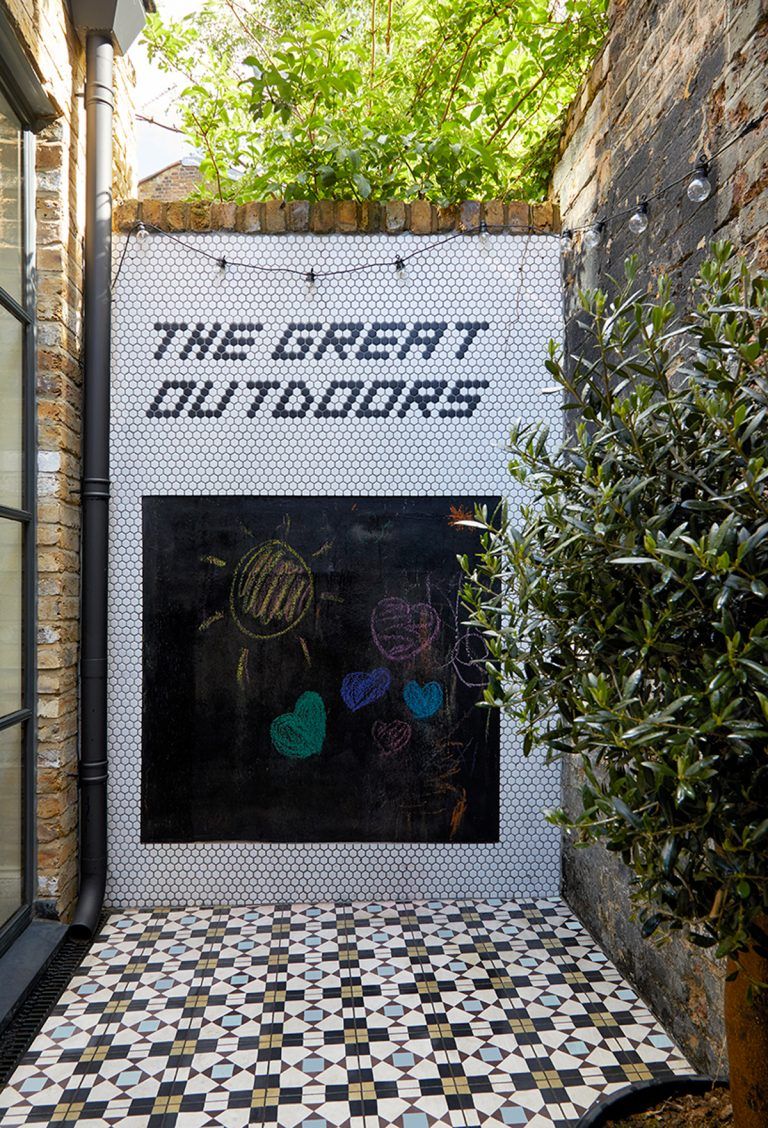 12. Tiled wall
Gloss teal tiles add shiny colour, create a clean look and bounce light around. See more of the designer's work at kingstonlaffertydesign.com.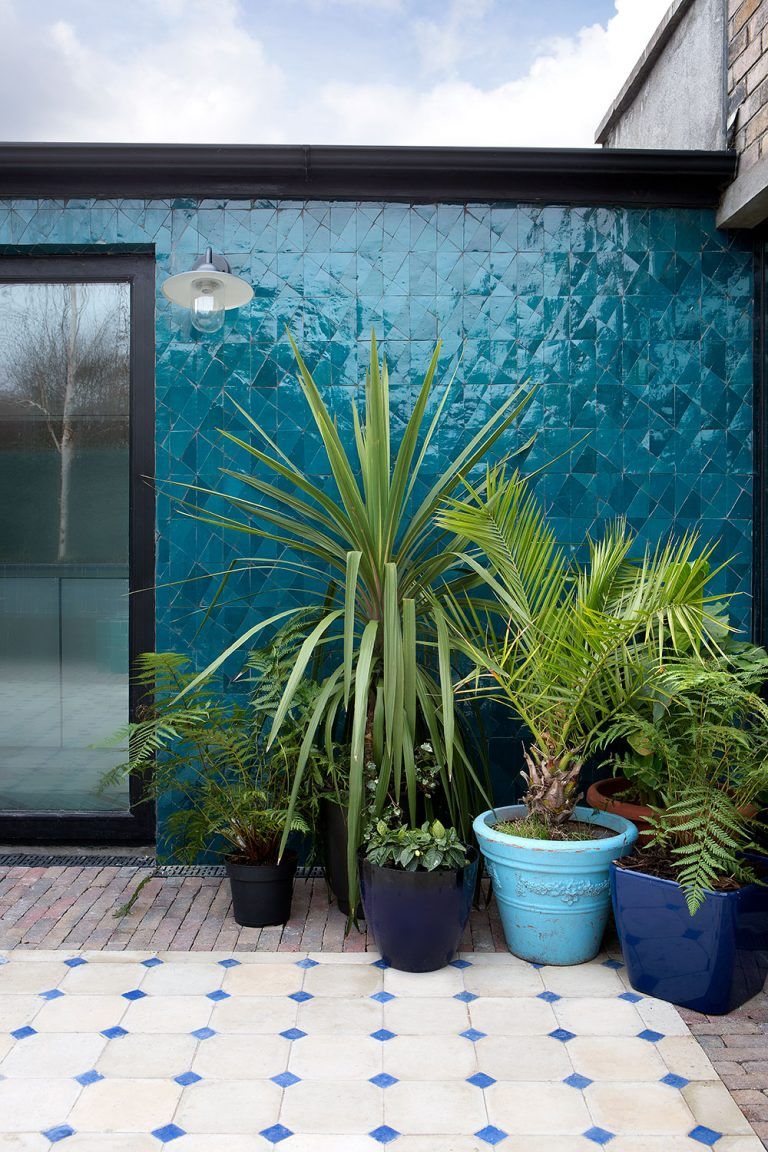 13. Planet Friendly
Hardscaping is becoming greener with crazy paving or spaced pavers that allow rainwater to seep into the ground rather than run off into drains. In a small urban garden, designer Stuart Craine used spaced concrete beams to create a path that allows plants, such as mind-your-own-business to creep into the crevices. This looser approach to paving softens the look of a path, creates better drainage and provides habitats for wildlife, too.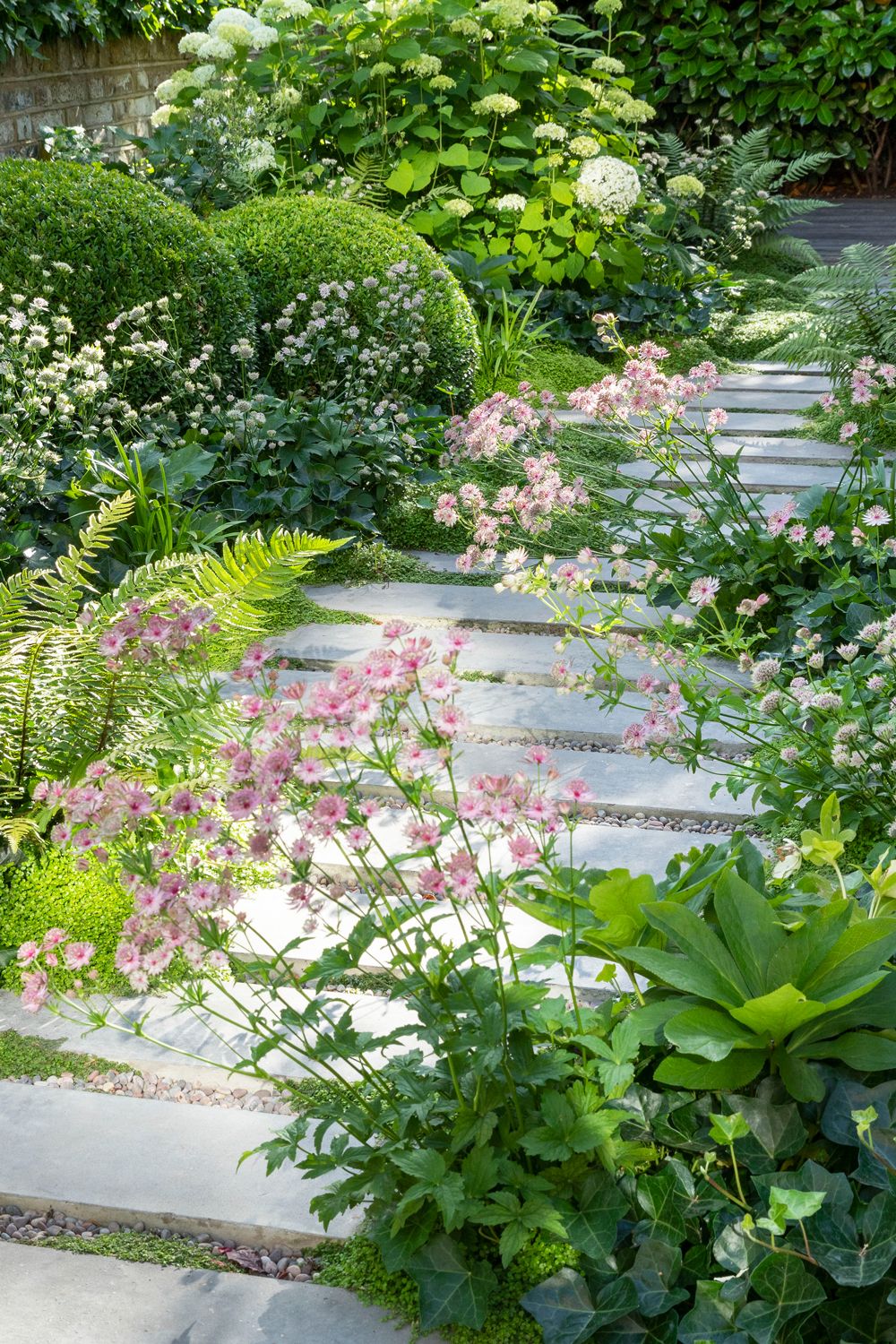 14. Alfresco dining
Chic and comfortable weatherproof furnishings allow you to recreate your dining room in the garden. Here, landscape architect Stefano Marinaz has enhanced the inside-out look with iroko and bronze-clad fencing panels for a textured wallpaper effect. Pendant lights create just the right night-time ambience, while matching cushions unify the design.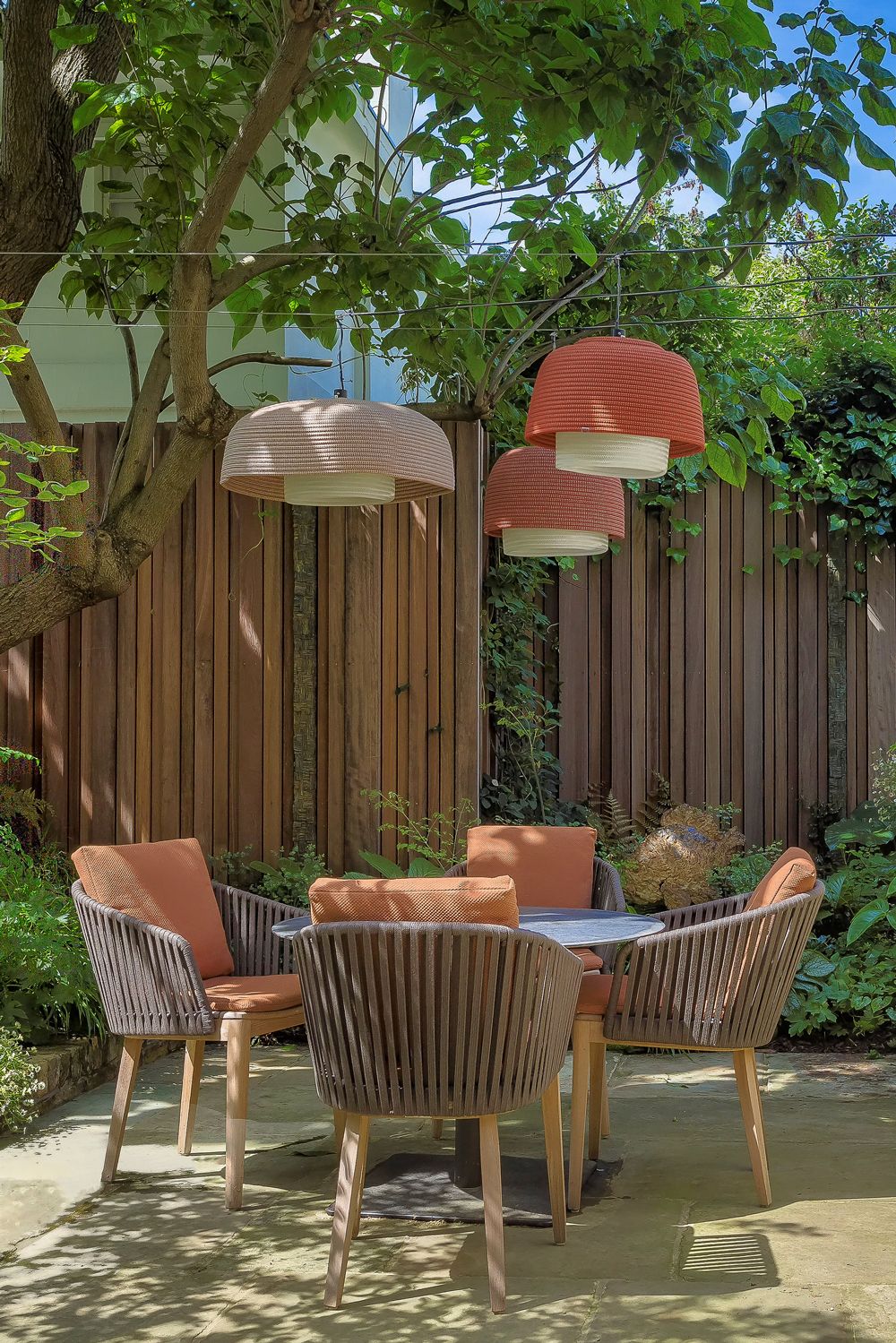 15. The Pot Colony
A collection of containers is the new way to garden, but there are tricks to make it work. 'Sticking to either angular or round pots leads to a coherent finish, as does limiting the materials,' says Tom Harris, author of Pots for All Seasons (£20, Pimpernel Press). Here, Tom combined spiky cordylines and phormiums with soft Japanese maples for a low-maintenance scheme.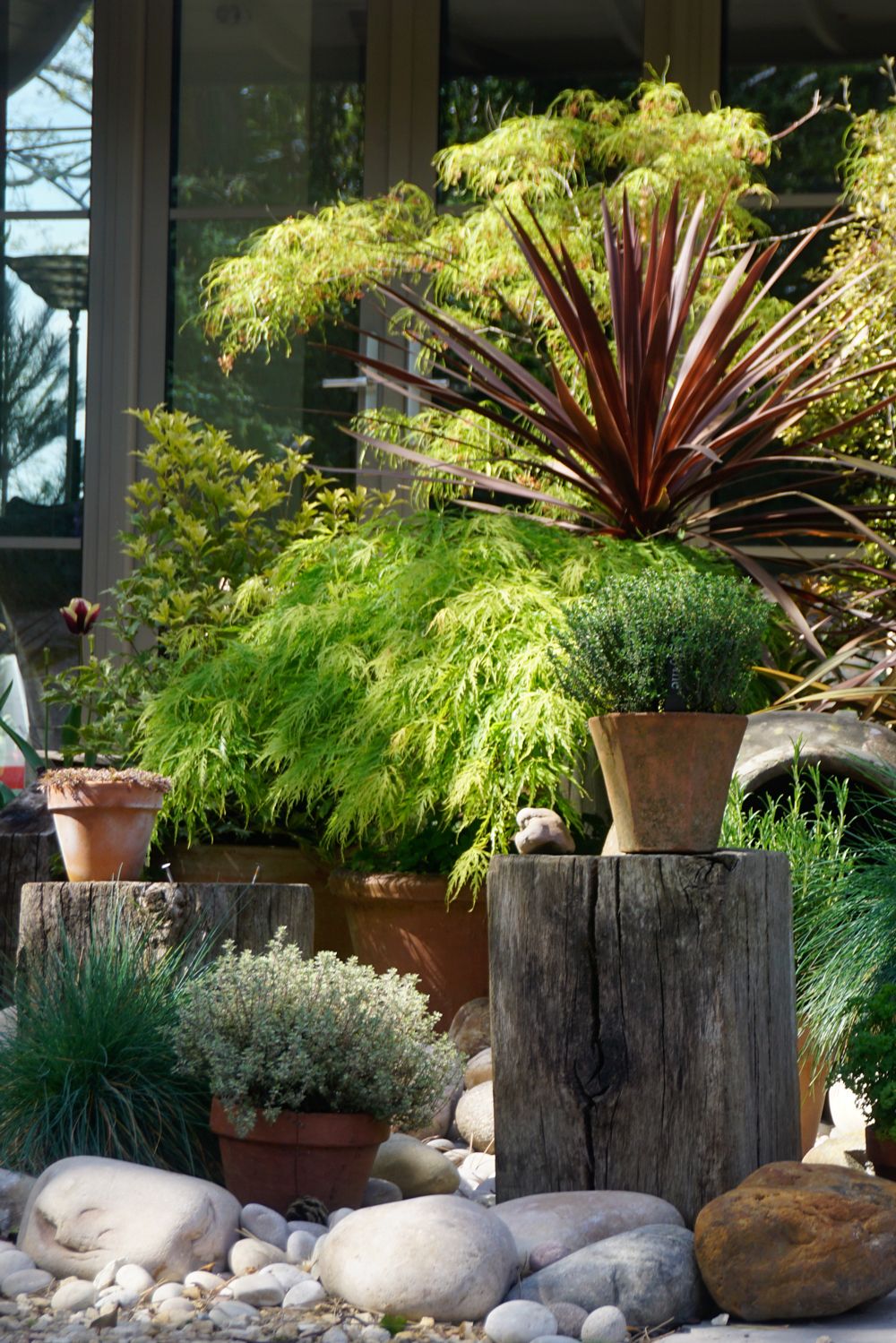 16. Glass wall
Only got a small courtyard or light-well space? Consider swapping your walls for floor-to-ceiling glass, to turn that space into a manicured display or 'fifth room'.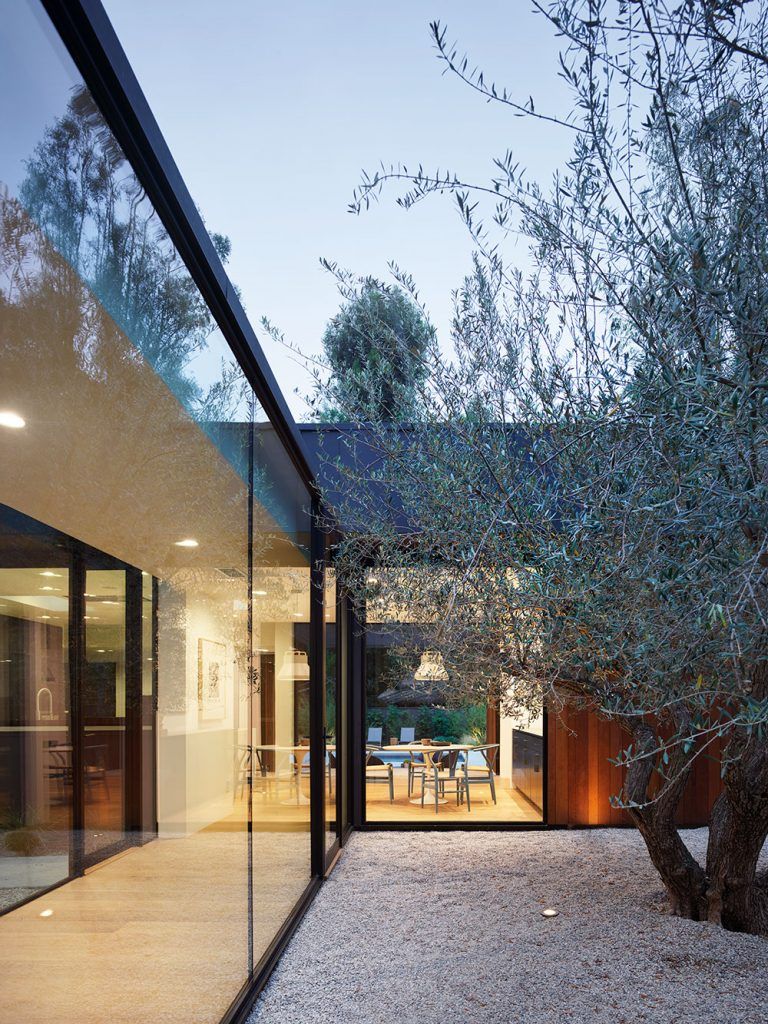 17. Extended Space
This dining space feels like it's being extended into the patio, especially when the doors can be kept open in summer. Curved glazing makes it easier to move around this corner of the house, which is one of the main junctions, sitting between the kitchen, the two living spaces and the garden. By rounding it off, it takes up less space and feels more human and usable. The only thing that would have made this space flow even better is if the terrazzo flooring had continued into the outdoor space, unifying it.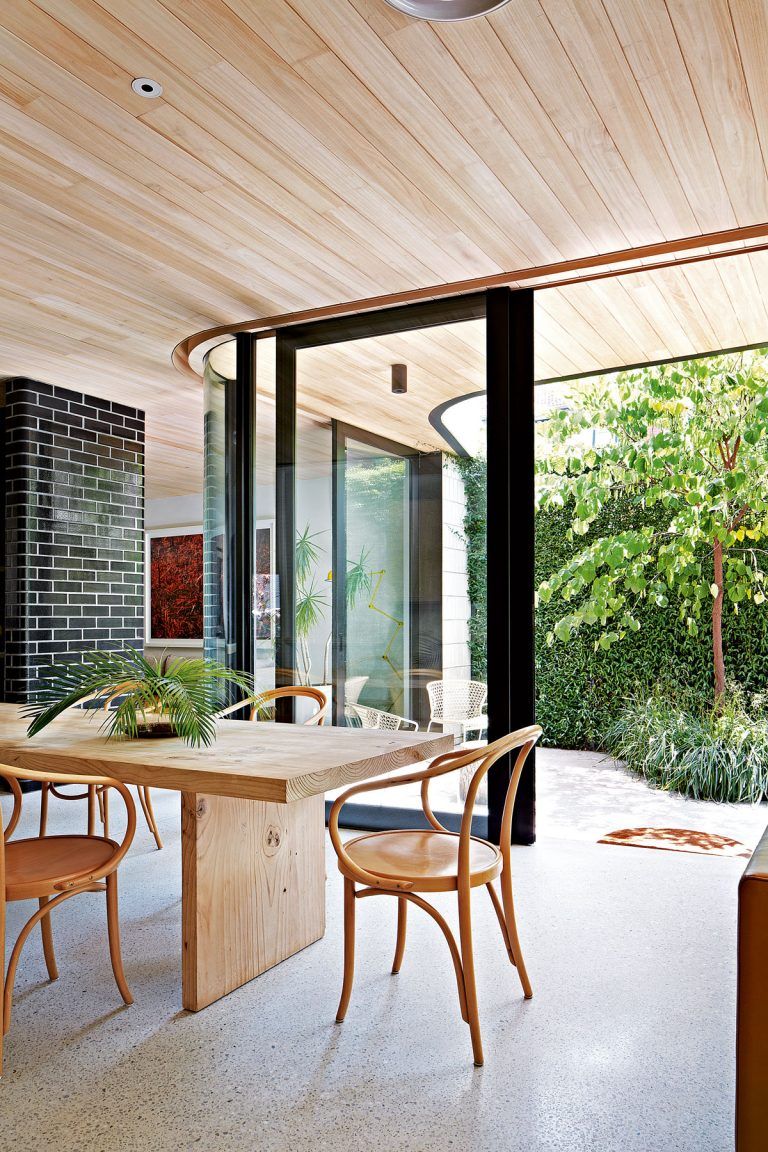 18. Tiered seating
Lounge seating rests against tiered planters, creating comfy seating as well as plenty of greenery.
19. Built-in banquette
Similarly to the previous example, plants sit on a raised level, with a sunken level for seating. Built-in banquette seating is the piece de resistance, with chic striped upholstery. Featuring lush evergreens, meaning that the space is green all year round, the plants have been arranged in such a way as to appear wild and spontaneous.
20. Focal point
A fire pit acts as the focal point in this garden, with lounge seating facing towards it. This generously planted space provides a sense of nature and privacy in a busy district. Sleek light wells built into the wooden flooring channel extra daylight into the ground floor below.
21. Warm wood
Slatted wood fencing warms up the view of the garden, as do the wood treads leading up to the raised garden level.
22. Floating bench
A floating bench creates an uncluttered sightline from the kitchen.
23. Old and new
Just as contemporary additions work within the old Victorian frame of the building, the garden design also melds old and new. Weathered clay pavers were used that recall historic gardens, alongside more rigid, formal structures. Then, of course, to loosen things up a bit, there is always the swaying, fluidity of nature.
24. Swing low
Recreate the ingredients of a relaxing holiday in your garden with a hammock in a sunny spot. Vertical planting maximises the space and is a good way to green up a city setting. Add painted planters for a dash of drama. 'Plainer gardens can benefit from a bold splash of colour while those full of flowers might suit more subtle shades,' advises Sue Kim, senior colour designer at Valspar.