How to choose plants for your modern garden: 10 designer tricks that work
Find out how to choose plants for your modern garden. By the way, it's much easier if you choose a theme and stick with it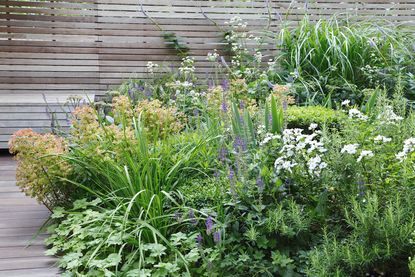 (Image credit: Annaick Guitteny)
Successful modern garden ideas require a bit of thought around planting. And this is easy as long as you factor in a little careful planning beforehand. It's generally best to opt for one of two styles. Either use a limited number of plants in an organized geometrical way to add strong lines and architectural interest. Or alternatively try a densely planted approach using large-leaved foliage and grasses to add texture and movement that feels naturalistic yet still very contemporary.
Once you've established the style then decide on a favourite colour combination. Limit your choice to no more than three colours for a streamlined feel. And don't forget that every space, and even modern front garden ideas need some structure. The backbone of a garden, structural plants form the framework and help to anchor other plants within the space.
Identifying plants you love and deciding where to position them is key to organizing a planting scheme for any garden and never more so in a modern space where less is more. It could be a line of clipped evergreens, a bank of grasses to create a block planting effect or smart raised beds filled with ethereal planting for a light and airy look that contrasts with the strong lines of hard landscaping elsewhere.
These considerations will help you focus on the design and choose the right plants to get the most out of your space. Read on for more inspiration on how to plant up your modern garden.
1. Limit the colour palette
Keep things simple by paring back your choices. 'I always try to use a limited range of colours in a modern planting scheme,' says John Wyer of Bowles & Wyer. Repetition of colour is a useful device to unify the garden and pull together a theme. The most simple and effective way to do this is by choosing one dominant colour. It can be tempting to cram in more but try to keep things simple with a more subdued approach if you want to create a relaxing space. The fewer the colours, the more stylish the result.
Getting the use of colour right is key to creating a cohesive look. 'I like to think of the planting like music,' adds John. 'The plants are the phrases, often repeated with variations, while the individual leaves and flowers are the notes. Just as each time an orchestra plays a tune it's slightly different, so each time you walk around the garden the planting looks slightly different too, varying with the light, time of day, temperature and weather.'
2. Stage your plants

Treat garden walls as a blank canvas to show off plants. Try a mix of colours and textures to create the perfect backdrop for your planting scheme. See it in the same way as you would an interior wall, and look for creative and practical ways to enhance your plants.
Timber panels partnered with Corten metal sheets are an innovative way of cladding walls or disguising tired fences. All have individual characteristics and can be combined in different ways to create a chic and contemporary look.
Layer up with statement planting, such as clipped box, silver foliaged olive trees and white bark Himalayan birch to create strong sculptural lines. Smart evergreens retain their leaves, so are useful for seasonal interest. Always include examples from a range of plant groups to ensure there's something to see whatever the month.
3. Include an ornamental tree
Planting a shapely tree in a small space works every time, adding drama and structure as well as a vertical accent. Trees give height, depth and shade, as well as providing an essential framework for planting. Even better if you choose a multi-tasking one that doubles up to add spring blossom, flame coloured autumn foliage, beautiful bark or fragrance.
Manageable varieties with slender trunks such as birch work really well for a modern landscaped look. Or try a row of pleached trees in a raised bed to offer airy screening if you're overlooked.
You don't have the space? Think again. Choose the right tree and put it in the right position and it will make a beautiful focal point and provide interest throughout the year, whatever the size of your garden. There are so many varieties of tree that will work in an urban space, including ones that can be grown in containers. Try clipped Portuguese laurel, fig or olive trees if you're looking for easy pot-friendly varieties.
4. Choose naturalistic planting
A loose and more informal style of planting can also look contemporary. The key is to create focal points that provide an eye-catching feature in a modern garden border. Most focal plants are evergreen or have strong shapes or colours, and offer a long season of interest.
'This garden needed something that tied in with the special nature of the place,' says John Wyer. 'The strong afternoon backlight was an important driver to using the feathery grasses Penisetum alopecuroides and Calamagrostis acuitflora 'K. Foerster'. They catch the light beautifully.' The combination of form and texture is key to this modern planting scheme, contrasting with the strong geometry and rough textures of the gabion walls.
Look for plants that work as gap fillers between structural plants, and quickly reach a good height to fill out a planting scheme. Make grasses and herbaceous perennials your go-to, as they add a great range of shapes, colours and textures to planting that gives you huge scope for creativity. Whatever your planting style you'll find plenty to choose from that will help you define your space.
5. Go for the modern Med look
Creating Mediterranean-style planting is easy to do, looks good and requires less maintenance. It taps into the sustainability trend too, saving water by using drought tolerant plants. You'll need a hot and sun-baked spot with free-draining soil that suits Mediterranean-type planting. Typically it will have a gravel mulch to help keep any moisture in the soil and reduce the need for watering.
Choose plants that naturally occur in hot dry regions and you can be confident they'll look right together. Fragrant and silver-leaved varieties such as santolina, artemisia, lavender and thyme work well. Mix in some sculptural palms or olive trees to add a vertical accent.
'Have fun with annuals and self-seeders too,' says garden designer Jane Brockbank, 'and don't forget there's a huge range of spring and early summer flowering bulbs that love dry free-draining soils.' Spiky purple persicaria, verbena, fennel and aquilegia will all self-seed about the place freely, while the lush blooms of lilies add an elegant touch when it comes to summer bulbs.
6. Splash against evergreens
Simplicity is everything with modern planting. Go minimal and choose just one flower or colour as a highlighting touch. 'Bold splashes of orange crocosmia really pop against an evergreen backdrop of buxus and taxus hedging. The theatrical green canopy of Dicksonian tree ferns provides the framework,' says Patricia Fox of Aralia Garden Design. The bold orange of the flowers also complements the rusted look of Corten steel, pulling together the hard landscaping to create a cohesive look.
Plants chosen for their interesting leaves and planted en masse yield a gorgeously textured landscape to show off dramatic touches of colour. If you love the idea of something that lasts all summer long, make towering spikes of crocosmia in fiery orange and red your go-to. It will add a sculptural touch to planting (the sword shaped leaves are nice too), is easy to grow and flowers reliably from mid to late summer. Even better, it's herbaceous, which means it comes back next spring.
7. Light up your plants
Smoothly rendered walls can take on a different mood at night, which makes them the perfect screen for displaying the dramatic shadows created by the dancing silhouettes of a low bed of mixed planting. Perennials come in a great range of shapes and textures that gives you scope for creativity, and you'll find plenty to define your style.
For a more structured look, bamboo is the natural choice to screen your space and can be switched up a level when up-lit. The same goes for smart clipped box, which can be turned into something magical at night.
Quick and easy to do, experiment with affordable solar-powered lights, one of the easiest modern garden lighting ideas. Tuck them into pots and borders in a repeat formation, slightly away from the base of key plants to get the best effect. Alternatively invest in mains powered uplighters that can be angled and layered as part of a permanent lighting scheme.
8. Add wow with grasses
Rhythmic planting of airy grasses adds a cool modern style that's right on trend. A limited palette of colours that incorporates lots of texture in the planting creates visual and sensory interest, while keeping the aesthetic modern. Easy and adaptable, grasses create texture and interest all year round. There is a huge selection of modern looking grasses available in a range of eye catching colours and heights, including pale blonde, rich gold and luminous silver.
The trick to add that special wow factor is to plant one type of grass in a big loose block in a raised bed or container to maximise the impact rather than mixing them in with other plants as a filler. The rippling grass becomes the star of the show rather than the supporting act. Used this way, it adds a sleek touch to your landscaping that is simple yet looks breathtaking every time.
9. Join the vertical trend
If you live in the city or in an apartment, chances are you might be a little pressed when it comes to growing space. Make the most of a small garden, balcony or other space by utilising every area and this includes planting up boundaries. If you like the idea of greening up your walls, stylish planters will max up your growing potential as well as looking good. When space is limited, try to layer up plants that have a long season of interest.
You can go for a full-on hydroponic living wall system or tiered vegetable and herb gardens, or alternatively try something simpler to start off with. There are lots of diy options around, from repurposing wooden pallets to creating hanging gutter gardens. Use wall planters for both ornamental plants (ferns, huecheras, grasses and succulents all work well) and edible plants (try herbs, tomatoes and strawberries).
10. Bring on the beautiful blooms
Did we mention how much we love dahlias? We've fallen hard for these magnificent flowers and think they work really well in modern gardens, where they really take the limelight in a blowsy show like no other. They come in a rainbow of colours, produce an abundance of flowers from midsummer into autumn, and the range of shapes and sizes is staggering.
They're so giving too. You start with a single tuber or rooted cutting, and by the end of summer you'll have a full clump with up to 10 plants from you original one. 'Similar to a sourdough starter, once you have dahlias and as long as you take care of them, you'll soon have a steady supply to share with others and plant for yourself every season,' says Erin Benzakein, author of the new book Discovering Dahlias.
Dahlias are the super stars of the cutting garden too, so get ready with those vases - you might also be aided by advice for how to turn a small garden into a flower haven from gardener Arthur Parkinson.
The Livingetc newsletter is your shortcut to the now and the next in home design. Subscribe today to receive a stunning free 200-page book of the best homes from around the world.
Lifestyle journalist Sarah Wilson has been writing about flowers, plants, and garden design and trends since 2015. Having already studied introductory garden and landscape design as well as a course in floristry she is currently adding to her list of qualifications with an RHS Level 2 course in the Principles of Plant Growth and Development. In addition to livingetc.com, she's also written for homesandgardens.com, gardeningetc.com, Modern Gardens and Country Homes & Interiors magazines.