How to make a small garden into a flower haven with Arthur Parkinson's expert advice
Gardener and author Arthur Parkinson expert ideas will turn a small garden into a beautiful haven full of flowers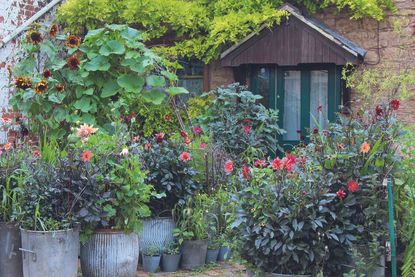 (Image credit: Arthur Parkinson)
The Livingetc Newsletter
For style leaders and design lovers.
Thank you for signing up to LivingEtc. You will receive a verification email shortly.
There was a problem. Please refresh the page and try again.
Arthur Parkinson knows about gardens. The flower grower, who regularly works with Sarah Raven and even hosts a podcast with her, has created a world for himself full of potted tulips, dahlia and bucolic Bantam chickens. He is full of modern garden ideas that don't need acres of space or a big budget, having turned his mother's garden into a kaleidoscopic whirl of color, excitement and big, blowsy blooms.
With his new book, The Flower Yard: Growing Flamboyant Flowers in Containers published this month, his simple expert ideas mean you can do the same. We pulled him away from a Christmas shoot with Sarah Raven - yes, really - so he could share his wisdom.
How to start a flower garden from scratch
Firstly, he says, don't bite off more than you can chew or - perhaps to use a more suitable gardening metaphor - to not dig yourself too big a hole. "For first time gardeners with a small space, I would decide how much time I'm going to want to spend tending to my garden," Arthur says. "What you can grow if you're happy to be out there watering every single night is different to what you can manage if you're jet setting around, so plan what to plant accordingly."
That said, one thing that suits everyone is size. "Go for large pots," Arthur advises. "As large as you can find. Small pots always make a small space look smaller, in a funny way, so scale up as much as you can. Larger pots are easier to keep anyway because they can hold more compost, give the plants more nutrients, and therefore require a little less care."
Arthur says he stays away from shiny steel pots and prefers vintage tin baths. "Dolly tubs are my favourite, you can often find them on Ebay."
How to pot your flowers
"First, make sure the pot has a hole in the bottom for drainage, and put stones or broken roof tiles or bits of polystyrene in from packaging in first," Arthur says. "Then, I'd always use a multi purpose potting compost that is peat free, plus some homemade organic compost - if you've not got any, beg your friends or local allotment group, or - and I know this sounds bonkers - if you ever see any mole hills, get a Bag for Life and scoop up their diggings into it. Creating a good pot for growing is about filling it with microorganisms and life, and this puts so much goodness into your plants."
What to plant in a small flower garden
Although Arthur has made his name with flowers, he says he's increasingly drawn to herbs. "They're great as a low maintenance plant, and produce nectar-rich flowers which are fantastic for bees."
He says that marjoram, mint and lemon verbena all thrive in pots, while rosemary is very hardy and borage is a good one to grow from seed, "and is brilliant for a gin and tonic."
As for flowers, Arthurs recommends cosmos as a foolproof bloom that thrives when cut weekly, providing you with plenty of heads to bring indoors. "Roses are increasingly popular too, and David Austin has some brilliantly fragrant varieties. Just plant in big pots with some organic chicken manure pellets and they'll give you plenty of structure and last for years."
When to plant flowers in a small garden
It's currently a little early to be planting flowers, though Arthur says you could start seeds off on a window ledge indoors. "The ground is still a bit cold," Arthur says. "And although seed packets often say to sow in May, I get the best results by sowing outdoors in April and May."
Order a copy of The Flower Yard by Arthur Parkinson here.
For style leaders and design lovers.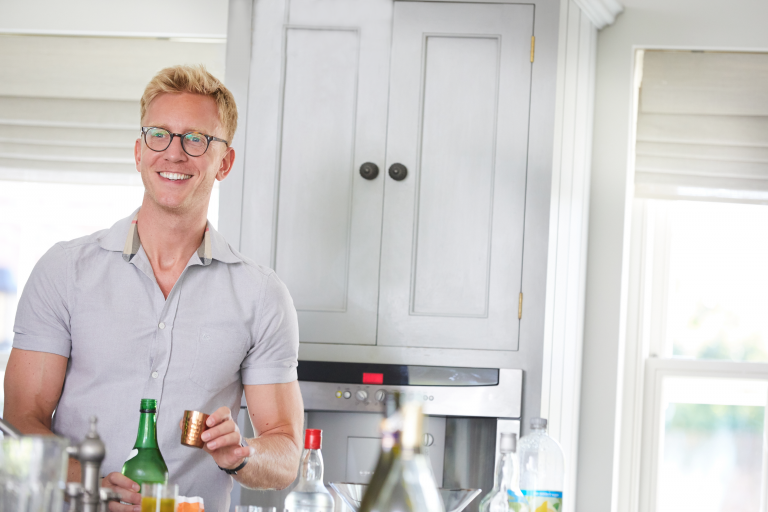 The editor of Livingetc, Pip Rich (formerly Pip McCormac) is a lifestyle journalist of almost 20 years experience working for some of the UK's biggest titles. As well as holding staff positions at Sunday Times Style, Red and Grazia he has written for the Guardian, The Telegraph, The Times and ES Magazine. The host of Livingetc's podcast Home Truths, Pip has also published three books - his most recent, A New Leaf, was released in December 2021 and is about the homes of architects who have filled their spaces with houseplants. He has recently moved out of London - and a home that ELLE Decoration called one of the ten best small spaces in the world - to start a new renovation project in Somerset.