About Us
Your daily fix of inspirational design ideas, style-forward homes and the latest design news...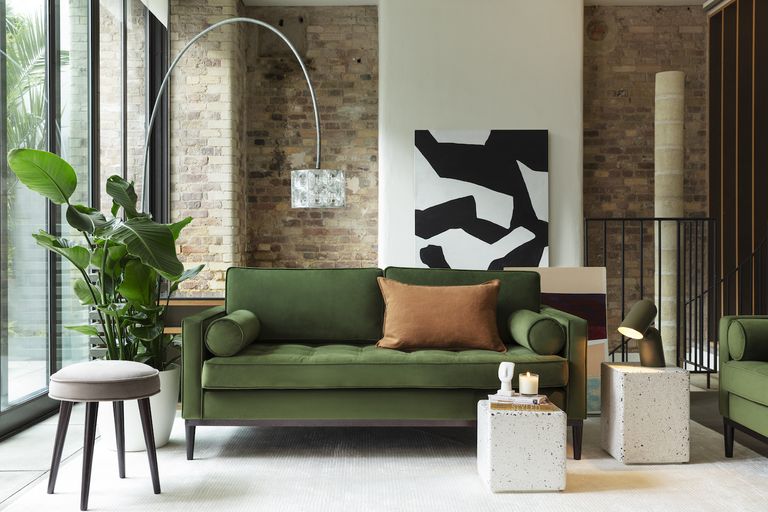 (Image credit: Sofa, £1095, Swyft Home)
Hello! I'm delighted to welcome you to Livingetc, a site full of inspirational design ideas, style-forward homes and news about the latest launches in interiors, travel and lifestyle.
Livingetc is for anyone who wants ideas for decorating their own home, who doesn't have time to sift through every cushion or curtain and comes to us to make an edit for them. We know how important having a nice home life, and being in a space you love can improve your mental health no end. So we are bringing you ideas big and small, for improvements that can make a big difference, all of which will hopefully have you thinking about your home in a different way.
We cover style updates, tours of beautiful houses and news on the latest launches, as well as inspiration for chic getaways, hosting ideas and product reviews.
We place a particular emphasis on both design classics and quick new season buys, affordable updates that we think might become the classics of the future.
Livingetc is brought to you by Future Publishing, which also publishes Homes & Gardens, Ideal Home, Real Homes, 25 Beautiful Homes and many other popular titles.
MEET THE TEAM
Of course, we've assembled a crack team of experts in their fields to deliver all this stunning inspiration to you, and we'd love to introduce them...
PIP McCORMAC, EDITOR
I'm Pip McCormac and I've previously been a magazine and newspaper journalist for over 16 years, working on titles like Sunday Times Style, Red, ELLE Decoration and Grazia. I also host Livingetc's podcast series Home Truths, where I've been talking to some big names in design about how they got to where they are today. They share some fascinating stories - you can find it on any podcast app. I'll be overseeing the site as brand editor along with my team of writers and editors - I also look after the print edition, which is well worth subscribing to for a monthly dose of seriously brilliant style delivered to your door.
Follow me on Instagram here
LOTTE BROUWER, DIGITAL EDITOR
I'm Lotte Brouwer the Digital Editor, and I oversee the day to day content on the Livingetc.com website. Ever since I was a child I've had a deep routed interest and passion for interiors, and when I'm not writing about interiors I'm doing up (and re-doing!) my own home and renovation projects. I was previously at Good Housekeeping, Good Living, Country & Town House and BBC Good Food, and used to have a little blog on the side too called Yes Please.
CONTACT
Contact the editorial team with feedback, suggestions and with PR enquiries
Email the print magazine's editorial team directly
Email the online editor directly
Follow us on the socials
Advertising and licensing enquiries
For advertising and commercial enquiries, please contact Kim Milroy, on kim.milroy@futurenet.com
For information on using our logos, quotes and review content, click here or email licensing@futurenet.com.
Our reviews are independent and free from commercial considerations. We never take payment for reviews. We always return products on request or at the end of our agreed loan period.
Separate to our editorial content and process, we publish advertorial feature content which is clearly marked and tagged as 'sponsored'. We also run 'in association with' articles, which are independent editorial articles, created by writers employed by Livingetc that have been funded through the support of a commercial partner.
We often include shopping links in articles to enable readers to buy the products we write about – these prices are automatically populated from a selection of retailers. Our parent company, Future Publishing, gets paid a small percentage of the purchase price if you click through and buy a product as a result of using one of these links. That fee, known as an affiliate fee, is not added to your purchase price so the price you pay is the same whether you click to visit the retailer from Livingetc.com or you go to the retailer's site direct. These fees help us to fund the content that you read on Livingetc.com
Livingetc is a member of the Independent Press Standards Organisation (which regulates the UK's magazine and newspaper industry). We abide by the Editors' Code of Practice and are committed to upholding the highest standards of journalism. If you think that we have not met those standards and want to make a complaint please contact us by calling 01225 442244 or writing to us at Future Publishing, Quay House, The Ambury, Bath, BA1 1UA, UK. If we are unable to resolve your complaint, or if you would like more information about IPSO or the Editors' Code, contact IPSO on 0300 123 2220 or visit www.ipso.co.uk.