Modern garden border ideas for stylish outdoor spaces
These garden border ideas will create a focal point, drawing the eye with a combination of colour, shape and texture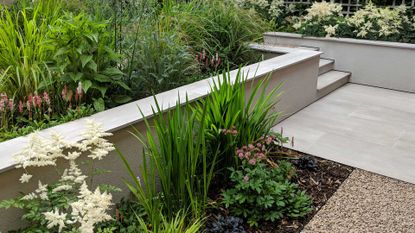 (Image credit: Andy Kirman @ Kirman Design)
When considering garden border ideas; first factor in the nuts and bolts of your particular space. Think about your garden's dimensions, whether it's sunny or shady, and when it comes to modern style if you prefer a formal or more unstructured interpretation for borders. Are you big on colour or do you prefer a cool white palette?
Does your lifestyle free you up to spend time on your borders or would you prefer low-maintenance options? On trend plants such as ornamental grasses and succulents always look good, particularly if you stick to the theme and narrow your selection to just a few choices planted en masse. Another easy way to get stylish results is by using repetition.
Get into the habit of buying several of each plant to introduce a visual rhythm to the planting. Adding evergreens to the mix gives year-round interest and structure, especially if they're smartly clipped.
Read on for these and more ideas that are easy to do and look good every time so you can transform your garden borders into a feature that works for you.
See these Backyard trends for small gardens
RAISE THINGS UP
Contemporary looking linear planting beds add a high end look that can transform a space. Rendered and capped with a material such as smooth porcelain they can be incorporated into the hard landscaping for a streamlined modern look.
"This style of raised bed is a manageable way of introducing densely planted perennial borders," says garden designer Andy Kirman of kirmandesign.co.uk. "They can also be used to bring greenery closer to your house."
Drifts of colour and texture are provided here by easy planting that includes white astilbe, verbena bonariensis and echinacea.
OPT FOR MODERNIST STYLE
With a clearly defined geometric layout, and planting and materials kept to a minimum, modernist style garden borders celebrate space. The simplicity of design highlights just a few plants.
With its crisp edges and clean outline, low box hedging is the easiest way to define borders and create a smart and modern look whatever the season. Neat green rows hold the eye, adding structure and colour that lasts all year round.
Small ornamental trees clipped into smart balls and mounds of evergreen grass enhance the planting with geometric shapes that complement each other.
CHOOSE GIANT PERENNIALS
Fill up borders fast with an airy mass of fast growing, easy going perennials that add colour, structure and texture with a look that's very on trend. Hazy purple thalictrum (meadow rue) forms clouds of delicate flowers, while the large creamy saucers and emerald green fern-like foliage of selinum (milk parsley) lends a special kind of floaty magic.
Choose these and your borders will look good for months in a wild and romantic way. "Everyone loves thalictrum and it's not hard to see why," says planting expert Sarah Raven. "The delicate lacy petals make it one of the most elegant additions to your garden, while beautiful selinum is the perfect contrast."
PICK CLASSIC WHITE
A selection of crisp white blooms against a cool green palette is a classic combo. White has a crisp, fresh soothing feel that's calming and feels very modern. It's such an easy look to pull together as everything coordinates from the get-go.
If your garden is shady, white blooms look luminous against dark foliage, while dappled sunshine will throw them into relief against a palette of green.
Try a classic such as this mop-headed hydrangea arborescens 'Annabelle'. Get the same sort of look with the elegant pompom heads of Agapanthus 'Arctic Star'.
GREEN WORKS IF SPACE IS TIGHT
See these Modern garden lighting ideas
The luxuriant foliage of exotic leaves and palms adds just the right note in a tight space such as a basement garden or courtyard.
"The most successful small shady spaces contain multiple shades of green," says garden designer Kate Gould of kategouldgardens.com. "In small compact spaces any extra greening will always make the garden feel more welcoming and a high percentage of evergreens keep it looking great all year round."
Choose tall and elegant green- and black-stemmed bamboos, lush banana palms and spiky cordylines to create the look.
MINIMISE YOUR PLANT PALETTE
Less is often more. Choosing one variety of plant and grouping them en masse gives an effortlessly stylish look. Uniform planting of airy grasses adds a cool style to your garden that's right on trend.
Ornamental grasses add drama and understated elegance with their sculptural shapes in stunning shades of burnt gold, luminous silver and vibrant stripes.
The trick to add wow factor is planting different types of grass in loose blocks to maximise the impact rather than mixing them in with other plants as a filler. Plant them in pots that you can move around to suit the mood.
LET COLOUR SHINE
Choose combinations that pop. Look at the colour wheel to understand how plants can enhance each other. Adding an orange accent to complement purple, say, creates a bright and energetic mix that's instantly uplifting. Both colours bounce off each other and compete for our attention, giving energy to a border that feels very modern.
Luxurious purple flowers on tall stems such as delphinium add floating vertical bursts of moody colour, while the towering spikes of gaudy orange kniphofia (red hot pokers) lift the purples with a glow that creates both drama and contrast.
GO FOR SMALL BUT PERFECTLY FORMED
A cleverly planted border that focuses on detail can create a stunning focal point. If you find something you like, repeat the planting to create a sense of uniformity, such as integrating succulents into hard landscaping for an easy modern look.
The trend for succulents shows no sign of letting up, with over 10 million #succulents tags on Instagram. Their appeal is universal, with architectural shapes and stunning leaf colours a good fit for modern planting schemes.
They're pretty indestructible too, and many can stay outside all year round if your garden is sheltered.
MAKE FOLIAGE THE CENTREPIECE
Densely planted lush exotics create an exuberant planting style that feels very current. Plants chosen for their interesting leaves dominate and add a gorgeously textured look. Fill in borders with lustrous banana palms, spiky phormium and low growing hardy ferns.
A supersized tree fern lends a contemporary note. Dicksonia antartica is one of the hardier varieties with arching filigree fronds. Add drama with a touch of bold colour too. With their vibrant hot red or orange blooms and luxe foliage, canna make a stunning centrepiece for a border.
RECREATE THE MEDITERRANEAN
Designed to look natural, a Mediterranean style border features a mix of informally planted low-growing silver-foliaged plants such as lavender, herbs and succulents with bold textured trees that provide dappled shade.
A series of eye catching small trees will add variance in height and structure to a border, helping to anchor the design. It's also the ideal environment for underplanting to double the wow factor if space is limited.
Drifts of naturalistic softly coloured planting can be set in gravel. For a sun-baked retreat vibe, tall textured urns and a sun lounger complete the look.
What should a modern garden border look like?
The best approach is to work with what you've already got. Look at the position of your borders and assess whether they're sunny or shady, if the soil is waterlogged or dry, and if it's a sheltered or exposed spot. The idea is to match the plants you eventually choose against this set of criteria to see if they will work and avoid expensive and disappointing mistakes.
How do you plant low maintenance borders?
One of the key things to consider when planning a garden border is how much time you are prepared to spend on it. Watering, dead heading and staking floppy plants are all time consuming activities. If your lifestyle makes this unlikely, choose easy care options such as smart evergreens, ornamental grasses and easy perennials that need minimum input from you.
How do I make my garden look modern?
Hold back! Limit yourself to a narrow selection of plants and a reduced colour palette of two colours and the end result will look harmonious. This repetition of these key plants and signature colours will unify the look and give it a professional touch. Don't forget to 'layer' too. Aim for thrillers (tall plants at the back), fillers (the middle section) and spillers (for the front of the border) to pack your borders for a luxe look. Think about shape too, adding sculptural plants to create modern silhouettes.
See the latest Garden landscaping trends
The Livingetc newsletter is your shortcut to the now and the next in home design. Subscribe today to receive a stunning free 200-page book of the best homes from around the world.
Lifestyle journalist Sarah Wilson has been writing about flowers, plants, and garden design and trends since 2015. Having already studied introductory garden and landscape design as well as a course in floristry she is currently adding to her list of qualifications with an RHS Level 2 course in the Principles of Plant Growth and Development. In addition to livingetc.com, she's also written for homesandgardens.com, gardeningetc.com, Modern Gardens and Country Homes & Interiors magazines.