10 Landscaping trends to make the best use of your space
Landscaping trends reveal the increasingly important role our backyards are playing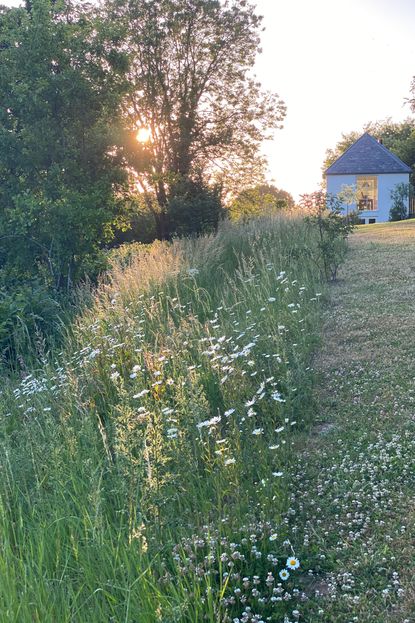 (Image credit: Image)
The Livingetc Newsletter
For style leaders and design lovers.
Thank you for signing up to LivingEtc. You will receive a verification email shortly.
There was a problem. Please refresh the page and try again.
Discover the latest landscaping trends for gardens and backyards.
Having a place that is a haven for not just the family, but local wildlife; a place to grow at least a few herbs for home-cooked meals; somewhere to gather round a table or an outdoor fire is of increasing importance.
Materials are natural, neutral and low key; now is not the time for flash. With climate change also affecting the weather, making sure there is shelter from the sun and plenty of plants to mitigate torrential downpours is part of today's design.
Plus, greenery is soothing; beauty is beneficial to the soul. Time to get planting!
See Also: Interior Design Trends – the biggest interior trends for 2021
ZONING
As we are spending more time at home and in the garden, make discrete spaces for different times of day so you can get the most out of it by enjoying the garden from all aspects. It also gives members of the family some distance from each other if they want to pursue different activities - or just get away from each other.
A great example of the latest landscaping trends, this garden design by Charlotte Rowe has a choice of three formal areas to sit; two with shade and one on a warm terrace near the house, outdoor furniture that tones in with the zinging shades of the garden planting.
GREEN IS QUEEN
It is easy to be dazzled with fabulous flowers but when planning a garden, they should be the icing on a delicious cake of many shades and textures of foliage. Make sure you have plenty of evergreens; in summer they can fade into the background but their sculptural forms will come into their own in wintry months.
INDOORS OUT
Landscaping trends are big news as the garden has become one of our most "lived-in" rooms - in which to entertain and hang out, much like we would do inside - just without a roof. There's now a good range of all-weather seating available; if you don't have space to bring in your cushions, you can leave them out ready to catch the rays on sunny winter days.
THINK UPWARDS
People often forget there are four dimensions to the garden - all that air above the ground that is crying out to be filled. There's room for a tree in even the tiniest of spaces and your boundaries, however beautiful in themselves, provide the perfect foil for climbing plants or specimen species, such as these acers in a town garden by Marian Boswall Landscape Architects. Working as a foil for the trees are the strong horizontal lines made by the slatted fencing and oak bench at the back of this yoga space.
SUSTAINABILITY IN MATERIALS
Traditional, natural materials don't have to look old fashioned, as can be seen the clean lines of designer Daniel Shea's weathered oak arches over a York stone path edged with weathered local red brick. Sage, lavender and fennel are among the herbal plants that look striking in the borders too. A terracotta-painted wall and a large urn provides a focal point at the end of the vista.
Check out these stylish patio ideas.
WEATHER PROOFING
Create an enticing shelter to lure you outside; whether it is a shade for sunny days and to keep off the rain on wet ones, or a cosy structure as a destination on a chilly day, such as this one by Podmakers, based in Gloucestershire, UK. It will also give you somewhere to escape for some precious moments alone.
LET THERE BE LIGHT
A good lighting system will not only help you to linger after dark in the warmer months, but create a striking scene to look out on in winter, highlighting special plants and interesting textural features. Don't get carried away though; a little goes a long way.
A GENTLE PLEA FOR CHAOS
Whether it is using materials such as stone and wood, growing an apple tree to provide food for ourselves, sowing a wildflower meadow or plants to attract bees and pollinators, eco-thinking is taking centre stage; let things get a big shaggy - the wildlife will thank you for it.
You could also give chaos gardening a go, the carefree approach to planting that encourages you to use up leftover seeds.
Read about the latest Re-wilding garden trend.
MAKE A MINDFUL SPACE
Another landscaping trend is finding somewhere to recharge the batteries and quietly commune with nature, whether it is practicing yoga on the lawn, or, as in this labyrinth design by Marian Boswall, taking a minute or two to clear the mind.
CUT THE COMMUTE
As working from home is the new norm, give yourself a place to separate professional and personal life with a garden building that sits comfortably within the landscape and becomes somewhere you want to tread down the garden path towards.
EXPERT TIPS
What patio should should you choose for a modern backyard?
Make sure you choose a paving material that doesn't clash with the house and the surrounding walls. A continuous flow from indoors to out emphasises the patio as an "outdoor room".
What material is best for backyard decking?
Composite materials have come a long way, are often made with recycled plastics and last a lot longer than softwoods.
What are the most important things to think about in a small backyard?
A small backyard has to work hard all year round as it is likely to be looked out at as a whole from the house, so make sure there is a good backbone of evergreens, and plenty of layers, in the form of trees and climbers.
See more gorgeous outdoor living spaces.
For style leaders and design lovers.