Interior design trends 2021: 38 key decorating looks, revealed
These are the biggest interior design trends for the year ahead and beyond...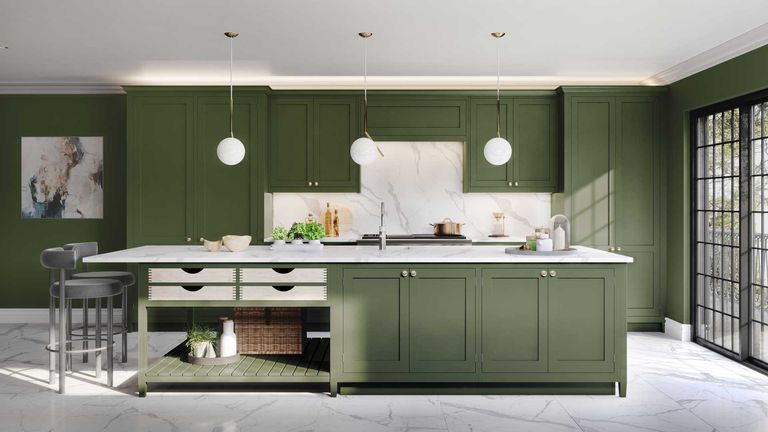 (Image credit: Brookmans by Smallbone/Used Kitchen Exchange)
We've found all of the biggest interior design trends for 2021. We spoke to trend experts and high profile designers to get them to share their trend predictions and insights, we reviewed and analysed the interior trends of the past year, and compared them with current search trends on Google, Pinterest, retailer sites and more.
The home decor trends below cover every aspect of modern interior design. And while the various looks are all growing in popularity, they vary widely in taste and style – some of these trends may be perfect for your home, others... less so.
Whether you decide to take them or leave them, these are the major interior design trends for 2021 that we think are worth considering.
1. Sculpted rattan
Our obsession with natural materials and craft skills is getting shapely as weavers go three-dimensional with curvaceous cane rounded rattan and bent bamboo. Get involved with sculptural lighting and work what you can outside, as this is a garden trend that will run and run.
Lights pictured from Pooky.
2. Archaeological displays
Create an archaeological curio cabinet by showcasing sculptural 'artefacts' inside narrow and graphic wall-mounted display cases for a modern living room trend.
Combine found objects and textured materials alongside miniature sculptural forms to create an intriguing display whilst sticking to a primitive neutral palette.
3. Marbling 2.0
What exactly is it about marbling that is so beguiling? The latest takes on the craft is pushing it to its boundaries. We're enamoured with Nat Maks wallpaper made with the Japanese Suminagashi technique.
Translated as 'floating ink', the Suminagashi process involves floating special sumi ink on the surface of water. It's then manipulated with sumi brushes, which are very similar to Japanese calligraphy brushes. The results? Almost other worldly.
4. Stripes on stripes on stripes
Take your striped duvet and pile on some striped cushions, pillows and throws post-haste. Whatever you do make sure they don't match, it is all about mixing up different sizes colours and styles and playing with proportions. Go!
5. Pops of gloss
Gone are the days when gloss paint was reserved for skirting boards and door-frames. Instead, bring it inwards for some high shine impact.
'Gloss is now being used to deliver a shot of modernity to interiors' says Dominic Mylands. Here, Mylands 'Lolly Pop Number 275' gloss used is on the bed.
Brushes at the ready for this bedroom color idea!
6. Slats please
Fluted detailing has had a long reign. Now it's time to usher in a new kitchen trend and an era of vertical and beautiful three-dimensional lines.
Flat slats are dominating furniture design soon to be seen adding depth and subtle pattern to a piece of homeware near you. The cupboard fronts seen here are by Superfront.
7. New Provencal
The new provencal trend takes it's cues from the classic trio of blue, red and crisp white accents found in traditional French interiors.
This look is brought up to date combining minimal white interiors with rustic and crafted blue accents like the painterly Recubed Tiles from Smirk Studio.
8. Textured furniture
Texture design is the latest part of the ridged renaissance that surfaces have seen over the last few years. Glass panes have become fluted, tiles take a tactile twist and the smartest wallpaper ideas explore the three dimensional.
Now it's the turn of furniture to get involved. Cabinets, wardrobes, sideboards, drawers and desks are eschewing flat fronts, smooth doors and level panels in favour of something a little more decorative, as thin, slat-like grooves take over storage in every room of the house.
You won't find a flat surface in sight as reeded detail, found on everything from walls to furniture, continues to bring tactility and texture to interiors. Trove – the first furniture collection from Studio Duggan – uses this surface detail across chic case goods in unexpected shades of green and yellow.
9. Decorative joinery
While custom-made storage has long been the go-to solution for dressing awkward spaces, designs are heading in a more ornate direction that proves shelving and wardrobes are the ultimate spaces in which to sprinkle some design flair.
A play on materials and texture is key; designer Matilda Goad is a fan of updating built-in wardrobes with cut-away cane panels while Suzy Hoodless favours lines resembling tongue and groove to bring surface detail to otherwise simple MDF doors.
10. Sage green kitchens
Sage green kitchens are fast becoming one of the biggest kitchen trends for 2021. Whether its paint, cabinetry or tiles, the hue is popping up everywhere – so look no further if you're on the hunt for modern kitchen inspiration.
Instagram is awash with sage advice, including from cult designer Matilda Goad, who chose the green hue as the backdrop for her kitchen cupboards.
11. Broken-plan living
Hayley Robson, co-founder of Day True says, 'The trend for open plan living continues, but with more people using the space at the same time we will need to find other ways to 'screen' or 'divide' the various functions of an 'open plan' space, to allow for flexible use throughout the day.'
We've seen how bookcases can be used to cleverly zone a room, as well as curtains, while Crittall-style partitions and room dividers are more popular than ever.
In September 2020, John Lewis reported a 65% increase in sales of the iconic String flexible shelving system and a 73% increase in small designer desks, as people seek to create flexible zoned home working areas.
12. Japandi
Japandi style blurs Japanese minimalism with pared back Scandi cool. The Japandi trend, adopted by design lovers for it's minimalistic and harmonious style, offers simplicity and function and a timeless design aesthetic.
Searches for this look have sky-rocketed over the past months, and the style is still growing in popularity.
Alick Burnett, Business Development Manager at Blooming Artificial, says: "For 2021, we expect to continue seeing minimalist styles featuring neutral, earthy hues and lots of mood-boosting greenery."
13. Statement vases
There are vases that do an admirable job of holding flowers – which you probably have forgotten you even own. And then there are statement vases that have the power to transform an interior in an instant.
It's the latter category that is set to bring much-needed joie de vivre to this year's decorating: big bold, oversized designs and unusual shapes are dominating the 2021 S/S collections.
14. Biophilic design
Biophilic design is the technical term for design and architecture that focuses on our innate human connection to nature and incorporates nature at its core (rather than as an after thought). In other words: it's all about bringing the outdoors in, and indoors out.
Biophilic design is gaining traction in the design world as more people are living in cities than ever before, and science has proven what country folk have known all along, that nature makes us feel good and benefits our health.
The pandemic has increased everyone's desire for outside space and the need for it to work beyond just the summer months.
'Outdoor space is now a key part of any home as we are spending more time outside in our gardens, patios or balconies, which need to perform for year-round use. These areas are extensions of our living space and can provide us with spaces to relax, along with the possibility to remain social. Soft seating, outdoor kitchens and heating solutions will ensure we can use outside space all year round in every season,' says Hayley Robson, co-founder, Day True.
Tapping into this, the resurgence in houseplants is also set to, ahem, grow, with online stores such as Patch, Leaf Envy and others sprouting up.
Even John Lewis (not traditionally known for selling plants) reported a 419% increase in plants sales over the past year.
15. Green walls
Along with the upsurge in biophillic design, the colour green has also increased in popularity. Science can show that just looking at something green can decrease heart rate and alleviate stress.
Charu Ghandi says. 'Green has been a noticeably prevalent colour in our recent work, with many suppliers using varying shades in their fabric ranges and indoor foliage and botanicals featuring in many of our briefs.'
'Green promotes a sense of connection with nature, which many of us are missing at present, and so we think the popularity of the colour will continue into next year but will move away from forest greens to more muted, olive greens.'
16. Eco-friendly design
A push for more eco-friendly habits is changing how we live – from everyday choices to life's biggest milestones. There's a shift towards more conscious consumption as people re-evaluate their impact. For many, that means using fewer products, and more sustainable ones at that, as well as keeping an eye on waste.
This includes low-waste living, reducing plastic in the home and buying second-hand pieces.
According to interior designer Harriet Anstruther, the next decade will see a big rise in people up-cycling, repairing and personalising their home accessories. This year there is a big focus on sustainability and reducing our waste, and this is one of the ways it will translate into the home.
"As a society and planet we need to do more of make do and mend," says Harriet. She continued: "Upcycling has of course been going on forever, but perhaps more people will want to learn the skills required and workshops will become more of a desire in domestic projects.
Recently I put a sewing room into a house; the client stitches for pleasure, not as a trade, and stores beautifully folded towers of vintage fabrics & baskets of yarn on slatted shelves around the room.
Using our hands and making things allows us to get back to who we are. The haptics, the senses engage and together with a need for productivity, invite us to focus carefully on a single task thoroughly. The results, however small enliven, gratify."
Using your hands and making things allows us to get back to who we are. The haptics, the senses engage and together with a need for productivity, invite us to focus carefully on a single task thoroughly. The results, however small enliven, gratify.
"This year reusing and up-cycling has been more on-trend than ever," says Kelly Hoppen of Kelly Hoppen Interiors.
People expect businesses to do their part too. In a Nielsen study, 81% of people strongly agreed that companies should help to improve the environment.
Alexandra Nord and Helen Westlake, Creative Directors of interior design and architecture studio Millier, comment 'clients will specify a preference for low-energy, minimal waste materials - how far have items come from and how sustainable are they? These types of considerations are pushing us to seek out new and eco-friendly suppliers, such as Sirimiri a new luxury British linen brand made from beech tree pulp.'

'With regards to architectural design, we continue to look at elements such as bathroom fittings that have undergone testing to demonstrate that they do not cause waste or undue consumption. We always propose energy efficient household goods; dishwashers and washing machines, also electrical charging points for cars and expect this to become a key design consideration in 2021 alongside quality, aesthetics and cost.'
Day True co-founder Hayley Robson adds: 'We're seeing the trend for upcycling, reuse and hand crafted pieces develop. Much like fashion, we are conscious of our consumption; we will invest in craftsmanship, timeless and statement pieces - we'll buy less stuff and make it last longer, with the clashing of styles resulting in a timeless aesthetic.'
17. Warm, earthy paint tones
The latest interiors trend is barely there, warm, earthy neutrals. For the past few years, grey has dominated the neutral interiors palette. But sandy shades are back, and proving to be anything but boring.
Now don't get us wrong, we love grey, but we've found ourselves increasingly drawn towards the warmer, friendlier tones of oatmeal and stonewashed linen. Think fleshy toned, earthy jute, canvas, wool, wood and hemp.
Hitting the nail on the head, the Dulux Colour of the Year was revealed as Brave Ground, a modern take on taupe. Brave Ground harks back to the first mushroom shades made popular by Kelly Hoppen over 15 years ago, but this time, instead of being paired with neutrals, it's being used to soften deeper colours like this midnight blue.
It is a very 'liveable' colour and, considering that we are all spending much more time indoors, is very fitting to the new ways we use our living spaces. It allows you to build interest and focus with highlight pieces such as cushions, rugs and chairs in bolder colours which can be changed or rotated as required.
18. Natural materials
Natural materials are gaining momentum in the trend stakes.
Camilla Clarke and Ottalie Stride, Creative Directors at Albion Nord, comment, "We love to use natural materials such as timbers, wools, sisals and linens as they bring a sense of warmth and honesty to a scheme. Natural materials also age beautifully as a response to the environment they are in."
Charu Gandhi, Founder and Director of interior design studio Elicyon agrees: "The move away from silk and sheen-textured fabrics continues, and as a studio we are focusing heavily on using natural materials such as linen, wool, rattan and light blonde timbers."
Rattan furniture has shot up in popularity over the past year, with online searches increasing a whopping 809% during lockdown. This is likely a combination of people who are looking to enjoy their gardens during lockdown alongside those investing in the trend of rattan furniture indoors.
19. Textured walls
Textured walls were everywhere in 2020 – and it looks like it continues to be a big theme for 2021.
Some are even hanging rugs on their walls to give them texture and to make a room feel softer and cosier.
From 3D carved wood wallcoverings and 3D tiles to more subtle looks like the new textured wallcoverings from Phillip Jeffries, the latest wallpapers are giving walls seductive touch-me texture, or textured effects.
20. Home offices
Home offices are here to stay. The permanency of remote working is leading people will design their home work spaces differently. As a result, we're seeing more dedicated and private home work spaces, as opposed to makeshift desk setups.
We're also seeing the incorporation of desks and workspaces into bedrooms and living rooms as part of the norm, especially for those households where there are multiple people needing to work from home at once.
Creating multiple workspaces throughout the home means that families can work from home at the same time without bothering each other – this is also relevant for kids desk spaces, so children can continue to be home-schooled when schools are closed.
21. Kitchen pantries
Similarly, with families spend every day and every evening together at home, kitchens have become even more central to the home.
Many families choose to make fewer trips to the supermarket (instead buying more in one go), so the storage of food, dry goods, and space for the fridge and freezer are now taking priority. This has resulted in a bigger focus around kitchen pantry ideasin 2021.
22. Cocooning furniture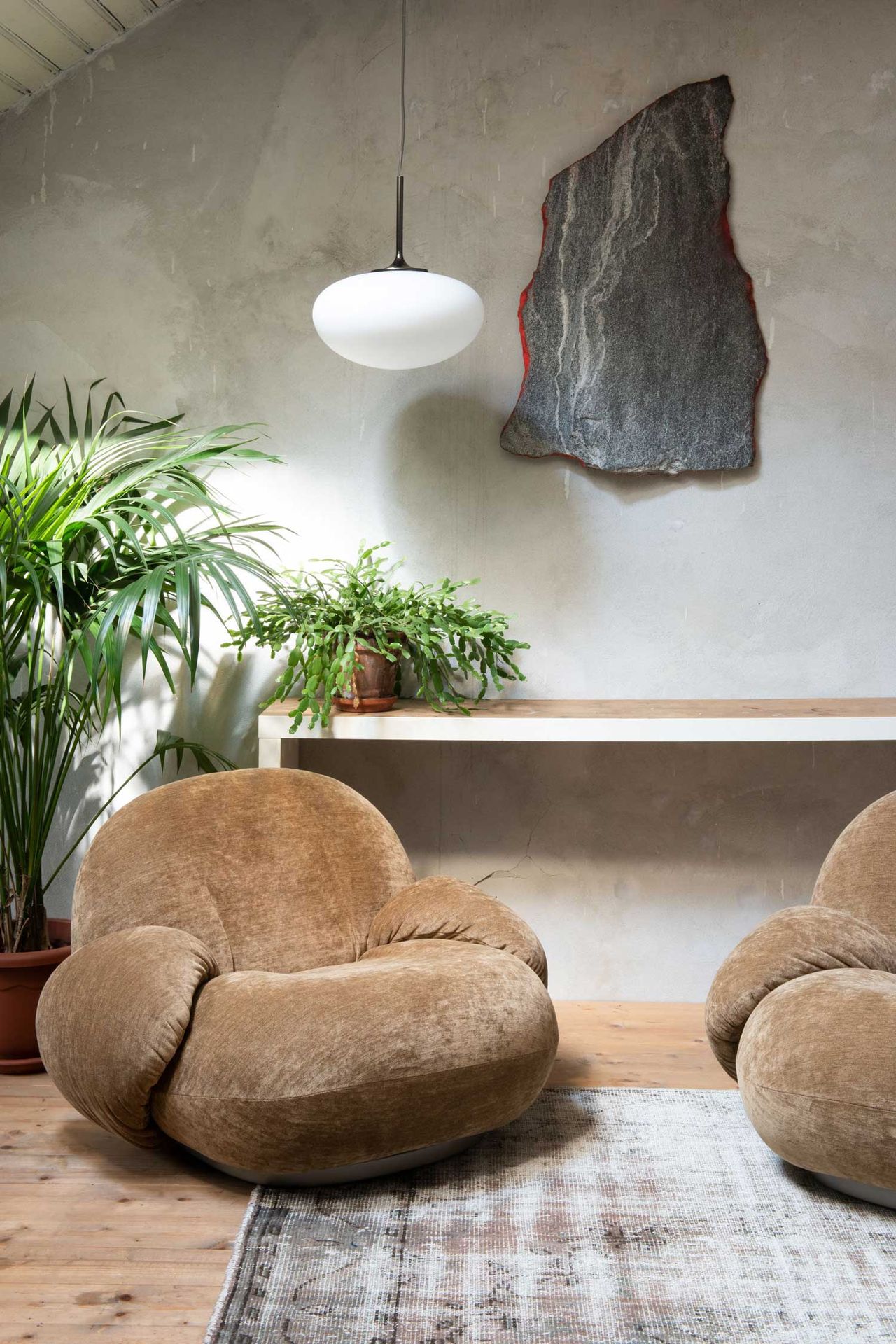 Where home decor trends are concerned, cool cocooning has been gaining pace for a while but the onset of Covid-19 has ramped things up a gear. Squishy sofas, curvalicious shapes and snuggly fabrics are hot right now.
"There has been a shift in what customers are looking for some time now - more 'homely' comfort seating with deep cushions and more curves generally - a place to lay down as much as to sit,' says James Mair, Founder, Viaduct.
"Comfort, cocooning and creating one's own world whether it is La Dolce Vita of the Italians or the hygge of the Danes is a key theme."
23. Home gyms
It's never been easier to never leave home, which means big growth for home gyms, as well as garden rooms, home cinemas and even wine rooms.
'A private exercise space has always been an important consideration in many of the homes we design, but lockdown has certainly placed more emphasis on specific features within a home gym over others,' Millier's creative directors reveal.
'For example, virtual training sessions have soared during this time, which means a good screen (which can be hidden away) is essential and excellent speakers are even more important for online personal training sessions, classes such as Peloton, and exercising with friends online.'
24. Wellness at home
Bathrooms have long been a space to escape to after a tough day but that desire is becoming greater. Hayley Robson, Creative Director, Day True, says.
'We will now start see the importance of home spas to allow us to fully relax and de-stress. Adding a steam function to a shower area, or removing the shower all together and opting for a large luxurious bath can provide different ways to relax with water.'
This year, we will be thinking about wellness in a more everyday way, as we look for easy habits to counter anxiety, stress and burnout.
Everyone's routine looks different. Maybe you turn to journaling or art therapy, take a break from social media or maybe you're more of a dance-around-the room to a mood-boosting playlist kind of person. Whatever your style, there are lots of easy ways to get a daily dose of positive vibes.
25. Creative storage
We'll be seeing a more creative approach to increasing storage at home from now on. Millier's creative directors Alexandra Nord and Helen Westlake explain: 'With young children, although a dedicated playroom might sound ideal, in reality toys regularly migrate from room to room. Our clients are realising this and taking the opportunity to consider joinery and toy storage very carefully within their interiors.'
'Low level storage units in multiple rooms – ottoman style furniture, sideboards and cabinets – means games and toys can be quickly tidied away at the end of the day without creating extra work for tired parents.'
26. Crittall style
There's no denying that Crittall-style has been staging a comeback – and not just as windows and doors, but as walls, rear extensions, room dividers and even shower screens. Edgy and versatile, the sturdy, slim-profile frames tap into the current trend for all things industrial.
27. Home tech – 5G in the home
"There are a few key trends for 2021 and beyond: nature, health, environmental-friendly, intelligent technologies and Oriental Renaissance. In 2021, diversity and globalisation will go hand in hand,' says designer Ben Wu, winner of the Andrew Martin International Interior Designer of the Year Award.
'Future technology like 5G will take place more and more in the home design, and of course, I think the element of Oriental will still be the focal point for many.'
28. Pink bathrooms
Pink bathroom ideas are popping up in more and more of our modern homes. We love the blush tones paired with concrete, or with marble tiles and flashes of warm brass.
29. Pink kitchens
Pink kitchens and bathrooms were one of 2020's top trends, with striking pink kitchens dominating our Pinterest and Instagram feeds.
Perhaps it's because the colour is so warm, cheerful and playful, or perhaps it's because the colour is so versatile; pair it with black, grey, or with concrete, and suddenly you'll have an edgy, industrial or masculine looking scheme.
Pair pink with blue or with green and you'll create something zesty, energetic and dramatic. Or tone it down with woods or pastel shades.
Want to go all-out? Pink cabinetry is the way to go. Want something more balanced? Opt for just a pink kitchen island, while keeping cabinetry muted in wood or grey. Just looking to dip your toe in the colour?
A pink splash back is one of our personal favourites as it gives just the right dose of warm colour, but is unlikely to tire or bore you any time soon. We're particularly big fans of the dusty grey-pink shades that manage to create a relatively neutral look.
30. Dark kitchens
In addition to sage green, one of the strongest style trends that has come through in modern kitchen design is the colour blue, and this can be traced from classic Shaker-style kitchens right through to chic and minimal modern spaces.
Whether it's on walls, floors, cabinetry or splashbacks, blue has replaced grey as the go-to on-trend colour – and it is particularly navy blue kitchens that are turning heads at Livingetc HQ.
31. Arched doorways
You need only spend five minutes scrolling through images on the 'gram to clock that arches are having a moment in the shape spotlight, gently curving across some of the hottest new hotels and restaurants.
Yet fear not if your home isn't blessed with this architectural detail and use as a motif instead. Interiors guru Dorothée Meilichzon is the woman to follow, whose design for the Il Palazzo Experimental hotel in Venice sees the shape on headboards, doors and an arcade-clad front desk (pictured).
32. Plaster effect
Moving away from exposed brickwork and heavy metals, the latest answer to the industrial look has taken a softer turn with sandy, textured walls reminiscent of raw plaster.
For the most part, we have our ever-growing eco-conscience to thank; acrylic- and oil-based paints with nasty VOCs (Volatile Organic Compounds) no longer have a place in the woke decorator's toolbox and are being sidelined for limewash – a water-based, VOC-free alternative that is built up in layers to create a textured, chalky patina.
33. Bauhaus influence
After celebrating its centenary last year, and with 61,560 searches, it's clear the Bauhaus movement still continues to influence modern design.
34. Deep pile
Heavy-weight wools, bouclé, mohair and sheepskin – these cosseting fabrics have gone from autumn/winter novelties to year-round staples.
Check out Raf Simons' flecked Atom bouclé for Kvadrat; Zinc Textile's genuine shearling by the metre and Arlo & Jabob's Benelux Bouclé. And we're not just demanding superior comfort indoors; the outdoor arm of Pierre Frey's Natecru collection features fleece-feel fabrics in 100% acrylic dralon for a little garden luxury.
35. Bloomsbury style
Free-spirited Bloomsbury style was born in a farmhouse on the South Downs in East Sussex called Charleston and became popular after 1916. This country house became the meeting place of the original Bloomsbury Group – a close-knit circle of artists, writers and intellectuals, including artists Vanessa Bell and Duncan Grant.
Leading the way this time around are designer Cressida Bell, granddaughter of Vanessa Bell, artist and resident of Charleston Farmhouse, and artist Tess Newall who paints whimsical murals and folksy furniture.
Meanwhile designer Eppie Thompson behind The Fabled Thread took to decorating her English home this year, from painting built-in bookcases to chests of drawers and accessories like picture frames and lampshades.
36. Line art
One of the hottest interior trends is inspired by the free-flowing illustrations from the likes of artists like Picasso, Magritte, Miro and Matisse. There's no doubt about it, we experienced a figurative boom thanks to the artworks of the 50s and 60s, with abstract facial components making waves across interiors.
In fact, the interior trend with the highest search volume for 2020 was line art - and it's not surprising that people have been looking to jazz up their walls while being at home.
With online searches for 'line drawings' at an all-time high, the delicate style of art saw a renaissance in modern homes. From vases with faces to pretty plates, patterned glassware and illustrated cushions and rugs, figurative art finally stepped into homeware – and we love it.
37. Cottagecore
As many of us took to cleaning, decorating and re-decorating our homes last year, there's one interior style in particular that's soared in popularity: Cottagecore.
While the aesthetic is a far cry from Livinget'c love of all things modern, Scandi and minimalist, there's no denying that this interiors trend is comforting, nostalgic and homely.
Cottagecore draws inspiration from the countryside—think lush botanical motifs, flouncy florals, and natural materials such as wool and linen.
The trend stretches into fashion too; Pinterest has seen an 80X increase in searches for 'cottagecore fashion', with people craving floral prints and straw hats, alongside their gingham blankets and chintzy tea cosies.
38. Grandmillennial style
Come again? Grandmillennial style is essentially about modern-day design co-existing with retro elements.
It's about incorporating hand-me-downs and inherited pieces, alongside second-hand vintage pieces and reclaimed furniture and making them look at home in a modern interior.
Millennials are incorporating dated, previously faux-pas items in their modern homes and giving a fresh take on a look things they've known all their lives.
Furniture that brings the vintage trend to life includes vintage shaped sofas and pouffes, in decadent, rich coloured velvets or dark leathers.
Lotte is the Digital Editor for Livingetc, and has been with the website since its launch. She has a background in online journalism and writing for SEO, with previous editor roles at Good Living, Good Housekeeping, Country & Townhouse, and BBC Good Food among others, as well as her own successful interiors blog. When she's not busy writing or tracking analytics, she's doing up houses, two of which have features in interior design magazines. She's just finished doing up her house in Wimbledon, and is eyeing up Bath for her next project.