Interior design trends 2024 – 27 styles, trends and new looks that are ahead of the curve
These interior design trends for 2024 are going to change the way you use colors, textures, accessories, and moods, to shape the way you dress your space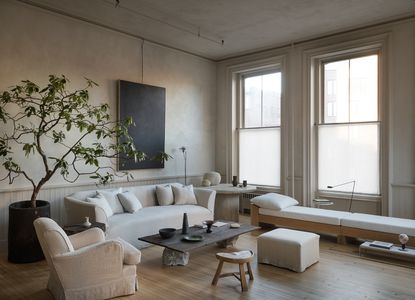 (Image credit: Future/Matthew Williamson)
Interior design trends for 2024 are all about using colors, textures, and materials in a fresh, new, and innovative way.
'How people want to decorate has recently shifted,' says the renowned designer, Lee Broom. 'For a start, we're all craving a better outlook, and part of achieving that is to condition your brain to think more positively, which you can do by surrounding yourself with things that make you feel happy. Cocktail cabinets that move and rotate, furniture that's geared towards sitting together and being convivial...anything that is a bit playful, glamorous, and dramatic is in.'
This desire has filtered out and is being interpreted in many different ways. Here are the interior design trends we think will be the biggest in 2024 and beyond.
26 interior design trends for 2024
Interior designer Tara Bernerd believes that there is a general move towards sophistication, but it's a more relaxed take on sophistication than ever before. The style straddles a little bit of Scandinavian design and a little bit of maximalism. 'While that feeling of luxury remains very important, don't we now all want something that feels approachable, too?' says Tara. 'That you can walk around barefoot and not feel worried about? I find that people still want their spaces to feel grand, but while we might turn the volume up in the living room with some real wow design, we'll then do a chic media room where the materials and textures are less formal, more edgy, more comfortable. This reflects what's happening generally, as people are finding they can be just as smart without a tie, and women have largely swapped their heels for trainers.'
Find out what's going to be big news in 2024, and what materials, textures and colors you should be looking at.
1. Rattan
'Looking into my acrylic ball for 2024, I'm still seeing rattan, just more, more, more!' says interior designer Jonathan Adler. 'More glamor, more techniques, and more pieces, with plenty of fresh takes on the material. Rattan evokes grand global glamor, and it makes everything I put it on - furniture, accessories, my husband, my dog - even more attractive! I'm excited about combining rattan with couture craft details such as high gloss lacquer, sculptural black steel, and flashes of color. It's laissez-faire fabulousness, with a hint of pop!'
2. Long, sculptural pendants
When it comes to dining, bedroom, or living room lighting, the forms take inspiration from oblong shapes, casting targeted and tantalizing glows. Why this shape, and why now? It's because they're playful and polished, and create a striking statement with a curvaceous silhouette.
They also funnel light, creating the ideal glow for how we want to live now – warm and flattering, and sociable. 'My favorite trend is the use of statement lighting pieces that can be used both as a functional and decorative elements,' says the interior designer Nina Magon. Lighting trends generally would imply that the era of the big light is over, and that wall and floor lamps are the most important now. But the targeted way this shape creates light means if you have to have a big central light, then it has to be tubularly shaped.
3. Gold-plated ceramics
Designers and makers are warming up minimalist palettes slightly with just a hint of a Midas touch. A functioning lemon squeezer, but make it art? We've come a long way from the iconic Philippe Starck Juciy Salif to reach this pretty and perfect hand-painted ceramic offering.
It's an approach being utilized by Jo Davies and Pinto too, folding perfectly into the minimalism in interior design vibe we all crave so much right now. 'Minimalist living is not only about having a clean home, it is also about celebrating nature and authenticity,' says Hélène Pinaud of Heju Studio. 'So we are not afraid to incorporate artisanal, vintage, and homemade objects and furniture but always in a quiet, neutral palette.' Just a touch of elevation to the every day, but not enough that it creates any visual noise.
Material: Brass
Price: $15
Add a glittering touch to your tabletop decor with this brass vase, designed in a modern cylindrical shape.
4. Variations on gold
Shimmering like sunsets, this pleasantly warm and flaxen hue is elevating interiors with a touch of pure luxe. Bethan Gray has used it on furniture, Arflex has it on chairs and many designers are using it on wallpapers, tiles, and more. Plus, many colors go with gold, meaning this hue can be used for layering, to make an interior feel warm and livable.
'We're currently loving more nuanced versions of the gold finishes like darkened brass or light bronzes that tend to be more dynamic,' says Candace Shure, founder of Shure Design Studio. 'But as long as the gold or metallic tones in a home compliment the space they're in by adding some balance and warmth, they belong and still feel timeless.'
'We have seen a lot of brass over the past 10 years,' says Shannon. 'It seems that people are starting to veer more towards silver tones. Stainless and chrome are making a comeback and we're here for it. Stainless combined with marble or travertine is a minimalistic approach that feels luxurious.'
5. White lamps
This new lighting trend is all about stripping out color completely, emphasizing on shape instead. 'We love monochrome spaces,' says Chelsea Reale of design studio Sissy + Marley. 'Especially in smaller settings as it gives your eyes the chance to flow through the space without interruption.'
These types of lamps are arguably not just lamps, but a piece of sculpture too. These add the slightest bit of dimension and shape to a room and ensure that the light is always well-filtered and even.

JUNNAI 24.5" White Ceramic Table
Material: Ceramic
Price: $58
Consider this ceramic lamp is perfect for any style of home, and can add a warm glow to any space.
6. Aluminum objects
This easily recycled metal has been upgraded from drinks cans to some of the most covetable designs around, as part of a bigger movement for designers to reappraise more sustainable means. 'Rough and smooth, shiny and matte, black and white - we want [to use] a lot of materials to avoid too much monotony,' says Tom Dixon, who has used it for lightweight chairs. MDF Italia has fashioned a bench from it and New York-based designers Workstead using aluminum in a lighting collection.
Consisting of a pendant and sconce design, the sleek minimal forms showcase the beauty of the material in its purity, creating a perfect backdrop for the light to reflect off. The contrast between the soft conical silhouettes and the edge of the waxed aluminum itself contribute wonderfully to industrial interior design style. Less of a juxtaposition and more of a happy marriage.
7. Decorative storage boxes
If there's one big mood happening in design for 2024 it's about paring back, seeking to live more minimally, and finding ways out interiors can make us feel calm. Minimalism in interior design is all about merging a sleek look with a subdued but inherently luxurious feel.
Step forward the micro-trend for decorative storage boxes, a way to clear the clutter while still having a bit more personality than a clear glass Kilner jar. We're seeing artisans, designers and our favorite brands create them.
'We've noticed a huge demand for these in our projects,' says Candance. 'Mostly for organizing files in home offices, for corralling children's items, and even just for styling purposes around the house. The truth is that we all have stuff we don't want to see all the time, but can't practicably get rid of; enter the ubiquitous decorative storage box! From smaller stash boxes made of stone on our shelves to larger filing boxes wrapped in linen in our home offices, we all need beautiful storage solutions that help eliminate clutter, keep our items organized, and become another way to showcase our style.'
'It feels like most people have started to make the connection that less clutter equals less stress,' says Shannon Niehenke, founder of Narrative Design Studio. 'I think that people have also started to realize that there are other options out there besides your standard woven basket storage. They can be metal, recycled plastic, or even cork. We like mixing and matching and integrating storage into the decor, so you don't see one uniform basket all over the house.'
8. Curvaceous cabinetry
More storage, and this time in a much bigger way. And it's going seriously sexy as tidying up never looked so good. The other side of the same coin as those decorative storage boxes these cabinets are more evidence of the quest to just put everything away and live in an uncluttered space.
Of course, not all storage is to hide your stuff in, and these wet bar cabinets are a way to get the party started. 'Organic shapes are just very inviting,' says designer Bryan O'Sullivan, who regularly uses curves in his schemes. Here, the 88 Secrets Bar Cabinet by Scarlet Splendour brings glamor with its nod to Italian design aesthetics paired with opulent rose metal details and a sumptuous palette. Handcrafted in Kolkata, this will elevate your entertaining game, providing a space from which to prepare and serve drinks to guests. Customizable finishes are available so you can create a truly individual piece.
9. Social seating
Furniture designers have spotted the opportunity to bring people back together again, and this new era in furniture design sees a selection of seating options that are all about encouraging the art of in-person conversation.
A curvaceous, contemporary, and modern sofa offers two people the opportunity to sit separately, but with the feeling they are still next to each other. 'The shape of a curved sofa is softer and less formal,' explains the French designer Julien Villenueve. 'It creates an enveloping environment where all the family can sit together.'
10. Minimaluxe
A pared-back palette that allows the showcasing of your favorite things, minimaluxe is set to take over the design world. It's characterized by soft textures, shapes, and colors, and a sense of airiness and light.
Of his apartment in New York, above, stylist Colin King says 'the window is deliberately left unadorned so the space doesn't look too 'decorated.' And that desire for simplicity coupled with a space you want to curl up in with your most treasured objects is what minimaluxe is all about.
'It seems that people are leaning towards cooler tones, rather than the warmer neutral tones that have been dominant for so long,' says Shannon. 'A lot of people are paring it back to what's essential, and seeking out the chic design elements found in high-tech minimalism of the 90s.'
11. Zellige tiles
Reclaimed or vintage-inspired, the archive-patterned aesthetic is more popular than ever. When it comes to kitchen or bathroom tiles, the shining yet modern Zellige tiles are taking over.
'In terms of tiles, it's Zellige all the way,' says Candace. 'People are obsessed with the hand-hewn look and subtle earthy tones of the classic Moroccan tiles right now. Specifically the square shape and in varying shades of taupe and creams. We love them too but try to encourage our clients to go for more unique shapes of the tile or for a deeper, more interesting color that will add more of an impact to the space and accentuate the handmade characteristics that draw them to the tile in the first place. We're also seeing a lot of ribbed and fluted subway tiles that have that same handcrafted feel popping up a lot in designs right now.'
'Zellige is everywhere, and we feel it's here to stay,' says Shannon. 'Classic checkerboard is also making a comeback. We are working on a Spanish-style project at the moment that has subtle cream and terracotta checkerboard tones, which feels a bit less bold than the traditional contrast of black and white.'
12. Decorative wall lights
Superstar designer Tom Dixon recently told Livingetc about the importance of 'light washing'– using bulbs cleverly to cover your walls in the light rather than just beaming down on them from on high. 'Careful positioning of wall lighting is very important to create the right atmosphere,' says Katie McCrum, the interior designer behind London-based McCrum Studio.

And it isn't a coincidence that wall lights are becoming ever more sculptural, scene-stealing, sensational, and stellar. Be it kitchen wall lighting or bathrooms, these pieces are now stars in their own right, just hanging a little lower than you might expect.
Material: Rattan
Price: $98
Pick up this lightweight in feel yet impactful in design wall light, that can add texture to any space.
13. Contemporary curtain trims