Modern bathroom ideas: 34 looks to try for an up to date scheme
See our favourite modern bathroom ideas, from modern lighting, baths, basins, bathroom furniture and lighting to the latest trends in bathroom colour and pattern...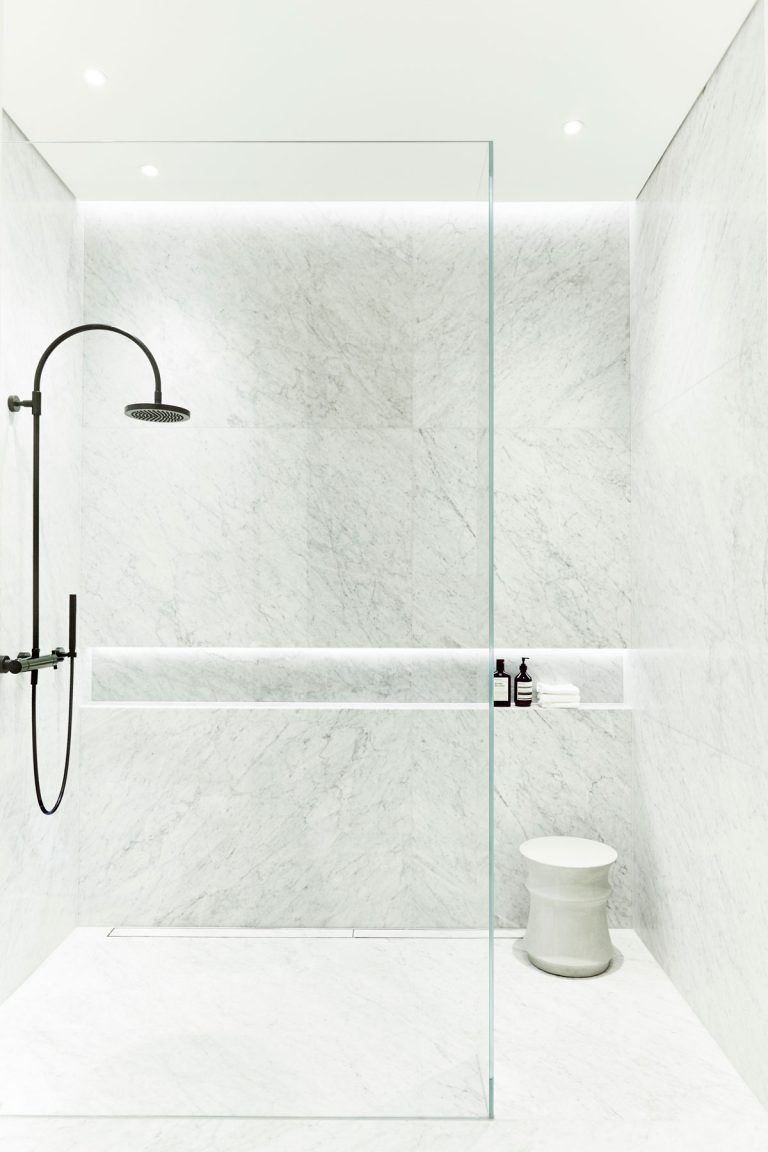 (Image credit: Future)
We've put together 34 of our favourite modern bathroom ideas that guarantee an on-trend, up to date and stylish bathroom scheme.
Update your bathroom with low hanging pendant lights on either side of your mirror instead of traditional wall lights, and embrace the modern statement bathroom lighting styles that are now available.
Concrete continues to be a modern look for bathrooms, whether on the walls or whether it's introduced as poured concrete flooring (lovely especially with underfloor heating).
And have you ever considered using a basin as a style statement? New bathroom collections feature countless striking designs.
We also look at modern bathroom colour and pattern, from on-trend pink, grey and blue looks to graphic tiles and patterned floors.
Furniture gets a look in too, with modern bathroom looks including fluted or floating vanities (or both).
And while we introduce lots of ideas for luxurious master bathrooms, shower rooms and wet rooms, there are some clever ideas for modern small bathrooms too.
Explore all our favourite modern bathroom ideas below...
1. Introduce graphic lines
One of this year's biggest modern bathroom trends is introducing graphic lines.
Designed by New York-based Crosby Studios, the pink bathroom below has strong geometric shapes that ooze a post-modern vibe. Versatile black-and-white bathroom products can be mixed with almost any other colours, while painting the back wall a lighter shade creates a sense of depth and perspective.
2. Introduce raw, industrial style with concrete finishes
We love the raw, textural look that concrete bathrooms showcase. Even just a single concrete covered wall is enough to set the tone and create an industrial-inspired theme – or you could use it to create a contrast to more polished bathroom furniture and fittings.
The bateau bath and brass taps below look striking against the plain concrete backdrop.
For a slightly softer look, use a painted plaster effect like the bathroom below. Blush curtains soften this grey bathroom space even more.
For the opposite effect, concrete panels will create a more dramatic and gritty backdrop. We love the contrast of the sculpturally shaped white basins, with low hanging pendant lighting.
3. Green marble is making its way into modern bathrooms
Marble bathrooms are timeless, classic and elegant – they are by no means a new concept. But this year we're seeing green marble become a hot new bathroom trend, popping up in luxury bathrooms around the world.
Perfect for achieving spa-like serenity. We're also seeing some very convincing fakes. The best applications we've seen include a powder room by Flack Studio and Alternative Bathroom's so-convincing-you-might-think-it's-real Aqualunae bathroom wallpaper...
4. Go for a graphic tile pattern
New tile collections are featuring more graphic lines, which assemble together to form modern graphic or geometric patterns.
Nailing just about every current bathroom trend from the pink hexagonal Lily Pad tiles to the black taps and Crittall-style shower screen, the below is a truly modern shower room.
One company that has changed the way we think about bathroom tiles is Ca Pietra, who's Lily Pad collection, above and below, took the Instagram crowd by storm.
5. Consider a mosaic tiled mural
For the ultimate bathroom wall tile statement, consider a mosaic tiled mural or feature wall. The wall is your canvas – use mosaic tiles to achieve a world map, an underwater scene, or a classical portrait like this striking shower room design below.
6. Incorporate fluted furniture
Fluted and textured furniture has been cropping up in new furniture collections and in our homes. Now it's stepping into bathrooms too.
Italian brand Artelina - best known for its glass wall tiles - is expanding its repertoire with a new fluted finish on its Kimono and Monolite collections.
7. Brave a darker scheme
A smokey blue bathroom colour can feel very grown up, especially when combined with a very sophisticated vanity and crittall-style accents. White ceilings, skirting and window frames keep it fresh.
8. Introduce floor pattern
Use your bathroom floor tiles to introduce modern, geometric pattern to your bathroom scheme.
9. Connect to the outdoors
A seriously cool way to bring the outdoors in is by linking up a light well to a basement bathroom via floor to ceiling glass doors.
We're in love with this super chic bathroom space below, from the whirlpool bath to the indoor-outdoor vibe that the light-well garden creates.
Similarly, the below bath is half inside, half outside, with a glass wall nestled neatly into the marble.
The same bathroom features a glass wall that opens into an outdoor shower space. Magical. Bathroom tiles reach all the way up to the top of this outdoor wall.
10. Invest in a modern chandelier
Statement bathroom lighting offers the finishing touch to the sultry, luxe bathroom scheme below.
11. Or go for contemporary pendant lights
Skip the traditional bathroom wall lights, and instead opt for low-hanging modern pendant lights on either side of your bathroom mirror.
The single black pendant light below punctuates the soft, warm bathroom space and adds instant modernity.
Lantern pendants complement the rectangular theme below, adding satisfying symmetry.
12. Create a walk-in shower room
This walk-in shower enclosure is framed in white marble. A subtle step-down in the marble floor keeps the rest of the bathroom dry, while alcoves in the marble wall create a space for toiletries.
13. Install modern Crittall doors
Separate your ensuite bathroom from your master bedroom via Crittall doors – you'll want to move the loo to a separate powder room / cloakroom for privacy.
Ribbed-glass Crittall doors below separate the shower and WC from the basin, located in the bedroom. Painted ceilings in the same shade as the walls gives rooms a cohesive, cocooning feel.
14. Or install a Crittall style shower screen
Trends in shower screens have moved on from the pared-back, can-barely-see-it's-there look. Outlining is one way to breathe new life into bathroom minimalism and with their elegant clean profiles, Alternative Bathrooms' Metal Craft screens feel both modern and timeless.
Take a Crittall-style frame with frosty Stippolye glass, add a few elegant Art Deco-esque shapes and the Victoria shower door by Drench is born. It even has a towel bar that adds modern-day convenience to its old-school aesthetic.
Meanwhile two Crittal-style shower screens create a smart walk-in shower enclosure in the black and white bathroom below. Black taps and fittings complete the look.
15. Arrange tiles in chevron formation
Rectangular bathroom tiles are arranged in a modern chevron formation, creating a striking focal point in the black and white bathroom below.
Black radiators complement the colour scheme.
The cloakroom / WC below uses rectangular tiles in the same formation – but in miniature. The great thing about using tiny tiles like this is that it can actually make a small bathroom feel larger.
16. Peachy pink
Polished plaster, marble tiles and brass fittings are a winning combo, as design firm Blakes London proves in the pink bathroom scheme below.
For high-end style mix polished plaster, marble ands brass.
17. Build a built-in shower seat
For a luxe look, create built-in bench seating in your shower room using the same material as the rest of the walls and floors.
The green marble basin continues through the glass shower partition below to become the seating in the shower.
For a cheaper and less permanent alternative, bespoke seating can look beautiful too.
A green marble seat contrasts against the white marble tiles in this shower room below.
18. Opt for a floating vanity for a contemporary look
The deep drawers in this wall-hung vanity unit provide ample room for towels and toiletries, while its 'floating' style frees up floor space.
It's ideal bathroom storage for small bathrooms as the floating style can create the illusion of a bigger bathroom.
Floating his and hers double basins below feel both practical and indulgent, while the floating style allows the parquet bathroom floor to stretch wall-to-wall, uninterrupted.
19. Give small bathrooms slim furniture
This small bathroom is kept light and bright, with floor to ceiling metro tiles and a space-saving small sink area on legs, avoiding a bulky vanity and giving the illusion of more space. The toilet is wall-mounted, with the cistern built-in, thus creating a handy tiled shelf above the loo for loo roll and bathroom accessories. The towel rail is mounted in the alcove, so that it's not encroaching on any personal space.
20. Use your basin to make a style statement
Bathroom basins don't have to be boring. Opt for something bright, colourful, patterned or sculptural to add some statement style and drama to your space.
Choosing something pretty to look at in the bathroom won't be hard with Kohler's Wading Pool basins. Featuring 17th-century Dutch art on onyx backdrops, they're a super-chic option.
Statement basins are also perfect for small bathrooms, as they enable you to inject dramatic style in a simple and practical way.
21. Go modern with black taps
Sleek, smooth tiling and curved modern basins combined with the simplified, minimal lines of the matte black bathroom wall lights, bathroom mirror and black taps creates a simple and textural space.
22. Introduce brassware
Meanwhile, adding brass bathroom fittings can really help to warm up a grey bathroom colour scheme.
Un-lacquered brass by Studio Ore adds warmth, modernity and glamour to this serene bathroom space. We love that striking modern pendant too.
The glamorous master bathroom below is a beautiful balance of old and new, with marble tiles and a traditional contrasting against the modern lighting and taps.
23. Choose a modern bath
The below master bathroom is a place to totally disconnect, relax and indulge. The dark walls and luxe bath give it a grown-up, sophisticated vibe, while the raised bath turns it into a showpiece. Plus, there is a working fireplace, generous steam room and shower.
A luxe freestanding bath invites everyday indulgence, like the below luxury bathroom.
With stunning details like the pearlescent wall tiles, slate floors and pretty window treatments, the modern freestanding bathtub below isn't the first thing you notice. But it's the most-loved aspect of this master bathroom as the rim is wide enough to rest a glass of wine on.
24. Let in more light with a transom window
This small but stylish wet room was brightened up by adding transom windows that borrow light from the bedroom. Clever.
25. Poured floors
Poured concrete bathroom flooring grounds the below monochrome scheme. Aside from lending a grey colour to the space, concrete flooring also feels warmer underfoot than bathroom floor tiles. Black taps and fittings add to the modern look.
26. Modernise cabinetry with recessed handles
Modern bathroom storage makes a statement in the below white scheme. Bespoke units with recessed handles subtly echo the geometric mood of the bathroom mirror and bathroom lighting.
27. Create a home spa oasis
Who wouldn't want to be a guest at this house when you have a spa bathroom this gorgeous? The warm woods, graphic tiles and sleek fittings are beautifully combined.
This home owner worked with the smaller dimensions of this spa and shower room below by covering it floor-to-ceiling in terrazzo slabs, which give the space a sense of luxury. Integrated seating is raised above the floor, making these heavier details appear lighter.
28. Illuminate with recessed lighting
We're smitten with the recessed LED lighting in this black and white bathroom below, brightening, illuminating and modern.
The Carrara marble mixed with the black taps and brassware gives a slice of drama to this classic and beautiful design.
Recessed lighting also makes a striking feature in this marble bathroom below, where the bathroom lighting is recessed and fitted behind the marble.
29. Mix marble and metallics
Marble floors, a copper standalone tub with an artwork hanging above all work together to create a glamorous, grown-up space.
30. Adopt an on-trend pink scheme
Pink might not seem like an obvious colour for your modern bathroom, but it's actually very on-trend at the moment, and it's easy to see why as it creates a warm yet fresh look.
Caesarstone collaborated with influencer Little Big Bell for this striking bathroom vanity, where the walls are tiled with pink hexagons halfway up, then painted a softer shade of pink above.
The main bathroom in this modern Hobart home in Australia offers a flash of bright, contrasting colour with coral pink tiles, contrasted with black taps and fittings.
31. Japandi style is all the rage
An amalgamation of Japanese minimalism and Scandi cool, Japandi has been around for a while but has soared in popularity this year, likely due to its calming zen vibes.
The bathroom design team from Victorian Plumbing advise, 'When it comes to choosing materials, Japandi looks to nature for inspiration. Bamboo and rattan furniture, linen soft furnishing, and accessories with a natural finish will achieve the perfect foundation, whilst Japanese features such as tatami mats and origami shades complete the look.
Try using a mix of wood tones and begin to incorporate pieces with both curved and straight lines to add a unique sense of texture to the bathroom.'
32. Metro tiles
Metro tiles aren't a modern bathroom idea - in fact metro tiles have been around for decades, but you could try a more modern approach by opting for grey or coloured tiles, as this grey bathroom achieves.
33. Introduce a modern bathroom wallpaper
Bathroom wallpaper continues to weave its magic through our homes, but this year things are dialling up a notch, with bold patterned designs stealing into the wettest parts of our bathrooms.
For dramatic impact, Gucci's iconic heron print wallpaper is perfect for cloakrooms and powder rooms. "The cloakroom is the one area of the home you should really go bold on, and have a little fun with," explains the designer behind this fabulous Chiswick family home.
34. Install a bath in the bedroom for a boutique hotel look
A bathtub in a bedroom creates a luxe, hotel-inspired vibe. The freestanding bath below is framed by elegant panelling, with an en-suite shower room tucked beyond the new stud wall. The soft pink colourway is a good counterbalance to the simple, functional aspects of the room.