Modern bathroom ideas – 25 ways top designers create perfect spa-like spaces
New colors, new textures and new inspirations make up the 25 best modern bathroom ideas, all guaranteed to cause a big decor splash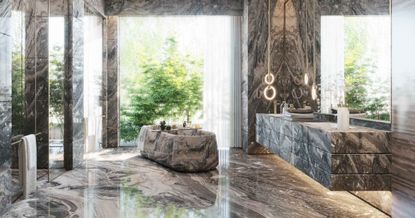 (Image credit: Essentia Enviornments)
These modern bathroom ideas are for anyone who likes and appreciates the beautiful simplicity of sleek designs and timeless looks. Whether your whole home is a modernist fantasy or you're interested in dabbling in this style for just your dream bathroom, there are numerous ways to envision this space as one that is relaxing and enticing.
While many bathroom rehauls follow the conventional approach with tidy built-in cabinetry and matching fixtures, there are a lot more ways to give it an original twist with minimal effort and modest expenditure. Take inspiration from these distinctive bathroom ideas, and take your space from standard to standout.
Lotte is an experienced homes writer and editor. She has written hundreds of articles helping readers make the best home design choices, and spends her days interviewing interiors industry experts to bring the latest ideas to her readers. For this piece she spoke to the world's best designers who have created modern bathrooms in the most inspiring ways, ideal for compiling this article.
25 modern bathroom ideas to steal from
1. Create a customized marble vanity for a luxe feel
If you want a bathroom that is bang on trend, a splash of marble is the way to go. Whether you choose marble bathroom flooring, walls, or even vanity, its beautiful, veined, and light finish will complement the otherwise muted sanitaryware, and elevate the space from mundane to luxurious.
Sure, marble is not a cheap material, but even a touch of it can do all the work. If you have a generous-sized bathroom, choose a large basin with wall-mounted taps. Want to add more interest and layering? Natural materials are always beautiful and combined with the sleek look of marble, look like a treat. Consider adding a rattan-framed mirror or a jute rug in the mix.
'For our Gallery House Project, we especially custom cut Guatemala Verde marble to create this vanity area,' says Noa Santos, founder of NAINOA Architecture and Interiors (opens in new tab).
2. Choose vibrant floor tiles
If your bathroom is giving you cold feet, it's because it's not quite living up to its design potential. Eye-catching tiles can completely change the look of your bathroom, and likely prove a great investment come to resell time. If you're wondering how to choose bathroom flooring, keep one thing in mind – a patterned tile might be a good choice if you want to make a statement.
'Our client loves color,' says Jessica Nelson, founder of Jessica Nelson Design (opens in new tab). 'We wanted to infuse a playful pattern into a very traditional home and we felt these super saturated, super matte cement tiles were the perfect contrast to the more traditional unlacquered brass washstand.'
3. Go for a built-in bathtub
While freestanding models have been stealing the limelight for a while, when it comes to a feeling of pure bliss and a long soak, nothing compares to a built-in bathtub, that has a lovely drop-in feel to it. Built-in tubs are comparatively more practical, as they maximize space, provide a ledge for storing toiletries, and are generally easier to clean.
Plus, inset bathtubs are available in several designs as well; and you can paint your bathtub to give it a personalized touch. If you're planning on designing one in your bathroom, make sure you position it away from the more frequently traveled path from the shower to vanity. Give it its own space and corner, and create a relaxing, exclusive spot.
4. Use geometric angles to give your bathroom an edge
Geometric angles in your modern bathroom will give the space an edge. In this example, the shower is right in the center, at an angled design, creating sharp lines and almost an optical illusion in the space.
The overall white bathroom scheme ensures that the layout doesn't seem too stark, and the visuals are neat and seamless. The moldings on the storage and walls give a dainty touch and layering to the design.
5. Go for a glamorous marble floor
If your budget allows you, a marble floor makes a real statement and is a long-lasting solution to your bathroom interior design upheaval. Stone flooring is an option that will always look chic and reinforce the idea that your bathroom is a place dedicated to pampering and sanctuary.
The issue with natural stone is that it can be expensive, but a natural stone is an investment certain to last you a while. 'Stone needs to be looked after carefully,' says Barrie Cutchie, design director of BC Designs (opens in new tab). 'Natural stone is porous and so needs to be sealed. It will also require maintenance in order to ensure it remains water-resistant but if you have the time to dedicate to this, it really is beautiful. '
This example is Kemptown House, designed by Lolita Colensa Designs (opens in new tab). 'It's all about luxury and luxurious stone,' says Lolita. 'These hardwearing black and white marble tiles were chosen for their perfect keeping with the period of the listed house and fun, they bring through eye catching geometric patterns and unbeatable drama. Bathrooms look more glamorous and inviting with this type of flooring.'
6. Choose terrazzo for a dynamic look
A terrazzo scheme is a great way to add some effervescent energy to your bathroom, and the colors of the tiles give a great base to inform the overall color palette. Go for terrazzo flooring, vanity, bathtub, or an entirely-terrazzo bathroom. This material comes in many forms, but the main types of authentic terrazzo are cement- or resin-based.
To draw focus to terrazzo, choose all the other fittings in neutral tones. Want to give the bathroom an even more modern, eye-catching feel? Choose the largest possible aggregates as the primary marbles.
7. Experiment with a compact bath
Don't feel limited by space. People often associate freestanding baths with huge bathrooms but this doesn't have to be the case as several of the best-selling models on the market are available in a smaller footprint. If you have a bathroom that is smaller on size, you aren't limited to a built-in tub. 'These smaller footprint baths average around 1500mm in length, while models can get up to 1900mm,' says Barrie Cutchie of BC Designs (opens in new tab), who designed this Essex Bath - a compact 1510mm freestanding bath.
'If you do have the space, consider placing the bath in the centre of the room as a standalone piece but if space is limited, consider a short roll-top or slipper bath, or a back-to-the wall design,' says Barrie.
8. Include a dressing area for comfort and luxury
If you're blessed with a large bathroom, make the most of every square inch to increase functionality and a luxury factor. Design a vibrant and comfortable dressing room, equipped with snug seating and lighting.
What makes this space even more special is that since it is usually quite hidden away you can indulge in the decor, and go wild with colors, prints, and daring ideas you couldn't possibly use in the living or dining room. If you have extra space, include a wardrobe here as well so that the mess of the space doesn't spread around in the bathroom.
9. Embrace luxe materials
If you want your modern bathroom to be a sumptuous and luxurious space, a touch of gold can go a long way. This gold statement mirror from Barette Widell (opens in new tab) brings opulence to this small bathroom and adds a focal point to the room
'I call this my jewel box,' says Barette. 'The colors of Artistic Tile's Rainbow Onyx stone vanity always brings a smile to my face. I wanted to create a room that felt playful yet dressy all at the same time and the combination brings a modern touch to a timeless bathroom.'
10. Opt for a pendant light fixture
A pendant is an interesting addition to a modern bathroom. Adding a statement bathroom lighting adds a touch of glamour and luxury, making your modern bathroom a pampering space.
'Your bathroom lighting is an area where you can let your personality and style shine through,' says Natalie Mann of Iconic Lights (opens in new tab).
'Pendant lighting works particularly well, as it creates a design feature that provides both task and mood lighting,' says Natalie. 'To create a focal point, consider positioning above the bath, and the light will diffuse softly, allowing you to relax in the bath below. As this is within a splash area, it's important that you look for an IP rated pendant.'
'When choosing your bathroom pendant, consider size and shape and look towards intricate details,' says Natalie. 'This will add decorative interest, especially if you have opted for a simplistic contemporary bathroom design.'.
In this design by Californian-based interior designer Becki Owens (opens in new tab), a clear glass pendant light from Hudson Valley Lighting (opens in new tab) ensures the lighting doesn't block daylight from the window behind.
11. Factor in clever storage solutions
A modern bathroom is often a place that is reflective of our busy lifestyles, so regardless of how much space you have on offer, think about the layout and how to organize your bathroom and keep it decluttered. 'If your bathroom is on the smaller side, it's essential to find fittings that are functional, modern and allow for free movement without feeling cramped,' say Jen and Mar of Interior Fox (opens in new tab). 'Choose a basin, WC, shower, or bath that fit proportions.'
'A vanity unit is the perfect addition and can provide ample storage for cosmetics, towels and even cleaning products,' say Jen and Mar. 'Position a mirror and occasional shelf above for ease for your soaps and creams.'
12. Introduce graphic lines
One of this year's biggest modern bathroom trends is introducing graphic lines. So be inspired, but this gorgeous pink bathroom designed by New York-based Crosby Studios (opens in new tab).
The strong geometric shapes that ooze a post-modern vibe and the versatile black-and-white bathroom products can be mixed with almost any other colors, while painting the back wall a lighter shade creates a sense of depth and perspective.
13. Bring in raw industrial style with concrete finishes
We love the raw, textural look that concrete bathrooms showcase. Even just a single concrete covered wall is enough to set the tone and create an industrial-inspired theme – or you could use it to create a contrast to more polished bathroom furniture and fittings. The bateau bath and brass taps in this bathroom look striking against the plain concrete backdrop and soften the industrial feel of the material.
'A key factor in mastering a modern bathroom is to keep things minimal.' explains Juan Pillay of Crosswater (opens in new tab). 'Swap colorful walls or elaborate wallpaper for marble paneling, wood cladding, clean walls, or neutral tiles. Also ensure you have enough hidden storage space to keep your bathroom tidy and free from clutter. Finally, try to avoid filling the space with decorative accessories. Instead, leave the statement-making to the fixtures and fittings.'
14. Choose green marble for a twist on the traditional
Marble bathrooms are timeless, classic, and elegant – they are by no means a new concept. But this year we're seeing green marble become a hot new bathroom trend, popping up in luxury bathrooms around the world.
Perfect for achieving spa-like serenity. We're also seeing some very convincing fakes. The best applications we've seen include a powder room by Flack Studio (opens in new tab) and Alternative Bathroom (opens in new tab)'s so-convincing-you-might-think-it's-real Aqualunae bathroom wallpaper.
15. Go for a graphic tile pattern in the shower area
New tile collections are featuring more graphic lines, which assemble together to form modern graphic or geometric patterns. Nailing just about every current bathroom trend from the pink hexagonal Lily Pad tiles to the black taps and Crittall-style shower screen, this is a truly modern shower room.
'Those with very small bathrooms will have to comprise on a bath and, instead, let the shower be the focal point of the room,' says Juan. 'A walk-in shower is the best solution for small spaces. They blend function and style and, importantly, don't require much space to stand out. To give your walk-in the contemporary touch, opt for exposed shower fittings with a more modern finish, such as brushed brass, stainless steel, or matt black.'
16. Incorporate fluted furniture
Fluted and textured furniture has been cropping up in new furniture collections and in our homes. It gives a space movement and dynamism, plus adds a layer of warmth.
Now it's stepping into bathrooms too. Add a lovely subtle texture and interest, it's the perfect contrast to sleek marble wall tiles.
17. Brave a darker scheme
A smokey black bathroom color idea can feel very grown-up, especially when combined with very sophisticated fixtures and a gloss paint that makes the room shine.
Interestingly, if you have an oversized bathroom and want to give it a more cozy, intimate feel, go for warmer color paints. These will create the feeling of contraction(which is a good thing), bringing the walls in. An enveloping feeling will thus be created, giving you a snug, cocooning vibe.
18. Connect to the outdoors
A seriously cool way to bring the outdoors in is by linking up a light well to a basement bathroom via floor-to-ceiling glass doors. We're in love with this super chic bathroom, from the whirlpool bath to the indoor-outdoor vibe that the light-well garden creates.
19. Hang a modern chandelier for a luxurious touch
Statement bathroom lighting not only illuminates a room but also lifts the mood of a bathroom. 'Chandeliers are an increasingly popular choice in bathrooms as they help to ease the transition between bedrooms and soften the harder and more linear finishes and fixtures in bathroom spaces,' says Clara Ewart, senior designer at Kitesgrove (opens in new tab). From long, cascading designs to thin, petite forms, choose a shape that is ideal for the scale of the room.
Also, before picking up a design of your choice, remember to check the Ingress protection (IP) rating, especially if you're hanging the light over the tub. Also, check with the manufacturers about moisture, and consider weight, as some chandeliers can be heavy and will need extra mounting.
20. Create a walk-in shower room
Walk in showers add such a luxurious feel to a bathroom, and despite being associated with large, elegant bathrooms (just like the one above) they can actually work in smaller bathrooms too as you don't have to break up the space with bulky shower enclosures, so the space feels open and airy.
This walk-in shower enclosure is framed in white marble. A subtle step-down in the marble floor keeps the rest of the bathroom dry, while alcoves in the marble wall create a space for toiletries.
21. Install a Crittall style shower screen
For a simple, achievable look that you can make work in any modern bathroom, switch out your current shower enclosure for a Crittall style design. Trends in shower screens have moved on from the pared-back, can-barely-see-it's-there look. Outlining is one way to breathe new life into bathroom minimalism, with their elegant clean profiles.
22. Arrange tiles in chevron formation
Not only are chevron tiles perfect for adding texture to a minimalist bathroom scheme, but the pattern is ideal for smaller spaces as this bathroom proves.
Rectangular bathroom tiles are arranged in a modern chevron formation, creating a striking focal point in this black and white bathroom. The shape and formation create an illusion of expanded space, as though the narrow shower area isn't as as compact. Black radiators complement the color scheme.
23. Build a built-in shower seat
For a luxe look, create built-in bench seating in your shower room using the same material as the rest of the walls and floors. The green marble basin continues through the glass shower partition in this modern bathroom to become the seating in the shower.
If a built-in design isn't for you, consider adding a stool or a chair, or even a foldable seater that matches the design or color scheme of the bathroom. In smaller showers, to save space, a flexible seating piece would do better.
24. Introduce brassware
Adding brass bathroom fittings can really help to warm up any bathroom palette, be it white, brown or grey bathroom color scheme.
'The expansion of available finishes in recent years has made brassware a more central design choice in the bathroom,' says Emma Joyce of Perrin & Rowe. 'Fewer people now specify chrome than our other finishes. To create an impact, specify a bold finish such as gold or brass.'
She recommends that 'to ensure that every piece of brassware matches – it is important to find a comprehensive range from a single manufacturer, as no two brass finishes are alike,' says Emma. 'If possible, match furniture handles too for a really cohesive look.'
25. Choose a modern freestanding bath
This modern bathroom is a place to totally disconnect, relax and indulge. The dark walls and luxe bath give it a grown-up, sophisticated vibe, while the raised bath turns it into a showpiece. Plus, there is a working fireplace, generous steam room and shower.
'A freestanding bath with a more curved silhouette has become synonymous with the modern bathroom aesthetic,' says Rebecca Maher of Clearwater. 'This contemporary shape will soften the room and help mirror the luxe hotel look. As for bath materials, natural stone has fast become the most sought-after. Soft and satin-like to touch, natural stone not only looks contemporary but also provides durability and longevity. It is also celebrated for its heat retaining capabilities, helping water to stay warmer for longer.'
How much does a modern bathroom cost?
How much a modern bathroom costs can vary massively depending on how big your space is, how much it needs to be reconfigured, the quality of the finish, the price of the fixtures and fittings you choose. On average, however, a new bathroom costs around $8,000 to $12,000. But you want to create a more luxurious modern bathroom costs can go over $20,000.