White Bathroom Ideas: 20 Ideas for a calm and muted scheme
The white bathroom ideas below range from the highly contemporary to rustic country looks, elegant schemes and even raw, industrial looks. There are ideas to suit bathrooms big and small, calm and bold, but they all have one thing in common: they are all light, bright and crisp white bathroom schemes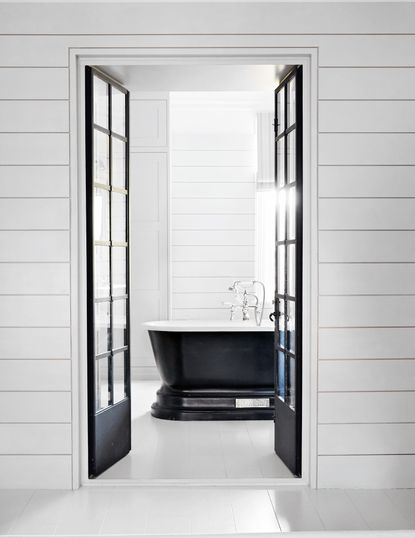 (Image credit: Paul Massey)
The Livingetc Newsletter
For style leaders and design lovers.
Thank you for signing up to LivingEtc. You will receive a verification email shortly.
There was a problem. Please refresh the page and try again.
We've pulled together 20 striking white bathroom ideas for a modern, light and bright bathroom scheme.
There's good reason why white bathrooms continue to be one of the most popular bathroom colour ideas.
The colour white offers a neutral backdrop for any style – whether you're going for a highly contemporary look or something very classic.
For example, pair an all-white scheme with tongue and groove wood panelling for a cosy, country-inspired look. Pair white with marble for a timelessly elegant and classic interior, or pair it with raw concrete for a raw, industrial look.
Highlight an all-white scheme with black taps, or flashes of unexpected colour. Or warm up a white bathroom through wood flooring, wood finishes or brassware. Adding a little bit of texture also goes a long way to soften up a white colour scheme, to prevent it from feeling too clinical.
Browse all our white bathroom ideas in full below...
1. Tongue and groove walls for country charm
White painted tongue and groove panelled walls add a calm, cosy, textured look that's particularly well suited to country properties.
We love the raised basin below, with a step for the children to be able to reach the sink area.
We absolutely love this white bathroom scheme, with tongue and groove wall panelling and matching painted floorboards. Black framed doors and a gloss black bathtub break things up.
The serene space below is also clad in horizontal tongue and groove panels.
The white bathroom below features a more traditional look, with an old fashioned shower fitting and a vintage style bathtub.
2. Choose white marble for timeless elegance
Marble is a material that just doesn't date or go out of fashion. As it's a rich, luxurious natural material, it will always evoke an elegant and classic look, whether in a modern or a more traditional setting.
This marble-clad shower room below feels super luxe.
The white marble bathroom below is given a modern update with a modern extra deep bathtub that's deep enough to submerge you right to the shoulders. Brass accents warm up the cool marble.
This white marble bathroom feels very bright and crisp, as the glossy white marble tiles reflect light back into the room. A white bathroom mirror and white furniture complete the look.
3. Recessed lighting
Recessed lighting makes a striking feature in this marble bathroom below, where the bathroom lighting is recessed and fitted behind the marble for a clean, chic look.
4. Add wood flooring for warmth
This white bathroom features light, sanded floors. The wood bathroom flooring warms up the bright white scheme, while still keeping the palette light and serene. Sanded floors will also feel soft and warm under bare feet, compared with cold bathroom tiles.
A similar effect is achieved in this calming white bathroom scheme below.
While the ensuite bathroom in this New York loft apartment is a darker, warmer tone, and flows through into the bedroom and the rest of the loft apartment.
Finally, the wood flooring in this small bathroom makes way for a spa-inspired sunken bath. Dreamy. Explore the rest of this quirky home here.
5. Complete an all-white scheme with storage and linens
This calming white bathroom space features built-in, handleless bathroom storage with white shelving and drawers, and matching white bathroom linens for a cohesive scheme.
6. Warm up a white scheme with brass fittings
Aside from woods or soft texture, another way to warm up an all-white bathroom scheme is through brassware. A flatweave runner adds further warmth to the scheme below.
7. Contrast a white bathroom with black taps for a more dramatic, contemporary look
Black taps, black bathroom lighting and a black bathroom mirror punctuate through the white bathroom scheme below.
The below space achieves a similarly modern look, enhanced by the modern oval freestanding bathtub.
And finally, black taps give a slice of drama to this white shower room design below.
8. Herringbone tiles
If you opt for an all-white scheme, you can still add interest by creating pattern through positioning plain white tiles in a chevron or herringbone formation.
The herringbone tiles below end in a jagged zig-zag instead of a straight line, creating a funky edge to this white bathroom. The double sink is also a striking design element.
Meanwhile white metro tiles were arranged in a herringbone pattern in the shower room below, accentuated by the dark grout lines.
9. Add a design classic for instant designer looks
The Boffi Pipe Shower is a statement shower design that will give your bathroom instant designer looks. Designed by Marcel Wanders for Boffi, Wanders describes his design as '...not a shower. It is a waterfall, it is a thick stream of cleansing water'. He's not wrong. Be prepared for an utter drenching. But surely that's a tiny price to pay for having a classic piece of modern design in your bathroom.
10. Add interest with glass
Choosing an all white scheme? If you're lucky enough to have a bathroom positioned next to a private outdoor space like a garden or light-well, then use large panes of glass to add interest – without breaking up the wall-white colour scheme.
The below bathroom links up with a light well via floor to ceiling glass doors. The bath is half inside, half outside, with a glass wall nestled neatly into the marble. It's a seriously cool way of bringing the outdoors in.
The same bathroom features a glass wall that opens into an outdoor shower space. Magical. White bathroom tiles reach all the way up to the top of this outdoor wall.
11. White metro tiles for a modern rustic look
Plain, white metro tiles have the ability to suit a very modern, a more rustic, or even an industrial scheme. They're bright, bounce light back into the room, and work for both larger spaces as well as small bathrooms.
The below small bathroom is kept light and bright, with floor to ceiling metro tiles and a space-saving small sink area on legs, avoiding a bulky vanity and giving the illusion of more space. The toilet is wall-mounted, with the cistern built-in, thus creating a handy tiled shelf above the loo for loo roll and bathroom accessories. The towel rail is mounted in the alcove, so that it's not encroaching on any personal space.
Pairing metro tiles with woods can create a more rustic looking bathroom scheme.
Even a small strip of tiles can be enough to add interest to a space.
12. Use white as the backdrop to a classic scheme
White is the ideal backdrop for any style – whether you're going for a highly contemporary look or something very classic.
Here, a bay window, wall panelling, traditional taps, linen Roman blinds and marble tiles create a traditional but elegant scheme. The bath keeps things fresh and modern.
13. Layer in texture with rugs, seating and curtains
An all-white space can sometimes feel cold and sterile. Adding texture prevents this, so add some softness to your scheme through curtains, rugs or even seating.
The deep window below had enough space to install a window seat. This room is all about total relaxation and escapism.
Soft accents like the sheepskin rug, pretty roll down blinds and a side table with a vase make this bathroom feel more spa-like.
14. Line up small white tiles for a grid effect
Tiny bathroom tiles create a modern, grid-like formation when perfectly aligned in columns like this.
The square tiles below line up vertically and horizontally to create perfect lines – a bit like grid paper. It feels both modern and retro at the same time.
15. Pair white with raw concrete for an industrial look
The white bathroom below has a much more raw, industrial look, owed to the concrete sink and concrete floor slabs.
A similar effect is achieved here – it's a very industrial, utilitarian look.
16. Highlight sloped ceilings or exposed beams with gloss white paint
Light bounces around this all-white bathroom scheme, as glossy white surfaces reflect light back into the room. The exposed ceiling beams in this converted loft space were coated in gloss white paint to keep this space feeling light, bright and airy.
17. Add unexpected fresh colour through furniture
Want to contrast a white scheme with a pop of colour? Take inspiration from some of the more daring bathrooms below. Yellow locker-style storage adds a burst of unexpected canary yellow, while red taps are an unusual find.
18. Play with colour through shower lighting
For something less permanent, you could take a leaf out of Harriet Anstruther's book and install LED lighting in the shower space. You can then select a colour based on your mood.
19. Brave a painted ceiling for a flash of colour
Some homeowners are braving the trend for painted ceilings as a way to add a burst of colour to a more muted scheme.
20. Add interest with mirrored surfaces and metallics
And finally, you can add interest to a white scheme with a bathroom mirror, mirrored surfaces (such as an antiques / foxed mirrored panel), or even a freestanding bath in a metallic finish.
For style leaders and design lovers.
Lotte is the Digital Editor for Livingetc, and has been with the website since its launch. She has a background in online journalism and writing for SEO, with previous editor roles at Good Living, Good Housekeeping, Country & Townhouse, and BBC Good Food among others, as well as her own successful interiors blog. When she's not busy writing or tracking analytics, she's doing up houses, two of which have features in interior design magazines. She's just finished doing up her house in Wimbledon, and is eyeing up Bath for her next project.