Bathroom tile ideas – 23 creative ways with color, pattern and installations
Use these bathroom tile ideas to add texture, pattern and even a touch of glamor to this very important room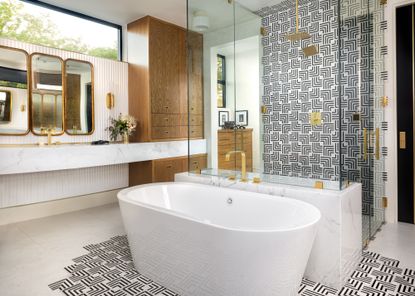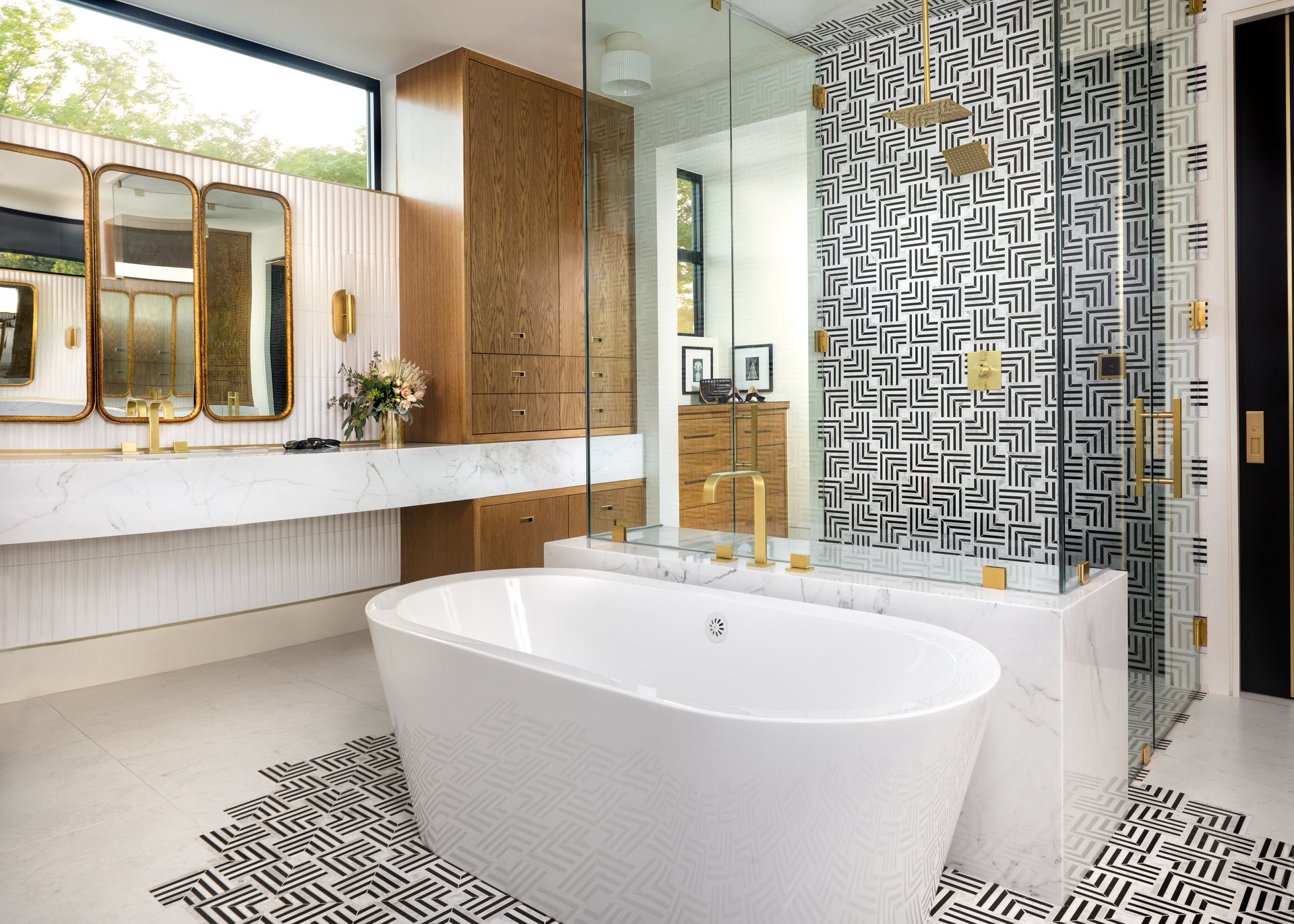 (Image credit: Maestri Studio. Photo credit Jenifer McNeil Baker)
Bathroom tiles are no longer plain, classic, and fairly neutral fixtures. Today there are endless options in terms of material, size, shape, color, and, even installation. When done right, tiles can be the hero of the bathroom's design scheme, lifting the space and inducing a timeless character to it.
While bathroom tiles need to be durable and practical, this year, there's a keen focus also on energetic, creative, eclectic, and vibrant designs. If you're looking to update this space, we suggest you move beyond the basic subway or penny tile styles and take a look at these wonderful bathroom ideas, each more unique than the other.
Hebe is an experienced homes writer and editor. She has written hundreds of articles helping readers make the best home design choices, and spends her days interviewing interiors industry experts to bring the latest ideas to her readers. For this piece she spoke to the world's best designers who have created colorful bathrooms in the most inspiring ways, ideal for compiling this article.
23 inventive bathroom tile ideas to soak in
1. Consider tonal tiles and grout
Dark-toned tiles aren't only meant for slick hotel bathrooms; these can add gravitas to your room, and almost give it a jewel box feel. What's more, dark tones create a feeling of endlessness, injecting depth and intrigue to spaces.
While choosing tonal tiles is definitely popular right now, what usually gets downplayed during the selection of tiles is the grout color, and that shouldn't be the case. Grout can make or break the look of your tile, and even create different effects or visually blend away. It gives a wonderful border to the tile and can sometimes create a graphic look in spaces.
A great small bathroom tile idea is tonal tiles with grout lines that pop and give a lot of energy and life to the space.
'For this micro apartment, we relied on familiar design strategies for small spaces; amplified depth of views, reduced materiality, and monumental expression,' says says Douglas Wan, founder of WHDA. 'In this particular bathroom, we chose black tiles grouted red, installed from floor to ceiling. This style helped us intensify its already intimate proportions, and give the space a strong personality.'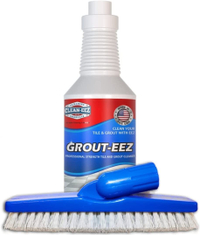 Maintain the look and beauty of your bathroom with this wonderful tile and grout cleaner. It is easy to use, effective, and removes grease, dirt, and stains from ceramic, and porcelain tiles.
2. Create a graphic pattern with mosaic tiles
Mosaic tiles have been around for decades, used in interiors to personalize spaces in ways many other decorative flourishes can't. These naturally lend themselves to geometry and art. Consider using their timeless look and delicate form to create intricate and creative bathroom wall tile designs.
'This is a kid's bathroom; a space that offers an invitation to imagine, dream, and play,' say Edouard Roullé-Mafféïs and Ophélie Doria, founders of Space Factory. 'For this reason, we used mosaic tiles to create a fun, colorful space. We set them in such a manner that they created a public swimming pool effect – a place that all kids love.'
3. Install border tiles for a neat look
An accent border can add interest and style to the bathroom floor tiles, giving the space a finished appearance while hiding the unfinished edges of field tiles. To create a unique accent feature in your bathroom, consider these border tiles or edge trims in contrasting color, size, shape, or texture for maximum impact.
'For the border and floor tiles, we mixed collections of four different brands of tiles to reproduce the aesthetics, shape and, color inherent in constructivism,' says interior designer Yana Molodikh. 'We chose terracotta and ceramic sconces on the wall created by the Ukrainian designer Yulia Kononenko to complement the scheme.'
4. Surround the bath with feature tiles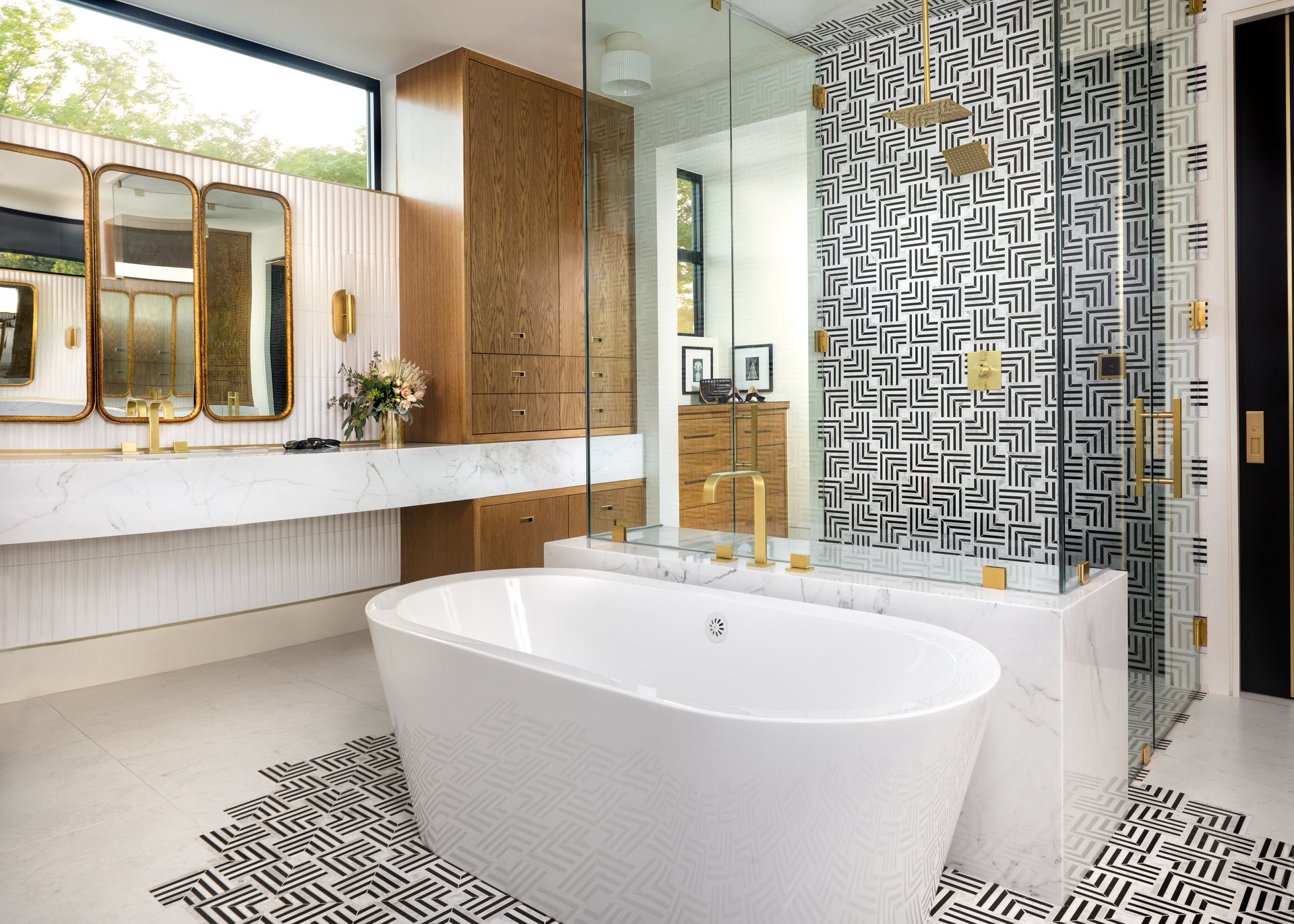 Tile rugs or tile runners look like wonderful pieces of art and can be customized to fit your space and personalize it like no other element. Consider bold colors and patterns for fresher looks, and lay them out in distinctive styles (think geometric patterns, basket weaves, botanical shapes to even unusual organic ones) to make a unique individual statement in your master bathroom.
Take this project for instance, designed by Maestri Studio. The tiles seamlessly flow from the shower area to the tub, highlighting the bathing area, while dipping the room in high concept style.
'We designed this primary bathroom to feel open, spacious, and full of natural light and personality,' says Eddie Maestri, principal architect and owner of Maestri Studio. 'By continuing the shower accent wall as a live pattern on the floor, the vessel tub is visually grounded and warmth is injected into this modern bathroom. The floating marble countertop and set of three mirrors are a throwback to mid-century modern design. I love how the patterns, details, and textures came together to make this space modern, yet warm and inviting.'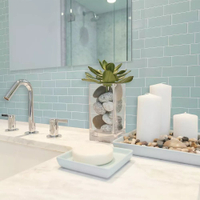 3D Peel and Stick tiles from Target
Live in a rental and still want to give your bathroom an appealing look? Consider these stick-on tiles that are durable, robust, and long-lasting, and can add a trendy look to the space.
5. Get creative with colorful bathroom tile ideas
People spend hours thinking of fresh new color palettes in the living room and bedroom but why should the bathroom be left out? If you're unsure of paints, a great way to induce hue is through colorful tiles to change the vibe of your modern bathroom.
'This house has a post-war structure, a contemporary extension, and a walkway that eases the transition between old and new,' says Ian Wrightson, principal architect at Wrightson Stewart. 'In its familiarity and warmth, the residence becomes an expanded and contemporary home, connected and openly engaging with its context, climate, and history. The girls' bathroom is located in the original house and to celebrate its retro heritage we incorporated lively green, grey and gold floor tiles that are a colorful and playful surprise. We selected Pittorica tiles by Studiopepe, a tile collection inspired by Joseph Albers, an American-German artist, known for his iconic color square paintings.'
6. Bring in tiles in interesting patterns
Just the way you introduce fabrics with patterns to add layering to a living room or bedroom, you can do the same with tiles in your master bathroom, with different shapes and styles of tiles. And you needn't use them in swaths – a splash here or there can be more striking.
'This tile is a Carrera and Nero Marquina marble mosaic in a basket weave pattern,' says Reena Sotropa, founder of Reena Sotropa In House Design Group. 'This particular tile was selected to support the classic black and white color scheme. I also thought that the scale and regular geometric pattern was a nice juxtaposition to the organic pattern of our feature wallpaper.'
For a subtle pattern, consider mixing gloss and matt tiles together.
7. Checkered tiles are still in vogue
If checkered floors sound too '50s to you, it's time to rethink. Sure, they have a retro look but their style is like no other. The pattern is versatile; it can look elegant, rustic, or contemporary. Bring this monotone bathroom floor tile idea back, and make this space the heart of the home.
'This bathroom was a full gut-rehab,' says Sanda Stojakovic, principal designer at Stojakovic Design Studio. 'It was a tiny bathroom that could barely fit two people and the layout was very awkward. We demoed a few walls and got rid of an old tub and linen closet to fit a double vanity and a walk-in shower. One of my favorite design elements is the classic black and white checked floor tiles laid out diagonally. They not only add visual interest but also make the master bathroom feel a lot bigger. The black and white harlequin floors are bold, high-contrast, and go with just about anything. I knew I wanted bold pops of lipstick red throughout the room but I wanted to pair it with something classic and this tile was an easy decision.'
8. Give the bathroom a Hammam vibe with tiles
Did you know that with the simple magic of tiles, you can create a spa bathroom vibe?
'Our loft bathroom is a small space with a window in the dormer, leaving the area under the sloped ceiling the only possible space to fit a shower,' says Jasmin Robertson, home renovation and interiors expert. 'To make it work, we pinched a few extra inches from the adjacent room giving enough width for a shower tray to fit under the sloped ceiling. This created a neat little walk-in shower section which I wanted to highlight with a fun tile to make a statement. These tiles are from the Archivo range at Topps Tiles. They're inspired by handmade terracotta tiles with uneven-aged edges, giving them a more rustic and artisan feel, accentuated by the pink grout. Wrapping the tile around the ceiling gives the space definition and slight hammam vibes.'
9. Give carpet-style tiles a go
Of course, laying out a carpet in the bathroom may not always be possible or practical but this is where tiles come in. To give the space movement and a touch of uniqueness, consider laying out patterned tiles, in the middle of the room, like a long carpet – a popular bathroom tile trend.
This will not only double up as a standout element in the room but also highlight the length of the room. Go for mosaic, colorful porcelain, or handmade ceramic tiles for a stylish feel.
10. Add vintage vibes with a tiled mural
Give a modern bathroom a vintage twist with a tiled mural. In this gorgeous blue and white bathroom, the traditional design adds an elegance and depth to the otherwise quite minimalist space. By keeping the rest of the space simple and paired back use bathroom wall tiles to give a chic, contemporary feel to the room. Just that pop of yellow in the sleek wall light and the simple silhouette of the stool is enough of a nod towards modern design.
11. Clash patterned bathroom tile ideas
Gold, deep emerald green and marble are always going to look gorgeous when paired together, as this bathroom proves. But there's more to take from this space than its inspiring bathroom color ideas. See how the green runs through both tiles creating a cohesive feel, but the patterns create a glorious clash?
12. Go half and half
Loving the vintage, quirky feel of this small powder room, the decor really packs a punch, despite the tiny dimensions.
Be inspired by this bathroom tile idea and add some extra height to a small bathroom by splitting the room with tile and paint. In this space for example, bring in subway tiles in white and use a light-toned paint color to create intrigue and make the small space stand out.
13. Opt for larger tiles in a small bathroom
Small bathroom, small tiles, right? Wrong, small, fussy tiles with lots of grout lines can actually make your space feel smaller. Instead, opt for larger tiles that won't visually break up the space. And if you have fallen for small tiles, just choose a grout that's a close match so you'll still get that lovely texture but your wall tiles won't be so busy they totally overwhelm the bathroom.
14. Combine tiles with wallpaper
Excuse us while we go and copy this exact bathroom tile idea in our own bathrooms. Wallpapering ceilings is nothing new, it's been a popular trend for years now, but there's something about the meeting of those glossy green subway tiles and palm print bathroom wallpaper that we cannot resist. Pair all those lovely lush greens with white floor tiles to create the perfect amount of contrast and choose brass or gold sanitaryware to add a touch of warmth.
15. Embrace the trend for mosaic bathroom tile ideas
Between the cute monochrome penny tiles, the rustic marble subway tiles and the addition of greenery and wooden accent, what this bathroom lacks in color it's more than making up for in texture. The intricacy of the mosaic bathroom flooring adds the perfect amount of interest to this minimalist bathroom – and while we are loving the hotel vibe of the flower print, you can create so many shapes with these tiny tiles from dramatic stripes to letters.
16. Expand a small bathroom with wall to wall tiles
Floor to ceiling tiling might sound a bit... clinical but in smaller space, using the same tile on all four walls can stretch space visually, plus it's of course the most practical choice for a wet room or walk in shower.
As this bathroom proves, you can't go wrong with a metro tile if you are tiling all over. Pick a glossy finish over matte, as they will help bounce more light around the room and combine them with a bold patterned floor tile to give the room some depth.
17. Create drama with shiny black tiles
Nothing adds drama like a glossy black tile. Keep it simple and let the finish be the focus by choosing a simple square tile and grid layout. If you want the tiles to appear like statement pieces, go for interesting tile and grout combinations like a black tile with a contrasting white grout.
Can we also acknowledge those floor tiles too? You just can't go wrong with a black and white chevron.
18. Add warmth with natural stone bathroom tiles
Bathroom tile ideas don't always have to be about creating a bold feature in your bathroom. In this bathroom, the orange-tined stone wall tiles aren't the focal point but they do add a lovely warmth to the space and work perfectly with the brown tones of the bath, rug and brass accessories. There's a really cozy, cocooning feel here that you don't often find in modern bathrooms, but it's a scheme that would be perfect if you are after ensuite ideas.
19. Match tiles to bold paint colors
Use bathroom tiles to add vibrancy to a simple sleek bathroom by opting for color on the walls, while keeping it simple on the floors. And rather go all over with bold tiles, create some contrast with all that texture by painting a wall or a section of a wall to match the tile.
We love the deep green bathroom with colored tiles, and how green is brought onto the adjacent wall using paint rather than more tiles. It makes the wall of tiles stand out as a feature, complimenting it but not drawing away attention.
20. Choose brick tiles to create a rustic look
Brick tiles or brick slips are wonderful things, they mean you can achieve that lovely textured, rustic effect of exposed brick without having to pull away layers of plaster. And brick isn't just reserved for walls, in this bathroom brick tiles arranged in a herringbone pattern complete the rustic, dark bathroom feel. But, that's not to say brick tiles wouldn't work in a more modern space, we can so imagine how gorgeous they would look in an all-white bathroom paired with large marble tiles.
21. Go for a twist on traditional
A total classic, the checkerboard floor has a long, varying history in the world of interiors, gracing the floors of everything from elegant Victorian hallways to American diners. And while they may have had a bit of rap when they went through the vinyl phrase, checkerboard flooring can be a stylish additional to ant style of bathroom.
Just look at this white bathroom. Paired with simple white metro tiles and a leafy wallpaper, the black and white colorway adds the perfect amount of pattern.
22. Take floor tiles up to dado height
Fallen hard for a patterned tile that you just don't think your bathroom can cope with on all four walls? Try out this bathroom tile idea and just tile a third or halfway up your bathroom vanity wall. Keep the upper half neutral so the tiles are still the focus and keep the floor tiles simple too.
23. Pick metro tiles for a classic look
There's a reason metro tile ideas are so popular, they are so versatile, work with any style and are endlessly fashionable.
As Colin Roby-Welford, creative director of Fired Earth says, 'Brick-shaped metro tiles never go out of fashion but you can ensure that they look fresh and modern by using layouts such as basketweave designs or herringbone patterns as alternatives to a more traditional brickbond format. Think about using the tiles across countertops and bath surrounds too – as well as walls and floors – to create a seamless and contemporary wet-room effect.'
How to choose the best bathroom tiles for a bathroom
One of the most exciting things about a bathroom renovation is picking out tiles, but with so many to choose from, it can be daunting to decide.
'When choosing bathroom tiles, think about the experience you want to create in your bathroom.' advises Russell Whitehead and Jordan Cluroe of 2LG Studio. 'For example, whether you want to have a spa-like setting or a practical space that sets you up for the day in a positive mood.'
Colors have a big effect on your mood – and while subdued hues are a safe option as they are easier to live with, brighter colors create impact and can leave us feeling energized. Explore tiles in different shades, formats and finishes to find the perfect combination for your bathroom vision.
To see if the tiles you're drawn towards work for your space, bring home several full-size samples and set them out in your bathroom, against your chosen paints and other testers, so you can judge how the format works in your room as well as appreciate the finish and color under your bathroom lights. If you have enough, you can also play with the layout to find the best pattern for your space.
On a practical note, don't forget to check that the walls will take the weight of the tiles and enquire with your retailer about weather sealing is required and the tile's suitability with regards to slip rating and underfloor heating.
Trends-wise, although we're seeing an increase in the use of coloured tiles, light, neutral and muted shades are still the most popular choices. Amanda Telford, marketing manager at CTD Tiles advises, 'As we enter 2021, we will continue to see lots of unusual textures and patterned tile designs making bold feature walls and floors. Wood and stone effect tiles are popular, with the latest designs perfecting the look of the original material while experimenting with a more decorative approach. Texture is a also big trend with textile-like woven finishes and nature-inspired grains and concrete-effect surfaces.'
What is the most popular tile for bathrooms?
Recent data shows that metro tiles remain the number one searched for a keyword when it comes to bathroom tiles, and it's hardly a surprise. They are a real multifunctional choice, and can add a stylish touch to bathrooms or kitchens.
The Livingetc newsletter is your shortcut to the now and the next in home design. Subscribe today to receive a stunning free 200-page book of the best homes from around the world.
Hebe is the Digital Editor of Livingetc; she has a background in lifestyle and interior journalism and a passion for renovating small spaces. You'll usually find her attempting DIY, whether it's spray painting her whole kitchen, don't try that at home, or ever changing the wallpaper in her hallway. Livingetc has been such a huge inspiration and has influenced Hebe's style since she moved into her first rental and finally had a small amount of control over the decor and now loves being able to help others make decisions when decorating their own homes. Last year she moved from renting to owning her first teeny tiny Edwardian flat in London with her whippet Willow (who yes she chose to match her interiors...) and is already on the lookout for her next project.
With contributions from