Bathroom tile ideas – 12 chic ideas for a bathroom update
Check out the latest bathroom tile ideas, where colours clash, shapes are so much more than just bricks, and texture is everything...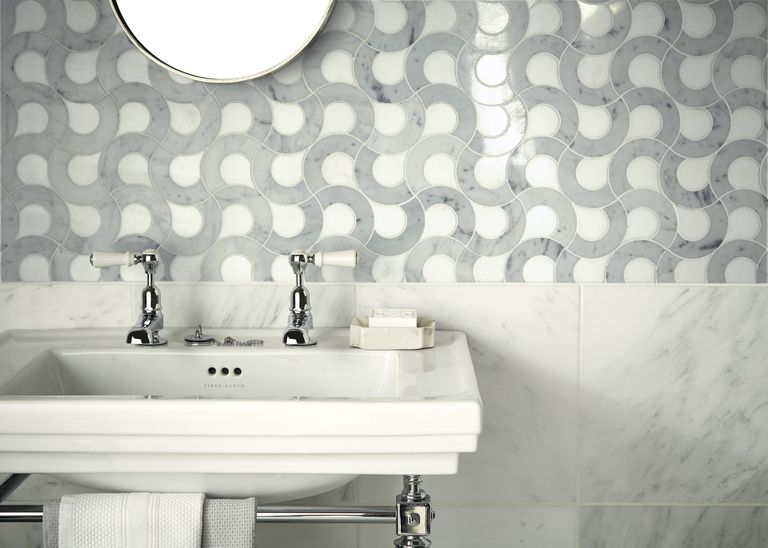 (Image credit: Future)
Below are twelve fresh and modern bathroom tile ideas for a 2021 bathroom refresh. 
In a nutshell? Gone are the bland squares, the sterile white bathrooms and the metro tiling of years past. It's time to say hello to fantastic shapes, colours and patterns and an array of exciting bathroom tile ideas. Striking and unusual colours such as bright yellow and orange, scallop shapes, chevrons, crayon and pencil, hexagon, wood effect… you name it. And edges don't have to be straight either, use hexagons or kite shapes to create an uneven edge for a change. Porcelain, stone and ceramic have been joined by encaustic, terrazzo and concrete. Remember to choose the right finish for different areas – for example shower enclosures and wet rooms, although a lot are all-purpose now. Make sure floor tiles are non-slip and never use white grout on the floor unless you want to spend your whole life cleaning it! Here's our round up of the latest bathroom tile looks – or browse through our modern bathroom ideas gallery for further bathroom inspiration.
1. Patterned bathroom tiles
We are seeing a lot more colour and pattern in bathrooms in general, with a different tile on the floor, walls and shower area, sometimes different finishes and different colours. There are no rules. Hotel style, calm rooms are still with us, but with quirky touches, such as tiles laid in an unusual way. Classic black and white marble is still popular but other, more unusual colours are also being used.
In search of a little more inspiration? Our bathroom wall tile ideas gallery features some jaw-dropping tiled bathroom walls, including tiled bathroom murals, tiny chevron patterns, striking wet room ideas and even top-to-toe terrazzo tiles. Looking to keep your walls plain and focus just on the floors? Our bathroom floor tile ideas gallery balances timeless looks and chic home spa inspiration with more intriguing shapes, colours and patterns.
One company that has changed the way we think about tiles is Ca Pietra, who's Lily Pad collection, above, took the Instagram crowd by storm. Hamish Smith, Ca Pietra's Creative Director says: "Thanks to social media, our Lily Pad range inspired so many of our customers to try something different. People are looking for instant wow-factor with eye-catching patterns and prints. We think marbling is set to be a top trend, it's a mesmerising surface finish, check out our Inker range. Or for an all-over visual display, look at our Jungle tiles, big leaf prints on a hexagonal tile. And diamond shaped tiles are set to be huge too."
Creating patterns like this can look great. 
The below bathroom features bold patterned chevrons on the basin wall with co-ordinating deep green, willow leaf tiles in the shower cubicle. In one word? Stunning.
2. Hexagonal bathroom tiles
We're seeing hexagonal shapes everywhere in interior design, moving into the home from restaurant and hotel bathroom design.
These handmade, encaustic tiles below certainly create an impact in this shower room space. The tiles have five lines on them and can be laid in different ways to create unusual patterns. These have been used on the walls and floor with walls and ceiling painted to match (see all our bathroom trends for 2021).
For a different hexagonal look and not so colourful, a monochrome bathroom scheme  is timeless. Marble Metro tiles on the walls are one of those classic bathroom tile ideas that never goes out of style, so subtle that your eye goes to the floor detail – a uncomplicated daisy shape using small hexagonal tiles. The black Crittall-style shower screen complements the look perfectly.
3. Unusually shaped bathroom tiles
Another unusual shape we are seeing more of – an elongated hexagonal tile but bevelled so it looks almost 3D, and enhanced by the contrast grouting.
The tiles below are half hexagon shapes in various different colours so that they can slot together in different colour pairings.
Or give the splashback wow factor with gold fishscale tile like these, evoking the glamour of 1930's Art Deco style, tiles fit for a Hollywood starlet. They are textured too, for added sheen – just stunning.
Day True have really pushed the boat out when it comes to unusual shaped tiles – take this eye-shaped tile below for example, and the hexagonal star shape which appears to be made up of tiny triangles.
Or for something more subtle, add soft colour on the upper walls, with white below. The white brick tiles have been laid vertically and are offset with each row for design detail, then small fishscale glass tiles used on the wall above in a barely-there mint shade. A small marble basin is the perfect complement.
4. Timeless marble bathroom tiles
Sophisticated marble always looks classic and chic, and you can create fantastic patterns with it due to waterjet technology which allows designs to be cut with precision and intricate curves. It's expensive but stunning – team it with plain Carrara up to dado height. Ideal for bathrooms, showers, wet rooms and bathroom floors.
Can't afford the marble tiles you want? You can fake it with a porcelain imitation.
"Marble-effect porcelain tiles can be found in gloss or matt finish making it a great choice for creating a natural stone look," says Katy Harris, Creative Lead at Tile Giant.
Porcelain tiles are perfect for use in bathrooms and wet rooms and given their durable qualities they look to remain the most popular surface for many years to come. Porcelain tiles are hard wearing and stain proof, making them ideal for everyday use. They also won't be damaged by detergents or any of the other chemicals we frequently use in our bathrooms.
Jo Oliver, Director, The Stone & Ceramic Warehouse adds: "Another advantage of porcelain tiles is that they can now be manufactured in a whole range of realistic finishes, including marble, natural limestone and concrete. Thanks to advantages in technology, digital printing has allowed porcelain tiles to be produced with a 'natural' variation from tile to tile; just as you would see on the actual stone. This reproduction is so accurate that these imitation porcelain tiles are now often indistinguishable from the real thing. This makes it possible to achieve the look you want at a lower cost and without the challenges and maintenance issues that come with materials such as marble, limestone and polished concrete." 
5. Take floor tiles up to dado height
A lot of bathroom tile ideas can be applied on both the walls and floors, so there is more choice. These ones from mandarinstone.com below are a case in point. They are a classic square (recently back on-trend) but with a mix of colours and patterns. Geo monochrome tiles run from halfway down the wall and onto the floor so there is no break, for a seamless look. 
6. Fluted bathroom tiles for texture
Pairing strong colour AND pattern will likely be too much. We advise to stick to one or the other – or keep to one colour and an uncomplicated pattern like these fluted tiles, laid vertically, or horizontally, to make an impact. Their slim silhouette and linear design is a fresh take on a subway tile.
7. Rectangular bathroom tiles in chevron formation
Rectangular tiles offer more choice in laying them and work well in a herringbone pattern. 
Here are two different approaches, the first is a gloss tile with an uneven finish and laid in such a way as to leave a pyramid edge, something we are seeing more often, to add interest and in this case probably to leave space for the pipework. These are hand-cut white terracotta with a painted white glaze which gives them this hand-made finish.
Lee Thornley, founder of Bert & May says: "When using all white tiles, it can be fun to play with the layout; lay tiles in horizontal lines, or in a mix of horizontal and vertical or in classic chevrons. We like to mix different whites, we have 4 or 5 white or grey tones and they make whites more interesting. Playing with subtle differences and chalky finishes highlights the variation in our handmade cement tiles. If we look at our glazed tiles, no two tiles are the same, slight wavy edges will always showcase the perfectly imperfect nature of our tiles and will add something extra than the standard metro tile."
Then for a cleaner more contemporary look these matt tiles are laid in a precise pattern with same colour grout for clean lines.
8. Wood effect bathroom tiles
Wood effects have been used on ceramic and porcelain tiles, and are so life-like it's hard to tell them from the real thing. The porcelain tile below is a case in point, and can be used on the floor and on the walls too, for a wonderful Scandi look but without the worry of real wood in a space where there is the possibility of water damage.
9. Oversized bathroom tiles
Large format tiles are popular for bathroom floors where you have a lot of space, especially with a wet room like this where you want a seamless, hotel look. These tiles are a new technical, non-enamelled porcelain tile and can be used on the wall and floor.
Amanda Telford, Marketing Manager, CTD Tiles explains…
When it comes to decorating your shower room with tiles, a larger design can give the illusion of space, with less grouting joints, be careful not to choose a tile that a tile too large for the area. Glazed or unglazed porcelain tiles and mosaics are also best suited used in wet rooms too as they are impervious and will not accept water penetration. They also create a visually striking appeal, allowing for shower rooms to be a place that is stylish and will stay on trend for years to come.
10. Metro tiles
Metro tiles are so versatile. If you want an uncomplicated look they are ideal and can be used in bathrooms and kitchens. They sit happily next to other tiles and come in many colours. Bevelled-edge metro tiles give a brick-effect look with bells on, look how dramatic these ones are from Tile Giant. But make sure you use a professional tiler, especially if you are having contrast grout as they are a bit trickier to get right. 
Katy Harris, Creative Lead at Tile Giant tilegiant.co.uk says:
"Recent data shows that Metro remains the number one searched for keyword on our site and it's hardly a surprise. They are a real multifunctional choice, and can add a stylish touch to bathrooms or kitchens.
"If you're going for minimalist design - white or marble metro tiles are perfect, and for a touch of opulence - go for rich hues like navy blue, bottle green and even black. Our new Somerset range has metro-inspired tiles in gorgeous pastel colours – perfect for creating softened spaces, laid together in geometric patterns, the tiles make a striking feature.
11. Mix 'n' match bathroom tiles
These large concrete tiles have clever bands of colour in vertical stripes which makes them look like individual tiles. The tiles are echoed on either side of the room with a white wall between to give the illusion of space. You can see how large format tiles on the floor can work in a small small as there are fewer grout lines.
12. Chintzy tiles
And the modern Chintz revival has moved into tiles with these exotic bird printed ceramic tiles used to create a feature wall, with a contrasting deep green scallop or fan design below in striking emerald green. As ever, green is big this season as uplifting as it is calming.
What is the most popular tile for bathrooms?
Recent data shows that metro tiles remain the number one searched for keyword when it comes to bathroom tiles, and it's hardly a surprise. They are a real multifunctional choice, and can add a stylish touch to bathrooms or kitchens.
What are the bathroom tile trends for 2021?
The most popular bathroom tile looks for 2021 include rectangular tiles in herringbone or chevron formations, hexagonal tiles with geometric patterns, mini hexagonal tiles to create a honeycomb effect, classic marble tiles, and unusual shapes as seen here.
What is an affordable but chic bathroom tile option?
Porcelain tiles are the perfect affordable alternative to expensive marble looks and on-trend concrete. Thanks to advantages in technology, digital printing has allowed porcelain tiles to be produced with a 'natural' variation from tile to tile; just as you would see on the actual stone. This reproduction is so accurate that these imitation porcelain tiles are now often indistinguishable from the real thing. This makes it possible to achieve the look you want at a lower cost and without the challenges and maintenance issues that come with materials such as marble, limestone and polished concrete.
What bathroom tiles do I need for my floors?
It's essential that you choose non-slip tiles for the floors, to avoid slipping. 
How to choose the best bathroom tiles for my bathroom
One of the most exciting things about a bathroom renovation is picking out tiles, but with so many to choose from, it can be daunting to decide. "When choosing bathroom tiles, think about the experience you want to create in your bathroom," advises Russell Whitehead and Jordan Cluroe of 2LG Studio. "For example, whether you want to have a spa-like setting or a practical space that sets you up for the day in a positive mood." 
Colours have a big effect on your mood – and while subdued hues are a safe option as they are easier to live with, brighter colours create impact and can leave us feeling energised. Explore tiles in different shades, formats and finishes to find the perfect combination for your bathroom vision.
To see if the tiles you're drawn towards work for your space, bring home several full-size samples and set them out in your bathroom, against your chosen paints and other testers, so you can judge how the format works in your room as well as appreciate the finish and colour under your bathroom lights. If you have enough, you can also play with the layout to find the best pattern for your space.
On a practical note, don't forget to check that the walls will take the weight of the tiles and enquire with your retailer about whether sealing is required and the tile's suitability with regards to slip rating and underfloor heating.
Trends wise, although we're seeing an increase in the use of coloured tiles, light, neutral and muted shades are still the most popular choices. Amanda Telford, marketing manager at CTD Tiles advises, "As we enter 2021, we will continue to see lots of unusual textures and patterned tile designs making bold feature walls and floors. Wood and stone effect tiles are popular, with the latest designs perfecting the look of the original material while experimenting with a more decorative approach. Texture is a also big trend with textile-like woven finishes and nature-inspired grains and concrete-effect surfaces."