Powder room ideas – 10 ways to create a small space that's big on style
Bold and beautiful powder room ideas for creating a stylish space no matter how small...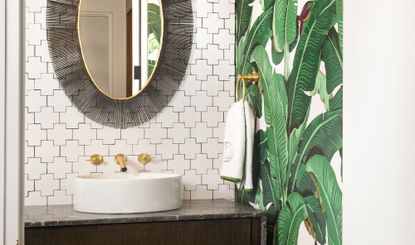 (Image credit: Maestri Studio/Jennifer McNeil Baker)
Because they're often small and transient spaces, powder room ideas can be bold and daring - a place to fully celebrate your personality. A powder room usually contains a loo and a mirror with good lighting where you can pep up your makeup. It's a half-bathroom that doesn't have a bath or shower - a decadent space where guests can slip off to for a break in style and comfort.
'A powder room fundamentally needs two things; a loo and a sink,' says Barrie Cutchie, of BC Designs. 'It can have some storage such as a vanity unit that houses a sink, but you wouldn't find other products such as a bath or shower in a powder room.'
Staffan and Monique Tollgård, of the Tollgard Design Group, explain further: 'Dating back to the 18th century, the powder room's origins refer to the closet-sized rooms where ladies would have their towering wigs repowdered and the excuse of "powdering one's nose" came into being. Today, free of the wigs and powder – this small bathroom offers a moment of respite for guests and homeowners alike.'
We've pulled together all our favorite powder room styles (that would totally work as small bathroom ideas too) to get you inspired to go big with color and pattern in your smallest room...
Chic powder room ideas to impress your guests
'Powder rooms are often small - some with little or no natural light - but rather than being intimidated by these limitations, let your imagination run wild,' says Patrick O'Donnell, Farrow & Ball Brand Ambassador. 'Use bright colors in different finishes such as full gloss for drama or even a large print wallpaper - powder rooms are transient spaces where you can afford to exhibit your daring side.'
Dominic Myland, CEO, Mylands, adds: 'A powder room is the perfect space where you can get creative and try out bold designs. Your powder room should be comfortable, practical and characterful.
'Powder rooms should include hidden storage and great lighting. We always like to explore using a pattern wallpaper or panelling details to create a cosy and memorable room.'
See more top expert powder room ideas below...
1. Embrace bold florals
'Wallpaper has the magical ability to transform any space,' says Jamie Watkins, of Divine Savages. 'Bringing bold color and pattern into a potentially boring space that serves to be practical and functional, such as a downstairs loo or powder room, can work wonders. This is a room likely to be visited by all your guests so put your best foot forward and don't scrimp on style.
'Wrap the walls in a bold, floral print to give the space personality. Have fun with the sink, radiators and woodwork, picking out a complementary color for them. If you prefer to be a little more subtle, use the print to create one focal point behind a mirror, or behind open shelving. For the more daring, embrace the 5th wall, look up and paper the ceiling, too.'
2. Ooze an industrial vibe
Take style direction from trendy hotels and work a cool industrial feel in your powder room. This black and white bathroom idea, shot by Gavin Smith in the home of Sommer Pyne (@housecurious), is a lovely example.
Sommer says: 'Our powder room is in the basement near our home bar where we entertain a lot. So I wanted to inject some fun and take cues from trendy bars and hotels.'
'It has an industrial feel with the use of a reclaimed wooden stand and concrete basin. Our plumber made the taps out of copper pipes based on our design. The industrial vibe is paired with a classic timeless look thanks to the use of tiles.
'On the wall, we have used subway tiles but have placed them in a creative way for a different look and the floor tiles are my absolute favorite, inspired by a trip to New York.'
3. Mix wall and floor prints
A powder room is the perfect room to embrace maximalist style - somewhere you can really go all-out with print. This beautiful space by Zoe Feldman Design shows how you can mix dramatic prints on both the walls and floors for a cozy and inviting powder room.
Zoe says: 'Our client was into maximalism, so we started with a fun bathroom wallpaper that felt like old-world tile and picked floor tiles in a graphic mosaic with neutral colors, which also had an old-world feel. The nature of the bathroom is very small so we fabricated with a custom size marble sink that's wall-hung and has a wall-mounted faucet so everything fits well.'
4. Add oversized art for visual interest
Art is a powerful visual tool that helps to bring any room to life with personality and depth. We love how the cool oversized black and white print in the room above by interior designer Raili Clasen works to add an edge to the pretty florals. Adding art is also a great budget small bathroom idea, an affordable way to create dimension and add that extra level of wow-factor.
5. Introduce a statement sink
The powder room is the place to experiment with colorful sanitaryware. Picking out an accent color from a patterned wallpaper is a great way to add cohesion - as well as energy - to the space.
Barrie Cutchie, Design Director at BC Designs, says: 'There are opportunities to have fun in these rooms and bring a sense of drama. Go all out and bring in textured wallpapers, bold colors, and dramatic light fixtures. They make a little space feel luxurious and cozy.
'It can also be a place to play with daring bathroom products like statement sinks – think colored ceramics – as well as the mixing of modern and period fixtures which will be a huge interior design trend in 2022.'
6. Play with height and proportion
It's not uncommon to be faced with awkward shapes and sizes for powder rooms. But, don't panic, you use your decor scheme to redress the balance.
Farrow & Ball's Patrick O'Donnell says: 'If the room is awkwardly proportioned, with height but not length, split the room color at approximately 60/ 40 (from floor to ceiling) - this technique will artificially drop the height.'
The technique works brilliantly in this space, which also perfectly showcases lovely vintage details, like the antique vanity unit, chain mirror, fluted pendant, and artwork.
7. Choose dark hues for dramatic effect
Rich or dark colors have the effect of adding drama to a space, and creating a really cozy space. Another element that will add a refined and cozy look to a powder room is wall paneling; deep colors combined with paneling are an interiors match made in heaven.
Ruth Mottershead, Creative Director at Little Greene, says: 'For a really cozy feel, consider the soothing power of deeper shades; darker sumptuous colors can give your bathroom a luxurious and intimate atmosphere.'
8. Create a sense of glamor with metallic accents
From your towel handle to your taps, mirrors, and wall lights, go for gold or brass to really add an element of glamor that a powder room should evoke.
Emily Rose, of Walls and Floors, says: 'Powder rooms, by nature, have quite a luxurious feel. But we think it's great to accentuate this with elegant, luxurious features such as marble or gold hardware and glossy tiles that reflect light around the room and enhance the space.'
The beautiful powder room by Maestri Studio above is the perfect example of marble, glossy tiles and gold hardware are the perfect combination for an upscale powder room.
9. Enhance the space with a bright vanity unit
We've established that a powder room is the perfect place to get creative with your bathroom color ideas - and this doesn't just have to be on the walls.
The vanity unit offers a great opportunity to add an extra splash of color. Pick out a hue from your printed wallpaper and paint your vanity unit for a curated and fun aesthetic.
This bright orange vanity unit in a chic powder room by Kim Armstrong Interior Design is a lovely example of how to do it right. Add gold handles, taps and mirror for extra gravitas.
10. Go tonal for an elegant look
If you're more into minimalist style, keep the tones monochrome for a refined finish.
'In tight spaces it can be really elegant to keep things simple, with a restrained palette of one or two shades - a single tone can have a calming effect,' says Tom Cox, of HÁM Interiors.
But tonal doesn't have to mean boring; add interest with subtle prints and layering. Tom adds: 'In this powder room, a soft blue used across geometric wallpaper and coordinating paint makes a harmonious scheme. It's also a good idea to break up flat painted surfaces by adding different textures. Here we chose a vanity with a reeded front and we paneled the ceiling for an extra layer of interest. '
What should you have in a powder room?
As powder rooms are often used for a quick makeup makeover, there should be good bathroom lighting and easy-to-access mirrors.
'Powder rooms should have tissues, a candle, soft lighting and a flattering mirror,' say Staffan and Monique Tollgård. 'We sometimes use a softly antiqued mirror instead of a glaring new one. They should feel more like a room than a bathroom, so we tend to favor wallpaper over tiles to create some softness and visual drama.
'We tend to encourage our clients to go big in these small rooms – big on drama and interest as people don't spend too much time in here. A statement tap, beautiful feature light, and never, ever a white WC unless you absolutely have to.'
Hugh Leader Williams, Lead Designer at Blakes London, says: 'A luxurious powder room needs lots of mirrors, ideally with the ability to step up close to the mirror or with a magnifying element to them.
'Make sure to have soft low-level ambient lighting to set the tone, but ensure that there is somewhere by a mirror where lighting can be stronger, ideally with a cooler bulb so that users can apply makeup.'
And Megan Matharu, Marketing Coordinator, Visual Comfort Europe, adds: 'The perfect powder room will have great lighting, especially those that lack natural light. Flanking your mirror with a pair of sconces will instantly lift the space and provide ideal illumination for the task at hand.'
How can you make a powder room cozy?
A powder room should be an inviting space with an appealing atmosphere so that guests feel comfortable while they're taking a break during an event or dinner party. There's a number of ways you can ensure your powder room is cozy, from lighting to soft furnishings.
Raili Clasen suggests: 'Using wallpaper and dramatic lighting designs in a powder room can make the space cozy, while still emphasizing design.'
Katie Lion, Interior Designer at Kitesgrove, comments: 'We always like to explore using a patterned wallpaper or paneling details to create a cozy and memorable room.'
Farrow & Ball's Patrick O'Donnell agrees, saying: 'Make a room cozy by battening out your walls in tongue and groove or wood paneling and painting it in a rich or moody color.'
And Hugh Leader Williams of Blakes London adds that rugs are a nice cozy touch, saying: 'While I'm not an advocate for carpets in a powder room, rugs work well to add texture and softness to the space.'
'Lastly, no powder room is complete without some stylish designer accessories,' says Linda Holmes, Interiors Director at LuxDeco. 'Long gone are the days of picking up a basic soap dispenser. Now, these accessories—made from a variety of different materials in a range of styles—have a style message to deliver.
'From glass jars with chrome touch to mother-of-pearl trinket trays and leather waste bins to rattan storage boxes, the possibilities are endless. Choose a matching set of accessories to keep everything consistent and themed, or mix and match for an eclectic powder room accessories collection.'
Where is the best place to put a powder room?
'The location of the powder room is all-important,' say Staffan and Monique Tollgård. 'Too close to the dining room (god forbid in hearing distance) and no one will feel comfortable using it.'
'It needs a lock, ideally not a sliding door, and a little bit of distance from the main action – ideally around a corner from the reception, open-plan kitchen or dining room.'
'When we plan a house, we usually try and allow for two doors so that there is an ante-room before the powder room itself. '
Emily Rose, of Walls and Floors, agrees: 'Powder rooms are usually found on the ground floor of the home, sometimes near the entrance, so it's easily accessible to guests.'
And Raili Clasen adds: 'A powder room should definitely be on the main floor with easy access - but not directly off - the dining and living spaces.'
The Livingetc newsletter is your shortcut to the now and the next in home design. Subscribe today to receive a stunning free 200-page book of the best homes from around the world.
Ruth Doherty is a lifestyle journalist based in London. An experienced freelance digital writer and editor, she is known for covering everything from travel and interiors to fashion and beauty. She regularly contributes to Livingetc, Ideal Home and Homes & Gardens, as well as titles like Prima and Red. Outside of work, her biggest loves are endless cups of tea, almond croissants, shopping for clothes she doesn't need, and booking holidays she does.