Bathroom wallpaper ideas - prints and patterns with personality and panache for your smallest room
See the bathroom wallpaper ideas that will deliver an indulgent sanctuary - or a dash of personality to the guest loo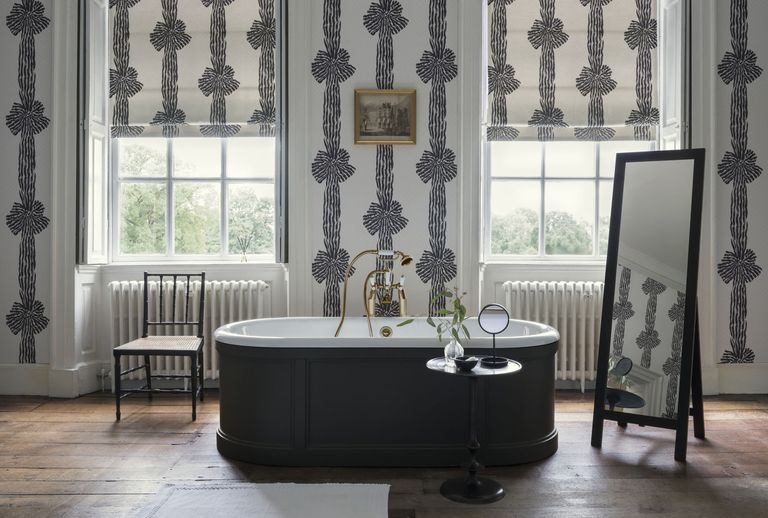 (Image credit: Warner House)
It's possible you've not considered bathroom wallpaper ideas before. But if you've been perusing wallpaper ideas for elsewhere in your home, it won't have escaped your notice that  beautiful patterns and prints are showing up on the walls of the most stylish modern bathrooms and cloakrooms.
If you took a sneak peek inside Kate Moss's bathroom at her Primrose Hill property, perhaps you were as taken as we were with her lustrous grey floral wallpaper, a collaboration between the supermodel and De Gournay.
In fact, the transformative power of wallpaper can be seen most strongly in a bathroom, turning this functional space into an indulgent sanctuary with just a single wall of pattern. 
Wallpaper gives a less utilitarian feel than tiles, it instantly soften a space - but why not combine the two? This works well for both style and practical reasons. 
Or indulge further and wallpaper the ceiling, like some have decadently done in the examples ahead. 
If you're concerned about the effects of steam or splashes of water, there are brands that specialise in bathroom wallpapers, which are made to withstand their effects. 
However, it's best to avoid using wallpaper too near the bath, shower or basin. Stick to places where it is less likely to be splashed, such as above a timber panel behind a bath, or above or beside a tiled basin area - and make sure your bathroom is well ventilated.
Of course, where you can go to town, is in a downstairs loo or guest bathroom. If it's a room you don't use every day, you'll be pleasantly surprised by a bold design each time you enter the room.
Bold - or just beautiful, check out the prints, patterns and panoramas ahead and decide what's right for your space.
Want interesting walls in more rooms? See the latest wallpaper trends.
1. Create impact with a mural 
Instead of using a wallpaper with a traditional repeat pattern, think about creating impact with a single image across a huge mural wallpaper. This White Pelican wallpaper mural, is blown up from an illustration from the artist J.J. Audubon and is one of MuralsWallpaper, the manufacturer's most popular designs.
2. Team walls and windows
The elegant effect of this knotted sash wallpaper from Warner House is amplified with the classic yet contemporary design replicated on the blinds in this beautiful monochrome bathroom.
3. Go all out luxe
This bathroom oozes pure opulence, with the stunning hand-painted Rateau wallpaper from De Gournay setting the scene for an indulgent soak in this Usk tub  from Drummonds, beautifully perched on a raised plinth. 
4. Soften your scheme
The addition of this lovely Mirk wallpaper from Woodchip & Magnolia instantly softens this scheme, bringing warmth to the monochrome fittings and tiles, while enhancing its dramatic style.
Love the tiles? See more bathroom flooring ideas.
5. Nod to the terrazzo trend
The trend for terrazzo is still big in bathroom design, but if investing in the real thing is too long term a commitment, then this large scale Black Marble stone terrazzo print wallpaper is a great alternative. 
6. Set a scene
Dreaming of your next holiday? Why wait, bring holiday vibes to your bathroom with a wall mural like this one by Nic Miller for Surface View. The beauty of these murals is not only in the design but that they can be scaled up or down to suit the size of your space.
7. Introduce super model style
This pretty wallpaper in Kate Moss's bathroom in her Primrose Hill property is a collaboration between the supermodel and De Gournay. 'Anemones in Light', a beautiful chinoiserie wallcovering, not only offsets the Spey cast iron bath and Mull classic bath and shower mixer from Drummonds, it's now part of the design house's permanent collection.
8. Go wall to wall
With a subtle wallpaper like this Polka Square (BP 1056) from Farrow & Ball you can afford to go wall to wall, as it oozes elegance and it's not the type of print you will tire of too soon. 
See Farrow & Ball's trending paint colours for the year ahead.
9. Paper the 'fifth' wall
Wallpapering the ceiling in a cloakroom or bathroom with a flamboyant wallpaper such as this Midnight Tropic from Graham & Brown will create a cool and cosy cocoon.  
Like the idea of something other than a plain white ceiling? Check out more ceiling ideas.
10. Choose the same paint colour
This stunning Garden of Serica (in Malachite) wallpaper by Anna Glover is offset beautifully by the timber panelling in the same rich green colour and provides a stylish backdrop for the utility-style fittings, which include the Bourne wall mounted basin, Chessleton wall mounted basin mixer, Towel ring, Round tilt Mirror in antique brass and Derwent pendant light; all from Drummonds. 
Bathroom lights are now as beautiful as those for the rest of the home. See more bathroom lighting ideas.
11. Bring nature in 
A gorgeous Sandberg wallpaper sets the tone in this stylish cloakroom, and is perfectly offset by the window frames painted in a complementary shade. 
The wallpaper is from Sandberg; Mirror, Gio Ponti Mirror (Gubi); Wall lights by Adam Otlewski.
12. Splurge on designer prints 
In a small room you can splurge on an expensive wall-covering. Gucci's signature Heron print paper makes a bold statement in this cloakroom. 
Heron wallpaper, Gucci. Basin, custom-made in stone. Floor tiles, bespoke by Kelly Wearstler.
13. Coordinate window frames
Caroline Cobbold used a colourful under the sea themed wallpaper by Cole & Son to add colour and pattern to this cloakroom. The blue window frames blend beautifully. 
This is Cole & Son's turquoise Nautilus wallpaper.
14. Give it a golden lustre
A lobster-print wallpaper in the cloakroom is a reminder of this property's seaside setting. But it's that molten gold like sink that really has us gazing.
See more beautiful countertop basins.
15. Add a touch of vintage style
A swirling monochrome pattern is teamed with a quirky vintage fire bucket to create a bathroom full of personality. This is Fornasetti Malachite wallpaper by Cole & Son. 
16. Think bold and bright
Bright red paintwork teamed with this zebra wallpaper by Scalamandré create a striking cloakroom.
17. Add personality with a playful print
There's a touch of 'Quentin Blake' about this illustrated wallpaper design that creates a playful and free-spirited atmosphere in this cloakroom.
18. Mix monochrome and brass
The marble tiles, the marble wash stand and brassware from Drummonds and the monochrome wallpaper depicting a far-off land in this beautiful bathroom by Lucy Barlow of Barlow & Barlow is all work together perfectly.
19. Create a tropical vibe
Covering your walls with a big tropical palm prints is sure to bring joy to your space. This wallpaper is from Designer Wallcoverings; Mirror, HPS Design Interior; Lights, Atelier Areti.
20. Paint the ceiling gold
Like sunlight settling on the sea, this bright aquatic wallpaper is teamed with a metallic ceiling for an interesting, unexpected touch. This is Nautilus wallpaper, by Cole & Son. The bath surround is tiled in Via Arkadia tiles. The basin is from Cielo.
21. Bring in a bold backdrop
The simple tones and geometric print in this wallpaper adds drama and grown-up glamour to this bathroom. The wallpaper is Jim Thompson Anais // True Navy. Wall lights are the Kelly Wearstler Melange Sconce. Mirror is from West Elm.
22. Make a play on tradition
Timorous Beasties urban toile wallpaper and a blind in the same pattern envelope the bathroom and make a tongue-in-cheek play on this traditional style.
23. Pick a retro print
When teamed with the heritage-style fittings, this navy, geometric, wood veneer wallcovering from Phillip Jeffries brings retro glamour to this bathroom.
24. Choose a theme
The whole cloakroom was designed around a flamingo theme, with a bold wallpaper adding drama to the small space. This is Flamingo Club wallpaper by Matthew Williamson at Osborne & Little. The basin is from Hampton Bathrooms.
25. Team wallpaper tones with your tiles
This is another bathroom project by Barlow & Barlow, where punchy wallpaper prints work alongside bathroom tiles, as the colour tones have been carefully chosen to chime.
See more bathroom tile ideas.
26. Have some fun
The downstairs loo is where you can really have some fun with your decor. Surprise guests with a leopard print cocoon, like this cloakroom where the animal print had been used floor to ceiling with a great effect. For similar wallpaper, check out Joyful Wallpaper Company. 
27. Choose muted tones
One of the smallest rooms in the house gets a major makeover courtesy of some funky wallpaper and boldly painted woodwork. This is Union wallpaper by Timorous Beasties. The woodwork is painted in Farrow & Ball's Studio Green estate eggshell. The tiles and basin are from Fired Earth.
28. Put the focus on the ceiling
Protected from splashes on the ceiling and top third of the wall, this palm wallpapered bathroom was inspired by a hotel bathroom in Palm Springs and looks sensational with the dark green tiles and heritage fittings. The Beverly Hills Martinique Banana Leaf wallpaper is from Designer Wallcoverings
29. Make your guests smile
The owners wanted every space in their home to have a bit of light-hearted humour – even the smallest one, the downstairs guest loo. The Newspaper Black 20600 wallpaper by Illusion is from Direct Wallpaper. The Duravit WC is from CP Hart. 
30. Paper a panel
The panel of wallpaper adds to the bathroom's tropical cruise vibe, complete with porthole window. The bath is from Drummonds, custom painted. The wallpaper is by Matthew Williamson.
31. Clash prints
A profusion of exotic palms adorns the walls in the cloakroom – a fun, unexpected contrast to the geometric flooring. This is Babylon wallpaper by House of Hackney. The Tala marble shelf is by Graham and Green. The mirror is from Crystal Palace Antiques. The micro basin is by Silverdale.
See more bathroom flooring ideas.
32. Indulge in a plush cocoon effect
This bathroom is decorated with Deep Button Gold Leaf wallpaper that the owner, Sera Loftus of Sera of London, designed, and is combined with a vintage tub, glamorous lampshades and a Victorian mirror on the wall for a soft feminine feel, like the rest of her glamorous home.  
33. Emulate exclusive club style
This hand-painted Monkeys in the Closet de Gournay wallpaper was originally spotted at Mosimann's Club in London's Belgravia - and looks super-chic in this downstairs loo. 
34. Repeat accent tones and silhouettes
Don't be afraid to choose something bold or playful. This hand-printed wallpaper features crinolined ladies who parade across the walls, courtesy of designer Katie Deedy. Their dark silhouettes are echoed in the black taps and wall lamps.
The walls are covered in Ms Ward wallpaper by Katie Deedy from Grow House Grow. The Tour sconce is by Atelier de Troupe. 
35. Introduce a hint of print
Instead of papering the whole bathroom you can create an impact by using a mixture of statement wallpaper with plain tiles. 
The basin and shower are from Heritage Bathrooms. The smaller mirror is an antique Venetian design from The Mint List Interior Design. The Tarovine wallpaper, soap dispenser and tumbler are by House of Hackney.
36. Create contrast
Papering one wall with monochrome alphabet wallpaper and painting the other will create a bold look of stark contrasts. 
This typographical print paper is the Secret Cities design by Mr Perswall. The black wall tiles are by Porcelanosa. The slick, minimalist basin is from CP Hart. 
37. Clash bold colours
Large, striking patterns work wonderfully in smaller spaces, and really stand out against contrasting colours. 
Find similar tropical leaf wallpaper at Murals Wallpaper, or try the Banana Leaf wall decoration by IXXI at Selfridges. This is Drummonds' Brora high-level WC suite.
38. Tile where you need to
Featuring striking pink birds, this wallpaper helps transform a bathroom from functional space to a stylish retreat. The tiled splashback makes a stand out feature and protects the walls.
The vintage wall-hung basin by Royal Doulton and Victorian-style high-level cistern toilet by Burlington Bathrooms are teamed with the Jinsique design wallpaper in the Garden colour way from Rockett St George. The hexagonal floor tiles are the Design Two Hex design by Grestec Tiles.
39. Mix warm and cool tones
The contrasting colourways of a dark wallpaper with cool blue panelling and warm brass details make this room pop. 
This is Cole & Son's Palm Jungle wallpaper. The green tropical parrot on a perch, £42, is from Rockett St George, as is the Brass Qaudratic shelf unit. The wall lights are from Holloway's of Ludlow, while the basin and washstand are from The Water Monopoly.
What type of wallpaper is best for a bathroom?
We asked Abby Hesketh, Product Manager and Paint & Colour Specialist at Graham & Brown, what type of wallpaper is best for a bathroom. 
"Wallpapers with vinyl coating are best suited for kitchens and bathrooms where there may be more moisture present, and it's definitely not recommended to put it directly against a sink or in a shower," says Abby. However we see many customers combining tiled walls with wallpapers to great visual effect – in fact people seem to go bolder in the bathroom and downstairs toilets than anywhere else!". 
Is washable wallpaper suitable for a bathroom?
"Yes washable wallpaper is suitable for a bathroom, when used in combination with tiling, so the paper is not coming into contact directly with persistent water," says Abby.
How do I protect my bathroom wallpaper?
"To best protect bathroom wallpaper, avoid areas where the wallpaper will be in direct contact with water. Keep the bathroom well ventilated, as excessive steam can affect the adhesive, and use a wallpaper paste with a fungicide in it – this will prevent mould developing behind the wallpaper," continues Abby.