The Latest Modern Bathroom Trends That Add Instant Wow-Factor
30 modern bathroom trends that wow. Get the lowdown on the latest modern bathroom design features and current moods...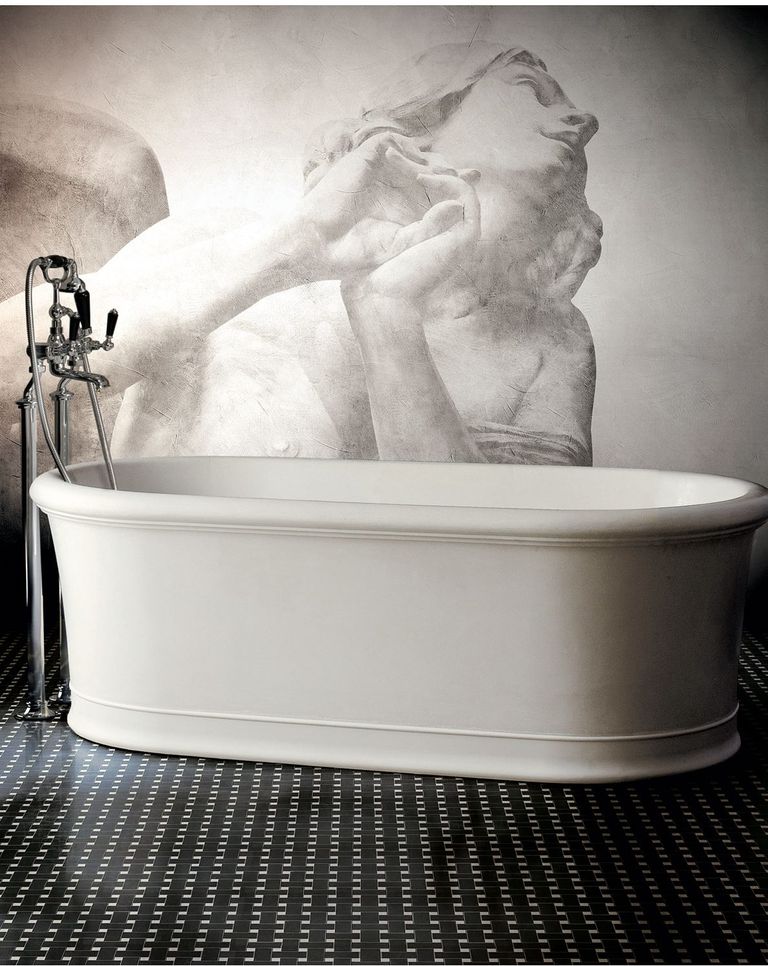 (Image credit: Future)
Bathroom in need of a modern update? These modern bathroom trends will add instant pizazz to your bathroom space.
We've found some of the best looks and designs for a modern bathroom update – from contemporary shower room ideas to chic, marble styles and plush, luxurious designs.
Refreshing a bathroom doesn't always require a total overhaul: it can be as simple as swapping the sink, the taps or bathroom lighting. 
This past year has seen a surge in pink bathrooms, and designers are moving away from hard, angular lines and instead leaning towards furniture and fittings in more flowing shapes.
Whatever your style – whether you're after an on-trend brass bathroom, raw and natural space or a patterned look with tiles – if you're planning to refresh your bathroom, we've got it covered. 
These are the latest bathroom trends and luscious looks you'll love for years to come.
1. Imitation game
Marble bathrooms are timeless, but today's cleverest bathroom surfaces mimic more luxurious materials at a fraction of the cost. Mandarin Stone's Onyx Nouveau, for example, is a porcelain tile with a gloss finish that offers the translucent look of natural onyx in a wide variety of shades, from £58.80 per sq m. 
Green marble is also making a name for itself in bathrooms, where you'll need little more to achieve spa-like serenity. The best applications we've seen include a powder room by Flack Studio and Alternative Bathroom's so-convincing-you-might-think-it's-real Aqualunae wallcovering...
2. Fluted surfaces
We've seen fluted finishes in other parts of the home. Now Italian brand Artelina -  best known for its glass wall tiles - is expanding its repertoire with a new fluted finish on its Kimono and Monolite collections. Artilea Monolite vanity from £1,279.50, C. P. Hart.  
3. All matte
One of this year's hottest bathroom trends is vibrant, colourful freestanding baths. Victoria + Albert Baths is offering a matt finish on its coloured baths and basins – that's an eye-popping 194 shades created by a catalysed paint, hand-polished between applications. Plus all pieces are scratch and stain resistant. What's not to love?
4. WATERPROOF WALLPAPER
Bathroom wallpaper continues to weave its magic through our homes, but this year things are dialling up a notch, with bold patterned designs stealing into the wettest parts of our bathrooms. 
Previously a limited option best kept well away from water, the advent of new materials and printing techniques is seeing the glory of wallpaper patterns translated on more robust surfaces.
5. All star
Moroccan tiles get a cool update with modern patterns and colour combos at Popham Design. Exclusively available at Day True these beauties will bring star power to your walls. Diamond chevron tiles, £175 per sq m, Popham Design.
6. Vintage vibes
Classic blue and white tile designs celebrate the beauty of European ceramics. This generously proportioned shower room has all the glamour and faded grandeur of an Italian palazzo. Many manufacturers now offer 'aged' ceramics for a vintage look; or if it's authenticity you're after, try tracking down original ceramics from specialist dealers – and browse through our bathroom tile ideas gallery.
Either way the heritage style of this freestanding shower cubicle from Drummonds fits right in, from £26,300.
7. Flowing shapes
Curves are also a return in furniture and interior detailing,' says Haley Robson at Day True. 'I suspect it's a rebellion against the harsh minimal lines of late, reacting to this with the need for softness.'
8. Top-to-toe Terrazzo
Dzek's trailblazing terrazzo arguably led the way in the material's current revival. While others may opt for smaller chips of stone, Dzek didn't hold back and the bold pattern of of its Marmoreal tiles packs a punch in this L.A. bathroom. Terrazzo tiles are an easy way to get this distinctive look without the hassle of the original application (a cement-type material poured on-site with chips mixed in).  
9. Graphic Lines
Serene yet sexy, dusky pinks and 3D monochrome features transform this chic Parisian bathroom into a sanctuary. Designed by New York-based Crosby Studios, it has strong geometric shapes that ooze a post-modern vibe. Versatile black-and-white bathroom products can be mixed with almost any other colours, while painting the back wall a lighter shade creates a sense of depth and perspective.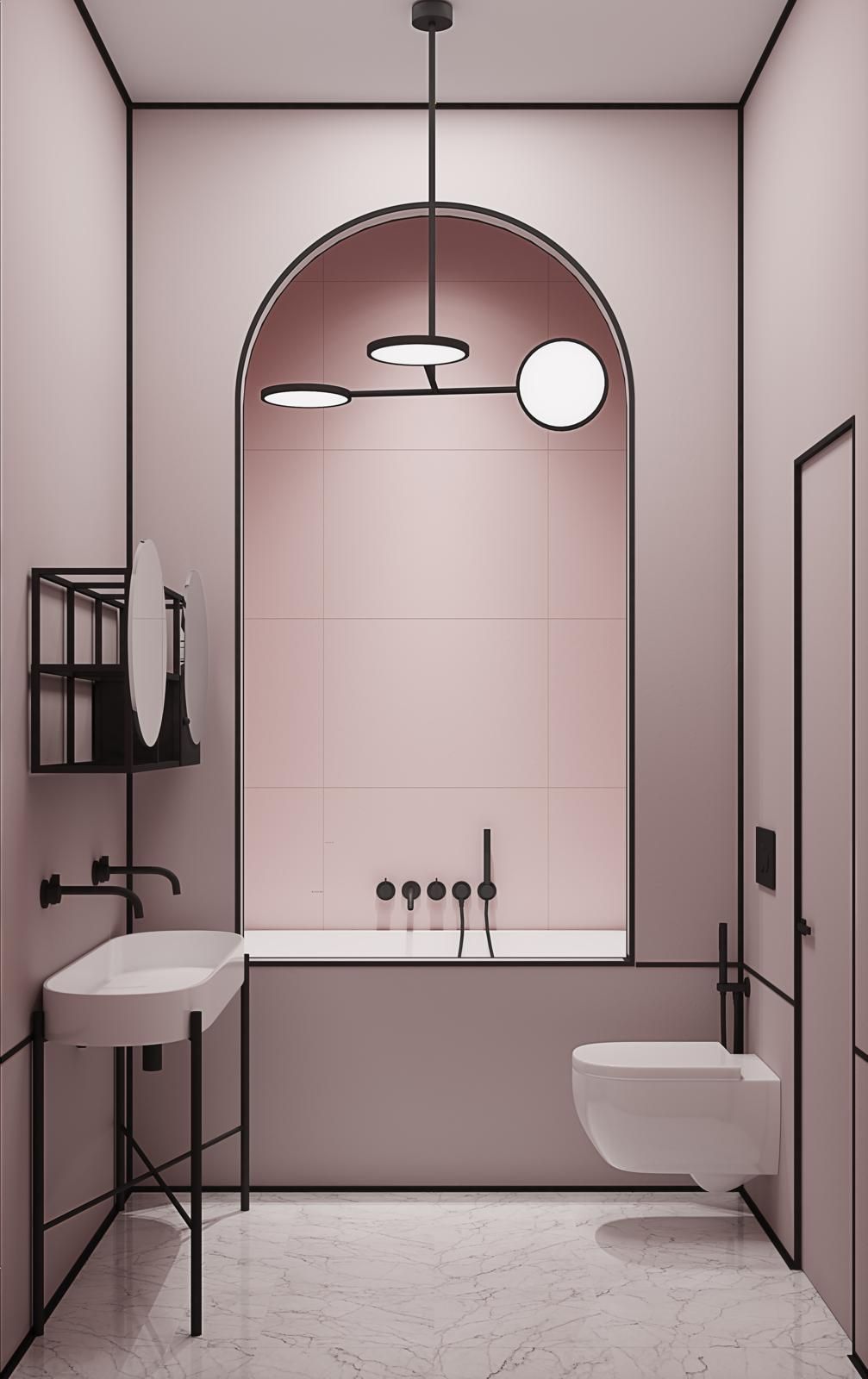 10. Home spa
Bathrooms have long been a space to escape to after a tough day, but according to Hayley Robson, co-founder, Day True, we will now start see the importance of home spas to allow us to fully relax and de-stress. Adding a steam function to a shower area, or removing the shower all together and opting for a large luxurious bath can provide different ways to relax with water.
11. Japandi style
An amalgamation of Japanese minimalism and Scandi cool, Japandi has been around for a while but has soared in popularity this year, likely due to its calming zen vibes.
The bathroom design team from Victorian Plumbing advise, 'When it comes to choosing materials, Japandi looks to nature for inspiration. Bamboo and rattan furniture, linen soft furnishing, and accessories with a natural finish will achieve the perfect foundation, whilst Japanese features such as tatami mats and origami shades complete the look. 
Try using a mix of wood tones and begin to incorporate pieces with both curved and straight lines to add a unique sense of texture to the bathroom.'
12. SOMETHING'S AFOOT
Baths are becoming increasingly leggy, which not only looks elegant but works wonders in smaller bathrooms. The Vigore from Clearwater, with its distinctive sculptured feet, is a stylish and contemporary addition to any space. Made from natural stone, it retains heat – making it energy efficient – and the soft curved design is a nod to one of the new season's biggest bathroom trends.
13. BEAUTIFUL BASINS
Bathroom basins don't have to be boring. Choosing something pretty to look at in the bathroom won't be hard with Kohler's Wading Pool basins. Featuring 17th-century Dutch art on onyx backdrops, they're super-chic.
Struggling to make a design statement in your shoebox of a bathroom? Enter the new Elm Mini made by Kast Concrete Basins. With a distinctive pinstripe pattern and integrated splashback, it comes in a staggering 28 colours – from the palest white to a punchy orange.
14. MONO MAGIC
If you want the look of marble without burning a hole in your pocket, Ca' Pietra's new Eclipse bathroom tiles are perfect for walls and floors. The monochrome design will add interest to a white kitchen or bathroom, whether it is a striking splashback or a statement floor, or you can use it with pastels or bold colour for more drama than an episode of Succession.
15. SHERBERT SHADES
This past year has seen a surge in pink bathrooms. Sherbet hues – think pastels with a zingy twist – evoke an era of glitz and hedonism.
'Dial back to Miami in the Thirties and Palm Springs in the Fifties – big ice cream-coloured convertibles, glamorous abodesand pool parties,' says Louise Ashdown, showroom manager and head of design at West One Bathrooms. 'The true beauty of sherbet shades is that they work exceptionally well with the still- trending metallic brassware we've all fallen hard for – try mixing strawberry pink with matt gold taps. The effect is stunning and will lift your bathroom to new heights,' adds Louise.
It's not just walls that are receiving a pastel makeover – taps, too, are popping up in a range of playful hues.
Bring some East Coast style to your kitchen or bathroom with the limited edition Miami Colour Pop collection from Dowsing & Reynolds. It features striking taps in pastel pink, soft white and neo mint, which have a matt finish and work with a variety of surfaces.
16. HOT STUFF
A radiator is not the sexiest part of a bathroom remodel, or so we thought, until we saw the CLIP from BREM. The bathroom tap design, which resembles a torsion spring, comes in three sizes and can be installed vertically or horizontally. What's more, it's available in a staggering 80 cool colourways. Snazzy.
17. MAKING WAVES
London Basin Company is more known for its richly decorative pieces, but this new offering shows it can put a clever spin on classic white, too. With its delicate ripples, the Angelina basin makes a pretty focal point in any bathroom scheme and a subtle gold rim adds a touch of razzle-dazzle. We're also quite taken with that bathroom mirror...
18. ECO LOVE
Bathroom lighting is getting a cool new upgrade. Just landed at West One Bathrooms is the Lambeth pendant that not only boasts a cool design but has top-notch eco credentials. It's a collaboration between Mullan Lighting and Elvis & Kresse, the ethical luxury pioneers who manufacture leather goods from rescued fire hoses and leather offcuts from high-end brands like Burberry. Featuring a distinctive cone shade suspended from a strap made from reused rubber, it comes in a number of finishes.
19. Multi Functional
What if you could fit a workout in every morning without even leaving the bathroom? Such is the idea of Mattia Pareschi's Gym Space concept for Scavolini – a wall-mounted structure dedicated to exercise, blended with bathroom fittings (and his 'n' hers basins) – helping you squeeze in leg lifts while you wait for the shower to warm up.
20. CONSIDERED CLASSICISM
The focus here is on refined elegance, luxury features and balanced proportions. Classical fittings with beautiful shapes and soft, elegant colours that will harmonise. For a sense of grandeur, introduce at least one show-stopping feature – a dramatic floor mosaic or a huge mirror are especially pleasing in a Renaissance-inspired setting.
21. REFINED GOLD
No longer relegated to the stylearchives, gold is back and taking a new direction that provides a subtler way to explore your glam side in the bathroom. One simple way to introduce gold with restraint is to build it up gradually. Start with hard-wired fittings, perhaps a basin tap or light fixture, then layer on the accessories if it's not quite hitting the right note. Remember, you're seeking to elevate pared-back materials, rather than steal the show.
22. RAW AND NATURAL
Natural, unrefined finishes offer respite from the hard, cold surfaces commonly found in the bathroom – not to mention the hard, cold reality of life beyond the bathroom door. Wood is an obvious go-to. Select darker timbers with an element of history evidenced in a vintage stain or rough-sawn surface. Faking it with wood-look porcelain tiles can be equally as effective, provided there's a textural finish to recreate the tactility factor.
23. DARK DRAMA
Just like that LBD in your wardrobe, a black bathroom can be updated and refreshed to ensure tiring of the look is never an option. This year, we're not holding back – go all black, or go home. It's not an approach for the faint-hearted, but it is guaranteed to impress. Going top-to-toe black needn't be as severe as you might imagine. Work in a textural element – the latest matt black tiles and sanitaryware take their leads from the motor industry and possess a velvety-soft appeal. For glinting colour, introduce warm metals or opalescent tiles.
24. VICTORIAN VIBES
Although grand architecture and dark walls create mood in Victorian-inspired schemes, it's the show-stopping cast-iron roll-top that's the heart of this look. Remaining a crucial component in today's chicest bathrooms, a shapely freestanding tub with ball-and-claw feet is virtually de rigueur.
25. SCALE BACK
We all desire a little Zen in the bathroom, making the Japonica collection from Artisans of Devizesa natural choice. Inspired by traditional Japanese gardens, each marble tile mimics organic shapes, from leaves to fish scales, all in soothing shades of soft mint or dappled grey.
26. CRITTAL SCREENS
Take a Crittall-style frame with frosty Stippolye glass, add a few elegant Art Deco-esque shapes and the Victoria shower door by Drench is born – just one of the many new designs at CP Hart's expansive Waterloo showroom. This door comes in a range of sizes and even has a towel bar that adds modern-day convenience to its old-school aesthetic.
27. Bold colours
We couldn't tell you what we love most about the recent bathroom collection from India Mahdavi for Bisazza. Its mosaic tiles, the onomatopoeia-style design names, or the ice-cream hues of pistachio, strawberry and blueberry it comes in.
28. GO WITH THE GRAIN
Consider this – wood basins by Indigenous crafted from a solid ash timber that's been dried for nine months, hollowed out with a wave-like shape and treated with eight layers of waterproof finish. Talk about rustic with a polished edge.
29. FULL EXPOSURE
Taps and mixers get all the basin-based glory, but what about the water pipes? Tearing up the bathroom rulebook, Jee-O's Flow Series brings the piping out from behind the wall, creating a sleek design in brushed stainless steel that doubles as a towel bar. Genius!
30. SHARED APPEAL
Forget your hotel-style his and hers sinks – the modern way to go Dutch is with a double trough basin. West One Bathrooms does a fine example with this latest addition to its Broadway collection. Available in ceramic gloss or matt, go wall-mounted or keep toiletries in check with the optional storage stand.
"Homeowners have become increasingly brave in their bathroom choices," reports Hayley Robson of Day True Architectural Interiors. "Tiles in interesting tessellating shapes or with pattern and colour such as fish scale, diamond or Popham tiles, continue to be popular, especially when paired with special finishes of brassware such as PVD coatings and matt colour to ensure maximum impact. People want to be different and bespoke touches like reclaimed pieces, statement mirrors and coloured ceramics help them do that."
Louise Ashdown, head of design at West One Bathrooms agrees, "We have spent years eradicating colour from our bathrooms but now people are embracing it. Coloured ceramics are making a big comeback, for statement basins, shower trays that can seamlessly match floor tiles and even glossy black pans for the ever-popular black tap bathrooms."
Although colour is key to creating a personal space, fans of natural and monochrome interiors need not fear thanks to an emerging trend coined Japandi, defined by a combination of minimal Japanese style and simple Scandinavian accents. Think clean lines, a calming colour palette and cool matt surfaces for a softer vibe. "Minimal natural styles are perfect for the Japandi look, particularly wood, pebbles, stone and lots of texture," says Helen Jones, designer at Ripples Bathrooms.
Lotte is the Digital Editor for Livingetc, and has been with the website since its launch. She has a background in online journalism and writing for SEO, with previous editor roles at Good Living, Good Housekeeping, Country & Townhouse, and BBC Good Food among others, as well as her own successful interiors blog. When she's not busy writing or tracking analytics, she's doing up houses, two of which have features in interior design magazines. She's just finished doing up her house in Wimbledon, and is eyeing up Bath for her next project.