Bathroom faucet trends – 8 designs, colors and finishes to pick for your next bathroom remodel
These bathroom faucet trends highlight designs and decor choices that are inspiring interior designers right now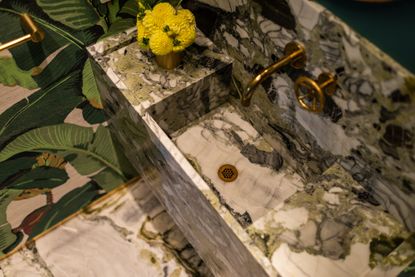 (Image credit: Alan Tansey. Studio credit MKCA)
A bathroom is a space where form meets function. This is a place of quiet luxury, and every element in the room should work to represent that. While the tiles, paints, and lighting usually make up the majority of the visual landscape, the true beauty lies in the small details. Case in point: bathroom faucets.
These small yet highly important elements have evolved tremendously in the past few years, in terms of finishes, colors, shapes, and technology. If you want to add more value to your washroom this year, tune into these bathroom trends for faucets, and make this room a space of pure luxury, style, and timelessness.
8 bathroom faucet designs to know about
Whether you prefer a glamorous, minimalist, or modern bathroom, these faucet trends are ones to look out for, that will easily blend in with a space of any style. For a truly one-of-a-kind interior, consider mixing metals, finishes, and colors, to make the space reflect whatever feeling you want to achieve.
1. Minimalist styles
Minimalism is the key for those looking to achieve a timeless bathroom style that never ages. Bathroom sinks with sleek and minimal taps will blend well with the surroundings, and instead of taking center stage in the bathroom, will add a wonderful, subtle design touch that is easy to live with. And despite their small appearance, will not sacrifice functionality.
'Right now we're seeing a movement towards minimalist designs,' says Victoria Holly, principal, and founder of Victoria Holly Interiors. 'Homeowners want a sleek style and don't want their faucets to detract from the other design showstoppers in their bathrooms. Another big trend within clean designs is the single-lever sink faucet, which looks subdued and is easy to use.'
2. Brass faucets
Faucet finishes are one of the biggest areas of interest for homeowners. After all, the faucet finish will help add a wonderful peppering of hue, contributing to the overall bathroom color ideas.
Brass or unlacquered brass faucets are known to add warmth and elegance to a bathroom. Remember the ones seen in high-end hotels that instantly look luxe, and create n inviting visual? These have been in style for decades and continue to be popular in 2023 and in the foreseeable future.
'We love using unlacquered brass, which is classic and timeless,' says Wendy Labrum, founder of Wendy Labrum Interiors. 'Using 'living' finishes allows the fixture to develop a patina over time, and age well, showing a beautiful character that you cannot imitate with lacquered finishes. The more you use it, the better it gets.'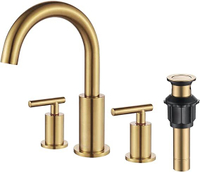 Choose this faucet with double enhanced abrasion resistance, built with a rubber ring that helps avoid water leakage.
3. Touchless faucets
Technology has gone a long way in transforming the bathroom experience and has heavily contributed to functionality and good looks. From self-cleaning toilets to Japanese WCs, there's been a shift in the way we use and view this space.
Among these advancements are the high-tech faucets that spell comfort and efficiency.
'In recent years, bathroom faucets have undergone significant advancements in both technology and design,' says Severine Tatangelo, studio principal at Studio PCH. 'The pandemic has played a role in pushing the development of touchless faucets, which eliminate the need for physical contact. In addition to technological innovations, bathroom faucets have also become sophisticated design elements that complement and enhance the overall aesthetic of the space. The latest innovations in bathroom faucets offer a blend of functionality and design. They are not only practical solutions for modern hygiene concerns, but also beautiful design elements that can elevate the look of any bathroom.'
'Technology has come a long way from the annoying commercial bathroom faucets that don't turn on when you want them to,' says Wendy. 'Alternatively, many plumbing manufacturers have touch faucets that operate with one quick tap versus turning a handle.'
With adjustable functions such as water control, pressure, and temperature, these also help save energy and cost in the long run.
4. Black faucets
'Homeowners are finally realizing that faucets and bathroom fixtures are like pretty pieces of jewelry and that they can highlight a space,' says Linda. 'Bathroom faucets are having a moment. People are gravitating towards a clean black finish that goes with any style.'
Black faucets have been around for a while and with good reason. Matt black finishes conveniently hide dirt and stains, and secondly, effortlessly contrast with the existing bathroom paints and elements. These are definingly more durable than their polished counterparts.
'This freestanding basin was assembled and fitted nicely with a black material palette,' says Luke McClelland, founder of Luke McClelland Design. 'The thin profile of the frame, coupled with black taps, makes it look and feel more expensive than it is.'

5. New shapes
Image 1 of 2
While colors and finishes play a big role in bathroom fittings, another element that is significant and can add a sculptural look to a guest or master bathroom are faucet shapes. Several looks have been taking center stage – from the soft flowing lines, delicate edges, and spout-shapes, to long, sleek pipe-like faucets that create a relaxed, spa-like look.
Angular faucets with geometric designs look slick and contemporary, but if you want to make a big statement, consider chunky taps that have an architectural, solid look, along with easy-to-understand controls.
6. Clever wall-mounted faucets
'There has been a trend in wall-mounted sink faucets as opposed to standard counter-mount faucets,' says Victoria. 'These help ease up the vanity surface area and add to a cleaner look overall. And faucets look beautiful adorning stone, mirror, or tile on the wall.'
By mounting a faucet on the bathroom tiles or mirrors, you also give this tiny element a leg up, making it seem like the sink area's focal point. That aside, practically, a mounted sink ensures that cleaning is a breeze. That's because sink faucets tend to get built-up grime, dirt, and limescale easily. If not cleaned in time, this build-up can cause mold, and mildew and make your faucet more prone to rust.
If you are going in for a wall-mounted faucet, do think of increasing its flexibility with the swing tap. As opposed to a deck-mounted faucet which is fixed and immovable, a wall-mounted one can give you a much wider range of motion, allowing more than one person to use it as well. Just make sure your sink trough is wide enough so the water doesn't spill on the ground.
7. Polish nickle faucets
Before buying a faucet, think of finish first. 'We're seeing a move away from satin finishes such as satin gold, satin brass, or satin nickel and a movement towards polished metals,' says Victoria. 'Polished nickel is making a major comeback right now. And we're seeing homeowners who want to give their bathroom character.'
If you're wondering how to remodel a bathroom in the most cost-effective and long-lasting way, a polished nickel faucet should be on your wish list. This faucet style easily adds a touch of refinement to the most frequently used spaces in the home. It easily hides small water spots, keeping the faucet looking clean much longer than a traditional chrome faucet.
Due to its glossy silver finish and icy cast, it would look especially good in a wood or marble bathroom.
8. Floor standing faucets
For a true spa bathroom feel, and for homes that have the luxury of space, the growing love for floor-mounted faucets is being seen. These, much like freestanding tubs or sinks do not need any support to stand and can be anchored to the bathroom floor, with the piping inserted in the ground. This setup immediately gives the bathroom a high-end look, and a feeling of pure luxury. It's also a wonderful way to contrast the finishes of a faucet not only with the sink but with the bathroom floor tiles as well.
For floor-mounted faucets, some of the popular finishes are stainless steel, brass, and polished nickel. Want to take the faucet to the next level? Consider one with thermostat controls that can help you regulate temperature.
The Livingetc newsletter is your shortcut to the now and the next in home design. Subscribe today to receive a stunning free 200-page book of the best homes from around the world.
Aditi Sharma Maheshwari is an architecture and design journalist with over 10 years of experience. She's worked at some of the leading media houses in India such as Elle Decor, Houzz and Architectural Digest (Condé Nast). Till recently, she was a freelance writer for publications such as Architectural Digest US, House Beautiful, Stir World, Beautiful Homes India among others. In her spare time, she volunteers at animal shelters and other rescue organizations.