Bathroom paint - the ultimate guide to the right colors and finishes for walls, ceilings and radiators
Bathroom paint explained in this inspirational and expert guide to picking color, finish and style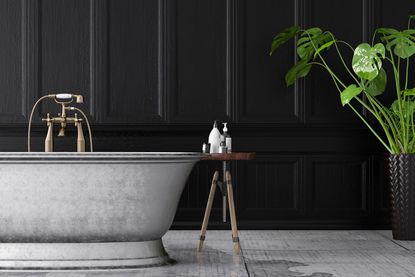 (Image credit: Graphenstone)
The Livingetc Newsletter
For style leaders and design lovers.
Thank you for signing up to LivingEtc. You will receive a verification email shortly.
There was a problem. Please refresh the page and try again.
Bathroom paint and the bathroom generally are both commonly overlooked in the house, often consigned to be done in white (to create a feel of cleanliness) or seaside blue (a nod to the its watery function). But modern bathroom ideas understand that painting the bathroom in a way that affects your mood – be it in a calming neutral or enlivening bright tones – can be a quick and easy way to add impact and interest to the home. We talk to the experts to find out what color to paint the bathroom, which areas to paint, and what type of bathroom paint you should be stocking up on.
'Bathrooms are a great place to make feel special in the home – you have the option to go bolder with color choices and designs as you don't usually spend as much time in these rooms,' explains Natasha Bradley interior designer and color expert at Lick.
'Bathrooms are perfect rooms for adding a bit of personality to,' says Cathryn Sanders, Head of Creative at Earthborn. 'There's a big trend for experimenting with color in them and you can really make an impact with deeper or brighter shades in these generally smaller spaces.'
'More recently, homeowners have been opting for strong, saturated colors in the bathroom to add character and warmth,' agrees Helen Shaw, Benjamin Moore UK Director. 'As a room that doesn't need to necessarily flow and match the rest of the scheme, you can trial a bolder look that you wouldn't normally opt for.'
Best paint for bathrooms
The bathroom paint world is currently divided between decorating with joyful bright hues and calming neutral tones, as the space at once becomes somewhere to make a style statement in, and a soothing sanctuary to retreat to.
Bright colored bathroom paint
'We are noticing bolder color choices moving into the bathroom paint realm,' divulges Ben Sturges, Director of Graphenstone UK, 'The ever-popular greens and blues are getting brighter, with tones such as our teal Cerulean with rich blue Prussian and dark olive-green Kombu are in demand.'
'Add a pop of color to invigorate the senses during your morning shower with vivid hues such as our Marine or TG Green' urges Tricia Guild OBE, Founder and Creative Director of Designers Guild.
'I love bringing a lot of color with bathroom paint to create a happy start to every day,' agrees Lick's Natasha Bradley. 'Our Teal 03 and Green 04 are a really energizing bathroom combination, and our rich terracotta Red 03 has been incredibly popular in bathrooms. I also recently designed a bathroom which combined Blue 01 and Yellow 02 – it felt so positive!'
Neutral bathroom paint
'You want your bathroom to evoke calm, so go with colors that make you feel this way – there is no one tone to avoid as long as you feel good with it,' explains Interior designer Simone Suss. 'At Studio Suss, we use a lot of natural materials in a bathroom – marble, stone and wood – so an off white goes perfectly, we've used Graphenstone's Glacier and Silver Birch a lot in recent projects.'
'We're seeing a big shift towards warm and soothing neutrals and an appreciation for a wider palette of tones in the bathroom,' says Ruth Mottershead, Creative Director, Little Greene. 'When selecting colors for your bathroom, choose shades that exude tranquility and serenity – this doesn't mean you can't opt for stronger colors; from zingy greens such as Three Farm Green, rich and bold tones like Deep Space Blue or softer shades such as Aquamarine, the key is to go for warmer tones to create a comforting feel.'
'Our earthy shades such as Grassy or Crocky Road help bring in the essence of the outdoors, to work create a serene backdrop for some much needed 'you' time,' says Cathryn Sanders, Head of Creative at Earthborn. 'Calming neutrals such as Up Up Away or Flutterby are an uplifting alternative to white as a bathroom paint.'
Best bathroom paint for ceilings
As you'd imagine, bathroom ceilings easily become damp due to steam and condensation, which can mark bathroom paint or cause it to flake and peel away. The best paint for steamy bathroom ceilings is a finish especially designed to be durable and wipeable, to ensure the room is functional as well as ticking the style box.
'Bathroom disclaimer: the key thing to know when using paint in a bathroom, is that steam is very much the enemy,' warns Color and Paint Expert Annie Sloan. 'If you're using Chalk Paint® you need to protect it with a non-water-based finishing sealant such as Chalk Paint® Lacquer which will seal the paint and stop it running, dripping, or evaporating away. Once painted, remember to avoid using harsh bleach chemical cleaners on painted areas.'
'Our Perfect Eggshell paint is a classic low-sheen, non-yellowing water-based eggshell ideal for bathroom surfaces such as the ceiling,' says Tricia Guild OBE of Designers Guild. 'Paint the ceiling the same color as the walls. If the ceiling is a different color, it can cut off height in the room whereas a uniform hue from wall to ceiling gives the impression of airiness and a greater space.'
'View the bathroom ceiling as another decorative surface and treat it the same as the wall,' advises interior designer Simone Suss. 'At the very least, paint it the same color as the walls, particularly if they're a strong color, to create a cocoon feeling.'
'Think of the ceiling as the fifth wall. It's often overlooked when choosing bathroom paint and is usually painted white out of habit, but if you love a long soak in the bath this may well be the color you see the most,' says Little Greene's Ruth Mottershead. 'Paint your ceiling and your walls the same bathroom paint color for an enveloping feel, opt for a lighter tone of the wall color to open up the space and give the illusion of more height, or take the opportunity to create a design feature with a highlight color (it's a great way of introducing bolder colors to a space without it feeling overwhelming).'
'Rarely are bathrooms huge and spacious, so it's key to ensure that the bathroom paint you opt for works well in a compact and enclosed space and remember that with tiles, mirrors and fixtures, bathrooms are full of hard surfaces, so it's important for the wall color to bring a sense of softness to the room,' advises Helen Shaw of Benjamin Moore UK. 'Warm neutrals are very flattering in bathrooms and complement the hues found in many countertops and tiles. Try Benjamin Moore's Aura® Bath & Spa paint which has a soft matte finish with a low sheen level which resists the damaging effects of moisture and humidity while also locking in color.'
Best paint for radiators
While there are some beautiful and stylish bathroom radiators, many are designed to fulfil a function alone, which is where the power of bathroom paint comes in. Painting your radiator in a color to camouflage it with the wall, or to make it a standout feature, is another way to build the personality and mood of the bathroom.
'I always paint radiators in the corresponding wall color so they 'disappear',' says Joa Studholme, Farrow & Ball Color Curator. 'Old radiators certainly need to blend quietly into the background,' agrees Designer's Guild's Tricia Guild OBE. 'Paint radiators the same color as the wall in a matching finish – a water-based eggshell for the bathroom.'
'Yes, disguise the radiator (try our Intelligent paint finishes which are heat resistant and guaranteed not to yellow upon exposure to high temperatures), however color is a great way to highlight various bathroom architectural features such as doors and window frames,' says Little Greene's Ruth Mottershead. 'If you choose not to opt for bolder bathroom paint tones on your walls, these are the areas where you can be a little braver by using contrasting tones or pops of zest such as our bold orange Marigold or rich yellow Mister David.'
'Paint the radiator in the exact same shade as your wall to make the space feel slightly bigger or be bold and brave and choose a statement shade,' says Color and Paint Expert Annie Sloan. 'I have fun and match my bathroom radiator to my towels'
Best paint for bathroom floors
Picture a painted bathroom floor. Did you see a sea of white? Thought so. While white bathroom floors are still a classic, these are the days of more expressive and experimental color choices, be they soft nature-inspired tones or bright, surprising shades and patterns that take the place of a feature wall.
'Painted floors are definitely having a moment and really look fantastic in a bathroom', says Tricia Guild.
'Painted bathroom floors create a wonderfully relaxed feel, whether it just be one color or an engaging pattern – our Modern Eggshell was developed specifically for this purpose and stands up to any spilt water.' Says Farrow & Ball's Joa Studholm. 'The great thing about painting a floor is that you can let your imagination go wild. Checkerboard effect is extremely popular particularly in Sulking Room Pink and Great White, or you can run a border around the room in any color to create an extra design twist. I also love cheerful yellow Babouche on a bathroom floor as it makes the room feel like it's full of sunshine.'
'Little Greene's Intelligent Floor Paint is the perfect finish to use as a bathroom paint for the floor,' advises the brand's Creative Director Ruth Mottershead. 'It comes in our whole palette of colors, is water-based, easy to apply, has a low odor and will dry within four hours. It's washable and extremely durable with a sheen of 30/40% which will leave a beautiful, long-lasting finish. You can usually start to gently walk on the paint after 24 hours but it may take a minimum of seven days for a full cure depending on the number of coats and your surroundings which will affect the drying process.'
'I would recommend using decorators varnish to seal the floor after painting to combat the bathroom's wetness – use a matt paint and then layer the varnish on the top,' says Lick's Natasha Bradley.
Best type of paint for bathrooms
The world of bathroom paint has widened considerably, and there are now a range of finish options suitable for damp-prone surfaces, as well as a diverse library of colors to browse. In a room that requires regular cleaning and continually fluctuates between wet and dry, paint for the bathroom needs to be specially formulated to withstand moisture, wiping and cleaning agents.
'For this space, it's important to use a bathroom paint that is hard wearing, easy to keep clean, and able to endure in an area of high use,' confirms Graphenstone UK's Ben Sturges. 'Our GrafClean paint systems are washable, durable and made using ecological minerals and a vegetable resin suitable for bathroom environments.'
Matt emulsion bathroom paint
For that classic painted wall look with a no-shine finish, bathroom-suitable matt emulsion should be your go-to. 'For those who prefer a flatter finish in bathrooms (including the ceiling), paint walls in Modern Emulsion which is super tough, washable and wipeable,' advises Farrow & Ball's Joa Studholm. 'Our Lifestyle emulsion can withstand constant use and offers a durable, washable surface with a classic low-sheen finish,' adds Cathryn Sanders of Earthborn. 'Benjamin Moore's Aura® Bath & Spa has a beautiful matte finish specially formulated to resist mold and mildew in humid areas,' finishes the brand's UK Director Helen Shaw.
Eggshell bathroom paint
For a bathroom paint with a subtle sheen, an eggshell paint finish is a happy medium between matt and gloss. 'Eggshell paint is a popular finish as people like the polished effect it gives as it creates a very contemporary bathroom look, and the sheen helps light bounce around,' says Lick's Natasha Bradley. 'It's a great finish for a damp bathroom.'
'Bathroom paint is going to get wet. It's inevitable.' Says Tricia Guild of Designers Guild. 'Our paints are highly pigmented and Eggshell is the perfect finish for bathrooms – it's totally hard-wearing and completely washable.'
'Our Intelligent Eggshell' is a great option for bathrooms as it's extremely tough, durable and formulated to resist moisture so it's really good for bathrooms that suffer from a lot of moisture and condensation,' says Ruth Mottershead of Little Greene. 'With a low sheen finish it's perfect for use on bathroom walls as well as woodwork, and allows for fuss-free cleaning – it's completely scrubbable!'
Gloss bathroom paint
For impactful, wow-factor bathroom walls, look no further than the high-shined glory that is gloss paint. 'Full Gloss is irresistible if you want to embrace shine and create magical, jewel-like spaces,' enthuses Farrow & Ball's Joa Studholm. 'Vibrant Stone Blue is perfect if you want to make a statement or soft Pavilion Blue looks beautiful in Full Gloss on the ceiling in contrast to All White Modern Emulsion walls.'
What's the best paint for a bathroom ceiling to prevent mold?
Bathrooms tend to develop mold due to their high level of moisture and low level of ventilation. Combat it by ensuring the room is well ventilated (especially after a shower or bath), regularly wiping down surfaces, and choosing the right bathroom paint.
'A lot of bathroom paint contains chemical additives to combat mold such as biocides (which are toxic and are carefully controlled by legislation) and with additional chemical content comes more VOCs (Volatile Organic Compounds) – so more toxins in your room,' explains Graphenstone's Ben Sturges. 'Our paints contain neither biocides or chemical preservatives, instead using sustainably sourced lime as a preservative and disinfectant, which resists mold and mildew growth naturally and are ultra-low in VOCs.'
What's the best bathroom paint for laminate cabinets?
Paint can (almost) instantly update bathroom cabinets in need of a new lease of life – make sure to use a hardwearing finish and consider primer options before getting stuck into a furniture makeover.
'When painting bathroom furniture, consider the existing finish. Depending on the surface you may require our Intelligent ASP All Surface Primer before two coats of eggshell or gloss to finish the transformation' says Little Greene's Ruth Mottershead. 'Cabinets and any other architectural details should be treated just as radiators or anything else in your bathroom – it all depends on what mood you are trying to create and what style you are trying to achieve. If you're looking to create an elegant and harmonious bathroom space, use tonal colors or for a more vibrant scheme or add a bolder color such as our vibrant pink Leather to inject a bit of fun and create a striking design feature.'
'I would recommend our Modern Emulsion for painting bathroom vanities,' says Farrow & Ball's Joa Studholm. 'It's our super tough finish and is washable, scuff-proof, protects against mold, and comes in our full range of colors.'
What's the best paint for a bathroom vanity?
Vanity units are one of the most used pieces of furniture in the bathroom, and painting them is a quick and easy way to inject color and interest into the space.
'Vanity units will be subjected to a lot of wear and tear, so a hard-wearing bathroom paint finish with a slight sheen will be the most practical (a matt surface will pick up dirt and marks more),' says Graphenstone's Ben Sturges. 'Graphenstone GrafClean Mid Sheen uses a natural vegetable resin in its mineral base. It has a smooth, low sheen finish, similar to an Eggshell, and with Class 1 washability to stand up to the rigors of daily use in a busy bathroom.'
'Chalk Paint® works fabulously on bathroom vanities; perhaps choose Greek Blue to match your radiator and remind you of villa bathrooms of yore!' grins Color and Paint Expert Annie Sloan.
For style leaders and design lovers.
Amy Moorea Wong is a freelance interior design journalist with a decade of experience in contemporary print and digital editorial, previously News Editor at Livingetc. She writes on a broad range of modern design topics from news and interior zeitgeist to houses, architecture, travel and wider culture. She has a penchant for natural materials, surprising pops of colour and pattern and design with an eco edge.