Green bathroom ideas – how to create a refreshing retreat with serene green hues
Need a little more calm in your life? These green bathroom ideas will make your washrooms at one with nature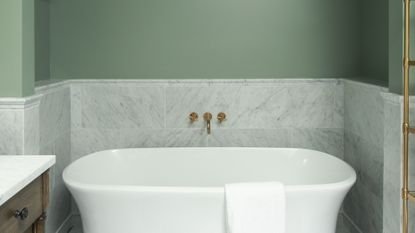 (Image credit: Oak Design Project)
The Livingetc Newsletter
For style leaders and design lovers.
Thank you for signing up to LivingEtc. You will receive a verification email shortly.
There was a problem. Please refresh the page and try again.
The color of rejuvenation – green bathrooms ideas are the perfect choice for this space of calm and relaxation. On a subliminal level, green connects us with the natural world, making it a zen-like backdrop to unwind to. Rich jade, bold lime, and fresh shades straight out of mother nature's palette can bring healing energy to the space.
Add a splash of color to an overly white space with a smart forest green dresser or lavish period features with nostalgic mint green. Make bolder statements with luscious palm print wallpapers or pair pink with green for an on-trend combo – a sure-fire way to create an eye-catching experience for you and your guests when they enter.
An incredibly versatile and flexible color, perfect for modern bathrooms or classic ones, take your cue from what's right outside your front door and get inspired by our tranquil green bathroom color ideas.
1. Give a modern bathroom bathroom heritage energy with sage greens
Green is a hue commonly used in heritage interiors – it creates an authentic color scheme for a period home but also feels elegant and perfect too for a modern bathroom. This beautiful Victorian bathroom suite in a dusky mint green is resplendent with glossy white contrasts in the marble sink, ceramic bath, and vintage milk glass lights. The pretty shade also accentuates the nostalgic curve of the arched wall
'This is the main bath of a Victorian townhome, says Kevin Bennert designer at Oak Design Project in Philadelphia. 'We wanted to use a color that felt "of the era" but still contemporary. It also needed to be a strong enough green to balance all the marble, but not be overpowering. We love the end result!'
2. Create a tactile sanctuary with differing green textures
It makes sense to us that bathrooms should have an underwater quality, transportive and envelop in cocooning dark hues. This luscious green dark bathroom is a collaboration between tile brand Bert & May and paint company Little Greene featuring the paint brand's classic chalky colors on Bert and May's tactile cement squares, giving the space a crafted and spa-like feel.
'I love to embrace a small room and create a dramatic and intimate interior with intense cocooning colors such as 'Livid', says Ruth Mottershead, Creative Director at Little Greene. 'Which is a deep, moody yet restful shade, sitting somewhere between blue, green and grey.'
3. Team pink and green for a quirky combination
In terms of colors that go with green, we are of the opinion that pink and green should always be seen, so use this complementary color coupling to create chic decorating schemes. This tactile bathroom features gelato shades of pink and pistachio green. The space is tiled in creamy shades to tie in with the softness of the space.
'Imagine bathing in a warm clear pool, surrounded by lush forest...this is what green does on the walls of your bathroom.' says Dulux's Creative Director, Marianne Shillingford. 'There is nothing like green to create a soothing relaxed atmosphere. It is the most tranquil color in the spectrum and instantly instills a sense of balance and calm. Team it with pink accessories for a bit of fun, or try different shades of green for a more subtly dynamic look.'
4. Create a dreamlike shower with pastel green hues
Dream a little dream by pairing glossy green surfaces with textured glass in a walk-in shower area to create tranquil and transporting morning rituals. This small shower unit is encased with floor-to-ceiling mint green metro tiles and a ribbed glass shower. Both the glossy surface of the bathroom wall tiles and the sheen on the glass creates a pretty dreamlike space.

'Greens are one of the most versatile colors for any room in the home but are especially a great option for a bathroom,' says Patrick O'Donnell, Farrow and Ball Brand Ambassador. From gentle, cool pastels of Mizzle or Cromarty for something clean, bright, and fresh for a sun-drenched bathroom, to the richer depths of Calke Green, with shrub green notes a classic counterpoint to white sanitary ware.'
5. Infuse a powder room with tropical wallpaper
Powder rooms and bathrooms seem to be the natural space for tropical wallpaper. The accepted wisdom in interior design is that small spaces are the best places to do big and bold things. Here a delicate jungle-inspired motif of large green leaves and lemony fruits brings a completely different energy to the room. Smart grey paneled walls elegant fixtures and a minimal mirror keep the space sophisticated with an element of restraint.

If this look piques your interest, you can go for deep jungle, exotic palm trees, rustic forest motifs, or something more floral – each bathroom wallpaper idea creating a slightly different nuance.
6. Go graphic with green stripes
We love this candy stripe wet room idea in an unexpected pastel green colorway. These striking half-half tiles in natural green add a verdant feel and the versatility of the pattern means you can play about with the formation – creating playful triangle formations or go traditional with green checkerboards.
'Green and white is a particularly clean and energizing combination, making it perfect for showers and wet rooms,' says Fired Earth's Creative Director Colin Roby-Welford. 'The bold geometric design of Fired Earth's Alalpardo Green tiles from the Bert & May collection adds to the energy of this fresh combination and ideal for creating contemporary bathroom walls and floors.'
7. Mix green and black for a glamorous gothic look
Emerald green walls and black accents give this miniature ensuite bathroom by Beata Heuman bags of character and an old Hollywood charm. We love contrasts and this bold combo of jeweled green walls with jet black wooden trims is a winner.
This theatrical bathroom features an unusual Neo-Classical-inspired black mirror with playfully wall lights with miniature shades on each side. The sink is a classic white design showing the possibilities of transforming an existing simple bathroom suite on a small budget.
8. Cocoon with calming botanical prints
The transformative power of bathroom wallpaper is undeniable – instantly turning a functional space into an indulgent sanctuary with just a single wall of the pattern. Bringing nature indoors with botanical patterns and pairing it with green is a spectacular way to cultivate a space for restoration. This impressive wallpaper by Graham and Brown featuring white leaves cascading on a soft green background behind a huge stone bath is simple and striking, brings nature right in.
'Your bathroom should be a space reserved for relaxation and what better color to achieve this than with a peaceful green?' says James Greenwood, Graham & Brown's Brand and Interiors Expert. 'Reflecting the shades found in nature, green has calming properties and effortlessly brings the outdoors into your home. We recommend using our gentle shade a deep green Uluwatu with biophilic patterns for a soothing atmosphere.'
9. Color block with a squeeze of lime
For a zesty feel opt for this bright and breezy shade! This bright lime green bathroom is like a breath of fresh air and looks fabulous color-blocked on the wall of a bright white bathroom. Color blocking is a quick way to completely transform the look of a room and inject that shot of green you're craving.
'For the bathroom, paint is a great way of personalizing a traditionally clinical space,' says Judy Smith Crown Color Consultant. 'Try something a little different by using a really bright color such as an orange or leaf green on the ceiling so the color visually spills onto plain white walls below.'
10. Go all over with chevron
When it comes to bathroom tile ideas, chevron pattern is guaranteed to make an impact, especially when used with confidence, in a large format. Hypnotizing and high impact, this zig-zag green bathroom goes maximalist with tiles in a trio of black, white, and green marble in chunky chevron compositions. The intense combination covers almost the entire bathroom.
Bright white sanitary ware brings out the hue of the white tiles and chrome fixtures give the space a contemporary edge – whilst all the surfaces are glossy and gleaming creating a reflective space full of energy.
Is green a good color for a bathroom?
Green is a calming, centering color, the color of rejuvenation so it's a great choice for bathrooms. From emerald to sage, this color can provide a moment of calm before you start your day or as you get ready for bedtime.
Green is an incredibly versatile and flexible color, perfect for modern bathrooms or classic ones. It is the most tranquil color in the spectrum and instantly instills a sense of balance and calm. Team it with pink accessories for a bit of fun, or try different shades of green for a more subtly dynamic look.
What Color goes with green in a bathroom?
Lime green pairs well with yellows, grape purples, and traditional black and white for a striking contrast. Green works particularly well when offset against neutrals like white, cream, and beige.
Sage green pairs well with crisp white and black, rich metals, and clean lines. For something a little offbeat a muted red or terracotta is a complementary color for sage green and creates a space reminiscent of Italy. Purple, orange and blue are nearly opposite sage green and also work as good complementary colors.
For style leaders and design lovers.
Rohini Wahi is Content Editor for Livingetc Online. With a decade-long career in the interiors and design industry working as a journalist for premium lifestyle publications then delving deeper into the business as a trend forecaster, Rohini has amassed a wealth of global design knowledge that informs her work. She loves a period drama and keeps a tidy home.