Color trends 2024 – 17 mood-lifting shades perfectly suited to modern homes
These color trends for 2024 are a wonderful rainbow of shades and tones that will bring joy to your interiors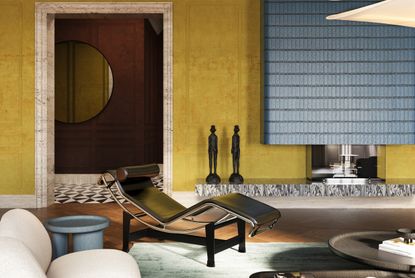 (Image credit: Folio Studio)
The Livingetc Newsletter
For style leaders and design lovers.
Thank you for signing up to LivingEtc. You will receive a verification email shortly.
There was a problem. Please refresh the page and try again.
Color trends for 2024 are focused on uplifting tones that can impact and influence the mood of anyone who walks into the room. Whether it's about creating spaces that feel happy and joyful, or calming and relaxing, it's all about mood.
There are some general sways in how interior designers are using color in their schemes. 'I see our color trend swinging back towards cooler tones and brighter colors like white, bold colors like Yves Klein Blue and Cherry Red, as well as greys,' says Lucie Ayres, founder of 22 Interiors. However, more than that, it's hero colors that are capturing our collective imaginations.
If you are ready to give your home a fresh new appeal, then these interior design trends for color are the best place to start.
1. Light pink
Light pink is the way to go. This tone has been around for a while and plays the perfect companion to almost all tones; sometimes even working as a neutral. Plus, many colors go with light pink, making it an easy-to-use shade.
'Pale or light pink is the winner in terms of popularity; it's been used in fashion and interiors since the 1700s,' says Lucie Ayres, founder of 22 Interiors. 'There's something so innocent, delicate, and sweet about a pale pink. It works in shadow or bright light and at all times of day. Timeless for sure. Our favorite is Middleton pink by Farrow & Ball.'
2. Rust
For those who are growing tired of minimalist color schemes can rejoice as rust is taking over many spaces; adding that warmth while also turning heads. The tone has an inherent, inviting feeling – one that cozies up the indoors yet reminds one of the exteriors. A rust living room or home office, when paired with metallics looks particularly striking.
'A metallic copper wallpaper in rust tone was used in this office; it is by Sarkos called Elia in Sun Drench,' says Barbara Reyes, director of design, interiors, branding at Frederick Tang Architecture. 'Because it is next to the window, the light hits the wallpaper, offering an overall shimmer.'
Type: Water-based
Price: $70 for 3 liters
Choose this burnt red tone to add a warm, cozy feeling to your indoors. Consider an imperfection-masking matt finish that won't reflect light from bulbs and centerpieces.
3. Lavender
Seen across fashion and interiors, shades of purple have previously been associated with wealth and royalty and, while many might associate it with a traditional interior scheme, designers are incorporating it into fresh, contemporary aesthetics bringing a new dynamic to the color. Plus, many colors go with lavender making it an easy hue to play with.
'Lavender just feels good,' says Lucie. 'It's soothing like a blue and also has the moodiness of a purple. The most underused color in my opinion.'
Recommended Primer & Undercoat: White & Light Tones
Price: $40 for 3 liters
Add a soft touch to your interiors with this lilac that also has slight, black undertones. Use it in a tranquil space such as a bedroom or bathroom, and pair it with warm white or browns.
4. Burgundy
Many colors go with red, even its deeper, more sombre burgundy hue. The perfect hue for interior spaces, this is considered the more livable red.
'Burgundy is a rich sultry color that can be paired with several hues,' says Jasmin Reese, founder of Jasmin Reese Interiors. 'Burgundy paired with greys works best when the other materials are an eclectic mix of materials like brass, wood, neutral fabrics to really make the color stand out.'
5. Pistachio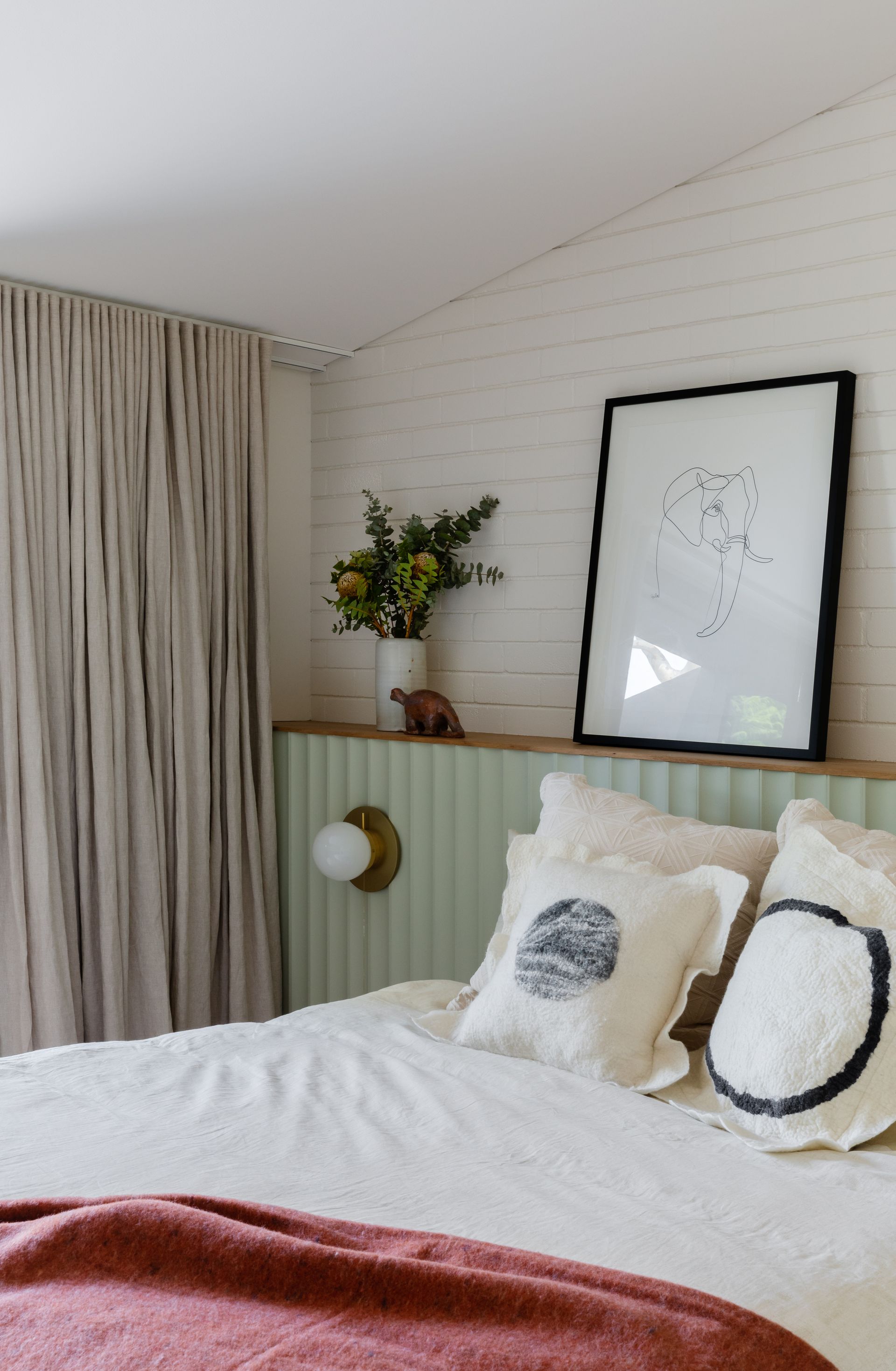 Pistachio is packing a punch at the moment, with the trend for deep, forest greens moving into delicate sage greens and this gentle tone of pistachio. Its retro connotations make it a happy and positive shade, and strips this green of any coldness.
We love the color as it is used here by Carter Williamson Architects, perfect in the bedroom, bringing softness and serenity to the space, and warmed up with a classic pink and green combination.
'Soft and natural, pistachio works wonders on plain, dull walls, particularly when paired with white and natural wood tones and acts as a perfect backdrop for large sunny spaces like sprawling entry halls, large dining rooms and big family rooms,' says Julia Mack, founder of Julia Mack Design. 'Do not mistake pistachio with its more vibrant cousin called chartreuse, with its very bright with eye-catching vibrancy and saturation.'
6. Mushroom grey
Keep your eyes peeled for mushroom grey making waves in 2024. A warmer counterpart to traditional grey, with warm undertones, it's one of the colors that's trending, with its roots in nature.
'2024 will be the year of the earth-tones,' says Romina Tina Fontana, principal at Fontana & Company. 'In particular, look for mushroom grey to dominate. The movement towards organic hues reflects a collective yearning for calm, quiet and cozy environments. In particular, an earth-tone living room can soothe the soul unlike anything else.'
7. Gold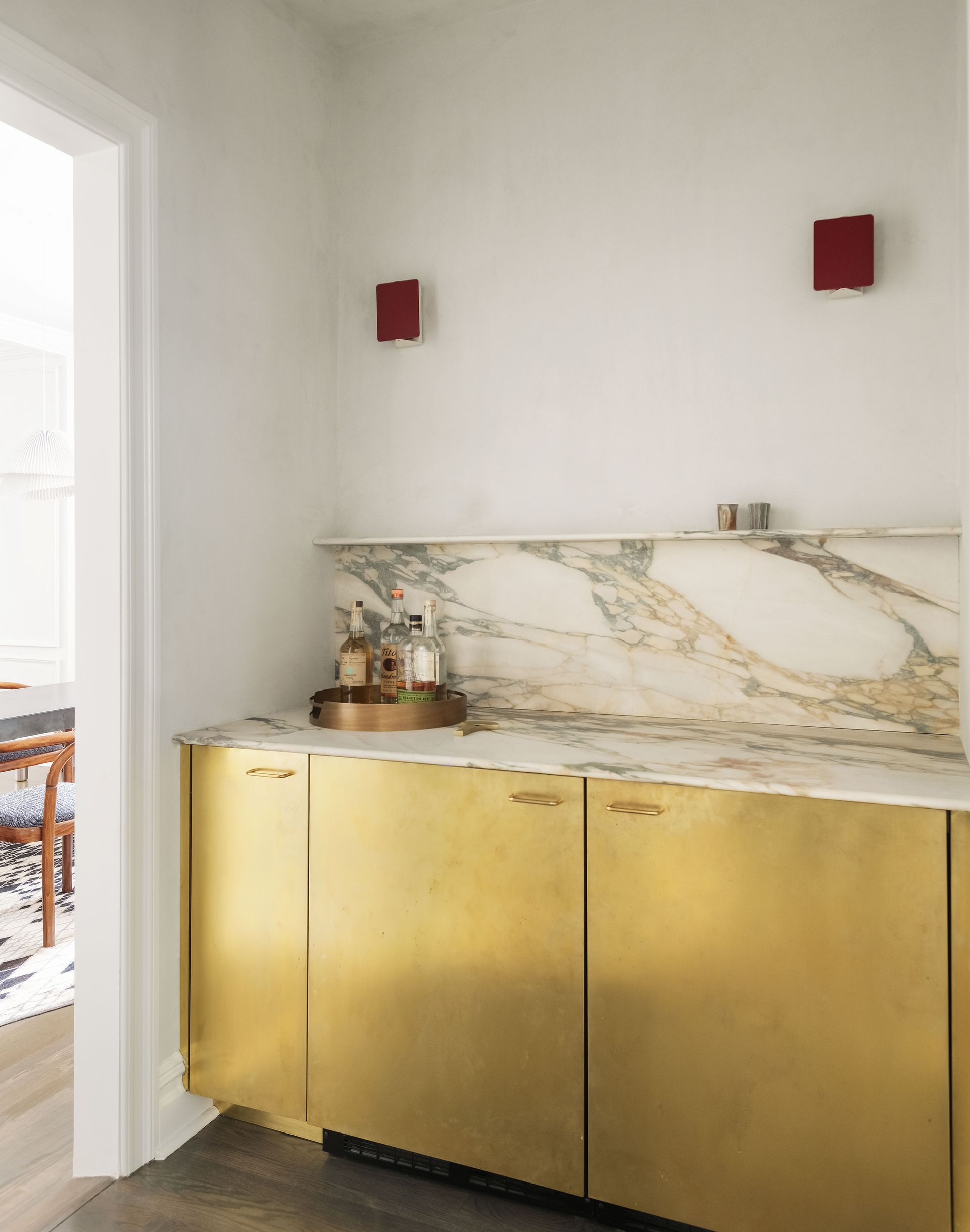 Look to materials as well as paint to bring color into your home, and embrace the opulence brought by a touch of warm brass. With a natural sheen, these materials can reflect and augment other colors in the room and add that touch of luxury that we're looking for in our lives.
'For a space like a den, family room or guest room, consider gold tones paired with a variety of greens in artwork, area rugs and modern lighting, with white walls and light color natural tone wood floor,' says Julia. 'Next, add a large cotton blanket and textural throw pillows for golden warmth. Then add more hints of gold in shiny brass in furniture knobs and pulls, curtain rods and rings and in doorknobs and hinges. The result will be a colorful and impactful space with a balance of warm and cool colors and little pops of shiny warm metal, that act like jewelry in your room.'
8. Jade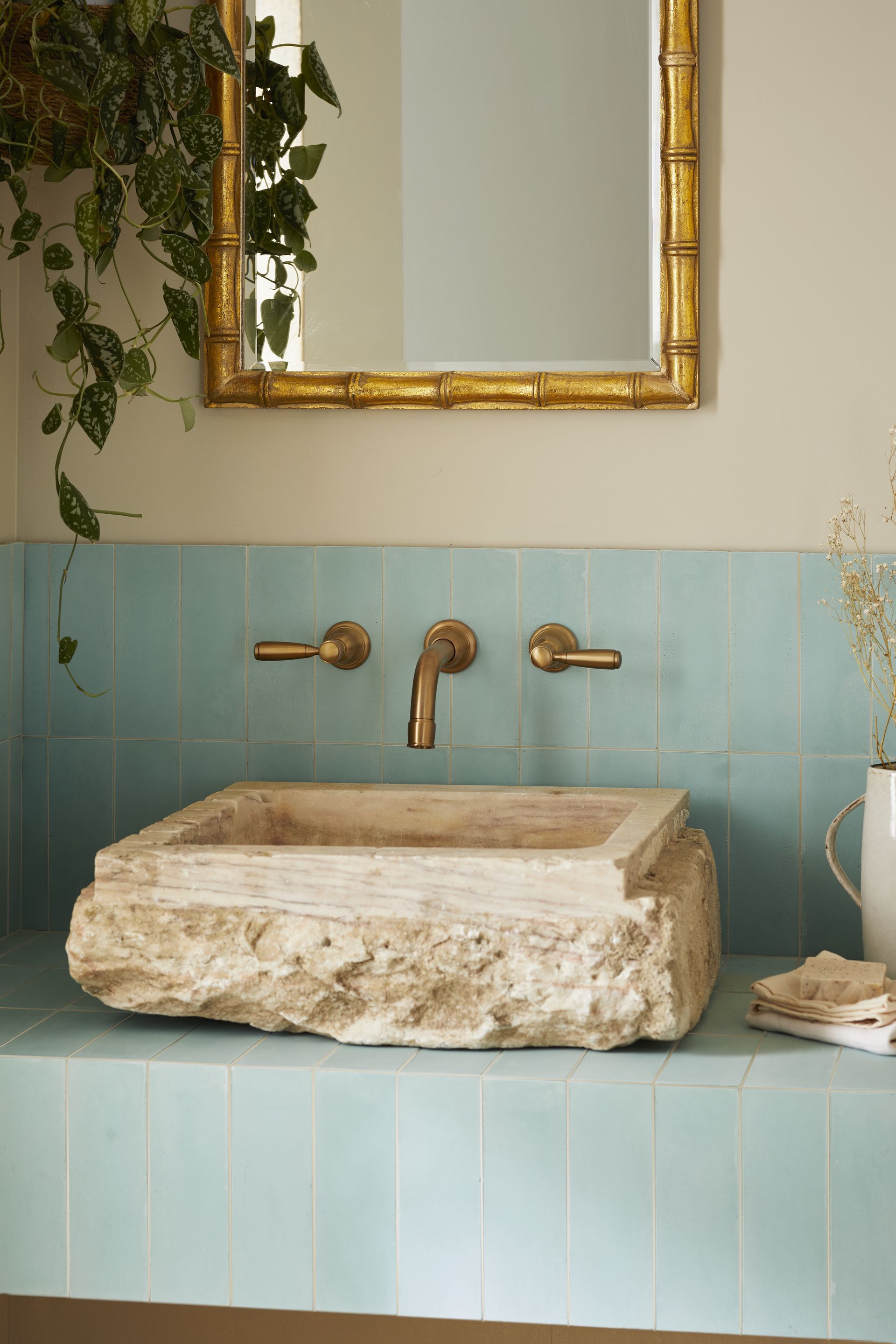 Touches of gold, emerald and jade are popping up in interiors across the world, showing people how to decorate with jewel tones. Pale blues and greens inspired by the natural color of the gem itself are increasingly popular and can be applied to both tranquil and striking aesthetics depending on how it is used.
'There is really no wrong way to use jade in interiors – it pairs beautifully with any tonal white, taupe grey, peach and pink and, the classic, glossy red,' says Julia. 'Going back through the history of interior design, it is impossible to deny the fabulous impact that Asian design has had upon us through the ages by incorporating jade in all its rich glory. It was exotic and rare in the 1850's then roared through the 1920's, popping up again in contemporary design of the 1970's. Almost every designer from Mackintosh, Tiffany to Frank Lloyd Wright had their own interpretation of how to best use jade in interiors.'
'Consider soft and moody textural jade color walls for a main bedroom then repeat the jade color in bedding paired with natural linen curtains and area rug,' says Julia. 'Monotone and soothing, a jade color scheme adds tranquility and subtle sophistication, plus a touch of the exotic to all interior spaces.'
9. Honeyed tones
'Honeyed tones absolutely read warm and sexy,' says Lucie Ayres, founder of 22 Interiors. 'They set a mood - honeyed tones in a room scream 'I'm inviting, carefree, and energetic.'
Injecting small pops of the color initially can help build confidence before adding it to the wall. In modern bathroom colors and kitchens, matching tonal shades on the tiles and walls brings cohesion to the space.
Type: Acrylic
Price: $75 for 3 liters
This dirty pastel, acid yellow has been in trend in 2023 and will continue to be popular in 2024 as well.
10. Warm beige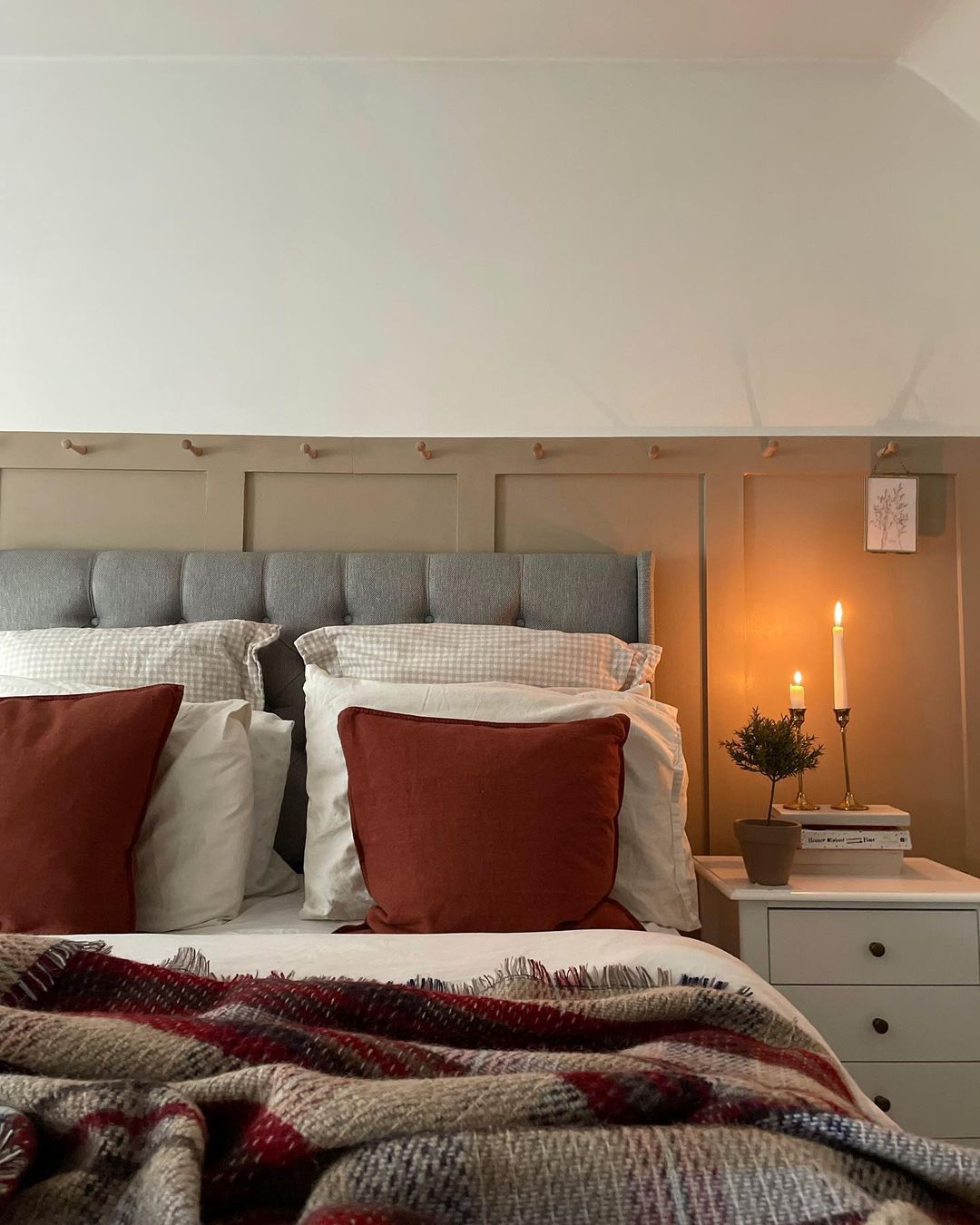 Our love for neutrals has returned, especially in bedroom trends, as it helps create a restful ambiance and a sanctuary to escape in. Warm and earthy creams work well paired with soft terracotta or deep red tones, adding depth to the room.
Remember, with neutral schemes, layers of texture bring tactility and interest to create a distinguished feel within the space.
'In today's color trends, accenting a room with pops of beige in the painting, pillows, and curtains can create dimension, especially when set against a dark background without detracting from the bold impact,' says Lindye Galloway, founder and chief creative officer of Lindye Galloway Studio + Shop.
Type: Water-based
Price: $70 for 3 liters
This is a neutral beige with balanced white and yellow undertones. The paint will warm up your space making it feel comforting and secure.
11. Dark chocolate brown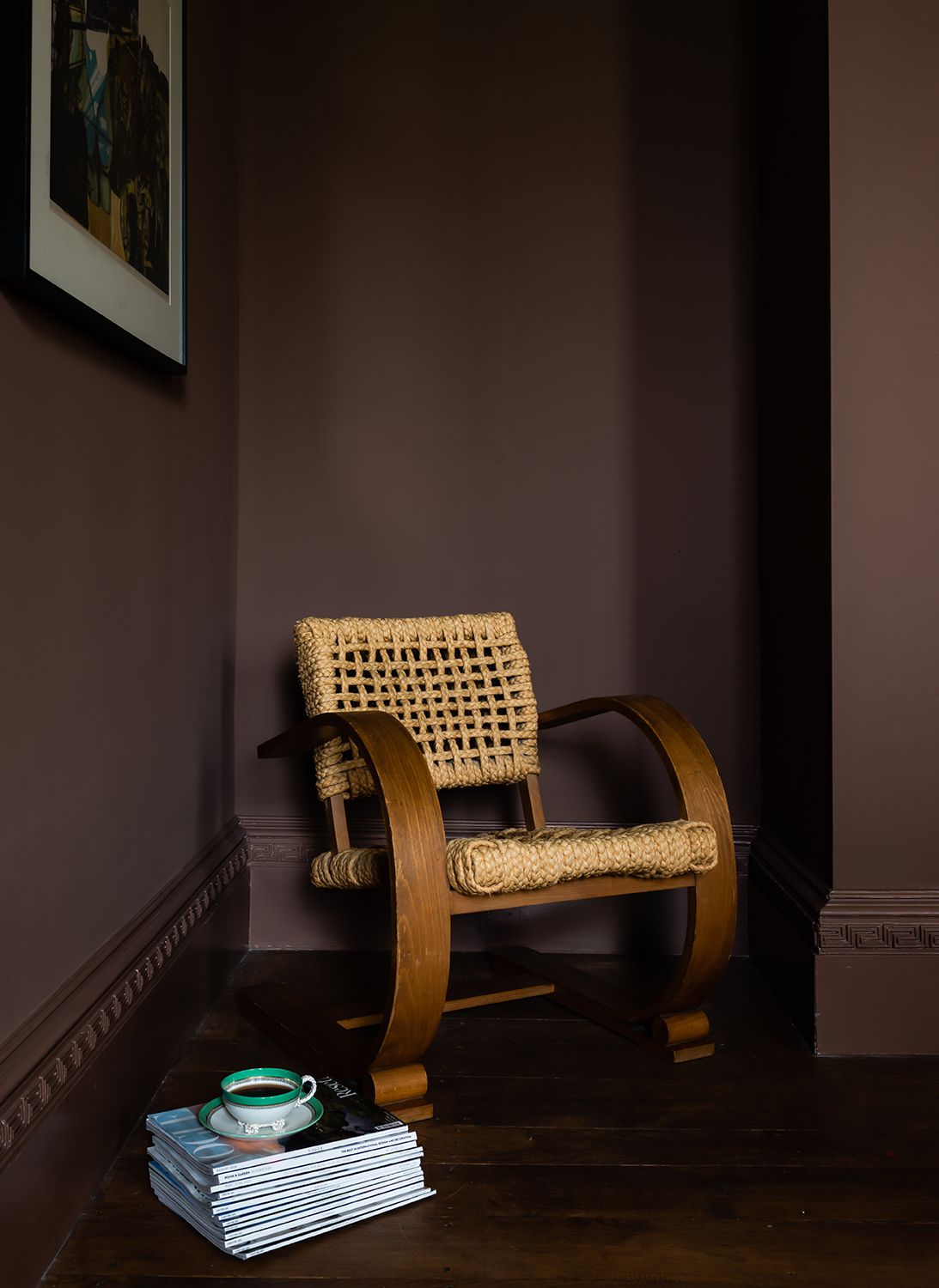 Yes, brown is back. And it's looking better than ever! With brown often perceived as drab or boring, designers and stylists are helping us to view the color in a new light. Bringing an earthy, yet sophisticated, tone to any interior, brown living rooms are full of drama.
'Often times I will specify shiny dark chocolate brown walls with glossy white for an impactful space,' says Julia. 'Best in tight spaces like hallways, den or half bath, the contrast is a surprising and formal way to incorporate a tonal shade into a more traditional interior.'
12. Deep red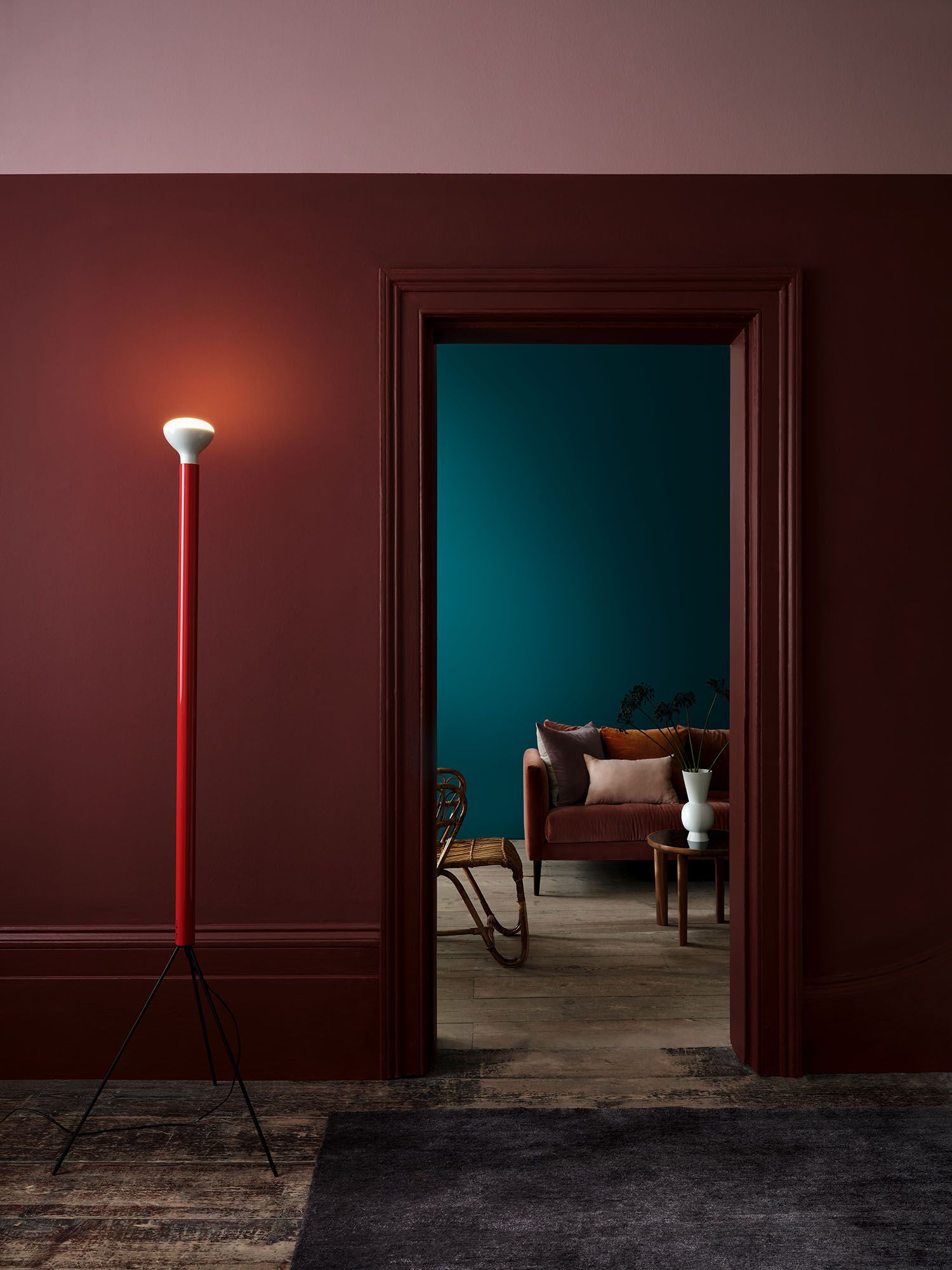 Deep, earthy reds are having a revival thanks to the intensity of hues available across paint brands.
Paired here with two different colors: Old Lilac for a soothing and comforting atmosphere or Cerulean Blue for a bolder, vivid, and striking statement. When combined with complementing colors, reds such as this work well in a variety of spaces and rooms.
'When using colors like red, you're approaching the design with the intent to make a statement,' says Katie Paulsen, interior designer at Maestri Studio. 'To give a space a soothing quality, you can soften the brighter values of the red by pulling in wood tones and by adding in warmth with the metal finishes.'
13. Sunlit yellow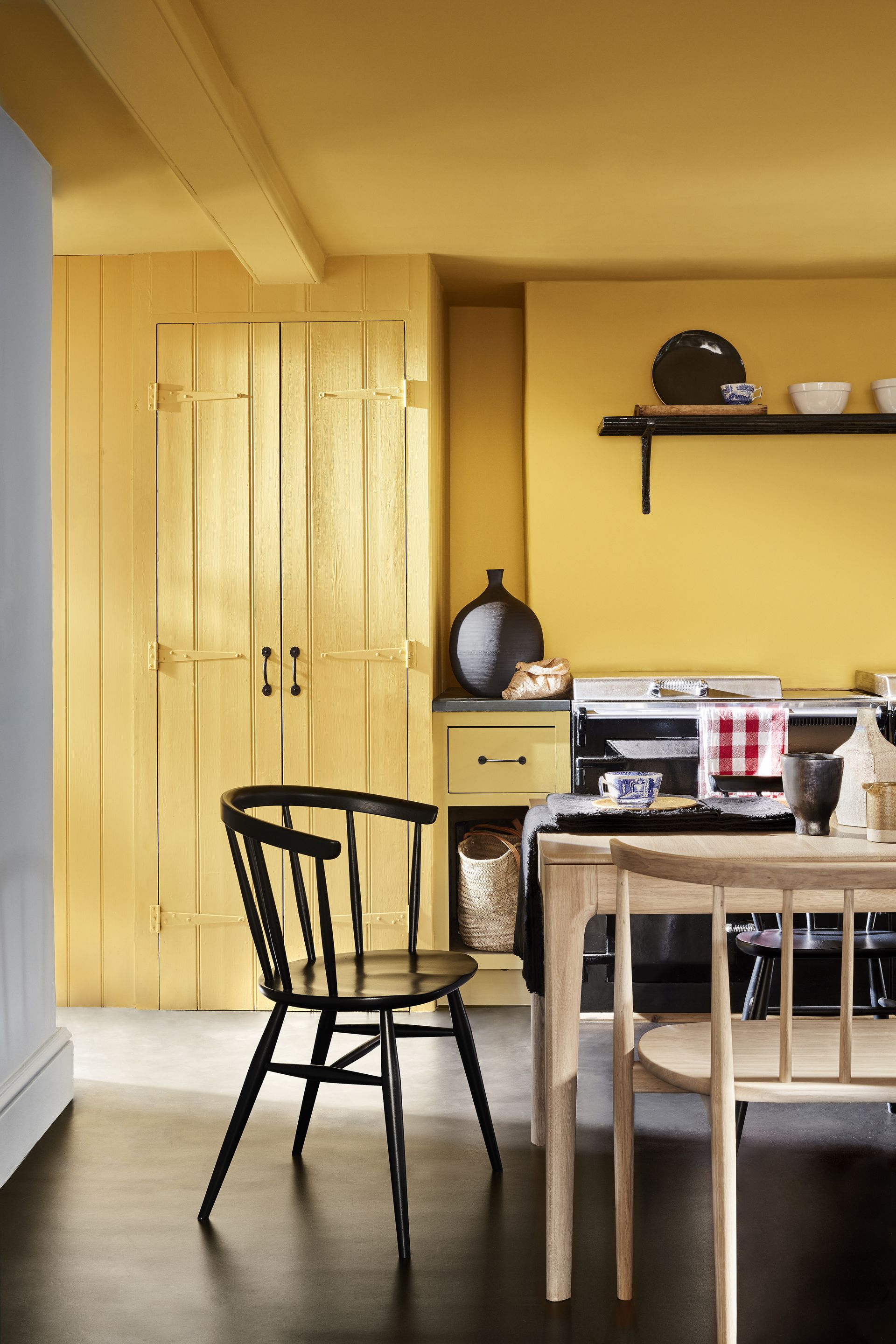 With yellows firmly on trend for 2023, pairing brighter tones of the color with black accents in a monochromatic style is a great way to embrace the look, and move it over to 2024.
'Consider orange and bright green when pairing sunlit yellow for interiors for a bit of a retro 1960's vibe,' says Julia. 'Bright, happy and optimistic, sunlit yellow plays well with saturated colors and lots of bold pattern wallpaper like stripes and flowers. Popular in kitchens when plastic laminate counters and roll-out vinyl pattern floors were the norm, sunlit yellow was equally impactful then and right at home in kitchens now. Because it is so bright, start by adding touches to your space; maybe in accent colors like placemats, linen napkins and kitchen and barware. Start small and try a minimal amount to give it a test fit then add judiciously as you feel more comfortable in your space.'
Type: Water-based
Price: $44 for 1 quarter can
Choose this bright yet warm yellow and paint it across walls and ceilings to highlight the room's dimensions and architectural features.
14. Warm summery tones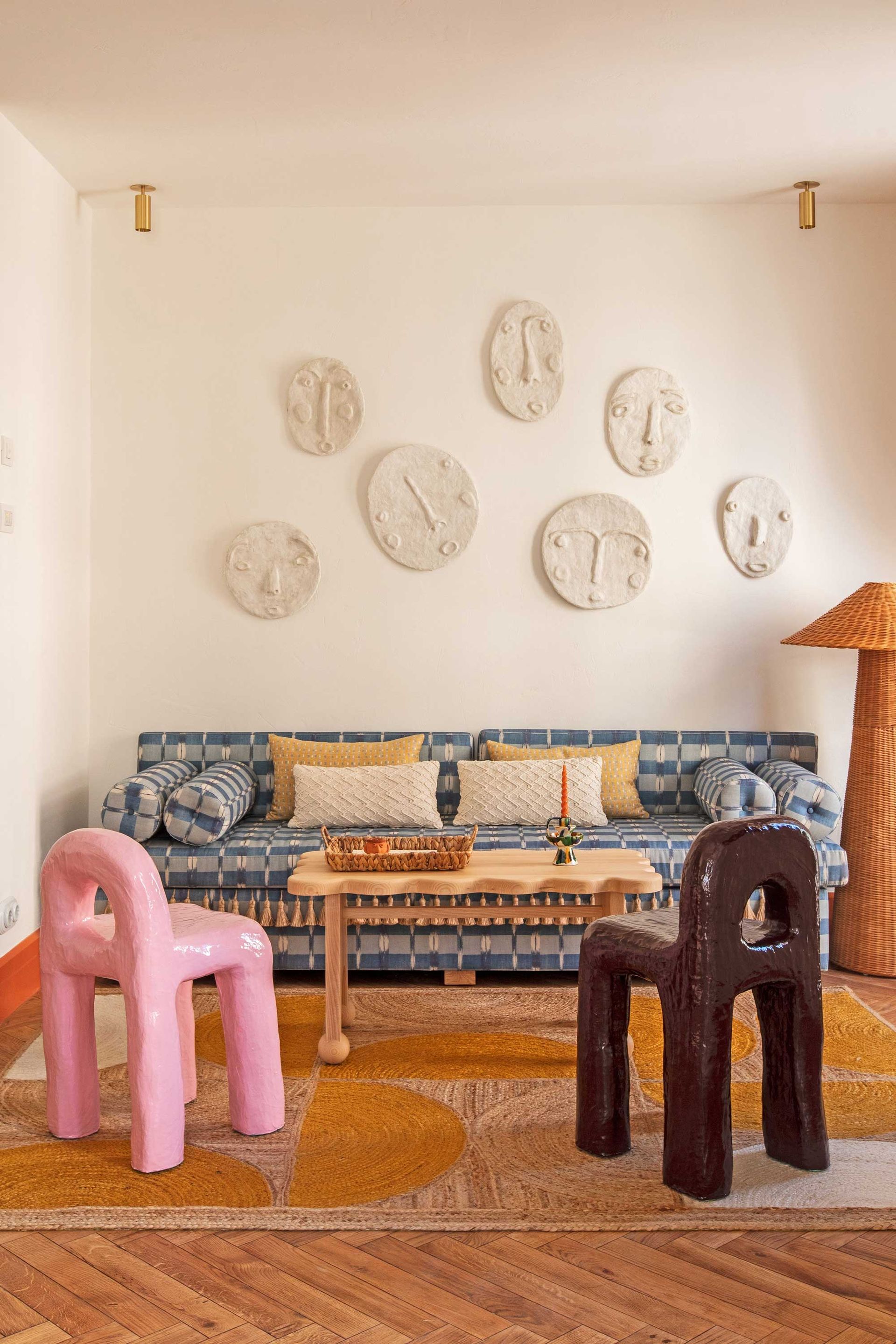 There has been a rise in uplifting shades this year (unsurprisingly). Yellows, tangerines, pale purples and baby pinks, which once may have sounded a bit saccharine are all seeping into interiors in a very sophisticated, grown-up way. In their more muted forms there are in fact surprisingly liveable shades even when used on four walls.
'There are several colors that stand out to me, when I think of upcoming trends for 2024, and these include pinks, oranges, lavenders, purples, and greens.' says designer and master of color Yinka Ilori. 'Many of us have struggled to experience a proper summer, or to go on holiday this year, so people are tending to opt for richer tones that inject positivity and warmth into their homes - bringing that summer feeling inside. As an artist, I've always loved color and I'm glad to see how people are using it more and more to enrich their home environments.'
15. Rich blues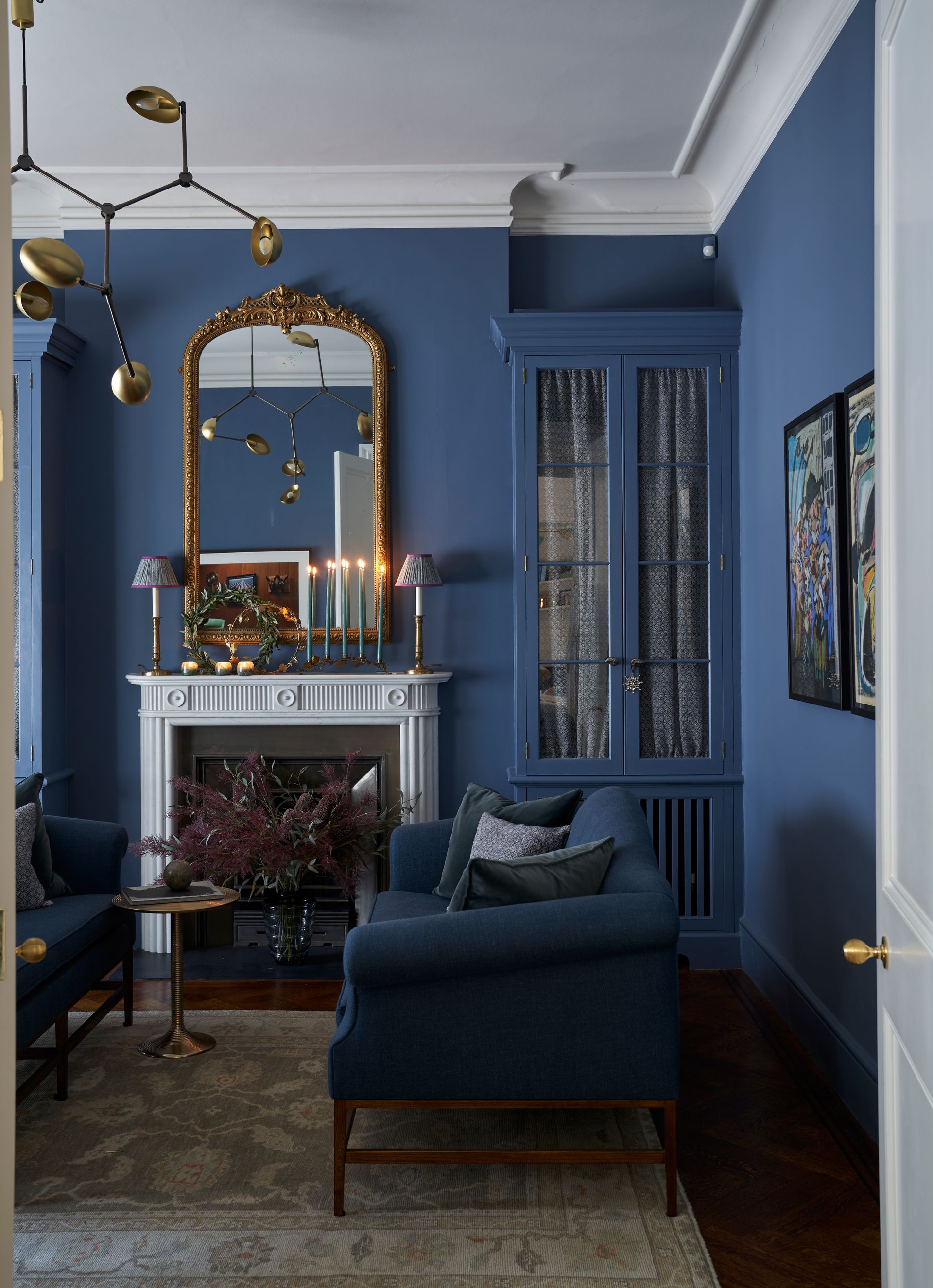 Blue ranks high in color trends every year, just taking a slightly different form. It's such a familiar color that there's so surprise we are drawn to it year after year, and this year it's deep blues that are looking to be the most on-trend. Plus several colors go with blue, making it versatile.
'Soft and serene shades like French blue and powder blue are being used to create calming and tranquil environments,' says Victoria Holly, principal and founder of Victoria Holly Interiors. 'Additionally, deeper, dark blues like indigo are being incorporated as accent colors to add depth and sophistication to spaces. These rich blues can be used in upholstery, like in a rich velvet on a decadent sofa, or on a silk wallpaper, or even smaller elements like artwork.'

16. Purple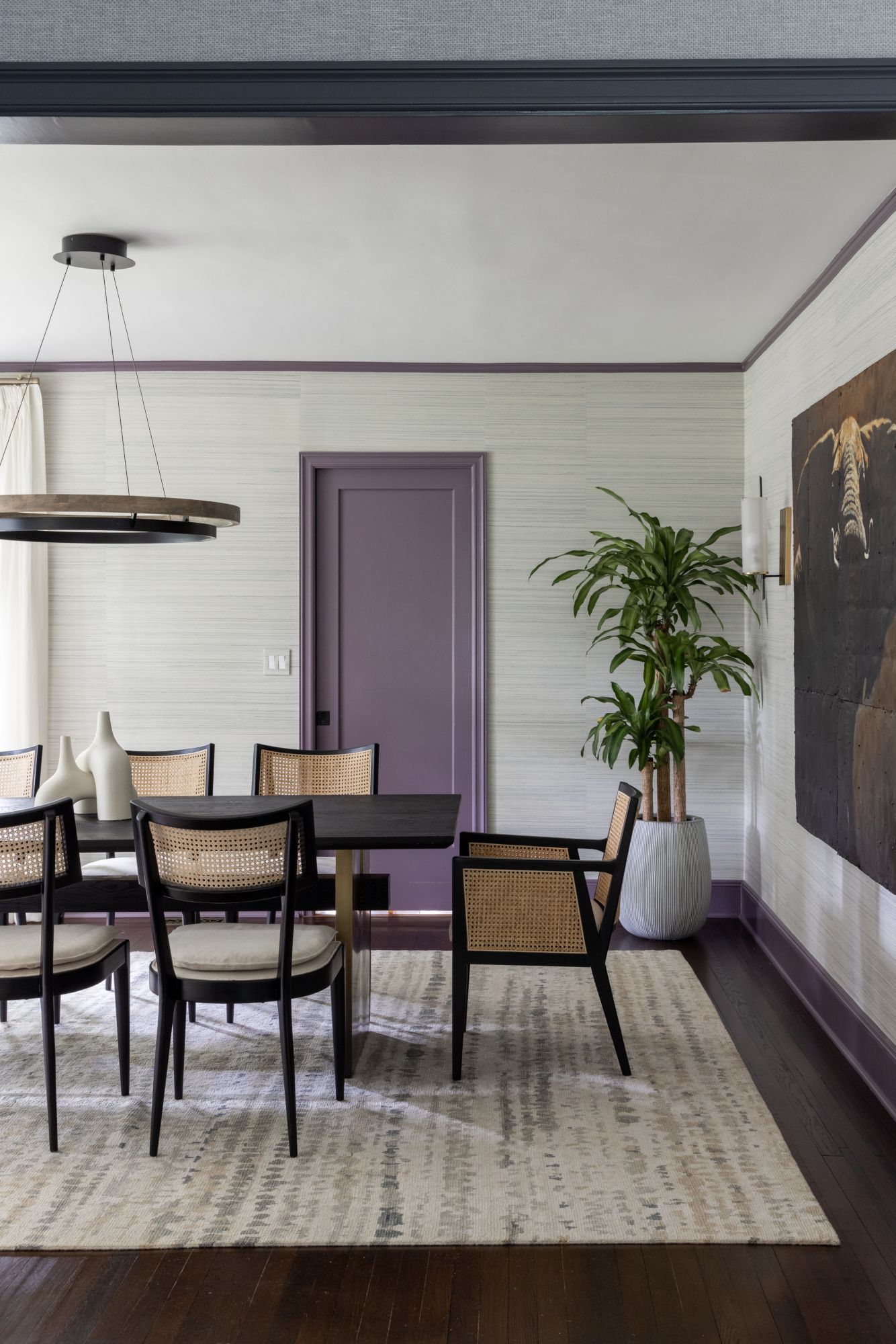 Dark and stormy is still up there when it comes to color trends. This time used
on staircases, feature windows or woodwork to bring elegant definition to a space. A deep plum or black with a red undertone makes for a warmer and more striking alternative to the popular deep charcoal greys and blue-blacks. It adds warmth to cooler palettes, and pairs beautifully with pink and nude tones.
'Purple is having a big moment right now, especially lighter shades such as lavender and lilac,' says Victoria. 'It exudes calmness and luxury at the same time. Deeper shades such as eggplant or royal purple are rich with playful depth, creating a sense of luxury when used in textiles or on walls. The versatility of purple allows it to be paired with various colors too.'
17. Neutral stone hues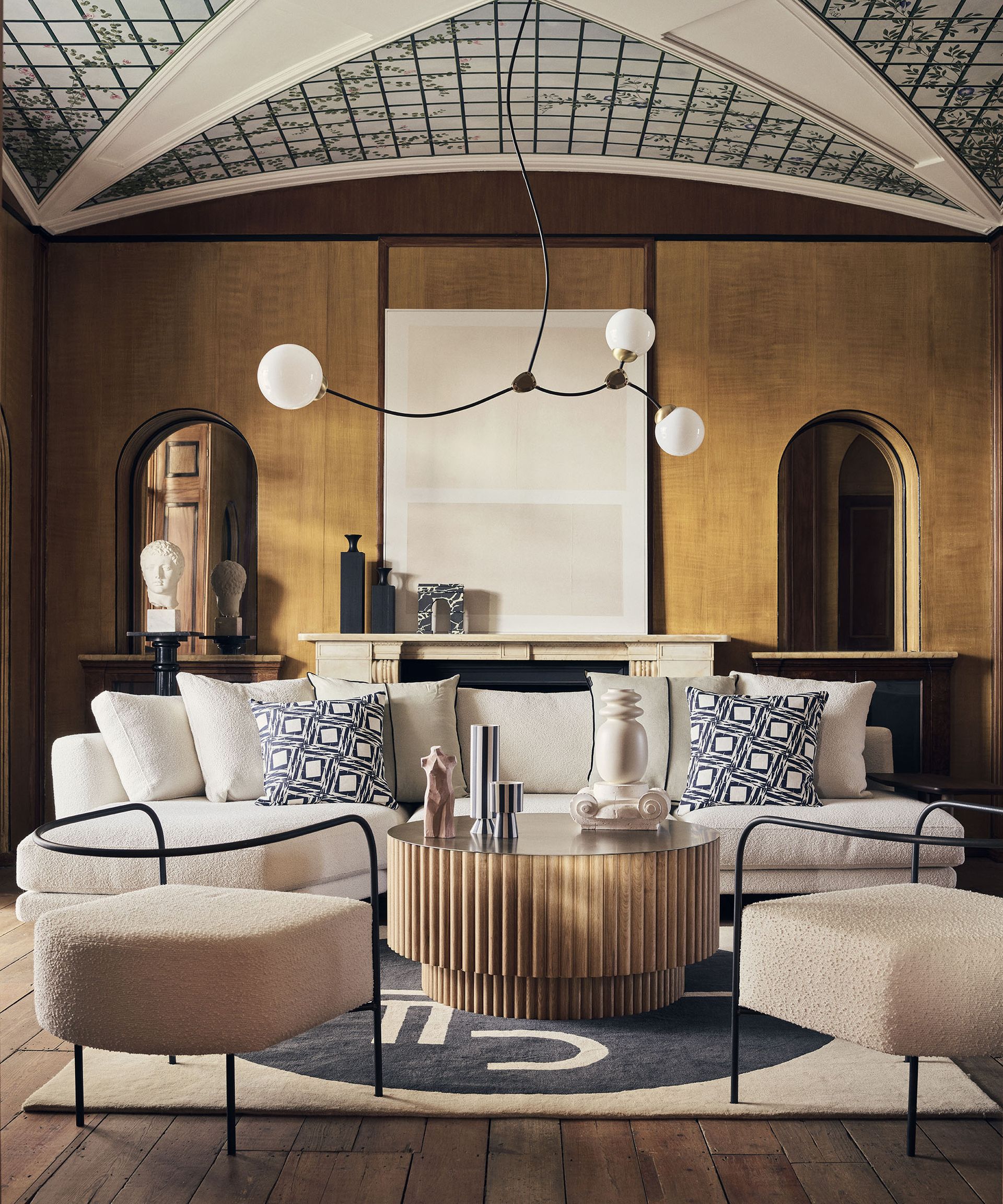 The neutral trend continues subtly away from cold greys and traditional creams, towards warmer neutral stone tones. For an earth tone living room or bedroom, consider colors such as dark brown, rust and sandy pink.
'Earthy stone hues evoke a sense of grounding and connection to nature, which is very big in the California look,' says Victoria. 'These tones are perfect for creating cozy and inviting interiors. For example, shades such as slate grey mimic the look of natural stone and work in both modern and industrial-inspired spaces. Sandstone and terracotta are also having a moment, bringing in warmth to interiors, especially in Mediterranean or rustic design themes. And lighter stone tones like travertine or limestone are used to brighten spaces with a sense of airiness.'
What were the most popular paint colors for 2023?
Amongst the popular paint colors of 2023 were sage green, pistachio, and burgundy. All colors, though different in depth and values helped create a soothing, calming and relaxing interior. These colors were also seen abundantly in the more minimalist interiors, as the world moved towards a restrained, subdued spaces.
What is the next color trend after grey?
While the jury is still out on that, judging by how minimaluxe has taken over homes this year, and with the love for minimalism rampant amongst homeowners, the warm beige seems to be the next big thing.
For style leaders and design lovers.
Design Writer, presenter, panel host, consultant and journalist Roddy Clarke is a regular in the pages of Livingetc. He also writes frequently for FT Weekend and Forbes. Based in London, and with a breadth of skills and hands on industry experience, Roddy now offers an exclusive interior styling and design service.
With contributions from