7 colors that go with lavender for a surprisingly modern scheme
There are more colors that go with lavender than you'd think – here's how to pair them for a pulled-together scheme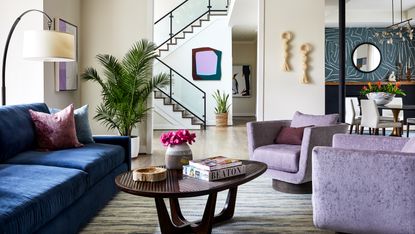 (Image credit: Stacy Goldberg. Design by Stephanie Bradshaw)
The Livingetc Newsletter
For style leaders and design lovers.
Thank you for signing up to LivingEtc. You will receive a verification email shortly.
There was a problem. Please refresh the page and try again.
The list of colors that go with lavender feels like it should be short. Compared to neutral colors like beige, or nature-inspired green, does lavender really have as much range? Well, happily, this pastel shade is far more versatile than you'd think.
Like colors that go with purple in general, the best pairings for lavender go far beyond beige, black and white – though of course, these palettes work too. The designers we spoke to for this piece had some surprising suggestions, from burnt orange to pastel green.
With their advice on how to use this soft, on-trend and adaptable shade, you can make lavender work in almost any room. Below, we've broken down seven hues to try in your scheme – read on to find out more.
Ellen is Livingetc's print editor and an experienced interiors journalist. She spoke to interiors designers and color experts for this piece to find out the best colors that go with lavender – and how to use them together for the most effective contemporary scheme.
What are the best colors that go with lavender?
Before we dive in, a few notes on using lavender in an interiors scheme. Thanks to its mix of red, blue and white, lavender is calm, soothing and warm – perfect for bedrooms, kitchens and living spaces.
'Lavender is known for being a calming color that represents tranquility,' says Californian interior designer Sarah Rosenhaus. 'The key is to mix in colors and textures that enhance the soothing qualities of the color and draw out its subtle warmth. I wouldn't avoid any particular color with lavender, but I would be cautious of using hues that are too bright or primary. Opt for rich earth and jewel tones that enhance the quietness of lavender.'
'The spectrum of lavender from the lightest blush to darker, bluer-toned purple is a broad family and used wisely can be an interesting alternative to pinks and blues,' adds Patrick O'Donnell, color expert and Farrow & Ball ambassador. 'But just err on the side of caution and get the tone right as it can be on the chilly side.'
1. Lavender and dark blue
Purple and blue are analogous colors, meaning that they sit next to each other on the color wheel – and this pairing can therefore lend itself to a calm, subtle scheme. Using lavender with a deeper blue creates a gentle but effective tonal contrast and allows whichever is the accent color to pop. 'This is a wonderful way to bring in tonal play without being too literal,' says Sarah Rosenhaus. 'The richness of navy paired with lavender creates a sophisticated mood.'
Because it's not too stimulating, lavender and blue makes for a great palette in a living room or bedroom, where you're largely looking to unwind. In the TV room scheme by Maryland interior designer Stephanie Bradshaw above, she pairs the duo with gray. Because of their tonal similarities, lavender actually shares many of the same colors that go with gray – making this trio a versatile and effective combination.
2. Lavender and orange
This pairing makes use of the idea of contrasting hues in color theory: the idea that a deep or bold color from one part of the wheel can be used with a lighter, more subtle shade from another part for an effective scheme. And as the above space by Australian architectural practice Hindley & Co shows, the effect can be really striking.
'When orange is mixed with warm lavender, it infuses a burst of cheerful optimism into an otherwise tranquil space,' says New York-based interior designer Lisa Frantz. 'It's also great for dining rooms to create a welcoming environment and stimulate conversation.'
3. Lavender and beige
Finding colors that go with beige isn't always as easy as it seems, but thanks to lavender's balance of warm and cold undertones, this is a natural duo that acts as a twist on a neutral scheme. 'It's a tick-up from a traditional neutral color combo, where the lavender becomes the star and creates a subtle play of warm vs. cool against the beige,' says Sarah Rosenhaus.
In the bedroom above, designed by Luke Ferran of New York design studio Kevin O'Sullivan, layers of purple through the cushions and bed base allow the light lavender walls, along with the beige headboard and the wood panelling, to play a role as a neutral – a clever way to twist this color on its head.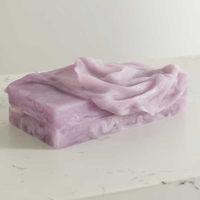 4. Lavender and white
Thanks to its lightness and subtlety, lavender makes for a gentle but effective pairing with white – as the above scheme by Hindley & Co shows. 'Lavender and white with bits of black is a favorite color combination of mine,' says Lisa Frantz. 'Depending on how it's used, it can evoke an Art Deco or Hollywood regency vibe yet still feel fresh and alive.'
It is important, however, to find the right shade of white to make this duo work. 'Depending on the strength of lavender, at the paler end, opt for cleaner whiter shades to partner with – nothing too drab as this could look dirty rather than empathetic!' says Patrick O'Donnell. 'Something like our delicate Peignoir, a pale-ish lavender/gray colour with muted qualities, would look wonderfully simple teamed with Strong White on your trim and ceiling.'
And for a cooler, more contemporary scheme, choose your lavender wisely too. 'Lavender is a perfect addition for clients who want a gentle "pop" of color in a more neutral environment,' says Ashley Macuga of San Carlos design studio Collected Interiors. 'One of the challenges using lavender is making sure that it doesn't present too "nursery" in adult spaces. One of our favorite lavenders is Sherwin William's Imagine, which has a very gray base, ensuring that it looks charming but still sophisticated.'
5. Lavender and yellow
One for the more color-confident, lavender and yellow is a particularly interesting pairing. It's also, it seems, a controversial one – not all of the designers we spoke to agreed on it. 'I find it challenging to pair lavender with vibrant warm colors like red and yellow,' says Lisa Frantz. 'I tend to avoid them – unless I'm using lavender for a children's space and just want a snappy explosion of colors!'
Still, there are ways to make this combination work if you enjoy the energetic vibe it brings. In the above scheme by the San Francisco-based interior designer Kevin Sawyers, he uses a color theory of his own to make it work. 'One of my go-to approaches for color combinations is a clean color with a dirty color,' he explains. 'One color should be clear and have no black or grey in it, whereas the other should be slightly muted or muddy. Here, the lavender is clean and the yellow muted leaning toward a mustard/gold/ochre.'
'I love pairing lavender with just about any color, but it works particularly well with yellow as they're opposite each other on the color wheel,' says Kentucky interior designer Bethany Adams. 'I always like to match the intensity of the hues, however.' She points to a Chicago project in which she paired the deep lavender walls of a bedroom with a strong, monochromatic yellow canvas – a scheme that feels ultra contemporary and unexpected. , as I did here in this Chicago bedroom. The deep lavender walls are complimented by a strong, monochromatic monochromatic canvas.'
6. Lavender and green
Purple is a great choice if you're looking for colors that go with green, so it follows that lavender can offer a softer twist on this duo. Whereas deep aubergines and plums look dramatic paired with earthy or gem-like green shades, lavender finds a comfortable match in a lighter hue.
'Lavender and green are on the same side of the color wheel,' explains Lisa Frantz. 'Lavender works best when used with soft pastel greens – it's a great color combo for bedrooms to create calming respite.'
Of course, interior design is about bending the rules as much as following them, and we've also seen examples of pink-tinged lavender paired with more vibrant green shades – it's a particularly interesting combination in a kitchen.
7. Lavender and pink
If lavender and pink feels too sickly sweet, don't scroll away just yet – there are ways to make this scheme feel sophisticated rather than childish. 'This is a very youthful color combination, perfect if you are looking to create a sophisticated space with levity,' says Sarah Rosenhaus. 'Alternatively, we love to keep things tonal and gravitate to a combo of lavender, mauve and aubergine,' says Sarah Rosenhaus.
In the bedroom scheme above by Pennsylvania-based designer Rasheeda Gray, lavender walls and pastel pinks are tempered by rust-colored curtains and a gray-blue ottoman that grounds the scheme.
'Selecting the right shade depends on the feeling you want to give the space you're putting it in,' Rasheeda explains. 'In this bedroom, for example, the soft rosy pink makes the space feel warm and cozy, but it doesn't overstimulate your senses despite its pastel appearance. It is a shade that can be mixed with other colors easily without drawing too much attention away from it – especially colors like lavender purple.'
How to pair metallics with lavender
So, you've found your perfect color pairing with lavender – but what about your finishes? Mixing in metallics can prove one of the trickiest parts of a lavender-based scheme.
'I would opt for metals that have patina and character and a bit of warmth,' says Sarah Rosenhaus. 'Think copper, unfinished brass, bronze and verdigris. Lavender is already quite cool, so I would shy away from any metals that lean toward silver, chrome, or stainless tones.'
If you do prefer metals on the cooler side, consider nickel as a compromise. 'When pairing lavender with a metal, we love using polished nickel,' says Ashley Macuga. 'The warmer undertones offset lavender's natural coolness, adding more of a layered depth to the design.'
For style leaders and design lovers.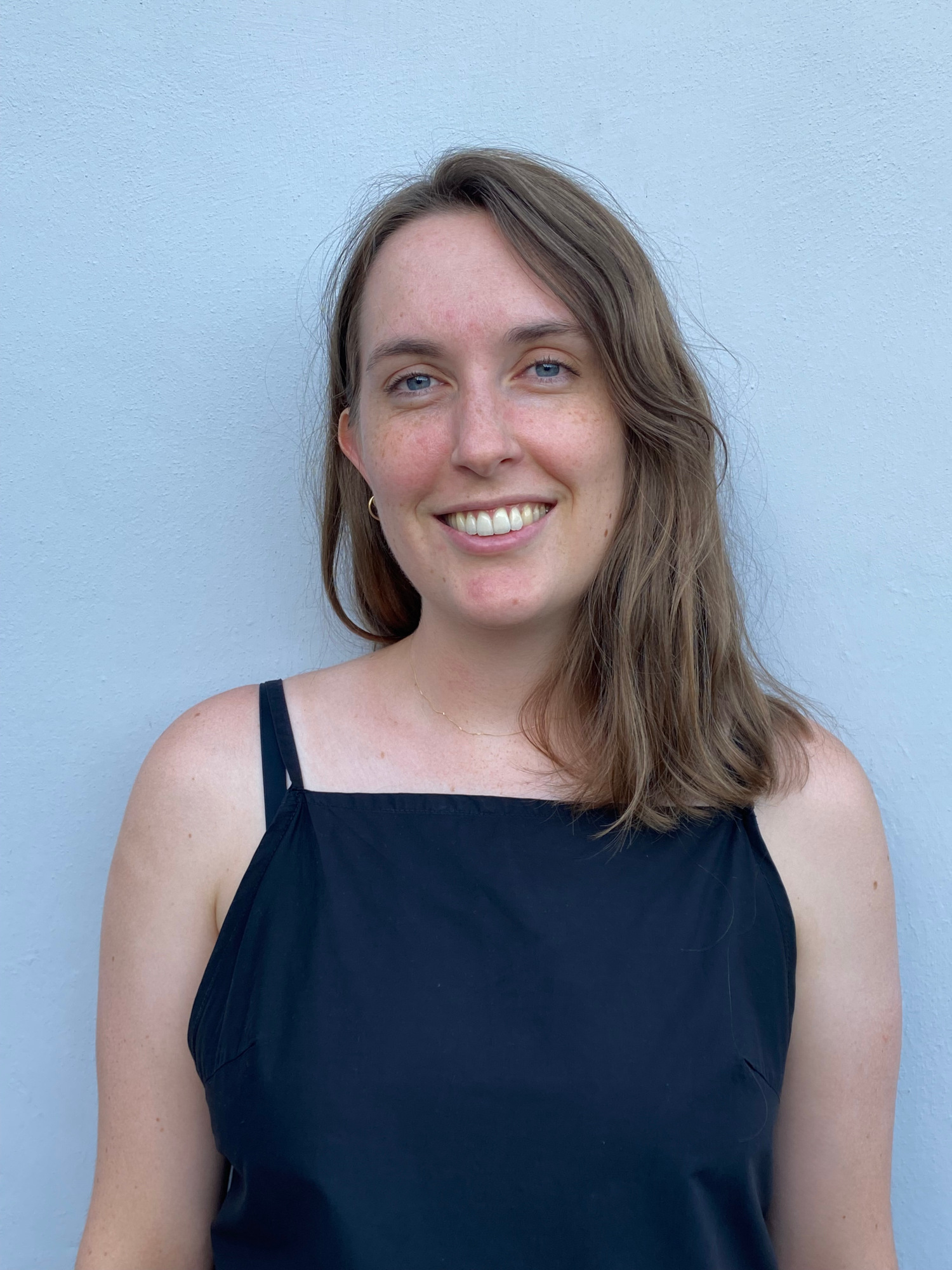 Ellen is deputy editor of Livingetc magazine. She cut her teeth working for sister publication Real Homes, starting as features editor before becoming deputy editor. There, she enjoyed taking a peek inside beautiful homes and discovered a love for design and architecture that eventually led her here. She has also written for other titles including Homes & Gardens and Gardeningetc. While she gets ready to buy a house of her own, she takes inspiration from the works of some of her favourite architects and tastemakers. She has a particular passion for green design and enjoys shopping small, local and second-hand where she can.