Colors that go with grey – 11 delightfully refreshing and modern combos experts love
These colors that go with grey will add warmth, charm and versatility to your interiors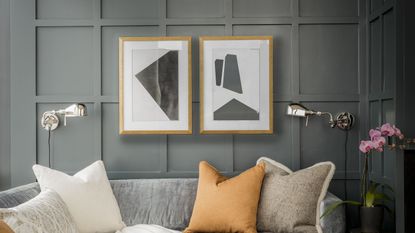 (Image credit: Michael J. Lee. Studio credit Robin Gannon )
Colors that go with grey can create the most striking and forever fresh interior. As this tone is a more warm neutral, almost all colors go with it. While some create a wonderful juxtaposition with grey, others add a layering effect, creating a sumptuous interior.
'For a sophisticated and fresh color combination consider introducing a palette of soft pastels to a grey interior scheme,' suggests Jane Nicholson, co-founder of House of Dome. 'The delicate nature of muted shades allows you to be a little more experimental. Choose soft furnishing in mixed tones of grey with warm pinks and sage greens.'
If you're wondering about the perfect color palette with grey, these examples by top designers will help you make the decision.
1. Blue
If you're looking for colors that go with blue, look no further than grey, especially if it's a more calming interior you want to create. From light grey to even charcoal grey, these velvety tones go brilliantly with dark blue. In a dark, earthy interior like this, other organic tones and materials fit perfectly well. Perhaps add a wooden vase, or a jute hanging light to the scene.
'I like to pair grey together with other cool tones such as teals and blues,' says Grace King, design director at Studio Rey. 'This creates a feeling of warmth and also lays the grounds for more texture and layering, plus the inclusion of subtle contrasts.'
2. Yellow
One of the colors that go with yellow is grey, and the combination can create two extremely different yet equally interesting looks. If you choose a bright yellow and pair it with a dark grey, you'll get an interior that is lively, upbeat, and refreshingly modern. Choose the lighter tones of both, and you get a subtle, soothing space. Yellows that have a brown or grey undertone usually do better with neutrals and are also easier to live with.
'There's a famous quote describing grey as the queen of colors, and I concur – it's an ideal neutral,' says Robin Gannon, founder of Robin Gannon Interiors. 'As for pairing partners, it goes with just about everything. And when you have a box of crayons, why pick just one or two? Don't be afraid to go a bit bold.'
3. Red
A great color that goes with red is grey, and while it may sound a bit intense, it can work if you pick the right tones. For a bold red sofa, consider a lighter grey wall if you want to ensure the interior is light and breezy. But it if is drama you're looking to create, go all in with a charcoal grey and a fiery red.
'Grey and red create a striking contrast when paired together,' says Saba Kapoor, co-founder of Nivasa. 'The key to an effective combination is selecting shades that complement each other. For example, pairing a light grey with a bright red can create a visually balanced and harmonious contrast. Light grey serves as a neutral and sophisticated backdrop, allowing the vibrant red to stand out.'
'To create an effective pairing of grey with red, embrace the power of contrasts,' says Meera Pyarelal, founder and interior designer, of Temple Town. 'Opt for a cool-toned grey that exudes modernity and sophistication. Complement it with a bold, warm-toned red for an eye-catching and dynamic effect. Strive for a balanced composition by allowing grey to dominate larger surfaces like walls and furniture, while red takes center stage in accent pieces and decorative elements. '
If you want to ensure that this daring combination looks great and also timeless, choose a grey that has a reddish undertone to it.
4. Black
When it comes to colors that go with black, grey ranks high on the list. Yes, we usually think of light tones are neutrals but both grey and black, monotones, and deep hues with gravitas too can individually lift a scheme when paired with other lighter colors.
And when paired together, they beautifully offset each other and create a deep, moody interior.
'Just because grey and black are very similar does not mean they can't be used together,' says Lindye Galloway, founder of Lindye Galloway Studio + Shop. 'Utilizing dark or light grey with black can create a gorgeous and bold monochrome space. If the space feels too cold, you could consider accenting it with pops of color via paintings, pillows, and curtains to create more dimension against the dark background without detracting from the bold impact.'
5. White
You can pair a barely-there grey with a crisp white for a bright and airy space or contrast white with deep, moody charcoal. In this white bedroom, a touch of grey in the side table and headboard helps to add depth to almost all white space.
As simple as this paring is though, not all white shades are going to work with any grey shade. The undertones need to work together, so warmer whites are likely to work best with warmer greys, and, cool-toned greys with purer whites.
'Opt for light and subtle shades,' says Saba. 'Light greys with cool undertones and warm creams and whites work well together to create a serene atmosphere. Layering different shades of grey with neutrals will add depth and visual interest to the space. Consider incorporating various textures, such as soft fabrics, natural materials, and tactile elements like cushions or rugs, to enhance the overall cozy and comforting feel.'
'Lighting plays a crucial role in creating a calming ambiance,' says Saba. 'Soft, warm lighting can enhance the relaxing effect of the grey and white color scheme. Additionally, adding accents of other soft colors, such as pastel blues or greens, can introduce subtle pops of color and prevent the design from feeling monotonous.'
6. Pink
Pink and grey living rooms are so soothing – the tones feel welcoming and restful and also on-trend.
'Grey and pink is a classic color combination,' says Grace King, design director at Studio Rey. 'Why not try combining a soft pink paint with a combination of light and dark grey fabrics and soft furnishings in various textures to create a calming scheme? Don't be afraid to add in some pops of bright color such as a bold teal blue as an accent.'
'Opt for a light, cool-toned grey as the neutral backdrop and pair it with dusty rose or blush pink,' says Saba. 'This combination evokes a sense of tranquility and sophistication. To achieve a balanced look, use grey as the dominant color in larger areas like walls or furniture. Introduce pink as accents through textiles, such as throw pillows, curtains, or rugs. Consider incorporating patterns that combine both grey and pink elements, such as floral or geometric designs, to create visual interest. These patterns can be applied to wallpapers, upholstery, or decorative accessories.'
7. Taupe
The key to a great match for colors that go with brown or taupe lies in coordinating this tone with other warm shades. Think of a warm grey, buttery yellow, burnt orange, or black. Layering these colors will create an interior that looks and feels cozy, enveloping and, relaxing. Ideal to use in bedrooms or lounging areas.
'Consider incorporating natural materials like wood and stone to add warmth to a grey space,' says Meera. 'Avoid using highly contrasting colors and patterns, focusing instead on earthy hues like taupe, creating a seamless and harmonious environment that promotes relaxation and comfort.'
8. Purple
Several colors go with purple but one that balances it, and makes it a more livable hue is grey. Purple, with a spectrum stretching from the deepest aubergine shades and striking royal purples, through to lavender, mauves, and soft lilac, can sometimes feel like an overwhelming shade, and can do better with a little help from warm neutrals.
'I've used purple on upholstery and decor pieces,' says Kim Armstrong, interior designer and founder of Kim Armstrong Interior Design. 'I think this shade effortlessly blends with so many colors, but my favorite colors to blend with purple are grey and blue. These colors together are soft and watery, and very easy on the eyes.'
9. Grey
When designing a grey bedroom, if a pure monochromic color scheme is more your vibe, pair grey with grey. Perhaps that sounds a bit...dull but layering grey on grey can create just as interesting a space as pairing grey with any other color. The key is contrast and texture.
You don't want your grey shades to be too close in color and you want to have some varying tones going on too as that will add interest. So pick greys from across the color spectrum, even if you want a room to be light grey overall, add in some middle-ground greys and some dark tones too.
'You can pair shades of grey together in a room but try to pair cool grey shades with other cool tones such as greens, teals, and blues and warmer greys with warm shades such as pinks, burnt orange, or mustard,' says Grace. 'If you are pairing greys with greys I would also make sure to bring in varied, layered textures to create subtle contrasts.'
Mix in some natural materials too like rattan and wood to warm up the scheme. Accessorize with different materials and finishes too.
10. Sage green
Sage green has been growing in popularity for months. In fact sage green bedrooms have been quite the rage lately. This shade, when paired with grey works very well because both tones have the same calming and grounding effect. In fact, sage green when combined with grey almost becomes a neutral too. Perfect if you want to introduce the second color to a grey room but not lose the overall serene, neutral scheme.
Pair the palest of greys with a cool, light green for a contemporary combination. Then ground all those light, airy colors by adding just a hint of black or dark wood.
'Sage green with grey still remains very popular amongst homeowners, and one we suggest as a versatile and a timeless colour combo that won't gone out of style quickly, not to mention it complements a variety of design styles,' says Cat Dal, founder of Cat Dal Interiors.
11. Orange
Many colors go with orange, but a combination with grey in particular is sure to bring freshness into any scheme. There are plenty of orange tones that the perfect to pair with grey – be it light, mid-tone to reddish-orange – so you can go bold or as subtle as you like.
Burnt oranges paired with a mid-grey for example could be the perfect rustic scheme whereas a charcoal grey and bright tangerine hue will be more modern and striking. Whatever look you go for, introduce a clean white into an orange and grey color palette to up that contrast and make the orange stand out.
'Select a mid-tone grey that complements the richness of the orange hue,' says Meera. 'For a contemporary approach, opt for a light grey with pops of orange.'
What colors go with warm grey?
If you're choosing a warmer or darker shade of grey, like charcoal or mid-tone grey, then there are several tones to match. Think of colors like taupe, blush pink, butter yellow, royal blue, or burnt orange. If you're painting a room with these shades, a matte or eggshell finish will ensure that the room feels cozy and inviting. Interested in embellishing it a little? Metallic tones like bronze or silver look particularly interesting inside warm-toned rooms.
3 paint colors that go with grey
The Livingetc newsletter is your shortcut to the now and the next in home design. Subscribe today to receive a stunning free 200-page book of the best homes from around the world.
Hebe is the Digital Editor of Livingetc; she has a background in lifestyle and interior journalism and a passion for renovating small spaces. You'll usually find her attempting DIY, whether it's spray painting her whole kitchen, don't try that at home, or ever changing the wallpaper in her hallway. Livingetc has been such a huge inspiration and has influenced Hebe's style since she moved into her first rental and finally had a small amount of control over the decor and now loves being able to help others make decisions when decorating their own homes. Last year she moved from renting to owning her first teeny tiny Edwardian flat in London with her whippet Willow (who yes she chose to match her interiors...) and is already on the lookout for her next project.
With contributions from