Colors that go with grey – 9 shades that make the best pairings
These colors that go with grey will give you all the inspiration you need to redecorate your interiors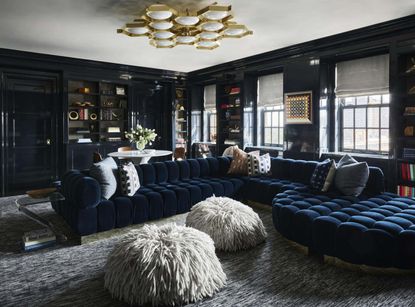 (Image credit: Sasha Adler Design. Photo credit Douglas Friedman)
When it comes to colors that go with grey, you are spoilt for choice. That's because grey is not only the "it" neutral, but also synonymous with style, sophistication, and glamor, and is especially effective when used with other tones.
The versatility of this shade is such that it makes for a great companion for most tones. From sunny Mediterranean shades, and cooler tones, to even classic crisp neutrals... all work wonders when paired together.
We spoke to several designers to understand the different shades and rules as directed by color theory for finding the perfect match for grey. Take a look at these suggestions and apply them to your home!
What colors go with grey?
'Grey is an ideal colour as it compliments many interior styles and trends,' says Richard Ticehurst, brand expert at Crosswater. 'It is also enormously versatile when it comes to partnering with other colours. Depending on its underlying tones and depth of colour, grey can be partnered with almost any other hue.
'As versatile as grey is, it is important to consider undertones when pairing it with another shade' says Richard. 'Cool greys are best paired with cooler colour schemes, such as blue, green, and light purple, while warm greys better complement reds, oranges, and yellows. For fans of the monochrome look, incorporate different shades of grey, alongside white and black, to create depth and visual interest.'
Hebe is an experienced homes writer and editor. She has written hundreds of articles helping readers make the best home design choices, and spends her days interviewing interiors industry experts to bring the latest ideas to her readers. For this piece she spoke to top designers to understand what colors would go best with grey.
1. Grey and yellow
One of the most uplifting colors that go with yellow is grey. That's because both colors are versatile, and can make as bold or as subtle a statement as you like. Think deep grey with warm yellow, or a light grey with a muted or mango yellow. Both combinations will look eye-catching yet so different.
A grey and yellow combination works particularly well with a modern and contemporary style. You can decide on the quantity of both hues while creating your color scheme. If your base color is grey and you don't want to make a big commitment to accent color, bring yellow in through small accessories.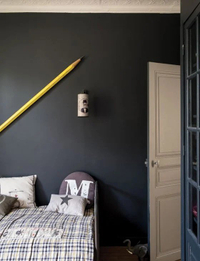 This dark lead grey with blue undertones is the perfect color to create a moody interior, and looks fantastic in social spaces such as the living room or dining. The color has a cocooning feeling, perfect for creating a cozy decor.
2. Grey and black
When it comes to decorating with neutrals, two colors that you probably wouldn't think about are grey and black. Yes, we usually think of light tones are neutrals but both grey and black, monotones and deep hues with gravitas too can individually lift a scheme when paired with other lighter colors.
And when paired together, they beautifully offset each other and create a deep, moody interior.
'Just because grey and black are very similar does not mean they can't be used together,' says Lindye Galloway, founder of Lindye Galloway Studio + Shop.
'Utilizing dark grey with black can create a gorgeous and bold monochrome space. We added different patterns and textures in the shade range to help keep a room visually interesting,' says Lindye. 'We also accented the room with some additional pops of beige in the painting, pillows, and curtains to create more dimension against the dark background without detracting from the bold impact.'
3. Grey and white
You can pair a barely-there grey with a crisp white for a bright and airy space or contrast white with deep, moody charcoal. In this grey and white living room to touch of grey in the checkerboard flooring helps to add depth to almost all white space.
'Depending on your styling, the look can either be relaxed and dreamy or quite tailored, but it does always tend to strike a modern Scandi note,' says Sarah Spiteri, Editorial Director of Livingetc. 'The key is to vary the proportions of grey and white; a 50/50 split will feel quite cold. The texture is a vital additional ingredient - chunky weaves, rough timber, and marble all work well.' recommends.
As simple as this paring is though, not all white shades are going to work with any grey shade. The undertones need to work together, so warmer whites are likely to work best with warmer greys, and, cool-toned greys with purer whites.
Just be sure to test out your pairings in your home to ensure they work together in the lighting of your space.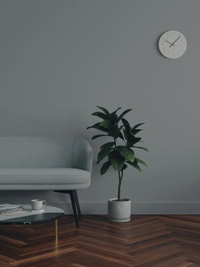 This grey has a lilac undertone and has just the right amount of moodiness and modernity to it.
4. Grey and pink
'Blush pink is the ideal shade for just slightly warming up grey tones without actually adding too much warmth to a space or being too saccharine,' says Sarah. 'A muted, dusky pink will make a room more inviting. For this effect, blush is the right choice as it is more subtle than other pink tones and less daring than red.'
'Soft, naturalistic greys look beautiful with a neutral pink.' says color expert Annie Sloan. 'I often use French Linen with Antoinette (my earthy-neutral pink), because French Linen is a complex grey that allows the pink to grow and breathe and warm up. It'll bring out the earthiness and the warmth of the pink.'
And this is why pink and grey living rooms are so soothing – the tones feel welcoming and restful.
5. Grey and earthy reds
A great color that goes with red is grey, and while it may sound a bit intense, it can work if you pick the right tones. For a bold look pair deep charcoal walls with a pop of vivid red in the form of a statement sofa or armchair. And if you want a more subtle look tone down that red and choose an earthy, terracotta tone and pair it with a lighter cloud-like grey.
'If I'm using a cool-toned grey I like to use pops of a hot color,' says Annie. 'It's a very effective way to make a room vastly more lively and rewarding to look at, and you only need small amounts of your accent color. I also love a blue-grey with terracotta as these colors contrast beautifully to give a delicious, juicy, contrast. In the past I've painted a wall in grey, then used terracotta tones to accentuate panels on the wall.'
'These spice-inspired colors are a big story at the moment and I love the way that they work with grey,' says Sarah. 'Use the hotter, brighter colors in moderation as more of an accent. This combination is also worth remembering if you have an exposed red brick wall inside.'
When pairing grey with any red tones, be sure that the grey you choose has a reddish undertone too.
6. Grey and sage greens
Sage green has been growing in popularity for months; you see more sage green kitchens and feature walls than you do navy blue nowadays. And it works so well with grey because they have those same calming, grounding, soft tones and in fact when paired with grey this muted green almost becomes neutral too. Perfect if you want to introduce the second color to a grey room but not lose the overall serene, neutral scheme.
Pair the palest of greys with a cool, light green for a contemporary combination that works particularly well in kitchens. Then ground all those light, airy colors by adding just a hint of black or dark wood.
'For a sophisticated and fresh color combination consider introducing a palette of soft pastels to a grey interior scheme.' suggests Jane Nicholson, co-founder of House of Dome. 'This doesn't have to be limited to just a few colors; the delicate nature of muted shades allows you to be a little more experimental. Choose soft furnishing in mixed tones of grey with warm pinks and sage greens.'
7. Grey and navy blue
If you are looking for a color that effortlessly works with any grey shade, navy blue is it. Pair it with a soft, light grey to warm up the space, or create some drama with deep almost black grey.
In this blue living room, a muted mustard yellow has been introduced, which perfectly tones down all the cooler tones going on in here. Accessories like rugs and prints, and accent furniture such as coffee tables are perfect for introducing a pop of extra color.
8. Grey and orange
A pop of vibrant orange is sure to bring freshness into an all-grey scheme. There are plenty of orange tones that the perfect to pair with grey, so you can go bold or as subtle as you like.
Burnt oranges paired with a mid-grey for example could be the perfect rustic bedroom color scheme whereas a charcoal grey and bright tangerine hue will be more modern and striking. Whatever look you go for, introduce a clean white into an orange and grey color palette to up that contrast and make the orange stand out.
9. Grey and more grey
When choosing color combinations for your home, if a monochromic color scheme is more your vibe, pair grey with grey. Perhaps that sounds a bit...dull but laying grey on grey can create just as interesting a space as pairing grey with any other color. The key is contrast, contrast, and texture.
You don't want your grey shades to be too close in color and you want to have some varying tones going on too as that will add interest. So pick greys from across the color spectrum, even if you want a room to be light grey overall, add in some middle-ground greys and some dark tones too.
'Whether you are striking a dramatic note or going for a lighter scheme, combining different tones of grey can work very well,' says Sarah. 'Pale shades will create a more relaxed look, while darker, richer hues will have an impact and can enhance the cocooning feel of a compact room.'
The risk with pairing grey with grey is that it can look a bit flat. Avoid this by adding plenty of textures and mixing in some natural materials too like rattan and wood. Accessorize with different materials and finishes too.
Sarah recommends to 'bring in brass or bronze alongside linen, velvet, or chunky knit. Another trick is to add in warm metallics and subtle shimmers on fabrics, cushions, or rugs to introduce a flattering luminosity to a space.'
Hebe is the Digital Editor of Livingetc; she has a background in lifestyle and interior journalism and a passion for renovating small spaces. You'll usually find her attempting DIY, whether it's spray painting her whole kitchen, don't try that at home, or ever changing the wallpaper in her hallway. Livingetc has been such a huge inspiration and has influenced Hebe's style since she moved into her first rental and finally had a small amount of control over the decor and now loves being able to help others make decisions when decorating their own homes. Last year she moved from renting to owning her first teeny tiny Edwardian flat in London with her whippet Willow (who yes she chose to match her interiors...) and is already on the lookout for her next project.
With contributions from