20 grey bedroom ideas from deep dramatic charcoals to calming light shades
Go dark and moody or bright and airy, these stylish grey bedroom ideas suit all styles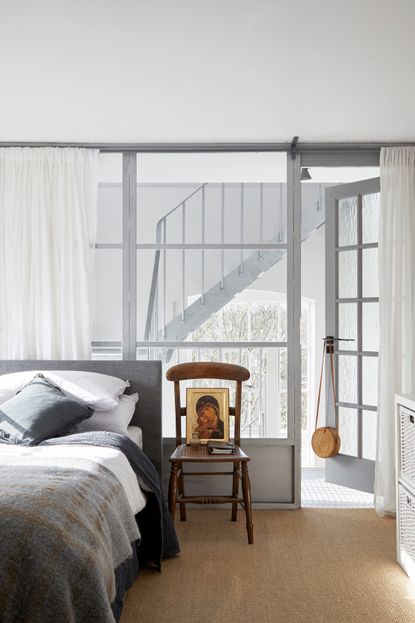 (Image credit: Anna Stathaki)
Wonderfully versatile, grey bedroom ideas can feel both cocooning and fresh at the same time. As a backdrop, it can be teamed or accented with bold brights. It also works well with complementary neutrals, such as black or white, and darker or paler tones on the same monochrome spectrum. And because of its chameleon nature it's one of those bedroom color ideas that can work with so many styles, from a light and airy Scandi, rustic vibe to a really dark and dramatic look.
'Grey is a pretty broad color group.' says Co-Founder of COAT Paints Rob Abrahams. 'In all areas of the home we're seeing people make the shift towards warmer shades of grey and greige. Even Taupe is making a resurgence. But particularly in bedrooms, this change in grey shade is quite impactful. Shifting from steely greys to more earthy tones can change a space dramatically. Greys with brown undertones bring warmth to a space, and natural feel that you don't get with a true mid-grey.'
'Pair warm greys with darker accents to create contrast for a trendy Japandi vibe - or with beige and neutral shades for a relaxed tonal scheme. The latter works particularly well in nurseries, creating a cozy and comforting space.'
Chic grey bedroom ideas for every style
In rustic and Scandi schemes, soft greys will feel calming and restful, while in more glamorous or opulent interiors grey can ground a scheme, add drama or provide a beautiful backdrop to make bold colours and textures stand out.
From pale greys and cooler blue-ish hues to smoky tones and moody slate, grey is the go-to neutral for the world's top interior designers and in the last decade has overtaken creams and beige as the fail-safe style option when it comes to modern bedroom ideas.
1. Get the right shade of grey for your bedroom
If you have ever gone through the frankly overwhelming process of finding the best grey paint, you will know that the options are almost endless. So where do you start when finding the perfect shade for your bedroom?
Firstly, always order swatches so you can see what the color looks like in your space with the lighting. Then there are just so simple rules you can follow that will cut down your options and make it easier to pick a shade. Start by choosing between warm or cool-toned greys. If you have a north-facing bedroom greys can often appear very steely and inviting so choose a grey that has warm, pink or yellow undertones. In a south-facing bedroom, you have a bit more freedom as most tones of grey will work in in these sun-filled spaces.
Then it's light v dark. As a general rule light greys work best in smaller spaces as they bounce light around making the room feel bigger. But the right dark grey can work too, giving a small bedroom a very cozy, cocooning feel, especially if you take the color onto the ceiling.
2. Layer light greys for a soft subtle look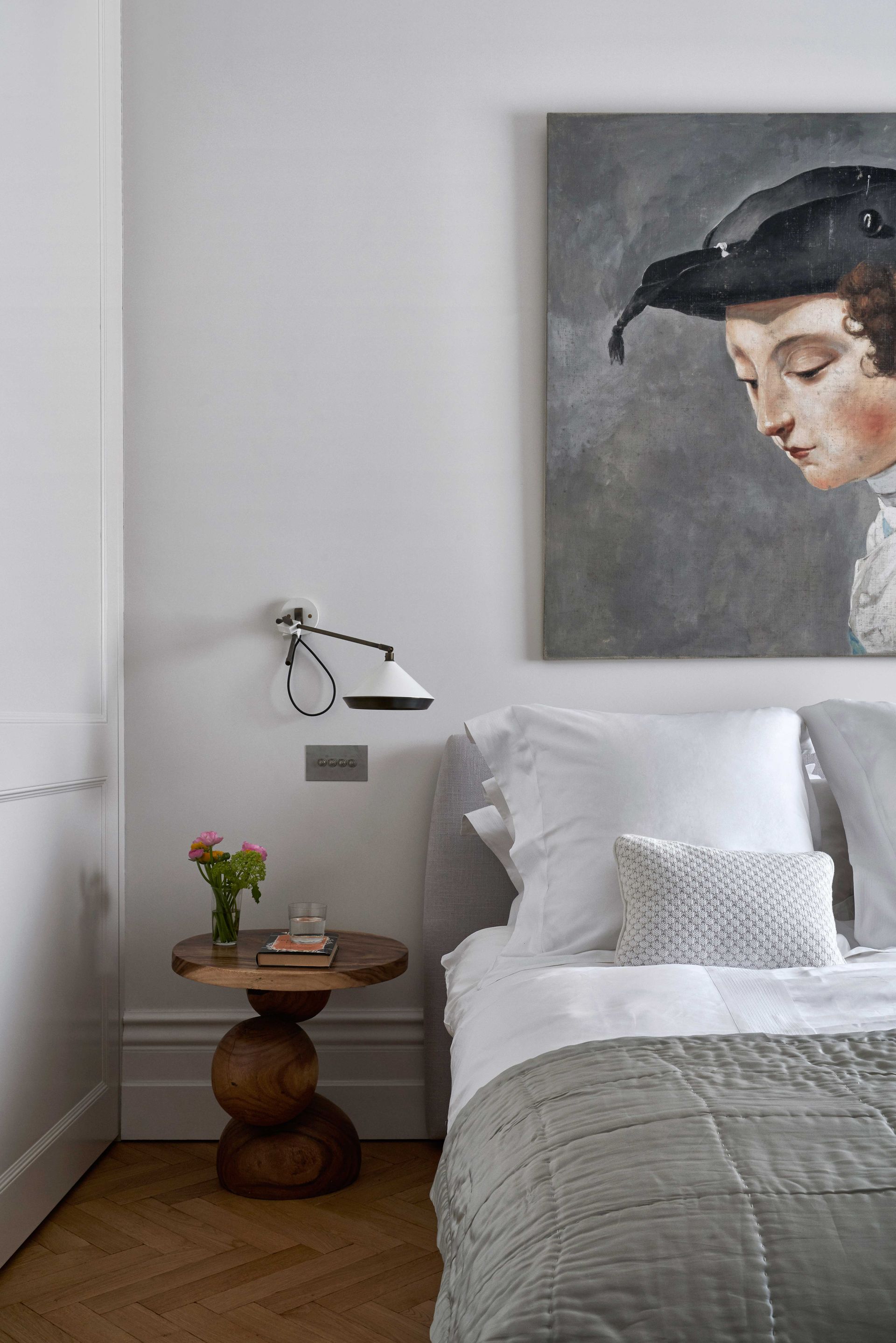 A monochrome, all-grey scheme can look lovely in a bedroom, the key is to layer up a few different shades to create interest and texture. This space feels lovely and light with barely-there grey walls. The upholstered headboard, large pillows, velvet throw and oversized all add a slightly different shade of grey so despite sticking to a very simple color scheme the doesn't feel flat.
Rose Murray, Founder of These White Walls, says, 'Grey is often regarded as a 'cold' color and therefore typically associated with kitchens, bathrooms and other spaces which have a utilitarian function. However, there are several shades of grey that actually have a warm undertone - where pinks and reds are used as the base tone it creates a beautiful warm grey, great for bedrooms.'
'When using grey it is important to be confident with it and avoid the temptation to bring in pops of color which create a distraction - if you've chosen to embrace the monochromatic look then just go for it and you will end up with something dramatic and elegant. Mix it up with different textures, fabrics and materials and this will add a layer of interest to the overall design.'
3. Create a soft look with beige-toned greys
In a north-facing bedroom that doesn't see a lot of natural light, you'll want to pick greys that have warmer, beige undertones. See how in this grey bedroom the wall color has a softness to it that's only enhanced by the slubby bedding in similar tones. Contrast all those warm neutral hues with a clean, crisp white that will give the room a freshness.
4. Soften grey tones with a natural fibre carpet
Wall to wall carpet may have had a slightly bad rep in recent years, but with everyone having spent a lot of time at home this past year, there's been a huge shift in interior trends towards making your home comfier and cozier. And carpets are on the rise. Now we aren't talking the return of the 70s shag carpet, but instead a very chic, simple natural fiber carpets made from jute and sisal. Just like our beloved hardwood floors, they still have that minimalistic, rustic, natural look they are just softer under foot and bring a softer texture into a room.
Bedroom carpet ideas, like the one above, are wonderful for bringing some comfort into a more cool-toned grey bedroom. And going wall-to-will with something like jute or sisal just adds so much texture to a bedroom, so even if the color palette is simple there's still plenty of depth and interest.
As Jane Rockett, Co-founder of Rockett St George says, 'Carpet hasn't always had the best reputation but it can look great when used in the right way. Not only is carpet a cozier alternative to wood but it is also a great way to introduce texture or pattern to your home. For a subtle look that pairs beautifully with all manner of décor styles, natural materials such as wool, jute and sisal are ideal - especially when chosen in on-trend color palettes. With earthy, organic tones continuing to dominate in 2022, warmer honey, sand and oatmeal shades are a perfect choice; promising to introduce texture and create a calm and inviting space where you can express your personal style.'
5. Choose a grey headboard as a focal point
Sometimes all it takes to introduce grey into a neutral bedroom scheme is a single piece, something large enough to be the focal point of the room and be the starting point for the room's color palette. A headboard always anchors a room and even the simplest of designs are statement enough to switch up a scheme. See how in this bedroom, there are lots of subtle grey tones going on, the carpet, the hints of grey in the throw, and the artwork but it's the sleek, upholstered headboard that brings the whole scheme together and brings out all those grey tones.
Take home tip: You don't just have to stick to one material with an upholstered headboard, bring in more tactile fabrics and introduce contrasting materials. In this grey bedroom, a simple grey slightly textured fabric frames the bed, and where the mattress ends and the side table begins this beautiful deep brown velvet comes in.
6. Fake a picture rail with grey paint
You see this a lot in more period properties, with color going up the picture rail and the white on the last quarter of the wall and the ceiling. It's a classic look that's great for adding height and elegance to a room but it's a nice way to add to lift the wall color. Going all over with grey, especially a cool-toned pale grey like the one used here can create quite a flat and uninviting space, but just by introducing that lighter shade the room has a lift, a freshness to balance out the cool.
No picture rail? No problem, fake the look as in this grey bedroom idea, by simply masking off the area you want to paint.
7. Distress walls in a grey bedroom
Leaving the upper half of the wall distressed and painting the lower half in a steely grey gives this grey bedroom a rough luxe look. You can easily create a distressed wall using just paint too – apply different neutral tones with damp sponges, large rough brushes and crumpled newspaper for a bare plaster look. Remember it's meant to look rough so don't worry about being too neat with it, just keep layering your paint until you get a look you are happy with.
8. Pair grey with warm tones
The best thing about this versatile hue is that you will find so many colors go that go with grey. One of our favorite pairings in orange and grey, it works with so many different styles depending on the shades you choose and oranges work so well to warm up those cool greys.
Soft oranges paired with a mid-grey, as you can see in this grey bedroom could be the perfect rustic bedroom color scheme. Whereas a charcoal grey and bright tangerine hue will be more modern and striking.
9. Or go cool with grey and navy blue
If you like a cooler, more contemporary feel, grey bedroom ideas that incorporate blues always create very chic spaces. But all those cool tones don't have to mean a bedroom feels cold or inviting, a deep blue lends itself so well to soft, tactile fabrics that will add that much-needed warmth. Case in point with this blue bedroom, the velvet chairs and curtains plus all the texture going on on the bed balance out the coolness.
10. Mix textures in a grey bedroom for a rustic feel
Grey bedroom ideas often lend themselves to very sleek, modern spaces but as this room proves, it's a scheme that also works in more rustic, country-style homes. Light grey painted floorboards, soft linen grey bedding and the galvanized metal tub being used as a side table all give this bedroom a lovely modern rustic charm.
11. Paint a bedroom ceiling grey
Not quite ready to give up your all white bedroom? Add just a touch of drama to your scheme by keeping walls a clean white and painting the ceiling a dark grey. So much chicer and more interesting than a feature wall.
'Don't just assume you should just paint the walls in a grey bedroom. Consider painting the fifth wall, the ceiling.' advises Emma Ward, Lead Stylist at COAT Paints. 'Taking color onto the ceiling can soften the hard outline of a room making it feel cozier. Alternatively, contrast the ceiling color choosing paler grey walls with a much darker tone for the ceiling drawing the eyes upwards and focussing them on height of the space.'
12. Be bold with a deep charcoal grey
Waiting for us to get into those really deep, dramatic grey bedroom ideas? Well, here you are. The dark grey is taken all over in this small bedroom design – walls, floors, doors, skirting, ceiling, the lot and it's actually the best way to go with darker colors in a small space because it can blur the edges of the room and actually make it appear larger. Just be sure to pick a grey with a soft, velvety finish and you could even create a very subtly distressed look to add extra interest.
13. Mix greys with gold for a luxurious look
There's a reason grey and gold are such a popular combination. They look so beautiful together, giving a really luxe feel to a bedroom, and bringing in those warm-toned metallics warms up even the coolest of greys too. The oversized ornate gold mirror looks beautiful leaning against the green-grey wall in this beautiful space.
14. Mimic a hotel vibe with slate grey walls and a four poster
You can often find greys of all tones in hotel bedrooms, it makes sense because it's such a chic and versatile color. So bring some of those hotel vibes into your space with a mid-toned grey on the walls, paired with some lush jewel tones on the bed like the blue and green used here. Take it even further with a striking, modern four-poster bed that really stands out against the grey backdrop.
15. Create an industrial feel with concrete
Sleek, industrial, and more often than not, grey concrete may be an unusual choice for the bedroom but I can look incredibly cool when in the right space. It works so well in this modern, light-filled room and is just slightly softened by the wooden headboard and textured white bedding.
16. Small bedroom? Embrace coziness with dark grey
Don't let the age old rule that light colors work best in a small room put you off going for a dark grey in a smaller bedroom. Embrace the small dimension and enhance the coziness by adding a dark grey feature wall. Keep the ceilings light in you want to avoid the space feeling too cramped and pair with warm wooden furniture and gold accents to create a really inviting cocooning space.
17. Go half way up with grey panelling
Wooden paneling, painting in a mid-toned blue-grey gives this bedroom a rustic feel and works as a lovely backdrop for the layers of grey bedding. By only going halfway up with the paneling, the ceiling feels higher, making the room feel more spacious and airy. The seagrass floor adds lovely texture and warmth that nicely contrasts the grey scheme.
18. Divide a room with a grey headboard
Zone a large bedroom and make a style statement with a grey freestanding headboard that doubles as a room divider. In this spacious loft bedroom, the sleep space is separated from a walk-in wardrobe by a simple, slate grey half wall that really adds some depth to the otherwise all-white space.
19. Go opulent in a grey bedroom
This glamorous grey bedroom is a lesson in creating an ornate, French-inspired space that doesn't go overboard. The layers of soft greys, plus the textures of the fur throw pillows and sheepskin rug, give the antique pieces a slightly modern edge.
20. Opt for a soft grey in a children's bedroom
Grey bedroom ideas work so well in kids' rooms as they are gender neutral and is a great color choice if you are after longevity. Take inspiration from this fabulous space with built in bunkbeds, painted in a mid grey to blend with the walls. The checkered grey bedding and built in shelving for books and toys give the room a child-like feel.
What colors go with a grey bedroom?
The best colors to pair with grey will depend on the grey you have chosen for your bedroom, but a huge benefit of decorating with grey is because it's so versatile there will be a grey to go with most other colors. However, there are some shades that will work better than others and there are some vague rules to follow too. Most of those rules come down to the undertones of the colors you are combining, think warm undertones, warm greys, cool undertones, cool greys.
The safest color to pair with any tone of grey is white. But of course, there are as many whites as there are greys, so just be sure to order swatches and see how your pairing looks together in situ.
If you are after a bolder look, colors that sit opposite the color wheel to grey tones, so pinks, oranges and yellows all work to warm up cooler tone greys and can really pop against a mid-toned grey background. For a cooler look opt for greens and blues.
How do you accessorize a grey bedroom?
Accessorizing a grey bedroom is actually really simple, because it's such a neutral shade you can make it work with any style. It looks lovely with both silver and gold accents and can be paired with any tone of wood too if you want to add texture. Deep green, leafy houseplants always look good against a grey wall and as we've said because it works with so many colors you can always use accessorize to add a few pops of a bolder shade.
The Livingetc newsletter is your shortcut to the now and the next in home design. Subscribe today to receive a stunning free 200-page book of the best homes from around the world.
Hebe is the Digital Editor of Livingetc; she has a background in lifestyle and interior journalism and a passion for renovating small spaces. You'll usually find her attempting DIY, whether it's spray painting her whole kitchen, don't try that at home, or ever changing the wallpaper in her hallway. Livingetc has been such a huge inspiration and has influenced Hebe's style since she moved into her first rental and finally had a small amount of control over the decor and now loves being able to help others make decisions when decorating their own homes. Last year she moved from renting to owning her first teeny tiny Edwardian flat in London with her whippet Willow (who yes she chose to match her interiors...) and is already on the lookout for her next project.