Grey bedroom ideas - 25 stylish grey bedroom spaces from stone to steel
25 Gorgeous grey bedroom ideas that prove this neutral is the most restful tone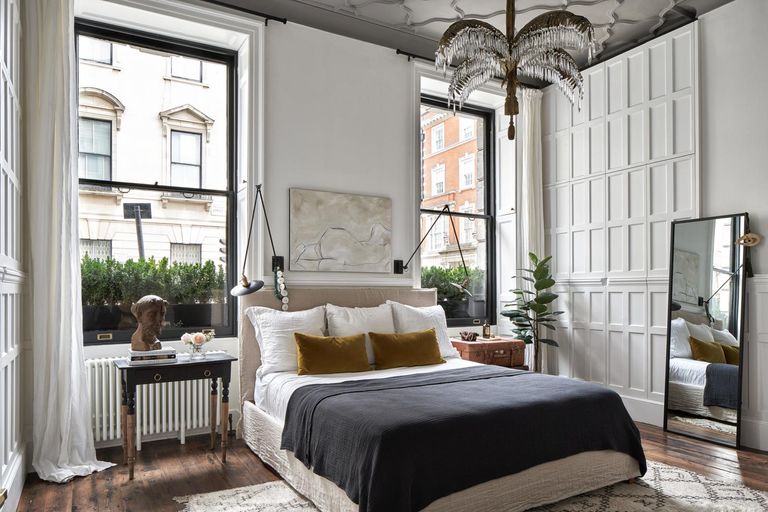 (Image credit: Future)
Looking for stylish and sophisticated grey bedroom ideas? 
Wonderfully versatile, grey can feel both cocooning and fresh at the same time. As a backdrop it can be teamed or accented with bold brights. It also works well with complementary neutrals, such as black or white, and darker or paler tones on the same monochrome spectrum.
In rustic and Scandi schemes, soft greys will feel calming and restful, while in more glamorous or opulent interiors grey can ground a scheme, add drama or provide a beautiful backdrop to make bold colours and textures stand out.
From pale greys and cooler blue-ish hues to smoky tones and moody slate, grey is the go-to neutral for the world's top interior designers and in the last decade has overtaken creams and beige as the fail-safe style option when it comes to modern bedroom ideas.
All of the best paint companies offer palettes of grey, which can veer from those with pink undertones – great for creating a feeling of warmth - to greys with yellow or green undertones, which will feel cooler. 
When looking for the best grey paint be aware of the base tones when teaming it with other colours too, as they will work best with the corresponding tones.
Sandwiched comfortably between the white, light and airy bedrooms and dramatic dark bedrooms, grey offers the best of both worlds. 
As you'll see in the examples ahead, get your grey right and just the addition of a bold cushion or two will complete your room scheme. If you prefer white walls, there are plenty of ways to introduce grey through beautiful upholstered beds, curtains, throws or painted floorboards. There are plenty of grey bedroom wallpaper ideas too. All of which will make you giddy for grey.
Read on and get inspired by these stylish grey bedroom ideas...
1. FLAMBOYANT FEATURES
The beautiful architectural features in this room means it can look wonderfully flamboyant with a monochrome scheme. The grey painted ceiling and window frames  enhance the room's beautiful bones, while the flamboyant lighting brings a tropical flavour.
2. ROUGH LUXE
Leaving the upper half of the wall distressed and painting the lower half in a steely grey gives this bedroom a rough luxe look.
3. DARK AND MOODY
Against this dark blue wall, the charcoal upholstery and soft grey bed linen create a moody yet mellow atmosphere.
4. BRASS ACCENTS
Pale grey can still look bright and cheery when teamed with brass accents and a potted palm.
5. NATURAL NOTES
Green base tones keep this grey wall looking fresh and modern.
6. COSY AND COMPACT
The low ceilings and combination of grey tones result in a cool and cosy cocoon.
7. THE RIGHT LINES
Want to keep things light? Go for an oatmeal backdrop and dress the bed with easy to swap grey bed linen.
8. DIVIDING LINES
A stylish grey room divider separates the sleeping area from a walk-in wardrobe space behind.
9. PERIOD-STYLE PANELLING
There's a modern rustic vibe to this bedrooms thanks to the mid-grey tones of the painted wooden panelling, door and architraves, combined with the golden hues of the seagrass flooring and edgy artwork.
10. FLOWER POWER
Vibrant artwork and a floral blind and cushions bring this pale grey scheme to life.
11. SIMPLE AND SERENE
Grey accessories bring warmth to this simple monochrome scheme.
12. WELL BALANCED
The blue tones of these dark steely walls are beautifully balanced by the vibrant yellow chair and rich timber flooring.
13. SOOTHING SHADES
Sea grass flooring, white-painted shutters and a smokey blue tone creates a suitably restful mood. 
14. BOLD ACCENTS
This bedroom features a masculine scheme, with black, brass and leather accents. 
15. BEAUTIFUL BACKDROP
The grey-green hued paint shade was chosen for the relaxed feel it gives as you walk in. 
16. FLORAL FEVER
The Edro bed has been covered in a bold floral fabric, which stands out beautifully against the pale grey backdrop. 
17. FRESH COAT
Interior designer, Mark Lewis, painted the bed grey to give it a more modern look. 
18. PALE AND INTERESTING
Here, linen bedding and a rough timber bedside table reflect a natural, rustic look. 
19. COOL CONCRETE
Raw concrete is contrasted by wood in this master bedroom. The wood bed was made bespoke and features an integrated wall spot from Vipp.
20. SMOKIN'
This smokey charcoal grey bedroom is a masterclass in how to achieve the boutique-hotel vibe at home, with velvet, warm timber tones and lush metallics. 
21. DARK MATTERS
The darkness of the bedroom helps highlight the view outside. 
22. ACCESSORISE ALL AREAS
Grey is introduced in this room through the upholstery, curtains, throw and cushions, which look great against the painted floorboards. The Ellen von Unwerth print in the master bedroom is of model Omahyra Mota, Jean Paul Gaultier's muse. 
23. FADE TO GREY
Beading was added to the walls for extra detailing that emphasises the room's proportions. Rich colours stand out against the pale walls. 
24. CONTRASTING TONES
This couple chose a soft, dark palette for the bedroom. The dark green wall pairs beautifully with the pale grey upholstered bed and zingy cushions.
25. BLUSH BOOST
Foggy greys are softened with tones of blush and brushed brass.