Bedroom colour ideas: 24 paint colours with impact
Here are 24 bedroom colour ideas with impact, from warm neutrals and serene shades to vibrant hues and bright bursts of block colour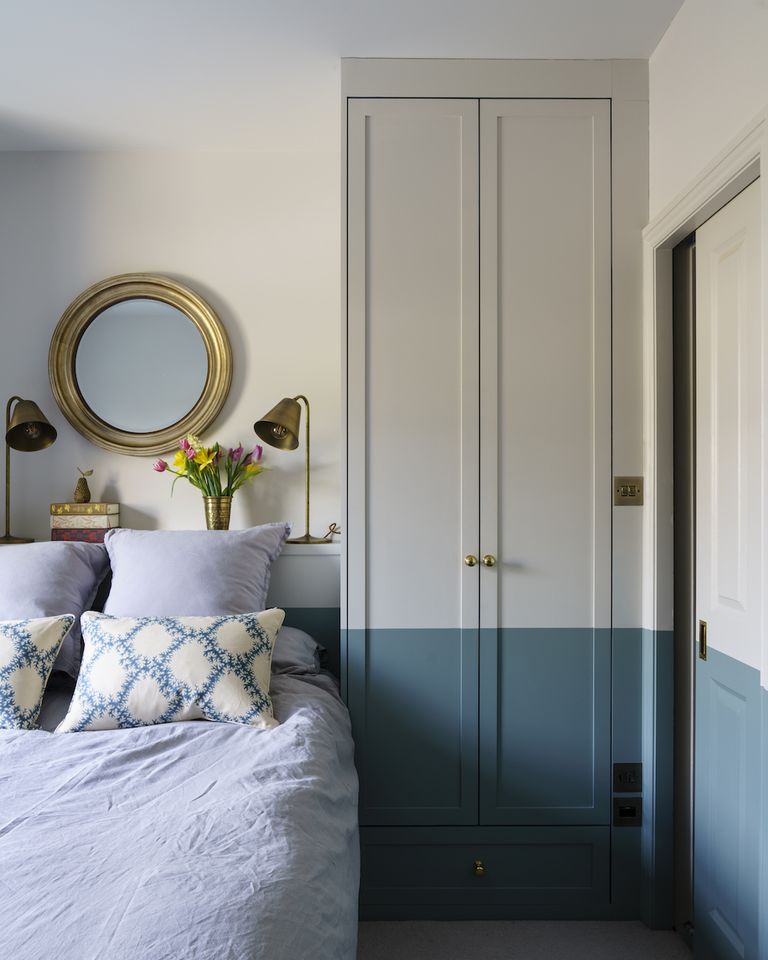 (Image credit: Image from Recipes for Decorating, Octopus Publishing.)
These stunning bedroom colour ideas range from subtle blush tones, soft pistachio and icy blues to zesty yellow, warm peaches and coral, and more dramatic hues like teal, charcoal and inky navy blues. Mid blues and greens – like sage – are a good in-between, for a bedroom that features both bold colour and a restful atmosphere.
Ultimately, the great thing about paint is that a lick of paint can completely transform the look and feel of a room. It's the quickest and easiest way to give a bedroom a completely fresh look. And if you're not sure about the end result, you can just paint over it! So although painting the bedroom walls can feel like a big commitment, this modern bedroom idea is actually less of a commitment than expensive bedroom furniture, window treatments or new bedroom flooring.
When it comes to choosing the right paint colour for your modern bedroom, it's important to think about the room's orientation; is it north facing or south facing? How much sunlight does it get? How will the bedroom paint colour look under both natural daylight and lamplight? Some lamps emit quite a yellow glow, which can affect the look of a colour – particularly cooler colour and stone shades. Think about the room's size too; do you want your bedroom to cosy or grand? Do you want to draw the eyes up to accentuate height, or create a more cocooning effect?
Create a sunny and uplifting scheme with a bright yellow, ideal for it's mood-boosting qualities. Creating a bedroom that's energising and mood-boosting can make it easier to get out of bed – particularly in cold, grey months. A soothing soft blue can feels like fresh air when you walk into the room. Soft blue hues are also very versatile, as the below schemes will show you. And while we often think of bright, light hues when trying to open up a smaller space, inkier tones are known to amplify smaller spaces and inject both cosiness and glamour.
Love a neutral? Neutral colours like creams or stoney greys and greige don't date, and can easily be accessorised with bold bedding and accent cushions, as well as funky artworks. Earthy tones are both neutral and warm, while pale greens like sage soften the mood and melt the walls away, reconnecting us with nature.
With so many bedroom paint colour ideas out there, it can be hard to decide on just one colour. Some homeowners are getting creative, using masking tape to incorporate more than one colour in their bedroom, and some are even taking to the ceiling to add a bold hue to draw the eyes up.
From warm neutrals and serene shades to vibrant hues and bright bursts of block colour, here are 25 bedroom colour ideas with impact...
1. Pink, Grey & Red
A combination of pink and grey with a shot of deep rouge in this master bedroom creates a fabulous scheme.
2. Lemon yellow
A zingy yellow wall fills this playful children's room with energy, while vintage pieces tone it down. The yellow colour has green undertones, giving a very fresh and zesty energy.
3. Rich Blue
We love this rich blue in a bedroom.
4. Soft Blush
Blush tones and grey pair perfectly. This master bedroom was given pink curtains and a pink silk lampshade to bring out the pink in the walls. Darker colours in the headboard and soft furnishings stop it feeling overly feminine.
5. Setting Plaster
The intimacy of this space in the fashion designer Alice Temperley's home was embraced by using delicate Setting Plaster on walls and woodwork to treat guests to a room that feels tender and soothing. The dramatic red curtains punch things up.
6. Peachy
Peach painted walls create a feminine, happy space in designer Alice Temperley's bedroom.
Watch a video tour of Alice Temperley's home
7. Grey Green
This green hued paint shade was chosen for the relaxed feel it gives as you walk in. Darker walls can have a calming and cocooning effect in a bedroom.
8. Light blue
A dusty blue wall sets a calm, fresh backdrop for this bedroom. A custom-made headboard gives it an English country vibe.
9. Soft Blue
This bedroom features the same dusty blue on the walls, but it's given a more contemporary look due to the tall canopy bed and more masculine furnishings. We love the painted panelling. The canopy bed anchors this room and adds a sense of grandeur. The headboard within the four poster helps soften the look of the bed frame.
See also: How to paint a room – everything you need to know
10. Custard Yellow
The rich yellow walls and gallery of framed artwork dominate this room. The yellow walls make this room cheerful, bold and energetic.
11. Caribbean Hues
This vibrant blue guest room design in Beata Heuman's West London townhouse is a colourful feast, with different shades of blue and a mustard throw.
See also: These were the most popular paint colours of 2020
12. Pistacchio Ice Cream
This light, bright colour is actually more energetic than it is calming, as it pops against the rustic floor boards and grey skirting. It creates a dramatic contrast, without being too dramatic in colour.
13. Sage Green
This green-grey sage colour creates a calm and earthy space.
14. Bubblegum
Bubblegum walls are given more depth and warmth with a terracotta shade on the ceiling, bouncing back a warm light.
15. Strip tease
Not sure about enveloping an entire room in one colour? We love this paint effect of wrapping a strip of colour around a room.
16. Use masking tape
Blush was the starting point for the geometric colour-blocking in this bedroom. Using paint effects with masking tape shows an innovative way to introduce a colour scheme, and can be a rather fun solution if you're struggling to decide on just one colour.
See also: The most popular Little Greene paint colours, according to the internet
This modern bedroom below takes things up a notch, using both the walls and headboard as a canvas.
17. Deep Blue
We love a deep, dark blue in a bedroom – it creates both a dramatic and cocooning effect. This particular shade is layered and elegant, and works well with the warm wood tones of antique furniture.
18. Squid Ink
Dive into the deep with an inky hue.
19. Charcoal
This charcoal shade is a satisfyingly saturated hue. Adding wall panelling before painting adds interest and texture, and just jazzes the whole space up.
20. Swamp green & burnt blush
This swampy green is what we imagine you'd get from mixing in a brown or orange pigment with a mossy green – it's very deep, grounded and earthy. The paint has been taken across the headboard too, to striking effect, but we like that it hasn't been taken all the way up to the ceiling. Pink pairs well with it, and pink bedding ties in with the blush hue on the wall.
21. Teal Appeal
This master bedroom is drenched in swathes of blue, with a teal wall and headboard, and a bespoke screen which was hand painted by Francois Mascarello. The effect is modern, especially when paired with greys and mustard.
22. Pastel Pink
Pastel pink gives this bedroom a girly-girl feel.
23. Sky Blue
With so much natural light flooding this fresh, sky-blue bedroom, it's the perfect spot to while away a Sunday morning.
24. Lavender
This darker blue has a heavier, calming and cocooning effect, and makes this room more den-like without being too dark.