20 bedroom color ideas – stylish schemes to inspire a colorful makeover
Whether you are neutrals lover or color-obsessed, these bedroom color ideas are sure to make you want to redecorate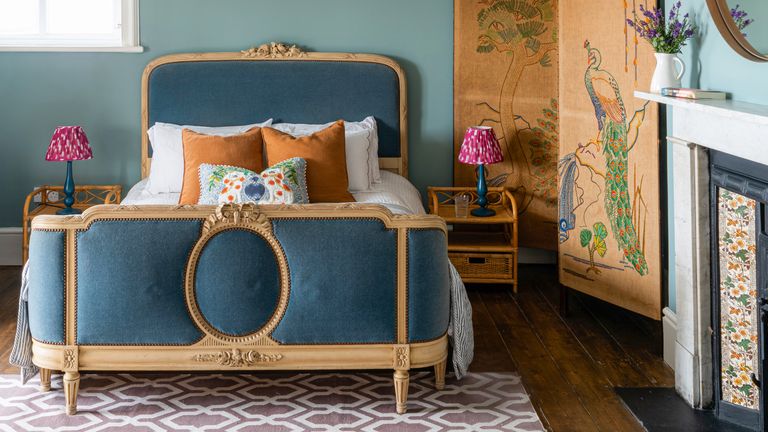 (Image credit: Future)
By Hebe Hatton
Bedroom color ideas can be the perfect, quick refresh. A new color scheme can totally change the look and feel of a room in just a few hours and there's an infinite amount of combinations to choose from, whether you are after a serene neutral sleep space or a cocooning dark color palette. 
But beyond thinking purely about the vibe you want your color to create, there are a few practical things you need to consider too. It's important to think about the room's orientation; is it north facing or south facing? How much sunlight does it get? How will the bedroom paint color look under both natural daylight and lamplight? Some lamps emit quite a yellow glow, which can affect the look of a color – particularly cooler shades. Think about the room's size too; do you want your bedroom to cozy or grand? Do you want to draw the eyes up to accentuate the height, or create a more cocooning effect? 
See, lots to think about beyond looks, but don't worry we cover all sizes, styles, and aspects of rooms so you are sure to find plenty of inspiring bedroom ideas and expert advice to help you make some decisions. 
Which is the best color for bedroom?
'Color can have a significant effect on our mood – greens, for example, are known to be very restful colors.' explains Dominic Myland, CEO of Mylands. 'Our general advice though is to go for colors that you are personally drawn to. It will be the last thing you see at night and the first thing you see in the morning, so choosing a great color that you love is important. Some people prefer a calm, tranquil bedroom and others prefer a more dramatic and intimate style. Don't ignore the woodwork – you can introduce visual interest and character to a room with simple treatments such as painting the woodwork a different color, or you can create a very immersive, cocooning environment by using one shade on everything – including the ceiling.'
1. Give red and pink a grown up twist
Red and pink are a contemporary, on-trend combo and inject just a touch of grey make this scheme feel slightly more sophisticated and grown-up. A combination of pink and grey with a shot of deep rouge in this master bedroom feels soft and inviting but with a fresh, modern edge. A nice twist on the classic pink and grey bedroom schemes we see so much of.
2. Tone down yellow
Yellow is such an uplifting color, bringing brightness to any size or aspect of room. It can work as a bedroom paint idea on all four walls, but for a more subtle look, opt for a feature wall or bring into those sunny yellow hues with a headboard.  The soft, muted yellow works so well in this space with the baby pinks and layers of blue – a fun color scheme that still feels soft and serene. 
3. Create a serene bedroom scheme with rich blues
Cocooning, with our being too dark or intense, a rich blue can be the perfect bedroom color. Don't be afraid to use it on all four walls, as this bedroom proves, you can really tone down the intensity by pairing it with crisp white woodwork. We love how in this blue bedroom the blue walls bleed into the matching headboard and bedding, creating a very stylish monochrome look. 
4. Go for the classic pink and grey combination
Blush tones and grey pair perfectly. This master bedroom was given pink curtains and a pink silk lampshade to bring out the pink in the walls. Darker colors in the headboard and soft furnishings stop it from feeling overly feminine. 
'Grey can feel very restful, perfect for a bedroom if used judiciously and the natural light is right for your shade of choice. It can also be surprisingly versatile and will happily layer with many colors such as inky blues, smoky greens and rose pinks.' says Patrick O' Donnell, Farrow & Ball Brand Ambassador.
'However, if you want to keep the palette more monochromatic, layer tones of grey like Ammonite with Mole's Breath together. Think browner-based greys for those more poorly lit spaces and lean towards the cooler bluer-based greys like Pavilion Gray for south-facing rooms which will not feel so cold.'
5. Make it rustic with plaster tones
The intimacy of this space in the fashion designer Alice Temperley's home was created by using delicate Setting Plaster by Farrow & Ball on walls and woodwork to treat guests to a room that feels tender and soothing. The dramatic red curtains both complement and contrast the barely-there pink.
'Pink is a great color for those poorly lit north-facing bedrooms.' advises Patrick O' Donnell. 'Try our discreet Setting Plaster for a truly flattering shade - a nuanced pink that's anything but sugary. It will layer beautifully with pretty florals and combine with so many shades from blues to greens and muted, stony browns.'
6. Be bolder with pretty peaches
Slightly more vibrant than a pale pink, a coral tinted peach creates a bedroom that feels both calming but playful too, especially when paired with the zing of bolder hues like the bright pinks that can be found in this bedroom. Peachy tones also work wonderfully with blues and greens too for a bolder combination. 
7. Choose a calming grey green
'Green is the 'go to' color for relaxation and calm and in most forms, due to its association with the natural world is a perfect choice for those of us wanting to truly switch off.' explains Patrick. 'Choose from the softest mid-tone greens such as French Gray to the darker shades of Green Smoke. They are timeless and elegant and will always be perennially popular. This shade can play to both a traditional look and a thoroughly modern aesthetic.'
There is something about green bedrooms, even in there more subtle form like this grey-toned green, that is instantly very soothing. With a grey-toned green, bring in more layers of green with your decor and accessories to really bring out those green undertones. 
8. Pick a barely there light blue
In its palest form, blue can act almost as a neutral, perfect if you want to inject just a subtle amount of color but still have a very versatile backdrop. There's also something very calming about a pale blue, making it the perfect bedroom paint idea, and despite it be quite a traditional, classic shade, when paired with bolder shades, like the red, pinks and greens in this bedroom, it can feel very fresh and contemporary. 
9. Create a bold backdrop 
The right yellow can have a very classic feel in a bedroom, but as Patrick advises, 'yellow is an energy color so choose wisely. Look for more muted yellows such as rich ochres or caramel shades. India Yellow nudges towards the ochre end and will radiate warmth when drenched in sunlight.' It's these deeper more muted yellows that tend to work best in a bedroom as they feel softer, you still get the vibrancy but it's not too overwhelming. 
10. Be on trend with sage Green
Sage green has been the green for years now, it's subtle, stylish, and perfect for color phobes who want to be just slightly more adventurous. It also has that very serene, calming effect that you would want in a bedroom. Pair it with layers of neutral tones – grey, beige, white, and even accents of black – for a fresh take on a neutral bedroom.
11. Go all over with pink
Bubblegum pink might sound a bit out there, but paired with the right hues it can create a warm and welcoming space that has zero girl's bedroom vibes. Combined with earthy tones like rusty oranges and dark yellow, the pink instantly feel more sophisticated. And why just stick with painting the walls? Take it up onto the ceiling too. 
12. Pair pink and green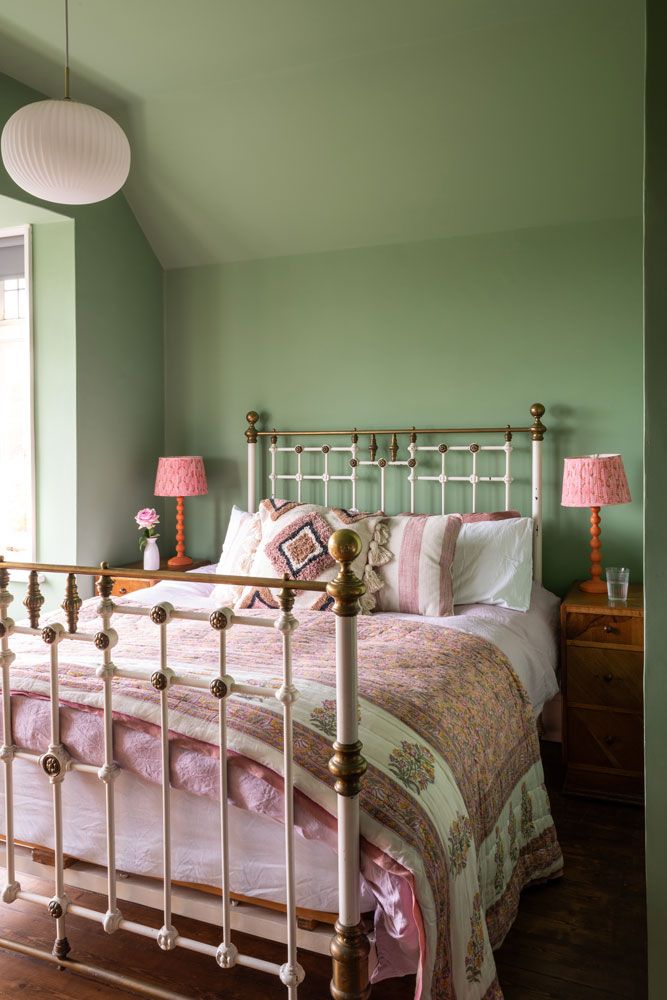 Helen Shaw, UK Director Benjamin Moore comments: 'Pinks and greens produce a really pleasing aesthetic and there are many ways in which to create interplay between the shades, however, my favorite is combining lighter ice-cream shades of these colors.' says  Helen Shaw, Director of Benjamin Moore. 
'I love this look in a bedroom as it feels soft and subtle whilst looking fresh and optimistic. It's a great look to wake up to, especially on a sunny summer morning. It can be used in so many ways from picking out all the woodwork in one or the other color through to creating a false horizon. I think it works really well with furniture especially freestanding or fitted wardrobes which can often come in natural wood or plain white finishes.'
13. Can's decide on a bedroom color? Go half and half
Not sure about enveloping an entire room in one color? We love this bedroom paint idea of wrapping a strip of color around a room. It also works wonders in small bedrooms or ones with lower ceilings to add the allusion of height. The combination of blue and grey in this bedroom is a classic one, and the touches of gold add the perfect amount of warm and luxury.  
14. Create paint effects quickly with masking tape
Blush was the starting point for the geometric color-blocking in this bedroom. Using paint effects with masking tape shows an innovative way to introduce a color scheme, and can be a rather fun solution if you're struggling to decide on just one color. 
15. Create a headboard with paint
Why invest in a statement headboard when you can paint one? This would be the perfect easy weekend project and could totally change the look of your room, giving it a new color scheme and a new focal point. Plan out your design first using a pencil and then get painting (remember if you go wrong you can always paint over it, so get creative!)
16. Dare to decorate with black
'Black bedrooms I hear you cry? Yes, they can be extraordinarily successful and a great foil for a bedroom filled with artwork.' says Patrick. 'Avoid pure black and look at slightly softer versions such as Off Black, a dark slate version with just the tiniest hint of blue through it. This would be a great solution for light-starved rooms as you are playing with the disadvantages of the conditions rather than fighting them.'
And see that dark bedrooms don't have to be super dramatic either, to tone down the black feature wall in this bedroom, it's paired with lots of lovely soft, neutral layers and crisp white bedding to give the room a lift. 
17. Pair earthy tones with baby pink
This unusual green shade is what we imagine you'd get from mixing in a brown or orange pigment with a mossy green – it's very deep, grounded and earthy. The paint has been taken across the headboard too, to striking effect, but it hasn't been taken all the way up to the ceiling, the baby pink breaks up the darker color and creates a really cohesive look with the matching bed linen.
18. Paint it teal 
This master bedroom is drenched in swathes of blue, with a teal wall and headboard, and a bespoke screen which was hand-painted by Francois Mascarello. The effect is really chic and modern, especially when paired with greys and then that pop of mustard for warmth. 
19. Combine pastel pink with black
Pastel pink has stood the test of time, and has been an on-trend hue for years now. However, it does risk look a but saccharine and reminiscent of a nursery, so to balance out the sweetness, bring in some darker colors. 
20. Keep it simple with monochrome bedroom colors
You can't go wrong with a black and white bedroom color scheme, and you can make it as dramatic or as subtle as you like. A 50/50 split that really shows the contrast is much bolder than a white bedroom with just a few accents of black as this bedroom shows. Soften the look even further with plenty of layers and tactile fabrics. 
What is the most relaxing color for a bedroom?
The most relaxing colors for a bedroom are ones that are too distracted, they don't overwhelm the room, they are the focal point, they just sit gently in the background adding a feeling of calm and serenity. Lighter hues tend to be the most calming – pale greens, lavenders, sky blues, and crisp whites are all going to give a very relaxing vibe to a bedroom.
'For a room that you can relax and unwind in, soft blues are a great idea and always popular.'  advises Dominic Myland. 'Blues give a fresh feel to a space and evoke feelings of calm. Often thought of as cool colors, blues bring restful calm to a space through the soft tones and depth of pigments. Each color can be used on its own or combined with any others within the palette for a harmonious and sophisticated interior. Light grey blues can be very soothing whilst acting as a quieter backdrop for other colors within your space.'
What colors make a bedroom look bigger?
It's design 101 that white will make a bedroom look bigger, and while yes, this is true, it's not the only color you can used to make a space appear larger. As Nina Tarnowski, Founder & Designer for Woodchip & Magnolia, says, 'Consider swapping out brighter summer colours and stark white walls for deeper and more earthy shades. A common misconception is that dark colors can make a room feel smaller, when in fact they can open up the space and infuse the room with warmth and personality. Layer with textures with throws and cushions, and complete the look with soft ambient lamps to really lend an inviting feel.'
Hebe is the Digital Editor of Livingetc; she has a background in lifestyle and interior journalism and a passion for renovating small spaces. You'll usually find her attempting DIY, whether it's spray painting her whole kitchen, don't try that at home, or ever changing the wallpaper in her hallway. Livingetc has been such a huge inspiration and has influenced Hebe's style since she moved into her first rental and finally had a small amount of control over the decor and now loves being able to help others make decisions when decorating their own homes. Last year she moved from renting to owning her first teeny tiny Edwardian flat in London with her whippet Willow (who yes she chose to match her interiors...) and is already on the lookout for her next project.