'Black is like punctuation in poetry' – 12 ways interior designers decorate with black accents for more elevated schemes
These 12 interior designer-approved ideas for decorating with black accents will help your scheme pack a punch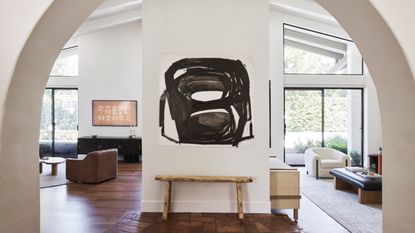 (Image credit: Madeline Tolle. Design by ae design. Styling by Jen MacBeth)
The Livingetc Newsletter
For style leaders and design lovers.
Thank you for signing up to LivingEtc. You will receive a verification email shortly.
There was a problem. Please refresh the page and try again.
Look at the most successful interior designers' schemes and black often makes an appearance. Decorating with black accents is a tried and true way to add depth and layers to a room, and yet so many of us still find it scary to deal with this darkest of colors – and as a result, tend to avoid it altogether.
Introduce black into your scheme, though, and you'll be delighted with the way it instantly lifts your space. Whether you're painting window frames, adding a black accent chair or simply introducing a piece of art – or a couple of cushions – to your room, even the smallest touches can make a huge difference.
Still not convinced? We spoke to interior designers to get their tips on decorating with black accents – and rounded up our favorite examples of this modern interior design staple to inspire you.
How to decorate with black accents
First, remember that black is important to include in most schemes as a point of contrast, so be confident when you're using it. 'I don't shy away from color: when a room starts to feel too whimsical, I ground the space with a solid black piece,' says Austin interior designer Annie Downing. 'Black is like punctuation in poetry – it's intentional and adds a little structure.'
'Every space needs a bit of black – whether that's through furniture, accessories, or otherwise,' agrees Lauren Sullivan, interior designer at Well x Design. 'Black has a grounding, balancing effect in interiors and helps define a space – and this is especially true when incorporated into a lighter color scheme. Even if used sparingly in artwork, black draws your eye in providing a moment of focus and visual relief within a space.'
Choose the shade of black wisely – too harsh and the accent will jar, too soft and it will get lost in a scheme. 'Just as there are a thousand different whites, there are just as many blacks,' explains Dan Mazzarini, creative director of BHDM Design and ARCHIVE by Dan Mazzarini. 'You can get a softer look with charcoal black. Also consider glazed vases and wooden frames with a matte finish which are a bit more subtle than glossy black. Think of black as a background or frame to hierarchically establish how you want people to see your space. Find your focal points, and then use black to highlight them.'
And if you're not convinced that black is right for you, you can always swap it out for another deeper color. 'Black accents can always be utilized to bring strength to a palette,' says Mikala Kuchera, lead designer at Charleston studio Margaret Donaldson Interiors. 'In certain spaces, sub in a deep charcoal gray, a rich mahogany brown, or sophisticated dark blue color to achieve the same end result of adding depth to the space.'
1. Make a feature of your window frames
Black is a key piece of the color palette puzzle in this living room scheme by BHDM Design – but the glossy black window frames are the bold paint idea that brings the room together. Painting window frames like this is a confident move, but in a room that already includes plenty of other darker elements, it can help make sense of the scheme and, in the case of this space, provide a central focal point that draws the eye.
2. Go dark on an accent wall
A black accent can extend to an entire wall for a dramatic look. To avoid a harsh effect, make sure there are other black accents to pull the wall into the scheme – be it through a patterned tile or a piece of artwork – and try integrating texture into the accent wall itself, either through textured paint or with panelling.
The wall in this bathroom is Cheating Heart by Benjamin Moore. 'We pulled the accent color from the geometric stone tiled floor to create a dramatic backdrop,' explains Virginia DesRoches of New England's Ironwood Studio Co. 'We further enhanced it by incorporating some architectural millwork.'
3. Balance black furniture to avoid overwhelm
There's no reason why you can't integrate larger black furniture pieces into your scheme, like New York studio Think Chic Interiors does successfully with curved cabinetry in this living room scheme. The key is to achieve balance with lighter touches elsewhere. The symmetry in this space also helps, with the pieces framing a window.
'Don't incorporate too many black furniture pieces to prevent making the space feel visually heavy and dark,' explains Melissa Fields of San Antonio, Texas practice Shades of Grey Design Studio. 'Make sure there is lots of natural light in the room to balance out the darkness and create some contrast.'
4. Or choose a single black accent piece
In this space by Boston interdisciplinary design firm Hacin, a single black chair under an artwork with black accents draws the eye to this corner and allows it to linger. 'Black accents can be overwhelming if used to excess,' says Matthew Woodward, interior designer at Hacin. 'We recommend first selecting a single key piece, such as an armchair or coffee table and then layering smaller black accents into other areas of the room so that the look is cohesive.'
One of the successes of this arrangement is the softness of the black chair, achieved because of the texture of the wood. 'We like to utilize natural materials to add warmth to black design elements,' adds Matthew. 'Pairing organic textures and forms with black is a great way to ensure that a space has a softer, more relaxed feeling. Textured stones, soft leathers and wood grain provide an additional visual interest that prevents a neutral color palette from feeling sterile.'
5. Bring in gentle black accents through accessories
The black accent in your scheme doesn't have to be through one piece: you can opt for a more subtle approach by adding smaller pieces throughout the space that help ground the palette. In this living room, black accessories help lift an otherwise light and neutral scheme.
'The pops of black provide contrast and interest to the tone-on-tone, neutral pallet of the space,' says KES Studio's Kara Smith, of this living room. 'Black is strong by nature, so like any strong color accent, carefully balancing the percentage used in a space is critical to a successful room. The custom "dip dyed" drapery panels were a great way to insert the black accent in a painterly, artistic way, while still keeping the overall drapery feeling light and fresh.'
6. And use accessories to draw non-negotiable elements into the scheme
Black accent accessories can also be useful for making elements that are unavoidably black – like a TV or steel-framed glazing – feel intentional and cool. 'Black is often an unavoidable color because you will often have a room with a TV in it – or even a fireplace – with black accents,' explains Susana Simonpietri, creative director of Chango & Co. 'In design, we pick it up from there because we don't want it to be the only piece of black in the room. We try to balance the color so that your eye travels from one accent to the next seamlessly. It should be about spreading it instead of letting it all be in one area or item.'
The way to do this is by choosing small, deliberate pieces. 'We're doing it through something like a small amount of thread weaved through a different color fabric, or adding a small side table with refined black metal legs,' adds Susana.
7. Use black as a way to frame interesting shapes
The clever use of slimline black framing help highlight the feature-worthy windows in this dining space by Los Angeles firm ae design – and a black-framed mirror adds another element to this shapely scheme. An angular light over the dining table continues the theme.
It's an approach that other designers are fans of, too. 'I love to use black accents to frame certain architectural elements in a space, such as the windows, doors, and stair, or to draw attention to design details,' says Mikala Kuchera. 'Bringing in a textured, forged iron metal into lighting or furniture creates a beautiful ground and contrast to layer lighter, brighter elements on top.'
8. Consider a well-placed piece of art
Perhaps one of the easiest ways to integrate black accents into your scheme is with artwork: you can switch it up if it's not right, and it adds punctuation to an otherwise plain wall. In this scheme by ae design, an abstract piece placed at the centre of an open-plan space acts as an introduction to the other black accents around the room.
'I like to add touches of black when I am styling a light or neutral room to highlight the textures in a space,' explains Eva Higby, designer and founder of AZ-based studio Higby Design. 'These are little exclamation points that direct your eye and point out the important elements; when strategically placed around a room they unify the neutral elements. I always add black and white abstract artwork in combination with small touches of black in styling accents. It serves as a palette cleanser [in eclectic rooms], adds structure and unifies the space.'
9. Add black accents in layers
At first glance, the textured wall – and the contrasting artwork – are the key players in this open-plan scheme by Dallas, Texas and Monterrey, México design studio Ten Plus Three. 'Black accents are so important to an interior scheme because they add the perfect amount of drama and depth,' says co-founder Gonzalo Bueno. 'My favorite way to use them is where I want to enhance furniture, art or accessories. Anything in front of black walls or tables just pops and looks like it belongs in a museum or gallery.'
Look closer, though, and you'll uncover more clever details that explain why this scheme has such depth. The black coffee tables placed in front of the white sofa, as well as the black underside of the artwork, add layers to the accent wall – as does the deep marble skirting, whose glossy texture brings even more interest to the space.
10. Use black tiles for a feature fireplace
Fireplaces are so often black, so why not make a feature of this by framing the focal point with glossy black tiles? In this living room scheme by ODS Architecture, the designers used a rectangular Fireclay brick tile in the color Absaroka to create a statement fireplace.
'The fireplace tile is capped by a black steel plate that wraps around to the adjacent wall, providing a ledge for displaying rotating art pieces so the client does not have to put holes in the walls,' says project architect Julia Arria. 'Throughout the house we used black accents to compliment the new Fleetwood windows, which have black aluminum frames.'
11. Add black accents to a hallway through subtle stair risers
We love a dramatic staircase idea, but a sweep of black steps can feel overwhelming, especially for smaller spaces. You can still highlight the architectural details of your stairs with black accents, however – be it a black stair runner or elegant black spindles.
For Californian interior designer Rebecca Rollins, the stair risers in this entryway provided the perfect contrast for a white scheme. 'This space was calling for a little something to break up all the white,' she says. 'I knew I didn't want the stair risers to be too overwhelming, which is how we decided on every other stair riser to be the tile. This tile was a no brainer the moment we saw it. It was the perfect mix of black and white and complements the design of the space so effortlessly.'
12. Bring black to a bathroom with luxe marble countertops
Black countertops are perhaps more popular in kitchens than they are bathrooms – but they can provide some much-needed contrast and texture to a room that so often feels a little, well, boring compared to the rest of a home.
In this scheme by Baltimore studio Folding Chair Design Co., black marble tops the ribbed wooden cabinetry – and complements the glossy black metro tiles in the shower, a sneak peek of which can be seen in the mirror. It's proof that you needn't shy away from using black accents in a small space – they can add a depth that enhances, rather than minimizes, the footprint of a room.
For style leaders and design lovers.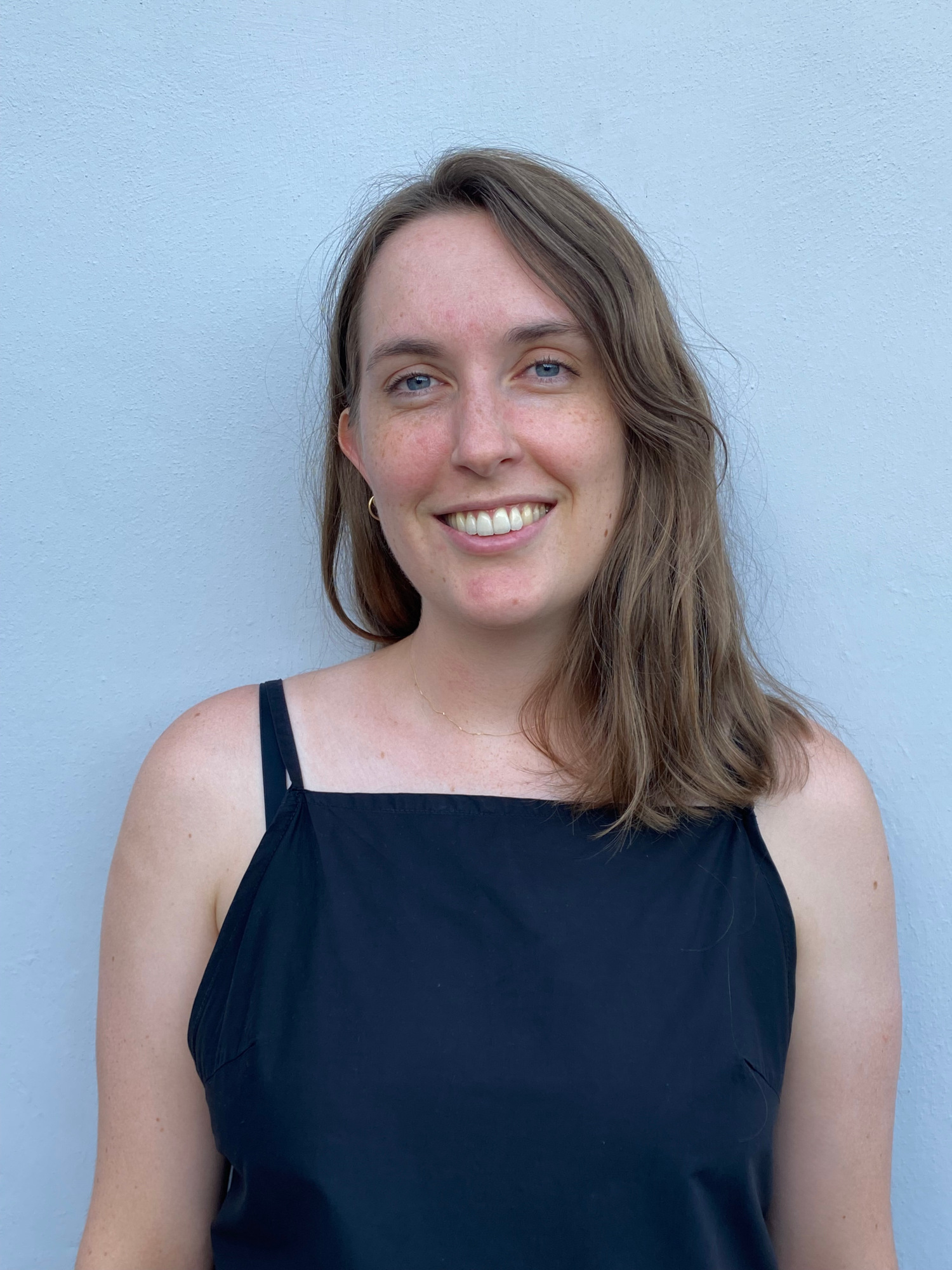 Ellen is deputy editor of Livingetc magazine. She cut her teeth working for sister publication Real Homes, starting as features editor before becoming deputy editor. There, she enjoyed taking a peek inside beautiful homes and discovered a love for design and architecture that eventually led her here. She has also written for other titles including Homes & Gardens and Gardeningetc. While she gets ready to buy a house of her own, she takes inspiration from the works of some of her favourite architects and tastemakers. She has a particular passion for green design and enjoys shopping small, local and second-hand where she can.