75 Modern staircase ideas: Transform your staircase into something extraordinary
These 75 striking, jaw-dropping staircase ideas illustrate how modern staircases are stepping up to be the home's central design statement, raising the bar one tread at a time...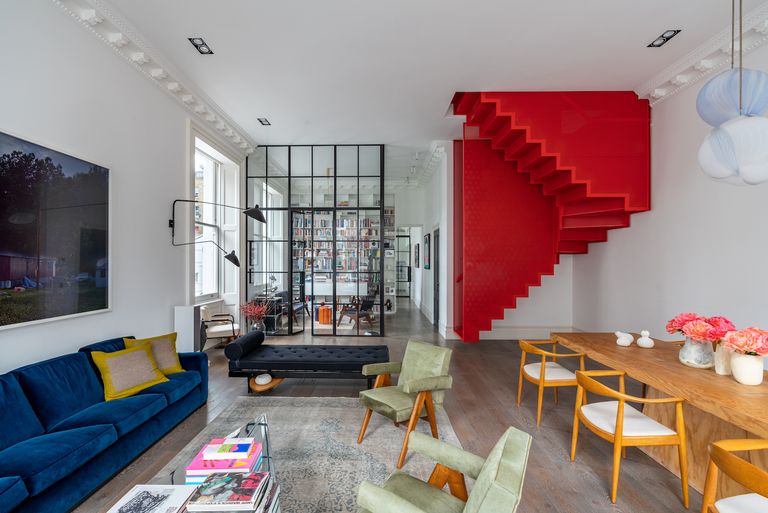 (Image credit: Gavriil Papadiotis)
These 75 striking – no, jaw-dropping – modern staircase ideas will make you see staircase design in a whole new light.
From punchy shapes and bold colours to sculptural spirals, built-in slides, recessed hand rails and statement lighting, prepare to completely re-think everything you thought you knew about staircase design.
We've found organic shapes in period homes, boxy shapes in industrial spaces, and even rustic designs in barn and farmhouse style properties. In other words, there's a staircase idea here to suit every type of style and property.
Got a dark place? A floating staircase design will draw in sunlight from higher floors and skylights through the use of open treads. Choosing blonde timber for the steps will further lighten and brighten a staircase.
Short on space? Take inspiration from the below space-saving staircase ideas, or incorporate some clever built-in storage within the treads. And last but not least, have a little fun and add a slide as a fun – and quick – way down.
Take stairs, stairways and staircases to a whole new level with these stunning staircase ideas.
1. Use your staircase to add colour and drama
In this striking Georgian home in Chelsea, architect Michaelis Boyd punctuated an open-plan area with a dramatic floating staircase structure.
The design was inspired by the floating red "Staircase-III" by Doh Ho Suh, exhibited at the Tate Modern.
Collaborating with Diapo and Webb Yates Engineers, Michaelis Boyd's team created this unique sculptural staircase, made from perforated red steel and floating above the living room floor. "With this staircase we wanted to create a statement piece that was both sculptural and functional," Alex Michaelis tells us.
The perforated metal plays with light and shadows.
2. Curved metal
The double-height staircase became an instant focal point in the Hackney home below. Its metal balustrade is created from curved sheet steel, with floating treads stopping it from appearing too heavy. There's a flush leather handrail, too.
3. Use paint to fake a stair runner
Only the edges of the staircase in this Bloomsbury townhouse were painted, leaving a raw strip of original stone in the middle, acting as a stair runner.
4. Accentuate ceiling height with low hanging pendants
This striking converted barn's dramatic triple height entrance is accentuated with the 'PostKrisi' pendant lights by Catellani & Smith. The lights drop down from the ceiling at different heights, playing with the scale of this open space.
The dramatic custom-made composition is suspended from the wood ceiling beams, dominating the entrance of the home.
The lighting feature is even visible from outside, through the tall, wide windows.
The lights have been created in different sizes and installed at different heights, adding a sense of movement.
5. Contrast the old with the new
Architect Anna Noguera contrasts rustic, natural stone with concrete, glass, and minimalist design in this rustic holiday home in Girona.
The design blends contemporary design with the old, historical building. In the words of the owner, the property has evolved without breaking with the past.
6. Use the treads to inject a pop of bright colour
In a converted school building in Forest Gate, a lemon-yellow staircase connects what were once two individual flats. The yellow shade refreshes and energises the space, and makes for a bright and cheerful apartment.
7. Use floating treads to let light into lower levels
The curved staircase in this artist's mews house curls up to the first floor bedrooms, and down to the basement studio.
Floating treads mean that light can come in via the skylight at the top of the stairs, and trickle all the way down to basement level.
Similarly, with no windows at the rear, this mews house needed creative solutions to filter in light. This floating staircase design draws in sunlight from higher floors and skylights through the use of open treads. The choice of blonde timber for the steps further lightens the space throughout.
8. Illuminate steps with recessed lights or spotlights
A sculptural and sweeping staircase takes centre stage in this ultra-modern Victorian terrace townhouse in west London.
The treads are illuminated with recessed lights that shine through slits in the curved walls.
The staircase design was inspired by a Barbara Hepworth sculpture called 'Pelagos'.
9. Create a recessed hand rail
The central staircase in this former London hospital was one of the most important features of architect Stuart Robertson's design.
Aside from it's sumptuous shape, it features other striking design tricks too – including a recessed hand rail.
10. Link levels in a spiral staircase with glass slides for a playful touch
The same helical staircase by architect Stuart Robertson also incorporates a glass slide between levels.
By using a large helical open staircase, light can flow from the large roof light above down into every nook below, allowing natural daylight into the basement.
11. Contrast a light palette and soft shapes with a metal bannister
A modern and minimalist metal banister adds crisp black lines and a modern contrast in this detached Edwardian home in Buckinghamshire.
The bottom of the stairs is smooth, white and twisted like a piece of sculpture, while the banister stretches up to merge with the upper banister, creating a taller barrier for safety while also letting in plenty of light.
12. Strengthen a floating staircase with a metal spine
A dramatic, floating staircase punctuates the main entrance of this chic, monochrome penthouse in Boston.
A glass banister follows the treads up to the upper landing, while cascading strings of lights hang down the stairwell, adding further drama.
Aside from giving the floating treads strength and support, the metal spine also creates a dramatic, skeletal-like shape.
13. Design treads to punctuate through a glass banister for dramatic effect
Designed by Antonio Tadrissi with PD Lab, this designer's home is brimming with modern design ideas, modern art and design classics.
But our favourite aspect is the striking staircase, where wood treads punctuate through a glass banister.
The striking home belongs to the man behind Toy Room and NYC's iconic Harry's restaurant.
Similarly, a wooden staircase punctuates through the glass banister in this Islington townhouse.
14. Use a suspended staircase to play with atrium style spaces
The layout of this Grade II listed wine warehouse is centred around a birch plywood clad suspended staircase in the triple height void.
The dramatic design can be viewed from above, below, and even from across the mezzanine floors.
15. Consider a netted banister for a playful or sporty look
A netted banister creates a sporty and playful look in this Islington townhouse.
This particular staircase leads up to a mezzanine level where the netted banister wraps around to create an enclosed playroom space.
The first floor was transformed into a maritime playground with curved steel walls lined with fishnets to create an open plan, secret and playful space.
16. Connect two levels across a deeper surface area to spread steps out
In this period house in Hackney, architects from Scenario Architecture created curved treads to connect the downstairs kitchen with the upstairs living area. By spreading the treads over a wider floor area, they were able to create a smoother flow between the spaces.
Variations in level help to create definition, while built-in furnishings and storage add interest and balance the open plan.
See more clever under stair storage ideas
17. Don't forget the ceiling
The original staircase in this period home in Hackney (same as featured above) was preserved, leading up to the bedrooms. To make the staircase modern, the ceiling was given a smooth curve.
Meanwhile in this reconfigured flat in Hampstead, the architects turned a design problem into a creative feature.
The key to unlocking the potential of this property was installing a staircase which worked with the building. The first section of the staircase rises to a lower landing, turning right underneath the chimney stack and left into a new staircase rising to the upper floor. This clever reduction in the landing height allowed for space to walk under the chimney and created a beautiful feature that is the talking point with all guests.
18. Add zest with a block colour staircase
The living room in this colourful San Fransisco home is punctuated with a vibrant yellow spiral staircase. It adds drama, colour, and sets the tone for the rest of the design and colour palette.
19. Or mix and match contrasting shades for a more unexpected look
You wouldn't usually consider the staircase as a way of injecting a pop of colour, but as this candy coloured home in Islington proves, it can be a very fun and effective way of introducing a contrast colour.
Canary yellow, bubblegum pink and navy blue sit unexpectedly but harmoniously together.
20. Opt for a honeycomb steel balustrade to achieve a utilitarian, industrial look
Balustrades and banisters can go a long way in giving a certain 'look' to your stairs, like the cool vibe of this honeycomb steel.
21. Let in light with a slatted banister
The start of this modern staircase features floor-to-ceiling wood slats which open the space up, and let through light while still separating it from the rest of the downstairs entrance.
22. Hug the staircase with a curved wall to separate it from living areas
We love the curved half wall that hugs the bottom of the staircase in this Bloomsbury townhouse.
23. Use smooth plaster and a slim frame to inject modern Scandi vibes
By using slender balusters that gently bend at the beginning of the stairs, this modern staircase design sings with elegance and offers a lightness further complemented by the natural wood banister. Using a deep first step is another clever touch, as it has the effect of leading upwards, creating a seamless sense of movement and flow.
24. Make an entrance with a suspended design
When a staircase forms part of a living space, an architectural design acts as a focal point rather than just a practical object. The staircase below is open and is seemingly suspended.
The use of thin balustrades and the addition of white underfoot add a forgiving sense of lightness to the large structure.
25. Highlight the twist of the inner banister
This design uses a sweeping staircase to create a feature, and uses the gentle curve of the base of the steps above to add a feeling of continuous space. An integrated banister in sleek wood enhances the curves.
26. Create a feature wall that stretches up to the top
A double-height pine wall lines the staircase and links the two floors in this minimalist Amsterdam home.
It mirrors the material used to create the staircase.
27. Incorporate storage in the treads in compact homes
Alternate-tread stairs that double as a bookshelf lead up to a mezzanine.
28. Incorporate a slide down the length of the staircase
The architect-owners of this property installed a slide on the inside of the staircase, offering a fun – and quick – way down. Psst! This architect's house is for rent...
29. Incorporate fitted storage
This original iron staircase used to be part of a former newspaper printing house. It leads up to the roof terrace, and has been outfitted with custom walnut storage by RJ Millworkers that conceals a TV and toys.
30. Or use staircase walls as a home library
In photographer Paul Craig's Victorian villa, function and form combine to transform the staircase into a striking centrepiece. "Think gentleman's club," says Paul. "This is designed as a comfortable spot to read a book." The home library shelves were imagined by Paul and made by Andwoodcraft, then painted in Little Greene's Lamp Black eggshell. The chair is Matthew Hilton's Balzac armchair, covered in Zoffany Quartz velvet in Berry. The light is the Estado pendant by Miguel Mila for Santa & Cole.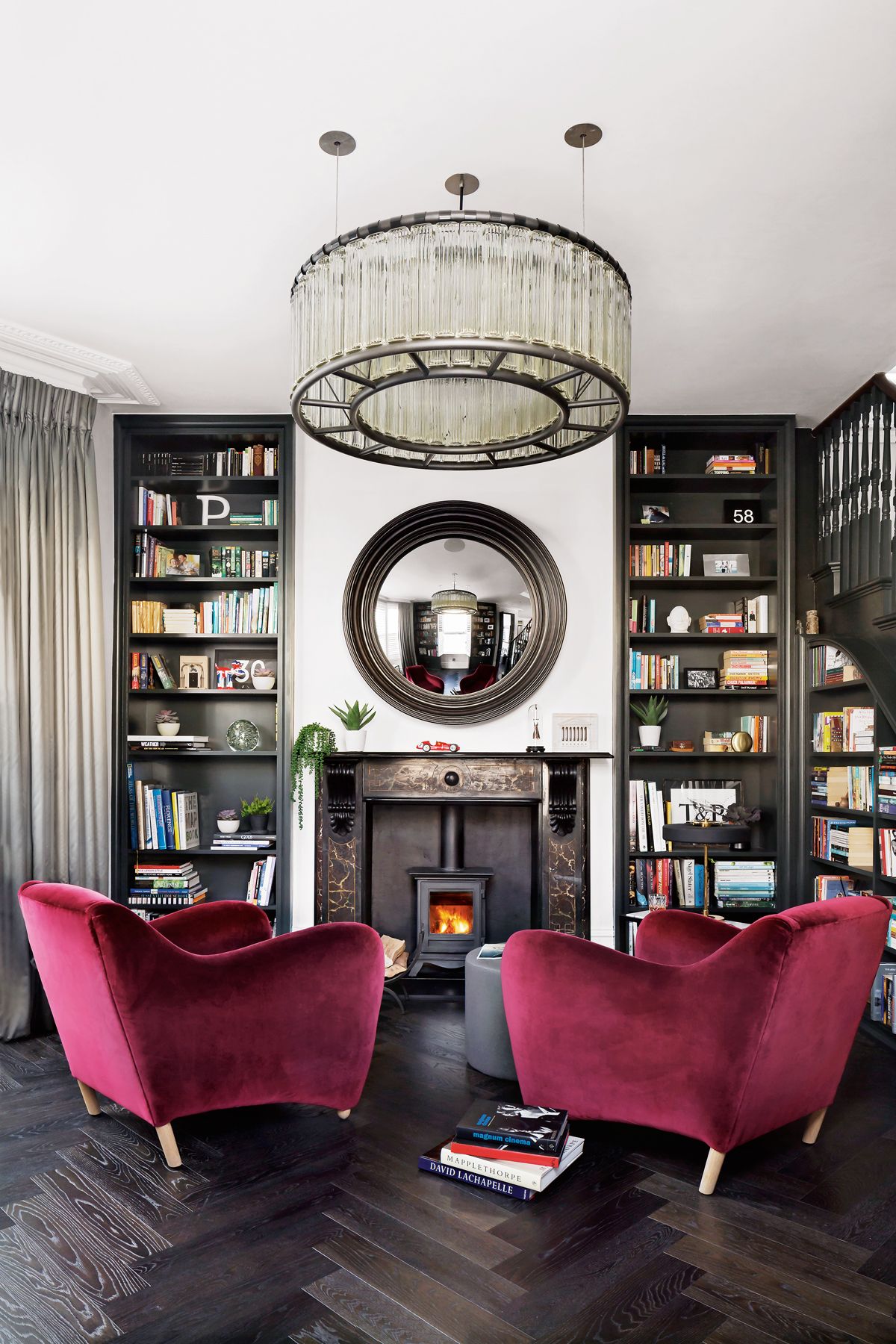 31. Use all-over, floor-to-ceiling materials for a 'zen' look
The concrete walls and floors of this cottage conversion near Cheltenham in the Cotswolds create a calming effect, blocking out distractions and focussing the mind.
Whether you use all-over concrete like this, all-over plaster, or even all-over clay, the result will be a soothing space.
32. Invest in a modern, space-saving and sculptural spiral staircase
This clever space-saving staircase by Bisca is unobtrusive, takes up a minimal amount of room, yet still looks great. We love the integrated lighting.
33. Install a super-skinny banister for a contemporary look
A super skinny metal banister creates a highly contemporary look in this modern home...
34. Add colour with a bright stair runner
For a simple and achievable staircase decorating idea with impact, introduce a bright stair runner into a pared-back, classic space. This hit of colour will give the room an instant lift. Roger Oates, Crucial Trading and Alternative Flooring are our go-to sources for design-first solutions.
35. Bounce light in a tight stairwell with a mirrored wall
These stairs span four floors and are lit by a chandelier of multiple opaque globes. One entire wall, from the bottom to the top of the house, is clad in striking mirrored tiles.
36. Clad a suspended staircase in aluminium panelling for a clean look
A modern staircase that's clad in extruded aluminium panelling cuts through this double height converted power plant in Copenhagen, while bedrooms at mezzanine level feature floor to ceiling glass walls, offering views into the cavernous space below.
37. Dangle modern pendant lighting down the centre stairwell
A multi-tiered light that transcends all three floors adds drama to this stunning Connecticut home, while the simple design and monochrome scheme has a sophisticated, elegant effect.
38. Use leather-clad treads to add an element of surprise
This steel staircase is coated in a wax finish with a leather carpet glued centrally on the treads and the landing. Explore more of this converted sorting office...
39. Achieve a rustic effect with exposed timber treads
This 17th-century former mill in Gloucestershire throws out the design rulebook and is a masterpiece in contemporary meets classic design. Interior designer Nia Morris worked with architect Richard Parr to create the dramatic entrance. The sleek balustrade works beautifully with the exposed timber treads.
40. Save space with a super skinny one-piece
This staircase was created in three sections off-site, made from mild steel which has had an acid wash and then oiled, then welded together on site and bolted on to a steel plate inserted into the wall opposite the front door. Not only is the slimline staircase space-saving but its burnished bronze colour makes the living room look more enticing and its zigzagging steps pleasingly echo the parquet floor's chevron pattern. The skinny house in Brixton is up for sale...
41. Give a subtle nod to famous designs
This staircase was conceived as a sculpture to be looked at and a stage to be seen on. The overall appearance alludes to the fantastical in infinity Penrose stairs made famous by the lithographs of Escher. Beata Heuman has added to the effect with simple 'Pernell' pendant lights from Arteriors that mimic the balustrades without competing with its visual impact.
42. Or honour famous artists with a copy-cat look
Inspired by David Hockney, interiors stylist Hannah Franklin painted large blocks of colour on the wall of this loft-style contemporary home. These chalky sorbet hues are Pink Perfection, Twice Shy, Spring Gentian, Ultramarine and Cheerio, all Valspar at B&Q. The Stay Swivel armchair, Gubi, is available from The Conran Shop.
43. Dare to go bold with gothic design
This moody space is owned by Matt Goss who runs Pure White Lines, an emporium of industrial-style vintage homewares and furniture in London. He has combined a dark wall colour with an imposing Murano glass sputnik pendant. The walls are painted in Downpipe estate emulsion by Farrow & Ball.
Explore more of his gothic home...
44. Hide a private space with a secret staircase
Double doors open to reveal a secret staircase in this country home in Petworth, West Sussex. It's a clever way to keep master suites or adult spaces private and separate from the rest of the home.
Similarly, a secret staircase inside the master bedroom suite of this historic Notting Hill townhouse leads up to a private home office and a rooftop garden.
45. Use plywood for a raw and modern look
The modern plywood staircase in this Victorian terrace by architect David Money sits on a backdrop of exposed reclaimed brick, which brings warmth and texture into the home.
The clever birch ply stairway conceals a laundry area, bike store and entrance to the cellar behind its panelling.
Add on the glass roof, and you've got a pretty spectacular space. The bike on the wall? A practical solution that also looks good. "I did choose the best-looking bike," says David.
46. Go for sweeping grandeur
This sweeping staircase is in a five-storey townhouse in Antwerp, Belgium. Bare footboards are a clever foil to the decorative balustrade, ensuring the overall scheme remains elegant and contemporary. Source a similar bespoke creation from Arc Fabrications.
47. Honour warehouse properties with something more utilitarian
Showcasing an industrial-style space, Florence and James Kennedy's converted dairy in Clapton has been converted into an impressive and open family home. A raw, industrial-style spiral staircase links the two floors.
Warehouses can feel cold but here atmosphere comes from a wood burner, mid-century furniture and an abundance of indoor plants.
48. Give modern architecture satisfyingly smooth curves
A delicate ribbon of polished plaster, this smooth staircase ties this ultra-modern Victorian terrace townhouse together.
Internal partitions were removed to create a free flowing space. The open plan allows for dual aspect at every level, drawing in light and creating a bright yet tranquil interior.
49. Change direction
This staircase to the lower floors changes direction. Rather than following the pattern of the stairs on the upper floors, it travels towards the contemporary extension at the back.
50. Even small spaces can feature striking curves
Designer Harriet Paterson's eco house in Camberwell features a staircase by former owner, architect John Eger. The property is very narrow, making this curvaceous oak design a space-conscious solution. It replaced a lift.
51. Go for wall-to-wall colour
This contemporary new-build home on the outskirts of Stockholm is all about double-height ceilings, dazzling artwork and sleek details. "Every great house needs a great staircase," owner Matt enthuses. "It was too expensive to carpet and another wood would have competed with the plywood window frames." This wide design takes the eye straight from the front door up towards the window and right out into the forest canopy. For a similar paint shade, see Little Greene's Tivoli intelligent eggshell.
53. Use reclaimed materials for a rustic look
Seeing is believing when it comes to this floating timber staircase. These treads have been hollowed out and fitted on to a massive steel frame hidden in the wall and roof that helps support the entire building.
54. Contrast metal with organic materials for an eye-catching look
This custom black sculptural steel staircase was created by Studio David Thulstrup. The black staircase stands light yet stringent in a contrast to the adjacent wood-cladded wall. The wood cladded wall draws the viewers' attention upwards, where the light influx from the second floor creates a play of light and shadows on the semi-cylindrical wood cladding, offering warmth and texture that contrasts the raw concrete flooring.
Explore more of this modern beach villa in Copenhagen...
55. A double helix staircase will give instant grandeur
Double staircases connect each of the floors in this Georgian country mansion.
The stairwell atrium floods the marble floors with natural light.
56. A compact helix design will give small spaces a modernist look
Removing the wall in this space was a deliberate ploy to draw attention to the spiral staircase, which swirls like a piece of Modernist sculpture to the bedrooms upstairs.
57. A ribbon of wood adds a sculptural element to this curved staircase
This striking, sculptural staircase was designed by Peter Mikic.
58. A translucent staircase will draw the eye further into the property
A translucent staircase makes for a bright, light entrance in this penthouse apartment.
59. Add funky wall lighting for instant cool-factor
A neon light-up bird and Tom Dixon pendants add further coolness to the striking staircase in this late Victorian terrace in north London.
The stairs have a subtle ombre effect; light grey to to match the pale grey flooring at the bottom, getting gradually darker to match the dark grey floor on the mezzanine.
60. Add disco balls for a shot of glamour
Disco balls on the stairs are a fun touch in fashion designer Alice Temperley's country home, and help bounce light around. Unusual artwork, such as the African heart sailcloth painting, draw the eye further into the home.
61. Add a statement wallpaper
All eyes fall on Harlequin's bold, geometric Sumi wallpaper in this striking stairway.
62. Update a traditional staircase with gloss paint
Period-look panelling adds elegance to the already grand staircase. That definitive Farrow & Ball palette of cool neutrals, such as Cornforth White and Purbeck Stone, complements the inky navy of Railings used on the staircase.
63. Paint the walls ombre / two-tone to signal the change in levels
Ombre walls chase the stairs up to the landing.
64. Inject a shot of colour with a red stair runner
A red stair runner injects a pop of vibrancy to the neutral scheme. See our gallery of stair runner ideas for more stair runner inspiration.
Similarly, a gloss white banister and vibrant red runner brighten up this dark and moody space.
65. Cheer up a stairwell with buttery blue walls
Soft blues make for a stylish and calm interior, and tone down the modern staircase.
66. Decorate the staircase top-to-bottom with a gallery wall
A gallery wall adds instant interest to this eclectic family home in Massachusetts.
67. Use black accents to frame a vignette
Dark banisters offer a dramatic line that zigzags through the house. The stairs are framed by these tall and wide steel doors that help open up the ground-floor space, flooding it with light.
68. Paint below the dado
Walls are kept simple, but a cleverly painted dark strip below the dado helps carry colour from the ground floor up.
69. Take inspiration from nature
The perfect helix of a seashell was the inspiration for this staircase, which rises towards a circular light well. Explore more of this contemporary beach home in Cornwall
This spiral staircase, as white and curved as a bleached seashell, flows down from a galleried home library to an open-plan living room that's 100 per cent contemporary.
70. For basement staircases, stick to glass and light, open designs
Basement access is often from the front, so you usually have stairs under stairs. In order to help make the basement feel part of the house, the stairs are in the middle of the ground floor and sit on dainty legs with glass balustrades. This was crucial in order to bring in lots of light.
71. Give old bones a modern lift
This Georgian home in Edinburgh gives its traditional stone staircase a modern lift through artwork and a bright yellow cabinet.
72. For Mid-Century homes, keep within the period
Enhance a Mad Men-style staircase with witty references to the past with vintage furniture, art and ceramics. Original to the house, they're made from oak and contrast against the blue stone patchwork floor.
73. Use glass banisters to create a light, airy scheme
Suspended glass-sided staircase are ideal for adding a modern twist to period properties. Here, the slender gaps in the wood risers let slivers of sunlight shine through, creating a feeling of lightness and space.
74. Small space solution
Spiral staircases are ideal for compact homes – and also a great place to add colour. Even the undersides of these staircase treads get a vibrant splash of turquoise to match inset shelving nooks.
75. Add a modern sculpture
Clean and classic wooden stairs are offset by a modern sculpture. The wire sofa is a show stopper.
Lotte is the Digital Editor for Livingetc, and has been with the website since its launch. She has a background in online journalism and writing for SEO, with previous editor roles at Good Living, Good Housekeeping, Country & Townhouse, and BBC Good Food among others, as well as her own successful interiors blog. When she's not busy writing or tracking analytics, she's doing up houses, two of which have features in interior design magazines. She's just finished doing up her house in Wimbledon, and is eyeing up Bath for her next project.