Staircase carpet ideas – standout stylish ways to give your stairs a new look
These staircase carpet ideas will create a striking first impression, taking your entranceway to the next level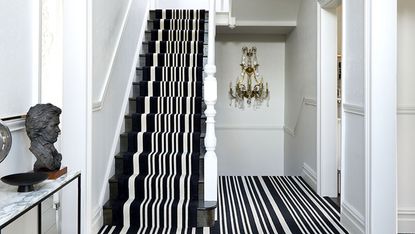 (Image credit: The Floor Room)
Whether you're after colour, pattern, texture – or all three – well-considered staircase carpet ideas can transform humdrum staircases and dull entranceways and set the tone for the rest of your home.
'Your staircase can make a huge style statement, it is central to most homes but is often overlooked,' says Andy Guard, Creative Director, Roger Oates Design. 'As a transient area, the hallway is a great place to be more adventurous. Colourful flooring adds instant impact, creating a warm and inviting first impression and carrying colour right up through the heart of the home.'
While neutral hallway ideas were once seen as the safest bet, bright and bold carpet designs are becoming ever-more popular. From multi stripes and geometrics to spots and animal prints, an eye-catching pattern will add instant impact in a plain hallway and create continuity between upstairs and downstairs spaces.
Stair carpet ideas
1. Lead the way with stripes
Go for attention-grabbing stripes to bring a flash of colour to a dark hallway. Using bold designs and bright colours helps draw the eye through a space and towards the places you want visitors to go.
Avoid an overload of colour by limiting a bold design like this to stairs only. Pattern and colour will create more impact if it's not over-used. Team with a classic wood hallway floor idea in an entranceway to create subtle contrast.
2. Strike out with a geometric carpet
Make pattern the focal point in a small hallway. With lots of doors and corridors leading off to other spaces, hallways can sometimes feel a little disjointed.
An eye-catching pattern will grab the attention and repeating it throughout the hallway and on stairs will give the space a sense of flow.
3. Show off with a flamboyant floral
Not for the faint-hearted, but if florals are your thing, then why not just go for it? Wall-to-wall carpets when floral are admittedly pretty full-on, but you have a couple of options.
The first is to keep the rest of the scheme super-simple and let the florals be the focus on a grand scale. Or you could take a maximalist approach and introduce deep, dark shades – and even more pattern – on the walls, or even up to the ceiling.
As for the pattern itself, heritage motifs and large-scale florals are on our design radar. Deeper tones will add depth and drama, or softer pastels give a vintage feel.
4. Don't shy away from dark colours
Lack of windows and natural light can make hallways feel gloomy so using dark colours on walls and flooring can feel counterintuitive.
Not so says designer Abigail Ahern. 'White walls just make the lack of light even more obvious. Instead embrace it, go with dark strong colours and you'll immediately have oodles of intrigue, drama and glamour.'
5. Pattern-clash for a characterful hallway
Bring together a medley of patterns for an eclectic look in a period property. Showcase any original features, such as a decorative tiled floor, but rather than pairing with plain stair carpet, consider a lively polka-dot pattern instead.
Pick a complementary colour palette throughout for a more cohesive look. It's a particularly smart approach as a narrow hallway idea, as you may have fewer options in terms of adding character.
6. Think of the overhead picture
Neutral walls and paintwork are an easy option for a hall and staircase that runs over several levels. Bringing in colour at floor level with a bright stair runner is a brilliant way of giving a plain scheme some oomph and will create a sense of continuity as you travel upstairs or down.
'If you have a staircase with turns, a wool flatweave runner is recommended, woven on traditional looms flatweave has an intrinsic suppleness that allows it to be fitted onto most winders,' says Andy Guard, Creative Director, Roger Oates Design.
'The narrow widths have a natural selvedge edge that makes it perfect upholstery for stairs and landings.'
7. Indulge in luxe neutrals
A fully carpeted stairs and hallway will feel warm and plush underfoot and is a great way of cosying up a draughty space.
Natural fibres like sisal and wool are a hard-wearing option for stairs and neutrals make an easy-to-live-with background colour that will work with any hallway paint scheme.
8. Mix and match with subtle spots
Narrow spaces like hallways and stairs have little option for furniture and other decorative features, so a patterned carpet is a good way of working in extra visual interest.
Mix it up by choosing the same design, but in two complementary colours. Pattern-heavy carpets are a practical choice for high-traffic areas as they're more forgiving of marks and scuffs than plain flooring.
9. Go for calm colours to create continuity
Keeping to the same colour theme throughout will create a sense of continuity on staircases and landings that span several levels.
With lots of doors leading off into other spaces, too many colours can feel chaotic, so a neutral shade will calm any busy-ness down. Soft grey on walls creates a restful backdrop with a stair runner or carpet in a toning shade.
10. Use animal print as a neutral
Animal prints are a great way of adding a touch of warmth and glamour to a space. Liven up a dreary staircase with a zebra pattern or tiger stripe carpet to pack a punch.
Or if you're after something more low-key, smaller-scale leopard spots will give a subtler effect, that's much like a neutral.
11. Earn your stripes
Stripes can change the dimensions of a space. Laid widthways, they'll make a squat space feel wider; lay them lengthwise and they'll have the reverse effect, making a room seem longer.
Go all-out in a hallway, with a striped carpet in the entranceway and on stairs to draw the eye in and lead the way through to the spaces beyond. Let the flooring be the focal point, with one-colour walls and paintwork that won't detract.
What is the best colour for a stair carpet?
'Often the first thing you see when entering a house, the stairs and hallway create a first and lasting impression on your guests,' says Jemma Dayman, Buyer for Carpets and Rugs at Carpetright.
'It's the perfect area to take risks and be daring with your styling. Bright colours and bold, geometric designs will give your stairs that wow factor and work well when mixed with minimalist furniture and accessories.'
'Opting for repeating patterns will not only allow your design to flow easily into other rooms but will be forgiving to everyday marks and scuffs as your stairs see some serious use over their lifetime.'
What carpet is best for stairs?
Stairs are a high-traffic area, so any floor covering you choose needs to be durable and ultra hardwearing. Carpet will help to cushion footfall up and down stairs and will reduce noise. While wool carpet is tough, won't flatten and repels dirt, it can be pricey. Cheaper man-made fibres are durable and easy-clean though mightn't be as long-lasting.
Stair runners offer an alternative to fitted carpet. Usually flatweave with an edged border, runners are fitted to the middle of a staircase, leaving some wood visible on either side and are secured with grippers or stair rods.
What is the safest flooring for stairs?
While carpet and stair runners are a safe bet, thickness is an important factor to consider when thinking about any stair covering. A floor covering that is too thick can be a safety hazard as it creates a false tread on the nosing of steps and can cause trips and falls. Aim for a thickness of half an inch or less. Use a professional flooring fitter for the best possible finish.