Hallway ideas: 37 clever design tricks and schemes for a fresh and modern look
Stunning hallway ideas to give your entrance hall some wow factor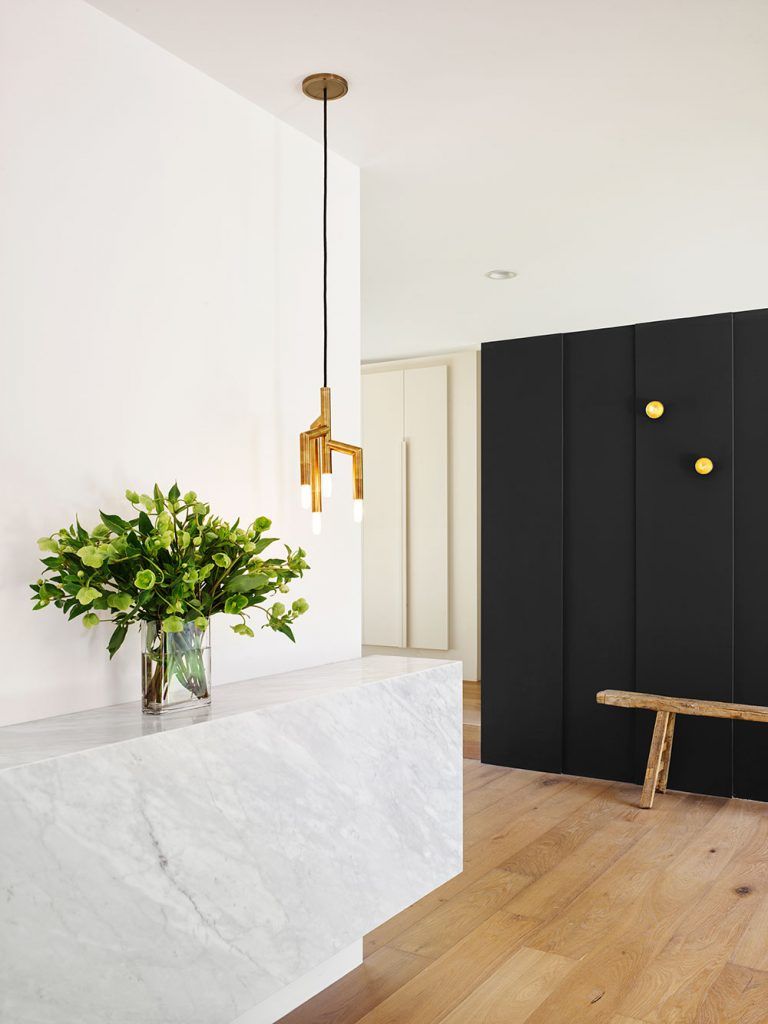 (Image credit: Matthew Millman)
We've pulled together 37 impressive hallway ideas to give your entrance hall a fresh new look. From clever concealed storage and space-saving ideas to comfy seating, statement lighting, colour schemes that work and decorative ideas that make you go "wow", find all the inspiration you need below.
Your hallway sets the mood and tone for your entire home, so rather than playing it safe, create a vibrant and welcoming space that reflects both your taste and the style of the rest of the house.
Whether you prefer something bold and dramatic or calm and elegant, take your entrance hall from dull to delightful to make a great first impression. From statement staircase ideas and stylish lighting to bright colours, mad murals and wonderful wallpapers, or deep, dark painted walls for grown-up glamour, there are countless ways to create lasting impact.
Frame the space with painted skirting boards or re-create a dado effect in paint – then take the design all the way around the room, doors included, for extra impact. For a more contemporary approach, Crittall doors can zone a space while also letting the light flood in. And staircases can serve a purpose far beyond the functional – transform yours into an architectural centrepiece.
Stunning entrance halls are not only for the child-free. The below brightly coloured stair runner ideas are practical for high-traffic areas, plus it will help draw the eye up and can create a fun contemporary feel that packs a punch. Hallway receiving a daily bashing? Opt for hardwearing (but pretty) encaustic tiles or chic, marble slabs that don't compromise on style.
Whatever you're into, let these hallway ideas inspire you.
1. Upgrade an old door to a modern pivot design for a light and clean look
This front door pivots open into a light, bright hallway. The frosted glass front door lets in plenty of light, but the sky light makes this an even brighter space. The calm palette is punctuated only with minimalist lines of black.
2. Opt for cool Crittal for modern, punchy looks
The Crittall doors used here mean that the adjoining garage – housing custom motor bikes – is cleverly transformed into an innovative viewing gallery.
3. Incorporate chic concealed storage
A floating marble console table offers a chic surface for the vase of flowers, post or keys. A large built in wardrobe with sliding doors offers stylish storage for coats.
4. Can you spot the genius hidden storage in this hallway?
As well as building a new staircase, the owners here installed a set of floor-level drawers by the front door for the family's shoes – a clever touch that keeps clutter at bay.
5. For maximum grandeur, create a central entrance hall with ceilings that stretch to the top
What an entrance hall! Keeping the furnishings and decor minimal in this hall creates a clean transition between the different rooms and storeys of the house.
6. Inject instant energy with a modern wallpaper
The mood of this Georgian home is joyous and energetic – more Palm Springs than Bloomsbury. Designer, Rebekah Caudwell likes to break a few rules. She wanted an element of surprise as you walk in, so her vision for this Grade II-listed townhouse kicks off in the flagstoned entrance hall, with a wall crosshatched with vivid bolts of magenta, turquoise and yellow offset with peachy chairs.
A distinctive wallpaper was chosen to counteract the sternness of the original Greek-style stone walls and floor in the vestibule of this Georgian house in Bristol.
7. Use a stair runner to add accent colour
The house's dark Edwardian roots shine through in this hallway, but a bright red stair runner breaks it up with a pop of bright colour. In the hallway the period mood really holds sway, with lighted windows, wood panelling and turned banisters. The house's original Edwardian tiles are partnered with darkest walls.
8. Or add a vibrant hallway rug or runner
The thick, vibrant rugs in The Greenwich Hotel in New York were the inspiration for this space – with an added dash of British artistic licence.
White painted wood walls create a light, bright hallway below. Pops of blues give this space a slight nautical feel.
9. Divide a hallway with a glass screen to let in more light
A glass partition screen separates what was formerly a dark hallway from the reception room, while allowing light to flood the space.
10. Highlight period features
Pretty encaustic tiles highlight the pattern in the stained glass door.
11. Highlight tall ceilings with a statement pendant
The impressive hallway blends period character with a striking yet neutral scheme and a dramatic modern light fitting.
12. Modernise a hallway with a personalised neon sign
When you build something from scratch, the danger is that it can feel a little too clinical. To give this hallway character, the owners added touches of humour vianeon light signs.
13. Add a handy console table
Designed by Beata Heuman, this hallway is full of beautiful pieces, including the entry hall table with cabriole legs and metal studs. A wooden mirror hangs above an ornate sideboard with two bird lamps.
14. Modernise marble floors with geometric pattern
In this entrance hall, the floor features two types of marble cut into a fractured geometric patten – inspired by a photo of American artist Cy Twombly's studio. It's the first thing you see as you enter, so it sets the tone.
15. Or add brass floor studs for a museum-like vibe
Marble flooring in this entrance hall comes studded with brass for a museum-foyer vibe. A lift is concealed behind double doors on the left, providing easy access to the top floor.
16. Zone and separate using a change in flooring – but keep it flush
Caroline Cobbold created a neutral hallway in this traditional Victorian terrace in London. Hallway tiles zone and separate the entrance corridor from the adjoining rooms, but the wood floorboards seamlessly connect so that flooring remains flush.
17. Hang a foxed / antiqued mirror for a more heritage look
A Crittall glass door floods this entrance hall with natural light. The foxed mirror bounces light around the room and adds aged elegance.
18. Add bench seating along an unused wall
The pink from the antique Gustavian bench complements the warm tones of the Alex Katz artwork.
19. Open and brighten up cramped hallways with white
This newly expanded hallway is a favourite part of the house. The genius of Jonathan Douglas, the architect, was to reconfigure and extend this space so it feels wide.
20. Add drama with black painted accents
Black used on the living-room floor continues on the woodwork and stairs. The wide opening between the hall and living room is big enough for a photography crew to navigate as the house is used as a location.
21. Conceal radiators behind perforated doors
Radiators have been cleverly built into the archways in this hallway.
22. Stick to a neutral colour scheme for a light and airy look
Bleached oak flooring, a neutral palette and natural materials create a light and lovely entrance.
23. Layer in texture but stick to the same colour palette
Laid-back stylishness and relaxed glamour underpins the look of this modern hallway. The hall is serene and layered with natural textures, from the sun-washed wooden floors to the battered leather sofa made comfortable with a soft linen cushion.
24. Punctuate a white scheme with slim black lines
The main stairway area continues the theme, with a few subtle black accents – like the balustrade, bench and minimalist wall light – to prevent the space from feeling too bland. It's the perfect balance.
25. Frosted glass retain privacy while still letting in light
Frosted glass double doors open into a light filled hallway with a relaxed vibe.
26. Paint below the dado rail for instant drama or colour
A dark band of paint below the dado takes the inky shade from the living room ceiling and leads it up the stairs.
27. Give traditional ideas an unexpected twist
In this hallway, all internal doors have been removed, offering tantalising glimpses of the next space and creating an unfettered sightline through the ground floor – a view peppered with thought-provoking objets and art. One unifying element throughout is the salvaged Versailles parquet flooring, shipped over from Paris to be reassembled, a bit like a big jigsaw, complete with original wooden peg nails.
28. Use the hallway to set the tone for the rest of the home
This hallway's walls are painted a high-sheen shade of aubergine.
Similarly in Matthew Williamson's London home below, wild colour sets the tone for the rest of his apartment.
29. Hide main home from view for a sense of intrigue
Stepping inside this Australian bush home, you enter a space that is dark yet vibrant, and utterly intriguing.
30. Freshen up old floorboards with a lick of white paint
Guests are greeted with a light and spacious hallway. An oversized mirror bounces light around, while painted white floorboards add to the fresh look.
31. Stick to one theme
Every material in this hallway oozes relaxed, beach vibes, from the sanded wood floors and walls to the linens, jutes, wickers and rope details.
32. Up-cycle reclaimed materials for an industrial look
Seeing is believing when it comes to this floating timber staircase. These treads have been hollowed out and fitted on to a massive steel frame hidden in the wall and roof that helps support the entire building.
33. Create a mosaic floor for an unexpected tile feature
A mosaic based on a traditional Senegalese motif runs the length of this entrance hall.
34. Replace clunky staircases with a more space-saving and streamlined design
Inspired by Le Corbusier's simple lines, the owners of this home spent two years simplifying the layout of this box build, where main living spaces now occupy the first floor, accessed by a contemporary wooden staircase, designed by architect Aida Djahandari.
See also: 75 Modern staircase ideas to transform your staircase into something extraordinary
35. Add interest to your hallway with a statement art piece
This dark grey hallway boasts an oversized photograph shipped over from Amsterdam. The walls are purposefully painted dark – it's often better to go dark than to try to lighten up a space that will never be that light in the first place.
36. Complement a colour scheme with a matching hallway or stair runner
High ceilings and dramatic doorways compliment statement accessories in this hallway.
37. Snap up an antique door for statement looks
This opulent, oversized internal door was especially created, fusing traditional wood panelling reclaimed from an 18th-century Polish house with grills sourced from an architectural salvage yard on the Isle of Wight.