10 painted staircases that will make you want to ditch carpets
Pretty and practical, painted staircases just make sense, so we've rounded up are favourite ideas to get you inspired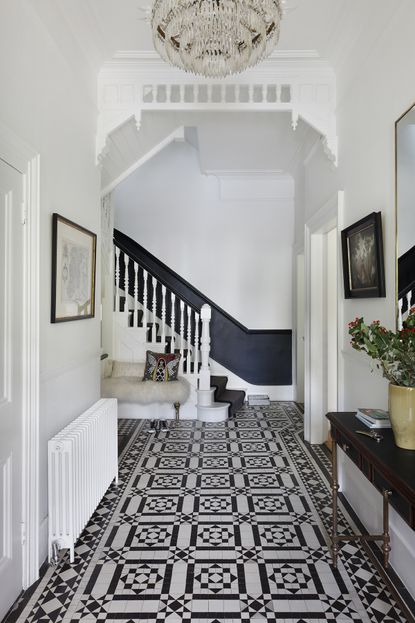 (Image credit: Alexander James)
The Livingetc Newsletter
For style leaders and design lovers.
Thank you for signing up to LivingEtc. You will receive a verification email shortly.
There was a problem. Please refresh the page and try again.
Goodbye runners, hello painted staircases. Leaving them bare is the way to decorate stairs right now, forgoing the carpet for splashes of bold color, dark and dramatic shades, or rustic country-style white. And it's a practical choice to make too. It can breathe new life into tired, original treads, cover up scuffs and stains in this high-traffic space and painted surfaces are much easier to clean than carpet.
Staircases are often the first thing you and your guests see, so rather than just blend them into the background of your hallway, turn them into a design statement. We have found plenty of gorgeous painted staircase ideas (lots of which you could DIY in a weekend) to get you inspired to get painting.
1. Add drama with all over black
What could be more practical than a black painted staircase? The perfect color for such a well-trodden part of your home, and it looks so chic too, bringing drama without making a hallway feel gloomy. For a more rustic, distressed look opt for a matte charcoal shade and don't be too fussy with the application, you could even attack the stairs with sandpaper once painted to add more texture. Or just let time do its thing.
For an even more gothic look choose a gloss paint. Lacquered walls are making a comeback, embrace the trend on a smaller scale by painting the stairs with an inky gloss finish.
2. Be inspired by folk art for a whimsical touch
How beautiful are these painted stairs? Be inspired by this whimsical space and give your hallway a traditional Scandi edge by painting pretty patterns onto your treads. If you don't trust your own hand, there are so many detailed stencil designs available that would help you create something similar. Or you could commission an illustrator or artist you love.
3. Pair white painted stairs with a neutral runner
If you love the idea of a white painted staircase but it's just not a practical choice for your home, be inspired by this space. Paint your dream white staircase and then add a subtle, neutral runner up the middle. Materials like jute and sisal are ideal for staircases and hallway flooring and you still get that nice rustic effect you would want to achieve with all-white floors.
4. Or fake a runner with paint
And if you want to create the look of a runner, but want the practicalities of painted stairs, just fake one. This is an easy DIY you could do in just a weekend. Mask off each side of the staircase and keep this in a lighter shade and then paint down the center in a dark shade that won't show up the dirt.
'If you want your staircase structure to remain the same neutral as most of your woodwork for a more seamless look, then instead of investing in a carpet, paint a 'runner' directly onto your stairs. This is a great way to introduce stronger color like into a scheme without it being overwhelming.' says Joa Studholme, Farrow & Ball Colour Curator.
'This controlled dose of color, which will bring a personal touch to your hall, should be painted down the center of your staircase on both the treads and risers in Modern Eggshell which is designed to be used on floors. For an extra dimension paint a thin borderline in a darker tone like Paean Black up the sides of the runner.'
5. Just paint the edges
Another way to create that runner effect, is to flip it. Rather than leaving the outside bare with color or carpet running down the center, paint the edges and leave the middle as raw wood. Bare wood is far more likely to stand the test of constant feet up and down the staircase and will still look lovely even as it wears.
6. Make a staircase the focal point with a bold shade
For your staircase to be a really eye-catching feature of your hallway, go with a bold shade all over. See how this vivid blue punctuates the otherwise minimalist neutral space, grounding all those pale shades and giving the room a focus. Normally we'd advise to keep it cohesive by adding in hints of the same shade throughout the rest of the room, but in a small space often less is more so just let that single punchy color stand out alone.
7. Wallpaper a staircase
Because hallway wallpaper is not just for walls, try it out on the risers of a staircase too. It adds pattern in a space you really don't expect it, and draws the eye down the hallway, making it feel longer. You could alternative prints for each step or create a continuous pattern up the stairs so the design goes uninterrupted. Then pair your print with a painted tread that picks up on the color scheme in the wallpaper.
8. Single out the spindles
Don't ignore your spindles! They can be the most interesting part of a staircase design so draw attention to them by painting them in a bold hue, or in a shade that contrasts the wall behind.
'It has become increasingly popular to paint just the spindles of a staircase in a dark tone to give a really chic twist to your home. Using a strong color will create a striking spine that runs from the top to the bottom of the house grounding the building.' says Joa Studholme.
'And of course, a darker central element will make everything around it look lighter. There is huge historic precedence for this technique, but it certainly adds a modern touch to the contemporary home as well as introducing some strong color without it being overwhelming. For a more elegant look paint only the spindles, leaving the newel posts and string in the same color as the rest of your woodwork in the hall.'
9. Go for a simple monochrome design
So chic and yet so simple, the striking design of this painted staircase almost appears to float in the all-white hallway. The clean lines and simple monochrome color palette would fit right into a more contemporary space, adding just the right about of interest without interfering with the minimalist aesthetic. This is a look your could easily recreate in your own home using masking tape and a steady hand.
10. Turn a staircase into artwork
This mix of colors used in this stairwell is stunning, it looks more like a piece of artwork than a staircase. The shapes and curves of the stairs have been so carefully considered and mirrored in the blocks of greens and blues. It also creates an optical allusion – the staircase looks like it sits flush to the wall because of the clever positioning of the different colors.
11. Color clash with your bannisters
Since hallways are possibly the most seen rooms in our homes, and actually the ones we spend the least amount of time in, you can afford to go bolder with your color choices. Blue, yellow, pink, and green in a living room? It's quirky but not the most relaxing color palette. But in a hallway? It makes such a creative and uplifting entrance.
Experiment with bolder shades on your staircase, clashing colors on the staircase, skirting, and banisters for a fun and playful vibe. And a huge plus of painted staircases is should you ever tire of the look, you can simply paint over it for a totally different vibe. So be daring, as there's really zero commitment.
12. White wash a staircase for a rustic look
An 'aged' staircase does add a lot of character to a hallway, especially if you want that rustic vibe. So cheat the look and create the impression your staircase has been walked up and down for decades by whitewashing the bare wood and sanding the center of the treads, where your stair would naturally wear down – simple yet effective.
13. Paint below the dado rail
Not all staircase paint ideas need to involve the stairs themselves. If your staircase doesn't face your front door, adding colors to the walls can have more impact. Painting below a dado rail (or faking a dado rail) is a great trick for adding height to a hallway as it draws the eye upwards.
When choosing your colors, think about creating contrast. See how the white banisters sit against the dark background in this hallway to add a striking focal point as soon as you walk through the door?
What is the best color to paint a staircase?
From a purely practical point of view, the best colors to paint a staircase are darker shades, as these will be able to handle the everyday use and general wear and tear staircases face. Blacks, greys, deep blues, dark greens would all work to hide scuffs and stains, so if you don's want that worn look that would be inevitable with paler shades stick to the dark end of the spectrum.
However, paler shades can work too, especially if you don't mind them ending up a bit... rustic. And if you choose the right kind of paint you might find it copes just as well as a darker shade. White is very on-trend shade for painted stairs but light sage greens, pale pinks, and dusky blues would all add subtle color and character.
What is the best paint to use on a staircase?
When painting your staircases it's all in the prep. Before going in with any paint, seal your stairs with a water-based varnish so your color will last longer and be protected from wear and tear. Technically, any wood paint can go onto wooden stairs, just be sure you seal it with another layer of varnish. But for the best results you are best choosing a paint that's designed for floors – these will be hardwearing and resist scuffs and scratches.
In terms of finish, Rob Abrahams, Co-Founder of COAT Paints recommends 'if you're painting the stairs themselves, you'll need a specific hardy wooden floor paint, to make sure it stands up to time. For the spindles and woodwork choose a water-based Eggshell paint - it's durable, with a beautiful matt finish. Standard matt emulsion won't do the job on stairs and could end up looking marked and worn very quickly in such a high-traffic area.
Gloss paint + socks + stairs = disaster, so stick to just the treads if using a gloss finish.
For style leaders and design lovers.
Hebe is the Digital Editor of Livingetc; she has a background in lifestyle and interior journalism and a passion for renovating small spaces. You'll usually find her attempting DIY, whether it's spray painting her whole kitchen, don't try that at home, or ever changing the wallpaper in her hallway. Livingetc has been such a huge inspiration and has influenced Hebe's style since she moved into her first rental and finally had a small amount of control over the decor and now loves being able to help others make decisions when decorating their own homes. Last year she moved from renting to owning her first teeny tiny Edwardian flat in London with her whippet Willow (who yes she chose to match her interiors...) and is already on the lookout for her next project.