21 hallway floor ideas to create a practical and beautiful entrance to your home
From traditional tiles, painted floorboards, grand marble and poured concrete, you'll find hallway floor ideas to suit all styles right here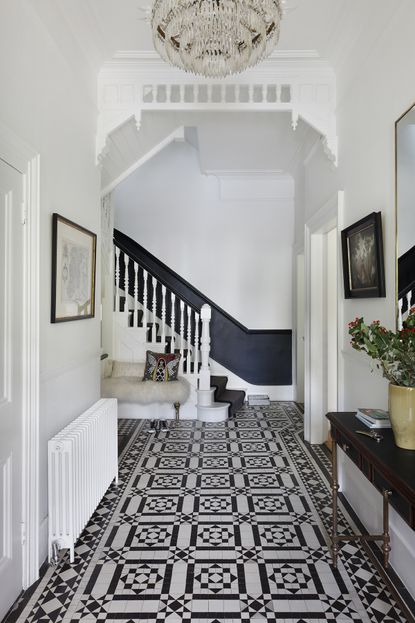 (Image credit: Alexander James)
On the hunt for the perfect hallway floor ideas? We've sifted through our Livingetc archives to pull out all our favorite flooring looks. Of course, there are plenty of traditional encaustic and zellige tiles in the mix, which work particularly well in Victorian and Edwardian hallways, but we've included some contemporary on-trend ideas too, from painted floors and vinyl tiles to oversized geometric tiles and brass studded marble ones.
And of course, you have to consider the practicality of your hallway flooring too. Hallways are high-traffic areas that see a lot of wear and tear so choosing a flooring that's going to cope with that should be top of your list (yes even above style and design). Before thinking about patterns and colors, pick a material that's hardwearing, easy to clean, and won't show scuffs and stains after just a few months. Plus, go for something with longevity that can work with different hallway ideas as your tastes and trends change. Luckily, all these ideas tick those boxes, so there's plenty here to get you inspired...
1. Opt for natural stone for a chic and practical flooring
So yes, hallway flooring has to be practical above all else, but that doesn't mean to can't look lovely too. One of our top choices for a hallway floor would be natural stone. It's hardwearing, easy to clean and comes in so many different variations from slate to marble.
'Natural stone flooring can be one of the most forgiving floor coverings if the right stone and finish are chosen.' says Isabel Fernandez, Director at luxury natural stone flooring company Quorn Stone. 'Naturally, some stones will be denser than others which provides more durability, however all-natural stone will be subject to a little wear and tear over the years. A tumbled finish provides an aged look, its worn edges, textured surface and natural markings makes it extremely forgiving with day-to-day crumbs and dirt.'
2. Go for an oversized hallway tile pattern
A monochrome floor needn't be strictly black and white. Just as effective is to choose another pairing of light and dark neutrals – the result will just be softer and subtler, like the cream and chocolate-colored polished English stone used here. By oversizing the chequerboard pattern, you add that all-important unexpected burst of contemporary cool to a traditional flooring style.
'A hallway really is a perfect place for a chequerboard floor, be it a spacious manor house or a narrow Victorian terrace.' says Grazzie Wilson of Artisans of Devizes. 'It's the center point of the house and so it creates a really strong anchor and with so many other doorways coming from it, it makes sense to have a floor that has a non-directional layout because it lets the adjoining spaces do as they please.'
3. Pick a elegant pattern with encaustic tiles
Victorian encaustic tiles are having a bit of a rival at the moment. The thrill when you pull up carpet or a yellowing lino and find beautiful patterned tiles underneath, there's nothing like it. But even if you haven't been blessed with original tiles, or if you live in a modern home and want to recreate the look there are so many lovely modern remakes that will add that traditional charm to your hallway. Or for a really authentic look, you could hunt the internet and reclamation yards for reclaimed tiles.
'The hallway is the perfect place to be bolder and more creative with color and pattern than you might be elsewhere in the home; you'll just be passing through so there's no need to worry about whether a decorative floor might be a little 'too much' – as it might seem for a living room or kitchen.' explains Colin Roby-Welford Creative Director at Fired Earth. 'Also, since hallways tend to be quite pared-back, you can let the floor take center stage without wondering how to match it to furniture and soft furnishings. Since hallways tend to be quite small though, it's important not to 'crowd' them with too much pattern, so if you're planning to have a decorative floor it might be best to balance it with a one-color wall, or vice versa.'
4. Or recreate encaustic inspired designs with LVT
And the real thing isn't an option for your home, you can create a really similar effect with vinyl tiles, and they can be an even more practical option too.
'Luxury vinyl tile is the ideal flooring choice for high traffic areas such as hallways, as it is incredibly durable, warm underfoot and very easy to clean and maintain.' says Lucy Tunstall of Harvey Maria. 'Victorian or encaustic inspired designs create a classic statement hallway and are extremely practical as they don't show the dirt as much!'
5. Throw down a large area rug
Rugs can be a super quick update for a hallway and a practical hallway flooring choice too as if you pick the right material they can be really hardwearing.
'Pared back rugs can be used to tie together any interior style, while adding a touch of luxury underfoot. Neutral schemes are popular for hallways as they are the first impression of the home and can be a place of calm and relaxation, away from the hustle and bustle of the outside world. For subtle impact, you can add a dash of color with a border or tonal pattern.' says Noemie Deed, founder of cosycoco.com
'For a statement hallway, incorporate bold patterns and colors as a focal point and an injection of personality. A hallway is a great place to introduce guests to your interior style so if you're a maximalist, don't be afraid to show it straight away.'
6. Give marble tiles a modern update
Marble is a classic in hallways, it adds texture and interest but is simple and elegant too and perfect for bouncing lots of light around a dark (and potentially quite small) space. And despite being a favorite in more traditional, period homes, marble can be adapted to suit more contemporary spaces. Just look at this hallway floor idea – the floor features two types of marble cut into a fractured geometric pattern to create a quirky, more modern take on a marble floor.
7. Paint the floorboards black
Floorboards are a lovely hallway floor idea, they are practical, add a lovely texture to a room and are pretty low maintenance if you pick the right stain or color. The color that makes the most sense to us? Black. It's chic but also, and more importantly, covers a whole load of sins when it comes to dirt and scuffs.
It may sound like quite an intense look but you can make it as bold or as subtle as you like. Pair it with white walls for a very fresh, clean look or soften it with a layer of neautrals and a textured rug. You could even totally embrace the dark side and go all over with an inky hue – stairs, walls, ceilings, woodwork, the lot.
8. Or go for a modern rustic vibe with white floorboards
And if black floorboards are going to be too intense for you, white floorboards are bang on trend right now and perfect for creating a modern rustic look. It might sound like an impractical choice, but opt for a hardwearing wipeable paint and throw down a rug and it should be too high maintenance of an option.
9. Create a modern mosaic
Hexagonal tiles in fun, personalized patterns and quotes are everywhere right now. What started as a trend in restaurants and bars it's spread into our homes. And while we love the classic black and white style, for a more unique look be inspired by this hallway floor idea and create a mosaic pattern with white and red (or whatever shade suits your style) tiles.
10. Don't be afraid of carpet
We know carpet has fallen out of favor slightly but we still think there's a place for it in our homes, and hallways are the ideal spot to bring back the humble carpet.
As Jodie Hatton, a Residential Designer at Brintons, explains that a 'carpet is a fantastic option for high traffic areas like hallways, due to its ability to withstand natural wear and tear. The type of carpet that is preferred is down to personal taste and the usage of that particular room but cut pile woven carpets are the most hardwearing.'
11. Try out vinyl floor tiles
Vinyl floor tiles have definitely shed their questionable reputation, you can now get some really gorgeous, high-end designs that are ideal for hallways as they are so hardwearing and low maintenance. Plus, perfect if you are trying to stick to a budget.
'If you are working to a tighter budget, Luxury Vinyl is an elegant choice.' says David Snazel of Carpetright. 'It effectively emulates more expensive design styles, whilst being incredibly practical and durable. Luxury Vinyl is not only highly water-resistant, low maintenance and easy to look after, but also compatible with underfloor heating so makes an incredibly practical and stylish choice for hallways.'
12. Choose smooth sanded wood for a Scandi vibe
The smooth, sanded wood floor flows from the hallway into the surrounding spaces. Take it up the staircase, into adjoining rooms for a really seamless, minimalist look. And be inspired the rest of this hallway too – a Crittall partition separates what was formerly a dark space from the reception room while allowing light to flood the space.
13. Make a hallway feel bigger with a monochrome scheme
Trick the eye into thinking you have a larger space by opting for a flooring choice that blends into the walls. A monochrome look like this is perfect for expanding narrow hallways are it really blurs the edges of the room and you can tell where flooring ends and walls start. This particular flooring is a beautiful limestone, which adds a lovely texture to the minimalist space but you could definitely recreate the look with white painted floorboards or white tiles.
14. Add subtle pattern with parquet
Parquet flooring is a beautiful way to add texture to a hallway without making it too busy as it's all one tone and color. However, you can up the drama by choosing a dark ebony wood rather than the traditional warm wood for a very chic contemporary look. This flooring was actually salvage and shipped from France it does have a lovely rustic texture to it, softening the dark shades.
The traditional pattern for parquet is usually herringbone, which can be the perfect layout for smaller hallways as it draws the eye away from the door. But in larger, more open spaces you can be more creative with the shapes you choose like this Versailles pattern.
15. Mix materials
This hallway retains a traditional look, with original floorboards that have been painted white. But the flooring quickly changes to a modern poured concrete as it moves from the entryway into the hallway that leads into the kitchen – the perfect balance between style and practicality.
16. Go Grecian with stone mosaics
How beautiful are the original Greek-style stone floors in this hallway? They add the perfect amount of pattern to this already very pattern busy hallway. Consider adding a similar setup to just the entrance of your hallway as a small rectangle of pattern before laying down carpet or sticking to bare floorboards in the rest of the space.
17. Add contemporary color to a traditional Victorian tile
Bring in some color with your hallway flooring by opting for the ever-popular traditional Victorian tile but choose a modern design with clear, bolder colors. In this hallway the splashes of blue work perfectly with the cool tones of the grey walls, and then there's that lovely contrast with the cheery red door.
18. Combine patterns for an eclectic look
Just because hallway flooring has to be practical, doesn't mean you can't have fun with it, as this fabulous space proves. Mix and match patterns by choosing a patterned tile for your flooring and a differing pattern for your hallway runner. Personally, we'd be going with exactly this – chequerboard floor and zebra print. And actually, because the color palette is minimal this doesn't overwhelm the small space.
'Often the first thing you see when entering a house, the stairs and hallway create a first and lasting impression on your guests. It's the perfect area to take risks and be daring with your styling.' says Jemma Dayman of Carpetright. 'Bold, geometric designs and bright colors will give your stairs that wow factor and work well when mixed with minimalist furniture and accessories. Opting for repeating patterns will not only allow your design to flow easily into other rooms but will be forgiving to everyday marks and scuffs as your stairs see some serious use over their lifetime.'

19. Lengthen a hallway with herringbone flooring
Herringbone, whether you create it will tiles, LVT, or wood is the perfect pattern for hallways as it really lengthens the space, drawing the eye down the hallway. We love the dark-stained oak parquet flooring used in this hallway, it's the ideal contrast with the pale blue walls and gives a grown-up edge to the playful star-splattered stair runner.
20. Create a permanent rug with tiles
This is such a nifty hallway floor idea! Rather than throw down a rug that can collect dirt and slide around the space go for the more practical option of creating the allusion of a rug with tiles. Also, a clever idea to note from this hallway, the wallpapered stairs and those plum-colored walls create such a cocooning inviting space!
21. Lift dark walls with warm tiles
This house's dark Edwardian roots shine through in this hallway. The original Edwardian tiles are partnered with darkest walls, holding the period mood but also adding a lovely, welcoming warmth to the moody shades. The warm wooden side table and the red carpet on the stairs only help to bring out those lovely toasty shades in the hallway tiles.
What is the best flooring for a hallway?
The best flooring for hallways will depend on the look you are after and your budget. Tiles are one of the most popular options and obviously, there are so many options to choose from – the colors, the patterns the materials. Natural stone is another good choice for a hallway as it's really hardwearing and easy to maintain too.
'The beauty of natural stone is that it becomes lived-in and ages beautifully. If you are looking for something truly timeless then natural stone is a great choice for a hallway. When choosing a natural stone, it's always important to think about how the space is going to be used. Is it a high-traffic commercial space, a slick apartment, or a country home? Who will be using the space? And what is the lifestyle of the user?' says Grazzie Wilson Creative Lead at Sarsen Stone Group.
'Sometimes a very clean and minimalistic look is required for a contemporary space and a very clean and consistent color stone will be required, however on the other hand if it's a family home and there is a lot of lifestyle activity with lots of people walking on the hallway floor then a more characterful floor with fossil content, texture, and tonal variation will withstand the most active of lifestyles.'
'If you are looking for a hallway floor that is super low-maintenance and looks the same tomorrow as it does today, then I would definitely suggest looking at porcelain too if you are looking for something super contemporary, or something that emulates the look of natural stone but with little or no maintenance then porcelain could be a great option.'
Is vinyl flooring good for hallway?
Yes, vinyl flooring, especially luxury vinyl tiles are a great choice for a hallway floor. They are a more budget friendly options too but can create a really luxurious look and replicate more expensive designs and materials.
The Livingetc newsletter is your shortcut to the now and the next in home design. Subscribe today to receive a stunning free 200-page book of the best homes from around the world.
Hebe is the Digital Editor of Livingetc; she has a background in lifestyle and interior journalism and a passion for renovating small spaces. You'll usually find her attempting DIY, whether it's spray painting her whole kitchen, don't try that at home, or ever changing the wallpaper in her hallway. Livingetc has been such a huge inspiration and has influenced Hebe's style since she moved into her first rental and finally had a small amount of control over the decor and now loves being able to help others make decisions when decorating their own homes. Last year she moved from renting to owning her first teeny tiny Edwardian flat in London with her whippet Willow (who yes she chose to match her interiors...) and is already on the lookout for her next project.