11 hallway wallpaper ideas to instantly transform your entryway
First impressions count, to let these hallway wallpaper ideas inspire you to give your space a quick, stylish update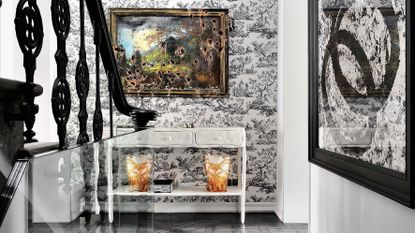 (Image credit: Frenchie Cristogatin)
On the hunt for some stylish hallway wallpaper ideas? Well, you are in the right place because we are firm believers that nothing transforms a space quite as easily and efficiently as wallpaper. In just a few hours you could turn bland and boring walls into something beautiful. Plus, wallpaper is a great choice when decorating a hallway, as these small, often dark spaces can be tricky to get right, adding personality without taking up too much square footage has to be a balance and wallpaper is perfect, as it packs a punch but takes up zero floor space.
And since these awkward spaces are the entrance to your home, and first impressions count, we'd always say go a bit bolder and braver than you would in your more lived-in rooms. Experiment with pattern and color, and you might find not only does it create a stylish entryway that sets the tone for the rest of your home, but wallpaper can often make a small hallway feel much larger too. So whether you are after something chic and modern, or quirky and whimsical, we have plenty of hallway ideas to get you inspired...
1. Don't be afraid to go dark in a hallway
In small, light-starved rooms is usually a go-to to stick with lighter colors and these are known for their space expanding, light-enhancing qualities. But, sometimes you are better off to lean into the small, cozy, dark nature of a hallway and embrace it with dark colors and rich textures.
'Wallpaper is fabulous for hallways as with usable space often reduced we have to rely on the walls to make an impact. As counterintiviute as this may sound narrow hallways with little natural light can take a much larger print or darker color than you would think. Going all pale and muted actually emphasizes how small they may be so I say go for some sumptuous texture like grasscloth or phenomenal print or color to distract the eye away from the narrowness of the space.' explains Abigail Ahern.
'By distracting the eye from the visual boxiness of the space.your automatically making it feel more compelling. Hallways are such important transitional areas and set the tone for the rest of your scheme so it's important to weave in the color of the paper elsewhere into your scheme.'
2. Add pattern on every wall (and the ceiling)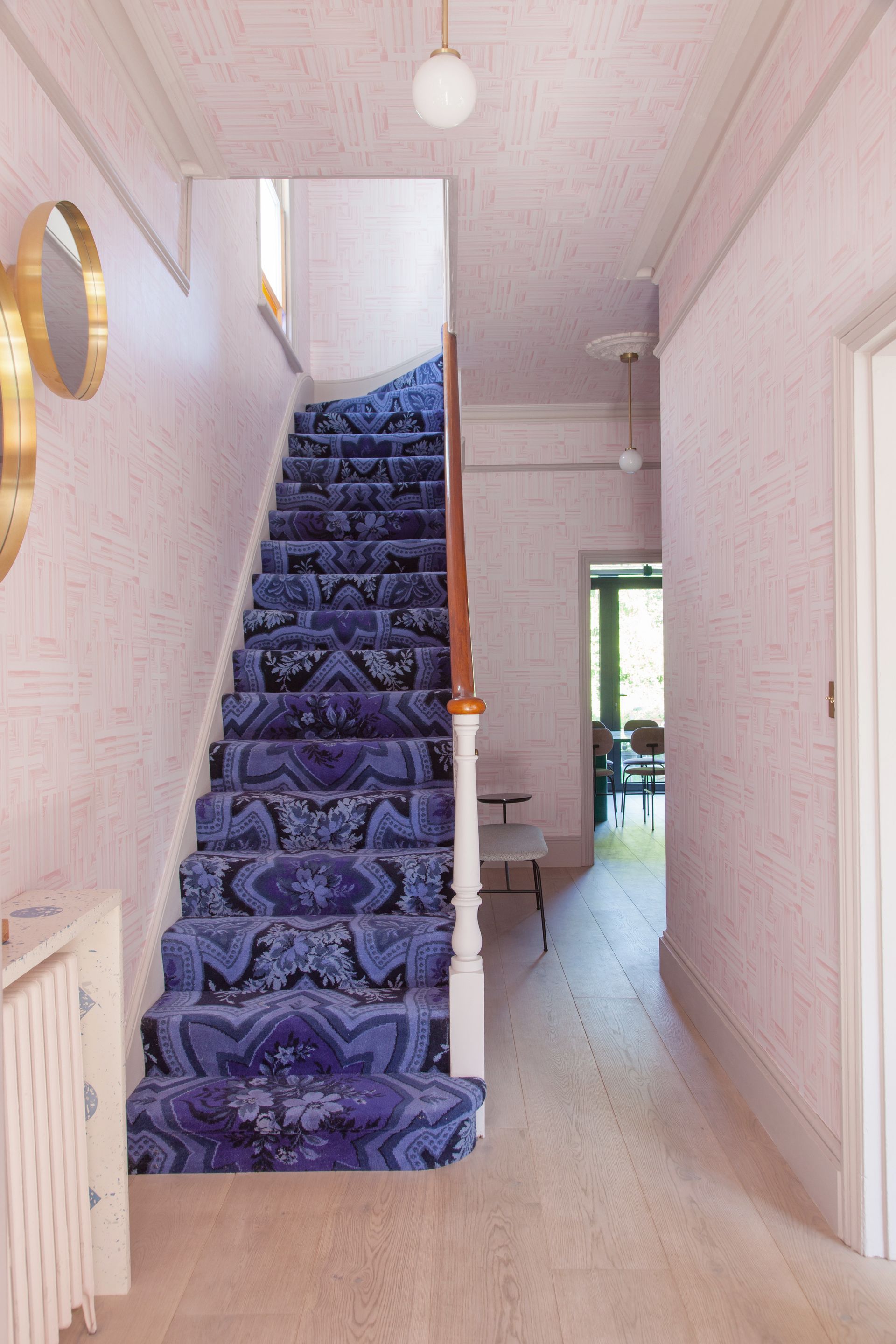 Don't just limit yourself to one wall of wallpaper in the hallway, if any space in your home can handle you going all over with a print it's the hallway. Not only does it make a design statement but by wallpapering all the walls and the ceiling it actually makes a small space appear larger as it blurs the edges of the room and tricks the eye.
'The hallway is often the first place in your home that anyone sees. It is also a transitional space so not somewhere you linger… this means you can make a bold statement.' advise Jordan Cluroe and Russell Whitehead founders of 2LG Sudio. 'Here we have wrapped our own wallpaper design on every surface including the ceiling. Creating one bold statement. If it had just been a feature wall that would pull focus, by putting it everywhere it creates an almost serene effect. We call it Joyful minimalism. Using pattern and texture, but in a minimalist way.'
3. Pick a metallic hallway wallpaper
Hallways often aren't light-filled spaces and you're lucky if they have a window so when making any design decisions think about what is going to help bring in as much light as possible. Mirrors are of course the obvious choice but even something as small as choosing a wallpaper that has metallic accents or a reflective sheen to it will help bounce more light around the room. And we get that metallic wallpaper might sound a bit... blingy, but you can get some lovely, lovely designs that look really luxurious.
4. Choose a simple color palette and mix patterns
One drawback we often find with wallpaper is that it does tend to dictate what else decor-wise you can bring into the space. It can be tricky to find prints and artwork that will work wallpaper, but a simple solution is to pick a minimal color palette so you can mix and match prints without it overwhelming the space.
As this hallway wallpaper ideas prove, a black and white scheme is always a classic and it is a great choice for an entryway as it's also going to work with any color schemes going on in the adjoining rooms so there's that sense of cohesion as you walk through the house.
'So often, hallways can be considered as an after-thought but this is the first glimpse of your personal style that your guests will receive. Select a shade for your hallway that gives a sense of continuity and transitions from room to room in a warm inviting way.' says Ruth Mottershead, Creative Director Little Greene.
'Create an impactful finish for your entrance hall or hallway with a scheme that flows from room to room. Hallways can often be spaces that are narrow with little natural light so choose carefully selected hallway paint colors and wallpapers that bring warmth, personality and light to a small space, to ensure a welcoming entrance.'
5. Opt for a nature inspired mural
Want to add some more subtle pattern to your hallway? A mural, either hand-painted or in paper form, can be a more personal way to decorate. If you can go bespoke, or even take a hand at it yourself if you trust your skills, you can create something that perfectly fits the shape and size of your home. Be inspired by this colorful home and cascade a nature-inspired pattern from the ceiling for a more quirky and interesting look.
6. Mix and match wallpapers
Because sometimes one wallpaper just isn't enough. Mixing and matching prints and colors, almost like color blocking but with wallpaper, can work so well in a hallway, and if you create a dado rail effect like in this hallway wallpaper idea you can add the allusion of height too. For a look that's guaranteed to work, try pairing wallpaper of the same print in different colorways.
'Most hallways and stairways are too narrow for accent furniture and decorative items, so focus on enlivening surfaces. If your walls have started to feel a little drab after a long period spent indoors, color-blocking is a high-impact way to re-invigorate your interiors and drastically change your scenery.' advises Paula Taylor Stylist and Trend Specialist at Graham & Brown.
7. Add interest to a small hallway with a subtle print
Small hallways really benefit from wallpaper, in fact certain prints can make the space feel much larger. The all-white scheme of this entryway, keeps the room feeling open and airy and the accent wall of wood-effect wallpaper adds the perfect amount of pattern, plus the vertical design creates the allusion of more height. The rustic print is perfect for adding in texture too and almost mirrors the white-washed floorboards.
8. Wallpaper the stairs
Wallpaper isn't reserved just for walls, if you want to add just a hit of pattern be inspired by this hallway wallpaper idea and wallpaper the stairs. It adds pattern in a space you really don't expect it, and draws the eye down the hallway, making it feel longer. It breaks up all the strong, rich colors going on in this hallway and works so well with the glam, gothic vibe too.
9. Pair bold colors with calming neutrals
Want to add some bold color to your hallway but don't want overwhelm the space? This hallway is a lesson in how to blend calming neutrals and striking colors. We love the bold colors of Cole & Son's Circus just on a single wall in this hallway. Normally it's a very brave pattern and gives a room a very fun and eclectic feel, but in this hallway, when mixed with the soft beige and crisp white, it in fact looks very sophisticated and not too much for the space. And see how it started above the dado rail? An easy trick for making the room feel loftier.
10. Choose warmer tones in a dark hallway
Warm colors work wonderfully in hallways as they do tend to be dark spaces, and yet you want there to be a welcoming, cocooning feel as you enter your home. Choose a print with orange, red, or terracotta tones and paint your woodwork in those similar toasty shades. If it's all getting a bit too warm for you, bring in small darker accents for contrast.
'Hallways are often starved of a generosity of natural light but don't let this inhibit you too much. If you are nervous about compromised natural light you can lean towards warmer tones specifically those with an underlying red or yellow through, a warm red-based light neutral teamed with one of our softest whites for your woodwork & ceiling color.' explains Patrick O'Donnell International Brand Ambassador for Farrow & Ball.
11. Match your wood work to your wallpaper
Speaking of woodwork, add even more interest and color to a hallway by picking a color from your wallpaper and taking it onto the door frames, skirting boards, and cornicing. It accentuates the shapes in the room and creates a bolder contrast with the walls than going for a neutral shade. It adds a simplicity too, that grounds all the patterns going on on the walls and gives the eye somewhere to focus.
What kind of wallpaper is best for a hallway?
Practically speaking, the best wallpaper for a hallway would be something wipeable or stain resistance. Hallways are high-traffic areas and you don't want your beautiful print getting covered in scuffs. If you have fallen for a pattern that isn't wipeable, consider going with a wipeable paint for the lower quarter of the wall and then adding a dado rail with wallpaper above.
In terms of design, that really comes down to taste and the size of your hallway. In general, we'd advise going for a larger scale print in a small space, nothing too busy that's going to make the room feel cramped. And look for wallpapers that have a hint of metallic in them or a slight sheen to help bounce more light around.
The Livingetc newsletter is your shortcut to the now and the next in home design. Subscribe today to receive a stunning free 200-page book of the best homes from around the world.
Hebe is the Digital Editor of Livingetc; she has a background in lifestyle and interior journalism and a passion for renovating small spaces. You'll usually find her attempting DIY, whether it's spray painting her whole kitchen, don't try that at home, or ever changing the wallpaper in her hallway. Livingetc has been such a huge inspiration and has influenced Hebe's style since she moved into her first rental and finally had a small amount of control over the decor and now loves being able to help others make decisions when decorating their own homes. Last year she moved from renting to owning her first teeny tiny Edwardian flat in London with her whippet Willow (who yes she chose to match her interiors...) and is already on the lookout for her next project.