Paint ideas – 15 of the most creative ways to use paint in a modern home
From bold designs to subtle schemes, these paint ideas can transform the look and feel of your space in an instant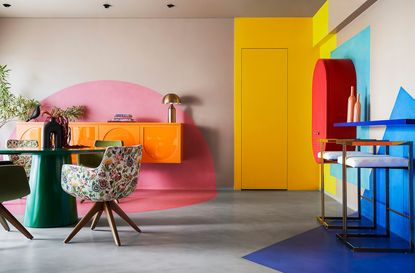 (Image credit: Yadnyesh Joshi. Design: Zero9)
Contributions from
Creative paint ideas are in a golden age right now. As we spend more time getting decorating our homes, there's a hunger for new and interesting ways to use paint on our walls and beyond.
From effect paints like limewash to painted ceilings and graphic wall murals, how you choose to apply paint has just as much of an effect on the final design of your space as the color you choose.
With that in mind, we've collected 15 of the best paint ideas for decorating your home, along with brilliant examples of how designers and color experts have put them to use.
15 paint ideas that will transform any space
If you think of creative paint ideas, you might go straight to bold, colorful designs. Yet, the best uses of paint understand that there's beauty in the understated, as well as the exciting.
'We work with a lot of color and pattern and have learned over the years that people live happily with patterns when the eye has space to rest in the room,' says Studio Munroe's Emilie Munroe.
With that in mind, these 15 paint ideas span from colorful modern looks to designs where paint creates a soothing space, ensuring you've got the best of both worlds to choose from.
1. Don't forget the ceiling
The new accent wall, painted ceiling ideas have become a hugely popular trend recently. Whether you're opting for something bold, or something that creates a calming effect for your space, painting with plain white overhead is taking a backseat to a more colorful approach.
'We wanted this bedroom to feel serene and calm, like a warm spring day,' says interior designer Emilie Munroe, founder of Studio Munroe (opens in new tab), of this relaxing bedroom scheme. 'Because the background color of the wallpaper is aqua blue, using white on the ceiling would have actually felt high-contrast and jarring. By matching the aqua on the ceiling, the room now feels cozy and grounded.'
2. Go bold with the color blocking trend
The modern trend for color blocking focuses around painting abstract shapes on your walls, ceilings and more, creating simple, yet bold murals in bold color palettes.
In some instances, they're more effective than others, and in this design by Mumbai-based interior design and architecture firm Zero9 (opens in new tab), this creative wall mural idea has been designed in conjunction with the placement of furniture to highlight certain aspects.
'The living room is a visual treat right from the entrance door with its pop of colors and an experimental color blocking which uses the walls and floor as the canvas for this artistic expression,' explains designer Prashan Chauhan. 'The furniture complements the visuals with its sharp contrasts in form and color.'
3. Set your sights on 'color drenching'
Color drenching refers to a relatively new paint trend where you paint the ceiling and walls the same color. You can also, even, include the trim, doors, crown moldings and more in your one-color scheme, painting the entire space in a single shade.
The effect? Not only does it create a pared-back canvas to decorate, lending a modern look even to spaces featuring more traditional architectural details, but it also plays with the dimensions of the rooms by blurring the lines between the ceiling and the walls.
'These days with all the chaos in the world, creating a cocoon in one's personal space is more important than ever,' adds interior designer Lia McNairy of LALA Reimagined. 'This is why we love to paint the ceiling, walls, crown molding and baseboards all in one color to give us a sense of security and make one feel like we are living in a jewel box. Small rooms are perfect for experimenting with a bold color and especially a powder room to get your feet wet without having to make a huge commitment elsewhere in the house!'
Whether you keep the scheme entirely tonal or add an accent that really pops against this one-color backdrop, it's a modern way to approach decorating your space right now.
4. Transform with two tone walls
Two-tone walls with the introduction of a dado rail that runs between the colors is one of the most on-trend ways to transform a room. A dado is an architectural molding often found in most Georgian, Victorian, and Edwardian houses where period features have been preserved or restored. They are used in modern interiors to provide a break between the lower portion and upper portion of a wall and a fun opportunity to use a variety of wall-coverings or colors within the same room.

'For the chic hallways in Soho House Amsterdam we painted the lower half of the walls a creamy coffee color and used a light neutral on top then added a smart black dado line and black door frames to create a strong visual connection,' explains Sevverine Lamonglia, Lead Designer at Soho House. 'Two-tone walls can transform a space, it adds depth and detail to a wall. It is also easy to do and a cost-effective way of adding character.'
5. Match your skirting with the wallpaper
A really easy way to update your bedroom colors (or colors in ay room really) that doesn't require a complete overhaul and most likely an afternoon of relaxing DIY is by painting skirting that is often kept simple in a bright hue.

'Skirtings and cornices don't have to be an off-white and eggshell and gloss don't have to be left just for the woodwork,' says interior designer Octavia Dickinson. 'While decorating a bedroom at The Bear Inn, Hodnet, I picked out colors in the wallpaper and painted the skirtings in a bright glossy blue which instantly modernizes the room and frames the wallpaper.'
6. Go all over with a wash of the same shade
Layering the same color in a range of hues in one room can be a striking technique in itself. It's an elegant technique that has longevity as well as feeling like a modern update.

'In this living room, we have matched the curtains with the paint color to give the room an all-encompassing feel,' Camilla Clarke, Creative Director at Albion Nord 'Down Pipe by Farrow and Ball (opens in new tab) is a color that looks great in the daytime but also becomes very cozy and inviting at night when lit with lamplight. The color has been used on the walls, architectural details, door architraves, and window reveals. This gives a more contemporary edge to the room and also making it feel more cohesive.'
7. Color contrast adjoining rooms
Choosing contrasting colors in adjacent rooms and considering how room colors look when viewed from one to another is a clever way to create a flow of hues throughout the space. This lovely jade green bedroom has a view through to a candy pink hallway – part of a series of colorful rooms designed by Natalie Tredgett.

'When deciding what colors to use in two adjoining rooms consider the conversation between the spaces,' says Natalie. 'Our eye is drawn to warmer colors, so lead with a pink, coral, or terracotta to naturally draw someone in that direction. Then create layers and complexity by making the next room a cooler color like green, teal, or blue.'
8. Layer a symphony of whites
Is going all white really a color update when it is is one of the most common color choices when decorating an interior? Far from ordinary and safe this lovely white kitchen belonging to designer Caroline Feiffer layers a symphony of whites in an array of finishes and features highlights of glossy white marble and burnished silver details from kitchen accessories and exposed pipes.
'I love a gallery approach to designing in general, using a white space and for objects to be able to stand out without any noise.' says Caroline Feiffer founder of studio Tutti Meme. 'I therefore naturally turn to whites and especially warmer whites as these give a sense of sunlight flushing in. The color in this kitchen from our old Copenhagen townhouse apartment, features a brighter matte white on the walls, the beams a more glossy and a bit warmer hue, and for the kitchen a warm white from farrow and ball called Pointing No. 2003, a warm and delicate white.'
9. Make door frames pop
There's nothing like a lick of glossy bold color to energize and instantly modernize a traditional space. This generously proportioned Victorian home features paperwhite walls with door trims picked out in brilliant blue gloss.

'Pick out door frames in contrasting hues to introduce some excitement.' says Joa Studholme Colour Curator at Farrow and Ball. 'School House White is pared back, timeless, and familiar on walls but has a subtle sophistication that makes it the perfect foil for stronger hues like the lively tones of Stone Blue, used here on the frame of the door.'
10. Take color to the window frames
Your window frames are the perfect canvas to experiment with paint too. For a feature, you could use an accent color to decorate your windows, or to make your woodwork act more cohesively, try painting it to match other elements in your space, as in this living room paint idea by Studio Munroe.
'Here, we used the same color paint on both the trim and ceiling, so the floral wallpaper was the star of the room with the lovely architectural woodwork details clearly taking the backseat,' explains interior designer Emilie Munroe. 'If we had highlighted the casework in a separate paint color, the room would risk feeling overwhelming or chaotic with each element vying for the front stage.'
11. Embrace the trend for glossy finishes
Inspiration for paint ideas are everywhere and borrowing from your favorite restaurants and design-led haunts is an exciting way to bring a little bit of that social buzz home. As this new restaurant Isola in St. Christopher's Place by interior architects Fettle proves, gloss is back and is looking like a huge interior design trend for 2022.
'The color palette for Isola restaurant was inspired by Grand Sicilian Manorhouses,' says Andy Goodwin, founder of Fettle. 'We utilized pale yellow polished plaster with a high gloss finish and applied it with a brush to ensure that the strokes create movement and texture. Using high gloss paint finishes helps to ensure the available natural light bounces around the room.'
12. Get creative with decorative shapes
How fabulous is this kitchen diner designed by 2LG Studio (opens in new tab)? There's so much inspiration we could take from this space but lets just focus on the paint idea that frames the door. It's fun, playful, and adds a whimsical touch – and yet it feels very chic and grown-up.
Recreating this look is super simple too, all it takes is a pot of paint (you could use a sample pot even), a small paintbrush, a pencil, and some patience. You could get technical with tape, but with a design like this, we'd say your fine to freehand it. Just lightly draw your design with a pencil and then start painting.
13. Give old floor boards a new lease of life
Painted floorboards are a classic look, and you can create so many looks to suit your style from super simple whitewashed boards to checkerboard flooring or stripes as can be seen here.
'Painting the floor with an accent color brings a huge amount of drama to a space,' says chalk paint expert Annie Sloan (opens in new tab). 'Keep the rest of the room neutral with soft nude browns such as taupes or fawns to focus attention on the floor. Or go for white walls – but be sure to choose a warm-toned or neutral white rather than one with blue undertones as this could make the space feel stark.'
14. Use paint to revive old furniture
Upcycle tired furniture with bold accent shades to breathe new life into old pieces. Bright yellows, bold blues, vibrant reds, and rich emerald greens are great for invigorating furniture. They'll complement the popular navy blue and grey neutrals that we're seeing in many homes. Here, odd chairs are united with a hit of blue.
Check out our guide on how to paint furniture – it's a super quick job that can be achieved in a couple of hours.
15. Go paintless and embrace a raw plaster finish
Raw plaster walls have a beautiful texture and inject a subtle, earthy wash of color to your home. They provide a wonderful canvas for brighter colors to shine too, from pastels to bold neons like in this light-filled bathroom by interior designers Holloway Li.
'Don't use any paint at all and retain the raw plaster look,' advises Alex Holloway, founder of Holloway Li Interior Architects. 'We found a sealer called PROTECTiT100 that binds the raw plaster so it doesn't leave a dusty deposit and means the space captures the raw feeling and is a lot easy to repair and patch over time, without having to repaint the whole room each time.'
What paint ideas can I create with tape?
Decorator's tape is a useful tool for getting the best finish when it comes to how to paint a room, but it can also be used to create interesting paint effects on your walls and more.
Tape can be used to mask out areas for a color blocked scheme, for example, while you could even use tape to create stripes or a grid-like design too.
Many people have found tape useful for angular, geometric wall designs, though these have fallen somewhat out of fashion for more organic shapes, which would need to be painted freehand.
Hugh is the Deputy Editor of Livingetc.com. From working on a number of home, design and property publications and websites, including Grand Designs, ICON and specialist kitchen and bathroom magazines, Hugh has developed a passion for modern architecture, impactful interiors and green homes. Whether moonlighting as an interior decorator for private clients or renovating the Victorian terrace in Essex where he lives (DIYing as much of the work as possible), you'll find that Hugh has an overarching fondness for luxurious minimalism, abstract shapes and all things beige. He's just finished a kitchen and garden renovation, and has eyes set on a bathroom makeover for 2022.
With contributions from