Painted wall ideas – have some fun with your walls with these creative paint ideas
These 50 cheerful painted wall ideas are guaranteed to lift moods and add some fun to your walls. Ranging from graphic patterns and bright colour blocking to painted borders and dado rail effects, it's time to get out the masking tape...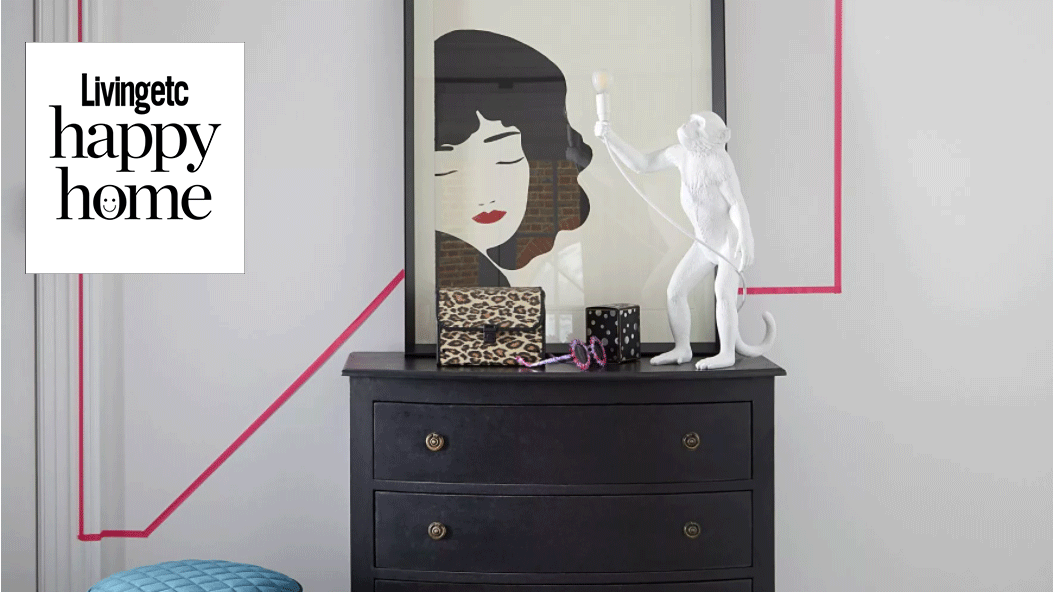 (Image credit: Future)
By Lotte Brouwer published
Have some fun with your walls with these cheerful painted wall ideas.
Aside from being an instant mood lifter, these cheerful painting and decorating tricks will instantly revive tired walls and dated schemes with some fresh energy.
The wall is a blank canvas, so it's surprising how few of us do much more than paint on one block colour. With a little imagination, masking out a wall and painting pockets of colour can look surprisingly chic. These wall paint ideas with tape can transform the traditional into something altogether modern, and make the unassuming seem really rather clever.
Colour blocking will help to zone different areas, which is particularly useful in open-plan spaces. Colour is a great way to break up open-plan spaces and create zones that mark the difference between where you cook, say, and where you relax.
Feeling colour shy? Even just a little pot of bright paint can go a long way, for example when painting a bright border edge on your floors or walls.
By painting two-thirds of the wall with a colour and leaving the top third white will help to visually raise the ceiling height. Splitting a wall with two tones can look modern and sharp, and a light hue above a darker one makes a room seem larger.
A dado or picture rail makes a good divider, but where you draw the line will depend on the room's features and where the light falls. Painting borders can create the illusion of a dado rail where there isn't one, and painted borders can also frame floors, fireplaces, arches, windows and other features, drawing attention to them.
Highlight interesting architectural details with contrasting or complementary shades and create a picture frame effect.
And, if it's maximum drama you're after, it pays to be brave. We love some of the striking painted wall ideas used below, illustrating how to create geometric shapes, horizontal stripes, smart check patterns or even mountain effects, bringing imaginative flair to schemes.
A painted ceiling is also a fabulous way to introduce a bold accent colour – you can even take to the floors. 'Painting the floor with an accent colour such as Klein Blue brings a huge amount of drama to a space,' says chalk paint expert Annie Sloan. 'Keep the rest of the room neutral with soft nude browns such as taupes or fawns to focus attention on the floor. Or go for white walls – but be sure to choose a warm-toned or neutral white rather than one with blue undertones as this could make the space feel stark.'
Here are a few simple ways to weave a complementary shade into a scheme.
See all of our off-the-wall ideas for walls below...
1. Add a neon border
A crisp line of neon pink adds a bold, modern edge to this room without being overbearing.
2. Frame a doorway in sunshine yellow
A dash of incandescent yellow – Trumpet by Little Greene – delivers a burst of energy and links the front living room to the middle sitting room in the home of interior designer Suzy Hoodless.
3. Pair unexpected pastels
Here, a large frame acts as a border for a plane of contrasting colour. It's a striking effect, and works well with these two pastel shades.
4. Split divide
In this long and thin corridor, the colour was only taken half way up the wall. If the narrow space had been blue all the way to the ceiling, the space would have felt very enclosed. By using a light shade at the top, the area feels more open.
5. Create a Mondrian inspired look
We love this paint effect idea, where masking tape has been used to create neat lines, borders and boxes, inspired by the artist Mondrian, and then coloured in.
6. Frame a bed with a painted headboard
Twin beds are given the illusion of headboards simply with paint.
7. Paint rainbow stripes using unexpected colour pairings
In this example from Farrow & Ball, masking tape has been used to create a striking effect on the wall in three complementing colours.
8. Inject a burst of energy by introducing yellow below the dado line
Zesty yellow is an unusual choice for undertake dado, and the colour is taken up the inside of the arched hallways too. The effect is playful and uplifting.
9. Paint a floor border
Brightly painted borders on the floor inject a playful energy.
10. Paint up the staircase
Using a fun colour on the stairs, even just on the vertical part of the steps, instantly makes them more cool.
11. Highlight an alcove in a contrast colour
The ceramics collection on this alcove ledge is highlighted by the strip of pastel pink.
12. Paint a geometric repeat pattern
Using masking tape, you can easily create some eye-catching geometric patterns.
13. Colour block using complementing shades
Can't decide on a colour? Choose a mix instead. Here, tape was used to combine three complementing shades in a modern, geometric way.
14. Go for grid-like symmetry
Here Dulux shows how you can easily create a smart check pattern simply by choosing a backdrop colour, then overlaying it with a criss cross of stripes.
15. Wrap your room in thick horizontal stripes
Painting a repeat pattern like these pastel stripes on the walls creates a smart, wallpapered effect.
16. Add a sense of whimsy with a scalloped or wave edge border
We love the wave affect ribbon of paint that frames this doorway, styled by 2LG.
17. Fake a dado border
Who said you need an actual dado rail to have a painted colour below dado height? Using masking tape instead, you can create a more up-to-date and modern version of the idea.
18. Paint doors, door frames and skirting in a contrast colour to the walls
The painted skirting, doorframe and door create a striking frame into the next room.
19. Introduce a transitional colour to signal a change in zones
This idea is illustrated again here, where a grey doorway creates a transition from this room into the next.
20. Highlight the cornicing with an accent colour
A pink 'racing stripe' has been added to this cornicing, adding a modern twist to the traditional room. The back of the fireplace is painted in same pink used for the cornicing.
21. Add drama with a vibrant turquoise shade
Introduce splashes of colour through painting doors in bold colours, and leaving the rest of the room more neutral. In this sitting room, a grey palette is lifted by the Tiffany blue door, the two fuchsia chairs and tangerine artwork.
22. Combine different shades of the same colour to accentuate features
Highlighting skirting, windows, doors, mantels and other features in a stronger tone can make a subtle impact. Get the look: Velvet Plum by Crown is similar
23. Instantly lift a grey scheme with a bright yellow
Here the vertical part of the stairs is painted in a zingy yellow, giving a cheerier contrast to the palette of white and greys.
24. Wrap a ribbon of unexpected colour around a room
A ribbon in burnt ochre contrasts against the ink-drenched room.
25. Sandwich a border line between contrast colours
Here, a thin painted line acts as a border to the colour below it.
26. Envelope a room from top to bottom – including the ceiling
This living room scheme features a sea of deep greens and rich textures to create a dramatic yet harmonious feel. Flashes of metallics and a dash of contrasting colour in the accessories heighten the glamour.
27. Run a thin line of neon colour up the staircase to inject some fresh energy
A neon stripe runs up the stairs, cutting diagonally across the wall and punctuating through the grey colour palette.
28. Paint the ceiling in a dramatic colour for a den-like effect
Flashes of red keep this decadent cinema den feeling daring and grown-up.
29. Match the ceiling to the skirting and doorframes
The door and door-frame are painted in the same shade as the ceiling, giving this room more edge.
30. Colour block to signify a change in spaces
Enveloping each room in a different paint colour will create distinctly different zones, rooms and moods.
31. Dare to play with dado colours
This room's low dado rail makes a natural split, while the daring shade of turquoise instantly makes the space more modern.
32. Paint across your tongue and groove for a playful effect
In this kitchen, paint playful cuts across the grooves of the kitchen dresser. The dresser itself is a fun twist in that the grooves carry on up the wall and onto the ceiling.
33. Paint the floorboards
Here, the gloss painted floor boards with a stripe effect acts as the focal point of the room, and instantly makes this otherwise uninteresting room feel modern and cool.
34. Consider unconventional border placement
In this off-the-wall idea, the dado rail is placed unusually high, with the space above it painted in a wild fuchsia.
35. Pair monochrome with an accent colour
Here, a monochrome scheme is made more interesting with painted cornicing, skirting, doorframe and dado rail, plus the contrasting pop of the raspberry pink door.
36. Spill over from your walls onto curtains and furnishings
The painted dado-effect appears spill over onto the curtains. Matching curtains to wall colour creates a feeling of space and uniformity so could be a good option for smaller spaces. Play with contrasts, however, for dramatic effect and to create a focal point within the room.
37. You can't go wrong with pink plaster
Pistacchio walls are a light, calm contrast to the dusty blush ceiling and dark olive dado.
38. Use paint to revive old furniture
Upcycle tired furniture with bold accent shades to breathe new life into old pieces. Bright yellows, bold blues, vibrant reds and rich emerald greens are great for invigorating furniture. They'll complement the popular navy blue and grey neutrals that we're seeing in many homes. Here, odd chairs are united with a hit of blue.
39. Pair swamp green with smokey blush
This swampy green is what we imagine you'd get from mixing in a brown or orange pigment with a mossy green – it's very deep, grounded and earthy. The paint has been taken across the headboard too, to striking effect, but we like that it hasn't been taken all the way up to the ceiling. Pink pairs well with it, and pink bedding ties in with the blush hue on the wall.
40. Highlight a window frame
A bold colour framing the window creates a framed picture-like effect; the picture in this case being the view. In this bathroom, the window frame and ceiling have been accentuated with dashes of sunny orange and ultramarine, giving the period space a contemporary feel.
41. Three is not a crowd
Three different shades from Little Green instantly transform this traditional room into something ultra modern.
42. Accentuate skirting
Yellow skirting also achieves a modern, zingy and uplifting effect.
43. Frame a colour with a darker shade on either side for a 3D shadow effect
In this idea from Little Greene, a feature wall is made to look 3D simply by painting the sides of it in a slightly darker shade.
44. Use black as an accent
These gorgeous Deluxe shades complement each other perfectly, and look very smart in this arched window composition.
45. Dive in with all-over colour
Blanket coverage with a single paint colour makes a bold design statement. Faux flowers both relieve and enhance the dark and moody colour scheme.
46. Go freehand for a less structured look
You could even use tape to break away from straight lines, by overlapping tape at different angles or by intentionally creating messy lines – as long as you make it look intentional, as has been achieved here.
47. Experiment with unexpected combinations
A wall of built-in storage is given a makeover with three contrasting colours and a roll of masking tape. We particularly love how the purple doesn't carry right up to the ceiling but is cut off at an unexpected point, halfway up the top cupboard.
48. Create a splash-back effect with a block of colour. Make it waterproof with a glass plate
The space behind the kitchen counter is painted in a block colour, creating the effect of a splash back. Of course, this would only work if the sink is in the kitchen island, unless you protect the paint with a waterproof coating.
49. Introduce a single strip
A deep indigo anchors the lower half of the room, with a textured wallpaper above and a strip of blue as a zingy divide.
50. Try out an ombre effect
These walls are painted in a gradually fading ombre effect, while the contrasting pastel pink ceiling has a crisp, neat edge.
Lotte is the Digital Editor for Livingetc, and has been with the website since its launch. She has a background in online journalism and writing for SEO, with previous editor roles at Good Living, Good Housekeeping, Country & Townhouse, and BBC Good Food among others, as well as her own successful interiors blog. When she's not busy writing or tracking analytics, she's doing up houses, two of which have features in interior design magazines. She's just finished doing up her house in Wimbledon, and is eyeing up Bath for her next project.