These 18 paint ideas show how the world's most creative designers are using paint right now
The right paint ideas can transform a home from ordinary to extraordinary, without breaking the bank. Here are 18 of our favorite designer-approved schemes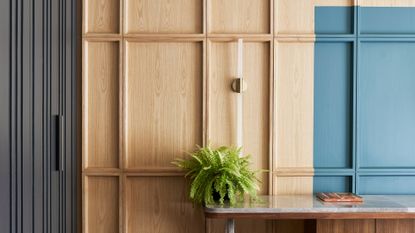 (Image credit: Shiraz Jamali Architects)
I like to think of paint as the great equalizer when it comes to decorating our homes. Yes, while it's true that all paint isn't the same quality, a lot of budget-friendly paint brands are just as great to use as the more premium offerings, and when it comes down to it, it's down to the choices and creativity of the person applying it as to how it can elevate the space.
It's unsurprising, then, that many of my favorite interior-designed spaces use paint in innovative and interesting ways - after all, these are the ideas that every home can take inspiration from.
It's also so easy to tailor a good paint idea to your own tastes. The designers of these 18 creative spaces may have chosen a specific color for their schemes, but each can be easily changed to match your own home decor.
Hugh is an experienced homes writer and editor. He has written hundreds of articles for various helping readers make the best home design choices, and spends her days interviewing interiors industry experts to bring the latest ideas to her readers. For this piece he spoke to the world's interior designers who use color in the most dynamic ways so as to be able to compile a selection of incredible and fresh looks.
18 paint ideas for a creative finish to your walls
If you think of creatively using paint, you might go straight to bold, colorful designs. Yet, the best uses of paint understand that there's beauty in the understated, as well as the exciting.
With that in mind, these 18 schemes span from colorful modern looks to designs where paint color ideas creates a soothing space, ensuring you've got the best of both worlds to choose from.
Where to shop for paint online
(opens in new tab)
The beloved paint brand can be shopped direct from the Farrow and Ball website. Look out for a range of new colors, just launched, for new inspiration for your home
(opens in new tab)
Lick is a relatively new upstart in the world of paint, but has a range of beautiful colors and collaborations with top names in the world of design, including previously with Livingetc.
1. Make a bold move with your trim
When you want to do something bold, your first thought may be to pick a vibrant shade for the walls, but you can make just as much of an impact by using paint ideas to highlight smaller details.
'We work with a lot of color and pattern and have learned over the years that people live happily with patterns when the eye has space to rest in the room,' says Studio Munroe (opens in new tab)'s Emilie Munroe. When combining a lot of different colors in a space, a more neutral wall can provide relief and help the whole palette hang together better, as in this kitchen-diner design where the wall and door trim is painted in a soft, dusky red.
'Working with clients that had such a bold vision made this home a joy to design,' Irene Astrain, co-founder of Astrain Scheldt Architects (opens in new tab) tells us. 'This color palette is such a success because it hangs together throughout the other rooms in the house, too.'
2. Design in a modern mural
Wall murals can feel like a lot, and when it comes to paint murals vs wallpapers, there's also a lot of work that needs to go into making sure the proportions work well with your space. However, in the best examples, wall murals become a part of the fabric of your space.
'Frescoes are where art becomes architectural,' artist Florence Bamberger (opens in new tab) tells us, 'where interiors become truly artistic, graphic and unique.'
This mural is inspired by the surroundings and the native terracotta of the Provence region, where the home is located. 'When the fresco is directly inspired by a personal story, or by the story of a house, it makes a lot of sense and seems to have been there always,' Florence says.
3. Don't forget the ceiling
The new accent wall, painted ceiling ideas have become a hugely popular trend recently. Whether you're opting for something bold, or something that creates a calming effect for your space, painting with plain white overhead is taking a backseat to a more colorful approach.
'We wanted this bedroom to feel serene and calm, like a warm spring day,' says interior designer Emilie Munroe, founder of Studio Munroe, of this relaxing bedroom scheme. 'Because the background color of the wallpaper is aqua blue, using white on the ceiling would have actually felt high-contrast and jarring. By matching the aqua on the ceiling, the room now feels cozy and grounded.'
4. Go bold with the color blocking trend
The modern trend for color blocking focuses around painting abstract shapes on your walls, ceilings and more, creating simple, yet bold murals in bold color palettes.
In some instances, they're more effective than others, and in this design by Mumbai-based interior design and architecture firm Zero9 (opens in new tab), this creative space has been designed in conjunction with the placement of furniture to highlight certain aspects and zone the room with color.
'The living room is a visual treat right from the entrance door with its pop of colors and an experimental color blocking which uses the walls and floor as the canvas for this artistic expression,' explains designer Prashan Chauhan. 'The furniture complements the visuals with its sharp contrasts in form and color.'
5. Combine paint and paneling
Paint and wall paneling have always made easy partners. Paneling makes for an obvious feature wall, for example, while wainscoting lends itself to creating rooms that can be split through the middle with color.
However, there are also designers who look to disrupt this easy-going relationship by introducing elements of color blocking walls outside of the natural end-points of paneling. Paneling, in many ways, feels so structured that this disruptive use of paint brings a freedom to it, while also giving more traditional paneling styles a sense of freshness.
6. Set your sights on color drenching
Color drenching refers to a relatively new paint trend where you paint the ceiling and walls the same color. You can also, even, include the trim, doors, crown moldings and more in your one-color scheme, painting the entire space in a single shade.
The effect? Not only does it create a pared-back canvas to decorate, lending a modern look even to spaces featuring more traditional architectural details, but it also plays with the dimensions of the rooms by blurring the lines between the ceiling and the walls.
'These days with all the chaos in the world, creating a cocoon in one's personal space is more important than ever,' adds interior designer Lia McNairy of LALA Reimagined (opens in new tab). 'This is why we love to paint the ceiling, walls, crown molding and baseboards all in one color to give us a sense of security and make one feel like we are living in a jewel box. Small rooms are perfect for experimenting with a bold color and especially a powder room to get your feet wet without having to make a huge commitment elsewhere in the house!'
Whether you keep the scheme entirely tonal or add an accent that really pops against this one-color backdrop, it's a modern way to approach decorating your space right now.
7. Take color drenching to the next level
There isn't just one way to do color drenching. For some, it's about making the walls and ceilings the same color, while some will opt to make kitchen cabinets match the wall color, for example. The most exciting and design forward of these spaces do it all, however.
'Wrapping a room in full color, even the floors – can create a true element of surprise,' interior designer Chelsea Hing (opens in new tab) tells us. In her soft pink home office design, the walls, millwork, trim, ceiling and even the carpet and textiles are all almost entirely the same color. It makes what could feel like a pretty pedestrian set-up feel exciting and design-forward.
8. Transform with two tone walls