Colorful backyards are the year's most joyful outdoor trend – these 11 ideas show it goes way beyond your flower beds
These colorful backyards will show you how to get more expressive with your outdoor space, from exotic flowers to bold furnishings, and more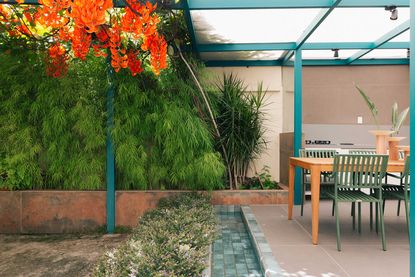 (Image credit: Dentro Fotografia. Studio credit Dobra Arquitetura)
Colorful backyards, with bold planters, painted walls, and lively-hued furniture can become a home's eye-catching focal point, and turn the outdoors from ordinary to one-of-a-kind. And with the weather turning warm, there's no better time than now to cozy up and create the most welcoming outdoor space where you can lounge around and spend your days.
To help you out, we reached out to top experts, to understand how to add vibrancy to backyard ideas. Here are 10 ways to inject hue into the outdoors.
1. Bold and bright outdoor furniture
Add a splash of color to your outdoor seating with colored sofas, stools, and chairs. Even adding a colorful hammock could make for a fun, welcoming space.
'It's so easy to embrace bold colors in the outdoors since there are so many wonderful and durable outdoor fabrics to choose from today,' says Victoria Holly, principal, and founder of Victoria Holly Interiors. 'This wasn't the case 10 years ago, but now there have been many improvements in fabrics, and dyes and there are so many exceptional offerings out there for throw pillows, cushions, table clothes, and more. Microfibre, polyester to Sunbrella, you can choose the ones that suit your needs.'
'There are many playful outdoor furniture options too available in bold colors, or furniture made in powder-coated or repainted hues,' says Victoria. 'And of course, so many design-forward styles of planters to mix and match with.'
'The theme here was to create a more fresh and citric atmosphere, to enjoy the hot summer days,' says Nildo Jose, founder of NJ+ Arquitetura of this backyard with vibrant green furniture. 'This space is completely uncovered and is used by the family quite a bit. We added an outdoor kitchen to this space that serves intimate dinners, and complemented it with brightly colored outdoor seaters.'
2. Colorful pillows
You can also embrace bolder backyard color trends by adding vibrant pillows to your existing outdoor sofas. If you have a wonderfully set up outdoor seating and you want to warm it up and add a bit of layering, consider throw pillows, seat cushions, or upholstered poufs. This allows you to easily redo your backyard color scheme without completely starting over.
'For outdoor cushions, man-made fibers like coated polyester, acrylic and olefin both wear better than natural fibers and are also resistant to moisture,' says Ellie Mroz, founder of Ellie Mroz Design. 'I also suggest options such as Sunbrella, Perennials or Inside Out. These will tolerate harsh outdoor conditions.'
3. Outdoor rugs
To warm up the exteriors, and add texture and movement to the space, you need to choose the best outdoor rugs that will suit the size and function of the area. Today outdoor rugs are available in myriad colors, patterns, and sizes, plus they look a lot like their indoor counterparts, making them seem decorative and helping to turn your backyard space in to an outdoor living room of sorts.
The difference is that outdoor rugs are generally designed with long-lasting materials that will hold up against weather and resist stains and fading. The best outdoor rugs are typically made from synthetic materials. From polypropylene, polyester, and Nylon, to jute and sisal, you can consider any of these textured materials to add a touch of color and design to your backyard seating.
4. Flowering climbing plants
A clever way to create a vivid landscape in the exteriors is undoubtedly through planting, and a climbing plant is especially effective as it can cover an outdoor wall or structure like a pergola or garden trellis to bring color to your garden's vertical planes.
'The gorgeous pink hue of this Bougainvillea is a delicious complement to my Party In the House table and Bring It On chairs,' says Kathy Taslitz, founder of Kathy Taslitz Studio Design. 'I love matching and mixing my custom furniture with my client's surrounding floral and fauna for an explosion of color.'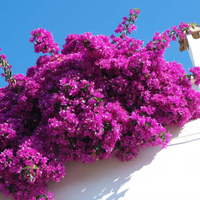 5. Outdoor paint
Painting an exterior door, a deck or an entire structure is a quick way to add color to your home's exterior. Choose the best exterior paint for doors and windows, and make sure the hues match the home's existing exterior palette. If your home is set within a row of homes, this could be a great way to set it apart and make it stand out.
Another thing to note is that an effective exterior color scheme doesn't always have to have bright paint colors. Even a muted palette accented with hints of black can work. Simply paint the door frames and shutters so the look is crisp and clean instead of one-note.
6. Outdoor tiles
Consider bright-toned backyard or patio flooring to build the outdoor scheme from the ground up.
'Ceramic and porcelain are durable tiles to utilize in outdoor areas, but I also love incorporating natural materials like limestone for the outdoors,' says Victoria. 'And incorporating outdoor tiles is a great way to lean into the architectural style of your home. For Mediterranean-style homes, there are beautiful stone-blend tiles such as those from ARTO tiles. Or for a more modern home, going with a clean porcelain or limestone look can add warmth while still working with the bones of the home. You can incorporate tiles on the stairs leading to your home, or also in your pool/fountain area, as another way to tie in the material throughout.'
'We love using patterned tiles outdoors,' says Lauren Lerner, founder, and principal of Living with Lolo. 'Opt for ones that are good for your climate, such as terracotta or porcelain. Some of these can get very hot, so they may not be the best choice in climates that are extremely hot in the summer. When choosing a pattern, opt for something neutral to stand the test of time.'
7. Outdoor dining chairs
Furniture made in metal is generally affordable and available in many colors, making it easy to find one or more to suit your garden or patio. Outdoor dining chairs in bright yellow, red, and pink look particularly striking, especially if your backyard looks out to a lawn. Consider flea markets and vintage sales for pieces you can transform with a fresh coat of paint.
This design, created by Richardson & Associates Landscape Architecture, uses multi-colored chairs to bring a riot of color to an otherwise subdued backyard - the perfect talking point for al fresco dinner parties.
To add more intrigue to the outdoor dining room and to add more color, consider a vibrant tablecloth over your outdoor table. Brightly colored glassware, placemats, or napkins can also elevate backyard entertaining. Balance out the colors with runners made of natural materials such as rattan or bamboo.
8. Colorful flower beds
'Spring is the perfect time to plant various flowers, such as daffodils, tulips, hyacinths, crocuses, and irises,' says Richa Kedia, founder of Simplifyplants & Nurserylady. 'These flowers come in a range of colors and can add a vibrant touch to your backyard. If you're looking for low-maintenance options, consider planting pansies, petunias, or marigolds. These flowers are easy to care for and can bloom for a long time.'
'Another option is to plant wildflowers, which can attract bees and butterflies to your backyard,' says Richa. 'Some popular wildflowers include black-eyed Susans, coneflowers, and phlox. Ultimately, the flowers you choose for your terrace or tropical garden, or backyard, will depend on your taste and the climate in your area. But with so many options available, you're sure to find something that will make your backyard bloom with color this spring.'
9. Bright containers
Want to create whimsy in your small porch or backyard? Consider colorful flower pots, that along with greenery, spread the joy of hues around the area. Suspended flowerpots along the fence for colorful wall art. If you wish, you could do a weekend DIY project with terracotta pots and coat the bases with spray paint.
To create an interesting outdoor vignette, consider pots in various sizes, and textures to add dimension. A large container can help you add in more flowers and plants, adding more hues to the outdoors. Plus, add decorative accessories such as sculptures, rocks, and accent furniture to amp up the area.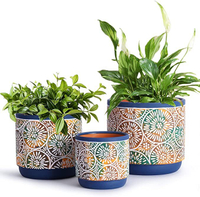 Pepper your outdoors with these clay flower pots available in varied colors and embossed with delicate decorative flower pattern
10. Consider painted outdoor structures
Let your home's pergola become the perfect starting point for the outdoor color scheme. Consider interesting hues as such blue, green or pink, and paint the entire structure so it emerges as a jewel within your outdoor backyard or garden. Fill the space with accent chairs and lively green throw pillows for a coordinated look.
Consider paints in satin or eggshell finishes as these have low reflection, which means that they hide bumps and imperfections on the surface. If it's semi-gloss or gloss finish you're interested in, consider these for trim and doors. The glossier paints are more durable so they will hold up well on these trim surfaces that take the brunt of the weather.
11. Introduce colored LED lights on exteriors
To add more layering to the exteriors, you could bring in colored string lights on the exterior to give the backyard a lively look.
'Multi-colored string lights aren't just for Christmastime,' says Sheva Knopfler, co-founder of Lights.com and creative director and decor expert. 'They add a fun pop of color to your outdoor spaces throughout every season. Define your outdoor space by stringing the lights around the perimeter. You can hang them on the fence, or drape them between trees or on poles. The multicolored LED lights create a warm look and are great for parties.'
The Livingetc newsletter is your shortcut to the now and the next in home design. Subscribe today to receive a stunning free 200-page book of the best homes from around the world.
Aditi Sharma Maheshwari is an architecture and design journalist with over 10 years of experience. She's worked at some of the leading media houses in India such as Elle Decor, Houzz and Architectural Digest (Condé Nast). Till recently, she was a freelance writer for publications such as Architectural Digest US, House Beautiful, Stir World, Beautiful Homes India among others. In her spare time, she volunteers at animal shelters and other rescue organizations.