10 backyard color trends for 2023 - design experts on the shades to elevate your outdoor space
Backyard color trends for 2023 include warm neutrals, nature-inspired earth tones and plenty of vibrant colors - experts explain how to use them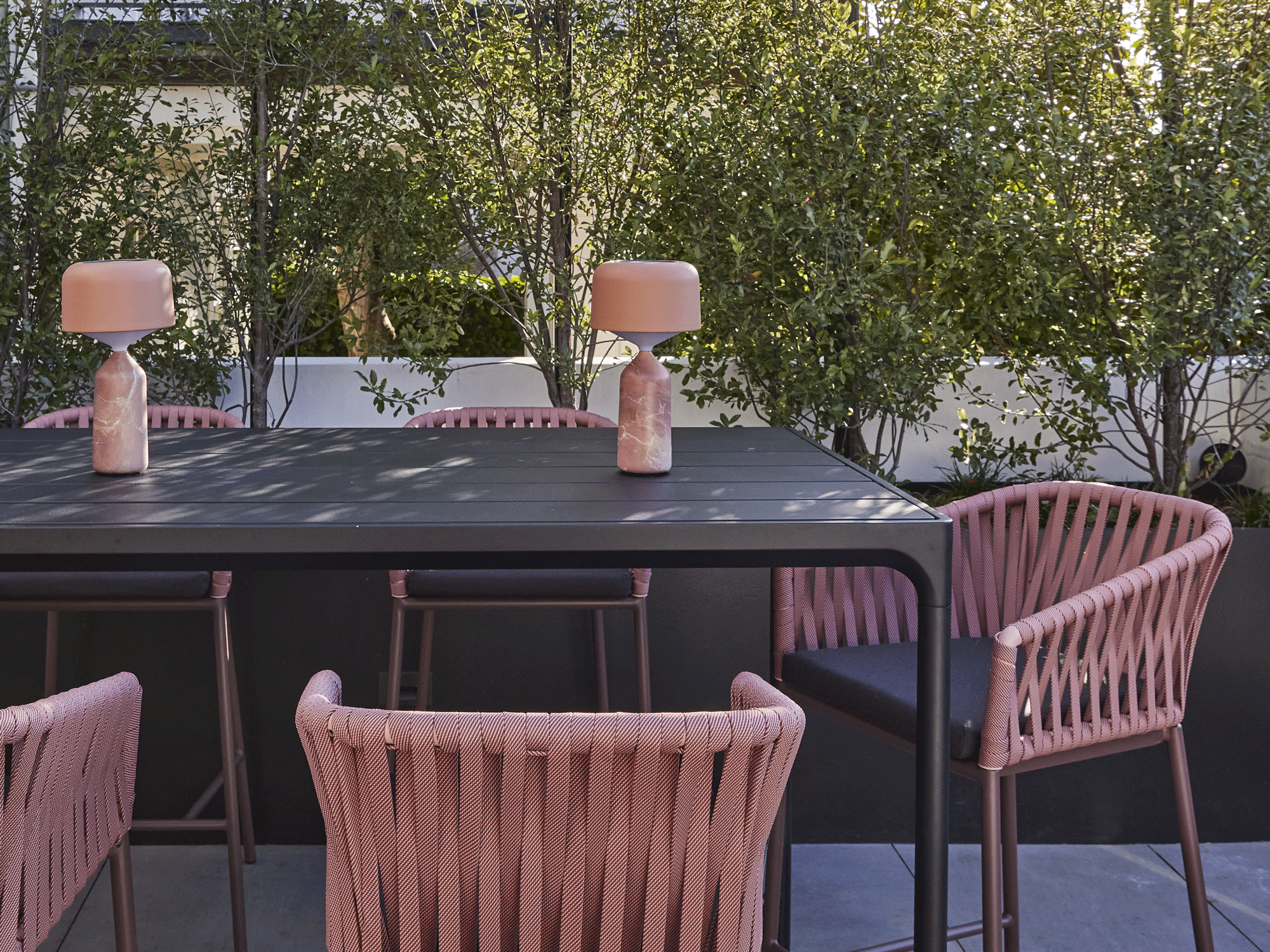 (Image credit: Ballon Studio)
Backyard color trends are here to help you creating a successful outdoor look. Just like with interiors, there are shades that come and go, palettes that are key for creating the mood we all want now. And this year - no surprise - it's all about feeling calm, soothed and uplifted.
Yes, for backyards there are lots of comforting neutrals and natural earthy tones as well as vibrant pinks and reds, soothing greens, and dark and inky blacks. So whether you're looking for a complete color makeover or a quick color update these backyard color trends picked by the experts are sure to offer easy wins.
1. Terracotta
Terracotta is a big backyard color trend for 2023. It's one of the leading outdoor colors in all its nuances, which range from paprika and russet through to warm orange and hints of brown. This means it easily lends itself to all kinds of garden themes. It's a rich, yet earthy tone that's perfect for use in small spaces to create a cocooning effect.
'We've seen the resurgence of neutral colors recently but this year we're about to see reimagined neutral shades,' says Kris Lippi of isoldmyhouse.com. 'More and more buyers are looking for homes with neutral and earthy tones like terracotta, especially in the backyard, because these colors are a lot easier to work with.'
Aside from loving the color, terracotta pots are also highly sought after as the planter of choice for the eco-minded. 'In addition to their lovely color, terracotta pots are made of clay, which is a highly sustainable resource,' says Kris. 'They don't contain synthetic materials, which often involve environmentally harmful chemicals.'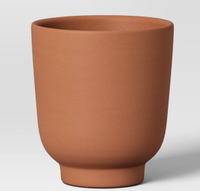 Terracotta planter, $3, Target
It's hard to believe this cute little planter is so cheap - it looks like you picked it up from craftspeople in Tuscany. Fill with lavender, herbs or spiky aloe plants, and place along steps or backyard ledges.
2. Copper and rust shades
The deep earthy reds that are in vogue now are a million miles from more obvious shades of scarlet and crimson. Instead it's all about rich rust and burnished copper tones. The luxurious and comfortable Mediterranean style of this LA decking area brings together influences of European eloquence, rustic décor, and a rich color scheme that nails this look with both modern and traditional elements.
'For 2023 we are seeing more copper and rust tones,' says the Los Angeles based interior designer who came up with this look, Megan Dufresne of MC Design. 'Set against a backdrop of natural stone and lush greenery this is the perfect color combination to create an inviting backyard look'.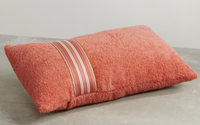 Cotton terry pillow by Loro Piana, Net-A-Porter
The warm rust shade of this pillow invites you to lie back in your hammock and relax on it. Or in your lounger. Or outdoor chair. Essentially, the heat of of the color just invites relaxation, doesn't it?
3. Soft pink
The color pink has a wide range of tones and shades that offers something for everyone if you want to give your outdoor space an on-trend lift for 2023. There are many ways to include pink in your design whether you're looking to go all in with an exuberant shade on a wall or simply pick out one or two soft pink accessories.
We love these stylish outdoor chairs and think it's a great way to introduce some color in your yard. 'As with indoor spaces in 2023, color is the name of the game when it comes to outdoor furnishings and accessories,' says Elizabeth Moya, design consultant at furniturelandsouth. 'Select one, two or even three of your favorite bright colors to combine and create a cheerful and vibrant outdoor space. Most of all have fun with your choices.'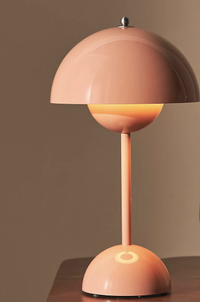 4. Inky black
At first, black paint may feel a little daunting so maybe start with a small idea. Painting a front door black is a favorite standout design choice that's very on trend right now. If you like the result then extending the look by painting your home exterior black too makes a powerful visual statement.
'The outsides of our homes are often the poor relation to the interiors in terms of decoration, but not only will a coat of paint maintain and refresh an exterior, it is also a fantastic way of creating an impression,' says Helen Shaw of Benjamin Moore. 'Trend-wise off-black and deep gray have become very popular and are often used on all exterior woodwork making the property stand out in a subtle way.'
5. Moss green
For their 2023 color of the year, Krylon selected Spanish Moss, a deep forest green inspired by the natural world so it couldn't be more perfect for backyard makeovers especially as it's a spray paint format.
Historically, green has been a go-to for our outdoor design choices. 'A pop of green in a backyard space can create a joyous and happy environment for relaxing,' says Kristin Minasian, interior designer at Living Spaces. 'Sage and olive-green colors have always been associated with summer, but now they're a year-round look outdoors.' Meanwhile Spanish Moss takes the green look a shade darker.
To get this look in your own backyard, try picking out paint details on walls or outdoor furniture. Green segues perfectly with the warm tones and natural elements that are big this year. 'These tones are sure to bring a sense of nature to your outdoor space,' says interior designer Kristina Davis from lettiandco.com.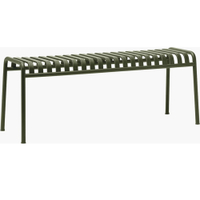 With elegant lines and simple design, the Palissade bench is super weatherproof, made from powder-coated steel. Pair it with a dining table or give it its own space in the backyard to really shine.
6. Bold red
We've already touched on the earthy shades of red that are one of the key backyard color trends this year and now it's time to look at the bolder incarnation of the shade, which is also big in 2023.
No one can ignore the color red. It draws the eye and demands attention but should perhaps be used sparingly as part of your exploration of backyard color. This means it lends itself perfectly to accessorizing.
Finding interesting ways to bring in splashes of red is what this summer is all about when it comes to backyard color trends. 'The easiest way to bring red into your design is by adding accent pieces like seat cushions, pillows, outdoor umbrellas, vases, or even pool accessories,' says Megan Dufresne of MC Design. It's definitely time to have some fun with red.
7. Earth tones
The homeowners of this yard in Miami wanted to update their garden fence with a color makeover. Although structurally sound they felt it needed an aesthetic refresh. Painting the fence a dark charcoal anchors the rest of the earthy color palette. The furniture pieces and stone surround of the fire pit add to the rustic feel.
'In 2023, I see backyard design trending towards sophistication and polish,' says Blima Ehrentreu, CEO of The Designers Group, an interior design firm based in New York, Miami, and Toronto. 'Popular color choices include natural earth tones. I see the use of neutral shades of brown, beige, and green growing in popularity for creating a serene and tranquil outdoor environment.'
8. Warm neutrals
If you're interested in backyard color trends and are looking for something a bit more subdued and natural, consider muted colors like beiges, tans, and whites. 'These neutral colors are perfect for creating a calming and soothing atmosphere in your backyard,' says Jeanette Fusco, interior designer at HiHomePicks.
It's also a great choice if you want a backdrop to get creative with on-trend pinkish-red brights like Benjamin Moore's Color of the Year, the fiery red-orange Raspberry Blush , which is perfect for accent walls, throw pillows and accessories.
To set the stage for a timeless and tranquil space consider investing in a deck that is full of neutral hues like a sandy beige or cinnamon brown. Trex has just launched Carmel, a soft creamy taupe that integrates toasty brown with grey undertones.
9. Viva Magenta
One of these easiest ways to introduce backyard color trends is with bright seasonal blooms. It's particularly easy if you want to add accents with red or pink flowers as there are so many to choose from and you can be sure to get the shade you want.
If you'd like to tap into the trend for Pantone's Color of the Year Viva Magenta there are lots of flowers that will tick that vibrant red-pink box. Try dahlias for months of color. They come in every shade of raspberry, magenta pink and ruby red.
Combine with other flowers that will max up the magenta like eye-catching zinnia 'Profusion Double Hot Cherry', which will flower abundantly all summer long. Meanwhile 'Raspberry Berry' echinacea also has bold magenta petals with a darker red cone in the center.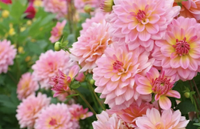 10. Modern monochrome
The modern monochrome trend celebrates the iconic colour combo of white with a touch of black. It's the perfect blank canvas for adding personal style touches, as every other color looks good against a black and white background.
Blima Ehrentreu of The Designers Group is a fan of monochromatic schemes. 'Using a single color in various shades is a simple yet effective way to achieve a cohesive and visually balanced outdoor space,' she says.
If you love this idea try Behr's 2023 Color of the Year Blank Canvas, a soft white hue with warm undertones. 'Blank Canvas lets you redefine and renew your space,' says Erika Woelfel, VP of Color and Creative Services at Behr. 'This off-white hue gives a nearly neutral base for an entire world of possibilities.'
White harmonizes easily with a wide range of hues that are key backyard color trends for 2023, including neutrals and earth tones.
The Livingetc newsletter is your shortcut to the now and the next in home design. Subscribe today to receive a stunning free 200-page book of the best homes from around the world.
Lifestyle journalist Sarah Wilson has been writing about flowers, plants, and garden design and trends since 2015. Having already studied introductory garden and landscape design as well as a course in floristry she is currently adding to her list of qualifications with an RHS Level 2 course in the Principles of Plant Growth and Development. In addition to livingetc.com, she's also written for homesandgardens.com, gardeningetc.com, Modern Gardens and Country Homes & Interiors magazines.