21 tips for decorating an apartment of any size, from some of the world's most creative interior designers
From tiny studios to vast lofts, this is how top designers are approaching decorating an apartment in 2023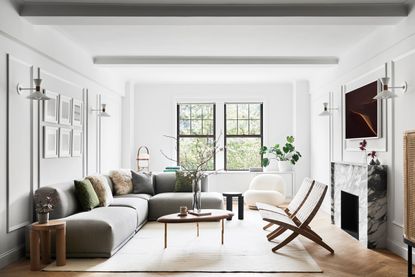 (Image credit: Brooke Holm. Design: Worrell Yeung)
The Livingetc Newsletter
For style leaders and design lovers.
Thank you for signing up to LivingEtc. You will receive a verification email shortly.
There was a problem. Please refresh the page and try again.
It's fair to say that decorating an apartment, for many people, is one of the most formative moments of developing an interior style. For me, an apartment is where I painted my first (and last) "abstract" mural and bright green wall, formative experiences in that I quickly knew these were things I'd never do again.
The romance that comes with decorating your first apartment, striking out on your own in the interior design stakes for the first time, can, however, be short-lived. While you may have a little more control if you own your apartment rather than renting, apartment living has it challenges, and we're not just talking about the neighbours.
Yet, there are ways to keep the magic of living in an apartment alive through your decor choices. Whether you've got a two-story duplex, a double-height loft or just a micro walkup to call home, some of the best apartment decorating ideas transcend size.
To give you the best guidance for decorating an apartment, no matter the scale of your project, we asked some of our favorite apartment-dwelling interior designers for their top piece of advice. Here's what they had to say.
Hugh is an experienced homes writer and editor. He has written hundreds of articles for various titles helping readers make the best home design choices, and spends his days interviewing interiors industry experts to bring the latest ideas to his readers. For this piece he spoke to the world's best designers and studios who have created some of the most showstopping small apartments, so as to get the most up to the minute advice.
Expert advice for decorating an apartment
Of course, designing an apartment has its trials too. Whether you're renting or own an apartment, you can be limited by the communal nature of the building. That means no changing (or adding) windows for more light, while re-routing services to dramatically switch up your layout can be tricky, too.
Space isn't always guaranteed either, especially for city-dwellers, where super small apartments are only too common.
Converted buildings also offer their own challenges. With their original features and lofty proportions, they're striking, for sure, but making the most of the space they have to offer might require out-of-the-box thinking.
1. Keep it light and bright
Where size isn't on your side, a simple light and bright scheme can be the perfect remedy for a small apartment. It works particularly well for open plan living too, where too many colors or dark features can make a small-ish area feel cluttered and busy.
'The open floor plan was not grand for this West Village apartment,' explains Diana Rice of SISSY+MARLEY Interiors, 'so it was important that we kept the palette light and airy for a grander feel.'
Despite a largely neutral color scheme, this space is far from dull, with the designers using sculptural pieces and a variety of textures to bring interest and richness to the space. 'Each piece had to be very special, unique and easy on the eyes. Although there is not a lot of furniture in the space, every piece feels important.'
2. But don't be afraid to embrace darkness, too
Light, neutral spaces are pretty failsafe, but they don't always create the ambiance you're looking for, especially in smaller spaces like bathrooms, bedrooms or apartment entryways. Here, darkness can be a useful tool.
'There's a falsehood out there that you need to make every small space white to make it feel bigger and 'brighter' (whatever that actually means),' says architect Nicholas Potts, who experimented with darkness and light in the design of his own Washington DC apartment.
The bedroom, for example, is color-drenched in Farrow and Ball's Inchyra Blue, helping to soften the edges of the space and tricking the eye so that the room looks bigger. 'There's a magical hour in the room where it almost seems to disappear into the twilight, and it can be like sleeping under the night sky,' Nicholas tells us.
3. Be guided by your apartment's available natural light
So how do you choose where to go light and where to go dark when decorating an apartment? One way is to use natural light as your guide, and examine the time of day you want to use it. If it's largely a daytime space, whether the room is light or dark, designing elements that will reflect light will uplift your space, making it a more inspiring space to spend time in.
Night-time spaces, or spaces that are completely lacking in light, such as hallways, can embrace darkness, rather than fight a losing battle in trying to make these areas appear brighter than they are.
This design by studio Worrell Yeung strikes the perfect contrast through the wood tones it uses throughout. 'The apartment is light challenged, so the use of lighter oak helps brighten the space, while the darker oak of the thresholds highlights those transitional moments as contrasts,' says co-principal Max Worrell.
4. Navigate open plan living
If you've secured the lease on a large, open-plan apartment, then lucky you. However, if you've not lived in a space like this before, working out how to arrange furniture in one is a lesson you might have to learn, especially when it comes to apartment living room ideas.
'It's important to think about flow and how you move about these large open spaces and to group the furniture accordingly,' explains architect and interior designer Kimberly Peck. 'For instance, you would want to avoid putting a large sofa in the center of a room where from many angles the main view of the sofa is the rear.'
Instead, group larger pieces around the perimeter walls and make use of smaller pieces like lounger chairs, which look great from all angles, to fill in the gaps in the center.
'Another trick is to use multi-directional furniture pieces like day beds or large ottomans,' says Kimberly. 'These can bridge the gap between two different areas or groups of furniture.'
5. Soften the features of a loft-style apartment
When presented with a loft apartment, you have two ways to approach designing the space. The first is to play up to the features of the space, while the second is to introduce elements to soften it. While we may be used to seeing lofts embracing n industrial interior design scheme, this loft apartment in London owned by interior designer Omar Bhatti is a great lesson in how to make one feel cozier and more homely.
While retaining the raw plaster, inherited when buying the newly built apartment, Omar chose to introduce floor-to-ceiling, track-mounted curtains, which become the defining feature of half the room, helping to balance out that gritter wall finish. Luxe elements, from the parquet flooring to plush rugs, also add a comforting feel to what could be a stark space.
6. Include the biggest dining table possible
A dining table doesn't always make the cut when it comes to furnishing a small apartment, yet architect and designer Michael K Chen of MKCA sees it as an integral part of the design of one. 'I'm always on the lookout for how to incorporate the largest possible table in a living space, and then to look for ways to position it or shape it in such a way that it encourages the widest set of uses,' explains Michael.
'A table is great for dining of course, but also for reading, for work, for projects, for games. If placed and selected well, they become the nerve center for a home for everything that is not sleeping or watching television.'
The size of table you can include will depend on the space you have to play with, but there are a few dining table ideas to help mitigate the floorplan-guzzling effects of a supersize design. Using banquette, or built-in, seating on one side, for example, means that the table can be closer to the wall, while using a rounded or oval shape table might reduce the overall surface space, but it softens the edges and makes the table easier to walk around, promoting a better flow to your space.
7. Learn to dress large windows
Getting window dressings right for apartments isn't easy, especially as many apartments are designed with large volumes of glazing to frame a view, or are in converted buildings which have lofty ceilings and oversized windows. But whether it's to block out light in a bedroom, or just to create general privacy for your space, we've seen enough Rear Window-style movies taking place in apartments to know that blind and curtain ideas are something that need to be addressed.
'For taller ceilings and expansive views that you don't want to obstruct, use simple ripple fold drapes, or roller shades, to match the color on the walls or mullions,' says Ahmad AbouZanat, an interior designer who specializes in apartment design for his New York-based studio PROJECT AZ. 'This is the least intrusive, but by choosing a textured fabric you can still give it some volume and visual interest.'
Translucent drapes might be sufficient for a living space, allowing light in during the day but retaining privacy at night, while it's wise not to forego blackout window treatments when it comes to bedroom curtain ideas.
Of course, not every apartment has huge windows, and in these instances, you can have a bit more fun with your window treatments. 'If the views aren't key, that's a great opportunity to have the window treatments be the background of other finishes and design elements in the space,' says Ahmad. 'Curtains with patterned fabrics, two layers of fabric, or valence details are the way to go.'
8. Find space for art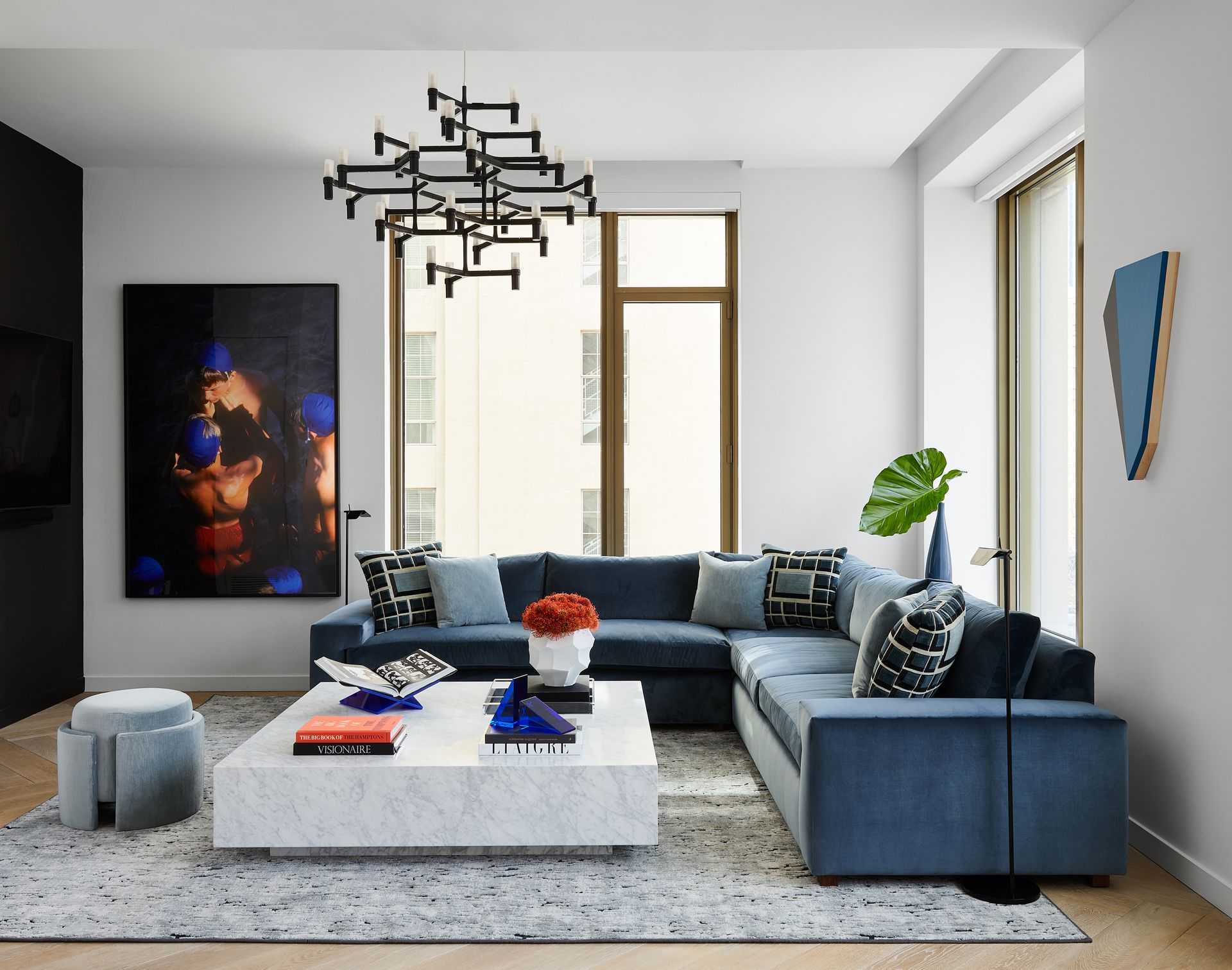 The other challenge that comes with an apartment with large windows, especially an open plan one, is the availability of wall space to introduce personality through wall art and decor.
However, for interior designer Justin Charette, creating a design that gave prominence to art was an important factor for this Manhattan apartment.
'I was inspired by the neighboring Chelsea galleries - I'm from New York and they've always been so fun to visit,' Justin confesses. 'In this space I needed to give the art room to breathe - drawing attention and creating interest.' The living room wall art helps to balance out the scale of the windows, too.
But how do you bring this personality when wall space is in short supply? 'In the smaller spaces, including the foyer, guest bedroom, and guest bathroom, I made sure the walls themselves serve as art by introducing graphic papers that bring interest and warmth,' Justin says.
9. Set up the right seating
The proportions of an apartment, especially an open plan one, can be vastly different to those of a traditional house. In these set-ups, a seating area isn't only about creating the right amount of spaces for friends to sit when entertaining. It also acts as a crucial element in the layout and flow of the space, interacting with the other areas of the apartment.
So how do you define the right seating area for your space? The best couches for an open plan apartment are often sectionals that turn corners, giving you a more social space where everyone's not sat in a row. Think of your seating area like a conversation pit and create a circular setting, supplementing sofas with armchairs, benches, and occasional chairs, rather than having all your furniture pointing at the TV.
10. Include stools for flexible seating
When designing a living space for an apartment, architect and designer Michael K Chen likes to create a space that can be re-organized depending on the way the people use it, choosing furniture that allows for that flexibility in design.
'We like a range of pieces – some that clearly don't need or want to be moved, and some that clearly do,' says Michael. The most useful addition you can make? 'There is almost always a stool or two, because you want the ability to quickly and easily reconfigure the social landscape of a room.'
Stools really can be a workhorse for an apartment short on space, fulfilling multiple roles in your layout. When it comes to modern living room furniture ideas, stools are the most versatile, acting as side tables, footstools, and overflow guest seating for those who don't mind sitting on something backless. Plus they don't eat up much space. You can even find coffee table designs that incorporate an upholstered footstool into them that can be stored away pulled out when needed.
11. Use one flooring throughout
In some apartments, changes in flooring are as obvious as they are in houses. Wherever there's a door threshold, there's an opportunity to make an easy change of flooring to suit the room you're transitioning into, though of course, some of these changes are more successful design-wise than others.
But how about in an open plan, or even as a studio apartment idea? Flooring does offer a very visual way to demarcate different spaces for different functions, but across an open plan living space, these thresholds can be clunky and awkward.
Instead, choose one floor type throughout, and use areas rugs to create breaks that help to zone your space. This offers a minimal, modern flooring idea for an apartment that works for every space and is easy to adapt if your style changes.
12. Tackle the challenges of lighting an apartment
Apartments throw up some site-specific obstacles when it comes to designing the lighting scheme. These issues largely relate to overhead lighting too.
First up, not all apartments will have the provision to include lighting in the ceiling, and it's very common to find apartments in New York, especially, without it. However, it's not a complete loss. Overhead lighting isn't always the coziest, especially as a living room lighting idea, and if your space has a decent amount of natural light during the day, you're likely not to miss it.
This does, however, put the onus on floor and table lamps, and your space can quickly become cluttered if you require a freestanding lamp to illuminate every dark corner. Creating additional lighting, whether for ambient or task lighting, can be integrated into areas of your homes with the likes of recessed LED strips. Think shelving, kitchen cabinet lighting ideas, or whether there are interesting architectural features.
In some apartment layouts, you'll also find that some rooms are set back from the windows, potentially not having any at all, robbing spaces of your home of natural light. These are often bedrooms and bathrooms, where sunlight provides that useful task lighting you need to get yourself out of the house looking your best.
'Spaces away from the windows without much natural light do require additional thought and lighting,' says architect Greg Epstein of GNE Architecture. 'Sadly, there is no single universal solution to this situation and what works in one space may not work in another. It's really a matter of having a competent and experienced designer who knows what they are doing.
If that's not an option for you, being heavier-handed with downlights is your best bet for a bedroom lighting idea that will replicate the natural light lost. It's not perfect, and downlights aren't always the most flattering, but the light they offer is essential.
13. Create a throughline in your apartment design
A throughline, sometimes called a red thread, is an interior design trend in which all the rooms in a home are given a commonality through a design detail. This isn't to say that all the rooms are decorated the same, but by using a certain element, whether that's a color, finish, texture, or just general design vernacular, your space will feel cohesive when moving from room to room – not jarring.
'It's very exciting to create a strong and consistent narrative throughout the whole space,' says James Davison, co-managing partner of New Design Project. 'When we do this we usually start with a high-level concept. We then source three or four focal materials that fit the brief and we start building around by balancing the overall composition whilst staying true to the original concept.'
This idea translates as well to an apartment as it does a house, but with some minor adaptations, especially in an open-plan space, where making these choices to be cohesive is much more important to creating the overall design.
In this apartment design by New Design Project, a monochromatic palette and brass detailing has been incorporated in different ways throughout the space, creating a consistent style, without feeling repetitive.
14. Have fun with the bathroom
Apartment bathrooms aren't always the most generous of spaces, something common to apartments of all sizes, from studios to lofts. However, this gives the opportunity to embrace something a little bit more creative - after all, if the proportions aren't inspiring, at least the décor can be.
'For smaller areas like bathrooms, it's often best to embrace the size and make a bold, fun statement to create an intimate and dramatic atmosphere,' says interior designer Nina Blair of Nina B Design.
Colorful walls, a bold small bathroom tile idea or even a statement basin, there's a million ways to make an impression with even the tiniest apartment bathroom. This design, created in a bijou London apartment by Red Deer, features a bold brass sheet in the shower enclosure, making both a feature of the walls, and making the space look twice the size.
15. Honor original features
When decorating an apartment that has compelling original features, use them as a springboard for your design ideas. 'Whenever a space has an interesting period feature we try to incorporate it as much as we can,' says New Design Project's James Davison. 'For instance, our Jersey City Loft offered a gorgeous original brick wall and exposed beams. The owners wanted to celebrate these features, so the overall concept is about found objects and vintage treasures.'
Of course, as much beauty can be found in contrast as it can be in complementing features, and modern choices can create an interesting dichotomy with period or industrial interior design details. However, when styling your space, picking items that bridge the divide between old and new is important so that your decorating choices don't look too alien in the space.
16. Use room dividers in the right places
The fantasy of open plan living versus the reality is something you'll soon come to understand when actually living in a space. However, instead of creating fixed partition walls that carve up your open-plan space completely, consider employing a room divider that offers the benefits of private, distinct spaces without losing the quality of openness your apartment has.
'Room dividers work well when trying to create a separate space or spaces within a much larger space of volume,' Greg Epstein advises. 'Depending on the design of the divider, one can see around or over or through a divider which allows for the smaller space to coexist and have its own identity or use within the larger space'.
There are plenty of room divider ideas that offer the best of both worlds. Clear glass doors and screens are the best for natural light, but at the cost of privacy, while a modern slatted design, as used in this project by GNE Architecture, offers just a glimpse of the space beyond.
It was a practical choice, too. 'In the case of the project, when we removed a wall between two apartments, there was an existing gas pipe that could not be moved', explains Greg. 'To conceal the pipe, we created this design of metal clad "fins" to hide it.'
Remember, room dividers don't need to be fixed, architectural elements. They can also be freestanding pieces of furniture which can be moved and adapted to offer privacy and a sense of coziness whenever you need it.
17. Make the kitchen count
Even in large apartments, kitchens rarely tend to have the generous proportions you'll find in a house. That means you need to prioritize certain apartment kitchen ideas over others to make sure you get what you need to from it.
We know what you're thinking... storage, right? Well, not necessarily. Kitchen storage doesn't have to be expansive to be useful, but there's one area in the kitchen that you'll find very frustrating if you don't have enough of it.
'The first and main function of the kitchen is to prepare food, something you can not do elsewhere in the apartment,' says designer Ahmad AbouZanat, 'so making sure you have enough worktop surface area is the real key to success here.'
Kitchen storage, especially for anything that isn't required on a day-to-day basis, can be shifted elsewhere if needed. 'Credenzas or decorative cabinets in areas close to the kitchen can hold dinnerware and cooking pots,' Ahmad suggests.
18. Get specific with storage
Choosing storage for an apartment doesn't have to rely on sheer luck that everything you own is going to fit. Being able to edit what you own in a smart way that you don't have too much, while also not being caught short is a great, but hard skill to learn. Learning to plan out your storage before you commit to buying it is a much easier trait to take forward.
This is the approach that Tom Klaber of k-da takes to a design project, especially in a smaller space like an apartment. 'We interrogate our clients in the way they live and how they will use the space,' he explains, 'allowing us to create specific storage ideas that are the most useful to them.'
'We even have our clients count their dishes and measure their closets so that we can more precisely accommodate their lives.' While this may not give you great flexibility when it comes to your storage needs, it does prioritize living comfortably in a space over hoarding more than you need.
19. Consider where to position the TV
It's the eternal dilemma no matter what type of home you live in: where do I put the TV? For an apartment, however, there are likely to be some additional considerations, depending on the style of space and size you're working with.
'We always try to have an upfront and realistic conversation with clients about their relationship to TV, where they want it, and to also work through where it doesn't belong,' says Michael K Chen.
In an open plan space, there's a real danger that all your furniture is arranged to suit the location of the TV – often at its own expense for functionality. However, at the same time, finding the right TV mounting idea is important, especially if you love to watch it.
'I love TV, but I want to be comfortable when I watch it, and then I want it to be over,' says Michael. 'I'm definitely weirded out by having one over a fireplace too. It's such an uncomfortable angle. I'm in favor of finding a spatial configuration that works for it rather than sticking it someplace where it's unpleasant to watch.'
20. Be creative with rugs
Rugs are a really useful element for decorating an apartment, not only giving you a bit more control over the flooring situation (a particular help when renting an apartment), but also a tool for defining your layout.
'It's easy to design a layout for a large, open floor plan by arranging distinct groupings of furniture and uniting them with floor coverings, such as area rugs,' explains architect and designer Kimberly Peck. In general, it pays to be generous when it comes to sizing of rugs, especially when using as part of your room's layout. A large area rug will help to group a seating area, for example, while one that only sits underneath the coffee table will make your set-up look like separate islands floating in the space.
How about this idea for decorating an apartment using rugs? Kimberly used the owner's rug collection to provide a floor covering that softens the concrete aesthetic of this apartment, while also filling the space with pattern and color. The design even includes kitchen rugs.
21. Create a simple, but textured design
Minimalism can be hard to balance in an apartment design, in fact in any small space that needs to pack a lot in. Perhaps then, it's time to reconsider what we think of as minimalist design in regards to decorating an apartment.
'We often feel minimalism, in most scenarios, lends to an unbalanced and soulless atmosphere,' says architectural designer Fred Peclat of Atelier PECLAT+CHOW. 'Therefore, we like to approach what we do as "essentialism" — a leap away from reducing it to the bare minimum.'
'Through this idea you can create a rich and soulful space through a precise and well though combination of textures, materials, and details. To an inattentive eye, the space might look minimal, however, its atmosphere density tells otherwise.'
This Sao Paola apartment design is the idea incarnate, offering a simple palette and plenty of storage to keep surfaces clear, yet with beautiful textured finishes that give the space a real sense of character.
How do I start decorating a new apartment?
If you're unsure where to start with decorating an apartment, spend some time initially researching your favorite design style. 'There's a handful of terms that identify different design styles and aesthetic, knowing the accurate ones isn't expected of everyone (unless you went to design school),' says interior designer Ahmad AbouZanat. 'Fortunately, with visual platforms like Pinterest and Instagram it's now a lot easier to find images of things you love. Look at them closely and see if it's just the general aesthetic you like or just a particular detail.'
Decide whether you're starting your design from scratch or using items you already own. 'Take inventory of your belongings and really think about where they will go,' says Kimberly Peck. This can then be used to start to form a design plan, considering how they can adapt into your plans. 'Think of the project as a whole, nothing wrong with an eclectic look, but it shouldn't appear incohesive,' she also suggests.
Lastly, set a budget. Every project needs one, and it'll stop you getting carried away when decorating an apartment with overambitious plans. 'Every project has a budget, the number can be as small or as high as one can afford,' says Ahmad, 'but achieving the result you want is what's really important.'
For style leaders and design lovers.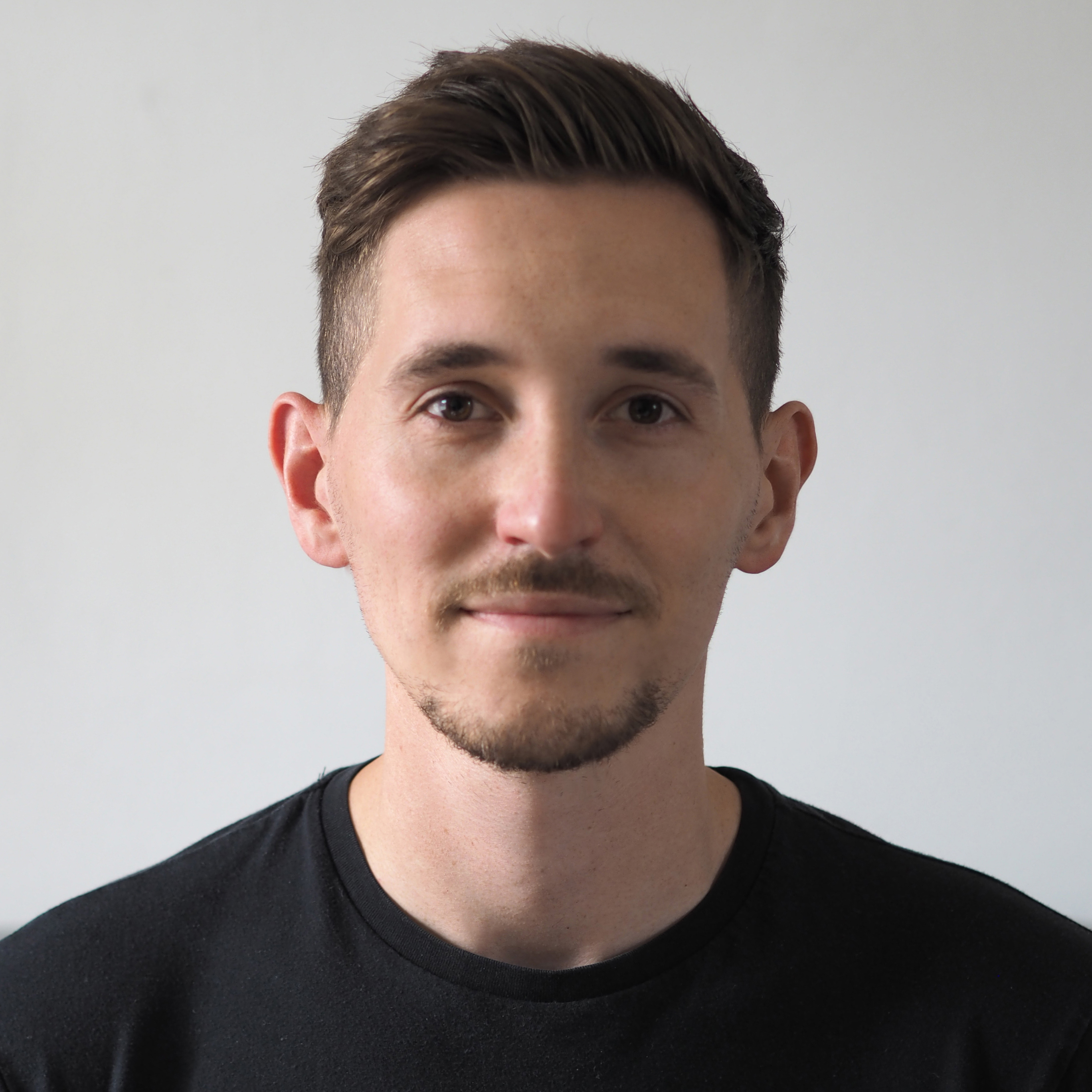 Hugh is the Deputy Editor of Livingetc.com. From working on a number of home, design and property publications and websites, including Grand Designs, ICON and specialist kitchen and bathroom magazines, Hugh has developed a passion for modern architecture, impactful interiors and green homes. Whether moonlighting as an interior decorator for private clients or renovating the Victorian terrace in Essex where he lives (DIYing as much of the work as possible), you'll find that Hugh has an overarching fondness for luxurious minimalism, abstract shapes and all things beige. He's just finished a kitchen and garden renovation, and has eyes set on a bathroom makeover for 2023.