Floor types decoded - everything you need to know about which floor to choose for your home
Floor types explained with expert advice on choosing between wood, marble, LVT, tiles and concrete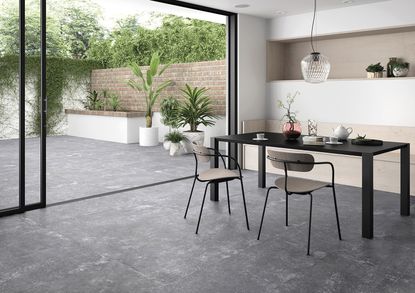 (Image credit: Tile Mountain)
The Livingetc Newsletter
For style leaders and design lovers.
Thank you for signing up to LivingEtc. You will receive a verification email shortly.
There was a problem. Please refresh the page and try again.
Discussing floor types is a big part of any renovation. No matter which room you are renovating or decorating, at some point you'll need to decide what type of flooring to choose. It's a big decision as it's often a large part of the scheme and a big investment in terms of time and money. So we've picked out the most popular choices and some edgy ones too, and explained where to use them, what to be aware of, which finishes to use and aftercare too. We've picked the latest designs along with plenty of advice and expert comment to help you make an informed decision. Dive in.
WOOD FLOOR types
What's good about wood floor types?
Wood flooring has been with us since time immemorial, so it's a fail-safe choice and one of the most favored floor types – it's a natural, often eco flooring which comes in a huge variety of colours, textures and patterns. Designs move with the times, so there is always something new, Yakasugi or charred wood anyone? But which do you choose? Solid wood or engineered, parquet, planks or panels? Good quality wood will last for decades, possible for ever and with minimal maintenance will age gracefully.
Solid wood floors are a traditional flooring choice, with each plank or block essentially one piece of wood. A solid hardwood floor is hardwearing, durable and can be re-sanded many times, lasting well over 100 years. It can be refurbished to any look you like, a different stain or floor paint for example, without having to replace the whole floor, making it better for the environment too. Due to an awareness of sustainability and the need to reduce deforestation, solid wood floors are in decline which has resulted in a growth in reclaimed floors. Bamboo and Eucalyptus have also been developed for quick harvesting for flooring, making it more environmentally-friendly than slower growing trees.
Engineered wood floor types are available as planks, parquet and panels and are created either by layering sections of solid wood bonded together, or as a base layer of plywood with a hardwood top layer. The grain of each piece runs in a different direction to its adjacent layer, which increases the plank's strength and resilience. It also reduces the wood's natural tendency to expand and contract. The quality of an engineered wood floor is largely determined by the depth of the top layer of wood or 'wear layer'. The thicker the wear layer, the more it looks like a solid wood floor in look, feel, sound and durability. Engineered wood floor types have grown hugely in popularity as a flooring ideas recently due to the reasons stated above.
Knowing how to choose floor color will help you when it comes to choosing a reclaimed or antique floor. These different shades give you the opportunity to add history and personality to your home, and more importantly, reduces environmental impact through re-use, helping to preserve forests by decreasing the need for new timber to be cut down.
What to consider when choosing a wood floor
Think about where the flooring is going to be used, is it a high-traffic area like a hallway, bathroom or kitchen? Moisture is the enemy of wood floors, so for a bathroom or kitchen chose an engineered floor, or eucalyptus or bamboo which will cope better with humidity and the odd spill. For a hallway which will take a lot of wear and tear, any hardwood floor would be good, but think about a darker floor so it doesn't show up stains so readily, or choose a parquet floor with a more interesting design, as there won't be so much furniture in a hallway to cover it up. Also consider where the sun is, if your house is south facing, it might not be wise to put a wooden floor at the back of the house as strong sunlight will fade it over time.
How easy is it to install wood floor types?
With any floor, firstly the subfloor must be clean, dry and level. Laying a wooden floor can range from a fairly easy DIY project such as the 'Click' method where the boards clip together and are 'floated' over underlay, to one that requires good carpentry and finishing skills. It really depends on the cost of the flooring and the length of time you expect the flooring to last, if it's a quick fix then it's tempting to do it yourself, but if you have spent a lot of money on a wood flooring type, its best to get the professionals in. As a general rule, solid hardwood is harder to install than engineered.
How to care for a wood floor types
Whether it's solid or engineered, all wood floors are susceptible to moisture, so take care to mop any spills immediately.
Floor mats, especially at the front door will catch dirt and grit, preventing damage to your floor.
Never drag furniture or other objects across your wood floor.
Don't wear heavy boots or shoes when stepping onto a wood floor. Stilettos particularly are the enemy.
Regularly vacuum, using a soft brush attachment if possible then clean with a suitable wood floor cleaner.
If you have an oiled floor, you may be able to repair scratches and blemishes with wood oil and blend it in.
When all else fails, bad stains can be sanded, then re-stained or oiled.
What's the best wood floor types for underfloor heating?
Engineered boards are the go-to for underfloor heating as they are designed to allow for wood expansion. "Engineered wooden flooring is actually one of the best materials for use with underfloor heating," says Greg Elliott of Havwoods, "as its natural, warm to the touch, and a good conductor of heat, but be aware that the different thicknesses of engineered boards available will have an effect on its thermal resistance, which in turn will influence how warm your floors feel."
What are the best finishes for wood flooring?
It depends on the look you are trying to achieve and where the floor is in the home. "Wood flooring can take on many different finishes," says Robert Walsh of Ted Todd Fine Wood Floors. "Ultimately, the aim of the finish is to protect the floor, keeping it looking pristine for years to come, but the finish is also selected for the desired look. Oils such as our Restoration and Burnished Hardwax Oils are easy to maintain and pair well with naturally toned woods, whilst our Naked Skin Lacquer provides an invisible finish to allow the floors' colours and natural grain to shine through."
What are the best wood floor types for a kitchen?
When it comes to choosing a wood floor for the kitchen, engineered wood is a good option. "Wood naturally expands and contracts as heat and moisture levels rise and fall. In most rooms of the home, these changes are small but heat and steam from cooking can cause larger fluctuations in the kitchen," says Darwyn Ker of Woodpecker Flooring. "When cooking, check that your kitchen is well ventilated and fitted with an extractor fan. Opening a window while cooking will also help to dispel heat and moisture, protecting your wood floor. And finally, with a new kitchen, fit the kitchen before laying the floor, as fitting a kitchen on top of wood flooring could prevent natural movement in the wood and potentially damage it."
Floor Tiles
What are the advantages of floor tiles?
With regard to natural stone vs porcelain floor types, it comes down to whether you want the unique qualities of real stone or the practical advantages of man-made. And of course, It's also a matter of budget. Do you follow your heart and go for traditional stone tiles or take the practical route and go for the performance benefits offered by a stone effect? It used to be a fairly straightforward decision because natural effects weren't very realistic, however now they are much more sophisticated and it can be quite difficult to spot the difference between the two. Then of course there is LVT (luxury vinyl tile) ceramic tiles, encaustic, cement and recently clay to choose from, so there is plenty of choice on offer.
Natural Stone floor tiles
Nothing beats the matchless beauty of a real stone floor types. Each slab or tile is one of a kind and therefore it's expensive, but you will only lay it once. It is incredibly dense and hardwearing, will last forever and will age beautifully, the patina of the floor will change over time, and that is part of the charm. The main types are Limestone, Sandstone, Slate and Marble which are very different in appearance and all have variations in patterns and textures depending on where they are from.
Porcelain floor Tiles
The main advantage of porcelain tiles as floor types is that there are multiple effects and finishes to choose from. As it is man made, the design and colour possibilities are endless, including realistic stone, wood and concrete and metallic effects. Porcelain tiles are fired at very high temperatures which ensures the finished tile remains incredibly strong long after installation so they are suitable for all applications, even outdoors.
Ceramic floor Tiles
Ceramic tiles are a mixture of clay and other materials such as sand, quartz and water, and are very similar to porcelain, but less dense, making them easier to cut and shape, so they tend to be lighter and simpler to work with. Ceramic tiles are fired at a very high temperature so they are hard and durable but are not as robust as porcelain. They come in every shape and colour imaginable and offer a wide choice for all the rooms in your home. They are also cost-effective and a low maintenance flooring option. They tend to be less expensive as they are cheaper to produce.
Terracotta floor Tiles
Terracotta tiles are a very traditional tile - now a little out of favour as far as floor types go - and are made from a natural red-brown clay, the name terracotta itself means 'baked earth'. They are fired at a lower temperature than ceramic and are generally thicker, then are left unfinished or have a matt or gloss glaze.
Encaustic floor Tiles
Encaustic tiles are handmade cement tiles that have had colour added to them to create different patterns. They have had a huge impact on the tile market recently due to their stunning patterns and colours.
LVT or Luxury Vinyl floor Tiles
LVT or Luxury Vinyl Tiles has dominated the flooring industry in recent years and has largely taken over from laminate and vinyl, although there are a few smaller design companies doing some fantastic designs in vinyl. LVT is made by compressing several layers of vinyl, so it's pretty indestructible and can be used in any room of the house. The possibilities are endless, it can be cut and shaped to create all sorts of intricate designs and can replicate textures, grains, embosses and swirls, stone and wood effects. Rigid core LVT is becoming very popular as it offers the same look with less subfloor prep, so it's quicker and easier to lay.
What do you need to consider when choosing floor tiles?
Again it depends on which room you are tiling. Porcelain and ceramic tiles can be used in any location. Natural stone and terracotta are best in a hallway and kitchen although they will both need sealing to prevent water damage or staining.
Ceramic tiles are lightweight and low maintenance, functional and eye-catching, so ideal for kitchens and bathrooms. Porcelain tiles are heavier but are also low maintenance. If tiling a bathroom floor, choose a tile that is non-slip to prevent accidents, and if you want the look of a wooden floor in the bathroom, use a porcelain lookalike as it will be impervious to moisture and won't warp. Always use dark grout on a kitchen floor, a light grout will soon start to look dirty.
How easy is it to install floor tiles?
As with any floor, firstly the subfloor must be clean, dry, level and free from damp.
Installing a real stone floor is usually more labour intensive and will probably need specialist cutting equipment. It also takes skill to cut natural stone due to the weight and thickness, and breakages are expensive.
Porcelain is lighter and easier to handle, so the installation process is more straightforward, although professional installation is always recommended, especially with large and thin formats.
Ceramic tiles are easy to fit, especially plain tiles. Patterned tiles will need to be lined up correctly to make sure the pattern is consistent and always use tile spacers for an even finish. As a general rule start at the middle point of the room and work outwards to each corner. Regularly step back to make sure the pattern is even and keep checking they are flat by using a spirit level. If you are doing it yourself, don't use quick drying adhesive, it doesn't leave any room for error.
LVT should be installed by a professional, although LVT manufacturer, Amtico have a Click Smart range that has an innovative click mechanism that you can do yourself.
LVT can be installed over any existing hard flooring as long as it's stable, so it's great for an instant update or for renters. Some engineered luxury vinyls now have an integrated underlay to allow for quicker installation.
how to care for floor tiles
A real stone floor can stain and absorb moisture, so make sure it is properly sealed and mop up any spills immediately, blotting the spill rather than wiping. Sand, dirt and grit do the most damage to the stone's surface, so placing a doormat at the entrance is a good idea. The surface can be cleaned with a mild, pH-neutral detergent but never use an abrasive cleaner or one with an acid content. For serious stains consult an expert or the manufacturer.
Porcelain, ceramic and LVT floors are very durable and easy to maintain with vacuuming, mopping, or one of the wet and dry floor cleaners on the market. More damaging stains can generally be removed with the right tools and cleaning materials. Larger format tiles mean fewer grout lines and therefore less cleaning.
Advice on floor tile finishes
Real stone and terracotta will need to be sealed to protect from stains and spills. If doing it yourself, use a stone floor sealer specific to the flooring. Porcelain and ceramic don't generally need to be sealed. Encaustic tiles will need to be sealed before grouting with a solvent-based sealer that limits water and oil penetration, and to avoid the dyes in the grout being absorbed into, and discolouring the tiles. The sealer impregnates the tile, reduces porosity and maintains the natural matt effect.
What are the best type of floor tiles for underfloor heating?
Underfloor heating can be used with most floor tiles although the thicker the tile, the harder the underfloor heating has to work, so bear this in mind. "With kitchen flooring, as is the case with any high-traffic area in the home, you need a flooring that provides practicality, durability and style." Says Sarah Escott, Design Manager of Amtico. "Amtico's collections offer all three, as well as being compatible with underfloor heating. All of Amtico's tiles come with an extra hard-wearing surface with a protective wear layer as standard, ensuring whichever pattern you choose, you are guaranteed a floor that will last."
What are the best finishes for floor tiles?
The choice of finish is dependent on the where the tiles are to be used and the look you are trying to achieve. "It's a balance between aesthetics and practicality" says Damla Turgut of Otto Tiles. "Porcelain and stone tiles flooring types are the most durable and versatile. Their smooth, matte finish provides good anti-slip resistance while offering a contemporary finish and also hide everyday dirt and dust."
What are the best flooring tiles for a kitchen?
The kitchen gets a lot of wear and tear, so the flooring needs to be robust and easy care. "Porcelain tiles are an ideal choice for busy kitchens since they're hardwearing and virtually non-porous" says Colin Roby-Welford of Fired Earth. "This means that your floor won't require sealing to protect it from stains. Porcelain tiles can also be used outdoors so you could consider extending a floor from kitchen to a patio or terrace to really open up the space."
Marble Floor types
What's are the advantages of marble floor types?
Marble exudes timeless glamor and a sense of luxury. It's a fabulous investment for your home and will keep its good looks for years if cared for properly. Carrara marble from Italy is the design most people associate with marble, with its distinctive black and white veining. However, many marbles now come from India, where it has been used for centuries to build striking buildings and temples, but marble is also quarried in China and Spain. Each seam of marble is formed by a unique set of circumstances, making them strikingly different and covetable. There are many colors to choose from – white, green, beige, brown, pink, red and black. Marble is one of the most expensive floorings on the market, but smaller marble tiles are more affordable and easier to work with, as they aren't so heavy.
What do you need to consider when choosing marble flooring?
Marble is a natural stone, and therefore porous, so should always be sealed before use to prevent water and stain damage. It will develop small scratches over time but this adds to the overall natural look. Marble is not the most practical choice for kitchen floors. Polished marble is slippery, so shouldn't be used in the bathroom, honed or tumbled marble would be a better choice. Marble looks spectacular in a hallway or entrance.
Is marble flooring easy to install?
Laying a marble floor takes skill, so should always be done by a professional. However, smaller marble tiles or mosaics on a webbed backing are easier to lay if you want to do it yourself.
How to care for a marble floor
Maintenance is the same as any hard floor - vacuuming, mopping or a wet and dry cleaner. Do not use harsh chemical cleaners which will scratch the surface. Marble floors will need regular polishing and annual sealing to keep them looking their best. Really bad stains can be polished out in situ by a professional, if necessary.
What to consider when choosing the finishes for marble floor types
There are four distinct finishes – polished, honed, tumbled and brushed, which will provide a different look and feel.
Polished - gives a sleek, shiny surface and will make the marble less porous and therefore easier to maintain. However, it will show scratches and can be slippery when wet.
Honed - has a more traditional look and will resist scratches, so good for a high traffic area like a kitchen. Scratches virtually disappear on honed finishes.
Tumbled – as the name suggests, means stone that has been tumbled in a drum that contains abrasives which create small holes and chips in the surface of the stone. It feels smooth but looks worn which will add warmth to a scheme. It gives a better grip to bare feet, so it's good for a shower room or bathroom.
Brushed – brushing results in a warm, aged look so it's good for traditional properties. However, it is more porous than other finishes so must be sealed frequently, and dust tends to collect on the textured surface.
What's the best type of marble flooring for underfloor heating?
Marble flooring offers good thermal conductivity which makes it the perfect choice for underfloor heating. "High thermal conductivity means the floor surface gets warm faster, which transfers more heat into the room and is therefore more energy efficient," says Joss Thomas, founder of Indigenous.
What are the best finishes for marble floor types?
Marble is porous so it needs to be sealed when it is installed and re-sealed from time to time to protect it. "White marble might not be the most practical or forgiving choice for flooring but it does look stunning," says Colin Roby-Welford of Fired Earth. "Choose a honed rather than a polished finish however, as it will be slippery in a kitchen or bathroom. For something more forgiving choose a tumbled marble finish.
What is the best marble floor types for a kitchen?
Makrana White Marble from Rajhastan, India is very popular for a kitchen as it has an outstanding white look with a smooth and shiny finish. It is also long lasting and highly durable. Polished marble reflects light so will make dark rooms look more spacious.
However, marble isn't generally used for a kitchen floor as it's not the most practical in a hard-working area. "We certainly wouldn't suggest a polished marble floor for a kitchen, it could be a slip hazard and keeping it looking good is more difficult." Says Oliver Webb of Cullifords. "A honed marble floor is the best choice as it has some grip."
Poured Concrete and Microcement Floorings
What's are the advantages of Poured Concrete Flooring?
Concrete floor types are increasingly being used due to their modern look and low maintenance properties – it's the ultimate choice for a contemporary interior and looks great in a loft or industrial building. It is hard-wearing and long lasting. It gives a continuous, wall-to-wall finish and there are plenty of variations in colour and texture to choose from.
Microcement flooring or Micro-concrete or Micro-seed is a cement-based, polymer modified coating that can be thinly applied as a top coat to floors. It allows designers to create a concrete look at a lower cost than a conventional concrete floor. It has the same visual effect but at a depth of 2mm rather than the usual 100mm of a poured floor. The main benefit is that it can be sealed the day after it has been installed, so the floor can be back in use the very next day.
Concrete-effect floor tiles give a similar look, are a cheaper alternative to poured concrete and in some cases, more practical.
What do you need to consider when choosing a poured concrete or Microcement floor?
Poured concrete is one of the most universal floor types because it can be laid in any room as long as the floor is stable, moisture-free, properly prepared and designed to take the weight. Poured concrete needs to be at least 75mm thick. Drying time is a big consideration as it takes a day per 1mm of thickness. Then it will need to be sealed. If the property is a new-build, a screed will need to be installed and a full depth concrete floor is recommended, as the screed and final floor finish are done at the same time, saving time on site.
Microcement needs to be laid on a stable base using a self-levelling latex, then C P (Cement Bonded Particle Boards) are laid on top, with the Microcement as a top coat. Then a sealer is applied. The sub-floor for Microcement is very important. Because the product is applied in a thin layer, if the sub floor is compromised in any way, it will cause imperfections in the finished floor.
What are the advantages and disadvantages of concrete and microcement flooring types?
Advantages – Poured concrete is good for large areas. After it has dried it takes on a patina and gives a natural, but not even look, which adds character.
Microcement has good colour ranges and can be used in small areas, although the cost is higher per m2.

Disadvantages – Both are expensive as they require a specialist installer. Concrete does get slippery when wet but no more so than stone or tile. By the nature of the material, concrete can crack, and although this can be seen as a disadvantage, it is part of the natural beauty of the material rather than a defect.
If you don't like the Microcement finish when its down, it's a big and expensive problem to resolve.
How easy is it to install concrete and microcement flooring?
Poured concrete and Microcement can only be laid by a specialist contractor.
Poured concrete will need to be pumped into the property, so the vehicle will need access. Microcement is hand-mixed on site so it's more labour intensive but is a better solution in an existing residential property.
Poured concrete generally takes 3 days to prep, pour, cut the joints and cover. Then there is a minimum of 28 days for the floor to cure before the floor can be cleaned and sealed - a further one to two days. A Microcement floor takes six days from start to finish.
How to care for concrete and microcement flooring
Both are easy to clean, hardwearing and look better with age. Clean by vacuuming, then with a mop or wet and dry cleaner. For a Poured floor use a pH-neutral cleaning solution. For Microcement, only use products made by the manufacturer.
Do not use bleach, as this will strip away the sealant. Every now and again a clear glaze, wax and sealant should be applied to protect the surface from minor scratches. Both floors should be resealed every 3-5 years dependant on the use, to keep them looking their best.
What's the best type of flooring for underfloor heating?
Both floors are suitable for underfloor heating but water-based underfloor systems are the best option. "A series of pipes are connected to your domestic boiler via a manifold which circulates warm water throughout the floor to heat the space" explains Craig Leckenby, Managing Director of Leckenby Associates. "Heat emitted from an underfloor system uses water at a lower temperature, so the floors hold the heat well and give good even heating over the whole floor surface."
What are the best finishes for Poured Concrete/Microcement floors?
The chosen finish depends on the application and durability required. "There are many finishes –matt, satin or gloss, including a trowel or polished finish, some of which you wouldn't think are concrete finishes at all. Pure white and light grey look good, as well as dramatic black floors," says David Conlon of En Masse Interiors. "Mono white looks great, but may not wear as well as darker colours. Bits of aggregate in the concrete mix will help with durability as will a wax and lacquer finish."
What is the best cement floor for a kitchen?
Generally poured concrete would be too expensive for a residential kitchen due to the small area involved, Microcement would be a better option. "As a rule of thumb, a poured concrete floor would be a good option for a new build, whereas if it's a refurb, Microcement would be a better alternative," says Laura Gray of Lazenby Flooring and Surfaces.
For style leaders and design lovers.
Alison Davidson is well-respected British interiors journalist, who has been the Homes Editor of Woman and Home magazine, and the Interiors Editor for House Beautiful. She regularly contributes to Livingetc, and many other titles, and often writes about kitchens, extensions, and decor ideas. She is the go-to for information about green energy, sustainable home improvement and eco design ideas.