Eco flooring - the 11 best and most beautiful materials explained
Eco flooring has the power to transform your home while adding to your sustainable credentials, too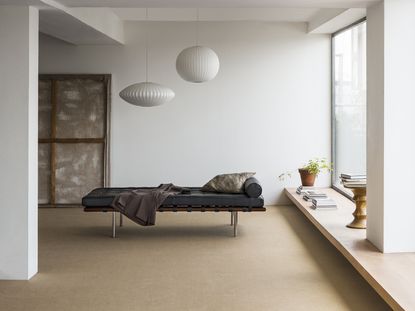 (Image credit: Crucial Trading)
With eco flooring, there is a lot of confusion about what is, or isn't, eco-friendly. Differing claims and opinions make it hard to see the wood from the sustainably planted trees, and and new products come onto the market all the time. In a nutshell, eco flooring, like most eco products is sourced from a natural material and not made with chemicals. It should be sustainable and renewable - so wood, cork, sisal, Tencel, linoleum – anything that is grown and harvested, but there are now some vinyls on the market that have eco credentials too.
So, on your quest towards sustainable living, and before you buy there are two questions you should ask:
1) Is the type of flooring I am choosing eco-friendly?
2) Is the manufacturer using sustainable practices?
'It is super hard because there are multiple factors to consider,' says Ed Grant of Kite Flooring says. 'From how it's grown or made to how it's transported, how it's installed, how it's maintained and how it's disposed of at the end of life. To get to an answer you need to carry out a Life Cycle Analysis.' This sort of analysis requires you to look at the environmental impact of a product, taking in its materials, manufacturing process, distribution, use, how easy it is to recycle and its final disposal. But, as that sounds like a legthy process, we've evaluated some of the key eco floor types for you.
Eco flooring explained
1. Solid Wood Flooring
Wood is the most obvious type of eco flooring as it has been used in this way for centuries - trees were cut down, made into planks and laid. Easy. But now it's not quite so straightforward as trees are harvested at such a rate (not only for flooring) that deforestation is occurring on a massive scale, so if you buy solid wood flooring, make sure it's from a sustainable source.
'This generally means that it's harvested responsibly from well managed forests that are continuously replenished, without damaging the surrounding environment,' explains Joss Thomas, designer at Indigenous.
Because they are durable, hardwearing, can be re-sanded and if looked after properly, can last for hundreds of years, wood flooring ideas are worth considering simply for their longevity. Damaged planks can be replaced individually instead of replacing a whole floor and at the end of its long life, wood is biodegradable.
'We take sustainability seriously and use 100% of the forested timber,' says Pia Skytte, Head of Sustainability at Danish flooring brand Junckers. 'Drying and processing of wood is an energy-intensive operation. The residual wood – sawdust, wood chips, saw-cut log ends and other left-over pieces are sent to a wood-fired power plant, which in return, supplies electricity to Junckers and also to the Danish national electricity network.'
She goes on to say 'wooden floors not only look beautiful, but have a smooth surface which doesn't harbour dust or mites, so ideal for allergy sufferers, there are no gaps in a newly-laid floor to let in draughts and, as it's a naturally stable material, it contributes to an even room temperature so is good with many types of heating, and helps minimise static from electrical appliances.'
Another reason wood floors are good for the environment is because over time, trees lock away carbon. As trees mature, they lock less carbon away and at this point it is better to fell the trees and replant new ones, so that the new trees can begin the cycle of locking away carbon again.
When you are buying a wood floor, always choose one that is FSC (Forest Stewardship Council) or Programme for the Endorsement of Forest Certification (PEFC) certified. But be aware, this is only the start of the process, it could be that only a few of the products are accredited.
'You need to dig deeper,' says Ed Grant - similar advice for what we would give for when you're considering eco paints. 'A better way to approach things is to have an open conversation with your wood retailer – where does the wood come from? What oils do they use? How is the floor finished? Is part of the product FSC registered, and other parts not? Why not? If they can answer these questions and talk openly and honestly about how the floor is made; you will get a good understanding of whether they are sustainable or not and whether you want to buy from them.'
2. Reclaimed wood flooring
There has been a huge flooring trend for reclaimed wood in the last few years, beloved for their unique look and history. But are reclaimed floors really eco?
'Reclaimed flooring is as eco-friendly as it gets, as you're giving wood that has already been used, another lease of life,' says Jon Ashbrook, of Ted Todd Fine Floors. 'It would otherwise end up in landfill. You are extending its lifecycle, continuing its history and heritage for many years to come. Often these woods are reclaimed from beautiful sites such as churches, barns, schools and factories and are steeped with centuries of history and use which will now live on.'
3. Engineered Wood Flooring
This is a grey area as engineered floors are purposefully designed and built, so it is no longer a natural wood floor that was grown from a tree. However, the top layer is real wood of varying thicknesses, with a second layer of core board which could be various things but is usually plywood or MDF and glued together. Sometimes the 'core' wood is sustainable plantation plywood but it's worth checking before you buy just how sustainable the flooring is. If nothing else, it's often the glue that lets it down.
4. Cork flooring
Cork has, like wood, been around for centuries and was very popular in the 70's for all sorts of things. It has had a lot of interest recently due to its green credentials and its many applications.
Cork bark is harvested from the cork oak which is an evergreen tree and native to southwest Europe and northwest Africa. The cork is harvested initially after 25 years then every seven years after that, and most trees will still be producing cork after three hundred years. The cork oak has the capacity to retain carbon like other trees , and incredibly a harvested tree fixates almost five times more carbon. Also, because the harvest only takes place every seven years, the carbon footprint from trucks is much smaller than from many other renewable flooring resources.
Cork oak forests are well-adapted to the semi-arid regions it grows in, preventing desertification and providing the perfect habitat for many animal and plant species, including some rare and endangered species. Preserving cork oak forests is essential to maintain the biodiversity.
Cork production is assured with new plantations each year. In Portugal, which produces 50% of the world's cork, trees are never cut down or removed without strong government intervention. The role of cork in preventing global warming is significant. A recent study indicated that Portugese cork forests can absorb 4.8 million tons of carbon a year and it is estimated that Mediterranean cork forests as a whole can absorb over 14 million tons of carbon per year.
Cork has the best insulating properties, thermal and acoustic, of all natural substances, and is also a natural fire retardant as it does not spread flames.
Once harvested, the stripped cork is left in the forest or stacked outside for around six months, so the natural elements of the sun, wind and rain will chemically transform the bark. The next step is to steam them in boilers to eliminate any contaminants and bugs and also to remove the outer layer of bark. Cork bottle stoppers are made first then the remaining material is used to make flooring and other items. All of the cork is used, even cork dust is used to generate energy. To make cork flooring, adhesive resins are added, it is compressed and then made into planks or tiles. It is remarkably resistant to wear and is less affected by impact and friction than other hard surfaces. It doesn't absorb dust, so consequently does not cause allergies. Cork is a climate positive flooring option that is 100% recyclable, renewable and biodegradable.

5. Seagrass
Sisal, seagrass and jute are all popular natural, plant-based fibers that look alike and often get grouped together, but they are not the same and differ greatly in texture, durability and feel. All are a sustainable and renewable material and are naturally moth and dust mite-resistant, which makes them a healthy solution for those who suffer from asthma, eczema and other allergies. All are biodegradable.
Seagrass is a plant that grows in coastal waters around the world, it is then hand-picked and dried. The fibers are then woven together to create different designs and patterns which tend to be variations of the same colours, usual green or golden. It is durable and good for high traffic areas so is good to incorporate into living room ideas and more resistant to tears than other types of natural flooring, but avoid it on stairs as it has a smooth surface that becomes damaged and slippery over time. As it is a water-based plant the flooring is more vulnerable to mold and mildew than other types of flooring. It is one of the cheapest types of natural flooring.
'All our plant fiber products come from sustainable sources and managed forestry,' says Guy Gibbon of Sisal and Seagrass. 'No chemicals are used and we use natural vegetable colorings in our colored ranges. As a company, we are committed to helping the planet in every way we can, we plant a tree through The World Land Trust for every custom-made rug and flooring cut ordered. We are now paperless and aim to be completely carbon neutral in 2022.'
6. Sisal
Sisal comes from plants such as agave or pineapple plants in Africa. The leaves are spun into a yarn-like material which is often used for rope and twine so it's very durable. The natural hue is a creamy white to wheat color - ideal for beige living room ideas - which can then be dyed a wide range of colors to suit more lively schemes. It is extremely hard-wearing and particularly suitable for high traffic areas such as stairs, hallways and landings. Sisal has straight fibers that make it easier to clean.
7. Jute
Jute is harvested from India and Bangladesh and has a natural brown hue. Jute tends to be softer than sisal, so is not so hard-wearing, and better for areas that have less traffic - working well in your home office ideas. It is more textured and more expensive than sisal.
8. Tencel Flooring
TENCEL® fiber is derived from wood pulp and sourced exclusively from sustainably grown forests. TENCEL® fibers are naturally moth resistant and resilient.

'It is the best performing fiber of its type for stain resistance and unlike other natural floorcoverings it can be professionally wet cleaned too,' says Julian Downes of Fibre Flooring, who specializes in floor coverings that are ethically and sustainably sourced. 'This floor covering's beauty lies in its light reflecting qualities and it is soft, warm and luxurious underfoot.' Feeling plush underfoot, it's ideal for your bedroom ideas.
9. Linoleum and Marmoleum Flooring
Linoleum or - more commonly - lino has been around for a long time and was very popular in homes in the 1930s, 1940s and 1950s as an inexpensive flooring option. Marmoleum came in slightly later and is different in that it doesn't require any adhesive to install it. Both products are made from solidified linseed oil, pine resin, ground cork dust, sawdust and mineral fillers such as calcium carbonate, pigments are then added to create different colors, so it's a totally natural product.
These floor coverings were superseded by vinyl in the 1960's as a cheaper alternative and later, LVT (luxury vinyl tile). Vinyl and LVT is generally synthetic and comprised mostly of PVC (polyvinyl chloride) and other toxic chemicals. Therefore green-minded consumers are now rediscovering linoleum and marmoleum as a safer alternative. Marmoleum has continued to be used in the commercial market.

10. Wood Effect Vinyl Flooring
Although vinyl in name, a new ultra-realistic wood effect floor – the MSeries from Harvey Maria is recognized as an eco-product - for it's low impact on the environment in all aspects – production process, product composition and sustainable construction, achieving the Eurofins Gold Standard, rated A+ for indoor air quality, the floor is also fully recyclable. So things are already changing. This works particularly well with underfloor heating.
11. Vinyl Flooring
Although vinyl uses different plastics and PVC's in its composition, good flooring companies have a strategy to bring in renewable energies along with the use of recycled and recyclable materials.
'Our own PVC base manufacturer reuses all vinyl waste that is generated in the production of it's ranges' says Joe Kennedy of For The Floor & More. 'It is worked down and sent back to process. A new development in the industry is the EU Circular Flooring project which is testing an environmentally friendly way to recycle post-consumer vinyl floorcoverings. With a new recycling technique called Creasolv, the Circular Flooring project aims to dissolve and remove any undesirable plasticisers and achieve a high-quality, virgin-like vinyl material. After being processed into granulates, this material can be re-used in new floorings that will be compliant with any regulations and meet consumer expectations.'
What flooring is the most eco-friendly?
Cork and sustainably-sourced solid wood are - on balance - the most eco friendly types of flooring. They not only absorb and store carbon but are 100% recyclable, renewable and biodegradable, Reclaimed wood is also important. Mark Smyth, co-founder of Architecture and interiors studio, Studio Bua says 'We use a lot of natural materials in our work and have a particular interest in the creative reuse of materials and fixtures. We created this new mezzanine floor using salvaged timbers and lined with reclaimed floorboards sourced from building sites in Reykjavik, and the wooden columns were salvaged driftwood from a local beach.
What is the healthiest flooring for homes?
Any flooring that doesn't harbor dust and dust mites, is low in VOC's and improves air quality, will help create a healthy home. 'In terms of healthy options - hard, natural surfaces like wood and stone provide a very hygienic surface,' says Joss Thomas, designer at Indigenous. 'Unlike some manmade materials, these natural surfaces are also free from harmful toxins which can contribute to indoor air pollution. Wood and stone floors are generally sealed to protect them, so check that this has been carried out using a water-based, VOC-free treatment, as opposed to a spirit-based sealer. Steer clear of chemical-laden cleaning products too; natural, pH-neutral cleaners are the healthiest option and are always recommended for natural material.'
The Livingetc newsletter is your shortcut to the now and the next in home design. Subscribe today to receive a stunning free 200-page book of the best homes from around the world.
Alison Davidson is well-respected British interiors journalist, who has been the Homes Editor of Woman and Home magazine, and the Interiors Editor for House Beautiful. She regularly contributes to Livingetc, and many other titles, and often writes about kitchens, extensions, and decor ideas. She is the go-to for information about green energy, sustainable home improvement and eco design ideas.