Cork flooring – everything you need to know about this new floor trend
Cork flooring is stylish, sustainable, and could save you money on your heating bills, our expert gives you the lowdown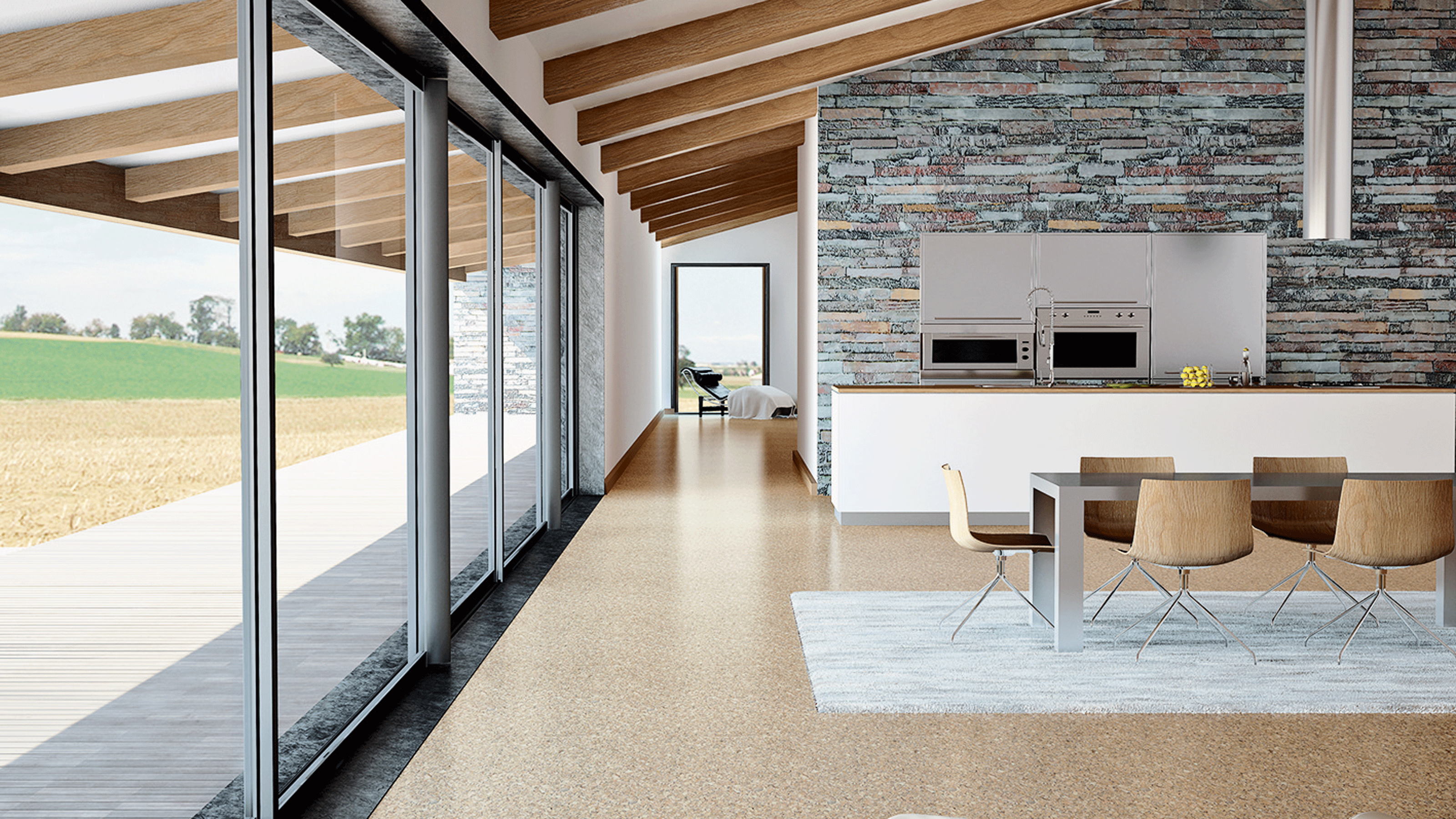 (Image credit: Urbane Living)
The Livingetc Newsletter
For style leaders and design lovers.
Thank you for signing up to LivingEtc. You will receive a verification email shortly.
There was a problem. Please refresh the page and try again.
Cork flooring has been available for some time but it is only in recent years it has risen in popularity as all its benefits have become widely known. It is warm underfoot, a natural insulator, can be installed over uneven surfaces, and perhaps more importantly, when it comes to floor types, it is a sustainable choice.
Flooring trends have been heading steadily towards being organic and eco-friendly and more people are rediscovering the invaluable benefits of natural materials. The slightly irregular texture and colour variances in cork show it's a natural product, no wonder it's having a revival.
Cork is eco-friendly because it can be harvested from the same tree for 100-300 years and the harvesting has little impact on the environment, unlike hardwood which relies on the cutting down of trees. So it is easy to see why cork is the perfect environmentally friendly, renewable, and sustainable material. It is an incredibly versatile type of flooring that can be used in different areas of the home/
Warmed by the natural, laid-back vibe cork offers? Here Silvi Stoyanova, consultant for flooring company Bricoflor, shares even more benefits it can bring to your home.
1. It can reduce your energy bills
Cork has natural thermal properties which means it is great for heat insulation and can be a much cheaper alternative to underfloor heating. The result? 'It means a reduction in energy usage and utility bills' says Silvi. This of course is dependent on much cork flooring you are using in your home.
The classic cork pattern can vary depending on the size of the grain and how it was manipulated during production. Different production methods are reflected in the price of the tiles, as they vary depending on the size of the grain. The bigger the grain, the higher the price.
Cork flooring is also available in pale whitewash styles or vibrant terracotta red. If you go for raw cork tiles, these can be varnished in a chosen shade or waxed to accommodate any taste or design.
2. You can choose a wide range of flooring options
There is a surprisingly wide selection of cork flooring options available. For instance, there are raw unvarnished cork tiles, usually around 4mm thick, which are glued to the subfloor. This gives you control over the type of sealant and adhesive used, but it entails extra installation work and waiting time for the sealant to dry.
"We primarily focus on floating cork tiles with factory-applied finishes, as they're easiest to install and can be used immediately after installation," says Silvi.
When cork tiles have a click mechanism, an HDF board is added to the structure, which is susceptible to moisture damage, so it would not be suitable as bathroom flooring.
'Depending on the project, it should be easy to determine which cork flooring suits best. If moisture is an issue, glue-down cork tiles are the way to go. If you seek comfort underfoot and quick installation, floating cork tiles will be your friend.'
3. It is antibacterial so is a hygienic option
In these hygiene-conscious times, cork flooring is a very considered choice. Cork is a very healthy flooring material that resists mold, insects, and mildew.
It is also a great option for people who have allergies because it is easy to clean - simply sweep with a soft-bristled brush - and it doesn't aggravate symptoms from asthma sufferers or people with respiratory issues like a carpet or rug could do.
4. It is kid-friendly because it is naturally cushioned
While there are some great wooden flooring ideas around, wood can be quite precarious for young children because they could be prone to slipping on the hard timber and hurting themselves in a fall. Carpet can be equally problematic because it does not often hold up well against the rough and tumble of youngsters. Cork flooring on the other hand, ticks both boxes. The floor is soft enough that it acts as a precaution for children or anyone who may have an increased risk of injury if they fall.
Cork's springy quality has other benefits too. It is pretty easy on the joints. 'It's comfortable to walk or stand on for long periods of time,' says Silvi. 'It's often used by yoga and meditation studios as it's both eco-friendly and good for your feet.'
5. Cork flooring helps to soundproof a room
'Cork flooring significantly improves the acoustics of a space,' says Silvi. Cork gets its incredible soundproofing abilities from the little air pockets within the material. This means cork flooring is particularly useful in rooms where you need peace and quiet like bedrooms and a good thing to consider when thinking about home office ideas. It is also ideal for rooms where you would prefer to disguise the noise, like a children's playroom.
What is cork?
Cork is the bark of the cork oak tree, mostly grown in Portugal. It's a renewable natural material with a lifespan of 200 years and can be harvested every nine years. It's essential this is done by hand, not machinery, to protect the tree and to be able to continue to harvest its bark.
Is cork flooring hard to maintain?
Cork flooring is relatively easy to maintain compared to many hardwood flooring. A simple sweep every couple of days with a soft-bristled broom will keep cork flooring in good condition, although you may need daily sweeps if you have pets. It is also important to clean up spills straight away because cork is a porous material so will soak up liquids quickly. Once a month, it is advisable to clean cork floors with mild detergent and a damp mop.
What is the most common disadvantage of cork flooring?
The most common disadvantage of cork flooring is the fact that it can fade under direct sunlight. This can also happen with UV lamps that are used for indoor gardening or beauty treatments. The best way to avoid any discoloration on cork flooring is to use curtains or blinds to protect the floor from harsh sunlight or avoid installing it in rooms that are known to be sun traps.
For style leaders and design lovers.
Jacky Parker is a London-based freelance journalist and content creator, specialising in interiors, travel and food. From buying guides and real home case studies to shopping and news pages, she produces a wide range of features for national magazines and SEO content for websites
A long-time contributor to Livingetc, as a member of the team, she regularly reports on the latest trends, speaking to experts and discovering the latest tips. Jacky has also written for other publications such as Homes and Gardens, Ideal Home, Red, Grand Designs, Sunday Times Style and AD, Country Homes and Interiors and ELLE Decoration.