14 bedroom lighting ideas to create a restful retreat
Looking for some stylish bedroom lighting ideas? We've sifted through the Livingetc archives and pulled out our favorites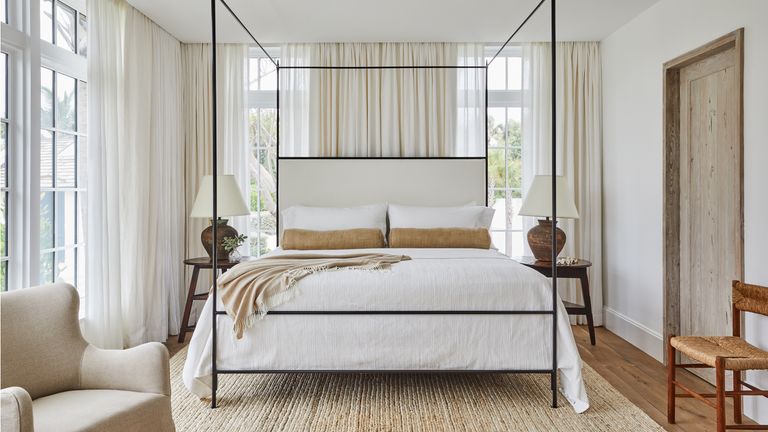 (Image credit: Karine Monie)
By Lotte Brouwer , Hebe Hatton
The right bedroom lighting ideas are key to creating a space that feels calming, restful, and has the soft ambiance you want in a bedroom. Lighting might not be top of your list when designing a modern bedroom but it can actually be the most important factor – colors, wallpapers, furniture, decor, it can all look different under different lighting so we'd always advice to plan your bedroom lighting scheme early on.
But where do you start? What is the best lighting for your space? How do you create a soft, glowing space that also has enough light to get ready for the day, or read, or even work? We cover all this and more right here, so whatever your style whether you are after a very minimalist design or a more traditional lighting set up, you'll find plenty of beautiful ideas to inspire you.
What type of lighting is best for bedrooms?
Before we get into all the lovely bedroom lighting ideas, let talk practicalities. A bedroom ideally needs three different types of lighting – task lighting, ambient lighting and accent lighting. Task lighting is key for well... tasks like reading, getting dressed or doing your makeup. Ambient lighting is more of an all over glow, and usually comes in the form of your overhead lighting. Accent lighting is a more dramatic source, a light that draws attention to a certain object or part of the room.
'When designing lighting for your bedroom, versatility is key. Bedrooms often need to be bright in the morning and relaxing and cozy at night. Layering different types of lighting such as a table or floor lamps with wall or ceiling lighting will allow you to achieve this effortlessly. Not only will 'layering' light sources add depth and texture, but it will also ensure you can adjust the lighting throughout the day to alter the ambiance.' says Jo Plismy, Founder of Gong.
'Task lighting for reading is essential and often this can be achieved using two lamps or wall lights either side of the bed. My advice is to add drama with large lamps or statement designs and if possible, have lights on dimmers that can also be controlled independently from each other.'For practical lighting when getting dressed, if it's not possible to have ceiling or wall lighting, then consider downlights. However, don't overdo it as it will spoil the overall look of your bedroom.'
1. Opt for pulley lights for flexible bedroom lighting
With bedroom lighting ideas, the key is to make the room feel cozy and inviting with lots of warm, glowing light source, but you also need to factor in some task lighting too so you have a slightly stronger light for reading or getting ready by.
The pulley lamps used in this bedroom are a great option as they can be adjusted to work as task lights at eye level or can become overhead lights for a more general glow too.
2. Make a statement with you bedside lamp
The humble bedside table lamp can make all the difference in a bedroom lighting scheme – in fact, we would say it is the most important light source in a bedroom. Pick the right design and it will add all three types of light to your room, task lighting for reading, an all-over glow for ambiance, and a pool of light around your bedside table for accent.
Pick a statement, oversized design that's going to be a feature in the space even when the light is turned off. And for a very chic, symettrical look mirror the same look on each side of your bed.
3. Switch bedside lights for pendants
And if you have a small bedroom so have to forgo bedside table lamps or you just want more surface space, switch a traditional bedside lamp for more statement hanging pendants.
'Typically, you will find task lighting placed right by the bed as it comes in handy for reading or shining a light on something just before you get into bed. Traditionally you could opt for a feature lamp on the bedside table, or for something more striking you can also suspend a one-light pendant or two low on either side of the bed. In more compact spaces, sconces are the best fit: They take up little space and some have switches that can be easily turned off from the comfort of the bed.' says Ben Marshall, Creative Director of Hudson Valley Lighting.
4. Hang ceiling lights in groups
This blue bedroom zings with punchy color combinations and quirky yet classic motifs. A trio of oversized yellow globe pendants are hung at different heights, adding more of a statement than just a single light.
'Opt for dramatic pendants as your main source of light and pair with statement table lamps to create an atmospheric mood. Wall lights work well as accent lighting to highlight interesting features in the room, such as art or artifacts. Choose bold pieces featuring structural shapes, interesting texture, or colored glass to make a style statement, even if the lighting is switched off.' advises Martin Waller, Founder of Andrew Martin.
5. Place bedroom lighting at different heights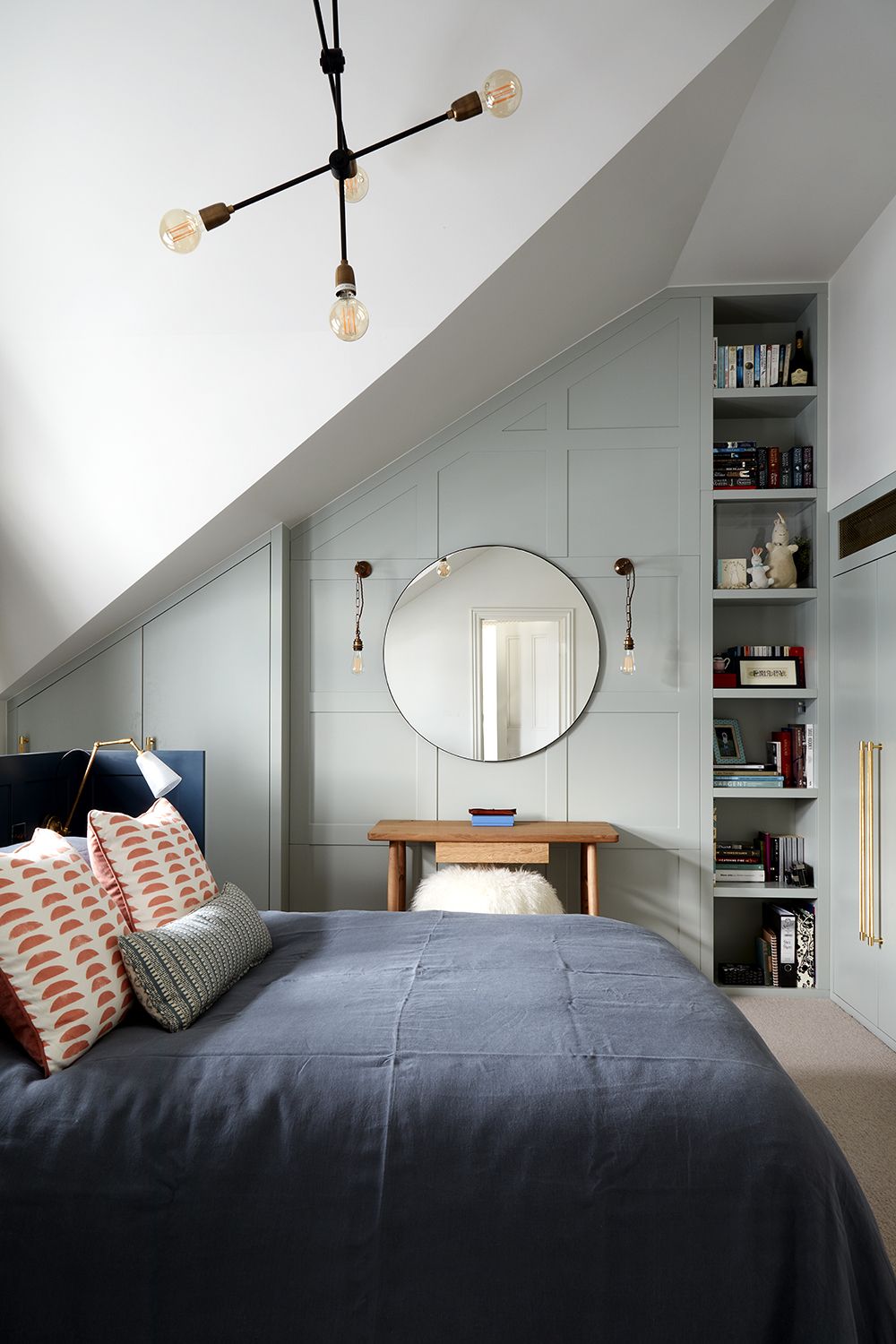 The key to creating that lovely all-over glow you want in a bedroom is to have plenty of different sources, positioned at different heights. That way you'll get multiple soft pools of lights throughout the room.
'Create a conversation with your lighting using different heights with side lamps as well as floor standing and ceiling lights too.; says Martin. 'Why limit yourself to a single dimmer switch when you can be surrounded with warmth? Good lighting is imperative to creating an ambiance, a cove of coziness and intimacy.'
6. Focus of certain aspects with accent lighting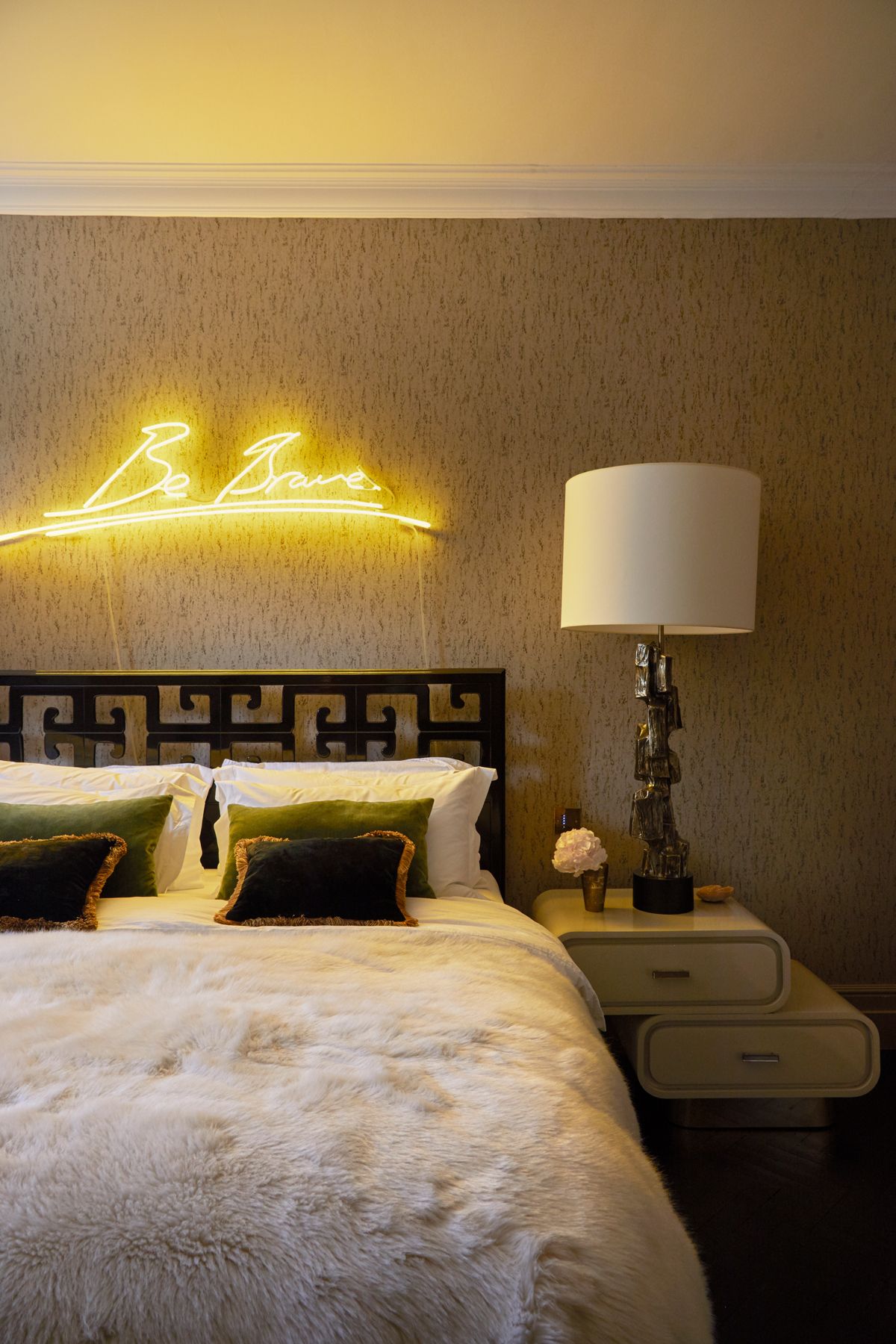 Task lighting and ambient lighting are key in a bedroom lighting scheme and you'll find that your bring these sorts of sources into your room without even thinking about it. But accent lighting often gets ignored and yet it's key to creating that all-over soft glow you want in a bedroom.
'In rooms designed for unwinding and resting, accent lighting should not be forgotten. To create a warm, chilled ambiance, sconces and picture lights are a perfect choice, and can also be used to accentuate a corner of a room, drawing attention to a favorite piece of artwork or furniture.' says Ben Marshall.
'If you have a dressing area in your bedroom, accent lighting can also double up as task lighting, with sconces lighting up your space when choosing clothing. On those early mornings especially when ambient bright lighting is hard to bear, some accent lighting is a great addition to help you ease yourself into the morning at a slower pace.'
7. Counteract cool tones with warm lighting
Blues, greens and greys are all ideal bedroom colors. They create spaces that are calming and uplifting and yet under the wrong lighting that can appear frosty and cold. So if you are decorating with one of these cooler shades, always balance it out with plenty of warm, glowy lighting.
'A bedroom should be seen as the ultimate sanctuary space. We are fully embracing cool and calming colours, particularly soft blues and greens with warm lighting as this gives a feeling calmness and serenity.' says Camilla Clarke, Creative Director at Albion Nord.
8. Double up on lighting with a cleverly positioned mirror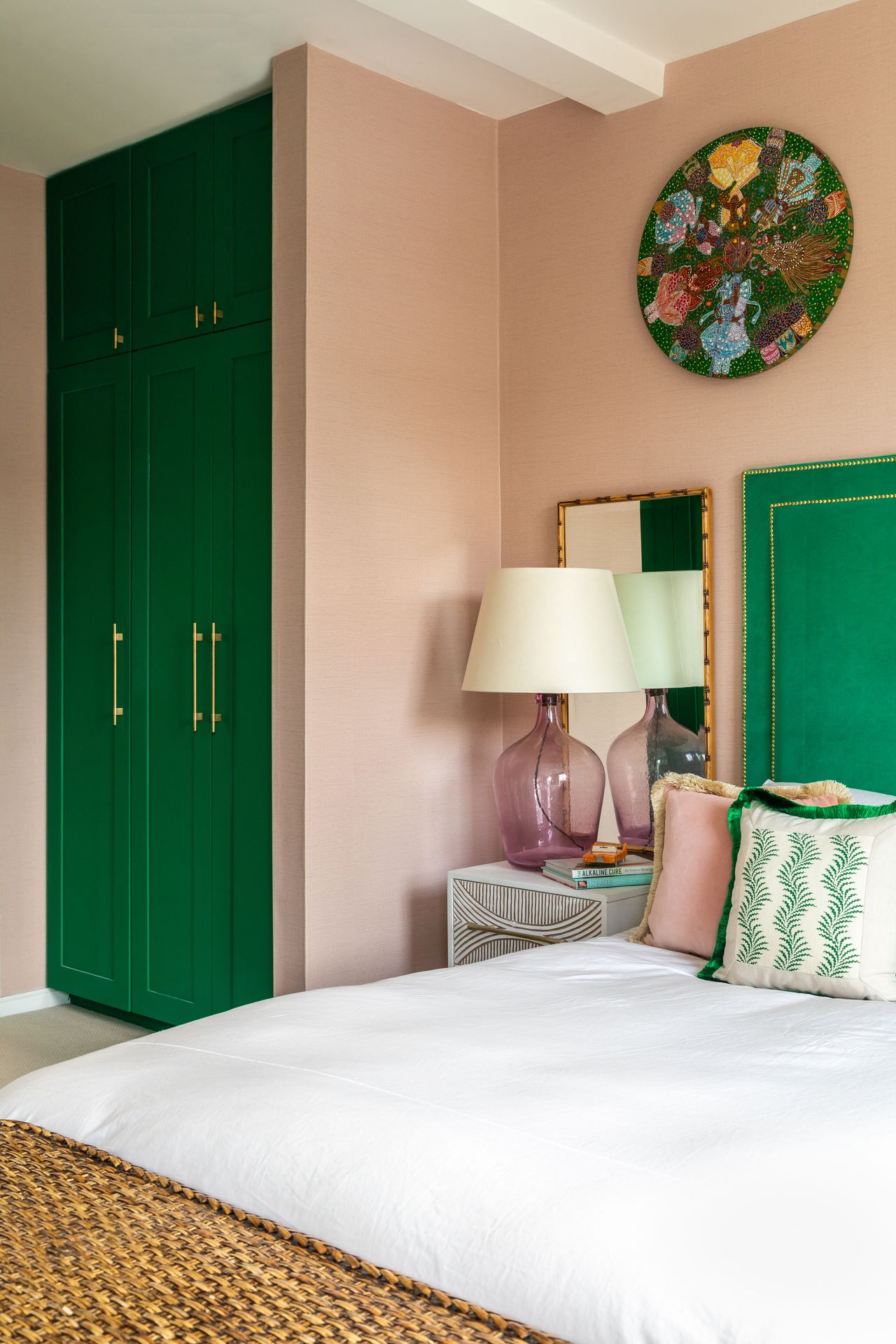 This is such a nifty bedroom lighting idea, especially if you are dealing with a small bedroom or one that lacks natural light. Position your lighting in front of a mirror to bounce even more light around the room. Plus, mirrors always create the allusion of more space.
'Invest in a good pair of matching table lamps (preferably with two matching mirrors behind, to reflect and double the light). This adds a symmetrical finish that will give the room structure and balance. Don't forget to choose a stylish lampshade; neutral tones will keep it fresh and clean, whilst a printed shade will add a bold dose of color and pattern. A colored shade also lets out a warmer tone of light - perfect for creating a calming environment.' advises Emma Deterding.
9. Switch traditional light fixtures for lanterns
Another great example of the mirror trick being used to maximize light. But we are being drawn to the statement, oversized lantern – an unexpected and quirky choice for bedroom lighting, and yet it really works, creating a modern and yet relaxed, boho feel to the room. The fabric adds a softness too which feels just right for the laid-back, neutral bedroom, a traditional, structured bedside lamp would feel out of place amongst all the natural textures and slubby bedlinen.
10. Contrast styles with your bedroom lighting
Bedroom lighting is a really easy way to bring in a style that contrasts that of the rest of your bedroom without it overwhelming the room or feeling like too obvious of a clash. Pick uber-modern bedside lights to add edge to a more traditional bedroom, an antique floor lamp to add texture to a contemporary space, or, as can be seen in this space, hang a statement contemporary chandelier in a soft rustic bedroom. This mixing of styles is what gives a bedroom personality, adds depth and interest.
11. Add a softness with fabric lighting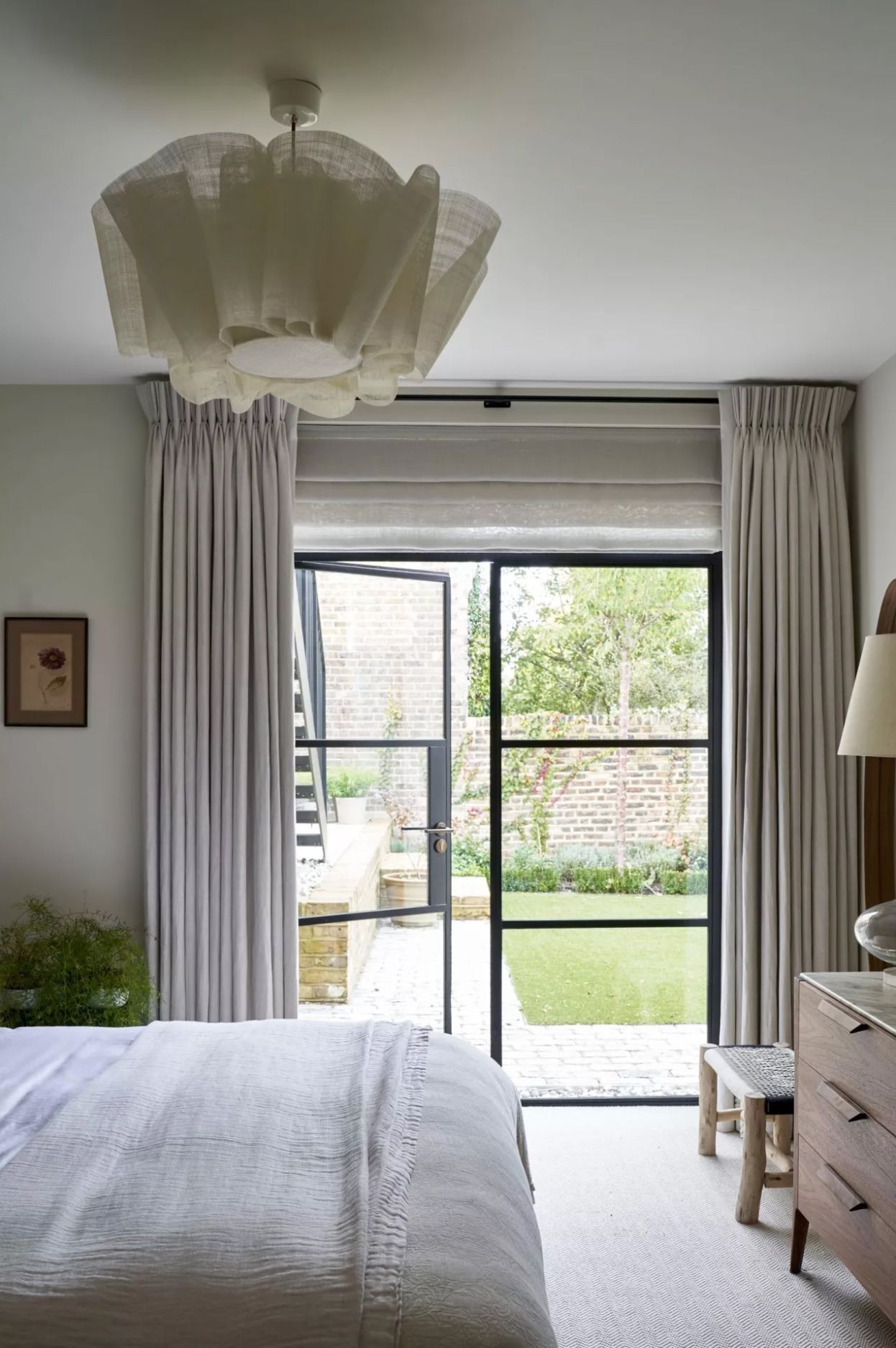 A bedroom is a space that's filled with soft textures and layers of tactile fabrics and don't let that stop at your lighting. As Jo Plismy recommends 'I often recommend using fabric with lighting to achieve a romantic and tranquil atmosphere. There's something timeless and luxurious about using fabric with lighting and I personally love the warmth that can be created with a fabric shade.'
In this bedroom, the light airy feel and all those soft, tonal shades don't lend themselves to adding too structured, so the pendant light with all its beautiful folds of fabrics works perfectly.
12. Keep it simple with exposed bulbs
Sometimes less is more when it comes to bedroom lighting and a single exposed bulb can make just as much of a statement as an oversized chandelier. This kind of simple design can work with so many styles too from industrial to rustic. Just be sure to choose your bulb carefully, you don't want it to cast a harsh light around the room so opt for a tinted LED bulb that will fill the space with warm, glowy light. And if you can, make it dimmable too so you have the option to turn it from task lighting to ambient lighting.
13. Save space with an adjustable wall lamp
Wall mounting your bedside tables is a simple solution to free up surface space on your bedside table, or a good option if you have a small bedroom so don't have room to squeeze in a bedside table. Choose a lamp with an arm that can be angled so you have the flexibility to focus it either on the bed whilst your read or away towards the rest of the room when you aren't in need of a strong task light.
14. Bring texture into a simple color scheme
A monochrome palette, teamed with pattern and textured throws, rugs and cushions creates an enticing bedroom space, enhanced by this eye-catching pendant.
14. Double up
Fallen for a bedside lamp that you know is really just for decoration? It's never going to provide the right amount of light to read by and yet it just fits perfectly into your bedroom? Well, why not double up on your bedside lighting? A lamp that gives of a nice glow but it's purely for decor and more subtle wall mounted light that's a far more practical choice and ideal for reading.
How many lights should a bedroom have?
'The first thing to consider when planning your bedroom lighting is what you need on a practical level. With us all now working from home, our spaces have become multifunctional, and the bedroom is no exception. The minimum number of lights in a bedroom is probably two: a ceiling light and a bedside lamp or pendant, but there really is no maximum! First and foremost, the bedroom is for relaxation, so using soft lighting with dimmers is ideal for mood lighting and creating the perfect ambience.' explains Niki Wright founder of Lights and Lamps.
How bright should bedroom lighting be?
The reason bedroom lighting is so important to get right is it has to serve a lot of purposes in order to create a room that feels cozy and inviting and yet has enough light to be functional too. For this reason, the easiest way to ensure the right brightness in your bedroom is to have dimmer switches so you can adjust your lighting depending on the time of day.
However, if you what to get technical, to get the right brightness in your bedroom you need to look at the lumens of the bulbs you are using – Lumens are how modern LED light bulbs are measured. According to the lighting experts at Pooky a bedroom needs around 10-20 lumens per square foot for the perfect amount of brightness.