Cool bedroom lighting ideas: 24 lighting ideas for chic bedroom design
Looking for some seriously cool bedroom lighting ideas? We've sifted through our Livingetc archives and pulled out our favourites.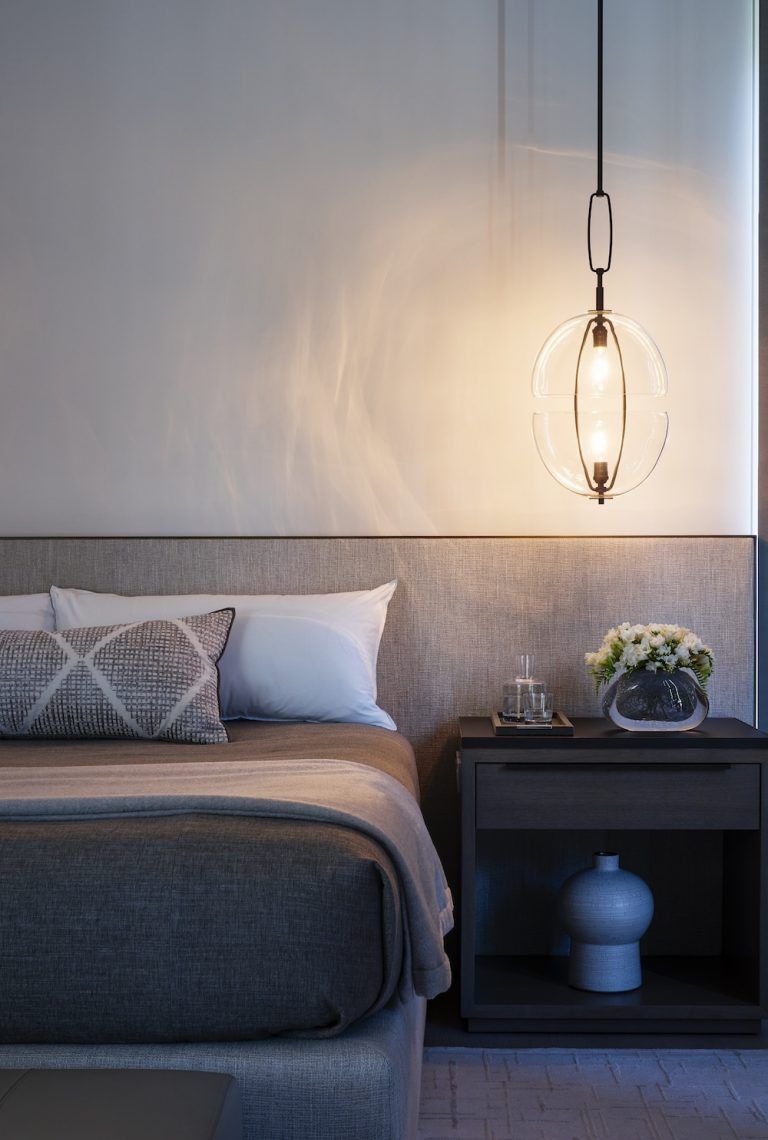 (Image credit: Photography: Joe Fletcher)
Looking for some seriously cool bedroom lighting ideas? We've sifted through our Livingetc archives and pulled out the modern bedrooms with the most striking lighting ideas.
To avoid a harsh overhead light go for a dimmer switch, so that you can tone down the brightness and alter the mood when required.
Reading lamps are a must but if you prefer to keep bedside surfaces clear and uncluttered, a pendant or simple bulb hung either side of the bed makes a great alternative. This look is not only modern and fresh, it will enable you to layer lighting according to the time of year, making your bedroom cocoon-like and cosy in the winter, and providing different options in the summer when there is more natural light.
Hanging a beautiful pendant or lighting centrepiece will elevate a bedroom scheme and pull the look together. The style of light will instantly enhance the vibe you've gone for, like the glamorous chandelier in the frou frou bedroom below, the elegant globe pendants or the dramatic shade in the pared-back monochrome room.
Wall lamps, Swing arm lamps or sconces are another great option for freeing up surface space beside the bed and layering light, while tall table lamps will ooze a more traditional and sophisticated style. Whichever type of bedside light you choose, team it with your ceiling pendant or chandelier, by echoing shapes or coordinating colours, materials and finishes for a cohesive scheme.
Whatever your style and whatever the size of your room, here are 24 of the coolest bedroom lighting ideas.
Want more bedroom inspiration? Check out our modern bedroom ideas gallery.
1. Pulley lights
The mirrored bed base creates the impression of a floating bed, setting a relaxed, luxe tone for this master bedroom. Pulley lights mean the owners can instantly change the room's ambience.
2. Glam Look
We love Kelly Wearstler's statement table lamps – perfect for creating a glam look in the bedroom.
3. Hanging Low
A green velvet headboard wraps around fitted shelves, adding colour, glamour and drama. Low hanging pendant lamps on either side offer an out-of-the-box approach to bedside reading lights.
4. Hanging Pendants
Alison Berger's Moon Pendant lights hang either side of this bed, instead of wall lights, adding to this room's chic, modern look.
5. Pendant Trio
This master bedroom zings with punchy colour combinations and quirky yet classic motifs. A trio of oversized yellow globe pendants are hung at different heights, adding a sense of fun.
6. Hanging bedside lamps
Hanging bedside lamps make a cool change from more traditional wall lights. The leather headboard has a subtle, floral cutout design that's a great choice for this room as it doesn't detract from the impact of the walls, but still adds detail.
7. Industrial Pendant
An industrial-style pendant light looks perfectly at home alongside the more traditional panelled wall. Get the look: Pendant, Buster + Punch. Bed, Made. Table, The Modern Warehouse. Ruched cushion, Rockett St George.
8. Trio
This master bedroom features three types of lighting; reading spotlights, hanging chandelier-style pendants on either side of the bed, and a large wood statement pendant at the centre.
9. Unexpected Drama
This master bedroom is full of interesting surprises, from the black lacquered horse-inspired bench and turtle shell inspired lamps to the modern chandelier. The pin-striped bed, dark furnishings and dark floors also add drama to this white space.
10. Hanging Lanterns
Large pendant lantern lights hang down on either side of this bed, instead of traditional wall lights. The effect is both modern and relaxed.
11. Grand gesture
Outsize pieces provide the wow factor in this home – such as the Seventies Italian chandelier that drips sensuously from the ceiling in the master bedroom.
12. Neutrals
Neutrals create a soft, cosseting vibe instead of a minimalist one. The room connects to the garden via slim-profile Crittall-style glazing.
13. Bare all
The owner wanted to create a calm and tranquil bedroom, with enough warmth and texture to stop it being monastic. Bare pendant bulbs hung either side of the bed are a utilitarian alternative to reading lamps.
14. All that glitters
A candle-style chandelier enhances the opulent style of the gilded four-poster.
15. Soft focus
Swing arm lamps provide light for reading.
16. Shine on
The couple moved their bedroom to the back of the house, where doors open on to a semi-circular balcony. The natural light is lovely in here and the pretty lamps add a glamorous touch.
17. Rustic charm
The wood wall was made from old grape pallets that a farmer had thrown away, mainly as a place to hang the three pod lights. The concrete and glass table beneath it was also a DIY job. Soft fabrics contrast with the hard surfaces and make the bed even more inviting.
18. Black & white
A monochrome palette, teamed with pattern and textured throws, rugs and cushions creates an enticing bedroom space, enhanced by this eye-catching pendant.
19. Time to shine
The bedroom looks simple, but an opalescent headboard and a retro chandelier add glamour. The light looks magical at night, when the crystals reflect across the ceiling.
20. Clean and serene
Simple spherical lights have been hung on extra long cables either side of the bed, instead of having reading lamps. This frees up surface space and creates a clean, elegant look.
21. Golden touch
This colourful bedroom suite is given a glamorous boost with gold taps and handles in the bathroom, while hinges, switches, bolts and Lee Broom lights in the bedroom give off a special gleam.
22. Out of this world
There's an other-worldly quality to the Zeppelin chandeliers that hang in this master suite.
23. Oh the glamour
There's an airy tranquillity that filters around the double-height proportions of this bedroom. Touches such as the ostrich-feather lamp, glass chandelier and mirrored furniture add grandeur and decadence.
24. STAY IN NEUTRAL
Here, home is a sanctum, so calm colours were chosen for the bedroom to keep it feeling serene. Low hung beaded chandeliers either side of the bed create impact and exude a softer light than a central pendant.