Small bedroom ideas – smart ways to maximize space without compromising on style
Small bedroom ideas to help make your room feel more spacious and functional all at once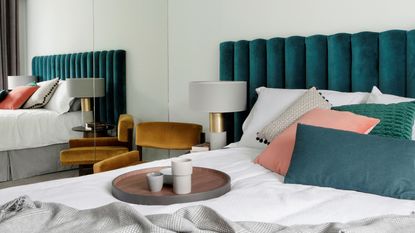 (Image credit: Ruth Maria. Design: Kingston Lafferty Design)
Small bedrooms require a little more thought during the design and decor stages to make sure you optimize the space as much as possible. They need to work a little harder, but they are by far a lost cause.
In fact, if you switch the narrative and think about them as a fun design challenge, you can come up with plenty of clever ways to make your space spacious, airy, functional and stylish all at once. From nightstand ideas to lighting, from color scheme to storage solutions, get your design right and your bedroom has the potential to transform. 'Small bedrooms really can have an intimacy about them if done right,' says Bradley Odom, founder and owner of Bradley Odom Interior Design, and we tend to agree. We spoke to several interior designers to create a succinct list of fool-proof ideas. Tap into these small modern bedroom ideas and transform this room into one you'll never want to leave.
Aditi is a homes writer and editor with several years of experience. Her articles, backed by expert insights, offer suggestions aimed at helping readers make the best home design choices. Each piece presents latest ideas, information and trends to her readers. For this piece, she spoke to top interior designers for their advice on making small bedrooms both functional and stylish.
23 small bedroom ideas to implement right now
1. Save surface space on your nightstands
It may seem obvious, but your nightstand space is precious in a room where space is at a premium. A hanging pendant as opposed to a bedside table lamp will save you valuable surface space, and everything counts in a small bedroom. 'Table lights in small bedrooms can create cluttered surfaces, so hang pendants low to create drama,' says Charlie Bowles of Original BTC (opens in new tab).
'Nightstands are an important place to consider,' adds Bradley Odom, founder of Bradley Odom Interior Design (opens in new tab), and you don't want them to be cluttered spaces. 'Another idea is to include nightstands with a drawer and a shelf, allowing you to display the things you use often - books, phone charger, a beautiful catchall - while the drawer can be used in a more utilitarian way. '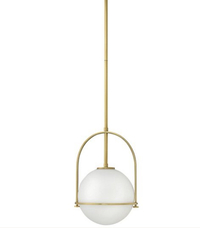 (opens in new tab)
Somerset pendant light from Lumens (opens in new tab)
These cute bulb-like pendants will make a nice bedroom addition, one on either side of your bed. With glimmers of gold, and adjusted to a dimmer switch, they can help create a luxurious atmosphere in your sleeping space.
2. Create a wall from sliding panels
Small bedrooms can be a fun feature in themselves, and can be celebrated as clever achievements in design, just like this mini bedroom created from sliding door panels in a small studio flat in Prague. This creates a nook for sleeping, and while there is no space for storage in the bedroom, the space is cozy and separated from the rest of the flat.
'As the flat is not very big, we were looking for a way to put a sleeping box in the living room,' says architect, Jana Stachová of boq architekti (opens in new tab).
'We created a furniture wall from two sliding panels, thanks to which it is possible to open the space and leave it free. At the same time, this mini bedroom can be closed and completely separated from the rest of the room. A small part of the wall is designed in glass so that the owner perceives the sunrise, which naturally wakes him up.'
3. Create atmosphere with a dark color scheme
Sometimes, while you might think the best color scheme for your small bedroom to be light and muted, a dramatic dark color scheme can bring more presence to the room and create a sense of depth.
'I adore dark colours in small spaces,' says paint expert, Annie Sloan. 'A deep blue is the perfect color for this because blue recedes, eliminating horizons and creating the impression of infinite space.'
'For me, a dark chocolate colored bedroom gets me everytime and gives a cocooning feel, says Bradley.
A dark shade looks versatile and as the light changes through the day, its hues reflect different subtleties and textures. It gives the room dynamism and almost makes it feel like it has more than what meets the eye. This scheme is from NYC-based women-run and owned multidisciplinary design studio, Le Whit (opens in new tab). The paint is monochromatic, with the ceiling painted in the same hue of dark inky blue to make the space all the more cozy.
'This bedroom was for a modern family and in a very typically modern building, brings in doses of more traditional materials, soft textures and features, and other gentle touches that complement the contemporary character without compromising it,' say Corey Kingston and Liza Curtiss, Co-principals at Le Whit.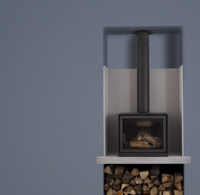 (opens in new tab)
Wine dark by Farrow & Ball (opens in new tab)
Perfect for a sumptuous bedroom, this dark, inky blue color is a deep and rich shade, and one of Farrow & Ball's 11 new colors for 2022.
4. Remember that storage is key
Storage is key to a small bedroom and is a clever space-saving storage tool. If you can cleverly slot storage in every nook and cranny, with fitted wardrobes and smart joinery, you'll reclaim plenty of the floor space and limit visual clutter, making the room feel larger. 'Built in joinery means every inch of space is used,' says Stephanie Dale of Studio Webster Dale (opens in new tab), who designed this space.
'Even narrow spaces in front of chimney breasts can be incorporated to provide homes for small items such as bags and shoes. Make furniture work hard,' she says. 'Even when space is limited, small pockets can be carved out to provide room for a dressing table which can double as a space for home working.'
5. Add interest to a small bedroom with wooden panelling
Another great way to decorate a small room is with the tool of distraction. Don't let your small bedroom lack in character and personality. One way of doing this is with a bedroom accent wall. This will boost the space's design, attract people's attention to it, and make them forget the space's tiny square footage.
'I love designing for smaller spaces,' says Jessica Neilas of Wolfe Interior Design (opens in new tab). 'I always tell my clients finish the interior with super chic and beautiful materials - go all out!'
This home is a fantastic example of how to go all out with the finishes regardless of the more efficient volumes. 'For the bedrooms, we still focused on making the headboard something memorable, special and welcoming with the wood panels. We added LED strip lighting in the curved ceiling drop which can add some excitement and gives you that boutique hotel look immediately.
'We also try to animate small bedrooms with playfully shaped lighting, like the pendants in the guest bedroom, and side tables in the primary bedroom, infusing them with character. I also find white, light and textured linens alway keep smaller bedrooms feeling fresh and alluring.'
6. Go for a large headboard to boost the room's dimensions
Whether you have a small bedroom or a narrow one, you can create the illusion of height or width with a long or a tall headboard. This will exaggerate the room's dimensions, and you do not need to fill the wall above the bed with any other decor items.
'The master bedroom is a warm and cozy space with a 15' large live edge wood as the bed back to the simple olive green wall paint,' says Prashant Chauhan, founder of Zero9 (opens in new tab). 'The floor is a herringbone patterned wooden floor adding warmth to this space. The balcony in the master bedroom brings in the much-needed break space for that evening cup of coffee. The master bedroom also has a study corner for the imposed work from home culture these days.'
7. Or choose a muted color palette to bring in more light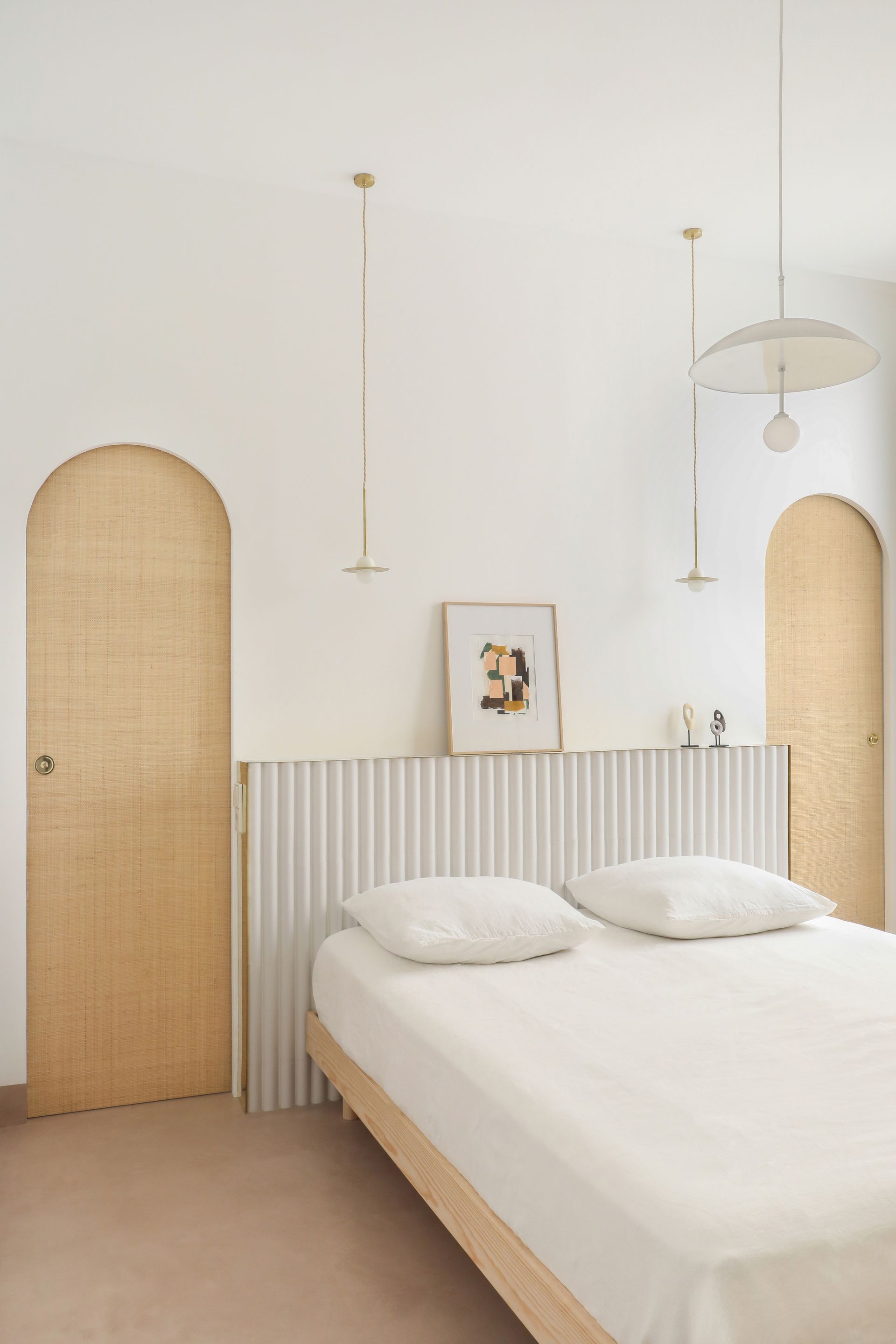 White, off-white, or light grey paint colors have space-boosting benefits, that open up the room and make it seem light and airy. But if an all-white palette isn't for you, bring in your favorite shades, but as softer, more muted colors.
'The master bedroom is a refuge of softness with its pink waxed concrete floor that is warm and comforting,' says Hélène Pinaud, founder of Heju Studio (opens in new tab). 'We created a rigorously symmetrical composition with a white earthenware headboard highlighted with brass. The two arched doors, covered with woven raffia, are sliding and lead to a small bathroom and a toilet.'
8. Add in-built storage in the bed