Small bedroom ideas – smart ways to maximize space without compromising on style
Small bedroom ideas to help make your room feel more spacious and functional all at once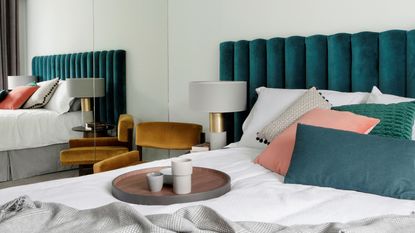 (Image credit: Ruth Maria. Design: Kingston Lafferty Design)
The Livingetc Newsletter
For style leaders and design lovers.
Thank you for signing up to LivingEtc. You will receive a verification email shortly.
There was a problem. Please refresh the page and try again.
Small bedrooms require a little more thought during the design and decor stages to make sure you optimize the space as much as possible. They need to work a little harder, but they are by far a lost cause.
In fact, if you switch the narrative and think about them as a fun design challenge, you can come up with plenty of clever ways to make your space spacious, airy, functional and stylish all at once. From nightstand ideas to lighting, from color scheme to storage solutions, get your design right and your bedroom has the potential to transform. 'Small bedrooms really can have an intimacy about them if done right,' says Bradley Odom, founder and owner of Bradley Odom Interior Design, and we tend to agree. We spoke to several interior designers to create a succinct list of fool-proof ideas. Tap into these small modern bedroom ideas and transform this room into one you'll never want to leave.
Aditi is a homes writer and editor with several years of experience. Her articles, backed by expert insights, offer suggestions aimed at helping readers make the best home design choices. Each piece presents latest ideas, information and trends to her readers. For this piece, she spoke to top interior designers for their advice on making small bedrooms both functional and stylish.
23 small bedroom ideas to implement right now
1. Save surface space on your nightstands
It may seem obvious, but your nightstand space is precious in a room where space is at a premium. A hanging pendant as opposed to a bedside table lamp will save you valuable surface space, and everything counts in a small bedroom. 'Table lights in small bedrooms can create cluttered surfaces, so hang pendants low to create drama,' says Charlie Bowles of Original BTC.
'Nightstands are an important place to consider,' adds Bradley Odom, founder of Bradley Odom Interior Design, and you don't want them to be cluttered spaces. 'Another idea is to include nightstands with a drawer and a shelf, allowing you to display the things you use often - books, phone charger, a beautiful catchall - while the drawer can be used in a more utilitarian way. '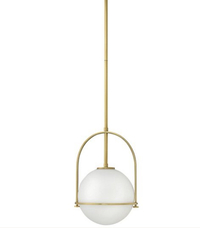 Somerset pendant light from Lumens
These cute bulb-like pendants will make a nice bedroom addition, one on either side of your bed. With glimmers of gold, and adjusted to a dimmer switch, they can help create a luxurious atmosphere in your sleeping space.
2. Create a wall from sliding panels
Small bedrooms can be a fun feature in themselves, and can be celebrated as clever achievements in design, just like this mini bedroom created from sliding door panels in a small studio flat in Prague. This creates a nook for sleeping, and while there is no space for storage in the bedroom, the space is cozy and separated from the rest of the flat.
'As the flat is not very big, we were looking for a way to put a sleeping box in the living room,' says architect, Jana Stachová of boq architekti.
'We created a furniture wall from two sliding panels, thanks to which it is possible to open the space and leave it free. At the same time, this mini bedroom can be closed and completely separated from the rest of the room. A small part of the wall is designed in glass so that the owner perceives the sunrise, which naturally wakes him up.'
3. Create atmosphere with a dark color scheme
Sometimes, while you might think the best color scheme for your small bedroom to be light and muted, a dramatic dark color scheme can bring more presence to the room and create a sense of depth.
'I adore dark colours in small spaces,' says paint expert, Annie Sloan. 'A deep blue is the perfect color for this because blue recedes, eliminating horizons and creating the impression of infinite space.'
'For me, a dark chocolate colored bedroom gets me everytime and gives a cocooning feel, says Bradley.
A dark shade looks versatile and as the light changes through the day, its hues reflect different subtleties and textures. It gives the room dynamism and almost makes it feel like it has more than what meets the eye. This scheme is from NYC-based women-run and owned multidisciplinary design studio, Le Whit. The paint is monochromatic, with the ceiling painted in the same hue of dark inky blue to make the space all the more cozy.
'This bedroom was for a modern family and in a very typically modern building, brings in doses of more traditional materials, soft textures and features, and other gentle touches that complement the contemporary character without compromising it,' say Corey Kingston and Liza Curtiss, Co-principals at Le Whit.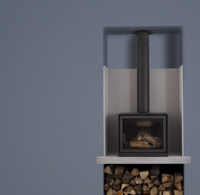 Perfect for a sumptuous bedroom, this dark, inky blue color is a deep and rich shade, and one of Farrow & Ball's 11 new colors for 2022.
4. Remember that storage is key
Storage is key to a small bedroom and is a clever space-saving storage tool. If you can cleverly slot storage in every nook and cranny, with fitted wardrobes and smart joinery, you'll reclaim plenty of the floor space and limit visual clutter, making the room feel larger. 'Built in joinery means every inch of space is used,' says Stephanie Dale of Studio Webster Dale, who designed this space.
'Even narrow spaces in front of chimney breasts can be incorporated to provide homes for small items such as bags and shoes. Make furniture work hard,' she says. 'Even when space is limited, small pockets can be carved out to provide room for a dressing table which can double as a space for home working.'
5. Add interest to a small bedroom with wooden panelling
Another great way to decorate a small room is with the tool of distraction. Don't let your small bedroom lack in character and personality. One way of doing this is with a bedroom accent wall. This will boost the space's design, attract people's attention to it, and make them forget the space's tiny square footage.
'I love designing for smaller spaces,' says Jessica Neilas of Wolfe Interior Design. 'I always tell my clients finish the interior with super chic and beautiful materials - go all out!'
This home is a fantastic example of how to go all out with the finishes regardless of the more efficient volumes. 'For the bedrooms, we still focused on making the headboard something memorable, special and welcoming with the wood panels. We added LED strip lighting in the curved ceiling drop which can add some excitement and gives you that boutique hotel look immediately.
'We also try to animate small bedrooms with playfully shaped lighting, like the pendants in the guest bedroom, and side tables in the primary bedroom, infusing them with character. I also find white, light and textured linens alway keep smaller bedrooms feeling fresh and alluring.'
6. Go for a large headboard to boost the room's dimensions
Whether you have a small bedroom or a narrow one, you can create the illusion of height or width with a long or a tall headboard. This will exaggerate the room's dimensions, and you do not need to fill the wall above the bed with any other decor items.
'The master bedroom is a warm and cozy space with a 15' large live edge wood as the bed back to the simple olive green wall paint,' says Prashant Chauhan, founder of Zero9. 'The floor is a herringbone patterned wooden floor adding warmth to this space. The balcony in the master bedroom brings in the much-needed break space for that evening cup of coffee. The master bedroom also has a study corner for the imposed work from home culture these days.'
7. Or choose a muted color palette to bring in more light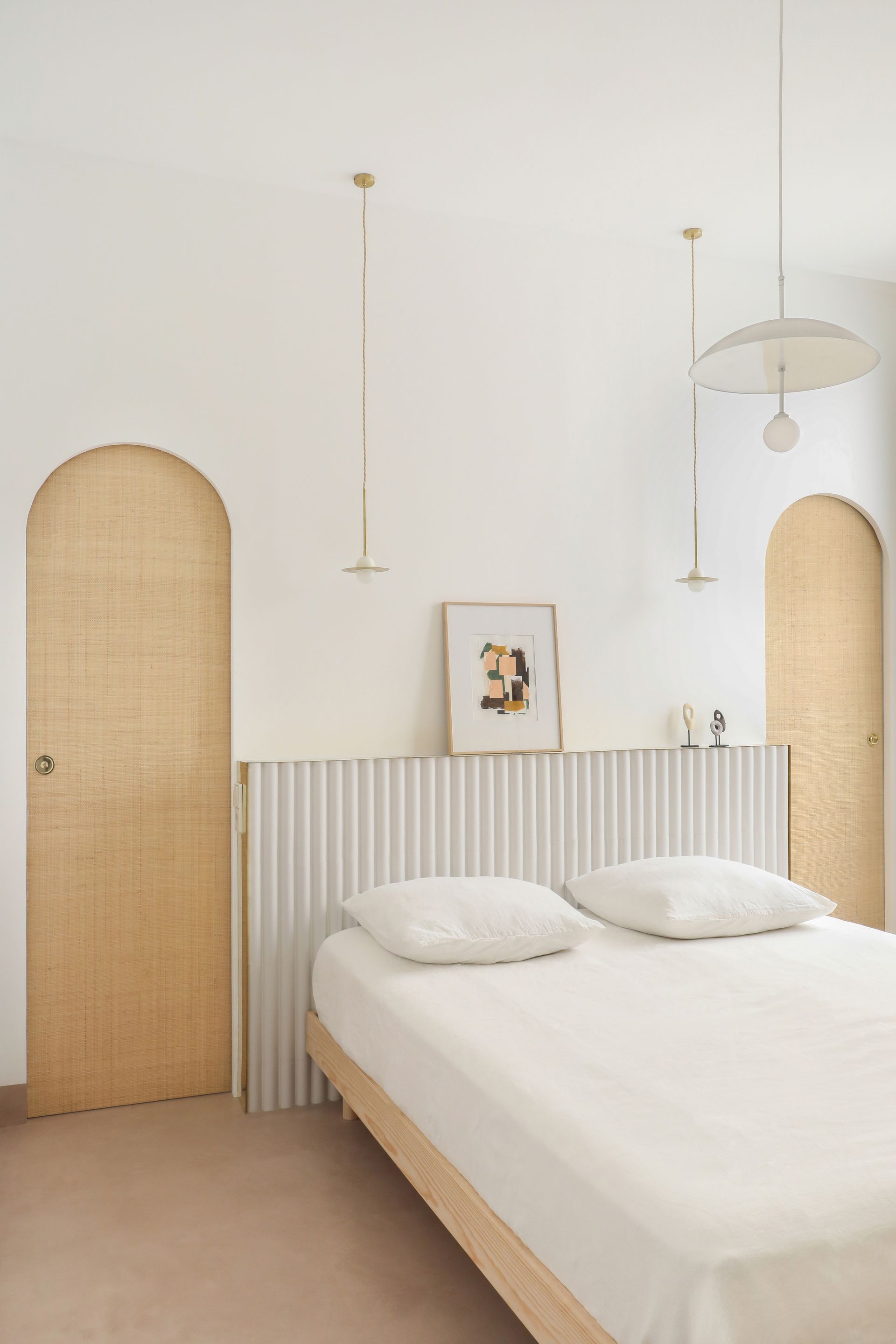 White, off-white, or light grey paint colors have space-boosting benefits, that open up the room and make it seem light and airy. But if an all-white palette isn't for you, bring in your favorite shades, but as softer, more muted colors.
'The master bedroom is a refuge of softness with its pink waxed concrete floor that is warm and comforting,' says Hélène Pinaud, founder of Heju Studio. 'We created a rigorously symmetrical composition with a white earthenware headboard highlighted with brass. The two arched doors, covered with woven raffia, are sliding and lead to a small bathroom and a toilet.'
8. Add in-built storage in the bed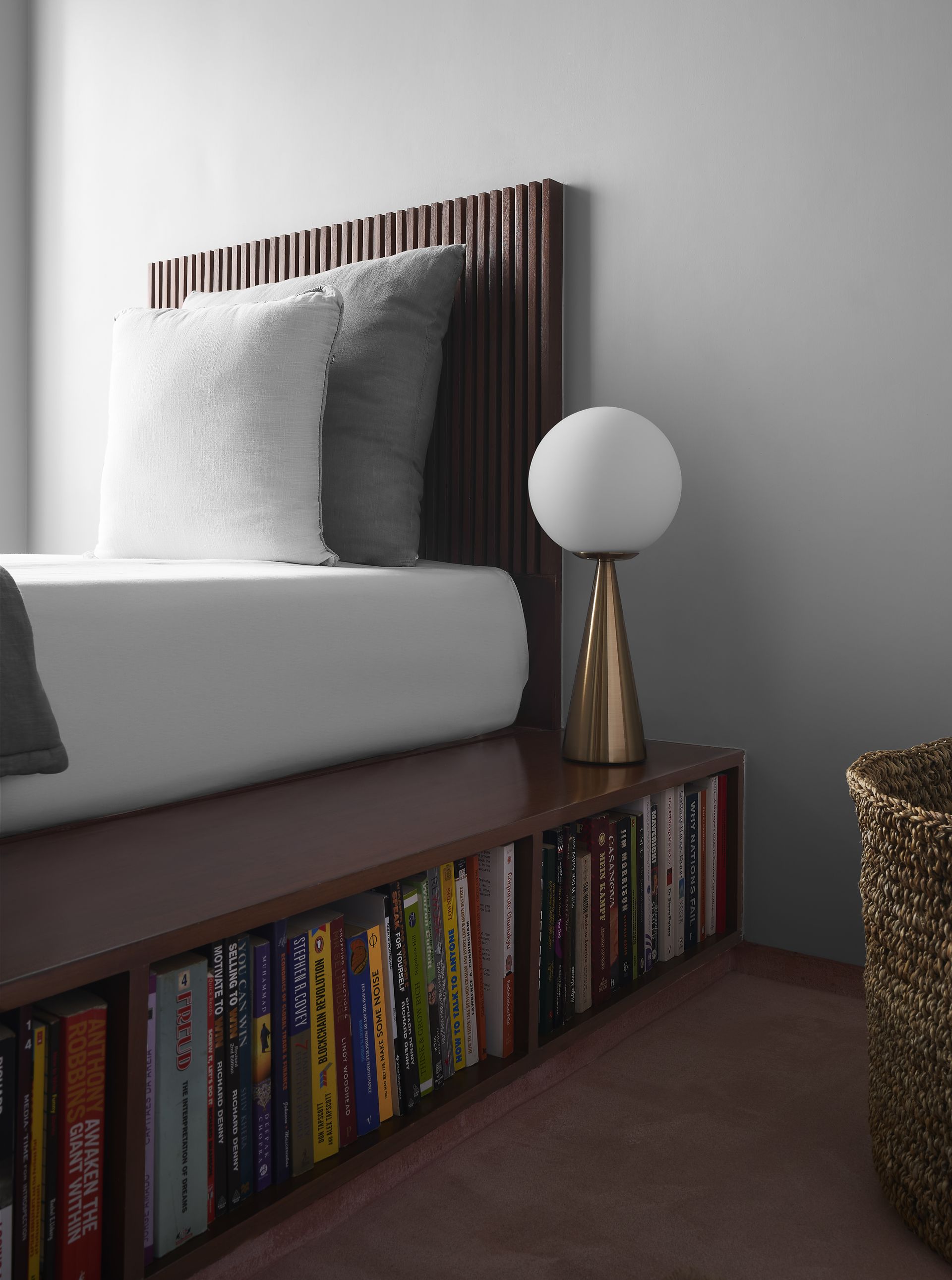 In small rooms, every piece should do double duty to earn its place in the house. When considering bedroom furniture ideas, choose pieces that have built-in storage, or plenty of space underneath to store other essentials.
'We custom built this bed in this small bedroom to incorporate the client's books and other paraphernalia,' says Mahek Lalan, principal architect at SML Architects. This under bed storage also frees up extra space in the room, or home, where a bookcase would be required.
9. Bring in an indoor tree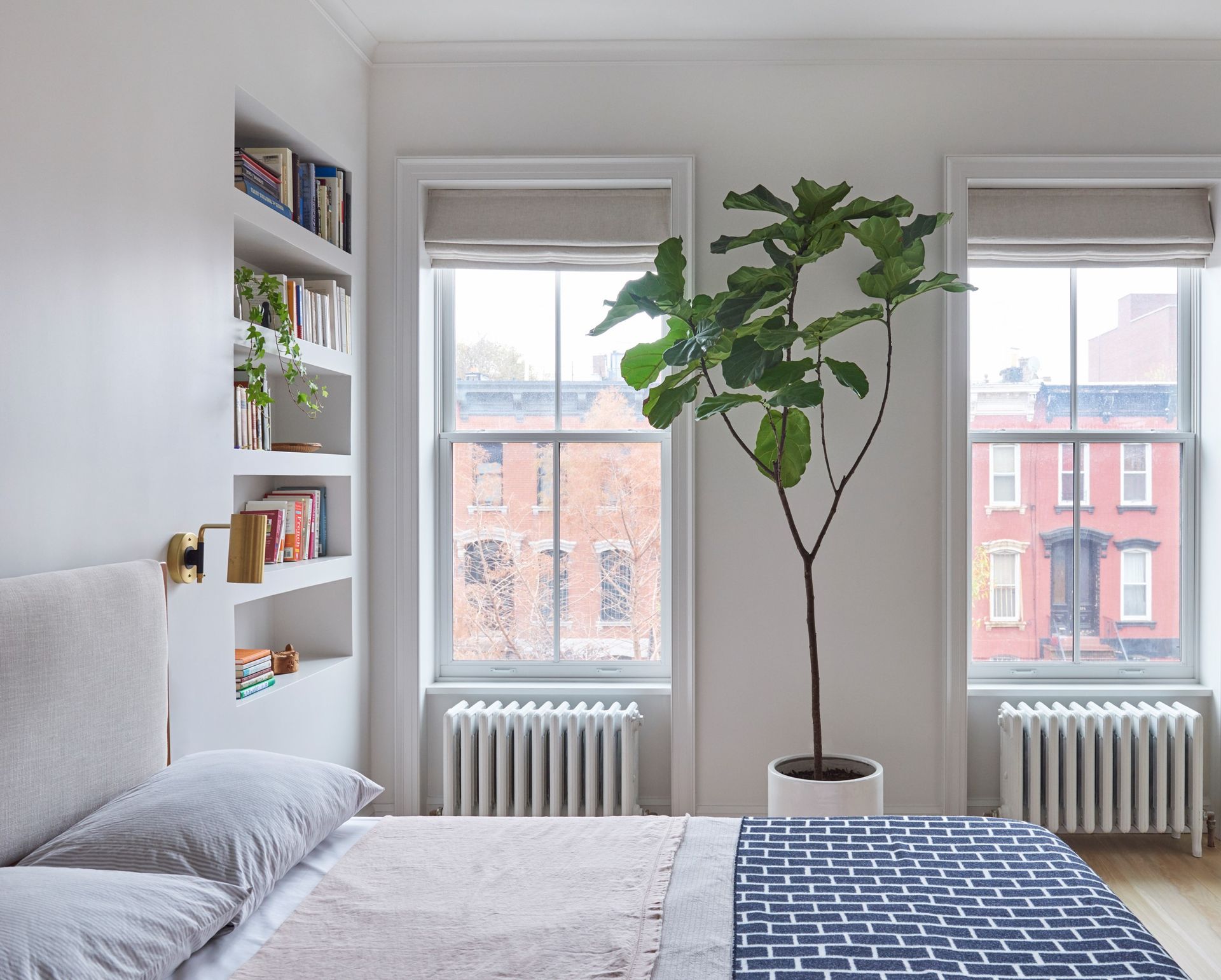 You'll be surprised at the effect greenery can have in a small space. Houseplants not only refresh the indoor air, but also, in a sense bring the outdoors inside. Plants have a psychological effect on dwellers and make them feel energized.
Choose tall plants, such as one of the best indoor trees, to subtly emphasize the vertical space in the room. A tall plant will draw the eye up and take in the entire room's volume.
10. Go big on patterns in a small bedroom
Pretty bedrooms are not limited by size. Give this small space a big boost in personality with large patterns and bold colors. The design should be such that as a person enters this room, they are immediately impressed, and distracted by the wall accent feature rather than the square footage of the space.
'One top tip for designing a small bedroom is to make a statement,' says Clara Jung, founder of Banner Day Interiors. 'People often shy away from patterns and colors in a small bedroom. If you translate the same design principles that people often invoke in statement powder rooms, you can create a jewel box out of smaller bedrooms infusing it with bolder colors and patterns.'
'This space was designed with a boutique hotel room look and feel,' says Clara. 'The clients gave me free rein and I ran with it. Additionally, since this room also doubles as a home office, I wanted to make sure there was a core feeling of serenity and approachability.'
11. Give the room depth by painting the walls and ceiling the same color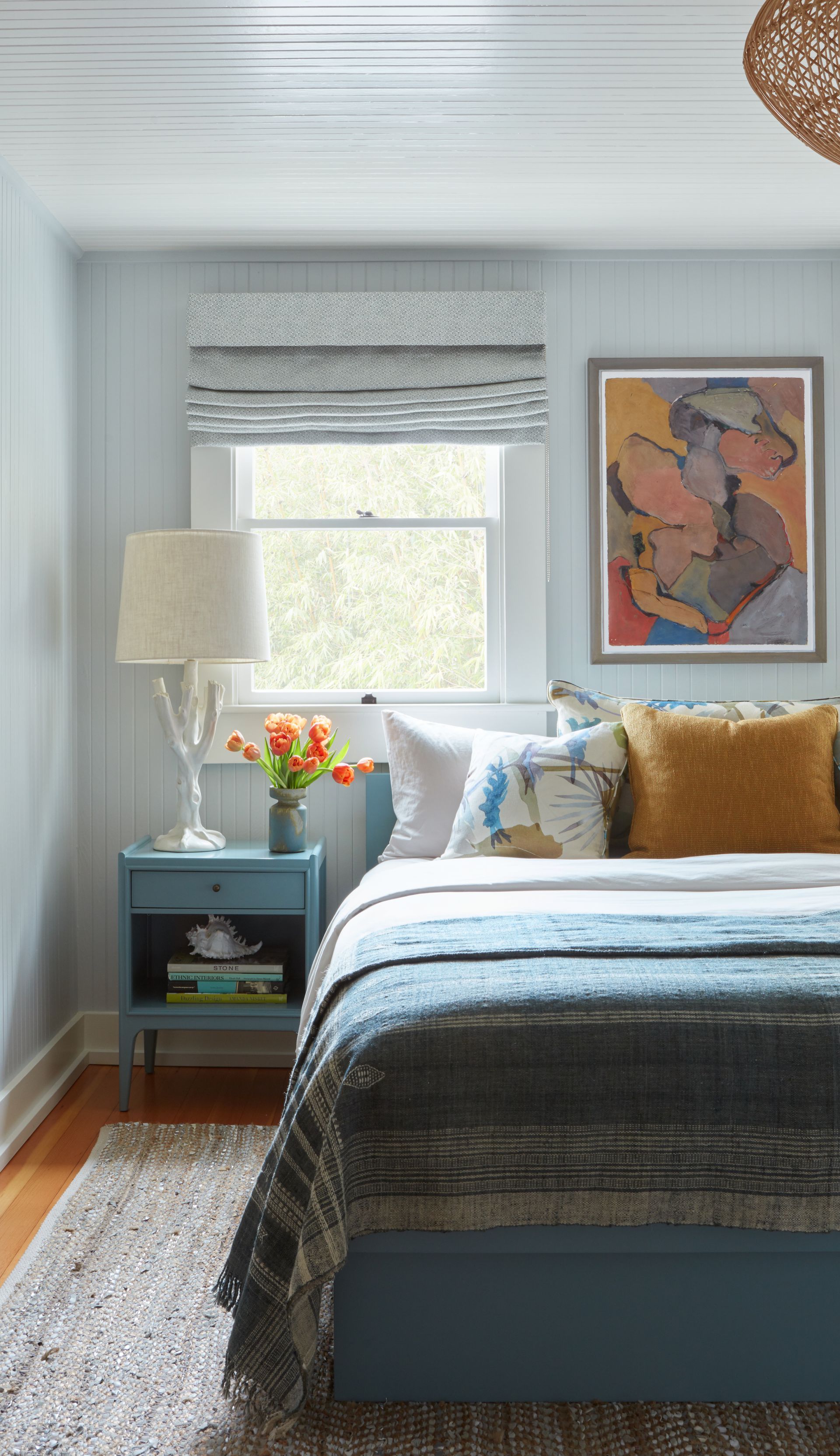 Contrary to popular belief, color drenching walls and the ceiling will not overwhelm a small space. In fact, it will give it depth and a feeling of endlessness. Plus, it can take an interior from boring and bland to something rather spectacular.
When it comes to paint trends, this is definitely one that is ruling the roost at the moment. In your small bedroom, add a sense of drama and create a contemporary look by painting the walls and the ceiling the same hue. If you're unsure of bold colors, go for softer tones that reflect light and do not make the space seem too OTT.
12. Consider wall-to-wall storage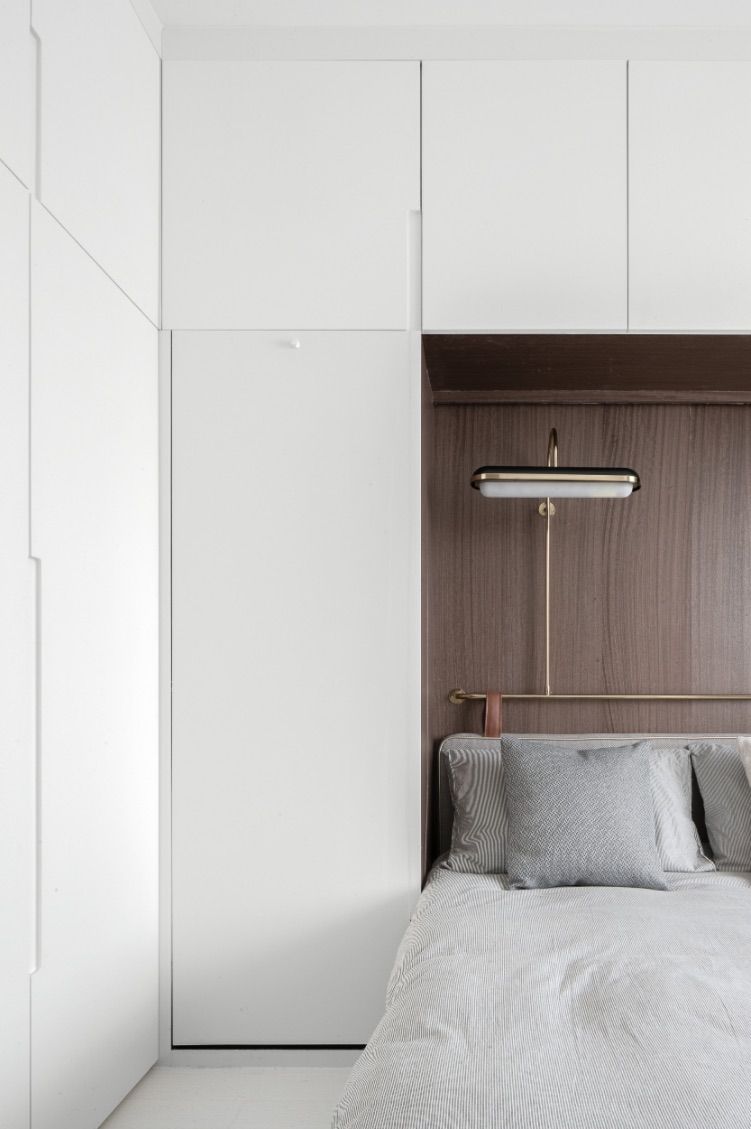 This gorgeous master bedroom demonstrates one of the most popular small bedroom ideas, with built in storage that frames the bed area. The wall of fitted storage around the bed frees up floor space as there is no need for a clunky chest of drawers or freestanding wardrobe. This is great if you're going for a fold-up Murphy bed which will then slot in around the millwork.
13. Bring in recessed shelves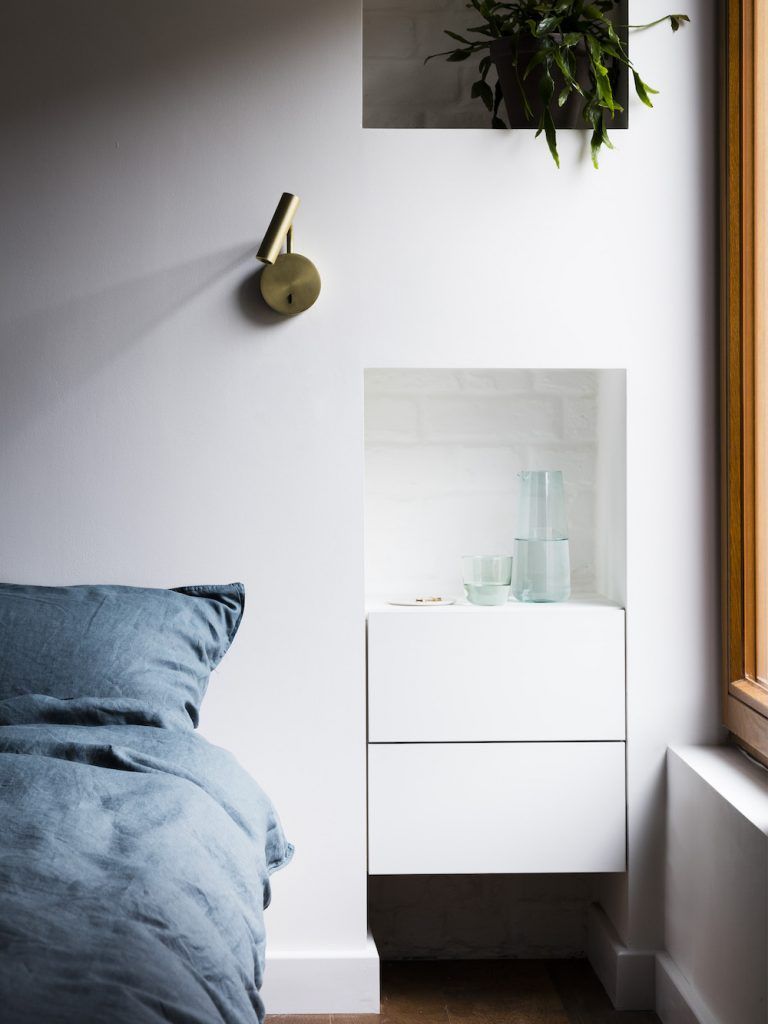 Recessed shelves allow little pockets to display books and decorative items, and also act as space-saving bedside tables. Bedroom storage is built-in so frees up floor space and looks cleaner than having traditional shelves protrude from the wall.
14. Hidden sleep zones can be useful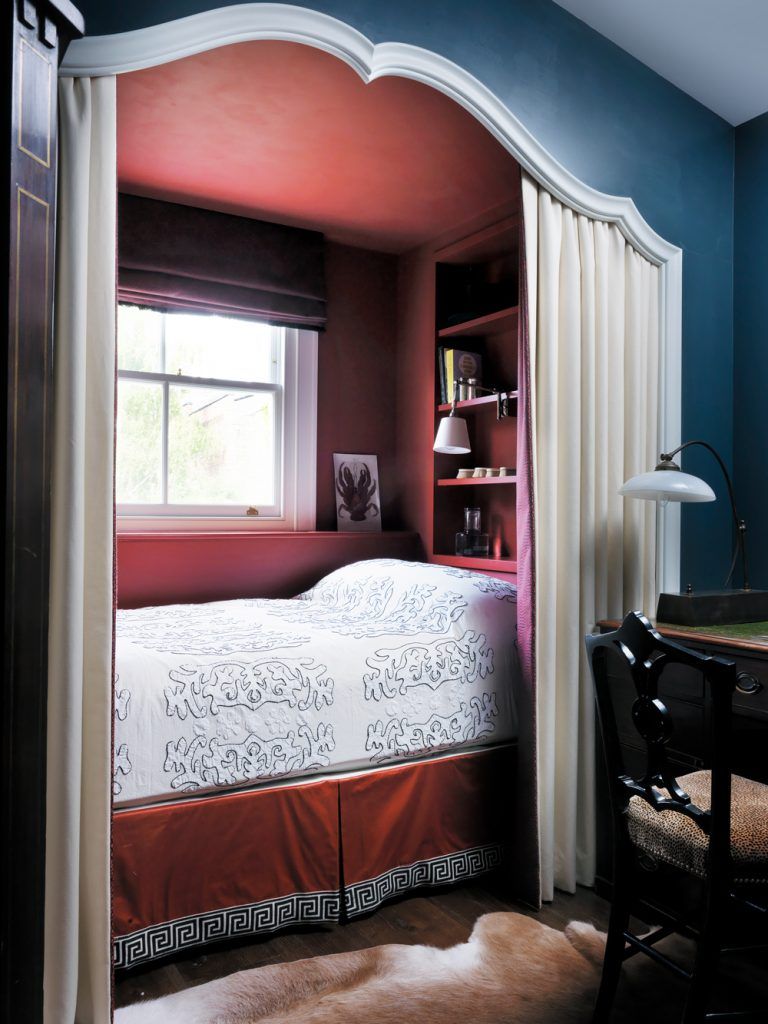 This stunning guest bedroom design by Beata Heuman makes the most of a small and unused room in the house – the curtains framing the bed are one of our absolute favorite small bedroom ideas. During the day it acts as a home office and reading room, but it doubles up as a spare bedroom for when the owners have visitors.
15. Create secret eaves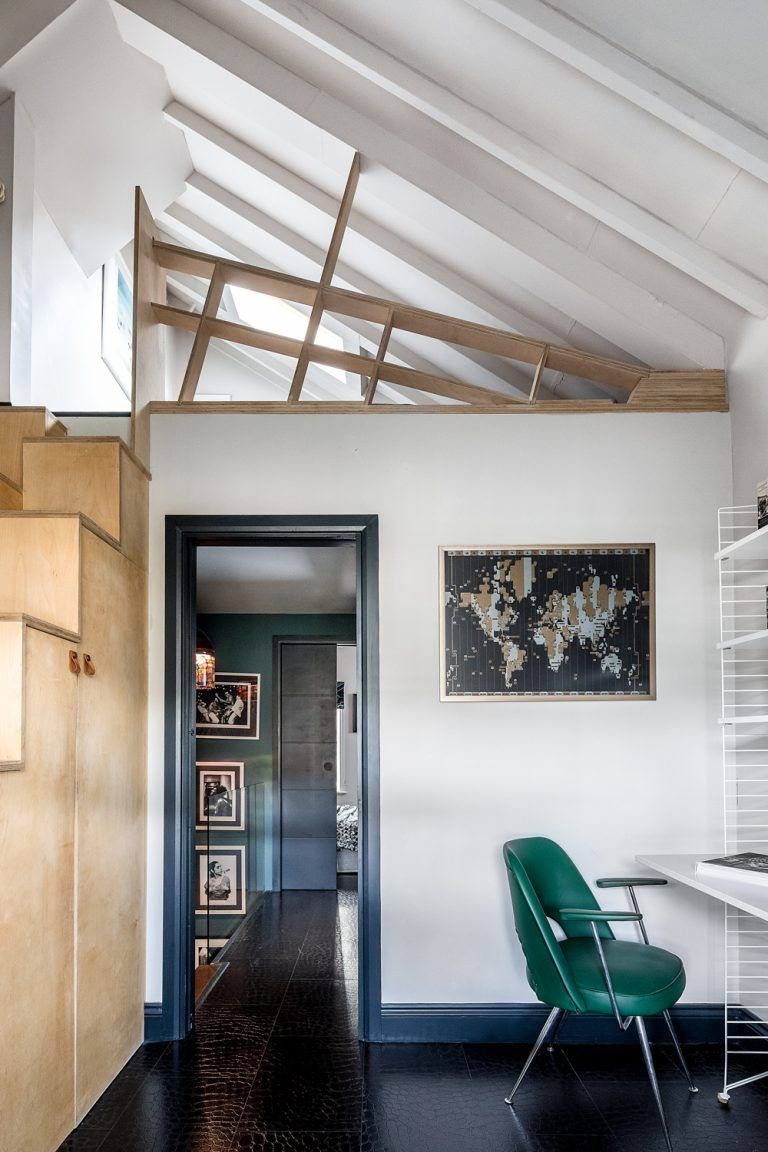 A cramped space was opened up in this modern loft conversion to create a tiny guest bedroom that can be accessed via steps in the study below it. The plywood-clad staircase cleverly incorporates storage and wardrobe space.
16. Carve out a nice nook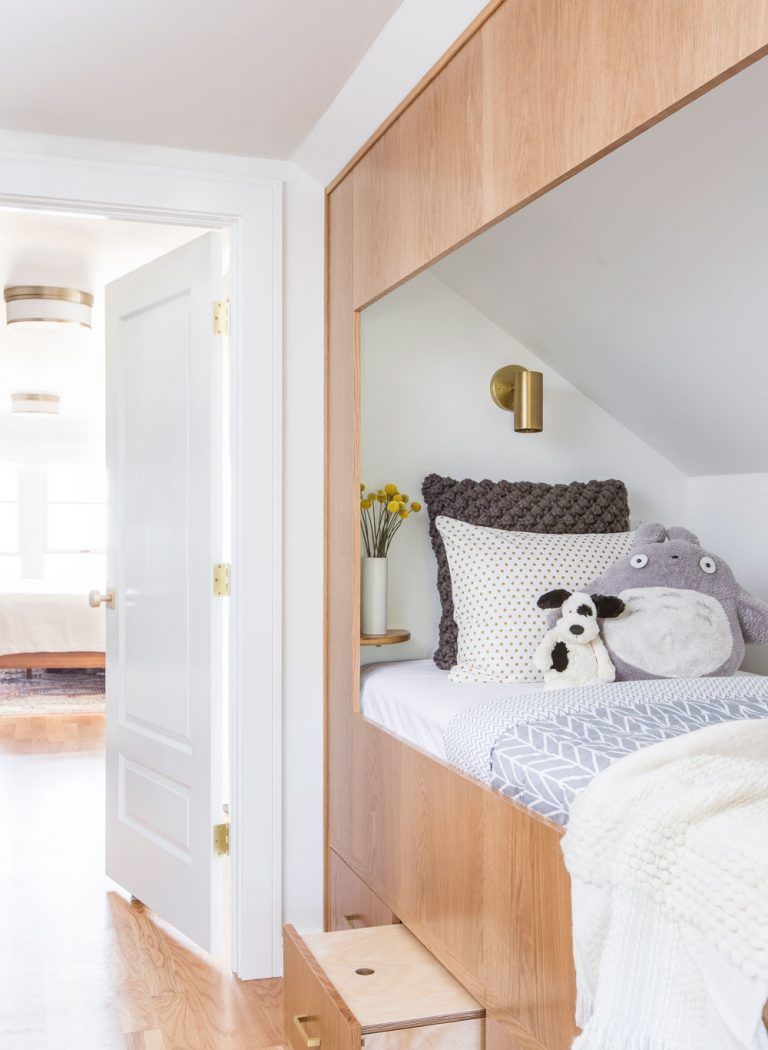 Casey Keasler transformed an awkward nook in this kid's room into a cozy sleep space. Trundle storage under the bed provides easy access to towels and linens, and also act as pull-out steps so small guests can reach the bed. A small, wall-mounted reading light is a space-saver too, while the wood bed frame makes this space feel elegant, well designed and cozy.
17. Choose a modern four poster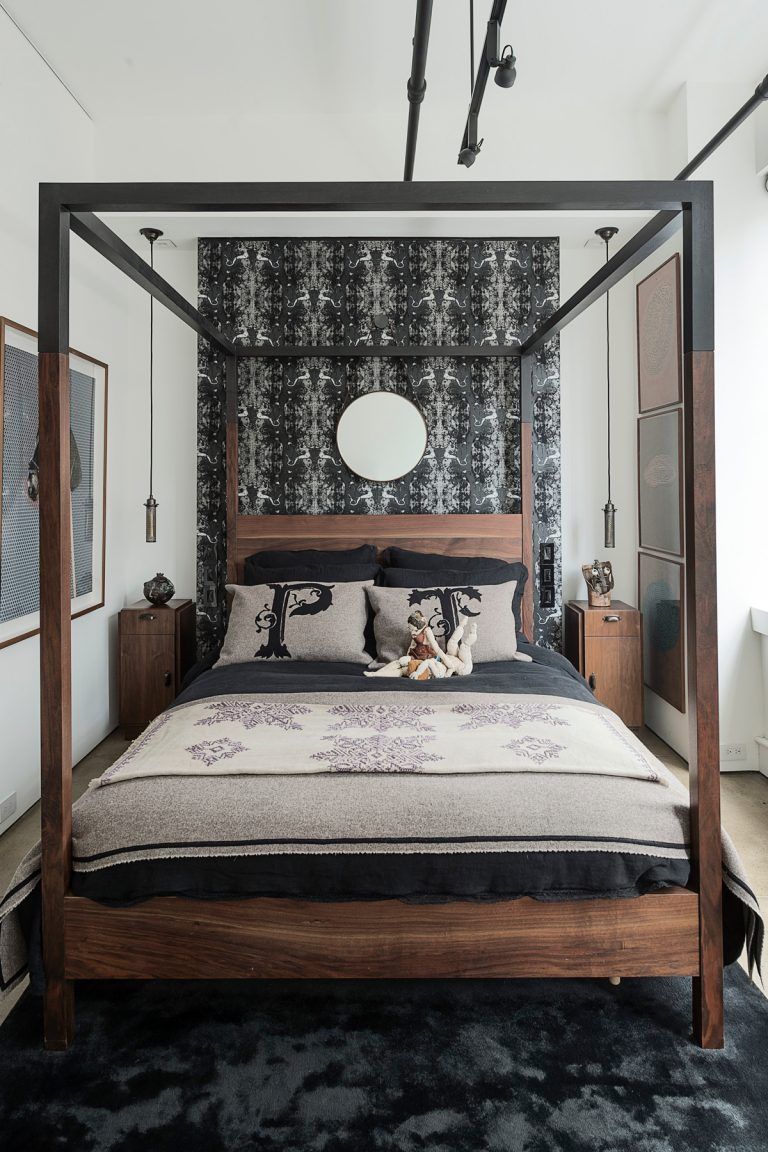 You might be thinking, four-poster bed in a small bedroom? Surely not. But in fact, a statement bed will not only add tons of drama, but it can also make a small bedroom feel bigger, alluding to more height and space.
18. Grown ups can have bunk beds too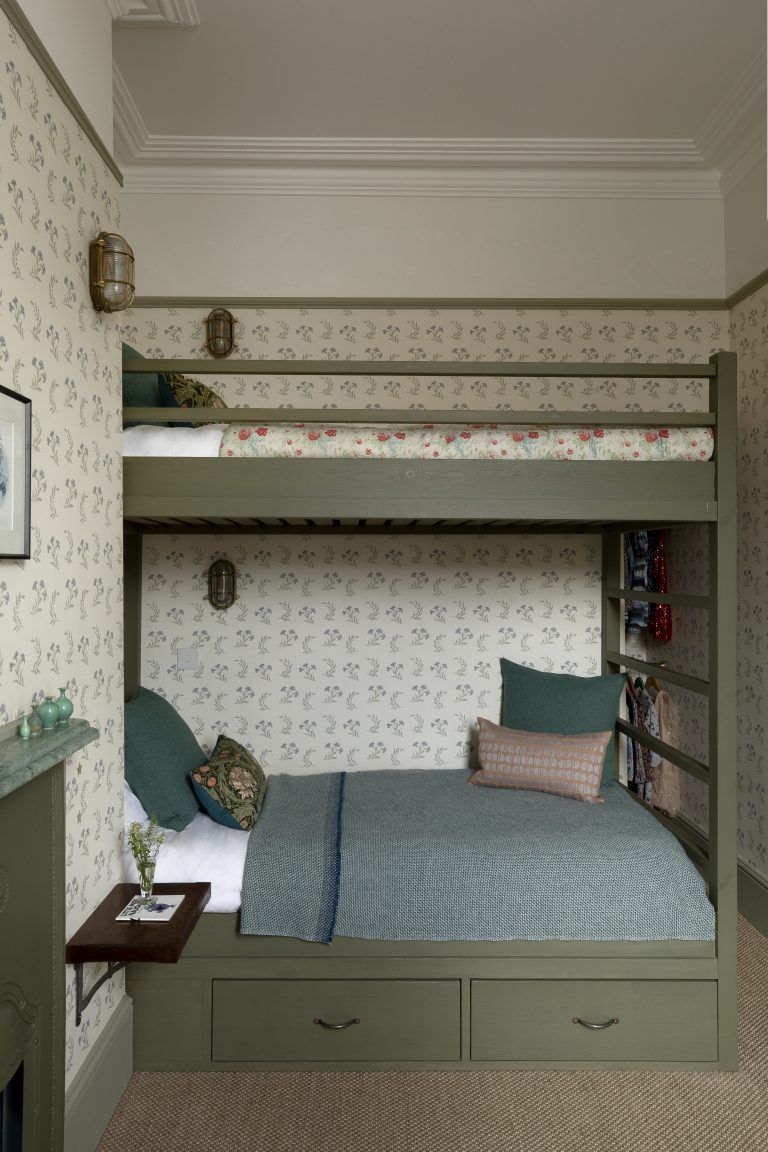 Bunk beds are one of the most commonly used small bedroom ideas for kids' spaces – but you can use them for guest spaces too.
These stylish, built-in bunks below have been designed with adults in mind – there is enough space so you don't bang your head when getting into bed. We think it makes for a rather fun guest bedroom.
19. Install floating shelves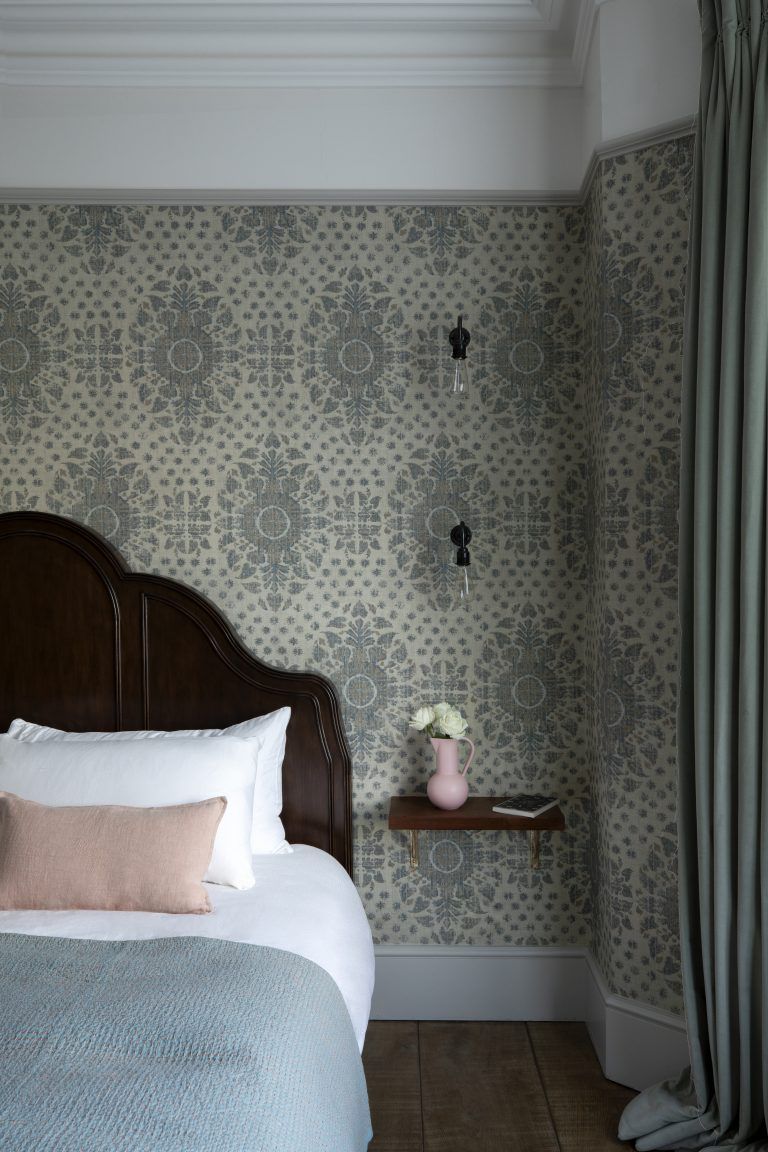 Wall lights mean there's no need for a clunky bedside table with table lamp. A floating shelf beside the bed provides ample space for resting a glass of water on.
And take note of the bedroom wallpaper idea here too. Rather than wallpapering all the way up to the ceiling, the print stops at the picture rail so you still get all that lovely pattern, but it doesn't overwhelm the room because there's plenty of contrast with the white ceilings. This is also a great tip if your small bedroom has low ceilings too.
20. Commission a bespoke bed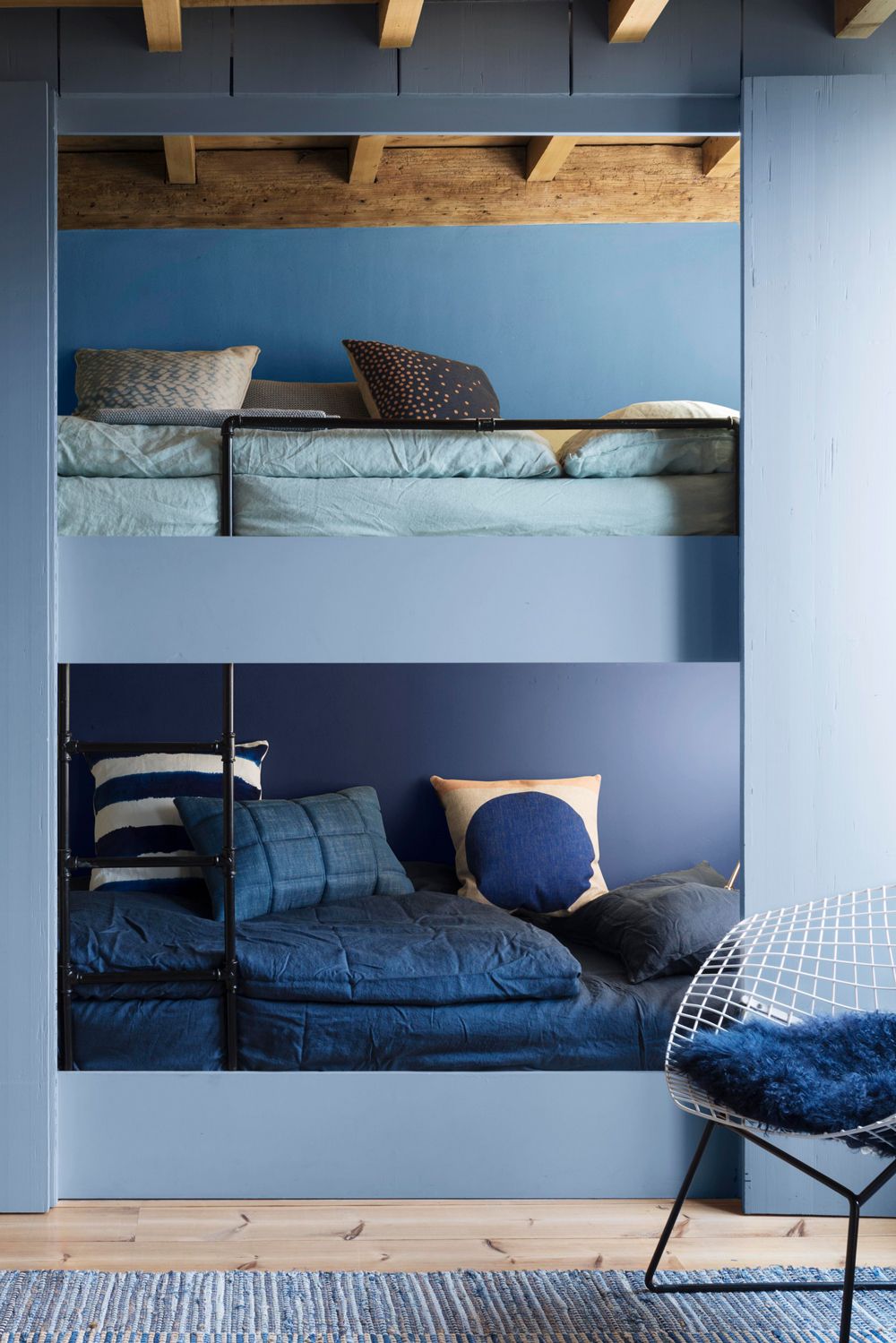 To really make the most of every square inch in a room, going bespoke is your best bet as it means that a bed can stretch wall to wall (without leaving award pockets of wasted space), and can be personalized with USB sockets, wall lights, and even built-in trundle drawers or bookshelves.
21. Eke out headboard storage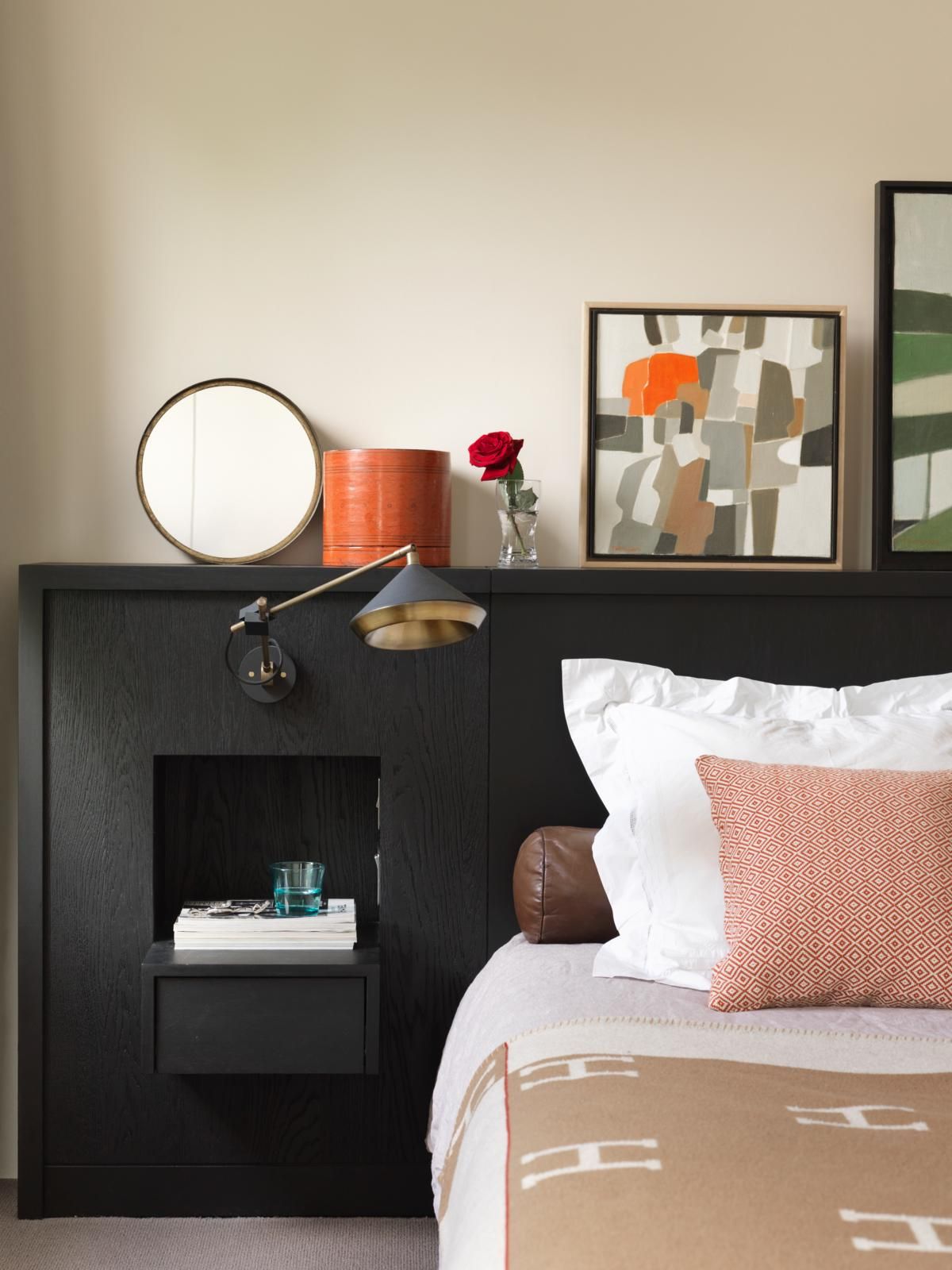 Building a frame behind the bed with a shelf and an alcove drawer, is the perfect headboard idea for a bedroom that has limited space for storage. It provides easy to access space for lamps, books etc and you can free up even more floor space with divan drawers too.
22. Or under bed storage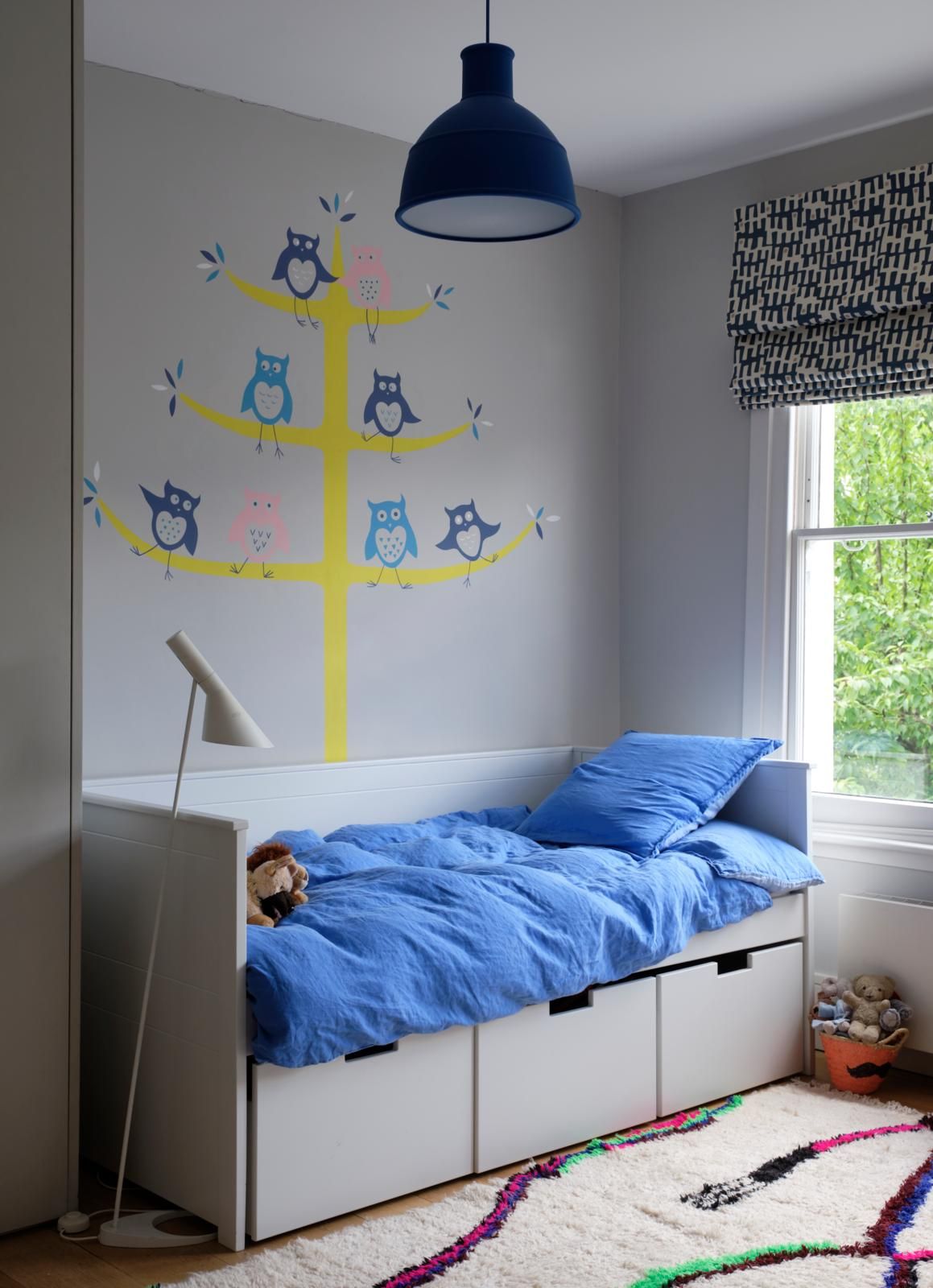 This clever kid's bed not only offers ample storage in the drawers beneath the mattress, its sofa-style shape means it is easily switched from seating area to sleep zone.
23. Choose shallow wall storage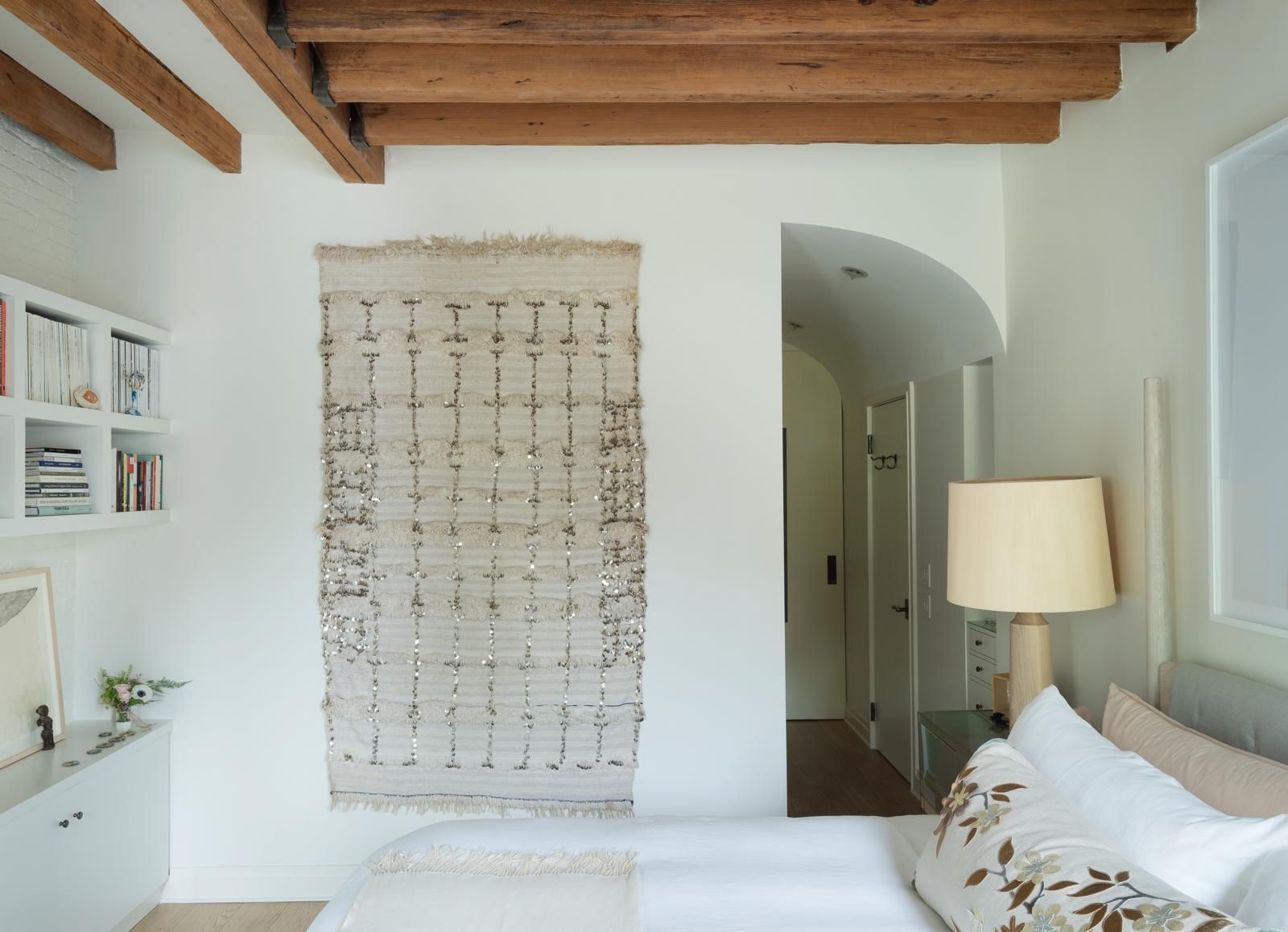 Lacking space for a chest of drawers? A slimline wall cabinet with shelves across the length of a wall is the perfect small bedroom idea. Paint it the same color as the wall and it will 'disappear'. Of course, white feels fresh and modern, but there's plenty of inspiration when it comes to bedroom paint colors.
24. Create a rustic charm in your small space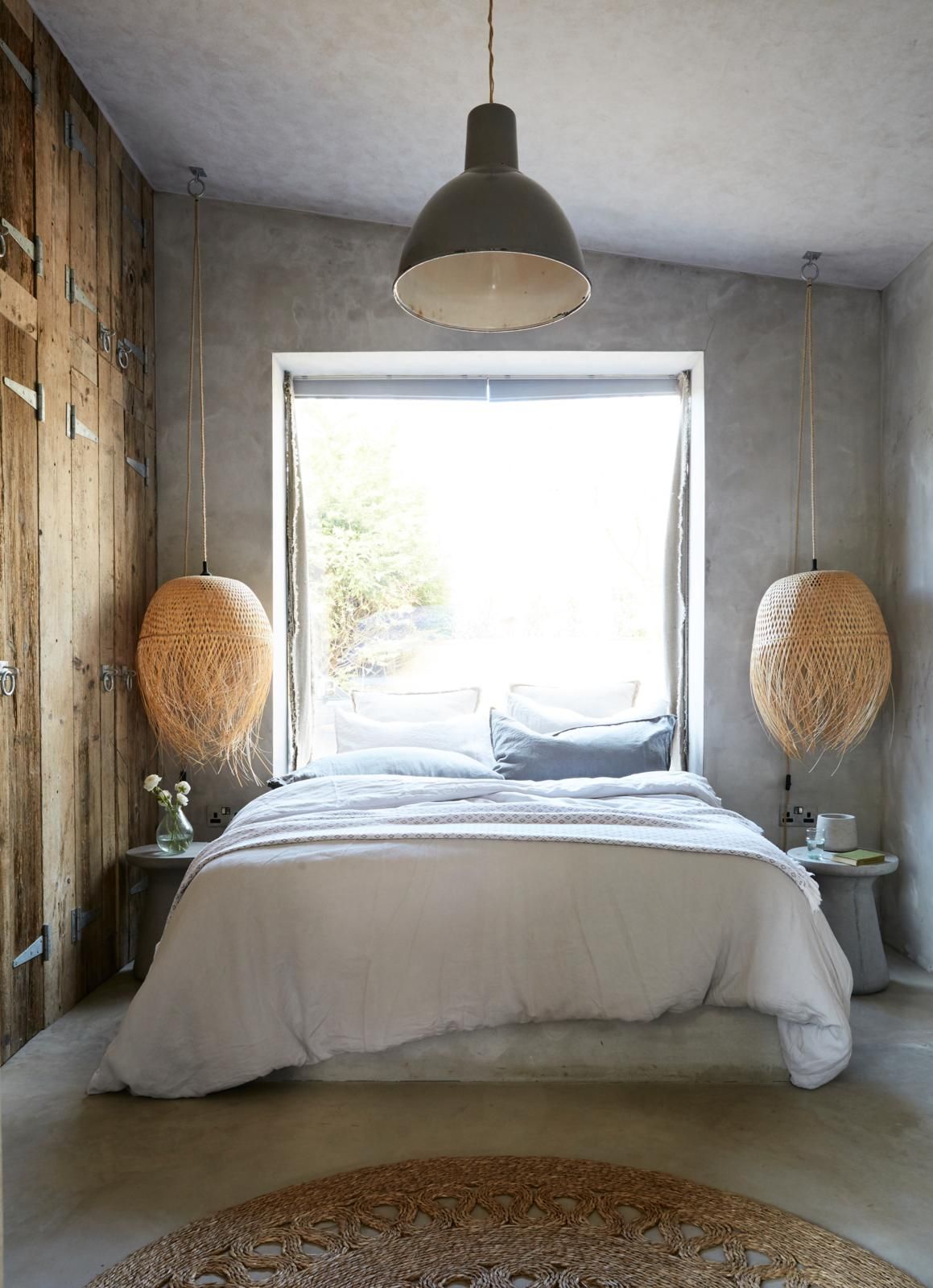 Over-sized pendants either side of the bed make a stylish feature and negate the need for surface space, while floor-to-ceiling wardrobes make the most of the tallest part of the room.
25. Invigorate the space with a vibrant color scheme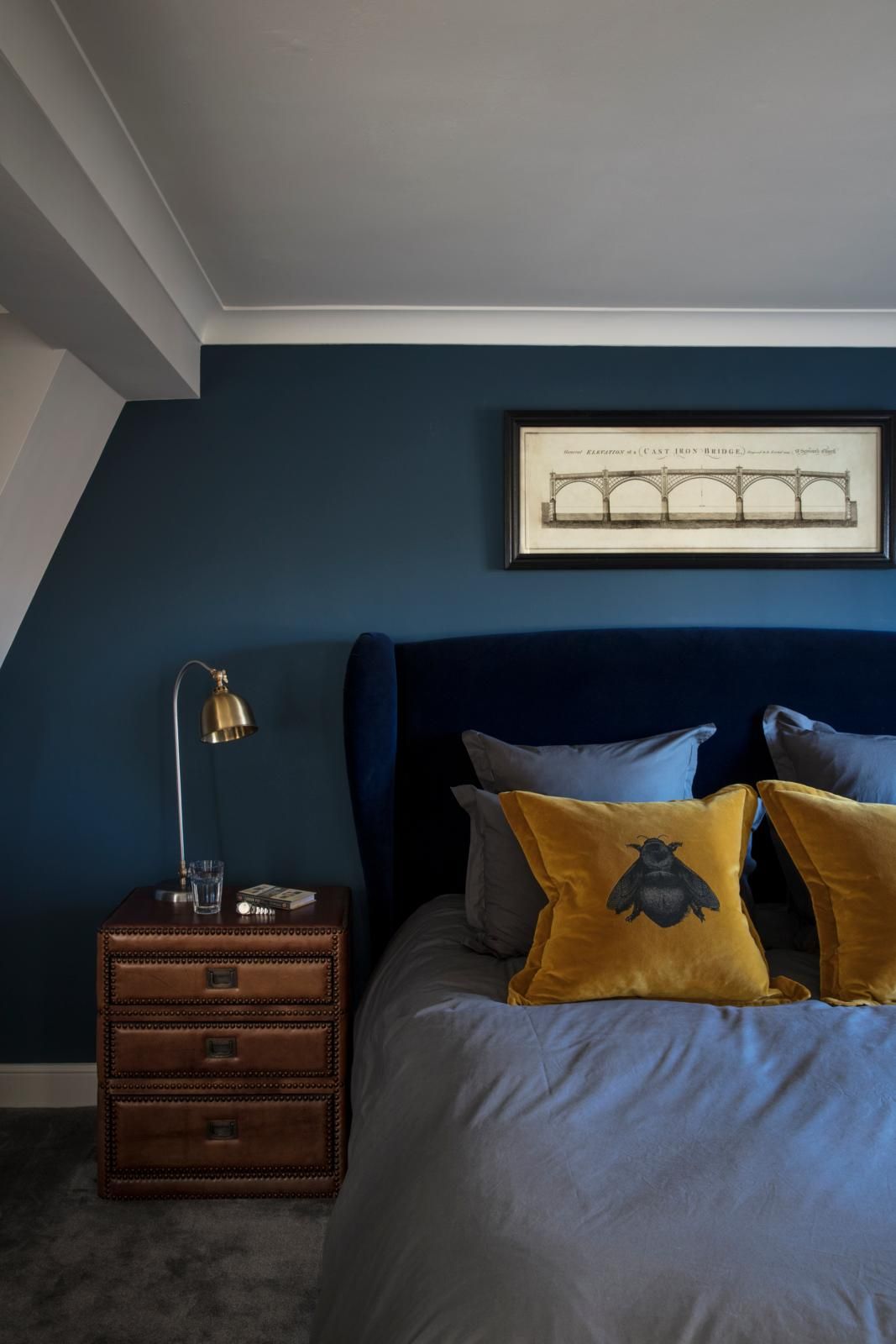 It's a truth universally acknowledged that light colors will make a small bedroom feel bigger, but you also think of bringing in bold hues, and opting for darker shades, that can create a feeling of depth. Going for a dramatic hue on all four walls can in fact trick the eye and blur the boundaries of the room.
How do you arrange a small bedroom?
The best layouts for small bedrooms are ones that are simple and minimal. Try not to cram in too much furniture for a start. The bed is a piece you obviously need in bedroom, so start with the placement of that first as that will probably dictate your layout options. As a general rule, the bed should be placed on the main wall of the room, that being the largest wall or the one your eye goes to when you first enter the room. If you can, place the bed the center of the room, allowing for enough space for you to walk either side.
When it comes to the positioning of storage pieces like wardrobes or drawers, try and balance the room by having these pieces tucking into corners on the other side of the room. And of course, make use of alcoves if you have them.
How do you maximize space in a small bedroom?
Maximize space in a small bedroom by opting for build in furniture over freestanding and where you can, get things up off the floor. Wall shelves over book shelves, floating bedside tables over ones with legs – you get the idea, you want as much floor space visible as possible and minimal visual bulk going on.
For style leaders and design lovers.
Aditi Sharma Maheshwari is an architecture and design journalist with over 10 years of experience. She's worked at some of the leading media houses in India such as Elle Decor, Houzz and Architectural Digest (Condé Nast). Till recently, she was a freelance writer for publications such as Architectural Digest US, House Beautiful, Stir World, Beautiful Homes India among others. In her spare time, she volunteers at animal shelters and other rescue organizations.