31 elegant master bedroom ideas to create a luxurious relaxing scheme
Find plenty of fresh master bedroom inspiration, from statement beds and lighting to unusual features and on-trend color schemes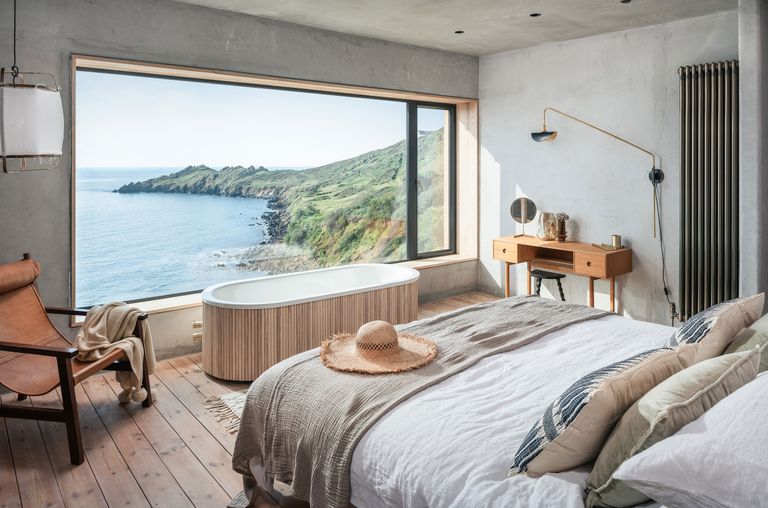 (Image credit: Unique Home Stays)
A master bedroom is the most grown-up bedroom in the home and therefore deserves the more luxurious and beautiful master bedroom ideas. We're talking glamourous four-poster beds, velvet upholstered headboards, piles of feathery cushions, sumptuous color palettes, freestanding baths, chaise lounges, walk-in closets. And sure, maybe you don't have room for all of those things but there are still plenty of lovely, achievable ideas for decorating a master bedroom that will get you enthused to start a new project...
1. Choose an oversized artwork for maximum impact
Don't reserve standout art for a living room; a large-scale piece, or several, will bring drama and impact to an otherwise simple master bedroom scheme. It needn't be a bank-breaker, either. Here, the key piece is a print of The Bather by Jean-Auguste-Dominique Ingres that has been blown up to make it the focal point of the room.
2. Add a touch of luxury with textures
A key design element of a luxurious master bedroom is texture. Texture texture texture. Layering up tactile fabrics gives a room depth and interest, even if the color scheme is kept minimal.
In this stylish space, the velvet headboard, leather bench, wooden side table, and even the wallpaper, which has a grasscloth finish, all add to creating a bedroom that feels both cozy and sophisticated.
3. Choose a modern four poster bed
This metal, minimalist four poster bed creates a modern look in this master bedroom. The carpet, rug and wood bedside table warm things up, while a classic Serge Mouille wall light complements the clean lines of the bed frame.
4. Hang a modern mural
One design trend to take note of is the rise of decorative scenic bedroom wallpaper ideas and wall art panels. These can be interpreted in many ways, from abstract patterns to lively florals. Be wary of the feature wall, and instead take a maximalist approach and cover all four aspects. This monochromatic jungle mural evokes faraway shores.
5. Paint the ceiling
If your room has stunning heritage features, then celebrate them to the max. Here, the Victorian ceiling is picked out in an accent dark, while the bespoke wardrobes were designed to match the original paneling.
6. Inject some drama with a statement headboard
This green velvet headboard wraps around fitted shelves, adding color, glamour, and drama. Low hanging pendant lamps on either side offer an out-of-the-box approach to bedside reading lights.
Love this look? We have a whole gallery of headboard ideas to get you inspired.
7. Mix patterns and styles
The beauty of this bedroom lies in its eclectic mix of different patterns, and the appearance of vintage touches alongside contemporary style. A soft pink on the walls makes a soothing backdrop. The bespoke headboard, designed by Irene Gunter, taps into the trend for lozenge shapes.
8. Go extra wide with a headboard for a hotel feel
This master bedroom features a wide headboard that frames the bedside tables. The custom fabric headboard features a darkened brass square edge detail. Custom bedside tables have integrated electrical and USB ports, and etched bronze glass tops with darkened brass frames.
9. Build in a glass partition to zone a master bedroom
The double-height ceiling and the sculptural pendant both add impact to this gorgeous pale blue bedroom. Plus, the glass wall gives it a separate, more intimate feeling but doesn't make the space feel boxy as a solid wall might do.
10. Turn a stylish headboard into extra storage
This full-length, zesty upholstered headboard really packs a punch against the calm surroundings in this master bedroom. Behind the plush surface, the headboard conceals handy hidden shelving for nighttime reading.
11. Opt for practical and pretty pulley lights
Getting your bedroom lighting spot on, is a key part of decorating a master bedroom. You want to make sure the room feel cozy and inviting with lots of warm, glowing light source, but you also need to factor in some task lighting too for reading or getting ready by.
The pulley lamps used in this bedroom are a great option as they can be adjusted to work as task lights at eye level or can become overhead lights for a more general glow too.
12. Add eclectic details
This colorful master bedroom was inspired by designer Kit Kemp. The mix of patterns adds an eclectic feel but because the color scheme is kept simple, with a mix of neutrals and muted hues they space still feels chic and relaxing.
13. Go wall-To-wall
In this grey bedroom upholstered feature wall acts as the headboard and centers the bed. The black side tables have oak drawers and tie in with the hardwood floors, with custom white lamps on top by local ceramist Kassandra Thatcher. The room is a riot of texture, pattern, and color, from the angular edges of the marble to the deep softness of the sheepskin and the wool throws.
14. Hang a statement Chandelier
This statement Seventies Italian chandelier drips sensuously from the ceiling in this master bedroom, giving it instant wow-factor and is a fabulous contrast to the more traditional, farmhouse-style going on in the rest of the room.
15. Decor a black space with a gallery Wall
A gallery wall gives this modern bedroom plenty of personality and character. The bed is pretty fab too. Once a plain and simple grey, the Edro bed has been covered in a bold floral fabric that ties together the hints of purple in the artwork.
16. Add a feature Wall
This master bedroom features a striking feature wall, with a dramatic Calico wallpaper. There's a certain sumptuousness to this space, with its rich textures and colors.
17. Create a serene feel with calm color scheme
Looking for master bedroom ideas that are going to make your space feel instantly more calming? Picking a serene neutral bedroom color scheme will do just that. Layer up creams, white, beige and soft greys and add interest with plenty of texture too.
18. Zone a master bedroom with a screen
Layers of green paint evoke a soothing atmosphere in this master bedroom. A cane screen acts as a headboard and injects a natural backdrop for this sleeping space. Hanging pendants on either side create a soft glow at night.
19. Choose a textured wallpaper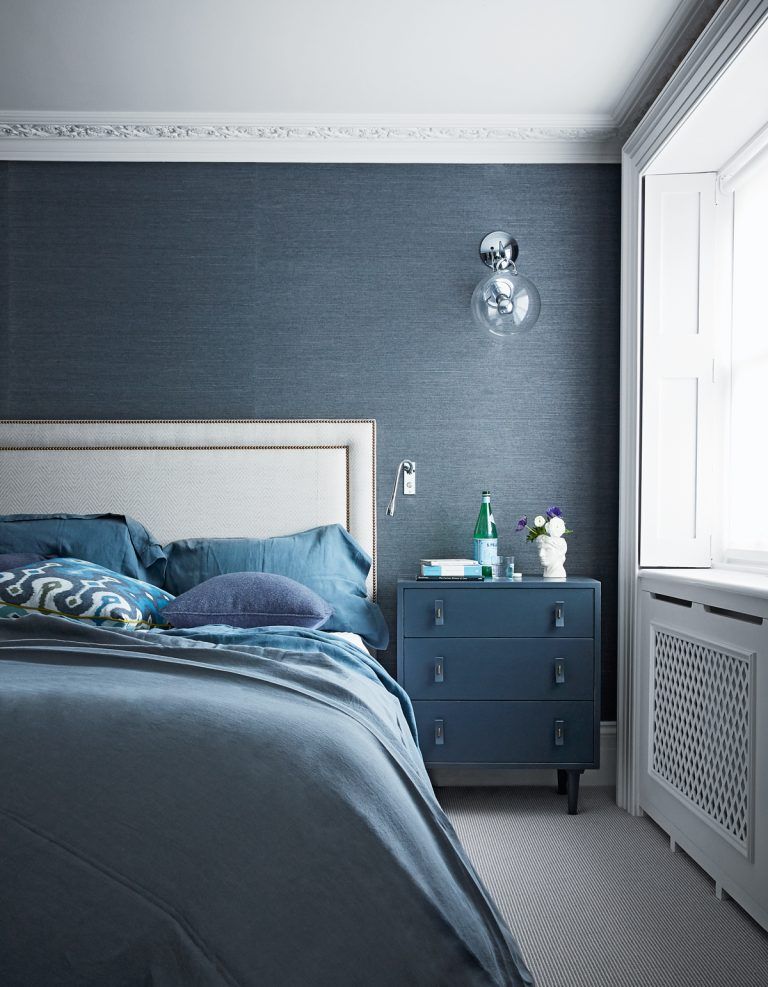 A grasscloth wall covering adds instant elegance to a room. Here, the blue backdrop set the color palette for the rest of the room, creating a blue, cocooning, and chic space.
20. Design clever storage
Bedroom storage might not be the most glamourous addition to a master bedroom but it's still an essential if you want to create a functional, clutter-free space. Think outside the box and rather than going for lots of individual pieces of storage go bespoke and get something built in.
A matt black headboard unit works as a functional focal point in this master bedroom. The headboard also hides a practical shelf for a changing array of art.
21. Be brave with color
This master bedroom zings with punchy color combinations and quirky yet classic motifs. A trio of oversized yellow globe pendants are hung at different heights, adding a sense of fun.
22. Make it extra luxurious with a freestanding Bath
What makes master bedroom ideas really stand out from any other room? It's the luxurious touches, and noting adds luxury quite like a freestanding bath in your bedroom. And this look isn't all form over function. Having a bath in your bedroom could be a really practical move since ensuites often aren't huge, so rather than squeeze one in there, bring it out into the bedroom instead.
23. Decorate a master bedroom with soft blues
This bedroom features a dusty blue on the walls, but it's given a more contemporary look due to the tall canopy bed and more masculine furnishings. We love the painted paneling. The canopy bed anchors this room and adds a sense of grandeur. The headboard within the four-poster helps soften the look of the bed frame.
24. Bring in gilded accents
This master bedroom is ultra-glamorous, with a gilded four poster bed, statement bedroom lighting and a walk-in ensuite bathroom.
25. Go monochrome
A bespoke headboard with specially chosen fabric creates a distinct focal point in this bedroom. It also sets the monochrome palette for the room, creating a modern, Scandi-inspired vibe.
26. Create a bed alcove
Don't let the wild color and pattern in Jonathan Adler's bedroom distract from the clever upholstered alcove nook that he created, giving his bed a snug and cozy feeling. His mix-and-match style turns the usual bed-linen-headboard combo into something completely out of the ordinary, with nautical rope motifs vying for attention with baroque fabric.
27. Go all over with paint
The grey-blue color of the walls was taken up to cover the ceiling too in this grey bedroom. An assortment of angular light fittings sits alongside softer elements seen in the bedlinen and padded headboard. A blend of textures that offset each other effortlessly.
28. Choose a calming but bold hue
This green-hued paint shade was chosen for the relaxed feel it gives as you walk in. Darker walls can have a calming and cocooning effect in a bedroom.
29. Create a seating area
Another master bedroom idea that gives you that boutique hotel-inspired look, is to add a seating area. Creating a mini lounge in your bedroom gives you an intimate space to relax away from the main living room so add in a chaise longues or a couple of occasion chairs with a small coffee table.
30. Opt for a subtle blush scheme
Blush curtains, lamp shades and walls create a soft, warm and restful atmosphere. A dark, modern bed gives the room a more masculine contrast, to prevent the space from feeling overly feminine.
31. Embrace curves
This curvaceous 1980s bed base had a sculptural shape but was previously covered in an uninspiring mottled grey. It was reupholstered in a woven teal fabric to create this luxe centerpiece. Kelly Wearstler's signature table lamp and some textural cushions add more layers of touch-me texture.
What is the best color for a master bedroom?
The best color for a master bedroom will mostly come down to your own personal tastes. But there are a few practical things to consider when picking a wall color. Firstly aspect – what is the natural lighting like in your space? If you have a south-facing room that gets lots of warm light throughout most of the day then you can be less picky with your color choice, but if you want to counteract all that warmth to create a more calming space, maybe opt for cooler tones like grey, white and blue.
In a north-facing bedroom, you won't find as much natural light so you can either try and make the room feeling lighter and brighter with a light paint color or embrace the darkness and opt for a cocooning deep hue like a dark navy or grey. These more dramatic colors bring a lovely luxurious feel to a master bedroom too.
What should a master bedroom include?
A master bedroom really just means you main bedroom, but there are a few design elements that can make the space feel extra special. An ensuite bathroom is usually a given in a master bedroom, but bringing the bath into the bedroom will give an extra luxurious vibe. Built-in storage or a walk-in closet are also nice additions, and a practical choice too. A statement bed to be the focal point is also an essential in a master bedroom, whether it be an impressive headboard or a stylish four-poster bed, they will just elevate the room and make it feel different from your guest bedrooms.
Lotte is the Digital Editor for Livingetc, and has been with the website since its launch. She has a background in online journalism and writing for SEO, with previous editor roles at Good Living, Good Housekeeping, Country & Townhouse, and BBC Good Food among others, as well as her own successful interiors blog. When she's not busy writing or tracking analytics, she's doing up houses, two of which have features in interior design magazines. She's just finished doing up her house in Wimbledon, and is eyeing up Bath for her next project.