Small bedroom layouts – how to get your floorplan design right
Small bedroom layouts are key to making the most of a small space, and this expert advice will ensure a beautiful night's sleep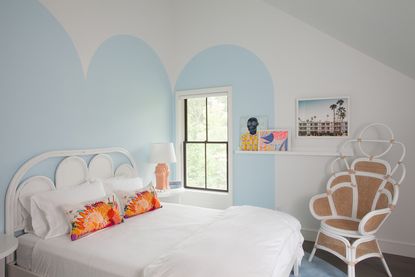 (Image credit: Ghislaine Vinas/Mick Hales)
Small bedroom layouts are every homemaker's best friend. Every home seems to have that one space that's a real head scratcher, and it often ends up being a bedroom that just doesn't seem quite large enough.
So when looking for small bedroom ideas, having a floor plan, and knowing how to create the layout, is critical to its success. Especially when it comes to these tricky petite spaces. Read on to discover the top designer tips for creating a functional floor plan for a small bedroom.
Why is it critical to create a floor plan for a small bedroom?
The smaller the room the greater the limitations, so creating a layout to scale is a crucial step in putting together any room," says designer Suzanne Tucker. "Floor plans allow you to work out furniture sizes and placement as well as the flow and function of a room."
"Sometimes even a half inch can make or break your small bedroom layouts," adds designer Kati Curtis. "Don't forget to measure and account for the base molding, as it can stick out as much as an inch."
"Bedrooms are generally multifunctional rooms—including sleeping, dressing, and often desk areas," says designer Rodney Lawrence.
"Therefore, a plan is essential to understanding the flow and the scale of the furniture in relation to the space available, and will allow you to include plenty of storage ideas for small bedrooms."
"It's all about the function," says designer Ghislaine Viñas. "You can create a gorgeous room, but if it doesn't accommodate a person's belongings it's going to be a disaster. Bedrooms should be peaceful, so thinking through where things will live beforehand is key."
What are the major factors to consider when planning a small bedroom?
"In addition to bed size, think about bedroom lighting ideas, storage, and functional needs beyond sleeping," notes Tucker. "Considerations include seating, a desk area, blackout curtains, sound mitigation, privacy, and the need for a space-saving Murphy bed. At the end of the day, the bedroom is a place of relaxation and renewal, so choose soft textures and soothing colors."
"Storage, storage, storage!" says Curtis. "I'm not a fan of storing things under the bed, so I rely on case pieces, closets, and built-ins. I also prefer chests with drawers as nightstands as opposed to tables."
"Be calculated about how much pattern and color you use," suggests Viñas. Select just a few bold statements and stick with either all warm shades or all cool shades."
"In order to achieve a harmonious result, it's important to pick a style and color palette that works with existing décor elements such as flooring," says Lawrence. "And don't forget to accessorize—the room needs to feel like it belongs to you."
What are the most crucial elements to include in a small bedroom that will help it function properly?
"Even a small bedroom should have bedside storage, a properly sized rug, a dresser, bedside lamps, and a side chair if there's room," says Curtis. Viñas agrees, adding that a desk or a vanity may also be necessary.
"Other than the bed and bedside tables, a small but comfortable chair is always a good investment because it can be used at a desk, for reading, or when getting dressed," says Lawrence. "Shelves can provide extra storage and display space."
"If there isn't space for a seating area to factor into your master bedroom ideas, consider a bench or ottoman with storage within," says Tucker. "When corners are tight, opt for an upholstered bed over a wooden platform with sharp edges and your shins will be grateful!"
Ideally, how should a small bedroom be laid out to make the most of the space?
"If the room is used by one person, placing the bed against a wall frees up floor space and can make the room feel larger," says Lawrence. "You can maximize storage by using a cabinet or a desk as a bedside table—just make sure it's of similar height to the bed."
"When you walk into the room, the bed should be on the opposite wall so that you're looking at it straight on," says Tucker. "If bedside tables are small, use sconces to maximize surface area. And don't forget to utilize the space underneath the bed!"
"Creating a view makes a room feel bigger, so place the bed wherever you'll have the best vista," suggests Viñas. "Hopefully that's a window or a wall where you can set something beautiful such as a dresser. Once the bed is placed, make sure there's enough space on either side for a phone charger, a book, and a light. And the rug should be large enough to frame the bed and bedside tables."
What are some of the biggest mistakes that people often make when dealing with a small bedroom?
"People are afraid to go bold with dark colors because they think it will make a small bedroom layouts feel smaller," says Curtis. "In reality, deep shades actually add depth to a room."
"Failing to provide enough circulation space and not considering the scale of furnishings are two mistakes I see often," says Lawrence. "This doesn't mean you need to buy a miniature bed for a small bedroom, but you should select a design that will fit and look harmonious in the room. This could be a lower bed or a simple, clean design."
"Too much in the way of furniture, pattern, color, or clutter can be a problem," explains Viñas. "It should be well thought out and mostly minimal, but with some pops of excitement here and there."
"Not measuring becomes a major issue, as well as not allowing for enough breathing room among furnishings," says Tucker.
Alyssa Bird is a New York−based freelance writer and editor with experience covering architecture, interior design, travel, hospitality, and real estate. She has held editorial positions at Architectural Digest, Elle Decor, Hamptons Cottages & Gardens, and New York Cottages &Gardens. When she's not writing about dreamy spaces, you can find her tweaking the decor in her own Brooklyn home, honing her green thumb, testing out a new recipe, or scouring for antiques.