Kids room ideas: 45 fresh ideas for a modern yet whimsical kids bedroom
These fun kids room ideas offer a fresh new take on kids room decorating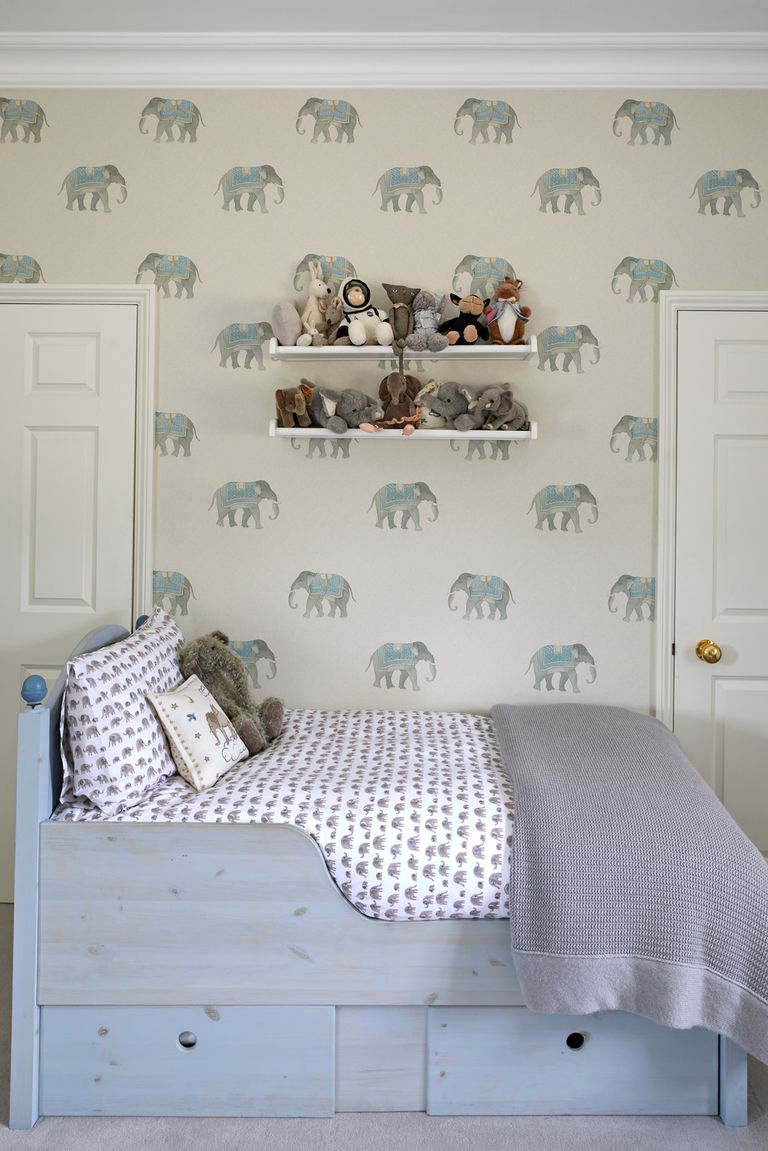 (Image credit: Design by Katharine Pooley)
Looking for some super chic, modern and timeless kids room ideas?
When it comes to decorating children's bedrooms, the possibilities are endless. This is a space where you can have a little fun, whether that's in the form of bold patterned rugs, wild wallpapers, eye-catching murals, painted ceilings and 3D wall art – such as papier-mâché animal busts. Or try a gallery or chalkboard wall for their own creations, floor-to-ceiling open shelving to display their favourite things, even a hidden den under the bed or behind wardrobe doors. Because when it comes to kids' rooms, you can throw out the rule book.
But be warned, children tend to change their minds easily (and don't get us started on teenagers), so in general it's best to stick to fairly neutral furniture and then inject the fun via the walls, rugs, bedding and accessories. These accents can be layered and edited over time to grow with the child.
Or you could keep things simple by just revamping the furniture. Paint them your kids' favourite shades, change handles, get creative with tones of the same colour on different pieces and when they get tired of it, you can simply paint again.
Short on floor space? Mezzanine levels could be your solution.The latest trend is to go for high-sleepers, multifunctional furniture or custom-built designs, which all lift the sleeping area off the floor and by doing so allow more room for the essentials – whether that's play space, a study area or simply some storage. Loft beds with a desk and den area underneath are a fab way to utilise floor space. For younger kids, it's a space-saving solution that has longevity. For older kids, it's the cooler take on a bunk.
Here are 45 whimsical, wacky, and all round wonderful kids room ideas to inspire you...
1. Add nostalgic character and charm with one-off, vintage finds
Not all kids room ideas need to be modern – there's something to be said for incorporating furniture, accessories or wall pattern that has a more nostalgic feel to it.
We love the elephant patterned wallpaper and vintage-style furniture in this bedroom design below by Katharine Pooley. It would work well for a nursery bedroom, a toddler, or even in a baby's room as the bed could be used as a daybed until they're old enough to sleep out of the cot. Under-bed trundle storage keeps toys and clutter out of sight.
This little girl's bedroom below is a homage to vintage influences.
The great thing about vintage is that, down to its very nature, it never goes out of fashion. By introducing the softer lines, ornate detailing and warmer tones of retro pieces, you can tone down the angular modernity of a contemporary scheme and create an eclectic space that caters to a more timeless style. Prevent a vintage- themed room from looking like it's in a time warp by pairing with more contemporary, clean-lined pieces, or introducing bold colour, or teaming it with boldly modern furniture. When pulling together a modern vintage look, use retro wallpaper and fabric prints, furniture that can be painted and classic shapes, such as old-school desks or iron-framed beds.
2. Introduce curtains in an alcove space to zone an area for concentrating
A kids desk area uses up an awkward alcove space. A framed artwork and wall light make this space feel very elegant and grown-up for a homework nook.
3. Up-cycle a boat for a nautical scheme
We love this boat-turned-bed, positioned and fixed with ropes from the ceiling.
4. Play with oversized accessories
This one's just a bit of fun: we're all familiar with Miffy's uncomplicated design, but we recently spotted an oversized Miffy lamp in one of Gachot's projects and immediately fell in love.
The design of the Miffy floor lamp is super playful, while still fitting in with a Scandi-inspired scheme in this boy's bedroom.
5. Transform cupboard doors into an art display
Interior designer Naomi Clarke made these bright yellow cupboards with built-in picture frames to hide away kids' clutter, meaning you can put the children artworks into the frames from inside the cupboards for an ever evolving look.
6. Paint (or commission) a mural
This toddler's bedroom below features a striking hand-painted mural by her mother, the famous interior designer Beata Heuman.
Fancy having a crack yourself but worried about making mistakes? Consider chalkboard paint as a backdrop, using chalk pens to create a mural over time. Don't like something? Just erase and draw over it.
Or why not let the kids have a go? Just smother the walls in a black chalkboard paint and give them some erasable chalk pen markers.
Budget no issue? Commission an artist instead.
A surf-mad teenage boy's bedroom was hand-painted below, designed by Martyn Lawrence Bullard.
This teenage boy's bedroom below features another bold mural.
7. Create a mini mezzanine
You don't need a huge amount of ceiling height to create a mini mezzanine that can be used as either a sleeping area or play space, and it doubles your floor space.
The kids room pictured below sits above the living room, on a mezzanine level that overlooks the dining space below through a glass wall. A raised mezzanine area with a built-in bed plays on the multi-level theme. Explore more of this home here.
8. Or go all out with a mezzanine feature
The kids room below features a striking mezzanine level, built as a play space. The play house is in the shape of a boat, complete with a wooden ladder, portholes for peeking out of, and decorative rope lighting (sourced from Etsy), hanging from the ceiling.
9. Use alcoves for extra storage
The below small boy's bedroom makes the most of an awkward corner with some custom shelving for books and toys.
Similarly, clever bespoke bookshelves by Blakes London make the most of an awkward sloped ceiling in the kids room below.
10. Swap an armchair for a swing seat
Swap out an old armchair in favour for something a little more playful.
Gloss white walls bounce light around, making this attic kids room feel clean, bright and inviting. The swing seat makes this room a favourite spot to hang out and play in.
11. Bucket Storage
This light-filled kids room shared by two youngsters. We love the pail-inspired bucket storage.
12. Got space? Build a dividing wall to create a fun play nook
An awkward-shaped alcove was transformed into a cosy play space, divided by a playful partition wall with peep holes. It's wallpapered in a photo-realistic forest print from Numerart.
The den's round windows are designed for climbing through – or throwing rock-shaped pillows through.
13. Short on space? Opt for space saving furniture
This compact, pull-down kids desk creates the perfect spot for doing homework.
14. Invest in custom joinery
We love the Moroccan-inspired look in this kids' room, with a daybed that's fitted into the wall, with built-in shelving and drawers for maximum toy storage.
15. Create an urban vibe with Grafitti Art
The cool mural artwork in the boy bedroom below was bought in Holland. It's a collaborative work by a group of Rotterdam graffiti artists.
The graffiti art on the ceiling is the star of the show below, but the wall of hidden storage is impressive, too.
16. Make a statement out of built-in storage
Interior designer Katharine Pooley made a feature out of the shelves in this little boy's bedroom, giving them a fun shape, and a contrasting colour.
Built-in storage is also given a fun twist below, with sloped cupboards that create un-even shelves for toy storage.
And lastly, the black grid-like boxes of the shelving unit below, together with the black lines of the desk and painted ceiling create a Mondrian-inspired effect. We love how the desk flows into the shelves, as one piece of statement furniture.
17. Incorporate Pop Art for a modern look
In this teenage boy bedroom, a neon 'follow your dreams' sign glows against a graphic backdrop, while Star Wars themed pendant lights are a playful, cool touch.
18. Lego Storage
The open shelving features Lego shaped storage boxes to keep clutter out of sight.
19. Book ledges instead of shelves
Shallow shelves are a great way of displaying childrens' books, while a peg board provides a handy place to store super hero outfits.
20. Pegboard Wall
The pegboard wall is a key feature in this boys' bedroom, and was inspired by a shop design.
21. Make the most of a window sill
Designed by Alice Lane, this clever kids desk area was created between the cabinets, in the window sill area. A full wall of built ins allowed for projects and papers to be organised and out of the way.
22. Or build a window seat
Drawers are ideal storage for children's bedrooms, and can be created relatively easily under beds or window seats.
23. Dolls house shaped storage
This striking dollshouse shaped wardrobe by Andrew Martin features a stunningly detailed facade, and hides a rail and drawers inside.
Gable-topped model houses in this child's bedroom artfully conceal individual wardrobes. The couple plan to have a new one made and painted a soft green for their youngest child.
24. Create a sleeping nook
Built-in storage frames the bed area below, turning it into a cosy sleeping nook.
25. Inject glamour with a modern four poster
A glamorous four poster bed mixed with quirky accessories make this a dreamy teenage girl's bedroom. The ceiling was opened up during the refit, which revealed an extra metre of room height hidden behind panelling.
26. Show off a skateboard collection
The neon skateboards fixed to the wall add fun pops of wild colour to the otherwise bland room.
27. Go for calm, neutral colours for a restful scheme
Sage green paint creates a neutral, calming backdrop for this kids room scheme.
Gloss white wood gives the four poster bed a more contemporary look in this room, while beading on the walls and closets nods to the building's landmark status.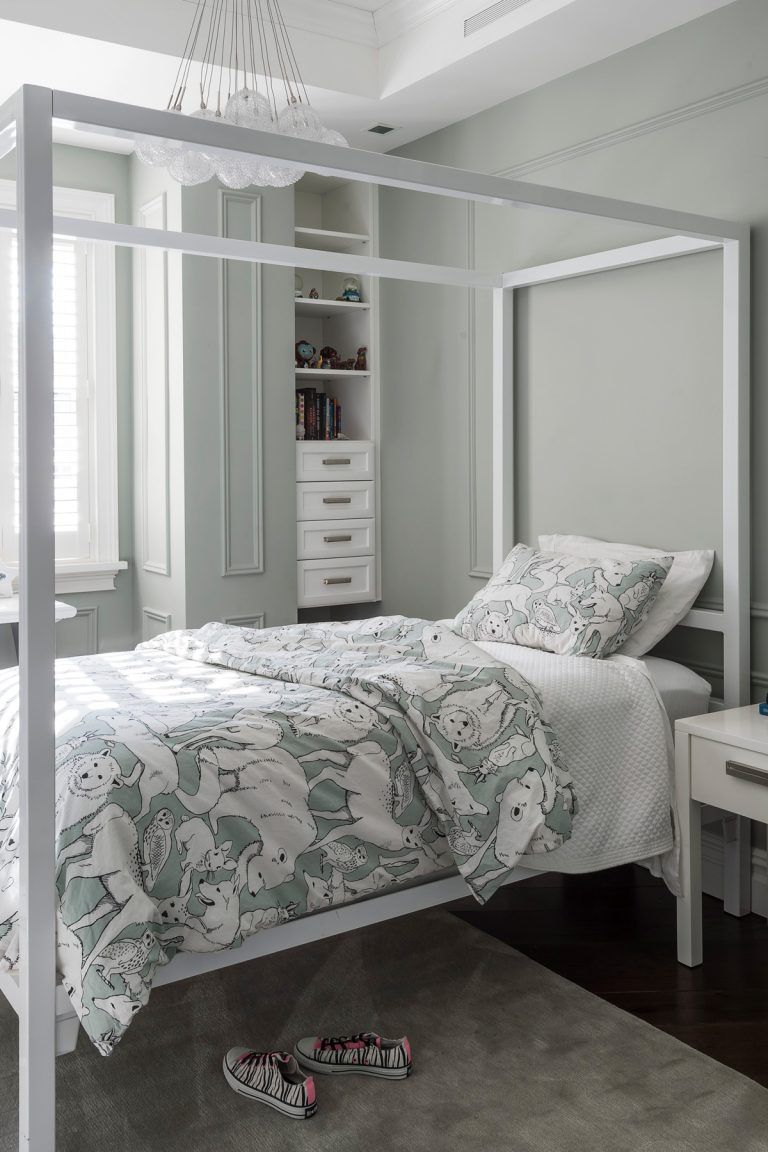 The boy bedroom below also features a neutral colour scheme, with walls papered in a grasscloth wallcovering which gives the space a very grown-up edge.
28. Or go bold with a statement wallpaper
Neutral bedroom schemes not for you? Inject a bit of drama with a statement bedroom wallpaper.
This nursery bedroom below has the most glamorous wallpaper going, using satellite imagery from Nasa.
This boy's bedroom wallpaper below is inspired by the Martinique design produced during the Forties and famously used at The Beverly Hills Hotel. It makes a refreshing change from the usual blue choice.
Meanwhile, street style is the way to go for a more edgily expressive tween or teen space.
For a teenager girl bedroom, we love the metallic palm print wallpaper below. The owners spotted this wallpaper on a Livingetc house tour before the family had moved in, so when their daughter said she wanted a turquoise room it was an obvious choice.
See Also: Girl bedroom wallpaper ideas
29. Magnetic wallpaper
We love London-based Sian Zeng's creative and interactive magnetic wallpapers, transforming walls into whimsical landscapes, while also making them fully magnetic – so you can easily pin up photos, cards, notes and drawings.
There's also a range of matching whimsical magnetic illustrations, to help tell interactive stories.
It's no wonder her designs have garnered so much attention – and actress Hilary Duff was one of her very first customers. The magnetic wallpaper design also won Sian Zeng the Esty Design Award last year.
30. Get your DIY on with paint effects
Paint effects are a great way to add personality to a kids' room. And they're surprisingly easy to do if you simplify your ideas down to their most basic graphic outline: think a line of jagged mountain tops or rolling hills, a seascape, cotton-wool clouds, or a star-spangled galaxy. Select your paint, pencil on your design and fill it in. It doesn't have to be perfect to achieve the desired effect. One feature wall will help you theme the rest of the space. And remember: there is an array of brilliant wall stickers available that will help you create the effect without the worry of it going wrong.
31. Play with symmetry and repetition
These boys had always shared a room before so instead of them sleeping apart, the couple created one large connecting sharing room with a child-sized hole in the wall.
The sharing bedroom below looks smart with identical beds, table lamps and wall sconces in complementing pastel shades.
This shared twin room is pink to the max, but as young girls get older, some of the fluffy stuff can be trimmed out and the girls can still enjoy it. We love the pleasing symmetry and repetition.
32. Create space for two with a built-in bunk bed
If you are considering a sharing bedroom but have a limited amount of space, a built-in bunk bed could be the stylish answer to your problems.
This bunk bed has a distinct nautical feel to it, thanks to the white painted finish, the shiplap wall, blue and white bedding and the brass wall lights. The effect is very summery – perfect for a themed bedroom or for a coastal holiday home.
We love the arched surround of this built-in bunk bed below.
ABD Studio created this chic and elegant bunk bed room below for two young girls. Curtains give each bed privacy.
If a room is tall enough for a triple bunk bed, you could consider switching up the top bunk for a cool mezzanine play balcony – thus keeping floor space clutter-free. Here a loft play space has been created above the built-in bunks, leaving plenty of floor space to play and creating a calm and un-cluttered vibe.
33. Bunk beds work well for single kids rooms too
The platform bed below was chosen to free up floor space and has the benefit of creating a cosy den underneath.
This bunk space pictured below isn't actual a bed, but it makes a super fun play area complete with kids desk, balcony, slide, and even a separate ladder going up to a lookout tower. A mattress could easily be added to the mezzanine level, transforming this into an epic bunk bed. We also love the blackboard wall which transforms this upper story into a creative zone.
34. Keep it simple with a modern bunk bed design
The white bunkbed with its soft, rounded edges create a Scandi look.
The simple white furniture and painted ceiling beams and doorway help make this room look light and airy.
35. Install an oversized headboard for dramatic effect
An oversized upholstered headboard creates a feeling of comfort in the room belonging to this family's youngest member.
36. Snap up (or build) a modern canopy bed
With the tree top backdrop and the playhouse shape of the bed, this kids room creates a playful treehouse effect.
37. Personalise with pinboard headboards
Whether through filial bonding or simply lack of bedrooms, siblings are often likely to share a space. So how to make it chic as well as practical? Storage is key, but it's also important to create areas where each child can express their personality. Pinboards are great, as are shelves. In this room, upholstered, super-tall headboards double up as pinboards. Choosing the same print and furniture unifies the space, while illuminated initial letters add a personal touch.
38. Introduce a design classic
The Eames elephant is a classic piece of furniture. This playful children's chair is the perfect example of Charles and Ray Eames' fun side, and it's become one of the couple's most famous pieces.
You don't need to be under five to enjoy its elegant lines, but unfortunately they've yet to make a jumbo size for us adults…
The elephant stools come in two different sizes and a range of colours, and are available from conranshop.co.uk, utilitydesign.co.ukand nest.co.uk among others.
Style-conscious teens want white walls, industrial furniture and cool Scandi design. Easy wins? How about introducing a retro Bubble chair by Eero Aarnio in which to while away the hours watching YouTube or Snapchatting?
39. Metal chute
This one is a bit more out there and harder to install – but if money is no object then we're sure it will be worth it
The Carston Holler inspired metal chute pictured below starts upstairs and twists down the house to this kids room; it's safe for kids and big enough for young-at-heart parents.
40. Paint the walls with blackboard paint
Forget off-the-peg posters – instead, give your kids creative free reign and allow them to use their own artwork to decorate their space. After all, there really is nothing cuter than a lovingly home-made potato print or stick person drawing. A chalkboard has perennial play appeal, so take it one step further by painting a whole wall with blackboard paint. And, because it can be constantly changed, it will last right through to their teens. Adding a blackboard-painted wall to an otherwise simple white room is an easy way to introduce an eye-catching feature, and will allow the kids to get creative.
You could also use blackboard paint for other surfaces, like built-in wardrobes and toy storage.
41. Throw out the colour rulebook
Rather than never being seen, blue and green work a treat in this kids bedroom.The stylised palm print looks almost abstract when it's wrapped around a whole room.
42. Create a cosy bed area with a canopy
Oh-so simple, yet oh-so chic, the canopy is the must-have for all dreamy bedrooms. Use it to demarcate a den area, create a cosy reading corner, or simply up-cycle a bog- standard bed into a fairy tale-worthy dream space. Draped around the bed at night-time, it will help create a cosy sleeping space. An easy way to do it? Buy a lightweight, hanging mosquito net and dye it in the colour of your child's choice.
43. Utilise sloped ceilings
A built-in cabin bed is a clever way of making use of an awkward sloping ceiling.
44. Incorporate a secret den
Bespoke storage opens to reveal a secret hideaway in the eaves.
45. Create an interactive feature wall with wall pods
We love the hexagon-shaped wall pods that are featured here in 'The Den', part of Gleneagles hotel. You could easily achieve something like this in the kids room, with the help of a talented joiner / carpenter.