When it comes to decorating children's bedrooms, the possibilities are endless. This is a space where you can have a little fun, whether that's in the form of bold patterned rugs, wild wallpapers, eye-catching murals, painted ceilings and 3D wall art – such as papier-mâché animal busts. Or try a gallery or chalkboard wall for their own creations, floor-to-ceiling open shelving to display their favourite things, even a hidden den under the bed or behind wardrobe doors. Because when it comes to kids' rooms, you can throw out the rule book.
See also: Boys' bedroom ideas
Read Also:Wonderfully Fun Kids Play Room Ideas
But be warned, children tend to change their minds easily (and don't get us started on teenagers), so in general it's best to stick to fairly neutral furniture and then inject the fun via the walls, rugs, bedding and accessories. These accents can be layered and edited over time to grow with the child.
Read Also:Stylish Homework Nooks & Home Offices For Kids
Or you could keep things simple by just revamping the furniture. Paint them your kids' favourite shades, change handles, get creative with tones of the same colour on different pieces and when they get tired of it, you can simply paint again.
Short on floor space? Mezzanine levels could be your solution.The latest trend is to go for high-sleepers, multifunctional furniture or custom-built designs, which all lift the sleeping area off the floor and by doing so allow more room for the essentials – whether that's play space, a study area or simply some storage. Loft beds with a desk and den area underneath are a fab way to utilise floor space. For younger kids, it's a space-saving solution that has longevity. For older kids, it's the cooler take on a bunk.
Read Also:Sharing Kids Room Ideas
Speaking of which, by the time your kids hit their teens, it's even more important for them to be able to have a space of their own – to escape to and express who they are becoming.In this age of Instagram,the selfie generation also understands aesthetics and will want a backdrop that looks good in their posts. A combination of YouTube vlogs, Pinterest and Instagram is inspiring teenagers to decorate their rooms ina much more contemporary way than ever before.
Read Also:Boys' bedroom ideas vs.Gorgeous Girls' Bedroom Ideas
Explore more modern bedroom ideas
We love the elephant patterned wallpaper and vintage-style furniture in this bedroom design by Katharine Pooley. It would work well for a young child, a toddler, or even in a baby's room as the bed could be used as a daybed until they're old enough to sleep out of the cot. Under-bed trundle storage keeps toys and clutter out of sight. Get the look: Wallpaper is from Sanderson. Cushion is from Chelsea Textiles
We love the elephant patterned wallpaper and vintage-style furniture in this bedroom design by Katharine Pooley. It would work well for a young child, a toddler, or even in a baby's room as the bed could be used as a daybed until they're old enough to sleep out of the cot. Under-bed trundle storage keeps toys and clutter out of sight. Get the look: Wallpaper is from Sanderson. Cushion is from Chelsea Textiles
We love this boat-bed, suspended with ropes from the ceiling. Get the look: These are the seascape Riviera Fabrics from £31.00 per m, From ILIV Fabrics
This boy's bedroom features a fun, over-sized Miffy lamp and a framed Lichtenstein print. Get the look: The Lichtenstein print was a gift. The bunny lamp is Miffy XL!
This toddler's bedroom features a striking hand-painted mural by her mother, the famous interior designer Beata Heuman. Get the look: The headboard is upholstered in Beata Heuman's Palm Drop Linen design in Blue Plaster.
The child's bedroom sits above the living room, on a mezzanine level that overlooks the dining space below. A raised, built-in bed plays on the multi-level theme.
Ample built-in storage also incorporates a wallpaper with character, which can easily be adapted as children grow up. Get the look: The Nottambule owl wallpaper border is from Cole & Son's Fornasetti II collection. Check out Rowen & Wren for a similar rocking sheep.
This light-filled space in the basement is shared by two youngsters. We love the pail-inspired bucket storage. Get the look: Find similar storage buckets at The Original Canvas Bucket Bag Company.
The cool mural was bought in Holland. It's a collaborative work by a group of Rotterdam graffiti artists. Get the look: Head to the Affordable Art Fair for similar artwork. The bed is by The White Company. Find similar wall lights at Made.com. The cushion is by Scion at John Lewis.
A surf-mad teenager's bedroom in Point Dume with hand-painted murals designed by Martyn Lawrence Bullard.
In this teen bedroom, a neon 'follow your dreams' sign glows against a graphic backdrop, while Star Wars themed pendant lights are a playful, cool touch.
The open shelving features Lego shaped storage boxes to keep clutter out of sight.
In this children's room, a glossy black New York-feel fire-escape-style ladder ascends to a mezzanine level, with balusters outlined in a sharp red. Get the look: The flooring is Marmoleum. The desk is by Blu Dot, shipped from America – Heal's sells a selection of Blu Dot furniture. The stools came from Golborne Road market.
Shallow shelves are a great way of displaying childrens' books, while a peg board provides a handy place to store super hero outfits.
Transform an unloved basement into a kids play heaven.
The pegboard wall is a key feature in this boys' bedroom, and was inspired by a shop design. Get the look: Shelving unit, Midcentury Modern fair. Pegboards, Kreisdesign. Similar armchair, Swoon.
Gable-topped model houses in this child's bedroom artfully conceal individual wardrobes. The couple plan to have a new one made and painted a soft green for their youngest child. Get the look This is the Stars wallpaper by Cole & Son. The house children's wardrobe was made by Freeman & Whitehouse. Find a similar bed at Ikea.
The graffiti art is the star of the show, but the wall of hidden storage is impressive, too. Get the look: Bespoke storage, Dan Clark Furniture. Graffiti art, Rob Irish (signofdesigns@gmail.com). Bed, Loaf. Bedside cabinets, Mustard.
These owners wanted all their children to sleep in one big room, so that they learned to share. They've made sure there's plenty of storage either side and under the beds. Get the look The floorboards are painted in Cornforth White modern emulsion by Farrow & Ball.
Colourful rosettes punctuate the calm palette of cool blues and greys. Get the look: The walls are painted in Paint Library's Spur flat emulsion. The twin antique beds were re-covered in a Nobilis fabric. The bedding is by Marimekko. The table lamp is by Tine K Home. The pendants are by Pippa Paton Design.
Glamorous metallic furniture mixed with quirky accessories make this the perfect room for a young teen. The ceiling was opened up during the refit, which revealed an extra metre of room height hidden behind panelling. Get the look Walls painted in Dove Tale by Farrow & Ball. Maison Bed, Bunny Ears Desk Chair, Maison bookcase, Brass Bunny table lamp, Bunny Alarm Clocks, Aubrey bedside table: all Emily & Merritt at Pottery Barn Teen.
The neon skateboards fixed to the wall add fun pops of wild colour to the otherwise bland room. Get the look: The skateboards are all from warehouseskateboards.com. For custom decks, go to Slam City Skates. Try Retrouvius for industrial-style table lights. The grey bed linen is from Restoration Hardware. For a similar striped rug, visit Ikea.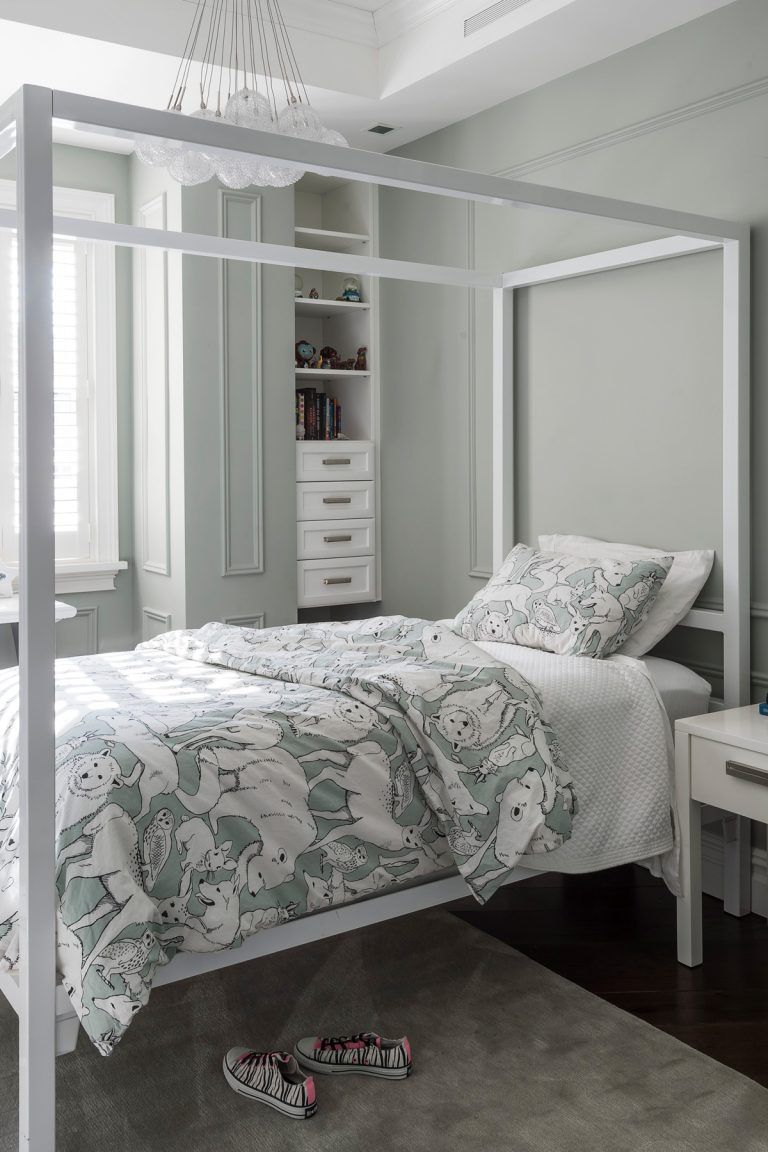 Gloss white wood gives the four-poster a more contemporary look in this room, while beading on the walls and closets nods to the building's landmark status. Get the look Bed, Room & Board. Light, Emily & Meritt at Pottery Barn Teen. Walls painted in Pale Blue by Farrow & Ball.
The owners spotted this wallpaper on a Livingetc house tour before the family had moved in, so when their daughter said she wanted a turquoise room it was an obvious choice. Get the look Find the Shadow Floral wallpaper, a Florence Broadhurst pattern, at Signature Prints. The door is painted in Blue Ground estate emulsion by Farrow & Ball. The bed is from John Lewis. The bedside table is from Habitat. The cushions and throw are from Liberty.
The cool mural was bought in Holland. It's a collaborative work by a group of Rotterdam graffiti artists. Get the look Head to the Affordable Art Fair for similar artwork. The bed is by The White Company. Find similar wall lights at Made.com. The cushion is by Scion at John Lewis.
The wall is coated in blackboard paint, so the kids can get creative. Wooden crates have been used as shelves. Get the look The sofa is a Fifties Danish design from a vintage shop. This is the Rocker chair by Charles and Ray Eames for Modernica at SCP. This is the Favourite Things pendant by Chen Karlsson for ENOstudio at The Conran Shop.
As a home created for dramatic effect, this north London showcase stretches the boundaries of interior design so things get that bit curiouser and curiouser in this teenager's bedroom. Get the Look This specially commissioned wall art was created by graffiti artist, David Nash (gnashermurals.com).
These boys had always shared a room before so instead of them sleeping apart, the couple created one large connecting room with a child-sized hole in the wall. Get the look The Ikea beds are painted in Off-Black estate eggshell by Farrow & Ball. Block sells peg boards like this.
The simple white furniture and painted ceiling beams and doorway help make this room look light and airy. Get the look The bunk beds are from John Lewis. The chest of drawers and the rug are both from Ikea.
An oversized upholstered headboard creates a feeling of comfort in the room belonging to this family's youngest member. Get the look The bed is by Prototype Design Lab.
This was an awkward space, so it was difficult to fit in normal-sized bunk beds. The owners had them made slightly smaller with cupboards either side, allowing more room for train tracks and tea parties. Get the look The bespoke bunk bed and storage unit are by Evoke. The rug is from Heal's. The Flying Stork artwork is by Tamar Mogendorff at Bobo Kids. The Eames Elephant is from The Conran Shop.
This baby's room has the most glamorous wallpaper going, using satellite imagery from Nasa. Get the look: The wallpaper is by Calico. This is The Rocker chair by Ernest Race. Find a similar tepee at Etsy.
With the tree top backdrop and the playhouse shape of the bed, this room creates a playful treehouse effect. Get the look: This is the Cole House trundle bed from Restoration Hardware. The fluffy pillows are from Room & Board and the smaller pillows are by Studio Four. The striped throw is by Archive NY, sourced through Studio Four. This is Bellewood Black Toile wallpaper from Rebel Walls. The Akari UF3-DL paper lantern is by Isamu Noguchi. Find similar vintage Moroccan rugs at Beldi Rugs. The Scandinavian Design Center sells similar wooden rocking horses.
Whether through filial bonding or simply lack of bedrooms, siblings are often likely to share a space. So how to make it chic as well as practical? Storage is key, but it's also important to create areas where each child can express their personality. Pinboards are great, as are shelves.In this room, upholstered, super-tall headboards double up as pinboards. Choosing the same print and furniture unifies the space, while illuminated initial letters add a personal touch. Get the look: The bespoke headboards with lights are by The Mint List, made using fabric by barneby gates. The Star rug, from £110, is from rockett St george.
Street style is the way to go fora more edgily expressive tween or teen space. Think graffiti-inspired murals or accessorising with sports gear or music memorabilia. Groupings of anything, from skateboards to medals, make a brilliant display. Likewise, framed film and concert posters, or even album covers – after all, vinyl is back in a big way. Strong colours, sharp shapes and hints of hero worship are all a part of making this look work. It's bold, a bit brash, but it has bags of personality. Get the look: The Skateboard wallpaper, £30sq m, is by Mr Perswall.
This wallpaper is inspired by the Martinique design produced during the Forties and famously used at The Beverly Hills Hotel. It makes a refreshing change from the usual blue choice. Get the look: This is La Havane wallpaper by Nobilis. The bunk bed and bedding are from Loaf. The throw is from Anthropologie.
Style-conscious teens want white walls, industrial furniture and cool Scandi design. Easy wins? Plenty of storage with a mix of on-display and put-away elements. A chill-out zone is key, so how about introducing an oh-so-now hanging chair in which to while away the hours watching YouTube or Snapchatting? Or alternatively, add a daybed – they double up as that all-important chill-out area for when friends come over. Get the look: Find an original Bubble chair by Eero Aarnio at 1stdibs – just remember to hang it from a supporting beam. Abigail Ahern is the queen of faux cacti, from £30 for the mini Mojave. Create your own bold picture wall with a mix of pages from magazines, postcards and photo booth strips.
Fitting floor-to- ceiling, built-in shelving around the door makes good use of otherwise dead space. Get the look: Find a carpenter via ratedpeople.com. Choosing a unifying colour theme – in this case monochrome – ensures that everything ties together. Complete the look by covering books in co-ordinating wrapping paper.
Paint effects are a great way to add personality to a child's room. And they're surprisingly easy to do if you simplify your ideas down to their most basic graphic outline: think a line of jagged mountain tops or rolling hills,a seascape, cotton-wool clouds, or a star-spangled galaxy. Select your paint, pencil on your design and fill it in. It doesn't have to be perfect to achieve the desired effect.One feature wall will help you theme the rest ofthe space. And remember: there is an array of brilliant wall stickers available that will help you create the effect without the worry of it going wrong. Get the look: These bunks are from Ikea. Try Rosa & Clara for cute animal-print cushions. The Stars wallpaper by Cole & Son, £72 a roll, has a similar scattered design; or simply replicate the look of this scheme using wall stickers, such as the ones by Parkins Interiors, £20 for 50.
Forget off-the-peg posters – instead, give your kids creative free reign and allow them to use their own artwork to decorate their space. After all, there really is nothing cuter than a lovingly home-made potato print or stick person drawing.A chalkboard has perennial play appeal, so take it one step further by painting a whole wall with blackboard paint. And, because it can be constantly changed, it will last right through to their teens. Adding a blackboard-painted wall to an otherwise simple white room is an easy way to introduce an eye-catching feature, and will allow the kids to get creative. Get the look: Get blackboard paint from B&Q and heavy-duty white floor paint from Leyland. Find Lack floating shelves at Ikea, from £5 each, along with the Kallax storage unit, from £30, which is similar to this one. Beldi and Larusi have a good selection of Beni-style rugs. Tanguy Rolin sells vintage Serge Mouille lights.
Make their pictures have more impact by displaying en masse. Arrange a collage in a large frame or hang them from a piece of string using decorative pegs, or you could pin them on to a huge noticeboard. Get the look: The school desk is vintage – you can find lots of double desks on eBay. Habitat's Bobby fluorescent orange floor light, £70, is similar to this. The Felty multicoloured round rug, from £499, from Modern Rugs, looks like this bobble rug.
Rather than never being seen, blue and green work a treat in this child's bedroom.The stylised palm print looks almost abstract when it's wrapped around a whole room. Get the look: There are a host of palm print wallpapers available – this is Manila, £61 a roll, by Sanderson. Find vintage Silver Surfer posters on eBay – also a good source for Captain America cushions – or new versions, from £6.99, at All Posters. The shark pendant light, £22, is from Little Home at John Lewis.
The great thing about vintage is that, down to its very nature, it never goes out of fashion. By introducing the softer lines, ornate detailing and warmer tones of retro pieces, you can tone down the angular modernity of a contemporary scheme and create an eclectic space that caters to a more timeless style. Prevent a vintage- themed room from looking like it'sin a time warp by pairing with more contemporary, clean-lined pieces, or introducing bold colour, orteaming it with boldly modern furniture. When pulling together a modern vintage look, use retro wallpaper and fabric prints, furniture that can be painted and classic shapes, such as old-school desks or iron-framed beds. Get the look: Find vintage looking wallpaper at Wallpaper Direct. The paint is Serenata by Bert & May, £35 for 1L. For a similar bunk bed, check out the Amber in the Sky by Thomas Maitz for Austrian brand Perludi, available at Smallable.
Oh-so simple, yet oh-so chic, the canopy is the must-have for all dreamy bedrooms. Use it to demarcate a den area, create a cosy reading corner, or simply upcycle a bog- standard bed into a fairy tale-worthy dream space. Draped around thebed at night-time, it will help createa cosy sleeping space. An easy wayto do it? Buy a lightweight, hanging mosquito net and dye it in the colour of your child's choice. Get the look: For a stylish bed canopy in various colours, check out the Sebra, £105, at The Modern Nursery. The Kili cotbed in Soft Blue, £699, at Nubie, is similar to the one shown. Ferm Living's Harlequin wallpaper, £71 a roll, is a good match for this pattern.
This little girl's room is a homage to vintage influences. Get the look: The canopy, £88, is by Numero 74 at Smallable. Donna Wilson's Creatures, from £18 each, have a similar feelto these soft toys. Find a Moroccan leather pouffe, from £130, at Graham and Green. Ferm Living sells a similar house-shaped wall unit.
Prevent a candy-hued scheme from looking twee by teaming it with a modern palette of soft greys and off-whites. Having a timeless base colour allows you to layer up different shades and prints, which give pale tones added oomph.Your inspiration for this look should be the soda parlour colours of Fifties Americana; think ice-cream pinks, mints, turquoise and lemons. By introducing colour through the accessories, you can also update the look as your child grows.A built-in cabin bed is a clever way of making use of an awkward sloping ceiling. Get the look: The cabin bed is a bespoke design by The London Joinery Company, price on request. The walls are painted in Farrow & Ball's Calamine estate emulsion, £43.50 for 2.5L. Find a sheepskin rug, £160, from Celtic & Co.
Pairing pastels with white will ensure the room has a clean, refreshing atmosphere.A neutral backdrop will also allow the decorative elements to stand out. Decorative details, such as pom-poms, add fun and personality. Choosing a grown-up print but in a child-friendly colour means this chair will grow with the room's occupant. Get the look: The chair and cushions are covered in Ananas fabric by Raoul Textiles, price on request. Find a pom-pom garland, £16, at PomPom Galore.
Uplifting yellow makes a refreshing choice for a boy's room and decorating with vertical stripes gives the illusion of height. The platform bed was chosen to free up floor space and has the benefit of creating a cosy den underneath. Get the look: Thibaut's Summer Stripe wallpaper, £63 a roll, at Designer Wallpapers, is similar to this. Nidi, the children's furniture specialist, available at Go Modern, has a huge selection of high-sleepers and loft beds.
Bespoke storage opens to reveal a secret hideaway in the eaves. Get the look: The joinery was designed by Nicola Hicks. The wallpaper is by Piet Hein Eek. Try notonthehighstreet.com for a similar star wall light.
This bold striped wallpaper sets the scene for a rock 'n' roll teenage girls' room. Get the look: This is Farrow & Ball's Block Print Stripe wallpaper. For a bespoke bed like this one, try The London Joinery Co. The bed linen is from Soak&Sleep.
The twin bedroom looks smart with identical beds, table lamps and wall sconces in complementing pastel shades. Get the look: The beds are from Ikea. The cushions are made in Ananas by Raoul Textiles, as is the re-covered armchair. The wall sconces are by Porta Romana.
Concealed behind chalkboard doors is oodles of storage space. Get the look: The pendant shade, left, is from Pipii. The wire pendant, right, is from Oliver Bonas. The carpet is by Carpetright.
This room has another huge up-and-over window with enviable views. The cupboard was chosen because it looks like locker room furniture. Get the look: The Loft wardrobe is from Maisons du Monde.
This room is pink to the max, but as young girls get older, some of the fluffy stuff can be trimmed out and the girls can still enjoy it. Get the look: This is Shawnee wallpaper by Brunschwig & Fils. The toile de Jouy bedspreads were brought back from Holland. This is Jonathan Adler's Giraffe table lamp.
This room has lovely grass-cloth wallpaper, helping give this little boy's bedroom a grown-up edge. Get the look: The grass-cloth wallpaper is from Phillip Jeffries.