How to design a kid's room - expert advice for creating rooms that grows with your child
Knowing how to design a kid's room that grows up with them is an essential part of future proofing your decor. Experts explain how to get it right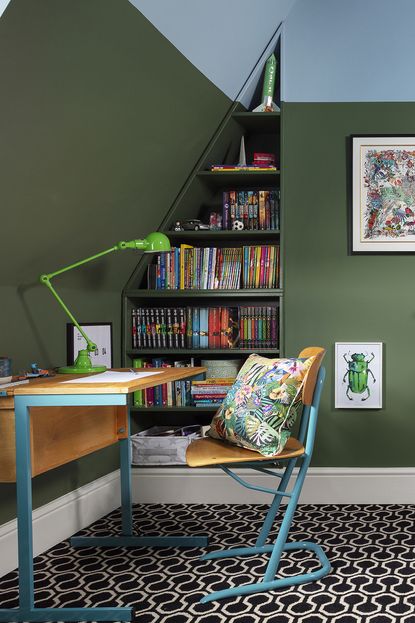 (Image credit: Alternative Flooring)
The Livingetc Newsletter
For style leaders and design lovers.
Thank you for signing up to LivingEtc. You will receive a verification email shortly.
There was a problem. Please refresh the page and try again.
Knowing how to design a kid's room and get it right from the start will save you a lot of hard work. They go from toddler to teen in a blink of an eye, growing out of clothes, hobbies, foods and friends - keeping up with them to create a versatile room to support their needs is essential. What you need is a space that can adapt with them without breaking the bank each year with updates and revamps.

The takeaway from our experts is to invest properly in the big stuff, choose quality materials in fabrics and flooring, make keen decisions early on storage and the loose items you can swap your kids' bedroom ideas in and out with a little creative flair. Got a new addition to the family? Or just want to upgrade a child's room and get it right for good? Get inspired by our ideas on how to design kids' bedrooms.

How to design a kid's room
2. Incorporate Heritage Fabrics
Using heritage fabrics in pretty florals alongside a minimal color palette gives a children's room longevity and a sense of timelessness. We think florals and ditsy patterns work well as part of girls bedroom ideas and for boys too - why distinguish who can have what?
Balance the busy florals with natural accessories like plain jute rugs, and colour blocked pastel cushions. Wiltshire Blossom – Lichen is a super versatile fabric.
"This much-loved Liberty classic - a small scale ditsy printed on beautiful crisp white linen - can be used beautifully not only for upholstery and blinds, but also curtains and drapes, teepees and dens to create cosy corners and hideaways for children's rooms," says Genevieve Bennett Head Of Design Interiors, Liberty Fabrics . "It also has six beautiful colors in the print – coral pink, ointment, sage green, pale blue, ochre yellow, pale grey…. colors that are gorgeously appealing and liveable as complimentary wall paint colors for longer lasting appeal as the kids grow up".
2. Use Toys To Create An Artful Display
Children's room's should be joyous and celebrate their personalities. Instead of hiding away their things, celebrate them and create a bold wall display to show off their favourite items. However make sure the display is practical and not just for show - incorporate hooks so children can easily take the items down from the wall and play - an elevated form of storage that is perfect for playroom ideas.
"Ultramarine by Bristol Paints is a very vivid and joyous blue, is very similar to Klein or Majorelle Blue," says Louise Chidgey, Founder of Brassica Mercantile. "It's very vivid but is joyous and warm with other colours. It is probably only good for one wall as it's quite over powering but makes a huge statement. These wall decorations are by Studio ROOF who combine nature, fantasy and art to create vibrant 3D wall decorations using recycled cardboard and plant-based vegetable inks."
3. Incorporate Breathable Textiles
Children need fresh air and quality materials to surround them when growing - where possible choose organic fabrics in breathable materials that provide a multitude of benefits to your little darlings' daily well-being. These fabrics wear well, aging with them ready for when you're thinking about teenage bedroom ideas.
"The durability of linen makes it perfect for curtains or bedding in a child's room," says Bernie de Le Cuona, founder of de Le Cuona. "Linen is very kind to sensitive skin, hypoallergenic and does not support bacteria growth, making it a fabric of choice When used for bedding, it regulates the body's temperature, absorbs and evaporates water. Linen products are breathable in hot weather, insulating during cold periods, and known for increasing sleep quality."
4. Choose Storage Solutions that Grow With Your Child
In a child's room all books, toys and small items are guaranteed to tend to end up on the floor and the most important aspect of planning their room is the brain gymnastics that goes into figuring out a storage solution!
Research and invest in clever bedroom storage ideas where elements can be added over the years to incorporate all the new ways your child uses their room. Wall mounted Scandinavian storage system String allows for configurable combinations within their shelving system like a desk area for craft and homework which can be adjusted for height over time.
The shelves also come in a multitude of different sizes and depths, working well above bunk beds as storage and behind doors and awkward areas to maximise space.
5. Use grown up bunk beds to start with
While it might be a bit foolhardy to invest in one of the best mattresses while nighttime terrors are a thing, starting them off in a bed that will last is no bad idea. Incorporating bunk beds aren't normally thought of as a design device with much longevity, but in this enchantingly decorated room at The Royal Oak designed by Nicola Harding which uses full-sized beds to create an adventurous space that can double up as a guest room in the future.
"The bunk beds were created against a wall, filling in the full width and height with off-the-shelf neat-match panelling," Nicola says. "We connected the two with a vintage ladder and added bookshelves and wall lights within the bunks.The beds are full-size, so that they can be used by adults or children alike. The inspiration was railway carriages. The curtains keep in the warmth and are a chance to add a pop of colour. Kids love creating a secret den behind them. We have done something similar by over- cladding a simple Ikea bunk bed. " How's that for an impressive Ikea hack?
6. Make a grown up fairytale
When decorating your child's room, you should bear in mind the longevity of great design. Certain pieces such as bed frames, bedside tables and a headboard can be adapted to your child's tastes, starting off as nursery ideas and staying with them until adulthood. So, choosing sophisticated options at an early stage is key.

"However, a children's bedroom design should still look like it belongs to a child!" says Camilla Clarke, Creative Director of Albion Nord. "To make more of a statement, we designed a half tester in this children's bedroom at Chelsea Barracks. It brings a fairytale charm to the space which is restrained by the sophisticated color palette. There is a difference between a children's bedroom and a childish bedroom."

7. Create Soft Spaces
Kids love rolling around and playing on the floor so picking floor types that are durable but also immensely appealing for children and parents to spend time on is key. For eco-lovers wool is a naturally sustainable material breathable and biodegradable. In design terms wool has the bounce-back factor, holds colour brilliantly and is beautifully tactile.

"Wool carpets give a wonderful sense of cosiness," says Lorna Haigh, creative director Alternative Flooring. "We tend to choose tactile fine or chunky wools in plain or semi-plain design in a calm palette in bedrooms. It is also a natural insulator and as a sound-proofer it brings much welcomed peace and quiet to interiors and especially children's rooms!"
7. Use Chic Headboards For Multiple Children
If multiple children share a room it can be difficult to make a space feel cohesive. Headboards are an inexpensive way of transforming a bedroom and linking the style of the beds - and big ones a key part of bedroom trends for 2022. Using illustrated fabrics also negates the need for artwork in children's rooms which can sometimes feel dated once the child grows. If you are thinking long-term then using sophisticated headboards can ensure the space has the potential to double up as a guest room.

"Headboards are essentially alternative forms of artwork and is a way of introducing personality to a space," says Martin Waller, founder of global design brand Andrew Martin. "Don't be afraid to choose a more outlandish style as this only adds more character like these headboards covered inTheatre Fabric in Midnight a stunning polar bear repeat"

8. Style the space harmoniously
If you need to make a quick decision about palettes and styling, we think the Danes have got it spot on, interpreting Scandinavian design principles for kids. Children's brand Cam Cam Copenhagen was founded by architects in a bid to create children's rooms that harmonised with the rest of their modern home.

Stick to their mix of sophisticated pastels on walls and furniture with a focus on natural materials as a basis and build on it as your child grows. Go for soft greys, whites and beiges in furniture and floor-coverings creating a cocooning canvas. Use blue greys on walls and darker hued blues on curtains and fabrics to create a harmonising palette and when picking toys and accents gravitate towards the wooden or handmade in natural materials and you won't go wrong!

How Can I Decorate my kids room cheaply?
You can completely transform a child's room by changing a few things around involving no budget. Re-arrange furniture to change the whole look and feel of the space, up-cycle and paint items in new colors to suit your child's changing tastes or install a gallery wall of all of your child's artworks - perhaps choose artworks on one color theme creating a striking feature wall.
What should be in a Child's Room?
If you are starting from scratch the essentials in a child's room you should include are a bed, a mattress, sheets, pillowcases, blankets for added warmth, a cupboard or dresser for clothes, a storage trunk or shelves for toys and a bedside lamp and a rug. You could also look into one of the best mattress protectors too.
For style leaders and design lovers.
Rohini Wahi is Content Editor for Livingetc Online. With a decade-long career in the interiors and design industry working as a journalist for premium lifestyle publications then delving deeper into the business as a trend forecaster, Rohini has amassed a wealth of global design knowledge that informs her work. She loves a period drama and keeps a tidy home.