Nursery Ideas: 29 Stylish Schemes For Baby Bedrooms
29 stylish nursery ideas for the youngest member of the family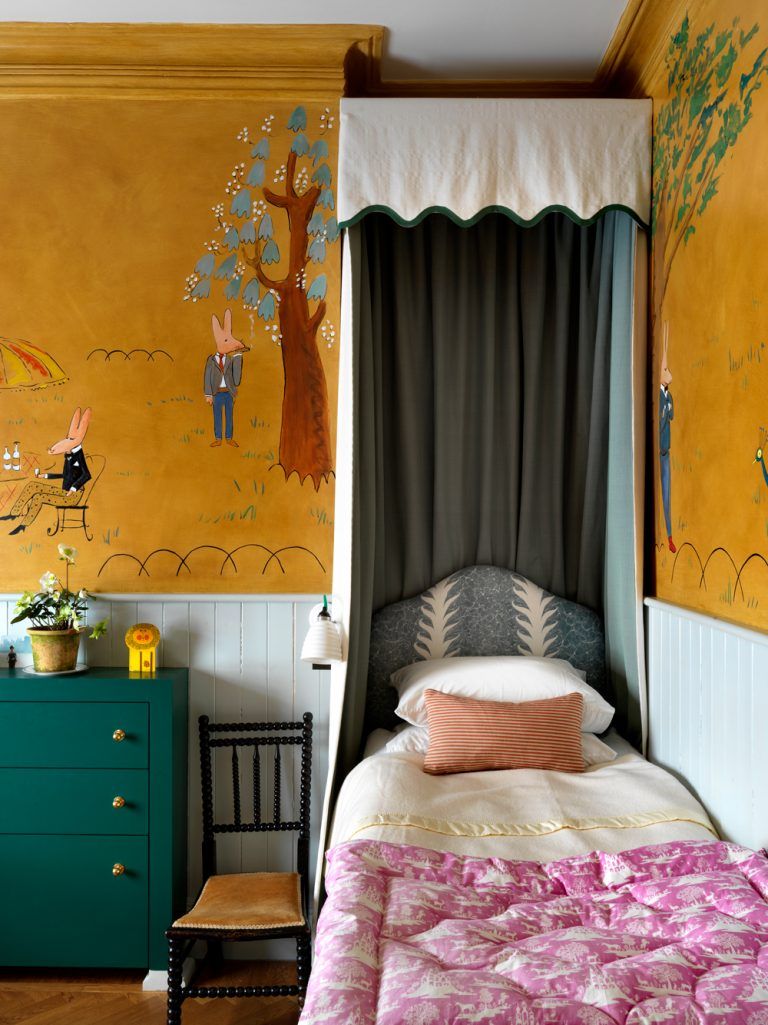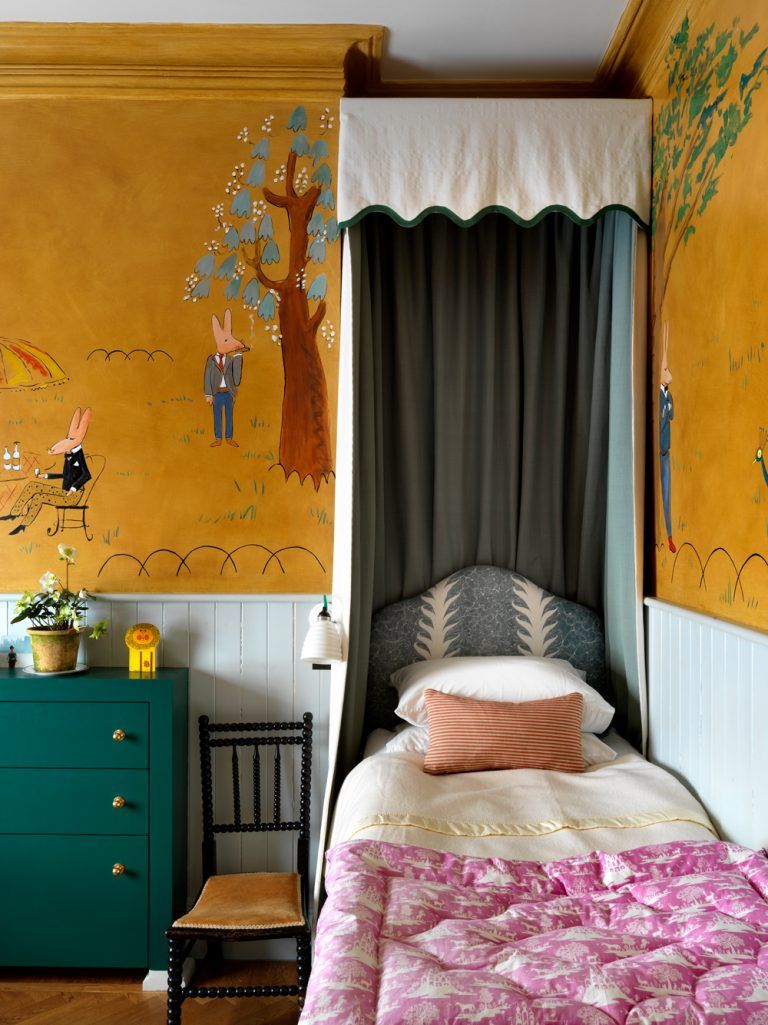 (Image credit: Photography by Simon Brown)
Looking for nursery ideas to decorate a baby's bedroom? We've found the best kids room ideas specifically for nurseries. Whether it's for a baby girl or a baby boy, and whether you're looking for something bright and colourful, or calm and Scandi-inspired, we've found some gorgeous baby room ideas to inspire you.
Add texture via gorgeous canopies, upholstered headboards, textured rugs, and plump curtains. Soft toys and stuffed animals like an oversized giraffe also add interest and texture, and rocking sheep are a fun option too. Instead of framed pictures you could also opt for a patterned quilt or throw – both for on the bed and for on the walls.
When it comes to walls, we love how interior designer Beata Heuman hand-painted a mural for her toddler's bedroom, but we're not all blessed with her talents – so you could add wall-to-wall pattern via a striking mural or wallpaper instead. Below we've found some cool ones, from Calico's metallic wallpaper based on Nasa satellite imagery to Eleanor Bowmer's fun, wild prints. For paint options, you could have some fun with painting cool shapes and patterns on the walls using masking tape, or make like mural artist Lucy Tiffney and doodle on the walls to your heart's content – with erasable chalk pens, of course.
Renting, or unable to change the colour of the walls? Upholster a large screen in a fun fabric instead. This way it's easy to switch up when your child grows out of the pattern, plus a screen is a handy way of hanging clothes for the next day. For more pops of colour (without taking to the walls), we love how interior designer Katharine Pooley used framed colouring pencils, and arranged books by colour to inject colour into a child's bedroom.
And don't forget floors and ceilings, too; use your floors to inject some fun into the room, whether with a fun patterned rug or carpet, or a painted pattern on wood floor boards. Ceilings can be a great place for wallpaper (how about flying birds, or a starry night sky?) – wallpaper will last longer when it's out of reach from sticky fingers.
See all our decorative nursery ideas below...
1. Painted Mural
This toddler's bedroom features a striking hand-painted mural by her mother, the famous interior designer Beata Heuman.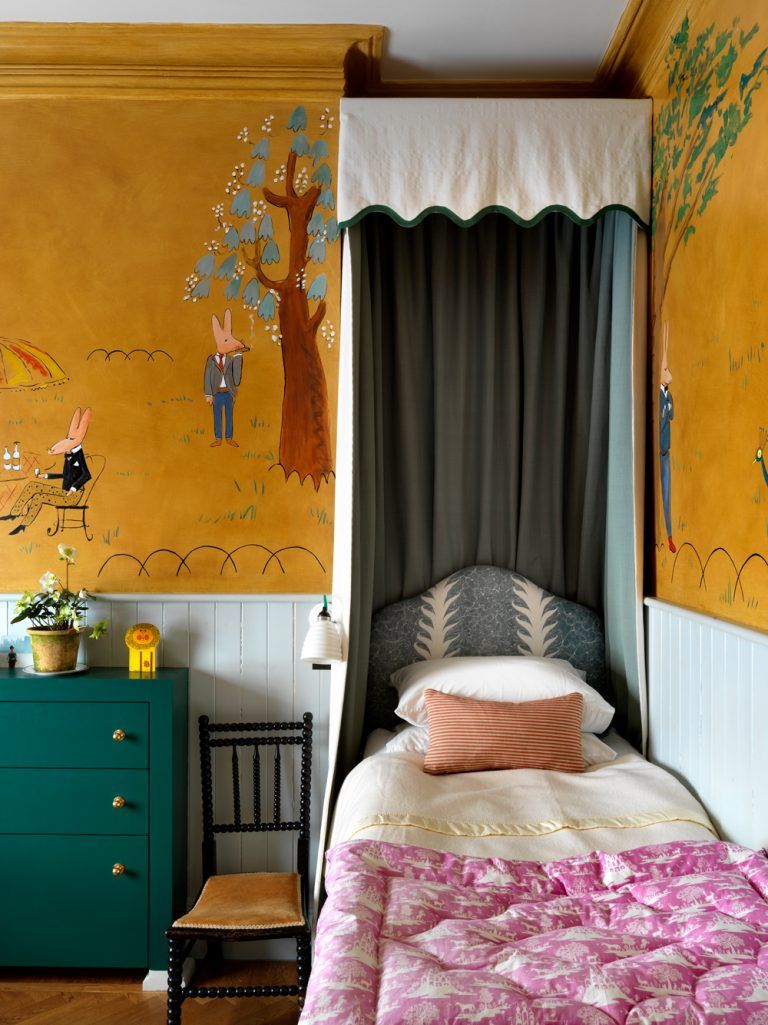 2. Cosy Teepee
A cosy teepee and a sheepskin rug soften the look in this nursery room. This baby's room has the most glamorous wallpaper going, using satellite imagery from Nasa.
3. Nasa Wallpaper
Here you can view the wallpaper up close, which uses satellite imagery from Nasa.
4. Layer soft textures
Pink walls make this little girl's room very girly, while the rug and pouffe give it a more neutral, layered look.
5. Graphic wallpaper
There's a dazzling array of kids' wallpapers out there, but Westwood simple but ingenious design hits the spot here with a squiggle pattern.
6. Chalkboard walls
Smother the walls in a black chalkboard paint and have fun doodling on the walls with some erasable chalk pen markers. These days you can also find magnetic blackboard paint, so you can play around with fun magnets on the walls too.
7. Use a screen to add changeable pattern
Whether you're renting or just not wanting to commit to a full room of wallpaper, upholstering a large screen in a fun fabric is a fantastic alternative. You can use the screen to soften a wall while adding a fun print or pattern – plus you can use it to hang things from too, like outfits for the next day.
8. Punchy Pattern
We love Eleanor Bowmer's punchy prints, and this jungle mural wallpaper would make any nursery, kids room or play room a fun and cheerful space.
9. Rainbow Colours
Interior designer Katharine Pooley adds a big dose of fun colour to this nursery in the most chic way; by grouping books by colour, and with framed colouring pencils. Just gorgeous.
10. Cloud & Rainbows
Or you could take a rainbow theme more literally with a painted rainbow on the walls. Here a rainbow is painted in muted, pastel shades instead of the more harsher primary colours.
11. Neutral colour and pattern
Moving away from traditional rainbow colours altogether, this patterned wallpaper from Hibou Home offers a more neutral approach.
12. Decorate the floors
Use your floors to inject some fun into the room, whether with a fun patterned rug or carpet, or a painted pattern on wood floor boards.
13. Star themed
A star theme gets a more vintage look with an iron cot and linen canopy.
14. Seating area
Two mini wing back chairs, a small side table, sophisticated curtains and a clean window ledge with pretty picture frames create a grown-up look in this chic nursery by Katharine Pooley.
15. Vintage inspired
We love the elephant patterned wallpaper and vintage-style furniture in this bedroom design by Katharine Pooley. It would work well for a young child, a toddler, or even in a baby's room as the bed could be used as a daybed until they're old enough to sleep out of the cot. Under-bed trundle storage keeps toys and clutter out of sight.
16. Add interest to a white scheme
This dreamy nursery features an imaginative wallpaper. The lack of colour keeps things calm and restful.
17. Spell it out
In this stylish nursery designed by Alessia Mainardi, letter cushions spell out the child's name on the shelves.
18. Vintage car
In the same nursery, a vintage car adds another fun touch.
19. Add a bean bag
Meanwhile a bean bag offers a cosy pillow for a baby or toddler to laze on, while also acting as a footstool for propping up feet while reading or breast feeding.
20. Energise with bold pops of coral
We love how a small pop of coral energises this calm, pistacchio space.
21. Reading Ledge
A handy reading ledge keeps books within easy reach.
22. Statement Shelves
We love how these wall shelves are nice and deep, and stretch from wall to wall. You can use shelves to create fun and interesting displays, whether that's seasonally inspired, led by your child's interests, or used to create something whimsical like these wood cut-outs and branch.
23. Cloud pendants
The ultra soft sheepskin Coronum chair and the muted tones of the Raindrops rug, paired with the cloud like lighting, establishes a beautifully calm atmosphere in this nursery. The round lines of the chair and the Coronum coffee table make this room child friendly, yet sophisticated.
24. Half & Half
Can't make your mind up between two colours? Who said you have to choose? Double up and divide the wall in half.
25. Rocking Sheep
A woolly rocking sheep (or we recently spotted a cool rocking mammoth too, via cuckooland) adds instant texture and creates a playful look.
26. Green & Plum
Green and plum colours are an unusual choice for a bedroom but the pairing works, and the plum is further brought into the room with the bunting and soft furnishings, warming the olive tones.
27. Mustard and navy
Mustard and Navy works as an unusual colour pairing too, but we're particularly taken with the funky way the walls have been painted; using masking tape to create a school-inspired grid-paper pattern. Clever.
28. Wild Western themed
A Nevada theme is a hint of cowboy, but done in a more eclectic way, with earthy shades and leather, kilim and feather accents.
29. Block out the light
Shutters, like these colourful ones from California Shutters, help block out the light better than curtains, creating a better night's sleep during lighter summer months.
Lotte is the Digital Editor for Livingetc, and has been with the website since its launch. She has a background in online journalism and writing for SEO, with previous editor roles at Good Living, Good Housekeeping, Country & Townhouse, and BBC Good Food among others, as well as her own successful interiors blog. When she's not busy writing or tracking analytics, she's doing up houses, two of which have features in interior design magazines. She's just finished doing up her house in Wimbledon, and is eyeing up Bath for her next project.