18 nursery ideas designers use to create a beautiful space for your baby
From whimsical murals to cute and creative furniture, Be inspired by these stylish nursery ideas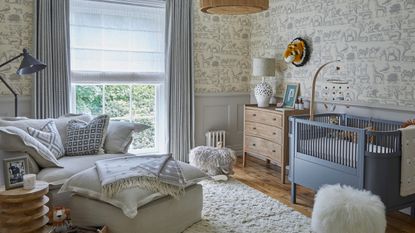 (Image credit: Cherie Lee Interiors)
The Livingetc Newsletter
For style leaders and design lovers.
Thank you for signing up to LivingEtc. You will receive a verification email shortly.
There was a problem. Please refresh the page and try again.
Looking for stylish gender-neutral nursery ideas? There's nothing more lovely decorate a baby's bedroom, choosing colors, picking wallpaper, and deciding on the perfect nursery furniture.
It's such an exciting time, but with everything else you need to consider with the imminent arrival of a new human making these decisions can be a bit overwhelming. But fear not, our gorgeous gallery of kid's room ideas will help you come up with the dream look for your baby's bedroom. Whether it's for a baby girl or a baby boy, and whether you're looking for something bright and colorful, or calm and Scandi-inspired, we've got you covered...
Commentary from CHERIE LEE herself - Website: www.cherieleeinteriors.co.uk
"We have a few key elements that we consider for children's rooms. These don't vary too much from boy to girl as we approach each child's room design as individual. We are currently working on a girls bedroom who's number one hobby is gaming and a young boy that loves Unicorns. Never stereotype we say!
We like to incorporate a chill out, seating area. Depending on room size, this can be as simple as a beanbag, lamp and a bookshelf. More elaborate designs can include built in daybeds with storage and reading pods.
Bespoke pinboards in a fun fabric allow kids to personalise and update their space without ruining decor. Always a favourite with our young clients!
Space for friends to stay is also very useful. If possible, we like to incorporate sofa beds or trundles to accommodate sleepovers. High street brands such as loaf and sofa.com have great space saving solitons such as the bed in a box. These double as an ottoman and a nifty sofa bed.
Always consider the entire area, including the space above! Kids love mezzanines in their room designs. Where space allows, we will always consider high level reading nooks and play areas.
When it comes to decor, don't feel the need to keep to traditional children's pallets and papers. Wallpapers and schemes that are considered as more grown up can be brilliant in kids rooms. We would suggest being brave with pattern too. Children's rooms can be a fun combination of spots, stripes geometrics and chevrons. It all goes!"
1. Add personality with a painted mural
A lovely, more personal take on wallpaper is to go for a mural. Now, this beautiful design was hand-painted by interior designer Beata Heuman hand-painted a mural for her toddler's bedroom, but we know we're not all blessed with her talents – so you opt for one of the gorgeous options made by wallpaper companies for a similar look. Or you could even commission an artist to paint your child's nursery if you wanted something that was specific to them.
2. Create a den with a cozy teepee
Designing a nursery with playtime in mind too? A teepee is the perfect addition as it creates a den-like space for older toddlers to play and a cozy, soft space for you and your baby to cuddle and read. There are so many stylish designs to choose from too that they double up as stylish decor too.
3. Layer soft neutral hued textures
If you are decorating a girl's bedroom and pink is on the cards but you want to give it a more gender-neutral twist, bring in some warm tones for a neutral nursery that is full of natural textures. This pink room feels girly yes, but there's a boho vibe that gives it more of an earthy feel.
4. Bring in bold eye catching pattern with wallpaper
Not only will a bold wallpaper add some adult-approved style to a nursery, it also creates loads of interest for young eyes. We love this red and white squiggle pattern, and how it pairs with the cowhide rug and patterned armchair – a lesson in how to do maximalism in a nursery.
5. Get creative with chalkboard walls
Smother the walls in a black chalkboard paint and have fun doodling on the walls with some erasable chalk pen markers. These days you can also find magnetic blackboard paint, so you can play around with fun magnets on the walls too. And once your baby gets older they can get involved in creating patterns and designs they love too.
6. Use a screen to add changeable pattern
Whether you're renting or just not wanting to commit to a full room of wallpaper, upholstering a large screen in a fun fabric is a fantastic alternative way to bring in cute patterns. You can use the screen to soften a wall while adding a fun print or pattern – plus you can use it to hang things from too, like outfits for the next day.
7. Use books to create rainbow decoration
Interior designer Katharine Pooley adds a big dose of fun color to this nursery in the chicest way; by grouping books by color, and with framed coloring pencils. Just gorgeous, plus it's a super easy look you could DIY in just a few hours and makes the books accessible too.
8. Or paint a simple rainbow mural
Or you could take a rainbow theme more literally with a painted rainbow on the walls. Here a rainbow is painted in muted, pastel shades instead of the bolder primary colors to create a softer, more serene space.
9. Choose a gender neutral color scheme
Moving away from traditional rainbow colors altogether, this nursery idea takes
a more neutral approach. Muted, earthy tones like deep beige, terracotta and pale yellows are really on-trend in kid's bedrooms right now, because they are gender-neutral and yet still feel soft and fun, perfect for a nursery. Introduce some sage greens too to slightly contrasting all those warm shades.
10. Decorate the floors
We've focused a lot on wall decor, but don't ignore the floors! They are prime real estate for adding fun color and pattern. You could commit to a classic pattern like stars, spots of stripes and lay a full carpet, or if you looking for something less permanent throw down a fun area rug for a similar effect.
11. Hang a canopy for extra coziness
Canopies are a lovely addition to a nursery, creating a cozy den-like feel that kids of any age will love. If you don't want to hang it over the bed, you can hang it in a corner instead and add some cushions to the floor for a cute reading corner.
12. Incorporate a small seating area for nursing
If you have the space, a seating in a nursery can provide both parents and children a place to perch, whether it's for nursing, reading or playing. In this nursery designed by Katharine Pooley, two mini wing back chairs, a small side table, sophisticated curtains and a clean window ledge with pretty picture frames create a grown-up look in this chic nursery.
13. Pick classic furniture for a nursery
We love the elephant patterned wallpaper and vintage-style furniture in this bedroom. It would work well for a young child, a toddler, or even in a baby's room as the bed could be used as a daybed until they're old enough to sleep out of the cot. Under-bed trundle storage keeps toys and clutter out of sight.
14. Choose a classic all white scheme
Lack of color may sound bland in a room designed for children, but it keeps things calm and restful and is a classic scheme that can grow with them. Keep walls white and bring in pale woods, then you can add pops of bolder colors with decor or a cute kid-sized armchair as seen in this nursery.
15. Make it personal with decor
A really simple nursery idea to make it a more personal space is to add in their name, whether it be with a painted mural, a cute sign, or like this stylish nursery designed by Alessia Mainardi, with letter cushions that you can move from shelves onto the bed when they get older.
16. Use wall stickers to create an instant theme
Take a neutral color scheme to the next level by giving it a western twist. These desert-inspired hues to lend themselves perfectly to the theme, feel subtle and stylish as well as fun and creative. And all it's taken are some simple wall stickers. Also not the color blocking on the wall with this nursery idea, a deep color at the bottom with a light shade on top gives the room some depth and introduces a few colors without overwhelming the room.
17. Go for an unexpected color combination
Mustard and navy might not be a classic color pairing for a nursery, but the coziness from the deep blue and the warmth from the yellow totally works. Plus, we love the funky way the walls have been painted; using masking tape to create a stylish pattern, that adds a contemporary edge to the room. Clever.
18. Think about practical window treatments
Window treatments for nurseries may not be as thrilling as picking wallpaper or cute decor, but they are one of the most important aspects of the room's design. You need to make sure you can block out most of the light for midday nap times and in the summer months when the days are longer. Black-out blinds are an option, but shutters just look so much more stylish, especially when you have fun with the colors and match them to a funky wallpaper.
When should you start decorating a nursery?
To avoid any unnecessary stress we would advise starting to think about themes, colors, and furniture choices from around 18 weeks. This will give you plenty of time to change your mind when things don't work, test out colors and order furniture that might have longer waiting times. Don't stress out if you are leaving some things last minute though, a perfect nursery isn't an essential for when baby arrives, so long as you have a place for them to sleep and a practical space to change them, smaller decor details can come later.
What should you hang on a nursery wall?
Nursery walls are a blank canvas for hanging decor that's going to make the space feel personal to you and your child. Prints are always a good choice, pick designs that mean something to you like the front cover of books you yourself love as a child or your child loves now.
Create galleries walls to add lots of color and pattern or stick with one large statement piece. And remember gallery walls aren't just for 2D prints, add in mirrors, toys, wall hangings, felt animal heads are something we are seeing lots of too and add a cute whimsical touch.
For style leaders and design lovers.
Lotte is the Digital Editor for Livingetc, and has been with the website since its launch. She has a background in online journalism and writing for SEO, with previous editor roles at Good Living, Good Housekeeping, Country & Townhouse, and BBC Good Food among others, as well as her own successful interiors blog. When she's not busy writing or tracking analytics, she's doing up houses, two of which have features in interior design magazines. She's just finished doing up her house in Wimbledon, and is eyeing up Bath for her next project.