23 Girl Bedroom Ideas For a Cool, Chic Bedroom They'll Love
These stylish girl bedroom ideas prove that it's not all pink and glitter. Get inspired by statement headboards, hidden wardrobes, built-in storage and ultra-modern designs...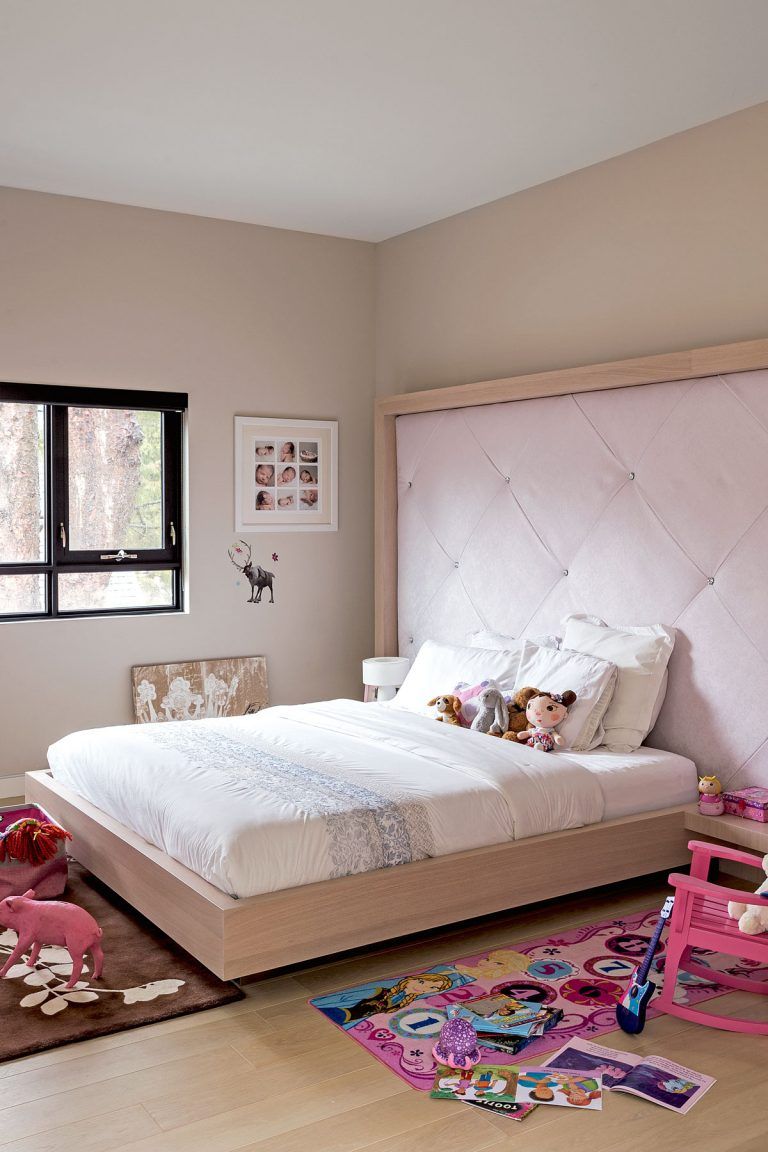 (Image credit: Matthew Williams)
These girl bedroom ideas below vary from whimsical, all-over-pink looks to sportier looks and modern, minimalist schemes. 
Create an enviable kids desk area for doing homework, introduce a statement headboard for softness and texture, or introduce drama with a four poster bed. There are some sharing bedroom ideas below too, and some modern bunk bed inspiration. 
Set a theme or introduce fun pattern with one of these girl bedroom wallpaper ideas, or for teenage girls see our gallery of fun and funky teenage girl bedroom ideas.
From vintage florals, retro bed frames and retro hanging chairs to bespoke storage and more sophisticated themes, here are 23 girl bedroom ideas to get you started...
1. Built-in bed
This attic room boasts a sophisticated sense of whimsy. A built-in bed makes the most of an awkward alcove nook. The bed features trundle drawers for hidden storage. Scalloped bedding adds a pretty touch to this girly scheme.
2. Mix print and pattern in complementing shades
Create a pretty scheme with a mix of lively prints across textiles, walls and accessories. This room by Singapore-based interior designer Elizabeth Hay features a confined colour palette to give a considered scheme. A statement headboard completes the look. 
3. Go bespoke
This girls' room beautifully incorporates clever storage in an alcove bed. 
4. Whimsical arches
A striking upholstered headboard is flanked by two built-in book cases with Moroccan-inspired arches, creating an exotic theme. 
5. Space-saving pod
This bed 'pod' sits in an alcove and can be closed off from the rest of the space with a curtain.
6. Add sunshine colours
A yellow botanical print wallpaper creates an upbeat, sunny bedroom. The upholstered headboard, Kilim rug and inlay side table are all a nod to somewhere more exotic. 
7. Grown-up elegance
This girl's bedroom features a pink girly scheme, but it feels grown-up too.
8. Pretty wardrobe design
Gable-topped model houses in this shared bedroom artfully conceals individual wardrobes. 
9. Statement headboard
An oversized upholstered headboard creates a feeling of comfort in this little girls' room.
10. Incorporate window seating or a day bed for sleep-overs
This window seat area pulls out to form a double bed, perfect for sleepover parties. 
11. Treehouse inspired
With the tree top backdrop and the playhouse shape of the bed, this room creates a playful treehouse effect. 
12. Mix pinks & blues
The girls' room is a pretty room that has style oozing from the walls. The decor is pretty but sophisticated enough to last through several ages and stages. 
13. Dare to go bold
This room is pink to the max, but as young girls get older, some of the fluffy stuff can be trimmed out and the girls can still enjoy it. 
14. Or opt for a calming sky blue
It doesn't have to be all pinks when it comes to girls' rooms. Blue is a great colour in bedrooms. It creates a calming effect, it's joyful and is a great colour base for all sorts of other colours and accessories. 
15. Mix modern shapes with vintage pattern
The vintage floral wallpaper came with the house. To give it a fresh look, the dado rail was painted in a complementary pink. The modern bunk bed prevents the room from feeling too twee.
16. Introduce upholstered pinboards for softness
Double-height headboard pinboards with illuminated initials for the children personalise this large shared space and help soften the whole room. 
17. Add contrasts to baby pink
Vintage prints and a patchwork throw dial down the cute factor. 
18. Pleasing symmetry
This twin bedroom looks smart with identical beds, table lamps and wall sconces in complementary pastel shades. 
19. Ineractive partition walls
Two double bedrooms were knocked through to create a kids' dormitory – a series of individual sleeping pods linked by cutouts in the dividing walls. 
20. Create a retro vibe with a bubble chair
This teenager's hangout is an escapist den. 
21. Ultra minimalist
A monochrome palette and clean lines create an ultra minimalist look in this girl's room. Kilim rugs add warmth and texture to the minimalist décor. 
22. Cosy loft space
Giving your daughter a room in the loft has two advantages; firstly, they have their own floor and therefore a sense of privacy, and secondly sloping ceilings can create a snug, den-like atmosphere.
Tucked beneath the eaves at the top of this house, this girl's bedroom is a snug, well-ordered retreat. 
23. Folksy pattern, colours and art
A pretty, nature-inspired wallpaper pattern strikes a laid-back, easy note, especially when seen in a restful hue such as green or blue. Here, strong blocks of colour ensure the overall scheme looks chic and modern.