We love kids bedrooms. These are spaces where no rules apply.
Go wild with fun and funky kids' wallpapers, map walls, neon light signs and maybe even a touch of animal magicor a wacky ceiling.
Read Also:Wonderfully Fun Kids Play Room Ideas
Throw out the rule book, have a little fun and embrace colourful, whimsical and even silly touches, even if they couldn't be more different from the rest of your decorating scheme.
From vintage florals, retro bed frames and retrohanging chairs to bespoke storage and more sophisticated themes, here are some gorgeous girls' room ideas to get you started.
Read Also:Stylish Homework Nooks & Home Offices For Kids
This attic room boasts a sophisticated sense of whimsy. A built-in bed makes the most of an awkward alcove nook. The bed features trundle drawers for hidden storage. Scalloped bedding adds a pretty touch to this girly scheme.
Create a pretty scheme with a mix of lively prints across textiles, walls and accessories. This room by Singapore-based interior designer Elizabeth Hay features a confined colour palette to give a considered scheme. A statement headboard completes the look. Get the look: Design by Elizabeth Hay. Headboard by Ensemblier London; covered in Small Elephant fabric by Les Indiennes
This girls' room beautifully incorporates clever storage in an alcove bed. Get the look: The cabin bed and storage are bespoke by The London Joinery Co. The pink rug is by Danskina. The walls are painted in Calamine estate emulsion by Farrow & Ball.
A striking upholstered headboard is flanked by two built-in book cases with Moroccan-inspired arches, creating an exotic theme. Get the look: The headboard was custom made, upholstered in a fabric from Lulie Wallace. Wall lights are from Urban Electric.
A striking upholstered headboard is flanked by two built-in book cases with Moroccan-inspired arches, creating an exotic theme. Get the look: The headboard was custom made, upholstered in a fabric from Lulie Wallace. Wall lights are from Urban Electric.
This bed 'pod' sits in an alcove and can be closed off from the rest of the space with a curtain.
A yellow botanical print wallpaper creates an upbeat, sunny bedroom. The upholstered headboard, Kilim rug and inlay side table are all a nod to somewhere more exotic. Get the look: Wallpaper is by Marta Armitage. Bed was custom made. Kilim rug is antique.
This girl's bedroom features a pink girly scheme, but it feels grown-up too.
Gable-topped model houses in the children's bedroom artfully conceal individual wardrobes. Get the look: This is the Stars wallpaper by Cole & Son. The house children's wardrobe was made by Freeman & Whitehouse. Find a similar bed at Ikea.
An oversized upholstered headboard creates a feeling of comfort in this little girls' room. Get the look: The bed is by Prototype Design Lab.
This window seat area pulls out to form a double bed, perfect for sleepover parties. Get the look: The floorboards are painted in Cornforth White modern emulsion by Farrow & Ball.
With the tree top backdrop and the playhouse shape of the bed, this room creates a playful treehouse effect. Get the look: This is the Cole House trundle bed from Restoration Hardware. The fluffy pillows are from Room & Board and the smaller pillows are by Studio Four. The striped throw is by Archive NY, sourced through Studio Four. This is Bellewood Black Toile wallpaper from Rebel Walls. The Akari UF3-DL paper lantern is by Isamu Noguchi. Find similar vintage Moroccan rugs at Beldi Rugs. The Scandinavian Design Center sells similar wooden rocking horses.
The girls' room is a pretty room that has style oozing from the walls. The decor is pretty but sophisticated enough to last through several ages and stages. Get the look: The cloud wallpaper is Cielo Sky PDG677/01 from Designer's Guild. The Wave bed in Brera Fino Turquoise F1791/16 from Designer's Guild. The curtains and bench are Christian Lacroix in Butterfly Parade Lagon FCL025/04 from Designer's Guild. The rug is from Emily's House.
This room is pink to the max, but as young girls get older, some of the fluffy stuff can be trimmed out and the girls can still enjoy it. Get the look: This is Shawnee wallpaper by Brunschwig & Fils. The toile de Jouy bedspreads were brought back from Holland. This is Jonathan Adler's Giraffe table lamp.
It doesn't have to be all pinks when it comes to girls' rooms. Blue is a great colour in bedrooms. It creates a calming effect, it's joyful and is a great colour base for all sorts of other colours and accessories. Get the look: Bed, Ikea. Paint from Dulux.
The vintage floral wallpaper came with the house. To give it a fresh look, the dado rail was painted in a complementary pink. Get the look: For a similar bunk bed, check out the Amber in the Sky by Thomas Maitz for Austrian brand Perludi, available at Smallable. Wallpaper Direct is a good source of both Anaglypta and vintage-style floral prints. The wall beneath the dado is painted in Serenata eco emulsion by Bert & May.
Double-height headboard pinboards with illuminated initials for the children personalise this large shared space and help soften the whole room. Get the look: The bespoke headboard panels with lights are by The Mint List Interior Design, using Barneby Gates fabric. The storage is from Great Little Trading Co. The rug is from Rockett St George. The bed linen is from Smallable. Find similar bedroom furniture at M&S.
Vintage prints and a patchwork throw dial down the cute factor. Get the look: Both the Thirties bed and the Seventies Sindy house were bought on eBay. For portable record players like this one, try Urban Outfitters.
This twin bedroom looks smart with identical beds, table lamps and wall sconces in complementary pastel shades. Get the look: The beds are from Ikea. The cushions are made in Ananas by Raoul Textiles, as is the re-covered armchair. The wall sconces are by Porta Romana.
Two double bedrooms were knocked through to create a kids' dormitory – a series of individual sleeping pods linked by cutouts in the dividing walls. Get the look: The pods were made by builder, Tony McFadden.
This teenager's hangout is an escapist den. Get the look: Find an original Eero Aarnio Bubble Chair for Adelta at 1stdibs.com. The framed flag is vintage – Goose Home and Garden sells similar. The large rug is from CarpetVista. Try Beldi Rugs for a similar small runner.
Kilim rugs add warmth and texture to this minimalist décor. Get the look: For vintage kilim rugs, try Kalkan Trading. This is the KM05 stool by Cees Braakman for Pastoe, available at Viaduct.
Tucked beneath the eaves at the top of this house, the youngster's bedroom is a snug, well-ordered retreat. Get the look: Find a similar rattan bed at The French Bedroom Company. The colourful cushion was brought back from South Africa. The blind fabric and rug were sourced from The Cloth Shop on Portobello Road. This is the 1B chest of drawers by Unto This Last.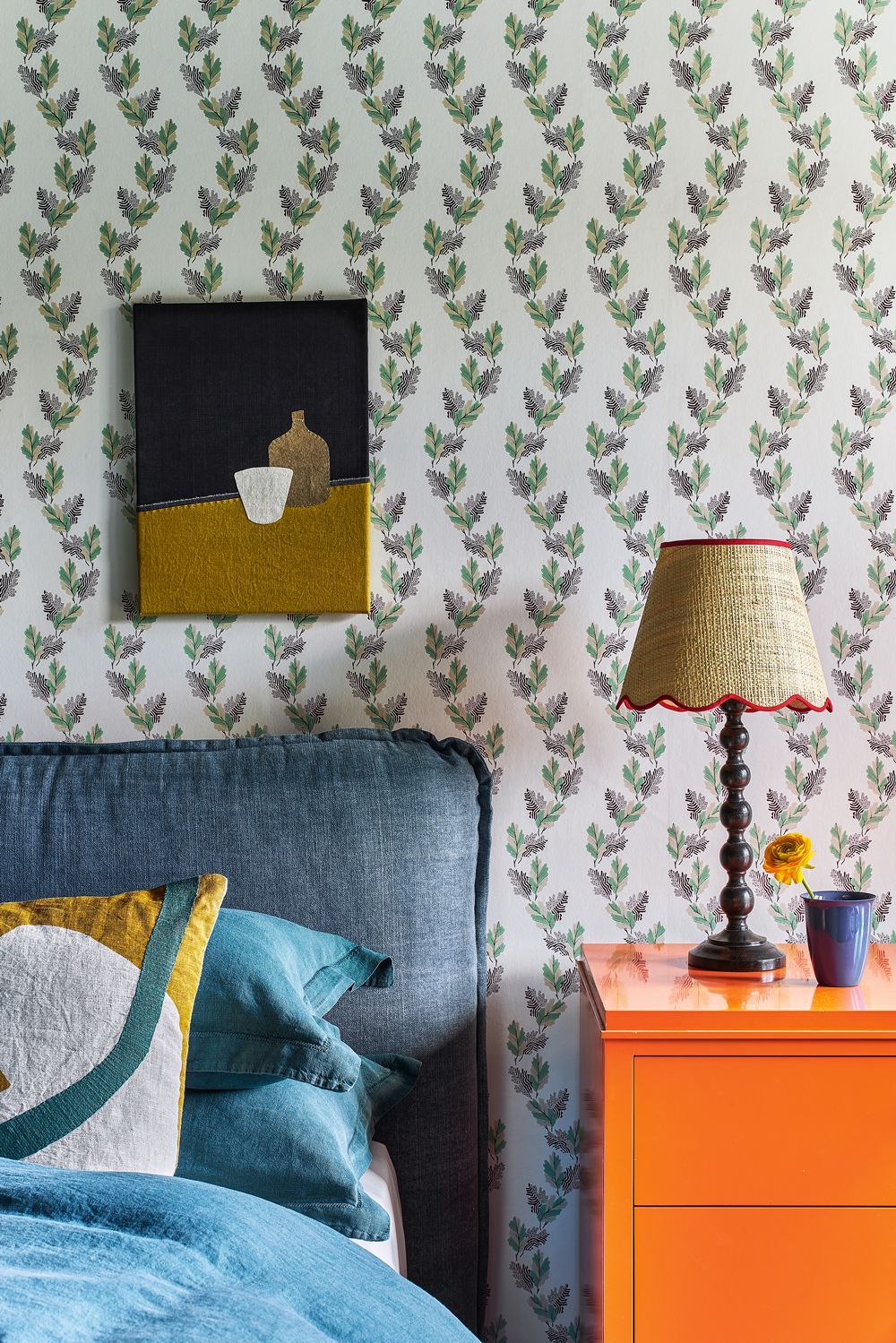 A pretty, nature-inspired wallpaper pattern strikes a laid-back, easy note, especially when seen in a restful hue such as green or blue. Here, strong blocks of colour ensure the overall scheme looks chic and modern.
Get the look: Old Oak wallpaper in Pomona Green/Fawn, £140 a roll, Common Room. Easton chest in Orange, £3,202, Nina Campbell. Lillee table lamp in Ebony, £63, Pooky. Signature small scallop lampshade in raffia with red trim, £132, Matilda Goad. Solo picture, £175, Mary Norden.