20 girl's bedroom ideas for a chic space they will love
These stylish girl's bedroom ideas prove that it's not all pink and glitter – be inspired by statement headboards, funky murals and clever storage solutions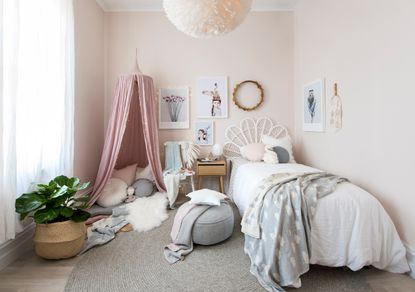 (Image credit: Norsu)
When it comes to girl's bedroom ideas it's all about creating a space that's calming, creative, reflective of their personal style and taste and will grow with them as those tastes change. And as with any kid's or teenager's bedroom getting it right is no easy task, you need to get the storage spot on, choose a theme and color palette with longevity and ensure it feels fun too. But don't worry, we have you covered with plenty of fabulous kid's room ideas for girls (that can of course be used for boys too!)...
'Mood images are a great place to start.' advises Nicky Mudie, co-founder of Violet & George. 'Getting a feel for what the child might want. The next stage would be to consider storage, and other aspects of the children's room, for instance, a play area and trying to make space look more stylish by incorporating more storage. Often with children's room, storage is neglecting, and the space becomes messy. The next step is how can space be made playful without losing the practicality of storage.'
Inspiring girl's bedroom ideas whatever their style
1. Opt for a built in bed
This attic girl's bedroom boasts a sophisticated sense of whimsy. A built-in bed makes the most of an awkward alcove nook, plus the bed features trundle drawers for handy hidden storage. Scalloped bedding adds a pretty touch to this girly but elegant scheme.
'Once you're out of the "nursery" era, designing a girl's room is really fun and you can let your imagination run wild!' says Designer & Co-Founder of La Di Da Interiors, Steph Briggs. 'My top tips would be to ensure that it's still a calming space as you want to encourage sleep at least some of the time. Create the maximum storage areas that you can squeeze in because there will be more toys than you can imagine! Most little girls love to play dressing up so a mini dressing table, drawers, and small height wardrobe are a brilliant way to encourage tidying up too. Rather than saying "what color would you like your room", pick out a few color palettes that you love and let them choose from them, it's a win-win then for both parties.'
2. Mix print and pattern in complementing shades
Create a pretty scheme in a girl's bedroom with a mix of lively prints across textiles, walls and accessories. This room by Singapore-based interior designer Elizabeth Hay features a confined color palette to give a considered scheme that's both gender neutral and has a classic look that will grow with them. A statement headboard completes the look and gives the space a more grown-up feel kid's will love.
'The focus should also be on fabrics, ones that are not too childish. Consider fabrics that can be maintained and will be suitable for the child as they get grow older.' advises Nicky. 'Instead, think about the accessories as the elements that have a juvenile and playful finish. Accessories can always be swapped out when the child gets older. When girls get older you need to think about hair and makeup, how you will swap out the toys for more mature elements as the child ages, this could include mirrors and dressing tables. The space needs to be able to evolve. Most importantly there needs to be a divide between the other rooms of the home and their bedroom.'
3. Make space for friends
Whether you have young children who are always wanting friends over for playdates or tweens who like a more private 'cooler' place to hang out than the living room, creating a chill-out space within their bedroom is a good idea if you have the room. Plus adding a small sofa or a sofa bed is great for when they are old enough for sleepovers.
'Space for friends to stay is also very useful. If possible, we like to incorporate sofa beds or trundles to accommodate sleepovers. High street brands have great space-saving solitons such as the bed in a box. These double as an ottoman and a nifty sofa bed.' says interior designer Cherie Lee. 'We like to incorporate a chill-out, seating area. Depending on room size, this can be as simple as a beanbag, lamp and a bookshelf. More elaborate designs can include built-in daybeds with storage and reading pods.'
'Always consider the entire area, including the space above! Kids love mezzanines in their room designs. Where space allows, we will always consider high-level reading nooks and play areas.'
4. Choose built-in storage to make the most of space
As with all kid's bedrooms, storage is key. Having plenty of it is the only way you can keep these spaces vaguely tidy and it's important to plan it in early. A mix of different types of storage will give you the most effective results, but to really maximize the space, go for a built-in solution.
'When it comes to girl's bedrooms, one of the most important considerations is organisation.' says Emma Deterding, Founder and Creative Director of Kelling Designs. 'With careful and considerable planning, you can ensure that you maximise on the space available in the room with enough storage to keep clothing, toys and other belongings organized, whilst leaving room for the bed and a place for study and play.'
'Built-in joinery is always a great idea as it maximises on the space available, using awkward spaces in rooms to their best. Consider building multi-functional shelving units to store books or display their favorite toys and memories in an alcove, doors can be included at the bottom to hide away other toys and items that don't need to be on show all the time.'
'Built-in wardrobes can also make the most of awkward spaces such as sloping ceilings or angled walls, providing ample storage for clothes and other items - you could even hide a desk space behind a cupboard door, something they may not need now, but will need for studying as they grow up. By concealing as much storage in your built-ins, you'll be able to keep everything organized and leave the rest of the floor space for the bed with space for relaxing and play.'
It's also a great idea to make use of bedroom organizers in a girls bedroom, to help keep their things looking neat and tidy, in their place, and out of sight.
5. Upcycle vintage finds
A lovely way to inject some personality into a girl's bedroom is to shop second-hand and upcycle some vintage finds you both love. If your child is old enough, get them involved with the process, let them help you pick pieces, and help decide on paint colors and fabrics to update them with. They could even help with the DIY project.
As this bedroom proves, bringing vintage pieces into a kid's bedroom adds such lovely, pretty shapes that definitely have some princess vibes. And they have far more longevity than a brand new princess branded dressing table set, it's likely they'll have these pieces well into their teens. Plus you can create a really cool and quirky contrast between old and new – like the glass-fronted French dresser used here that's filled with brightly colored toys, it's a nice alternative to more traditional kid's bedroom storage.
6. Or use wallpaper to give furniture more personality
Another quick and easy furniture update, cover them in wallpaper or prints that reflect whatever they are into at the time. Again, it's a really easy DIY job that they can get involved with too. This old chest of drawers has been covered in a map, a classic theme for kid's bedrooms, and great if you are after something more gender-neutral too. But you could get creative with old books, layer up wallpaper samples, posters of their favorite movies. And you can update the furniture too as their tastes change.
7. Hang a canopy to make a bed more magical
A simple way to nod towards the classic princess theme without going all out, a canopy above their bed adds that magical touch. 'Canopies are a great way to enrich a little one's bedroom, adding a sense of magic and wonder. Drape over beds to create a cocooning destination for bedtime storytelling or hang over desks to bring more excitement to a learning space.' advises Rachael Fell of Habitat Kids.
And canopies aren't just for above the bed either, hang one in a corner for an instant den-like space. Fill the inside with cushions and throws and you have an extra area for playtime and yet it doesn't take up lots of space.
8. Go bespoke for a magical girl's bedroom
Kids love den-like space, so opting for a bespoke built-in bed that not only creates a fun and cozy sleep space but also adds some handy extra storage is a win-win. Be inspired by this design that's built into an awkward nook and yet maximized space with a bed, drawers, and cubby holes. Also loving the pink and orange color scheme going on here – the perfect twist on a monochrome pink scheme.
9. Wallpaper the ceiling
Lots of lovely girl's bedroom ideas to pinch from this space – the daybed, the headboard, the lovely shapes of the bookcases, but we especially love the wallpapered ceiling. Taking wallpaper onto the ceiling, rather than going with a feature wall is not only way more on-trend but there's something very whimsical about pattern on the ceiling that suits children's bedrooms.
'When it comes to decor, don't feel the need to keep to traditional children's pallets and papers. Wallpapers and schemes that are considered as more grown-up can be brilliant in kid's rooms.' says Cherie Lee. 'We would suggest being brave with pattern too. Children's rooms can be a fun combination of spots, stripes geometrics and chevrons. It all goes!'
10. Turn a small bedroom into a bed
If you are dealing with a small girl's bedroom or an awkward-shaped space like a loft bedroom, why not copy this idea and turn the room, or a section on the room into a sleeping 'pod'? Again, there's that cozy den style but is a practical use of space too, you could even add a curtain that can be pulled over for extra coziness and privacy.
11. Decorate with sunshine colours
A yellow botanical print wallpaper creates an upbeat, sunny feel in this girl's bedroom. The upholstered headboard, Kilim rug and inlay side table all add to a subtle boho vibe that feels very stylish and grown-up and yet totally works in a kid's bedroom too.
12. Design the elegant room of their dreams
When redecorating a girl's bedroom really think about longevity. It might pain you to think of it out they aren't going to love Disney forever (well at least they won't want a Disney themed bedroom forever). So design a room that's going to grow with them, keep the layout and the decorate simple and depending on their age, skip the single bed and go straight for a double.
This girl's bedroom is lovely and light and neutral with just a touch of pink with the drapes. Decor and soft furnishings can easily be switched out as they grow and tastes change but you won't have to worry about painting or investing in new furniture.
13. Create a feature with whimsical furniture
Because why have a boring wardrobe when you can store your clothes in a dollhouse? These are the kinds of pieces your children will remember for the rest of their lives and even pass onto their children, so even though they might not make it when it comes to decorating a teenage girl's bedroom, they are worth the investment for the whimsical focal point (and handy storage) they add to a room.
14. Choose a statement headboard
This girl's bedroom is proof that princess-themed rooms can be subtle too! It's the huge headboard that's the focal point in and the plush, button-back velvet does have a nod to something royal, but it's stylish and chic too. Plus, it's super comfy and adds a cocooning feel to the room, as well as having more longevity than a full-on princess bed.
15. Incorporate a day bed for sleepovers
If you have room for a window seat, they make a lovely addition to a girls bedroom. The provide a nice light, sunny spot for reading and can double up as extra storage to if you opt for a design with drawers. They can also be handy as an extra bed if big enough for sleepovers.
16. Pick a fun theme and make it stylish
So they say they want a treehouse themed bedroom? Sounds fun but how do you make it... adult approved, and by that we mean how do you take a childish theme and make it suit your own tastes (come on, we all do it!). Well, this girl's bedroom idea is the perfect example. The canopy bed is chic and modern, and will last until they are teens and yet is has that treehouse feel. The wallpaper is stylish and subtle but again there's that nod to forest – a treehouse bedroom that both adults and children would love.
17. Layer up the patterns
This room is pink to the max, but fun are all the layers of pattern? They make the room feel more grown-up despite all the rosy hues going on, in fact there's almost a hotel vibe going on with the chic headboards and the symmetrical layout. Fun, stylish and contemporary this is a girl's bedroom that even we envy.
18. Or opt for a calming green scheme
It doesn't have to be all pinks when it comes to girls' rooms. Pale sage green is a great color if you are after a more gender-neutral scheme. It creates a calming effect, it's joyful and is a great base for bold colors – or just pair with a clean white for a really contemporary classic look that's not going to date.
19. Mix modern shapes with vintage pattern
Vintage meets modern in this girl's bedroom. The wallpaper actually came with the original house, and rather than paint over it with classic pink, the owners kept it and instead painted below the dado rail to give the room an update. The old-fashioned print looks so cool against the very contemporary shape of the bunk bed and prevents the room from feeling too twee.
20. Treat them to a four poster bed
A four poster is surely what every girl dreams of and if you pick the right design, they can be a really stylish focal point that a teen isn't going to turn their nose up either. Check out this quirky gold bed that looks charming in a pink bedroom, paired with matching furniture and fun accessories.
How can you organize a girls bedroom?
Storage is super important with any kid's bedroom and is an essential for keeping the place organized and clutter-free. Have a mix of storage – open and closed – so you can keep the most used items close at hand and anything that doesn't need to be grabbed can go into drawers and closets. Bins and baskets are perfect for girl's rooms as they can easily get things out and just as easily put things away too, plus they look really stylish and no one needs know about the mess that lies within.
If the room is small or awkwardly shaped, consider going bespoke with your storage so you can really maximize space and design something that works perfectly for you and your family.
'When designing a girls bedroom the process is exactly the same. We always have in consideration and one of the main aspects is to know the inspiration behind the project, what the clients wish for the bedroom and of course, all of the favorite things the little girl wants to have in her bedroom.' explains Andreia Tavares or Circu. 'Either boy or a girl, the storage is always what we advise parents to have because it's a great way to make the bedroom more dynamic and always looking clean. The inspiration behind the project is always related to what the like girl loves and likes so we always to build the room with different sections - such as sleeping area, study area, and play area - so she can have fun as rest like a champion afterward.'
What colors work in a girls bedroom?
Of course, pink is still always associated with a girl's bedroom, but really there are no rules or certain colors that work in a girl's room. If they like it (and you like it) then go for it. If you are unsure of a color palette, sage greens always look lovely and are very calming and serene. Neutral bedrooms like grey and white are also good options if you are looking for longevity as these are good backdrop shades that can have any style thrown at them. Sky blues are another lovely uplifting option and lavender is a good alternative to pink.
Just get your girl involved in the process, show her swatches (if she's old enough to pay attention) and create mood boards together so she feels like the colors are a reflection of her tastes too.
The Livingetc newsletter is your shortcut to the now and the next in home design. Subscribe today to receive a stunning free 200-page book of the best homes from around the world.
Lotte is the Digital Editor for Livingetc, and has been with the website since its launch. She has a background in online journalism and writing for SEO, with previous editor roles at Good Living, Good Housekeeping, Country & Townhouse, and BBC Good Food among others, as well as her own successful interiors blog. When she's not busy writing or tracking analytics, she's doing up houses, two of which have features in interior design magazines. She's just finished doing up her house in Wimbledon, and is eyeing up Bath for her next project.