Teenage girl bedroom ideas
These are the coolest teenage girl bedroom ideas out there...
If you're looking for some seriously cool bedroom ideas for teen girls, you've hit the jackpot. We've peeked inside the homes of the coolest designers and their teenagers, and we're sharing the best bedrooms. From fashion designer Matthew Williamson's wild interior and Alice Temperley's cool country home to rock chicks Daisy Lowe and Pearl Lowe's bedrooms, we've got teenage girl bedroom ideas aplenty.
There are '90s looks with bubble chairs, pretty rooms with patterned wallpaper, and ultra glam bedrooms with seating areas that are perfect for gossiping in private. We've even thrown in some stylish ideas from illustrator and creator Rory Dobner's home to suit goth girls.
Read Also:Gorgeous Girls' Bedroom Ideas
But first thing's first. If you've read this far, we're assuming you might be a parent with a teenage daughter. So, parents, LISTEN UP.
When it comes to redecorating your teenager's bedroom, ask yourself what it is that they really want. Most teenagers just want to be grown up, they crave their independence, and they don't feel like children anymore. They're probably sick of their single bed and demand a double. And they'll probably be dreaming of a bedroom that looks more like a master bedroom, or something that's – at the very least – Instagrammable. Or is it Tick Tock now? We can't keep up.
The inspiration for a teen bedroom should come more from a master bedroom angle than a kids room angle. Really want to bowl her over? The sure-fire way to your teenage daughter's heart is grown-up glamour. We're talking four poster beds, canopy beds, or OTT upholstered headboards. Indulge them in a double – or even King size bed.
Read Also:Fabulous Four Poster Bed Ideas andStriking Statement Headboard Ideas
On a budget? There are plenty of YouTube videos out there on how to create your own DIY upholstered headboard from scratch – perhaps even a fun project to do together? Canopy beds are also relatively inexpensive and straight-forward to make. And four poster beds don't have to be expensive or even brand new, we think the best designs out there are often second hand.
Once you've sorted a bed, you'll want to think about the 'Instagrammableness'; we're talking framed prints, maybe a gallery wall, a painted or wallpapered ceiling, maybe some graphic, masking-tape painted walls or a cool bedroom wallpaper, plus some cool bedroom lighting. Extra cool points for additions like a mini fridge, secret door, and / or in-room seating area.
And they might think they're pretty grown up, but trust us; they're never too old for fairy lights.
Here are 40 cool bedroom ideas for teen girls to inspire a bedroom makeover...
1. High drama
Dark floors, a wall-to-wall gallery wall and a floral bed all add bags of drama to this bedroom space.
Once a plain and simple grey, the Edro bed was covered in a bold floral fabric.
Get the look: This is a Saki side table/stool by Caravane. The paintings hanging on the wall include works by artists Matthew Usmar Lauder, Armen Eloyan and Mabel Juli. The carpet is from Crucial Trading. The walls are painted in Sanderson's Ocean Grey emulsion.
2. Oversized
An oversized upholstered headboard creates a feeling of comfort in this girls' room. The headboard is so big, it could even double up as a pin-board for photos as the girl grows into her teen years.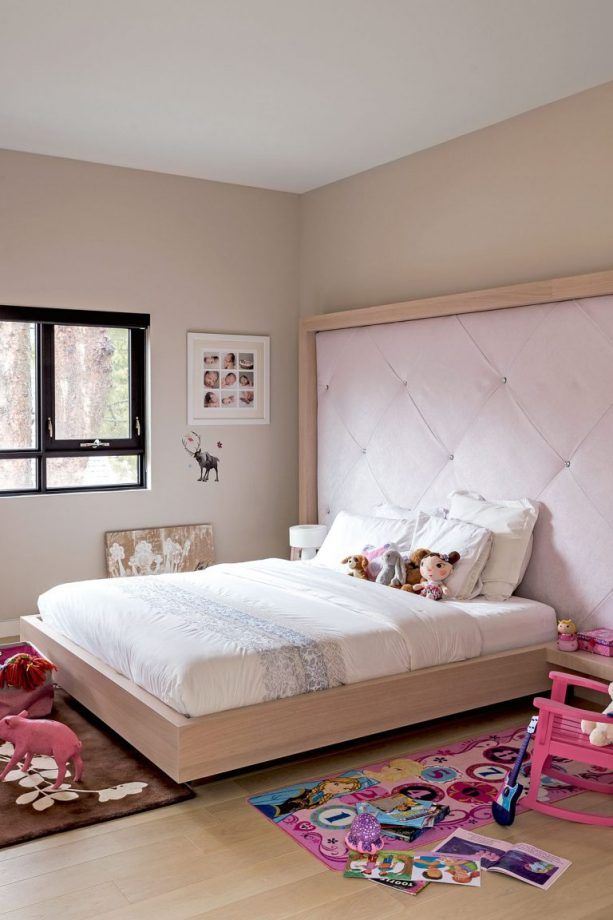 Get the look: The bed is by Prototype Design Lab.
3. Wall sticker
Not all wall stickers are childish. This teenage girl's bedroom features a large 'LOVE' wall sticker, to very cool effect.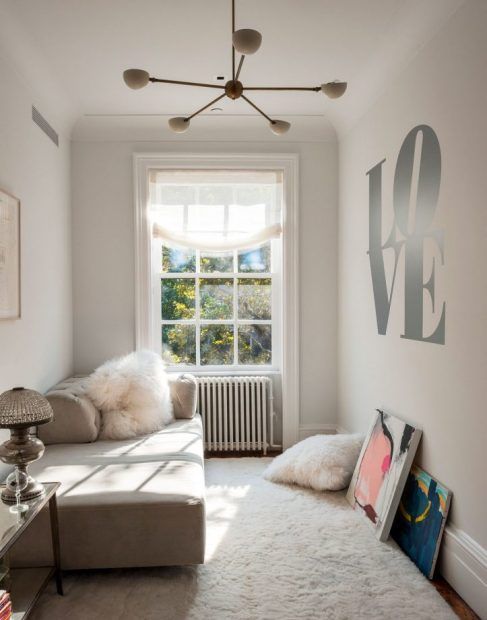 Get the look: The LOVE wall graphic came from ETSY, the Custom Five Arm Chandelier is from Rewire LA, the daybed came from West Elm and the rug from ABC Home.
4. Pink & blue
The girls' room is a pretty room that has style oozing from the walls. The decor is pretty but sophisticated enough to last through several ages and stages.
Get the look: The cloud wallpaper is Cielo Sky PDG677/01 from Designer's Guild. The Wave bed in Brera Fino Turquoise F1791/16 from Designer's Guild. The curtains and bench are Christian Lacroix in Butterfly Parade Lagon FCL025/04 from Designer's Guild. The rug is from Emily's House.
5. Bubble chair
A chill-out zone is key, so how about introducing a cool, retro hanging chair in which to while away the hours? Or alternatively, add a daybed – they double up as that all-important chill-out area for when friends come over.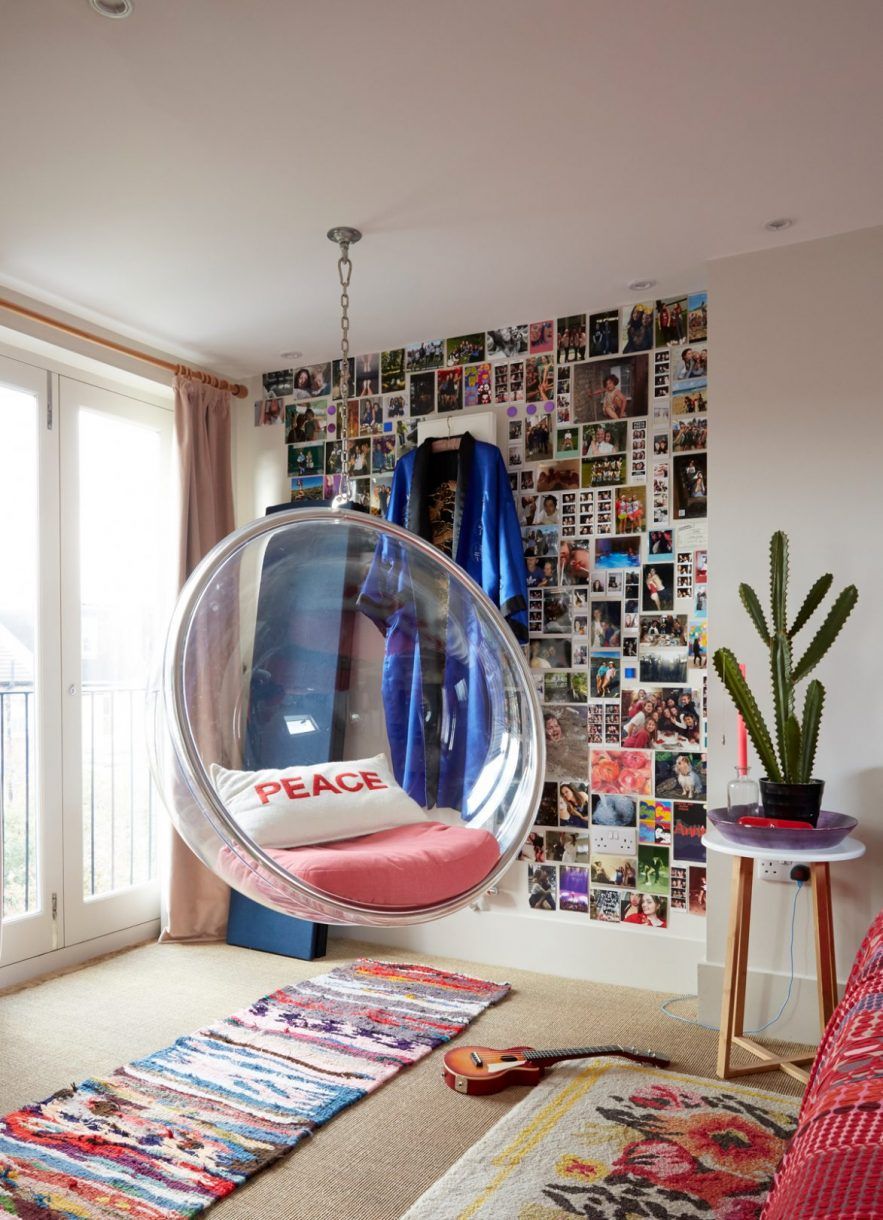 Get the look: Find an original Bubble chair by Eero Aarnio at 1stdibs – just remember to hang it from a supporting beam. Abigail Ahern is the queen of faux cacti, from £30 for the mini Mojave. Create your own bold picture wall with a mix of pages from magazines, postcards and photo booth strips.
6. Colour contrast
This room's dark palette gives it a moody, cocooning energy. The colour pairing is unusual, but works for a teen girls' bedroom. The twin beds were bought on eBay and joined together to make a generous double. The wallpaper is from Cole & Son.
Get the look: The bedside light and cabinet are from Talisman. The lacquered shelving was made bespoke. Find a carpenter to make something similar via ratedpeople.com. The wallpaper is Cole & Son's Cow Parsley.
7. Ombre
Pink and turquoise create a cool and feminine colour scheme in this ombre bedroom. Note that even the ceiling is included in the scheme.
Get the look: The bed is vintage French. The light is by Lee Broom. The wallpaper is Designers Guild. The bedside table was from Alfies Antique Market. Wild & Wolf does a turquoise Trim phone.
8. Four poster bed
Glamorous metallic furniture mixed with quirky accessories make this the perfect room for teen girl. The ceiling was opened up during the refit, which revealed an extra metre of room height hidden behind panelling.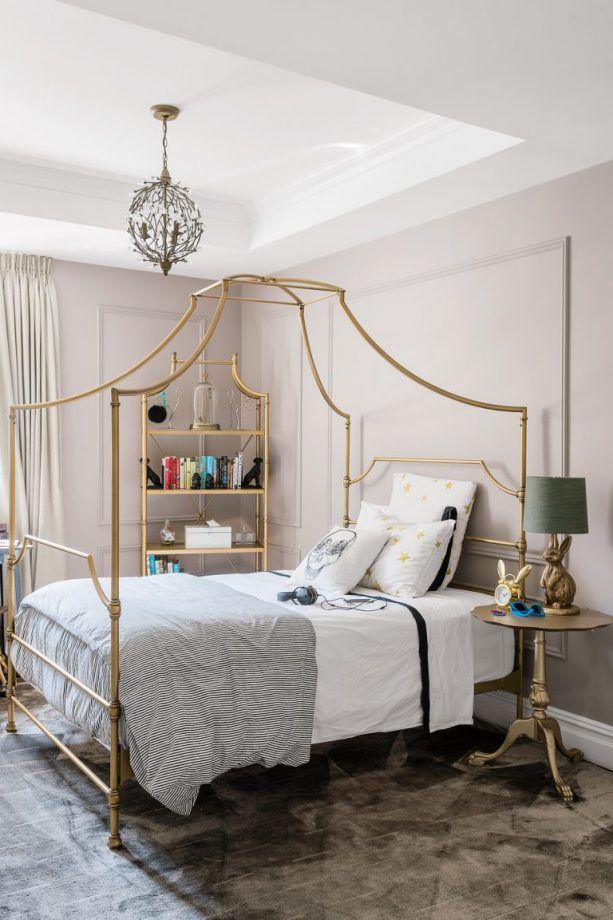 Get the look: Walls painted in Dove Tale by Farrow & Ball. Maison Bed, Bunny Ears Desk Chair, Maison bookcase, Brass Bunny table lamp, Bunny Alarm Clocks, Aubrey bedside table: all Emily & Merritt at Pottery Barn Teen.
9. Cool canopy
The canopy above the bed is the crowning glory in this room. Bronze curtain tie-backs hold the fabric in place.
Designed by Harriet Anstruther, this feminine bedroom is grand, yet intimate, and beautifully blends antique pieces with modern fabrics and wallpaper.
Get the look: The Scottish landscapes once belonged to the owner's father. Christie's holds regular auctions of fine British paintings. This is Large Georgian Rope Trellis wallpaper by Cole & Son. The coronet was bought at auction and restored by Peter Thuring. This is the Louis Zinc side table by John Reeves at Heal's.
10. Rock 'n' roll
This bold striped wallpaper sets the scene for a rock 'n' roll teenage girls' room.
Get the look: This is Farrow & Ball's Block Print Stripe wallpaper. For a bespoke bed like this one, try The London Joinery Co. The bed linen is from Soak&Sleep.
11. Palm print
This turquoise palm print wallpaper creates a vibrant, energetic vibe in this teen girl's bedroom. The door and doorframe was painted to match.
Get the look: Find the Shadow Floral wallpaper, a Florence Broadhurst pattern, at Signature Prints. The door is painted in Blue Ground estate emulsion by Farrow & Ball. The bed is from John Lewis. The bedside table is from Habitat. The cushions and throw are from Liberty.
12. All that glitters
This girls' room incorporates plenty of glitter, but while keeping a subdued palette.
Get the look: The day bed and cushions were custom made. The chandelier and stool were vintage finds.
13. Painted black
Designed by illustrator Rory Dobner, this teen's bedroom features floors, furniture and even lighting painted black.
Get the look: The bed was bought in Clignancourt market in Paris, recovered in a Romo stripe fabric. The lamp is Jielde. Find the Eames DAR dining armchair for Vitra at John Lewis.
14. Masking tape
You can have a lot of fun with masking tape, to create a graphic effect on the walls. Blush was the starting point for the geometric colour-blocking in this bedroom.
Get the look: Wall in Blush, Córdoba and Tuscan Red, all Little Greene. Throw and cushions, all HK Living
15. Feature wall
A fun wallpaper by Osborne and Little creates a feature wall in the guest bedroom.
Get the look: wallpaper by Osborne and Little. B&W photograph by Robert Mapplethorpe
16. Chic textiles
Katherine Pooley opted for grown-up textiles for this teenage girl's bedroom, incorporating a Hermes blanket, a velvet seat pad, ikat cushions and silk curtains with a silk trim in a complementing red shade.
She even upholstered the built-in wardrobe doors with a textural fabric, achieving a very smart and grown-up look.
17. Splatter walls
The walls have a wild, splatter paint effect, but are in fact wallpaper. If you're feeling brave, you could let your teen try and recreate this themselves. Then if it doesn't work out, you could always wallpaper over it.
Get the look: Light, Chairish. Wallpaper, Drop it Modern. Bedside table, Sho Modern
See Also:Girl bedroom wallpaper ideas
18. Subtle scheme
This girls' bedroom is subtle. There are hints of pink, pastels and even a floral pattern on the wall texture, but you have to look for them – it's not an obviously "girlie" feel.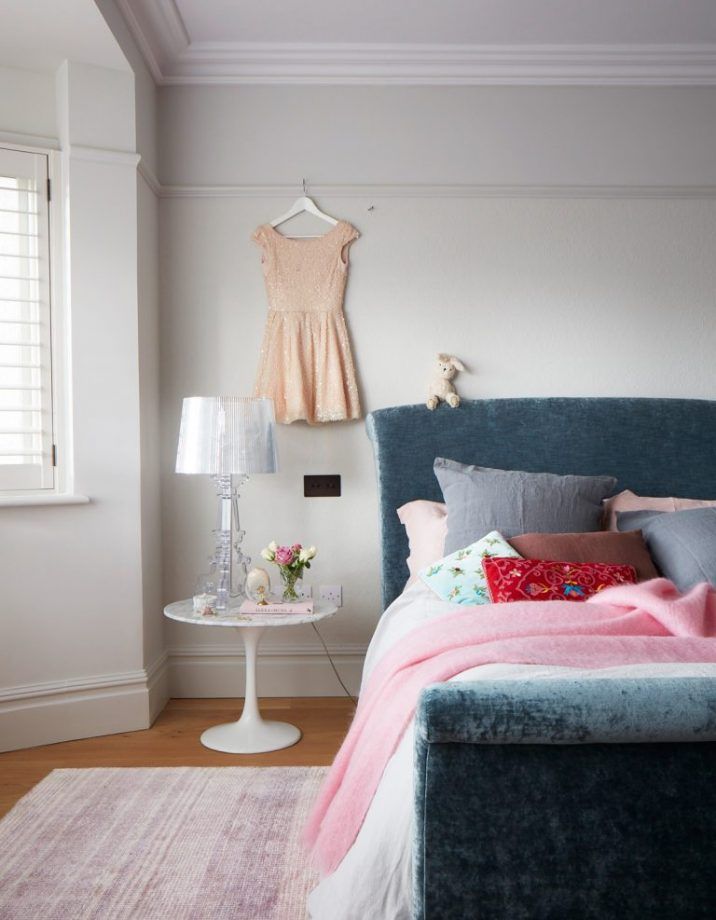 Get the look: The walls are papered in Anaglypta and painted in Ammonite by Farrow & Ball. The bed is from Sofas & Stuff. The shutters are from Shutterly Fabulous. Find the Bourgie lamp by Ferruccio Laviani for Kartell at Graham & Green. This is the Tauriani rug in Crocus by Designers Guild. The bed linen is by The Linen Works.
19. Powder blue
Who said girl's rooms had to be pink? This powder blue bedroom still has a feminine feel thanks to the pops of colour and decorative touches.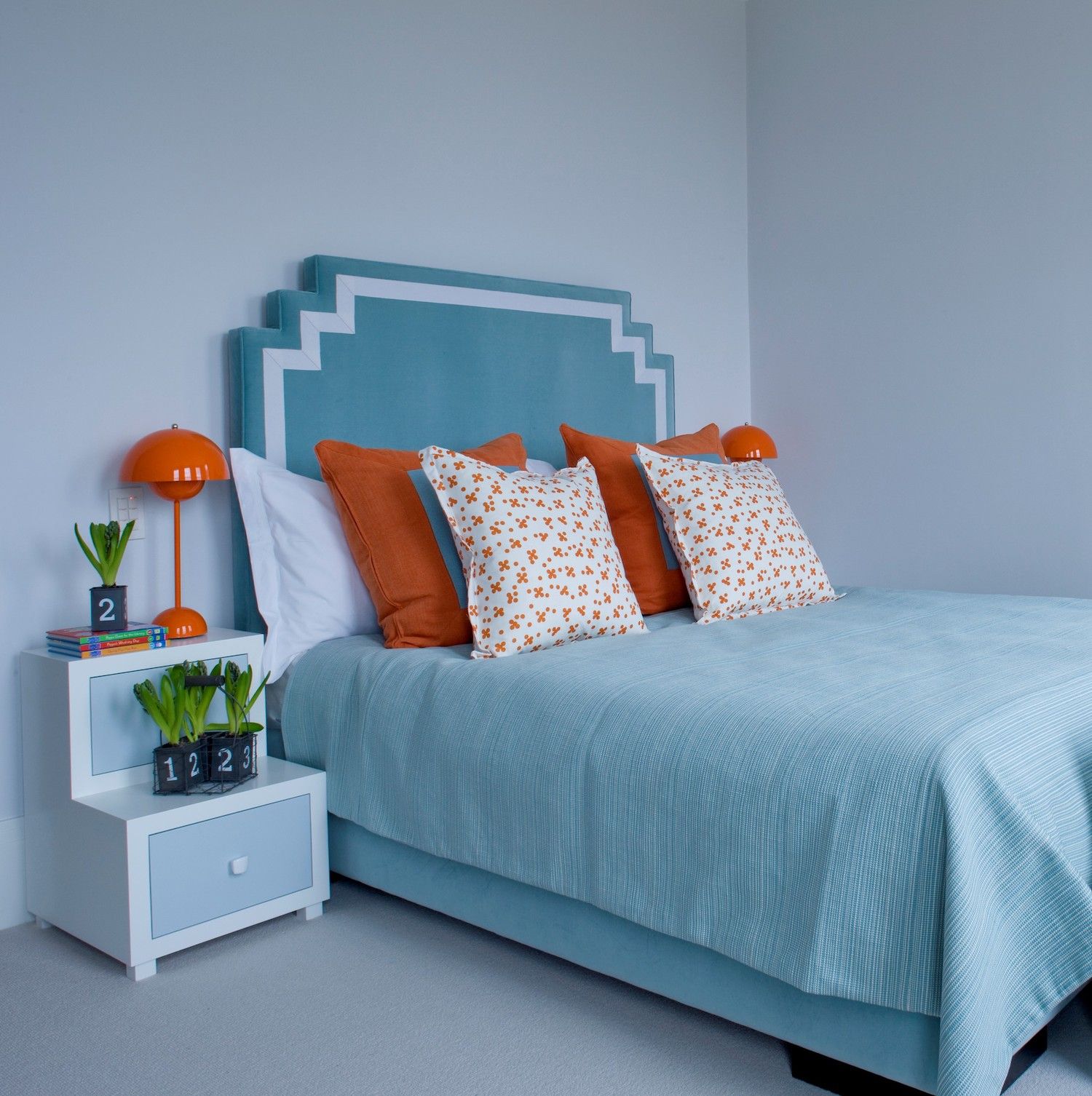 20. Diamond light
In this girls' room, a glamorous, sparkling pendant light that was snapped up at a flea market injects instant glamour.
Get the look: The upholstered bed came from Restoration Hardware, the light was a vintage find. The cocoon chair is from PBteen.
21. Boutique hotel style
For a boutique hotel inspired look, invest in a statement bed, cool artwork, pendant lighting and stylish seating.
22. Seating area
An inviting seating area not only makes this room feel cosy, but it's the perfect spot for girls to sit and gossip in private, or just to hang out in. A worthy investment for keeping them out of trouble!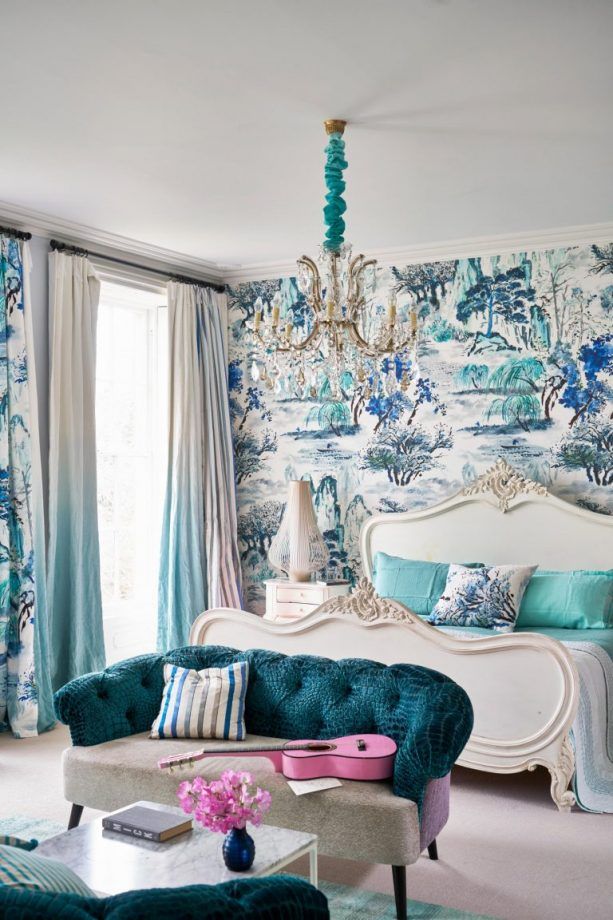 Get the look: The bed is from The French Bedroom Company. The chandelier is from an antique shop. The wallpaper is Jade Temple Cornflower PDG654/01 from Designer's Guild. The Button sofa in Nabucco Turquoise F1545/04 with the base in Adler Mink F1844/01 from Designer's Guild. The curtains are a mixture of Saraille Celadon F1879/10 with layers of Jade Temple Cornflower FDG2296/01 and Ventaglio Wedgewood FDG2288/03 from Designer's Guild.
23. Blush pink
This blush bedroom feels calm and feminine, and won't date.
24. Wallpapered
This girls' room feels grown up and elegant, thanks to the upholstered headboard, smart bedding, chandelier and wallpaper.
25. Jewellery station
Decorative accessories including this mirror, framed print and stones are all soft and feminine to suit the bedroom's theme.
26. Make-up area
How's this vanity space for a girls bedroom? The chair is particularly gorgeous, but we also love the pin board that's upholstered in silk. Aside from doing homework at, this vanity area is ideal for experimenting with make-up and beauty routines.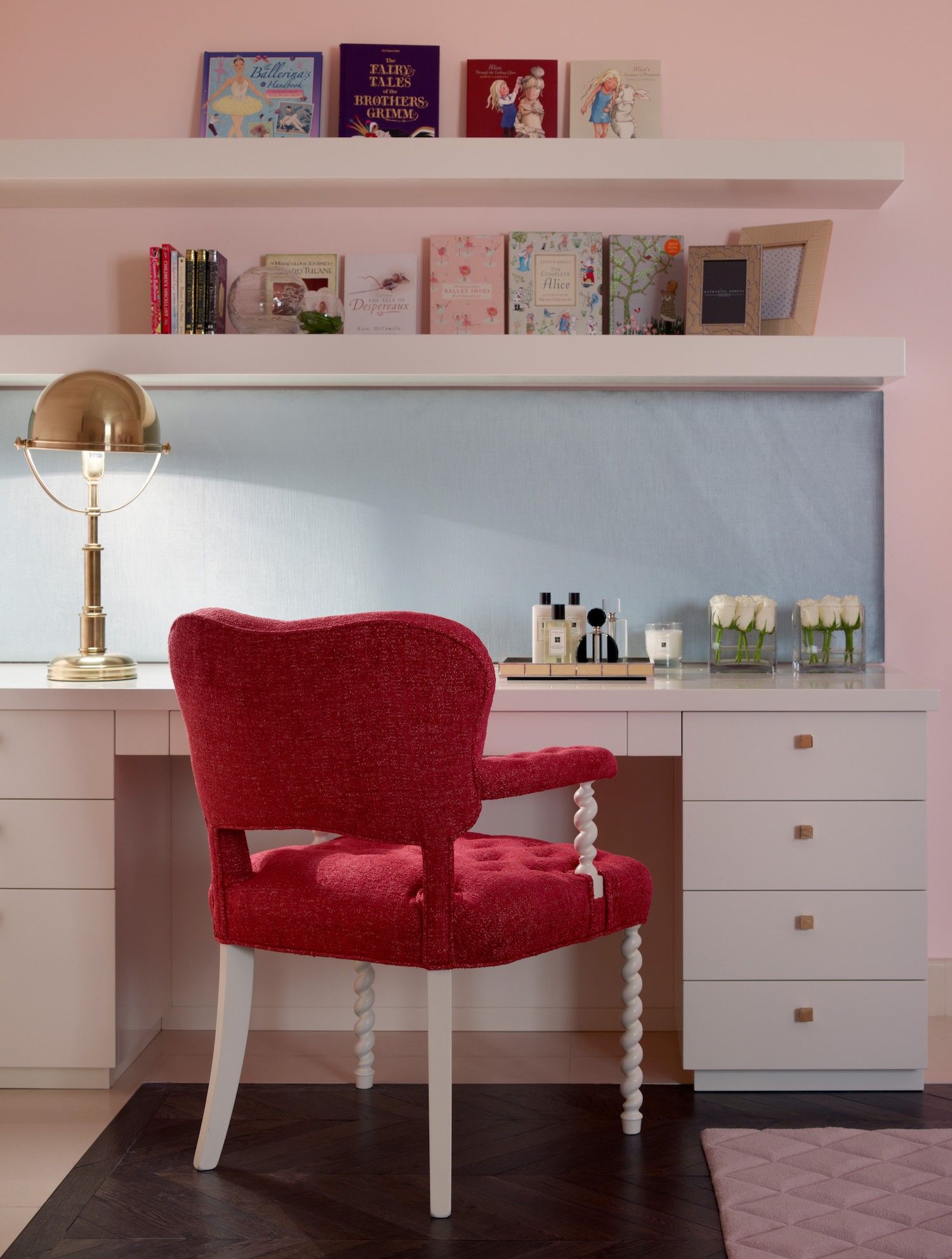 27. Layer it up
Create a pretty scheme with a mix of lively prints across textiles, walls and accessories. This room by Singapore-based interior designer Elizabeth Hay features a confined colour palette to give a considered scheme. A statement headboard completes the look.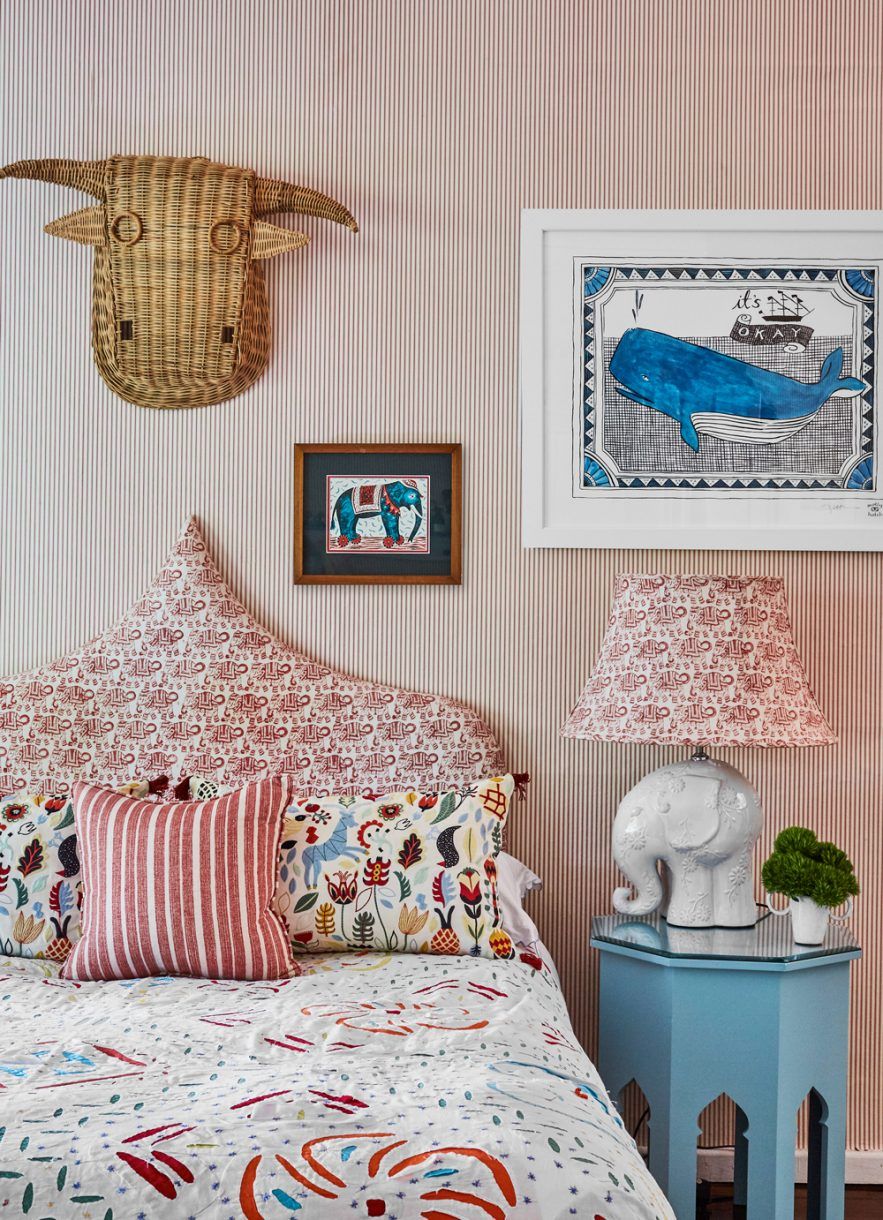 Get the look: Design by Elizabeth Hay. Headboard by Ensemblier London; covered in Small Elephant fabric by Les Indiennes
28. 3D texture
A curvaceous 1980s bed base had a sculptural shape but was previously covered in an uninspiring mottled grey. It was reupholstered in a woven teal fabric to create this luxe centrepiece. Kelly Wearstler's signature table lamp and some textural cushions add more layers of touch-me texture.
Get the look: Vintage bed; ceiling light (seen in mirror) both 1stdibs. Bedside table, 214 Modern Vintage. Linden table lamp, Kelly Wearstler. Mirror, similar at John Lewis & Partners. Wallpaper, Osborne & Little
29. Map wall
We love map murals – be it of their local area, or even a map of the whole city, or a map of the world.
The enlarged map in this bedroom is of the area from 1892 – the same year that the house was built. It's fascinating to really look at what London was like then.
Get the look: The map wallpaper is by Love Maps On… The bespoke headboard was designed by Paul and Tim and made by Material Concepts. This is the Tribeca Duane pendant light by Søren Rose for Menu at Nest. The bespoke Andwoodcraft side table includes a Buster + Punch pull handle.
30. Secret door
This 'secret door' was inexpensive to create, as the door is just covered with Trompe l'Oeil wallpaper. The wall and door were papered in one go, with a dark architrave and a fake skirting board completing the illusion.
Get the look: young & Battaglia's Bookshelf wallpaper is available from rockett st george.
31.Chill out zone
This built-in bunk bed is extra wide, creating a double bed with trundle storage at the bottom, and a mezzanine balcony overhead – the perfect chill out den. Rather than a ladder to climb up, the extra depth creates room for treads, closed in with a clear banister. The bunk bed even manages to squeeze in a narrow vanity area next to the bed.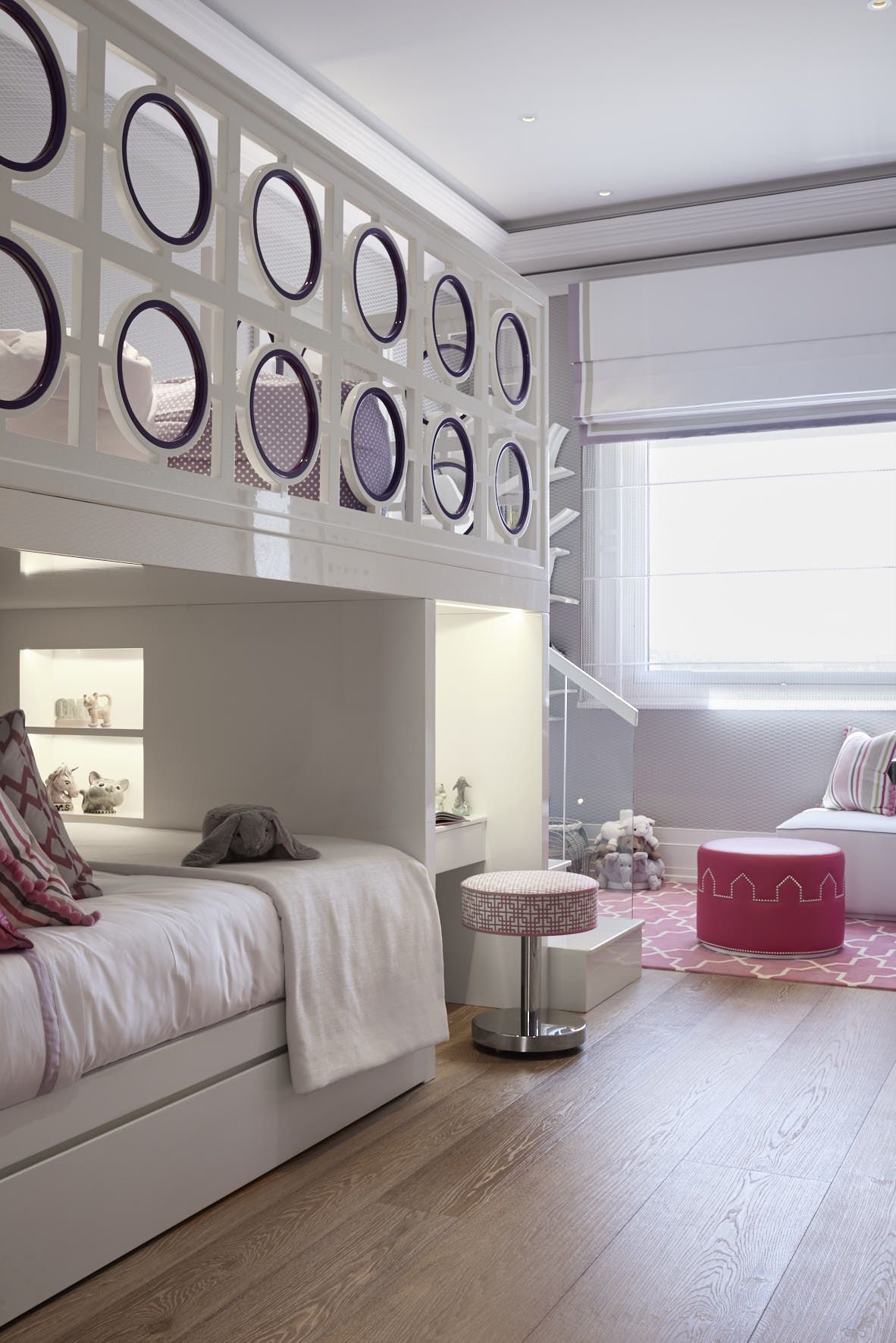 32. Flamboyant
This is fashion designer Matthew Williamson's bedroom. Touches such as the ostrich-feather lamp and mirrored furniture add a grandeur and decadence.
Get the Look: Antique bed. Ostrich feather lamp from A Modern Grand Tour. Bedding, Butterfly Home by Matthew Williamson at Debenhams. Bedside lights from a dealer at the Battersea art and design fair. Mirror chair, chest and side tables all Tann Rokka. Chair covered in fabric by Matthew Williamson at Osborne & Little. Cabinet on mirror chest from an antique dealer in NY. Vase, Butterfly Home by Matthew Williamson at Debenhams. Globe from Alfies Antiques Market. On walls, Light Blue by Farrow & Ball. Graphic leopard print wallpaper by Matthew Williamson at Osborne & Little. Artwork, gift from a friend. Picnic print by Matthew Williamson at Osborne & Little used for tablecloth on balcony table.
33. Neon light
This is Pearl Lowe's bedroom. Her vintage bedroom scheme is instantly lifted with a modern neon wall light.
Get the look: The far wall is papered in Donatello wallpaper by Nicholas Herbert. The feature wall is papered in Bugs & Butterflies wallpaper by Barneby Gates. The bed is from The French Depot. Find Zoe Grace's In Love neon installation at Lawrence Alkin Gallery. The Powder Puff cushion is by Sera of London.
34. Disco
Brass combines dramatically with fuchsia in this disco-inspired scheme. This is the Kensington patinated-brass king-size bed, £7,800, Paolo Moschino for Nicholas Haslam.
35. Gothic glam
There's a Victorian Gothic vibe to rock chick Daisy Lowe's bedroom, inspired by the antique four poster. White floorboards, crisp paintwork and that prim print wallpaper keep it looking fresh.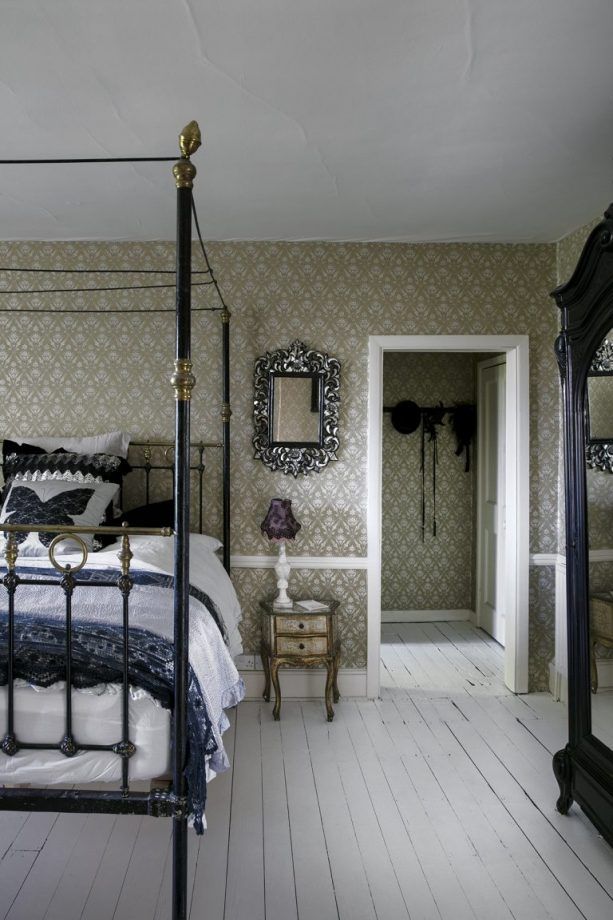 Get the look: This is Little Greene's Albemarle Street wallpaper. The bedside cabinet and the armoire were found at The Giant Shepton Flea Market. The mirror was bought at Ollie & Bow in London's Golborne Road. The cushions are from Sera of London.
36. Pretty patterns
Pearl inlay side tables add to the pretty feel of the floral wallpaper, and scalloped bedding gives a decorative, hotel-inspired feel.
Get the look: The bedside tables are from Chairish (Design Mix Gallery). Sconces are from Restoration Hardware.
37. Single bed
No space for a double? Then opt for a cool single four-poster. Gloss white wood gives the four-poster a more contemporary look in this room.
Get the look: Bed, Room & Board. Light, Emily & Meritt at Pottery Barn Teen. Walls painted in Pale Blue by Farrow & Ball.
38. Soft shades
This feminine girls' room featuring blush tones, a beaded chandelier and Kelly Wearstler's channels fabric on the cushion.
39. Colour pop
This bedroom uses a warm, darker palette, but with pops of bright colour.
Get the look: The bed and Rossini headboard are by The Sofa & Chair Company. The Cassis Rose pink bedlinen is from The Linen Works. This is the Nixon alpaca throw by Jonathan Adler. The Cable Yellow rug is by The Rug Company. The Golden Pineapple table is by Graham and Green. The walls are in Elephant's Breath estate emulsion by Farrow & Ball.
40. Full coverage
Softly crumpled bedding and textured throws create a comforting, welcoming vibe against the moody backdrop.
Get the look The pre-washed bedlinen is by Merci Merci. The bedside cabinet is from Swoon. The walls and floor are painted in Railings estate emulsion and eggshell by Farrow & Ball.