18 playroom ideas – wonderful and whimsical decor tips to create your kid's dream space
These inspiring playroom ideas make us wish we could be a kid again...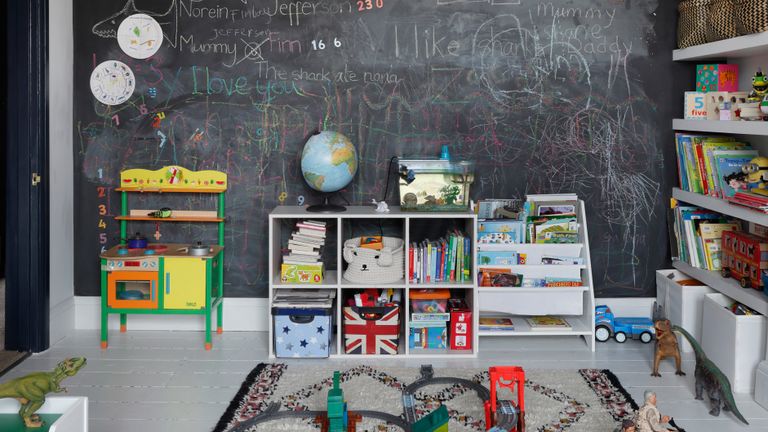 (Image credit: Alexander James)
Looking for creative playroom ideas and inspiring spaces? We have you covered with plenty of brilliant looks that your kids are going to love.
Some of these kid's room ideas are perfect for little ones; like chalkboard walls for doodling, ladders and indoor treehouses for climbing, and slides for zooming down. There are plenty of ideas for bigger kids too, with reading corners, music stages and star wars paraphernalia.
To encourage your kids to exercise, create a sporty zone. For example with a basketball hoop, and/or hanging boxing pillow. And then there's pool tables, football tables, game machines, and Pac-Man style decor too, perfect for those awkward older ages and teens. Or, when in doubt, an oversized corner sofa is perfect for binging Netflix and Peppa Pig on loop.
1. Boat house
This indoor treehouse is in the shape of a boat, complete with a wooden ladder, portholes for peeking out of, and decorative rope lighting (sourced from Etsy), hanging from the ceiling. There's also a stash of books neatly displayed in the window seat, to encourage reading.
2. Swing seat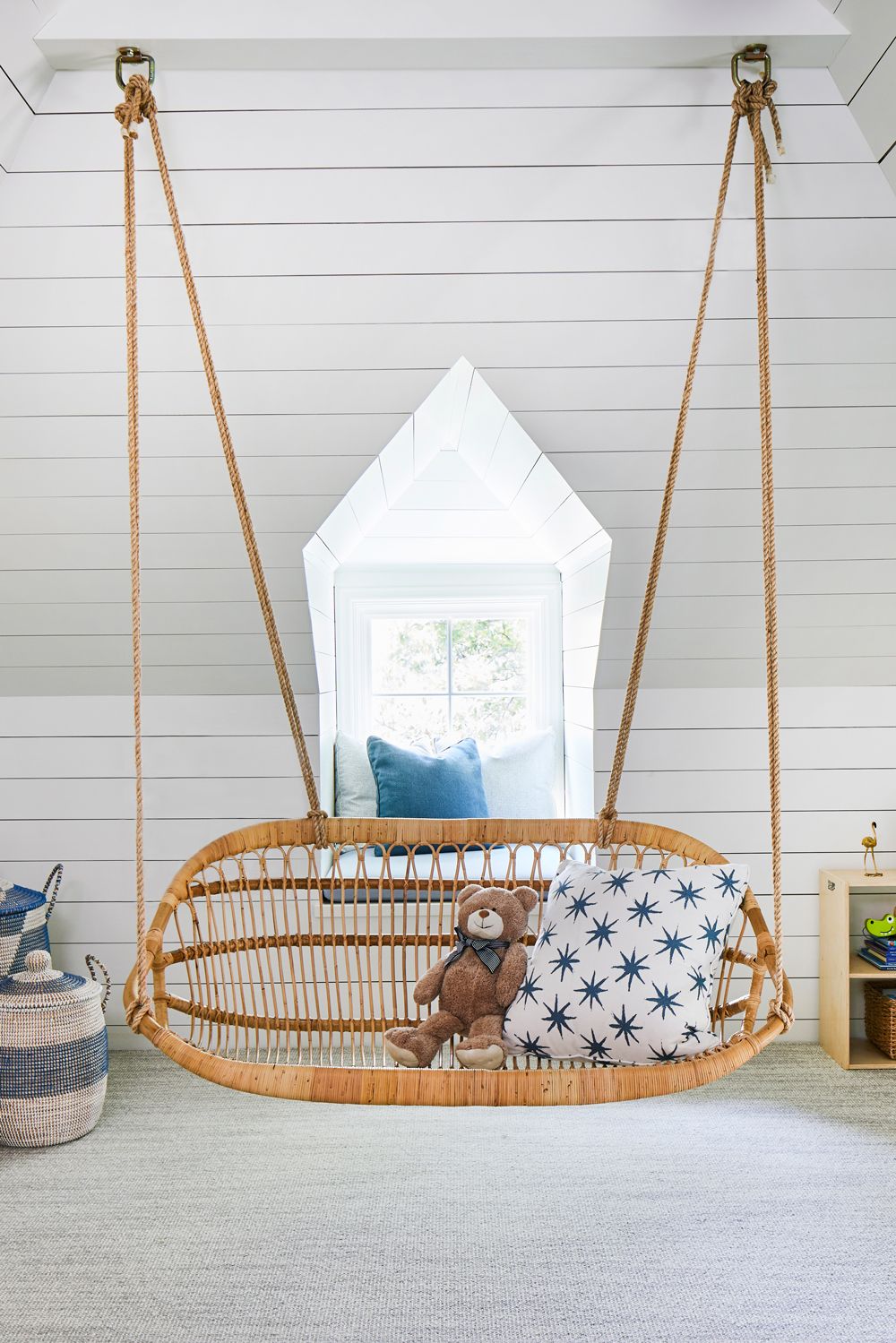 Because why have a boring chair when you can have a swing seat? Ideal for reading and relaxing they make a lovely addition to a playroom, especially smaller playrooms as it frees up floor space and light can flow around more easily.
Gloss white walls bounce light around, making this attic playroom feel clean, bright and inviting. The swing seat makes this room a favorite spot to hang out and play in.
3. Metal chute
Surely it's every kid's dream to have a slide in their playoom? Sure it's an investment but if you've got the budget and know it's going to be well used then go for it. In this playful home in Martha's Vineyard, the metal chute starts upstairs and twists down the house to a downstairs play room; it's safe for kids and big enough for young-at-heart parents.
4. Creative walls
Forget off-the-peg posters – instead, give your kids creative free reign and allow them to use their own artwork to decorate their space. After all, there really is nothing cuter than a lovingly home-made potato print or stick person drawing.
A chalkboard has perennial play appeal, so take it one step further by painting a whole wall with blackboard paint. And, because it can be constantly changed, it will last right through to their teens. Adding a blackboard-painted wall to an otherwise simple white room is an easy way to introduce an eye-catching feature, and will allow the kids to get creative.
5. Under stair space
Interior designer Naomi Clarke transformed the under stairs space in this basement into a little fairy house chalet – for the children to store their favorite soft toys and to be used as a little snug area.
6. Art studio
Kid's love to play school right? So lean into that and double up a playroom as a class room, complete withe chalkboard and table. Make it feel more creative by also turning the walls into a chalk board and work together to draw educational patterns all over. This kid of set up is also perfect for when they do start school and can work as a study space too.
7. Playroom wallpaper
This is such a cute playroom idea. The same chalkboard walls have also been used to add a height chart to give the room an even more personal touch.
8. Secret den
Got an awkwardly shaped alcove? Be inspired by this playroom idea and turn it into a den. This space was a bespoke creation, but you could recreate it by wallpapering the alcove in a similar forest print and just hang some drapes to give it a cozy, den-like feel.
9. Mezzanine
You don't need a huge amount of ceiling height to create a mini mezzanine that can be used as either a sleeping area or play space, and it doubles your floor space.
This tiny playroom sits above the living room, on a mezzanine level that overlooks the dining space below through a glass wall. A raised mezzanine area with a built-in bed plays on the multi-level theme.
10. Crate Storage
Want to add some extra toy storage? This is a fab DIY idea that's super handy and looks really stylish – simply wall mount wooden crates to the wall and fill them with toys and books for a more creative way to keep everything excessible.
11. Games Garage
This garage has been converted into a games room; perfect for teens and young-at-heart parents. Funky pipes were added on the ceiling in a video game formation and painted in bright colors. The video game theme is continued on the walls, where wall shelving was created to mimic the Pac-Man video game. A large 'Game Over' sign on the wall lights up.
12. TV Den
Because why shouldn't you make a playroom adult approved too? Double up the space as a TV den but still keep it fun and kid-like with bold cushions and cozy furniture. In this playroom/tv room, the colorful floor sofa takes center stage and only feels more playful thanks to the bold checkerboard purple flooring – the perfect hideout for binge-watching or playing.
13. Basement Den
To win cool points, dedicate a basement to create a cool hang-out spot, complete with pool table or table tennis or table football. This vintage Brunswick pool table was restored to give the space a sophisticated, adult-approved retro feel.
14. Movie Night
What could be better than a cinema for kids, complete with comfy bean bags? And even if you don't have a dedicated cinema room, it's a really easy look to recreate just in a playroom with a projector and a couple of comfy floor cushions.
15. Fun Zone
Anything goes in this fun zone, from soft drink-inspired art to nearly life-sized figurines. The playroom offers the perfect setting to showcase offbeat artwork and modern touches, sprinkled with lashings of fun.
16. Rock Star Stage
Let your kids feel like a rockstar by creating a slightly raised stage for their music practice. This drum kit sits on its own raised plinth, made from the bandsawn oak floorboards.
17. Reading Corner
A reading corner is the perfect addition to a playroom, whether it's in the form of a window seat, cute accent chair or a fabulous built-in number as can be seen in this girl's bedroom. If you have the space why not go with something that can double up as a guest bedroom, perfect for sleepovers.
18. Book Ledges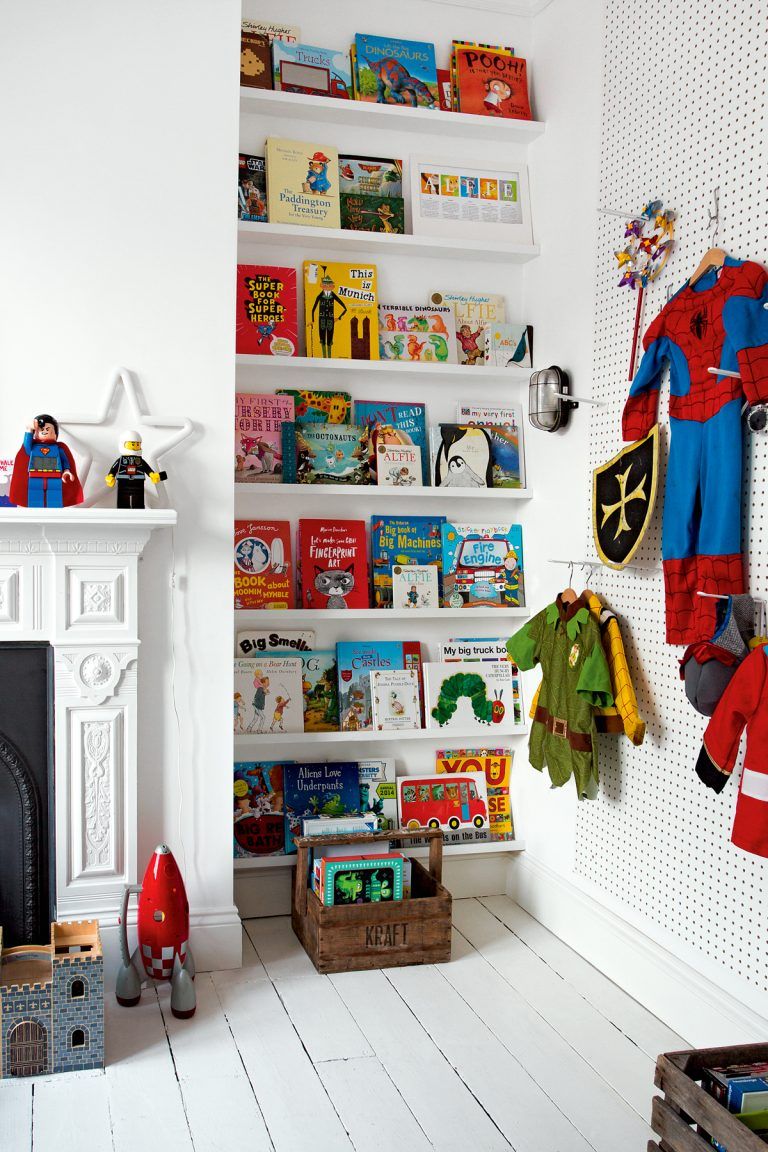 Book ledges rather than shelves allow for the books to be arranged with the covers facing outwards. A pegboard wall provides a handy place to store outfits as well as doubling as a cool display.
What is a playroom?
A playroom is a room that's entirely dedicated to childs' play. It usually incorporates toy storage to keep toys organised and easy to find, and it could also feature arts and crafts supplies, crayons and paints etc, as well as larger items like indoor play equipment including ride-on toys, rockers, or even a slide.
How do you make a good playroom?
A good playroom is one that's designed to be interactive. Our playroom ideas gallery is full of inspiration, ranging from built-in dens and slides to mezzanine boat levels (like an indoor treehouse) and even wall pods that encourage climbing. A good playroom will keep a child happily entertained and occupied for hours.
What should be in a playroom?
A playroom should feature a carpet, soft rug or play mat to make it more comfortable to play on hands and knees. A playroom should also incorporate toy storage that makes it easy to find toys and put them away again afterwards. Depending on the size of the playroom, you could even invest in a sofa and TV, an indoor treehouse, a slide or indoor climbing frame, or just a desk and arts & crafts area that's stocked with paints, pencils, crayons, papers etc.
How to decorate a playroom on a budget
It works out cheaper to paint walls rather than wallpaper them. Why not paint the walls with a blackboard/chalkboard paint so the kids can draw on the walls with different colored chalk? Protect the floors with a large rug – they don't need to be expensive and IKEA offers plenty of options. IKEA will also offer affordable toy storage options, kids' desks and chairs.
Lotte is the Digital Editor for Livingetc, and has been with the website since its launch. She has a background in online journalism and writing for SEO, with previous editor roles at Good Living, Good Housekeeping, Country & Townhouse, and BBC Good Food among others, as well as her own successful interiors blog. When she's not busy writing or tracking analytics, she's doing up houses, two of which have features in interior design magazines. She's just finished doing up her house in Wimbledon, and is eyeing up Bath for her next project.