Best green paint for interior and exterior walls - an expert guide to making the right color choice
Choosing the best green paint can be overwhelming, but our expert insight and suggestions will help you get it right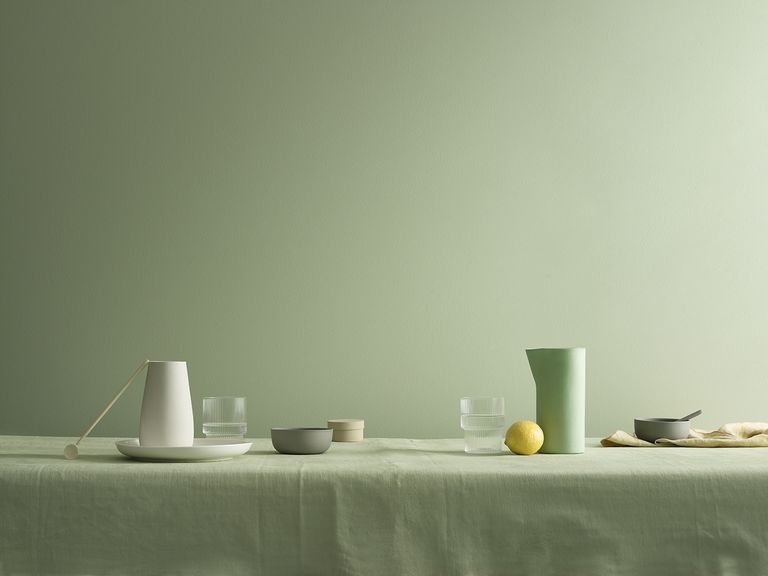 (Image credit: Earthborn)
The best green paint brings the verdant, soothing tones of nature into the home and have a deeply calming impact on a space. But which green paint is right for your room? The experts explore the effects of green paint shades, tone to choose and how to style them. 
Best dark green paint colors
From deep forest greens to rich olive tones, dark green paint colors make a bold impact on a wall, turning a room into a nature-imbued cozy retreat. 'A dark green is particularly effective for giving us a soothing feeling in rooms where we seek comfort such as a bedroom or living room' says Ruth Mottershead, Creative Director of Little Greene. 'Dark greens make us feel reassured and comfortable,' agrees Dominic Myland, CEO of Mylands. 'Because they're so prevalent in nature, they bring a sense of calm to a space and they help us feel connected to the outside world.'
'Dark green paints feel adventurous and add character and depth to a scheme – they're versatile and work well across the home' explains Helen Shaw, UK Director of Benjamin Moore. 'Intimate and classical, dark greens are very forgiving and practically everything goes with them' enthuses interior designer Martin Brudinizki. 
'A reassuring color, dark green makes one think of libraries, ancient woodlands, and stability. It's a brilliant alternative to navy blue and in these times of turmoil it provides a therapeutic feeling in a space,' adds Annie Sloan, color and paint expert.  
'The saturated Hunter Green 2041-10 is grounding and encourages a connection with nature. It's a classic tone and a reminder of our environment which can help us feel inspired as well as bringing life to a room' says Helen Shaw, UK Director of Benjamin Moore. 'I like the deep Hunter Green for traditional spaces such as libraries, media rooms, guest rooms or on country kitchen cabinets,' agrees interior designer Martyn Lawrence Bullard.
'My favorite is Dark Brunswick Green which looks sophisticated while still perfect for creating an intimate atmosphere,' says Ruth Mottershead, Creative Director, Little Greene. 'It' really creates a cozy feeling and works well in small spaces that don't see a lot of light.'
'Studio Green is increasingly being used instead of the leaden greys so popular over the last decade,' says Joa Studholme, Farrow & Ball's Color Curator. 'Its rich pigments respond extraordinarily to light, magically appearing much greener where it is surrounded by white, and in poor light conditions its deep hue appears almost black.'
Best green gray paint colors
A modern and uplifting neutral, gray green colors speak of soothing herb gardens, natural stone and freshness, and are a stylish, more interesting alternative to gray and white paint, adding depth and personality. 'Soft hued gray green paints create a restful space,' explains Cathryn Helsby, Head of Creative at Earthborn Paints. 'They're one of the best green paint tones to complement house plants and subtly bring the outdoors in.' 
'Adding grey pigment to green paint creates a moodier and muddied color, offering a rich earthiness that makes the overall tone more peaceful' agrees Tash Bradley interior designer and color expert at Lick. 
'At Studio Ashby our favorite color is definitely green and we tend to err towards more grey, chalky shades for a fresher approach,' says Co-Director Fiona Blanchot. 'Our favorite green paint is Green Smoke by Farrow and Ball as it's cozy and calming – almost meditative.'
'Gray greens like our Tuscan Olive feel neutral and sometimes even a little cool, so use these in light filled rooms where they add a crisp green edge,' advises Tricia Guild OBE, Founder and Creative Director of Designers Guild. 'It also works brilliantly as a neutral for doors and skirting as it harmonizes with both bright and chalky shades.'
'I love gray greens – our Chalk Paint™ Château Grey is an endlessly rewarding shade, beautiful paired with lots of natural accents such as slate, marble, and light-colored wood,' says Annie Sloan. 'It works wonderfully as a color for kitchen cabinets or in garden-facing sitting rooms.' 
Best green exterior paint colors
Using one of the best green paint colors outside blends man-made spaces and objects in the garden or on the exterior of the house with nature, buoying the natural and merging outside and in. 'Play with tonality on the outside of buildings – a deep British racing green can feel smart and formal for exterior woodwork, while turquoise on a bench brings a moment of whimsy to an orderly garden setting,' advise designers Campbell-Rey. 'Using green outside is a great way to introduce a sense of uniformity while the other elements of the garden – borders or a meadow for example – are encouraged to go wild.'
'Greens are a really useful way of connecting a building with the outdoor environment. Because we are so used to seeing green in nature, using it outdoors can help a building communicate with its surroundings,' says Dominic Myland, CEO of Mylands. 'Look at the colors around you and choose something that works with the visual references already outside such as a green from a nearby tree or one that tones nicely with a neighbor's paintwork.'
'Folly, Eicó's soft grey/green sage exterior paint blends beautifully with nature and is very sympathetic to the environment,' says Rishi Subeathar, founder of Eicó and Nordfärg paints. 'Try it on doors, window sills, fences or gates to fully surround yourself with green.'
'For a bold, impactful color which creates a strong outdoor presence, we love the amazing teal green Mid Azure Green by Little Greene,' says Studio Ashby Co-Director Fiona Blanchot. 'It's a traditional tone, but feels contemporary when used externally.'
'For cooler colors on your exterior walls like greens it always a good idea to make sure they have a touch of yellow in them like our Balmoral, to create a soft, calmer outside look,' says Cathryn Helsby, Head of Creative at Earthborn Paints. 'The olive tone creates a beautiful, natural-looking exterior, which blends the home serenely into its natural surroundings.'
Best green paint colors for bedrooms
'The most important aspect to choosing a paint color for the bedroom is that it must be a tone you like and are drawn to. Generally, soothing natural shades work well in this setting,' explains sleep expert Christine Hansen, CEO of Sleep Like A Boss. 'Pastel colors such as soft green, blue and lavender calm and relax, and help with anxiety. Avoid dark colors which will make you feel more confined and won't motivate you to get up in the morning.' 
'In the bedroom, we want to feel rejuvenated and energized as we wake up, and safe and relaxed as we wind down for sleep, so colors should be soothing and not overwhelming,' agrees health and wellbeing-focused interior designer Oliver Heath., pointing to green as a brilliant master bedroom idea. 'Calming, natural color schemes include soft blues, greens and browns.'
Best green paint colors for a living room
'The living room is somewhere to relax and plays a key role in supporting our wellbeing and comfort at home, so it's a place for a natural color palette,' advises Oliver Heath, health and wellbeing-focused interior designer. 'A small living room could be made to feel 'cocoon-like' using darker hues or bright and airy with lighter tints. Regardless of the shade, toning-down the color intensity here will create a peaceful atmosphere.'
'Choose a living room shade based on the tone you want to set – our moods are highly influenced by color,' advises wellbeing expert Christine Hansen. 'Green, blue, grey and tan all help reduce stress and neutral shades work well to help calm a busy mind. The best green paints will soothe you - avoid intense and dark hues as they are very stimulating.'
Best paint colors for a kitchen
'The kitchen should be a light, bright space, so painting it in cool shades will foster the concentration you need to cook - sage green kitchen ideas are a big trend for this reason. 'White and pale gray tints will make a small kitchen look bigger, while natural tones will soothe' explains wellbeing expert Christine Hansen. 'Whatever kitchen paint color you go for, this is a room for hosting, so make it something inviting and friendly.' 
'When choosing what color to paint the kitchen walls, consider what will be flexible and suit activities ranging cooking, eating, socializing, entertaining and working,' says health and wellbeing-focused interior designer Oliver Heath. 'The kitchen should be bright and stimulating – different shades of white can provide a good backdrop, interjected with pops of brightness to keep the it fresh. The lights can always be dimmed in the evening to make the space more atmospheric.'
What colors go best with green?
'Green is hugely versatile, which is why it's probably the most useful color in a designer's palette,' say designers Campbell-Rey. 'Olive green with pale blue, grass green with coral pink, eau de nil with a deep cherry red, it works with almost everything, especially other greens.'
'Greens are incredibly adaptable and pair well with many different shades, from soft coral and blush to golds, naturals and electric primary colors' explains Creative Director and Founder of Claybrook Rob Whitaker.
'My absolute favorite shade to team with one of the best green paints has to be pink, it is just wonderful – the color combination of flowers!' enthuses Francesca Wezel, Founder of Francesca's Paints. 'Blue and green also green work well together, a reminder of the sky and the green of the forest.' 'Pink and green should always be seen!' agrees interior designer Martin Brudinizki. 'It brings to mind gelato stands in Naples and beach houses in Palm Beach – the perfect combination.' 'Whether you're pairing a dark green with a pastel pink, a sage green with an earthy terracotta pink, or a hot pink with a bright green, they all work!' adds color and paint expert Annie Sloan.
'Often people say "blue and green should never be seen", but the right modern green with an aqua or turquoise blue looks stunning,' says Rishi Subeathar, founder of Eicó and Nordfärg paints. 'Khaki shades look good teamed with tan or earthy shades, even pink and fresh lime pop when teamed with clean white for a more modern feel.'
How to choose a paint color for a living room
'Consider what atmosphere or energy you want to create in the living room when choosing a paint color,' says Little Greene Creative Director Ruth Mottershead. 'Take your time choosing as you spend a great deal of time here, particularly evenings and weekends,' advises Creative Director and Founder of Claybrook Rob Whitaker. 'Think how the room will feel at night and on darker autumn evenings or wet afternoons.' 
'Before selecting your living room paint of choice, think about how you use the space what aesthetic you'd like to create,' says UK Director of Benjamin Moore Helen Shaw. 'Are you looking to create a cozy and atmospheric living room, or somewhere that is light and bright? Or maybe you want both!'
'Don't forget to consider your existing furniture, soft furnishings and accessories – pick a color that will complement them' adds says Rishi Subeathar, founder of Eicó and Nordfärg paints.
'Living rooms are shared by the whole family and visitors so it best to make the color one conducive to relaxation and entertaining' concludes Creative Director and Founder of Claybrook Rob Whitaker. 
How to choose paint colors for a bedroom
'Bedroom colors are a very personal choice – generally pale greens or soft grey greens are super relaxing and the darker greens are sexy and comforting in a dark, cozy way, says interior designer Martyn Lawrence Bullard. 'The shade must give you the vibe that you desire for your bedroom and sanctuary.'
'In bedrooms where you don't get loads of sunlight, or where it's much cooler, go for a green with a warmer tone and that will give you balance' says Lick's interior designer and color expert Tash Bradley. 'You want to combine that beautiful botanical vibe that only green can bring with plenty of softness too to fall asleep to.' 
'Choose tranquil and muted tones which create bedrooms that are flexible and restful' agrees Joa Studholme, Farrow & Ball's Color Curator. 'For the bedroom opt for a color that's soothing and calming to aid sleep, and consider how it will change with the light of the day' adds Francesca Wezel, Founder of Francesca's Paints. 
Amy Moorea Wong is a freelance interior design journalist with a decade of experience in contemporary print and digital editorial, previously News Editor at Livingetc. She writes on a broad range of modern design topics from news and interior zeitgeist to houses, architecture, travel and wider culture. She has a penchant for natural materials, surprising pops of colour and pattern and design with an eco edge.